Do you ever get into a rut?  Where you do the same thing day after day, maybe to the point of boredom?  Let's say you pick up the same Trader Joe Mexicali Salad on the way home from the gym every Tuesday.  Or you always make tacos on Thursday? Not that I do either of those things. (Sometimes it's taco salad. ?)  
When the weather gets a bit cooler, I often break that rut and substitute standard cool-weather recipes – my Swedish Pot Roast, Crock Pot Pulled Pork, or Chili with Beans are always a hit. But after a few weeks, I feel like I'm back in a rut. Same stuff, different season. So I need to mix things up a bit.  On weekends, my friend Teresa and I like cooking things we've never cooked before that might require a bit more time. The resulting parade of flavor is so memorable, I can't wait to make them again.
Usually, between the two of us, I have to say, we've come up with some pretty awesome meals! And trying these new flavors can often add interesting twists to the usual weekday meals. A while back, I learned of Posole (also spelled Pozole), a traditional Southwestern dish made with chicken or pork and hominy. (I promptly wondered what kind of rock I've been living under to not have heard of it before!) And, this Red Posole with Pork is something I made to make to break out of my habit of cooking the same things week after week.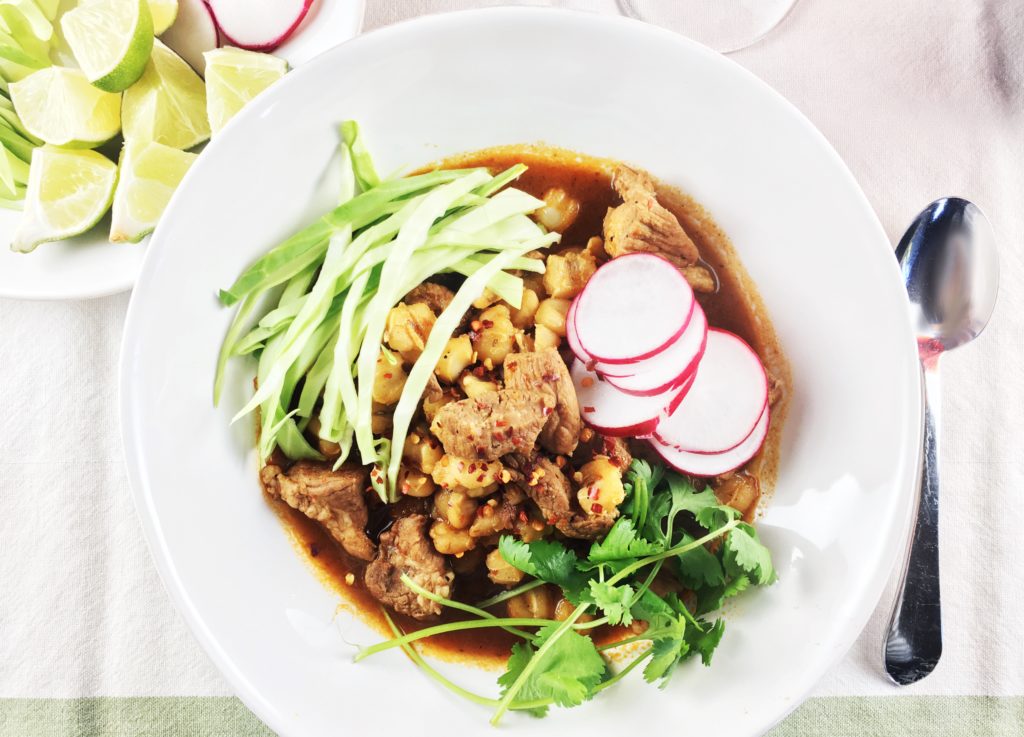 Posole (Pozole) is historically a Mexican dish containing meat and Hominy (Pozole). The version I made is attributed to New Mexico, as it contains the dried version of the ripened New Mexico, or Hatch, chile.  There are generally two main types of Posole:  Green, which uses tomatillos and/or green chiles such as Hatch or Jalapeño, to make the sauce; and Red, in which the broth is made with a chile sauce of dried New Mexico chiles, garlic and onion.  Hatch chiles are not a super-spicy variety to begin with, and, once dried, they have a rather earthy flavor and kind of a medium back-end spiciness.  
This particular recipe begins with making a chile sauce from the reconstituted dried chiles, sautéed onions and garlic and a bit of chicken stock.  Then, you use this sauce, along with more stock to simmer the seared pieces of pork and the hominy. The resulting soup or stew is delicious and satisfying.  It has a combination of flavors like nothing I'd ever had before. Garnished with a generous squeeze of lime, some shredded cabbage and thin-sliced radishes, I was in heaven!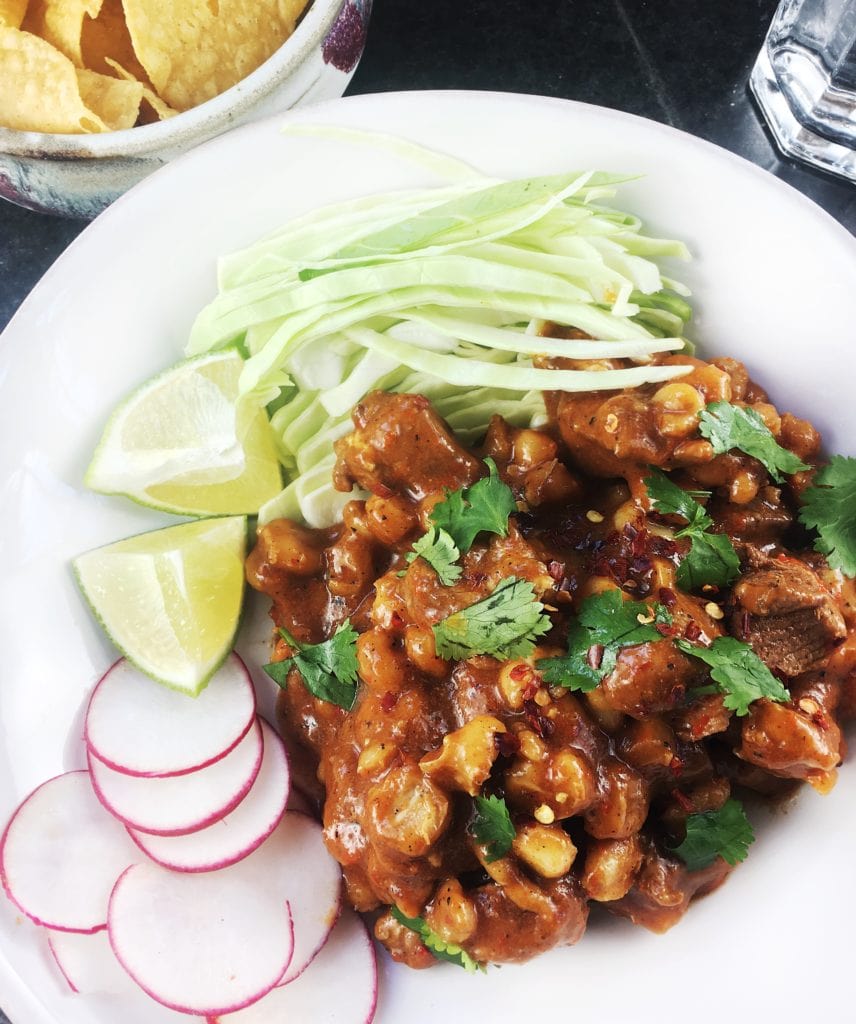 So break out of your rut! Spice up your life! Make some Red Posole with Pork. You won't be sorry!
Enjoy!
Print
Red Posole with Pork (Pozole Rojo)
A hearty, satisfying dish, this soup or stew-like meal is made with New Mexican (Hatch) Chiles.  These are not super-spicy, but are more flavorful and earthy with a medium kick.
Serve with garnishes at the table.  I like a good squeeze of lime and some thin-sliced radishes and cabbage to push into the broth.
Special equipment needed: a large heavy pot for the soup and either a blender or food processor to make the chile sauce
Author:
Prep Time:

45 mins

Cook Time:

2 1/2 hr

Total Time:

3 hr 15 min

Yield:

10

servings

1

x
Category:

Soups and Stews

Method:

Stovetop
Ingredients
For the Posole
6

dried New Mexico Chiles, stemmed and seeded (about

2 oz

)

2

T olive oil

2

Medium Yellow Onions, chopped

8

cloves garlic, sliced

4

lb boneless Pork Shoulder or Country-style Ribs, cut into

3/4

" cubes

1

T ground Cumin (or more to taste)

4

c (1 qt.) Chicken stock

1 1/2

t dried Oregano

2

–

25

oz. cans Hominy, drained and rinsed
For Garnish
Sliced or shredded cabbage
Radishes, thin-sliced
Limes, sliced
Cilantro
Avocado
Tortilla Chips
Red chile flakes
Instructions
Prepare the Chile Sauce
In a medium saute pan over high heat, toast the stemmed and seeded chiles for a couple minutes per side, or until they begin to puff up a bit and become fragrant. Cut into smaller pieces with a scissors and place into a shallow dish or bowl and cover with 1 1/2 cups very hot water.  Let sit for 15 minutes to soften while you prepare the onions and garlic.
Heat a large heavy pot (the one you will use for the soup) to medium or medium-high, add the oil, followed by the chopped onions and the garlic. Sauté for 8 minutes until soft.
Place the chiles in water, along with the onions and garlic into a blender or food processor and purée until smooth. Set aside.
Prepare the Soup
In 2-3 batches, brown the pork in the same large heavy pot you used for the onions and garlic.  Add a teaspoon of cumin along with salt and pepper to each batch.
Once the pork is all browned and in the pot, add any remaining cumin, along with the chile sauce mixture, oregano and hominy.  Stir and cover with stock or broth.  If you use the entire quart of stock, just add water if it did not cover all of the ingredients.
Simmer 2 hours or more, salting to taste, and adding more cumin if desired. (I probably added another 1-2 teaspoons)
Serve
Prepare desired garnishes
Serve with garnishes on the side, so each person can add their own.
Recipe Card powered by