I'm going to just admit it – I am a biscuit fanatic! I wasn't born this way. My true love of biscuits didn't begin until I was in my 20s and lived in North Carolina – a Southern State, where proper biscuits are part of everyday life.  There they even have names like "Cathead" for biscuits.  Don't worry, no cats are harmed in the making of biscuits! These are biscuits the size of a cat's head.  (I know you just said "YES, please!")  Prior to that, I'd really never given biscuits much thought.  I considered a biscuit just a vehicle for whatever topping one applied – jam, honey, sausage gravy, egg and bacon, cheese – whatever.  Now I know better.  A biscuit is not just bread.  It is, unto itself, a thing of beauty, a work of culinary art. Whether buttery and flaky or soft and fluffy, they are more varied and versatile than I'd previously imagined. Some occasions call for layered, flaky, beautiful biscuits like these gorgeous  Best Buttermilk Biscuits Ever.  Other times, a quick-to-make soft and fluffy Easy Homemade Biscuit is comfort food at its finest, and one that could honestly be called a "Cathead."  However, during Autumn, when it's cold and wet, though, I love these Pumpkin Biscuits – slightly layers, soft and fluffy, a bit sweet, a little pumpkin spice. They complement just about every dish you could make.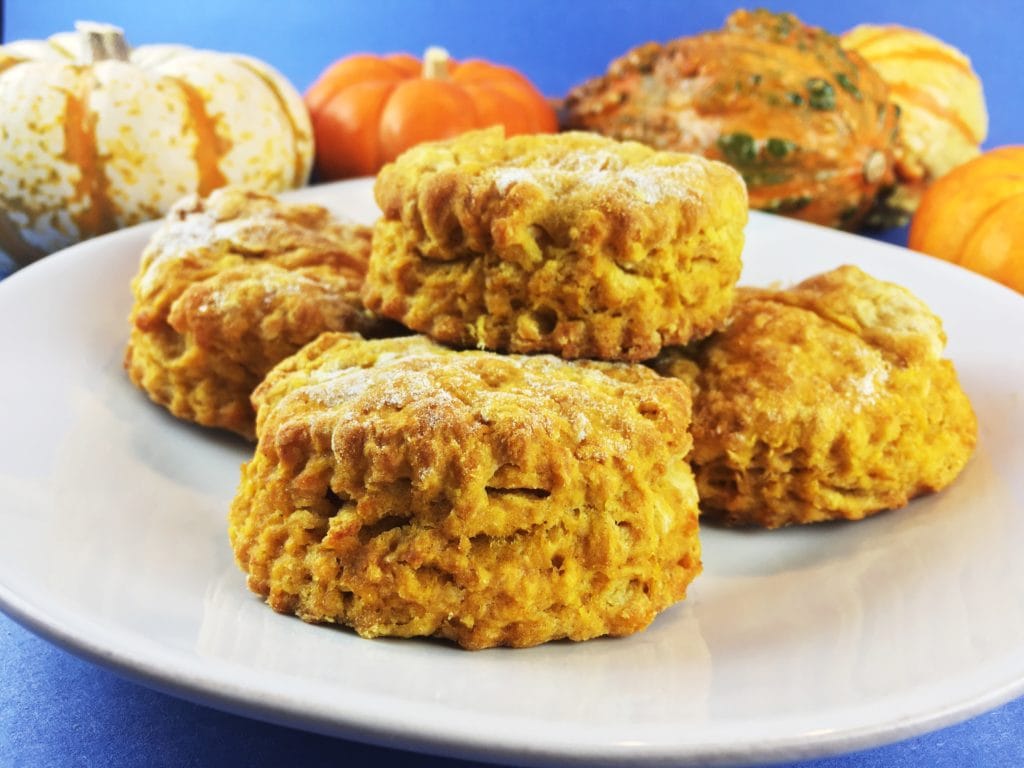 I've been making these Pumpkin Biscuits for years, ever since my kiddos were quite small.  I remember once, after having not made them for a while, I posed the classic question to my kids – "What should we have for dinner?", not really expecting much beyond a request for chicken nuggets or Mac-n-Cheese.  I was shocked when my daughter replied, "Can you make those pumpkin biscuits again?" Well, of course I can!  They are so easy, there's really no reason not to make them any given day. Just a few minutes and a bowl to mix up the ingredients is all you need. It makes a soft dough, which means you don't need to roll it out, rather, just pat it into a 3/4"-thick sheet and cut the biscuits. Another 20 minutes in the oven and your Easy Pumpkin Biscuits are warm and ready to eat!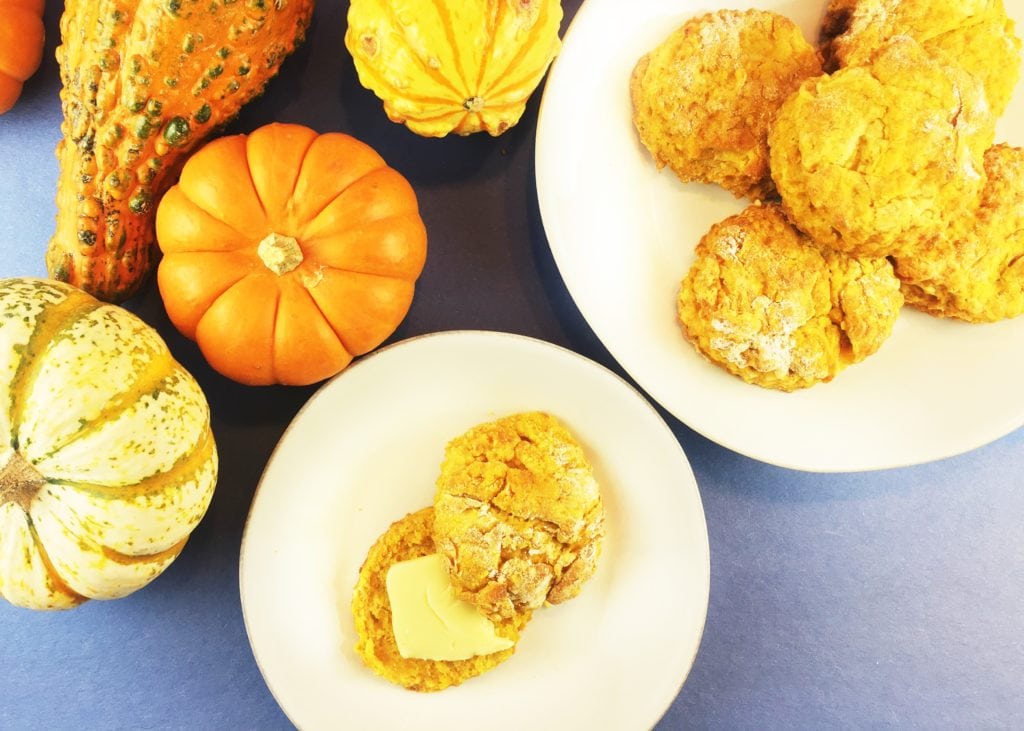 After you try these, you'll surely want to keep an extra can of pumpkin handy for the next batch you are bound to make! I know I do. Enjoy!
Print
Pumpkin Biscuits
These light and fluffy Pumpkin Biscuits are slightly sweet and complement any savory dish.  A slather of butter, honey, jam or cream cheese is a delicious addition as well!
This recipe makes around 25 2" biscuits.
Ingredients
Dry Ingredients
2 3/4

c AP Flour

3

T Brown Sugar

1

T Baking Powder

1/2

t Baking Soda

1/4

t Ground Cinnamon

1/4

t Ground Nutmeg

1/4

t Ground Ginger

1/2

t Salt
Wet Ingredients
1/2

c (1 Stick) COLD Butter, cut into

1/2

" cubes

15

-oz. can Puréed Pumpkin

1/2

c COLD Sour Cream
Instructions
Mix the Dry Ingredients
Preheat oven to 400F.  Line 2 large baking sheets with parchment paper, or butter lightly.
In a medium to large bowl, whisk together all of the dry ingredients.
Cut in the Butter
Using a pastry cutter or 2 knives, quickly cut in the butter cubes until the overall mixture resembles courses crumbs.
Make the dough
Add the pumpkin and cold sour cream to the butter and flour mixture. Using a silicon spatula, stir the mixture a few times until it comes together to form a soft dough.
Pour the dough out onto a lightly floured surface, and pat into a 3/4" thick sheet. Using a 2" biscuit cutter, form biscuits and place on baking sheets.
Bake 15-20 minutes until biscuits have risen and are golden.
Recipe Card powered by