When I became a mom, I promised myself that my kids would eat (and love) vegetables. I was sure they would, especially because I noticed when I fed them as infants their first vegetables, they easily learned to love those pureed peas, carrots, and squash.  So what happens during the next few years that causes the preschooler thumb to point downward at the green stuff?  To shed some light, my kids' preschool implemented a program called "Adventure Bites", where parents could take turns bringing something most kids had likely never tried.  The theory was that this exercise would open their minds and their palates to new things.  How shocking it was to see when, of the 24 kids, 21 had "Loved it", 2 had "Disliked", and only 1 had "said 'No, Thank you'" to Mustard Greens!  The next week, the data was similar for the Squash-stuffed Red Beet Quesadilla.  Ditto the Sardines. And the artichokes.  I believe even the Escargot even got similar ratings.(!) All things my kids, who were just about always in the "loved it" category, definitely would've refused at my own table. So what gives?  My theory is we need to prepare more Roasted Vegetables with Chicken and Feta Cheese! These vegetables aren't like the steamed broccoli or microwaved green beans I'd been trying to get my kids to eat.  They are like candy – sweet, caramelized, nutty, tender, tasty!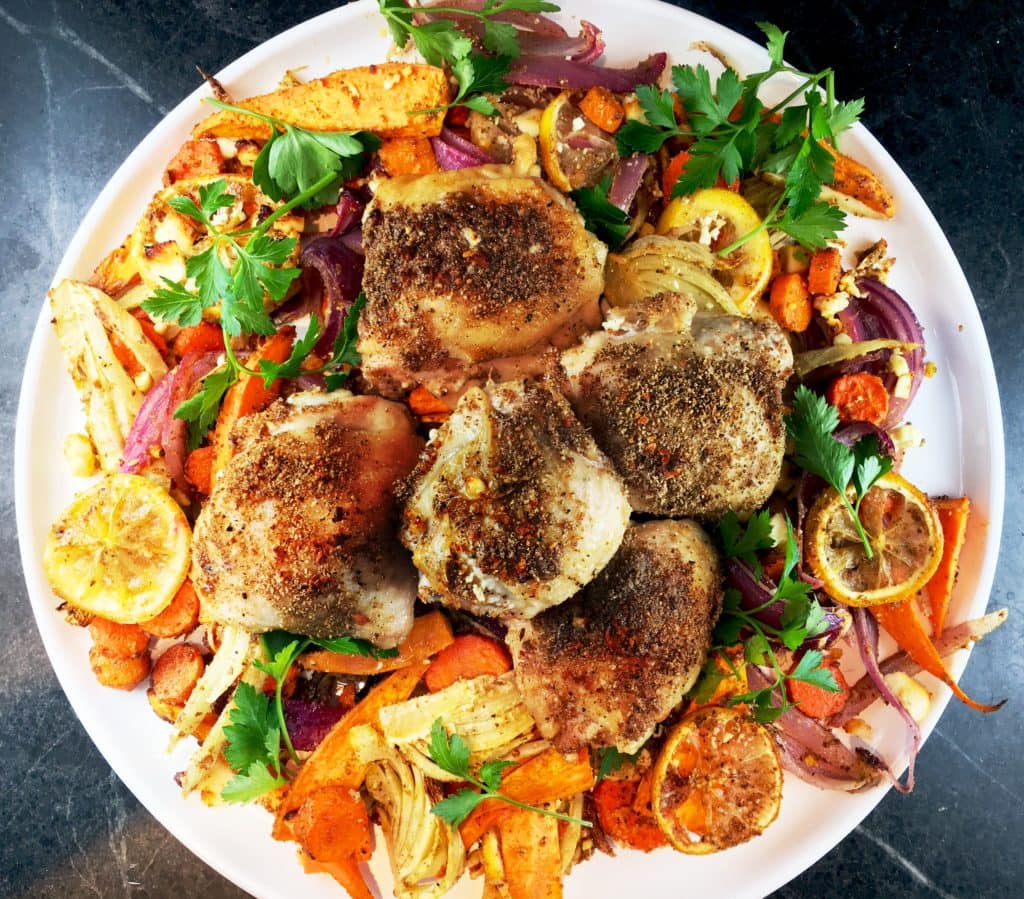 I've always loved Roasted Vegetables prepared on a Sheet pan, and have posted a couple of my favorites in the past. This recipe from David Lebovitz is such a classic, and the vegetables that accompany this Sweet-and-Sour Brisket are simplicity at its finest.  What's more, whoever invented full-meal Sheetpan Dinners was an absolute genius! So simple to prepare. A complete meal on a pan. Just chop some veggies, toss with oil and some spices, add a protein. Drop it all onto a sheet pan (or two in this case) and roast a while. (Maybe have a glass of wine while you wait.) And Presto! Dinner for the family. This particular one, Roasted Vegetable Medley with Chicken and Feta, I have to say, is my favorite so far. An enticing spice mixture with crushed hazelnuts provides a perfect earthy and nutty flavor for the entire dish. The toasted Indian spices create an inviting aroma and the salty bits of feta cheese atop the symphony of vegetables and chicken, just crushed it – a perfect easy dinner. I love the simple preparation for a weeknight dinner, or comforting Sunday Supper.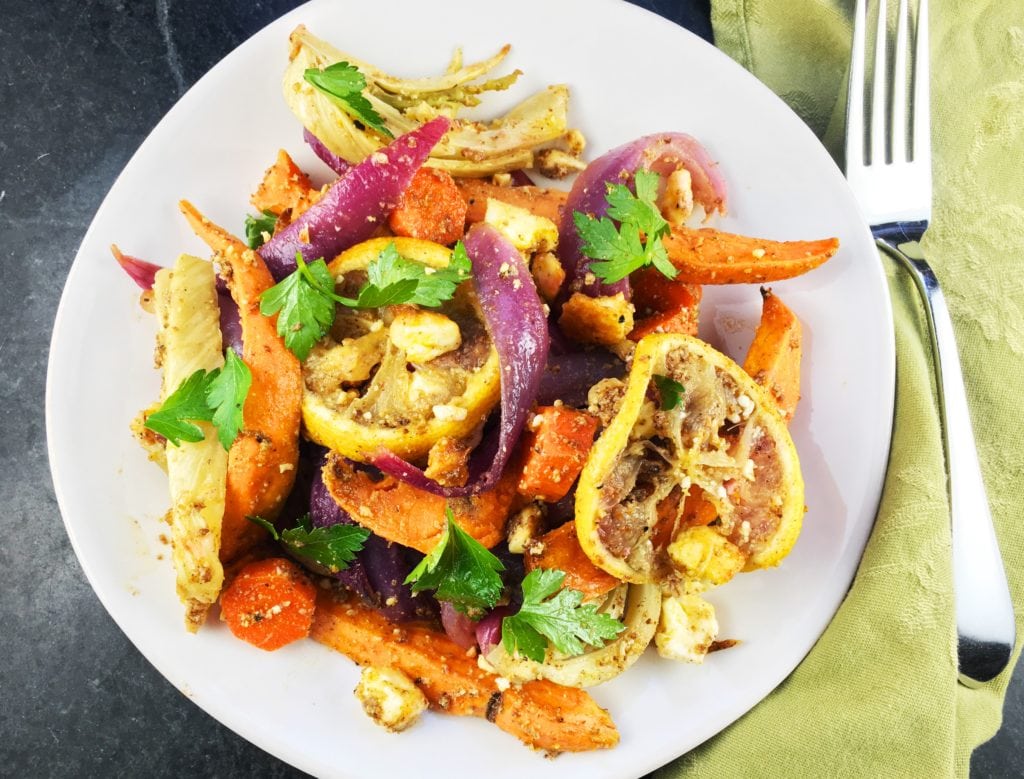 So try an Adventure Bite!  I'm sure that like me (and my kids), you will put yourself in the "Love it!" Category!
Enjoy!
Print
Roasted Vegetable Medley with Chicken and Feta Cheese
This recipe comes from Aarti Sequeira and Food Network.  I've adapted it slightly by adding chicken and a sweet potato as well as adjusting the temperature a bit for cooking the chicken thoroughly in a similar time.
Special equipment needed:  2 large sheet pans, a coffee grinder or a spice grinder or mortar and pestle to grind cumin and coriander seeds
Author:
Prep Time:

15 mins

Cook Time:

60 mins

Total Time:

1 hour 15 minutes

Yield:

4

-

6

servings

1

x
Category:

Sheet pan dinner
Ingredients
For the Seasoning
1/3

c Raw Hazelnuts

4

t Coriander Seeds

1

T Cumin Seeds
For the Chicken and Vegetables
1

Large Red Onion, peeled and cut into

1/2

" wedges

1

Lg Fennel Bulb, cut into

1/2

" wedges

2

Lg Carrots, peeled and cut into

1/2

" rounds

1

Lg Sweet Potato, cut into

1/2

" wedges

1

Lg Lemon, cut into

1/4

" slices

6

Bone-in, Skin-on Chicken Thighs

1/3

c Extra-Virgin Olive Oil
Salt and Pepper

6 oz

. Feta Cheese Crumbles
(Optional) Chopped Parsley or Cilantro, for garnish
Instructions
Make the Seasoning
Heat oven to 350F.  On a sheetpan, roast the hazelnuts 10-12 minutes (See Notes). Remove to cool. Increase oven heat to 400F.
In a small saute pan over Medium Heat, toast the coriander and cumin seeds 3-4 minutes, until they darken and become fragrant.
Roughly chop the hazelnuts and place them in a spice grinder or coffee grinder along with the toasted seeds.  Grind ingredients until all are of uniform size, about 30 seconds. Set aside.
Put Everything on the Pans
Place the chicken thighs on a sheetpan. Place chopped vegetables and lemon in a single layer on a separate sheet pan, placing any that don't fit on the same sheet as the chicken thighs.
Drizzle chicken and vegetables with the olive oil.  Generously salt and pepper the chicken and the vegetables.  Sprinkle the nut and spice mixture over the chicken and the vegetables.  Using your hands or a large spoon, turn the vegetables a few times to get spice mixture on all sides. Rub spice mixture into the skin of the chicken pieces as well, and turn skin-side down.
Place sheet pans into the oven.  After 25 minutes, turn the chicken pieces, stir vegetables and sprinkle the feta cheese evenly across the vegetables and the chicken. Return to oven for 20-25 more minutes or until vegetables are caramellized and tender, and chicken is done.
Serve with a garnish of chopped parsley or cilantro and an additional drizzle of olive oil, if desired.
Notes
Hazelnuts toast most evenly in the oven at 350F.  But you could toasts them over medium-high in a small saute pan, making sure to stir frequently to prevent burning.  This would reduce total cook time a bit, too.
Be aware all ovens are different. 400F may be too hot for your oven, especially on a "Convection/Bake" setting, you may need to set it at 375F instead. Just be sure chicken is fully cooked and veggies are fork-tender.
Recipe Card powered by