Quick, easy, hearty and healthy, this White Bean Tomato Soup recipe with homemade croutons is epic! One pot meal makes 4 protein- and fiber-filled servings!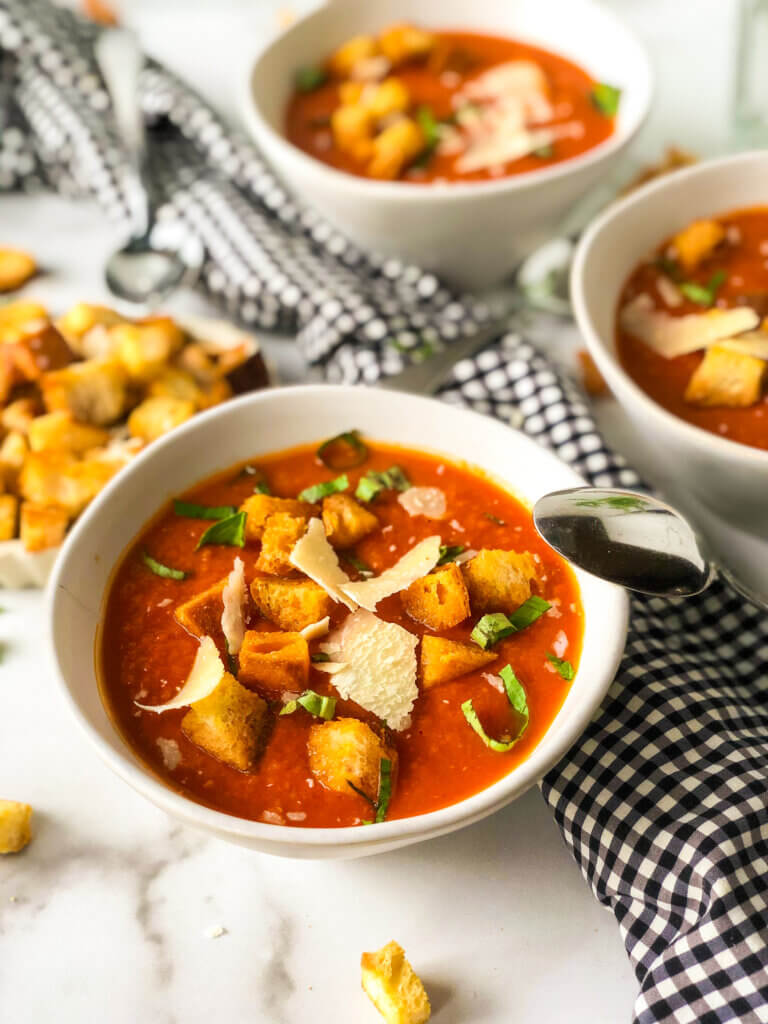 Back in elementary school, you may not believe this, but I absolutely loved eating in the cafeteria. Seriously. My school had a group of women who came in every morning, and cooked all the food for hot lunch. We had turkey and gravy, pasta with meat sauce, all kinds of wonderful food. One of my favorites was actually one of the easiest meals they cooked, Tomato Soup, usually served with a peanut butter on white bread sandwich. That peanut butter sandwich, dipped ever so gently into the hot thick soup, warmed the body and the soul. It was amazing!
As time went by, however, I realized the tomato soup they made us was actually Campbell's Tomato Soup, made with half milk/half water – I know this because I experimented once I realized it wasn't all of one or the other. Yep, I loved it THAT MUCH. I still do love that stuff, but to my adult tastebuds, it's a little sweet, and maybe lacking a little, … oh, I don't know, … Tomato flavor?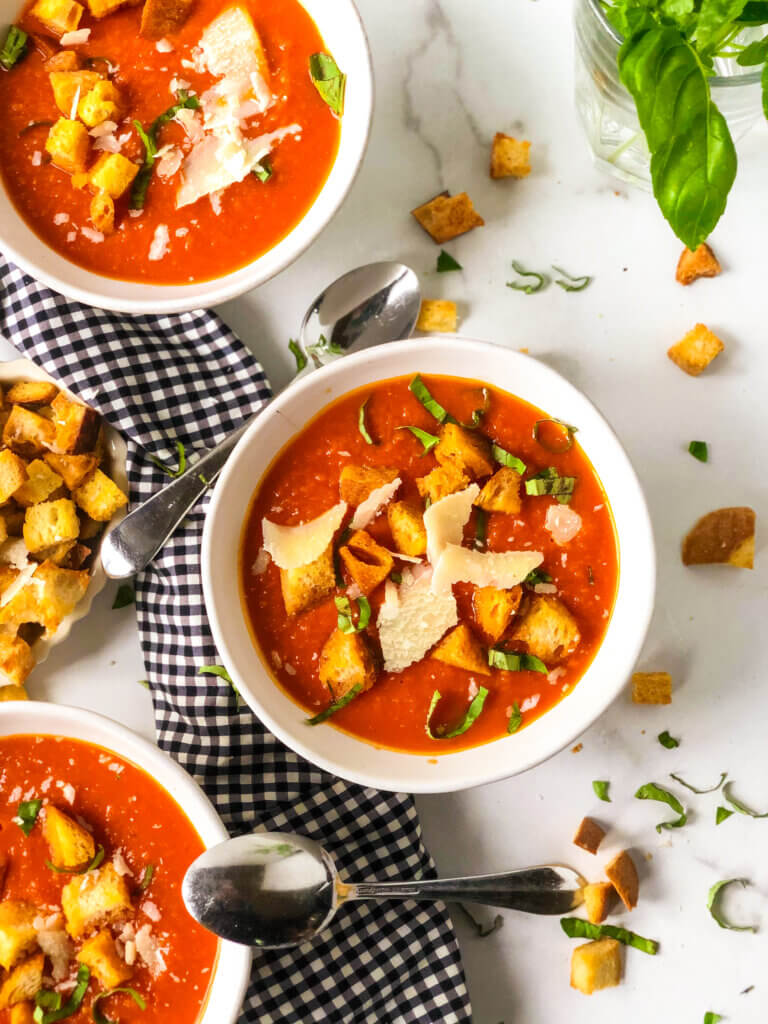 To this day, though, I can hardly eat tomato soup without a peanut butter sandwich (Thank you lunch ladies!), albeit these days on my favorite Dave's Killer 21-Grain Bread (have you had it? #notanaffiliate So good!). But these days I prefer to make my own soups, especially when it's as easy as this one. And this Tomato Soup is definitely among my faves. Even though it is not the same as my elementary school lunch, I always recall those cafeteria days when I eat it.
This recipe is one made from simple ingredients that I usually have in my pantry and refrigerator. It is easy to put together and you can do it in a hurry or let it simmer most of the day, just depending on how much time you have that day. An added bonus is that although it shines on cold-weather days, it is perfect all year round, and makes enough for 4 hearty servings!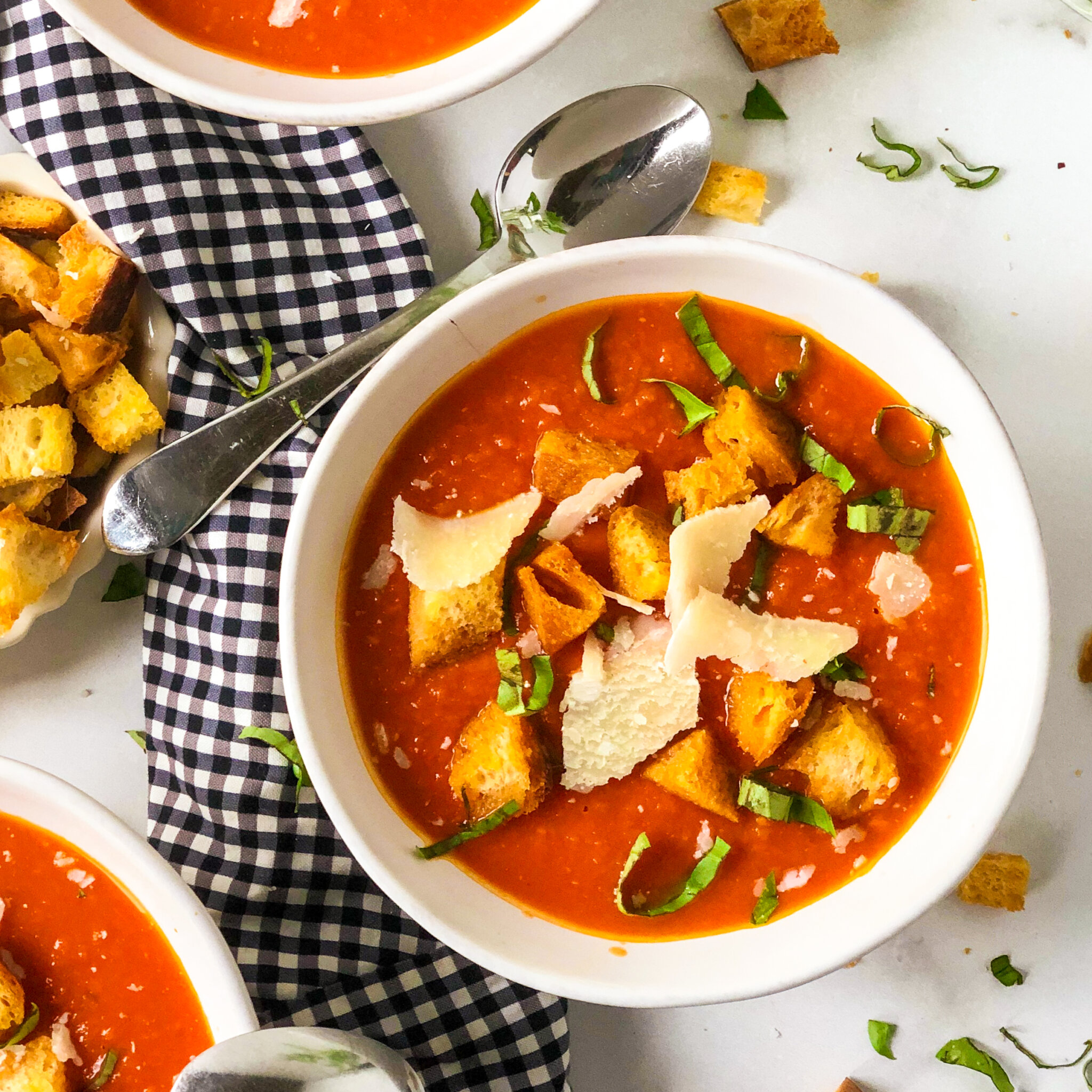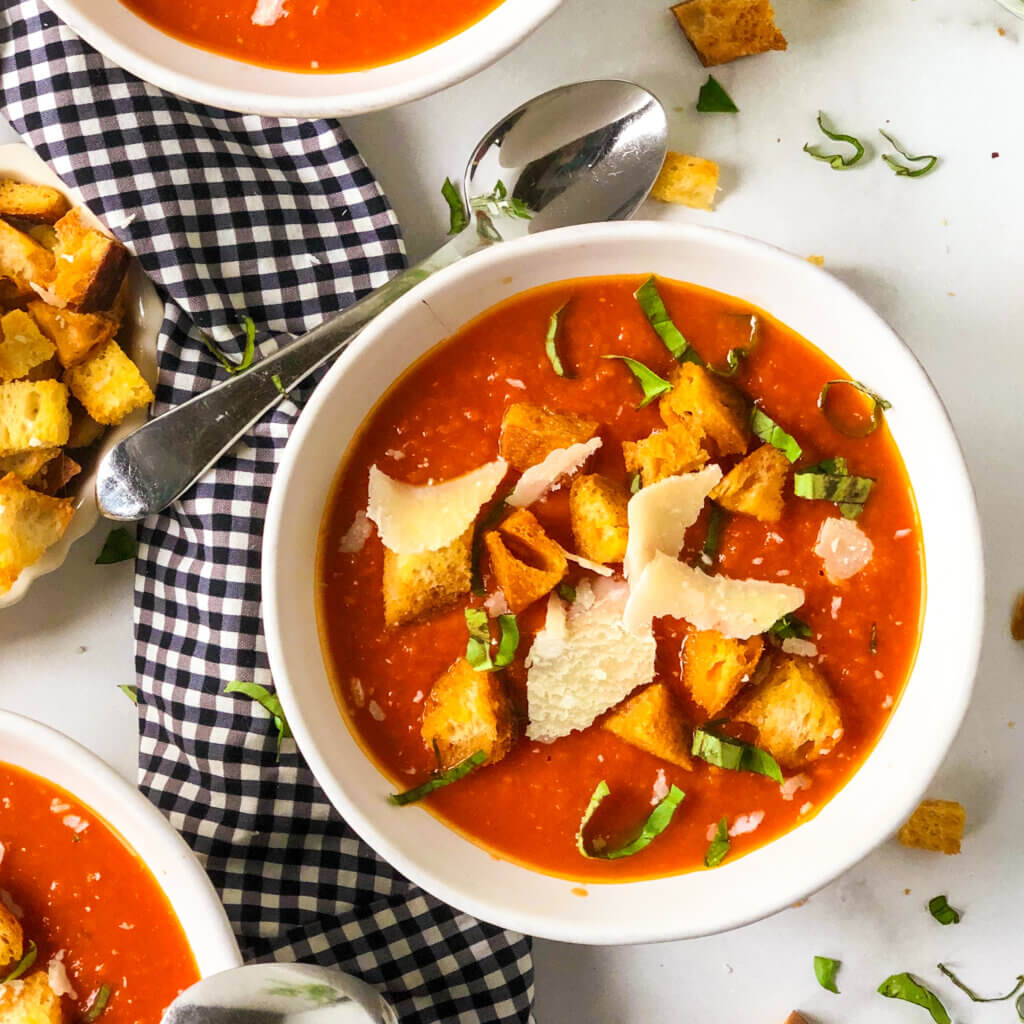 So, why not make some soup? This Tomato White Bean Soup recipe provides all the protein, fiber and vitamins you need in a full meal! Not that it couldn't be a side or appetizer. Or, maybe make a Peanut Butter sandwich to dip into it! How good would that be?
And, I'm curious, did you eat cafeteria food in school? Or homemade lunch every day?
Enjoy!
Looking for other soup recipes? How about some:
Moroccan Vegetable Soup (Vegan!)
Smoky Lentil Soup with Sausage and Vegetables
Easy Chicken Tortilla Soup with Nachos
Red Lentil Farro Sweet Potato Soup (Vegan!)
PIN White Bean Tomato Soup for Later->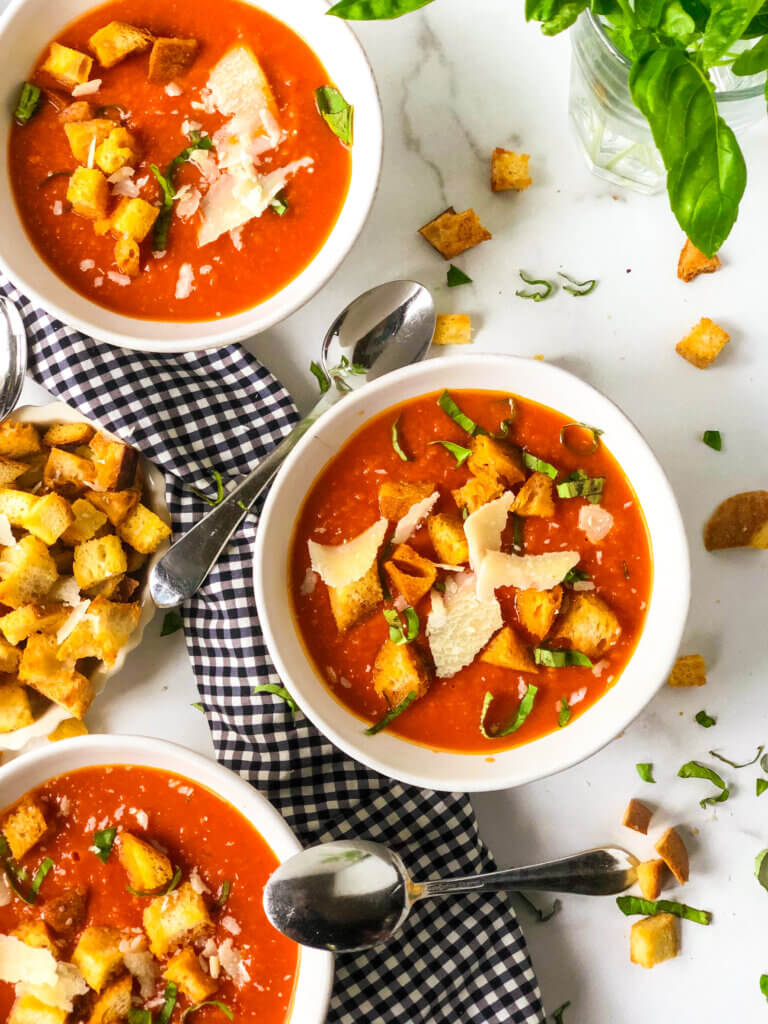 Homemade Tomato Soup Details ->
This post may contain affiliate links. As an Amazon Affiliate, I may earn a small commission, at no cost to you, for purchases you may make of items linked from this site.
Tomato soup is definitely one of my all-time favorites, and the best part is how super-simple it is to make. Just a few ingredients, so the main ingredient, the tomatoes, need to shine here. 
When I'm making a tomato-centric dish,  I try to use San Marzano variety whole, peeled tomatoes when I can. I stock up the they're on sale. I find San Marzano varieties more flavorful and less acidic than others. Although I realize in a taste test where San Marzano were pitted against other varieties, an Indiana-grown variety came out on top (I once had a business client (who was from Tennessee) that SWORE to me that Indiana-grown tomatoes are the best in the world! I was a pharmaceutical salesperson, so don't ask me how this conversation came about!).  I won't tell the San Marzano people if you don't. 
And, this tomato soup also has white beans, which I added for protein and fiber. And, because after they are blended into the tomatoes, they thicken the soup but you really can't taste them, you'll still feel good knowing they are there. I used Great Northern Beans, because that's what was in my pantry, but you could definitely substitute Canellini beans if you like.
So, to make the soup, you'll want to use a 4-6 quart Soup Pot, or a large (4 qt or more) saucepan. Start by sauteeing the onions in a Tablespoon or two of Olive oil. Once they are slightly translucent, after about 4 minutes, add the carrots and garlic and saute a bit more. 
Then you'll add 2 Tablespoons of Tomato Paste, and let that cook a minute or two, followed by the tomatoes, drained beans, stock, salt and pepper and a couple teaspoons of vinegar. Let this all simmer 20 or 30 minutes until the carrots are tender then blend until it's as smooth as you want. You could use an Immersion Blender, like I did, or use a regular blender, making sure you process only a half-full blender at a time. Take it from me, I once got a chest-full of hot soup because I filled it too full and the pressure cause the blender lid to blow off. This is why I use the immersion blender. 😉
You can also let the pot of soup simmer several hours before you blend it up. No harm at all, and the flavors by that point will be extraordinary!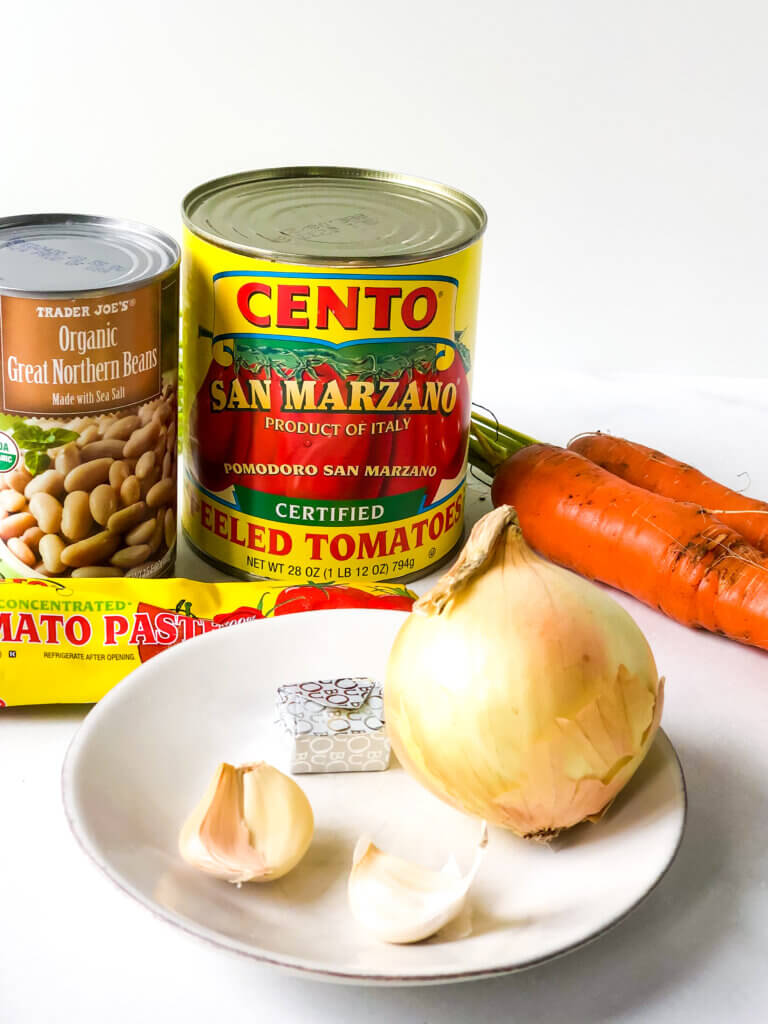 But, while the soup is simmering, it's a good time to make some croutons! I made mine Vegan, so I didn't include shredded cheese. If you want to make some cheesy croutons (!), go ahead and add a nice handful (1/3-1/2 cup) shredded cheddar, mozzarella, gruyere, or parmesan cheese before you bake the croutons. This is such an easy recipe. Just cut abut 3 bread slices into cubes to make 2 cups worth (I doubled the recipe). Then pour them out onto a sheet pan. Drizzle with the oil, sprinkle salt and red pepper flakes, and cheese, if using. then mix them all around with your hands to distribute all the flavors. Bake 10 minutes at 400F, stirring after 5 minutes. You'll have wonderful toasty croutons for the top of your soup!
I like to add a little basil to the soup at the end, too – so much fresh flavor!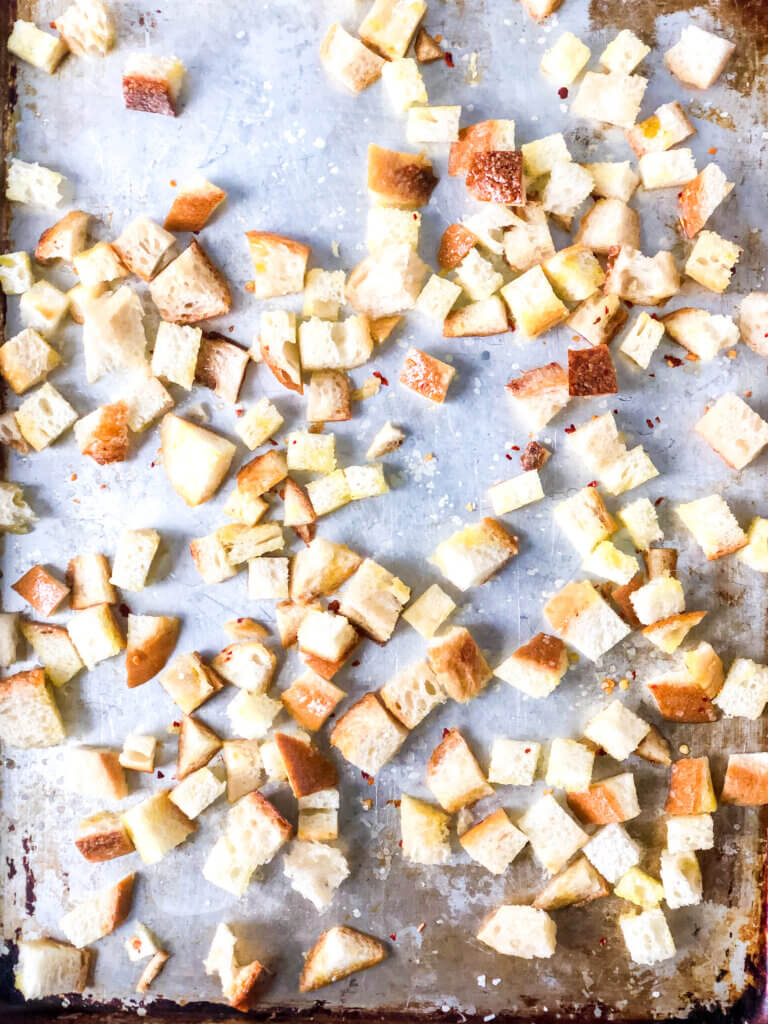 Print
Homemade Tomato Soup
This White Bean Tomato Soup has a good supply of vitamin C, protein and fiber, thanks to ample tomatoes and healthy white beans. Easy to make, even easier to enjoy, especially when topped with fresh herbs and crunchy croutons!
Equipment needed: Large saucepan or small stockpot (4-6 qt)
Author:
Prep Time:

5 min

Cook Time:

10 minutes, plus 20-30 min to simmer

Total Time:

45 min

Yield:

4

Servings

1

x
Category:

Soups

Method:

Stovetop

Cuisine:

American
Ingredients
For the Soup:
1

–

28

oz. (794g) Peeled, Whole Tomatoes (preferably San Marzano)

1

–

15

oz. (

425g

) can White beans (Great Northern or Canellini)

1 Tbsp

(15ml) Olive Oil

1

Medium Onion, diced

2

Medium Carrots peeled and diced

2

–

3

cloves garlic, peeled and smashed

2

–

3

cups Vegetable Stock

2 Tbsp

Tomato Paste

2 tsp

White or white balsamic vinegar

1/4 tsp

Red Pepper Flake

1 tsp

Salt, plus more to taste
Optional:
Handful herbs, chopped: basil or oregano

1 cup

cream, half/half, or milk to substitute for the last cup of stock
For the Croutons:
2 cups

bread cubes, any type

1

T Olive Oil

1/2 tsp

salt
Large pinch Red Pepper flake
Instructions
Make the Soup:
In a stockpot over medium heat, heat the olive oil. Once hot, add the chopped onions and carrot. Stir frequently until onions are translucent, about 4 minutes. Add the garlic and stir until fragrant, about 1 minute. 
Add the tomato paste, stir and cook 1-2 minutes.
Add the tomatoes and all the puree from the can, the beans, 2 cups of stock, salt, red pepper and vinegar.
Turn heat to Medium-High and cook until boiling, stirring regularly.
Once the soup boils, reduce heat and simmer 20-30 minutes, until carrots are soft. If you have the time, feel free to simmer several hours, in which case you may need to add more stock or water to make the soup the thickness you desire. While soup simmers, make the croutons.
Using a blender, ladle or pour half the soup (CAUTION: do not fill the blender more than half-way!), and blend until thick and smooth. Alternatively, use an immersion blender in the hot soup pan. Process until soup is as smooth as you desire.
If desired, add an additional cup of stock to thin, or add up to 1 cup cream or half and half to make a creamier soup.
Serve with chopped herbs and croutons, if desired.
Make the Croutons:
Preheat oven to 400F.
Cut bread into 3/4″ cubes. Pour over a sheet pan. Drizzle with olive oil, and add salt and red pepper flakes.
Bake 10 minutes, until golden and crispy, stirring once after 5 minutes.
Serve over hot soup with chopped herbs, and/or shredded cheese, if desired.
Keywords: white bean tomato soup, tomato soup, homemade tomato soup, white beans, san Marzano tomatoes, easy soups, quick soups, comfort food
Recipe Card powered by