Looking for a meal that is way simpler than it tastes and will be a full, healthy meal the entire family loves?  This Easy Chicken Tortilla Soup with Nachos will satisfy everyone with its tangy-spicy-smoky flavors and toppings!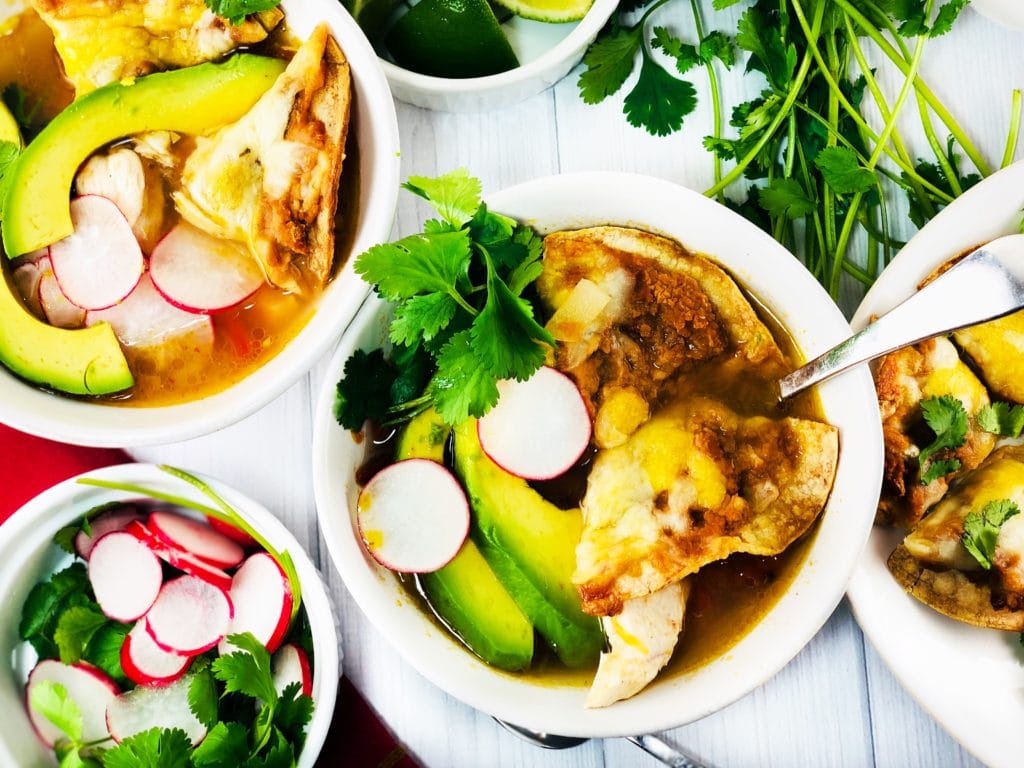 I'm not sure why it's still "soup weather" in large parts of the country, including here in the Pacific Northwest, where April showers bring … hummingbirds, …er, I mean, they bring many splendid tulips.  This rainy, cold weather just reinforces the melancholy I'm feeling over not having my beloved local hummingbird mama nest right outside (!) my window ?. Following her nestings the past 3 years in a row, I've almost come to expect her. And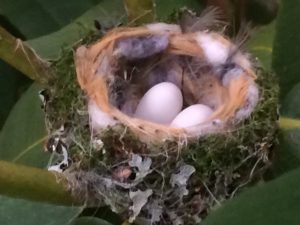 I've so missed leaning far off my front porch, peeking at the beauty of those navy-bean sized eggs, watching and waiting for sounds of the baby bird tweets. I literally spent hours watching the nest, watching the mother (we called her Nancy) feed her hatchlings, seeing them grow to eventually fill up the nest, waiting for their first flights. And, indeed, I did see the first flights. (When I said I watched for "hours", I wasn't exaggerating!)
I followed them to see where they lived, after leaving the nest, still in my yard, being fed by Mama Bird for the next several days.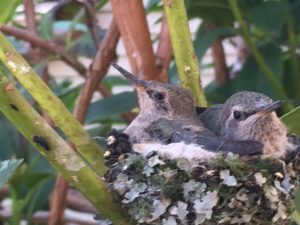 During those weeks, there were days that I couldn't pass by front door without peeking out at the nest, sometimes just waiting to watch Nancy feed her babies.
But, I still needed to make a good dinner (among other things), in pretty short order for my hungry family.  We had quite a few "leftover nights" during those few weeks of the year. This Chicken Tortilla Soup would've been the perfect quick meal that only seems like it took hours!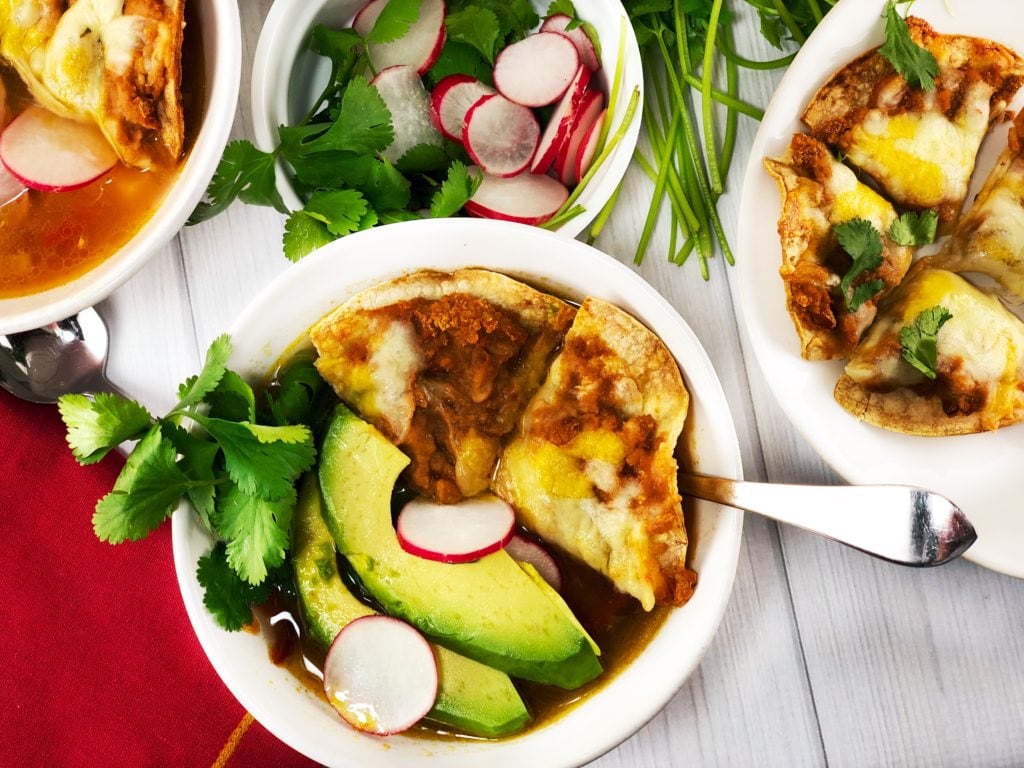 All my whining about hummingbirds aside, this soup is incredibly tasty – it is seasoned with Chipotle chiles for smokiness and spice, and has a healthy squeeze lime juice for tanginess.  Also, it is filled with lovely veggies and tender chicken, and then adorned with NACHOS of all things, providing additional flavor, texture, and fun! The nachos also add a bit of "full meal" feel, which, as you might know from my Smoky Lentil Soup with Sausage post,  is something some of us, (not saying who exactly) need when eating soup.
And, if you tend to spend some time doing things like bird-watching, this flavorful meal is deceptively quick – start to finish, you could have it done, including the nachos, in 30 minutes.  So it could be a weeknight meal.  The recipe was advertised on Epicurious as a 22-minute meal, but for some of us, much of that time is the time it takes to preheat the oven, am I right? So I adapted the recipe a bit, but it still took me 30 minutes. Maybe you will be more efficient than me.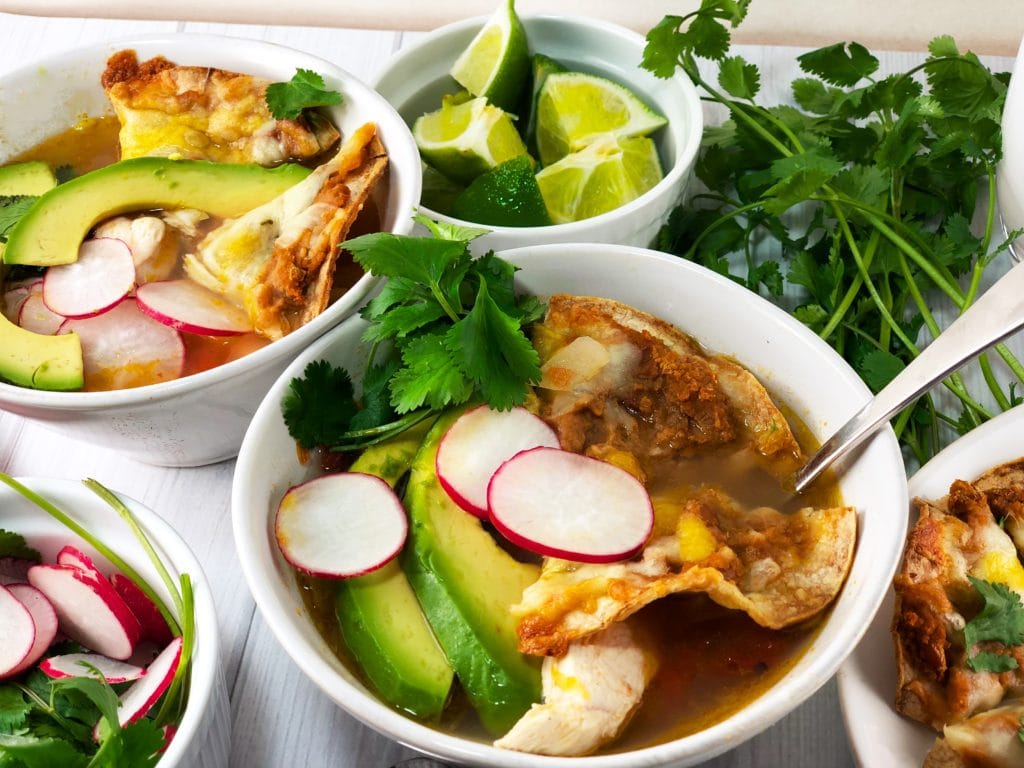 So whether you are a bird watcher or not, this easy and quick Chicken Tortilla Soup with Nachos should be on your weeknight dinner list.  It did made me feel a bit better about those crazy birds abandoning me, …ummm, I mean, choosing a more private spot this year.  Hey, there's always next year! And don't forget, Cinco de Mayo is coming – make some Chicken Tortilla Soup with Nachos! You won't regret it! Enjoy!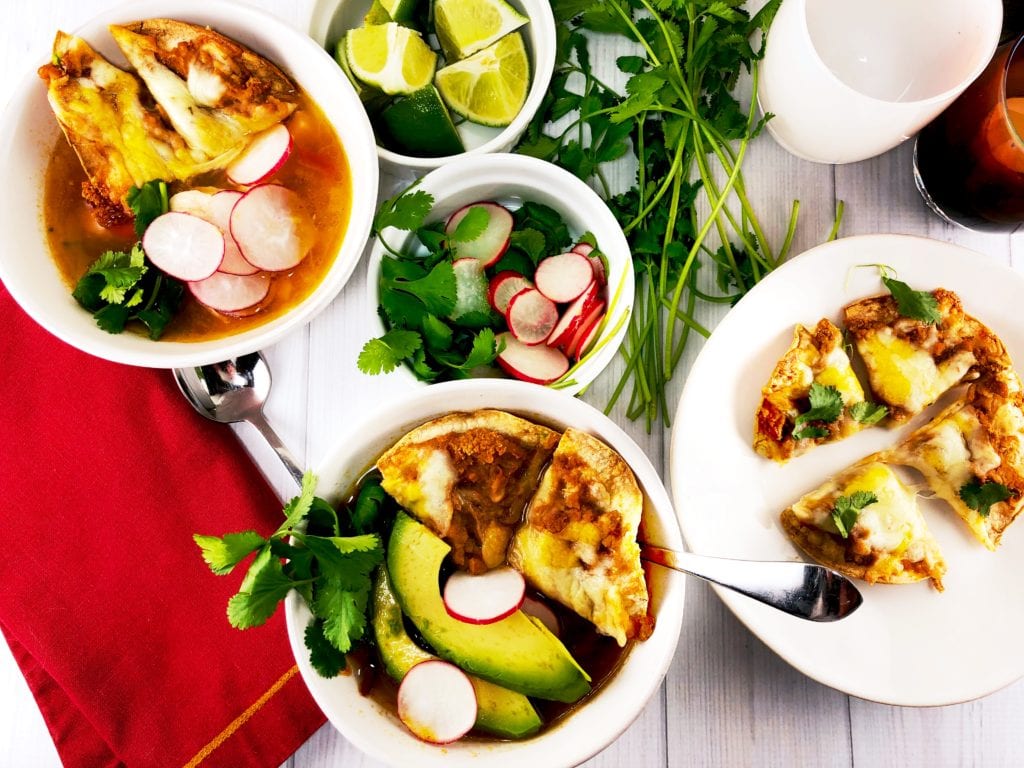 Print
Easy Chicken Tortilla Soup with Nachos
This smoky, tangy, spicy soup is healthy, hearty and so delicious!  The entire family will love the nachos either as a topping or on the side!
This recipe is adapted slightly from this one I found on Epicurious.
The best way to prepare this is to make the soup broth while the oven preheats.  Let the broth simmer while you make the nachos, then add the chicken while nachos are cooking.  That way, everything gets done at the same time!
Author:
Prep Time:

10 min

Cook Time:

20 min

Total Time:

30 min

Yield:

4

Servings

1

x
Category:

Soups
Ingredients
For the Soup:
2

T neutral-flavored oil (olive, safflower, grape seed)

4

(6") Corn tortillas

1

Small-Medium Yellow Onion, peeled and chopped

1

t Ground Cumin

1

t Kosher Salt

2

garlic cloves, chopped

4

c Low-sodium Broth (I used Chicken)

1

–

14

oz. can chopped tomatoes, fire-roasted

1

seeded chipotle chile, chopped, from can of Chile in Adobo plus 1 t adobo sauce

1/2

t ground Black Pepper

1

lb boneless, skinless chicken breasts, cut into

1/2

" thick strips and cut lengthwise if large

2

T fresh lime juice (

1

–

2

limes' worth) plus 1 lime, cut into wedges
(Optional for serving) Sliced or cubed avocado, sliced radish, chopped cilantro leaves
For the Nachos:
4

(6") Corn Tortillas, cut into

1

" pieces

1

T Neutral-flavored oil (olive, safflower, grape seed)

1/2

c Refried Beans (I used jalapeno-flavored, but any type will do)

3/4

c Shredded Cheddar or Monterrey Jack Cheese

1/2

t Ground Cumin
Instructions
Prepare the Soup Broth
Preheat oven to 425F.  Oven is for preheating for the Nachos, but you can make the soup broth while the oven preheats.
In a large saucepan or a 4-5 qt pot, heat the oil to Medium-High.  Then saute the chopped onion and cut tortillas until onions are slightly browned and soft, about 5 minutes.  Add a bit more oil if tortillas begin to stick too much.
Add the minced garlic and cumin and stir until fragrant, about 1 minute.  Then add the tomatoes, broth, chiles, salt and pepper.  Bring to a boil, then cover and reduce heat to simmer, while you make the Nachos.
Make the Nachos
Place tortillas on a large sheet pan.  Brush a bit of oil on top of each tortilla. Place in oven for 5 minutes.  Turn tortillas over, return to oven and bake 4-5 minutes until crisp.
Spread about 2 T refried beans onto each tortilla. Shake a bit of cumin and a bit of salt over each tortilla, then 1/4 of the cheese.  Return tortillas to the oven and bake until cheese is melted and starting to brown.
Remove to a cutting board.  Prior to serving, cut tortillas into quarters.
Finish the Soup
Uncover the soup pot, add the chicken and cover for about 5 minutes or until chicken is fully cooked through.  Add the lime juice, stir.
Divide broth into bowls, and serve with chopped avocado, radishes and cilantro. Garnish with nachos if desired.
Recipe Card powered by
Pin for Later ->