These Rhubarb White Chocolate Blondies will positively change your idea of Springtime treats! A browned-butter Blondie studded with white chocolate chips, topped with a simple rhubarb jam and more white chocolate!  A party for your tastebuds!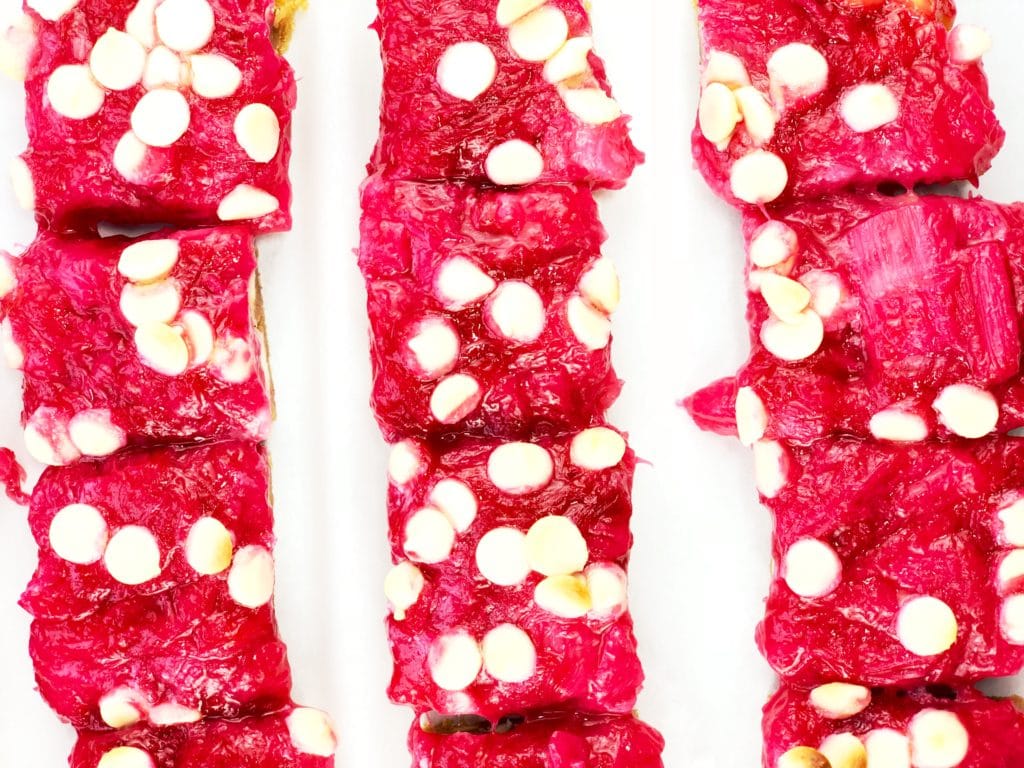 This post is an ode to rhubarb – one of my all-time favorite foods, and something I look forward to every Spring.  My Mom grew it in our Indiana backyard, extolling its virtues to us while patiently awaiting those first ruby stalks.  When I first tasted that blast of earthy tang followed by the brown-sugar sweetness, I thought, 'This is either the worst or best dessert of my life!'  A few bites in, I'd already decided, it was the BEST!  Kind of hard for my 7-year-old self to believe, from a thing that looks like red celery.  Although it is celery-like, rhubarb is classified as a fruit in the US, by LAW, which apparently supersedes science.  A hard pill to swallow for a science lover. I imagined this was somewhat due to its colloquial name, "pie plant." But I read here it actually had to do with taxes imposed on foods with culinary uses.  But we all know it's a vegetable, right?  Don't we?  Because there's no seed inside.  That's what makes something fruit, am I right?  Hmm.  Kind of the way an avocado is a fruit, and squashes are fruits.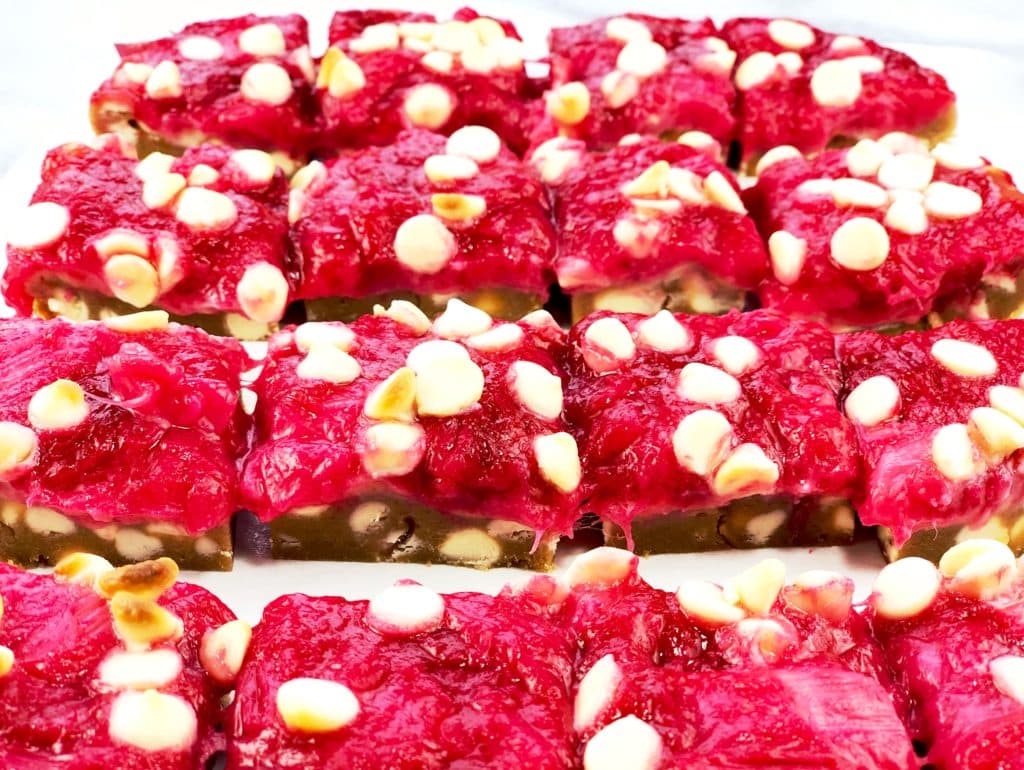 Anyway, when browsing produce the other day, I came across the most beautiful stalks of rhubarb I'd ever seen!  So intensely colored, red from top to bottom, they were calling my name.  I knew I had to make something with it. Immediately.  Rhubarb White Chocolate Blondies, I decided.  A super-easy, one-bowl, rich Browned Butter Blondie is studded with white chocolate chips.  Then the simplest of rhubarb jams is spread and topped with more white chocolate chips!  A dreamy mix of flavors and textures. I may have overdone the rhubarb layer on these blondies, I couldn't help myself, but it was so worth it – the flavor is amazing! Feel free to cut it a bit if you like, but it's rhubarb, so why?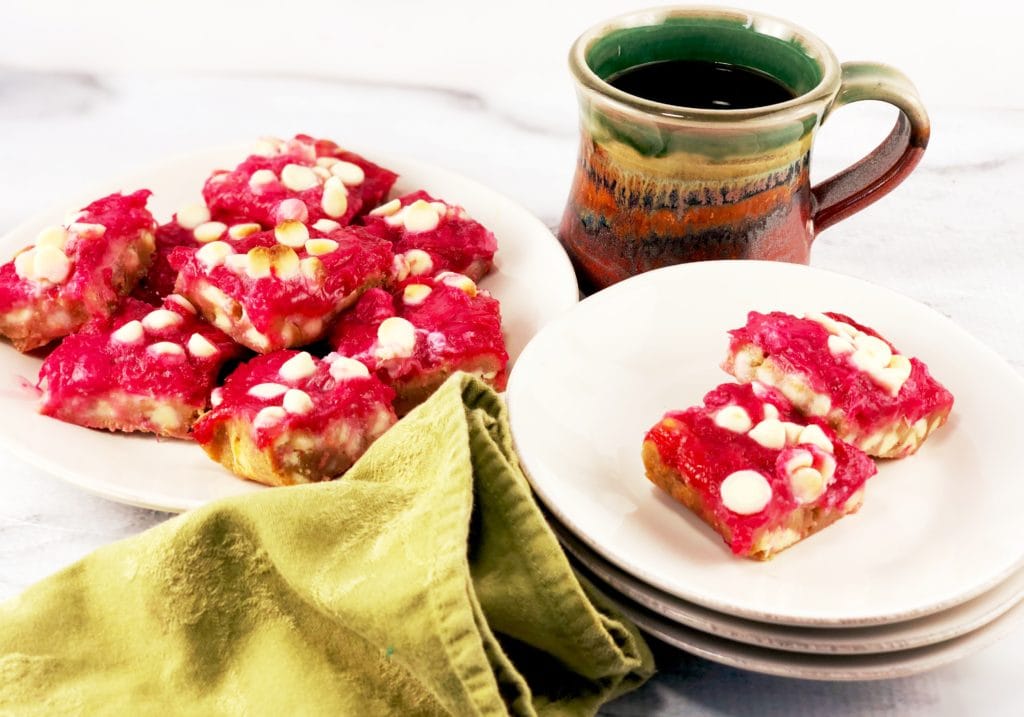 I've used rhubarb in other dishes, both sweet and savory.  If you've never had rhubarb in a savory dish, be sure to try my Roasted Chicken with Rhubarb Butter – (an oldie but goodie) – it is a revelation! And, since you need a new Springtime sweet, make these easy Rhubarb White Chocolate Blondies!  Enjoy!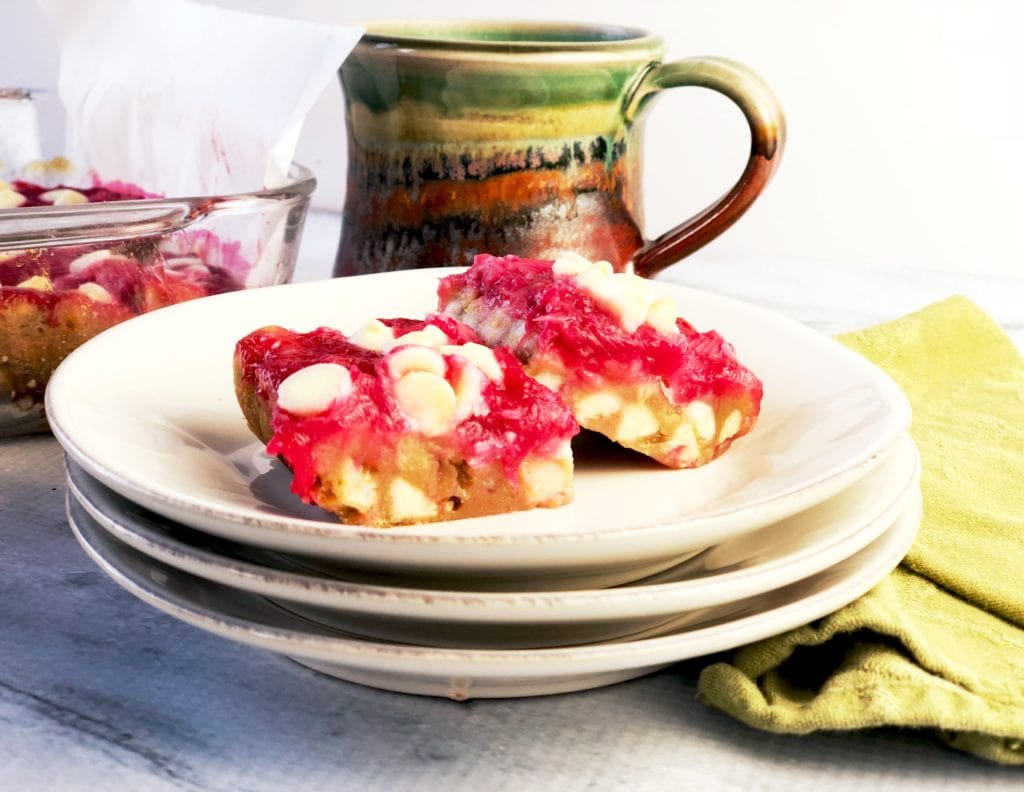 Print
Rhubarb White Chocolate Blondies
This recipe was inspired by, and adapted from several recipes, including Smitten Kitchen's Blondies, and Hummingbird High's Rhubarb and White Chocolate Blondies.  I changed bits of both of these recipes to create my Blondies.  I have to say, though, Smitten's Blondies are a revelation – the browned butter makes them positively divine!  They are called "infinitely adaptable" for good reason!
This recipe produces an 8×8 pan, but you could double it and make it in a 9×13.  You may or may not need to double the rhubarb jam if you make it in the larger pan (see note 1), as I made a pretty thick layer of rhubarb, due to my intense love for the stuff.
Author:
Prep Time:

15 min

Cook Time:

20-25 mins

Total Time:

35-40 mins

Yield:

9

-

16

bars

1

x
Category:

Desserts and sweets

Method:

Baking
Ingredients
For the Rhubarb Jam:
4

c chopped rhubarb, 1" pieces (about

1

lb.)

6

T Granulated Sugar
For the Blondies:
1/2

c (1 stick) Butter

3/4

c packed Dark Brown sugar

1

egg

1/2

t Vanilla Extract

1

c AP Flour

1/2

t Kosher Salt

1 1/4

c White Chocolate chips, divided
Instructions
Prepare the Rhubarb "jam"
Into a 3-qt saucepan, place the cut rhubarb and the sugar.  Cook over medium heat, stirring occasionally, until sugar is melted and rhubarb begins to soften.  Cover and continue to cook for 2 minutes, then uncover and boil another 2 minutes until much of the liquid is evaporated.  You should be able to still see many, though not all of the rhubarb chunks.
Set aside until Blondie is prepared.
Prepare the pan
Butter (or spray) an 8×8 baking pan.  Line with parchment paper with which you will be able to "lift" the Blondie out of the pan.  Butter or spray the parchment.
Make the Blondies
Preheat oven to 350F for conventional oven, or 335-340F for convection.
Brown the butter:  place the butter into a small saucepan.  Heat over Medium-low/Medium until butter melts.  Continue to heat for several minutes.  The butter will begin to spatter a bit, but keep heating until eventually, it stop spattering and will begin to foam.  Be patient, this takes several minutes.  Watch closely as the butter begins to foam up a bit.  It's ok to stir if you feel the need.  You will eventually see a bit of tan or "brown" coming to the surface of the foam. The butter will begin to smell a bit "nutty".  You can let it go 30 seconds or so at Medium-Low heat, but be sure to remove it before it burns.
In a mixing bowl, place the brown sugar.  Pour the browned butter over the sugar and stir until incorporated.  The mixture should be only slightly warm to the touch at this point.  Crack the cold egg over the mixture, stir until smooth.  Add the vanilla.  Stir vigorously until mixture is nice and smooth.
Add the flour and salt and stir to incorporate, but do not over-mix.  The batter will be quite thick.
Fold in 1 cup of the white chocolate chips. Spread the batter into the prepared baking pan and level the top as much as you can with a knife or offset spatula.
Using a slotted spoon, spoon the rhubarb jam over the Blondie batter.  It's ok to not use all of the liquid.  (I probably left 3 T of liquid in the pan.)
Sprinkle remaining 1/4 cup (or more if you like) chocolate chips over the rhubarb.
Bake 20-25 minutes.  Check half-way through.  If the white chips are browning more than you like, place a foil "tent" over the pan.  It's difficult to tell when they are done, but a little undertaking is better than overbaking.  I took mine out of the oven at 22 minutes and they were perfect!
Notes
You could use half the amount of rhubarb if you want – 2 cups 1" rhubarb chunks with 3 T sugar, in order to produce a thinner layer, if you like.  Everything else in the recipe could stay the same.
Recipe Card powered by
Pin for Later ->