This Scrumptious Carrot Cake Recipe with White Chocolate Cream Cheese Frosting is so craveable, so yummy you will want to share it with everyone! The frosting is just 5-ingredients, so simple to make!  Recipe adapts to double- or triple-layer!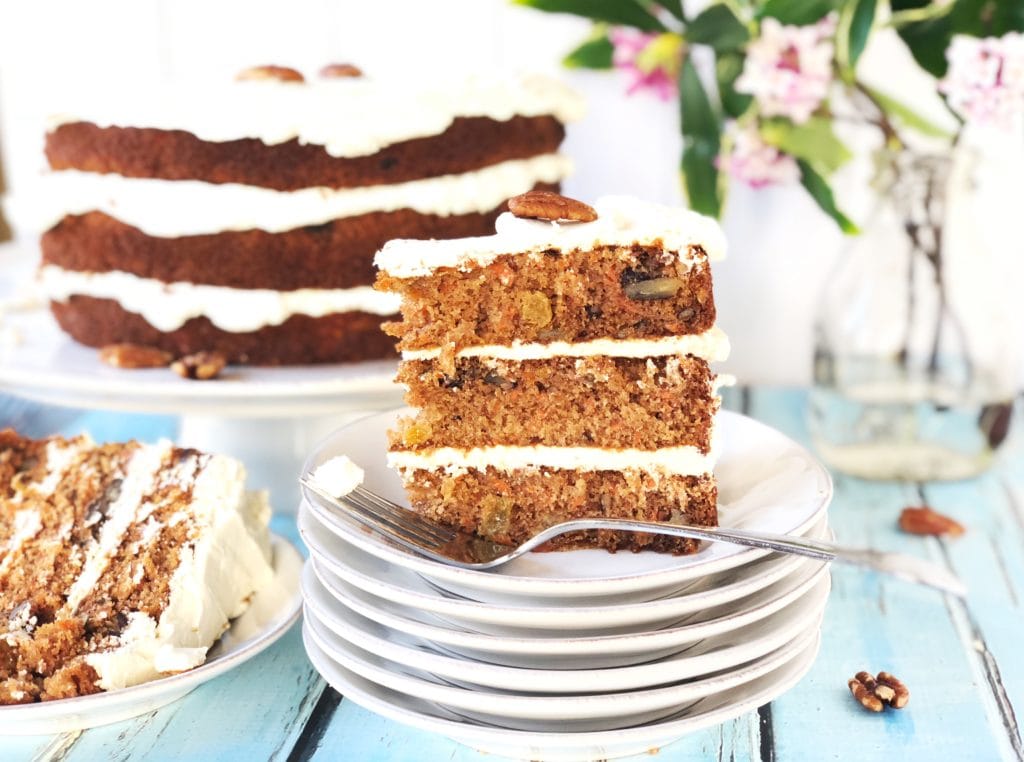 Carrot Cake!  Where did it come from? Who first decided to put carrots in Cake? Turns out, much like beets, carrots have long been used as sweeteners, since they are a 'sweeter' vegetable than many others, and long ago, sugar was difficult to come by.  According to the World Carrot Museum, (who knew there was a Carrot Museum?) Carrot Pudding, which is thought to be the basis for Carrot Cake, was featured in a cookbook as far back as 1591.
So, it really is a classic, super-old-school, perhaps an "Ancient" or "Heirloom" dessert.  Always moist and subtly flavored with cinnamon, there are many variations of the Classic Carrot Cake Recipe.  Some, like the one I made, with plenty of mix-ins, such as pineapple, raisins and pecans, and some that just have shredded carrots in a cinnamon-spiced cake.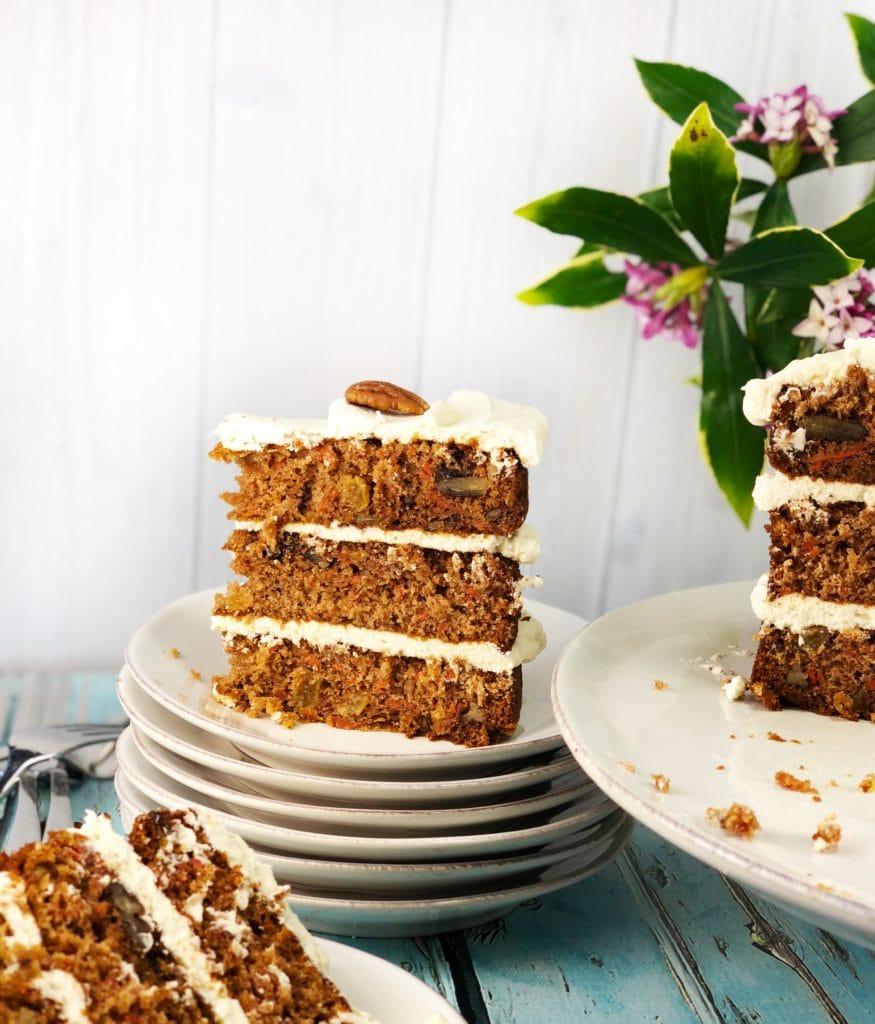 The first time I remember hearing of Carrot Cake was as a teenager, at my first job, in a restaurant, where I worked as a carhop. No roller skates, fortunately, for all involved – that would've been something of a disaster.  Anyway, one day our boss said we were going to begin serving Carrot Cake.  Yuck! – Carrots in cake?  I could see chocolate, or vanilla or even strawberry, but what's the deal with carrots in cake?
Well, soon enough, I was first in line for those slices that were "too small" to serve. Some people – and I'm not saying me – were known to disappear into the walk-in cooler for a few minutes only to emerge with a smear of cream cheese frosting coating their lips, no doubt testing the "too small" collection.  Proof that carrot cake is scrumptious, I guess! And, it has that tangy-sweet Cream Cheese Frosting!  My recipe for 5-ingredient cream cheese frosting is so light and fluffy, the perfect topper for this indulgent cake.  It is sweetened with white chocolate resulting in extra creaminess.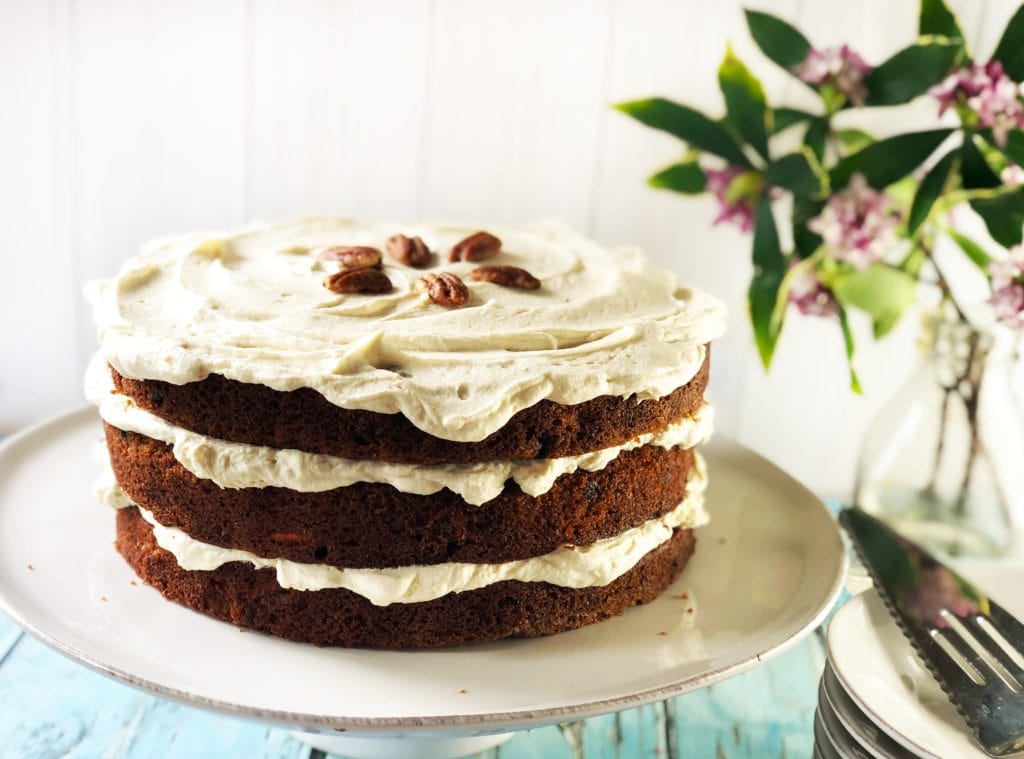 Carrot cake is often served during Easter time, but of course there is no reason it couldn't be served year-round. Other popular Easter desserts, in my house anyway, include this phenomenal Angel Food Cake this  Toasted Coconut Triple Layer Cake.   So enjoy an heirloom dessert!  Make this exceptional carrot cake!  Enjoy!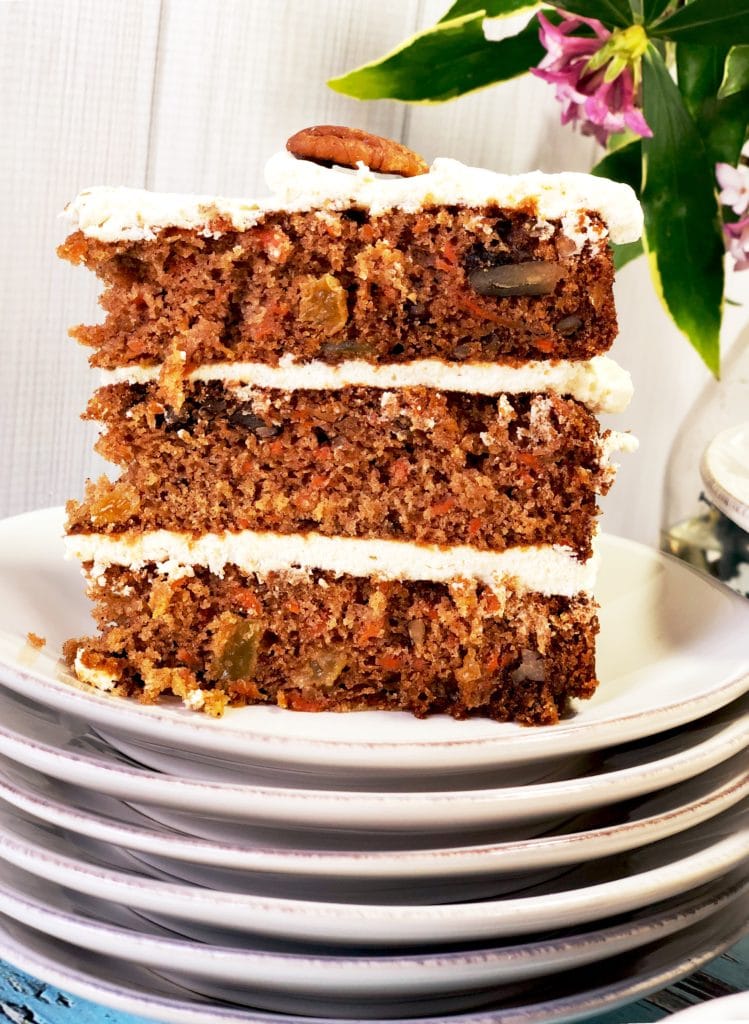 Print
Best Carrot Cake with Cream Cheese Frosting
Carrot cake is one of my favorite desserts!  But I so rarely make it. After making this moist and flavorful cake and realizing how easy it is, (with just a bit of organization ahead of time), I will likely make it more often! Adapted from and inspired by the Ultimate Carrot Cake Recipe from Southern Living, this cake can be further enhanced by the addition of this Buttermilk Glaze. I did not do this, but I'm thinking this buttermilk glaze would be awesome with any cake at all!
To make it a 2-layer cake, just pour the batter into 2 9" cake pans, and bake for 28-32 minutes, instead of 22-26 minutes, and spread the frosting over the sides as well as between the layers and on top!
Author:
Prep Time:

60 min

Cook Time:

25 - 30 min

Total Time:

2 1/2 hr (includes cooling time)

Yield:

1

-

9

" cake

1

x
Category:

Cakes

Method:

Baking
Ingredients
For the Cake:
2 1/2

c AP Flour

2

t Baking Soda

1

T Ground Cinnamon

1/2

t Ground Nutmeg

1/2

t Salt

1/2

c Butter at room temperature

3/4

c Granulated Sugar

1

c Brown Sugar (either light or dark)

1/2

c neutral oil (I used olive oil, but canola or vegetable oil is ok)

3

Lg eggs, room temp

3/4

c Buttermilk, room temperature

2

t Vanilla Extract

3

c Grated Carrots, (about

5

large carrots' worth)- See Note 1

1

–

8

oz. can crushed pineapple, well-drained

1

c raisins (black or golden is fine)

1 1/2

c Roasted, salted pecans, divided

1/2

c coconut (sweetened or unsweetened), optional
For the Frosting:
2

–

8

oz. Blocks Cream cheese, at room temp

9 oz

. White chocolate

2 oz

. (

1/2

stick), butter, at room temp

2

T Brown sugar

2

t Lemon juice
Instructions
Prep all of your ingredients and the baking pans:
Preheat oven to 350F.  If your pecans need toasting, place them in a bowl with 1 T melted butter and 1/8 t salt.  Stir, then pour onto a sheetpan.  Bake in preheated oven 8 minutes. Then roughly chop 1 cup of the pecans to go into the cake batter. Save the rest for garnishing the frosted cake.
If using coconut, pour onto a separate sheetpan and toast 4-5 minutes until lightly browned.
Grate carrots in food processor or with a box grater. (See Note 2)
Butter or grease and flour 2 or 3- 9 baking pans, or grease and line them with circles of parchment paper, also buttering the parchment paper.
Prepare the cake batter:
In a medium bowl, whisk together the flour, baking soda, cinnamon, nutmeg and salt. Set aside.
In a large bowl and using a stand mixer or a hand mixer, beat together the softened butter, the 2 sugars until well-blended.  Add the oil,  beat until blended, then add eggs, 1 at a time, and beat until each is just blended.
Measure the buttermilk.  Then, to the egg and sugar mixture, alternate 3 additions of the dry ingredients with 2 additions of the buttermilk, starting and ending with the dry ingredients.
Stir in the vanilla.  Then fold in the carrots, drained pineapple, 1 cup of the toasted pecans, raisins and coconut (if using).
Spoon batter equally into baking pans.  Bake 3 pans for 22-26 minutes (mine took 24), or 2 pans for 28-32 mins. Cakes are done when a tester inserted in the middle comes out clean, and they are just beginning to pull away from the edges of the baking pan.
Cool cakes on a wire rack in pans for 15 mins, then invert to cool completely before frosting.
Make the Frosting:
In a metal or glass bowl, over a saucepan of simmering water, melt the white chocolate pieces, stirring regularly so the white chocolate does not burn. Set aside to cool while you whip the cream cheese.
Using a stand- or hand-mixer, whip the room temperature cream cheese along with the brown sugar, until smooth, 2-3 minutes.
Slowly pour the cooled melted chocolate into the cream cheese. Then add the butter, and whip until fluffy, about 5 minutes.
Add the 2 t lemon juice and continue to whip an additional minute.
Frost the cooled cakes.  For a 3-layer cake, I like to generously frost just the tops of the layers.  If you are making a 2-layer cake, there should be enough frosting to frost between the layers, the top of the cake and the sides. Garnish with remaining pecans.  Refrigerate frosted cake prior to serving, and refrigerate any leftover cake.
Notes
Grate carrots with a box grater or with a grater disk in a food processor.  A box grater will produce a "thinner carrot", sort of a ribbon, whereas the food processor will produce a thicker carrot.  Both are fine in this recipe, just depends on your preference.
For 2-layer cake, spread frosting between the layers, on top, and over the sides of cake.  You may have a bit of extra frosting.
Nutrition
Serving Size:

1/14 recipe
Keywords: Carrot Cake, Southern Living, Cream Cheese, White Chocolate, Ultimate Carrot Cake Recipe, Best Carrot Cake Recipe
Recipe Card powered by
Pin for Later ->