Is is a scone or is it a biscuit?  I'm not quite sure either, but these fantastic Cheddar Onion Scones (biscuits) are my family's new favorite bread to butter along with dinner or brunch! And guess what?  No "cutting in" of butter!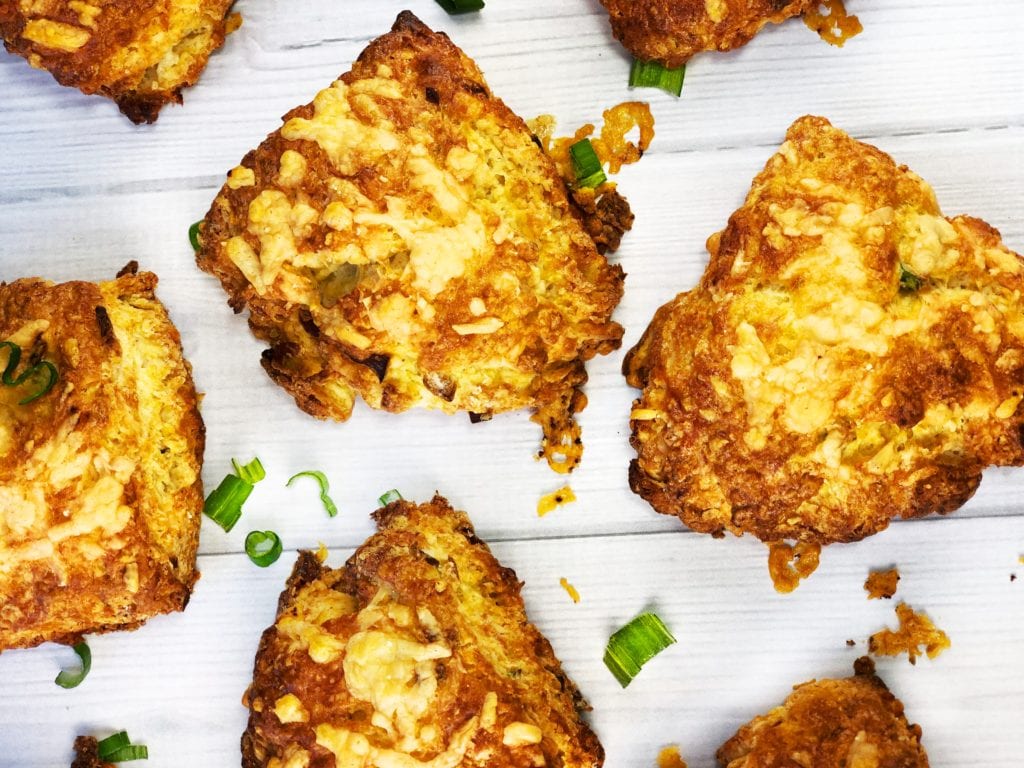 Ah….the all-important age-old question. Is it a biscuit or a scone?  I used to think they were two entirely different things. And, I have to admit, before I moved to Seattle (so so many years ago), I'm not sure I'd ever even heard of a scone. But then I tasted one.  Mmmmm, this is good, why haven't I had this before?  Or even heard of it for that matter?  I encouraged a good friend to try a scone.  Well, that's just a biscuit with fruit in it, he said.  "No!  It's a scone, clearly an entirely different thing!," I insisted.  But, deep inside, I wondered.  Was he right? Had I been eating "scones" all my life and calling them biscuits?
Turns out, like many things, the answer is – He was right, and, he was wrong.  How do I know this? Well, I asked Google.  Here's what I found: In general, scones and biscuits have the Same ingredients, different proportions.  Or maybe "scones" are just the British version  of the thing we call a biscuit. Turns out, some of the biscuits I often make are really somewhere between true biscuits and true scones.  Hmm….is there a name for that?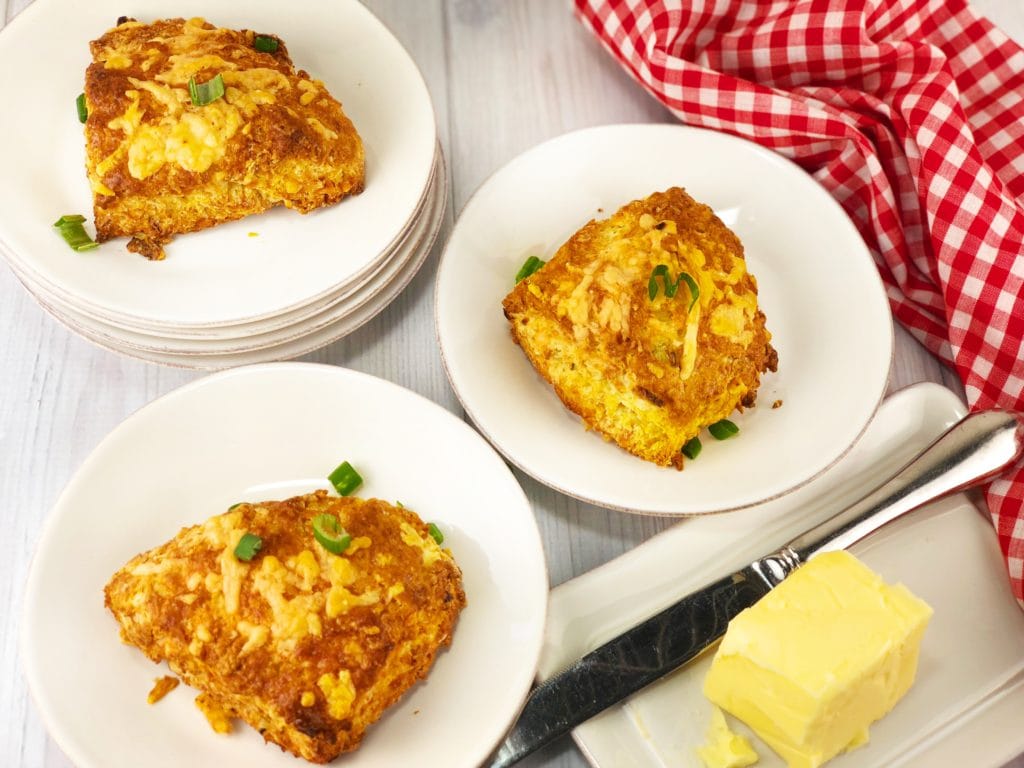 I decided to make these scone-biscuits (really, I need a name – neither "sconscuit" nor "biscone" work for me) after watching this Scone-maker, Sara Duggan, use a BOX GRATER, to cut cold butter in tiny bits to to help create the loft she wanted in her scones.  So this, and her recipe, inspired me to make these super-yummy Cheddar Onion Scones. My first attempt resulted in these kind of pale, soft, albeit mostly (a bit too much baking soda) delicious, blobs, which I attributed to adding a too much buttermilk.  So I reduced the baking soda and buttermilk content and added an additional egg, and these scones were born!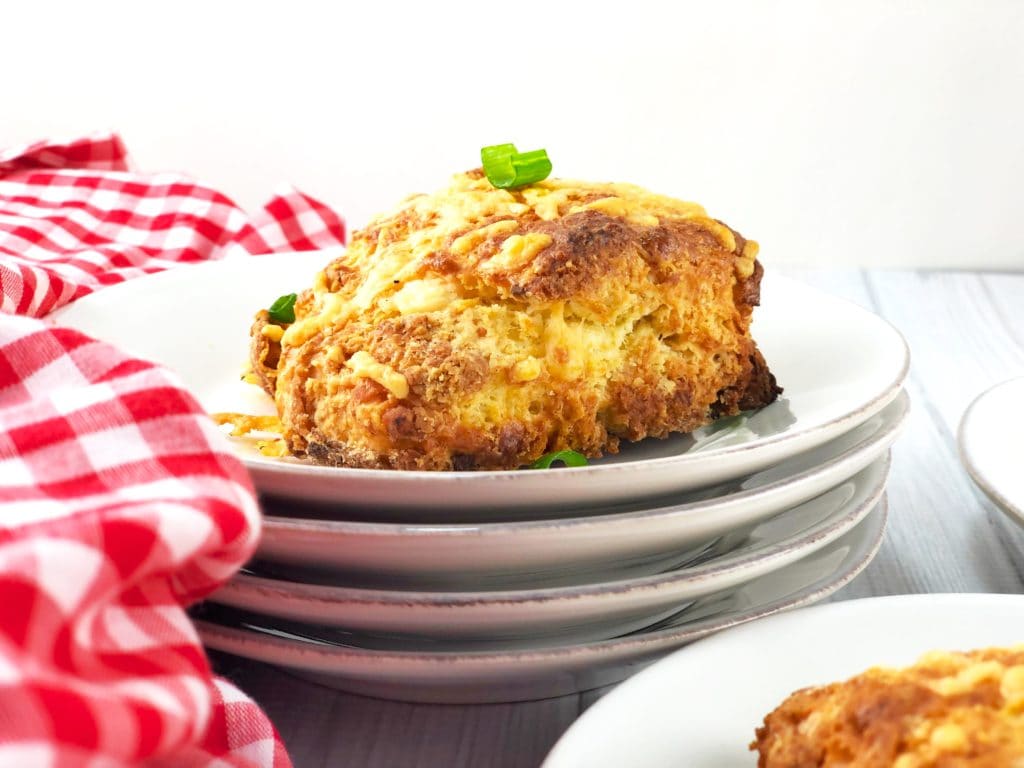 So call them what you want – Scones, Biscuits, or whatever – let me know if you have name better than those pathetic names I came up with – but you NEED to make some easy Cheddar Onion Scones – you won't regret it! What would be better with a nice bowl of soup?  Enjoy!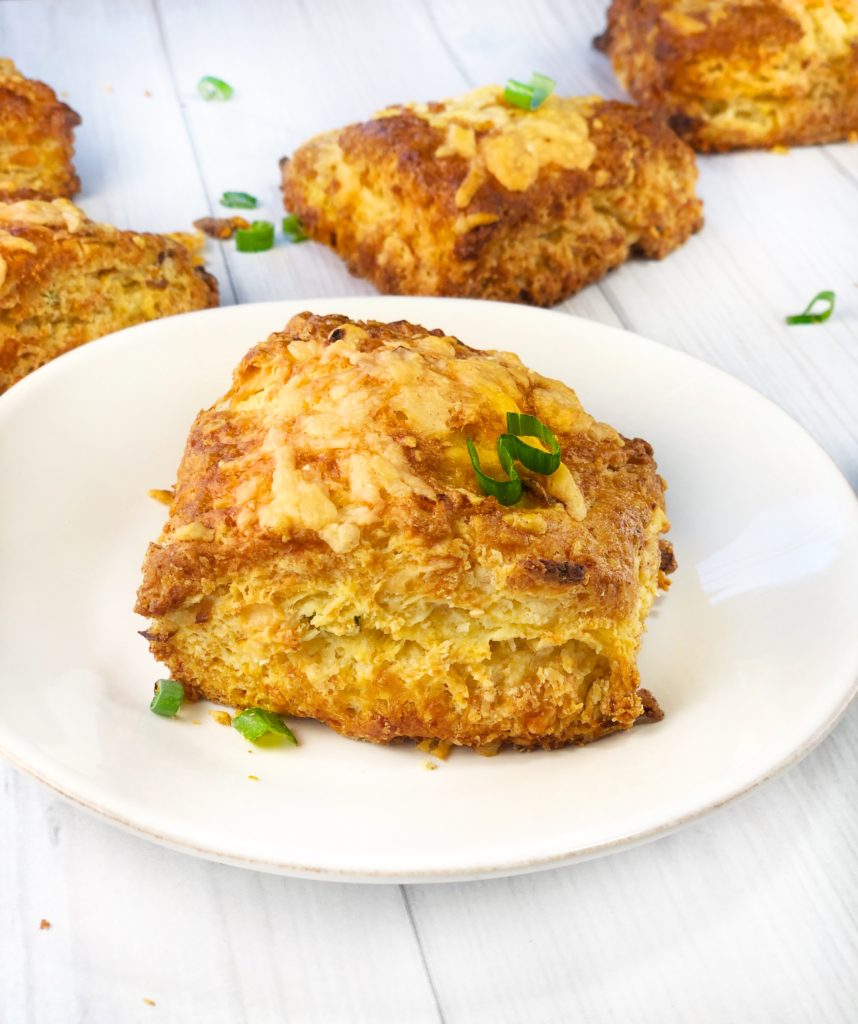 Print
Cheddar Onion Scones
These scones are the BEST!  Kind of half biscuit/half scone, the best of both!  Crisp outside, tender inside.  Buttered or plain, you may just need to double this recipe!
So easy to make – you can cut in the butter as you normally do for biscuits, or when super-cold or even frozen, run it over a grater, and it's perfect for mixing into the dry ingredients.
Author:
Prep Time:

10 min.

Cook Time:

18-20 min

Total Time:

28-30 mins

Yield:

8

scones

1

x
Category:

Quick Breads

Method:

Baking
Ingredients
Dry Ingredients
2

c AP flour, plus a little more for flouring the counter or board

1 1/2

T Granulated Sugar

2 1/2

t Baking Powder

1/4

t Baking Soda

1/2

t Salt
Wet Ingredients
1/2

c Butter, frozen preferred, but well-chilled is ok

1/2

c Buttermilk

2

eggs (a third if you would like an egg-wash for the scone tops)
Mix-ins
3 oz

. Sharp Cheddar Cheese (or any other you like), grated (approx.

1 cup

)

3

Green onions, sliced fine (white and light green only), approx. 1/3 cup
Instructions
Prepare the Dry Ingredients
Preheat oven to 400F.  Put a silicone or parchment sheet on top of a 11×18 Baking sheet.
In a large bowl, whisk together the Dry Ingredients.  (You can sift them for extra lightness, but I didn't).  Set aside.
Mix Wet Ingredients
Crack the two eggs into a small bowl.  Whisk well. Add buttermilk and whisk to incorporate.
Form the Scones
Grate the Butter into ribbons.  Add to the dry ingredients and mix with a spoona or a rubber spatula.
Grate the cheese.
Stir 3/4 cup of the cheese and the diced green onions to the flour mixture. Make a "well" in the dry ingredients.
Pour in the Buttermilk-egg mixture.
Stir until the a dough begins to form and just about all of the flour is incorporated.  Pour onto lightly floured board.
Form the dough into 2 equal-sized balls.  Press each into a 1" high circle, about 6-7" in diameter.
Cut each circle into quarters, and move each of the quarter-circles to the baking sheet.
If desired, brush with egg wash (whisked egg with 1 T water or milk).
Sprinkle remaining shredded cheese atop the scones.
Bake
Bake for 18-20 minutes until done.  The tops should be brown and crispy. Serve warm or at room temperature.
Recipe Card powered by
Pin for Later ->