This Sweet Potato Farro Salad with Black Beans hits every flavor note – sweet, tart, savory, spicy, salty, spicy. And, with the amazing textures of farro and arugula, it is simply Amazing! Just omit the cheese for a perfect vegan meal that everyone will love!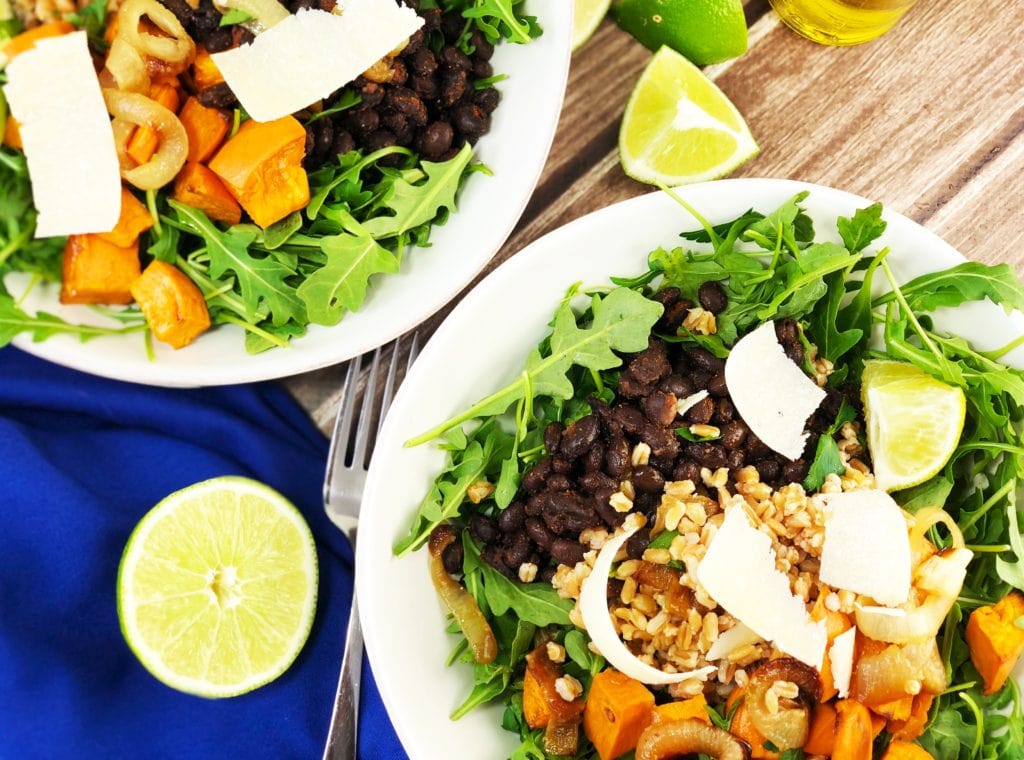 The other day, I sat down and watched one of my favorite movies – it is a remake of an older Disney movie, called "Freaky Friday".  It stars Lindsay Lohan as a rebellious teen and Jamie Lee Curtis as her mother. Have you seen it? The basic story goes like this: through some sorcery, they switch bodies, of course at the most inopportune time, and hilarity ensues.  Anyway, my favorite line from that movie comes near the beginning, before they trade places, when Jamie Lee is dropping her daughter off at school.  As Lindsay tries to make a quick getaway from her so-embarrassing mom, Jamie Lee leans out the window to send her off with a bit of sage advice.  "Make Good Choices!", she says loud enough for everyone to hear.  Hilarious!  I find that line just so, so funny! Truly, one of my favorite movie lines of all time.  Why is that so funny to me?  Well, it's because that is the EXACT sentiment I want to relay to my kids Every. Single. Day. Because I know that life is a series of choices, big and small. And we often know the best choice isn't necessarily the easy choice. If it were only that simple…. So, it is with this in mind that I made this beautifully healthy, completely satisfying, full of flavor Sweet Potato Farro Salad with Black Beans. It is simple. And one of the best-tasting salads I've ever eaten. It makes me happy. It even makes me joyful. Really. A great choice that is also a surprisingly easy choice.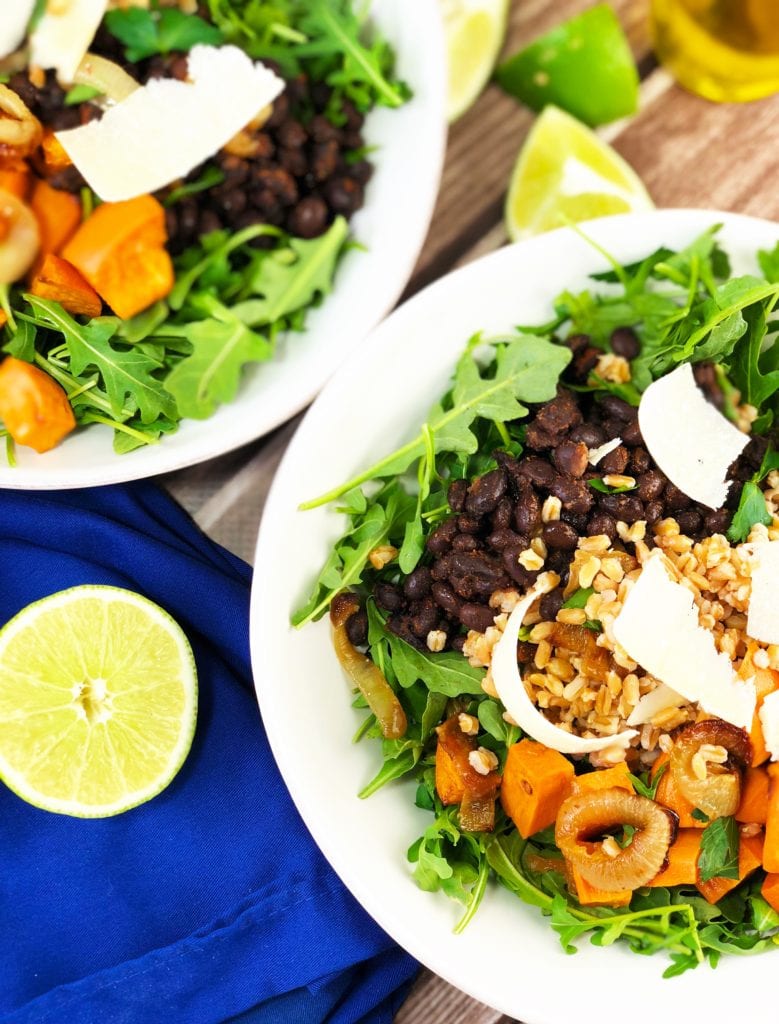 Often when we eat a salad, the dressing is the star of the show.  In this Sweet Potato Farro Salad, the ingredients are the definite stars, with the dressing simple to enhance and join their flavors. You'll be surprised how fantastic this salad is with just a bit of olive oil and a squeeze of lime.  I can't even. A party of Flavors and Textures!  The sweetness and slight char of the roasted sweet potatoes and onions, the chewy farro, slightly spicy black beans and crunchy arugula, all topped with the salty bite of shaved Parmeggiano Reggiano, and a bit of lime juice throughout all of it.  (Just leave the cheese off if you want a vegan meal!) It is a substantial meal of a salad. But super healthy – full of protein, fiber, vitamins!  And, OMG, this is my new favorite salad!  I can't wait to make it again!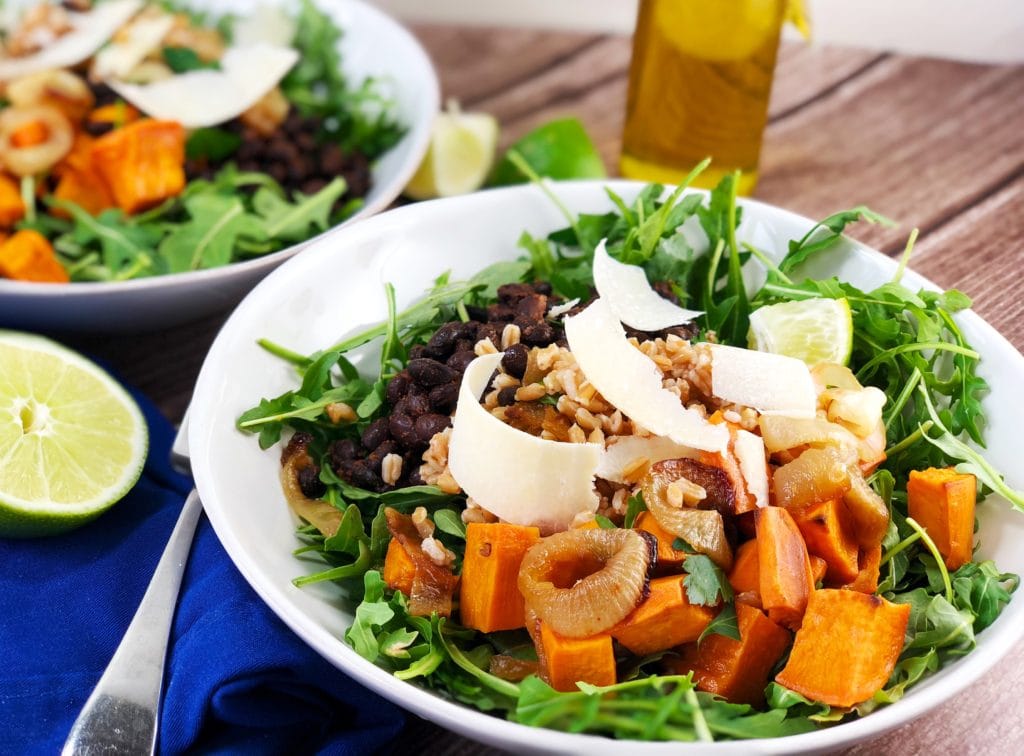 So when choices we make become anything other than simple, try out this wonderfully delicious and healthy Sweet Potato Farro Salad. Other salads I love can be found here. They are all so yummy, but this is one of the easiest Main dish salads that you will ever taste! So Make Good Choices! (Is there any better advice than that?) And, Enjoy!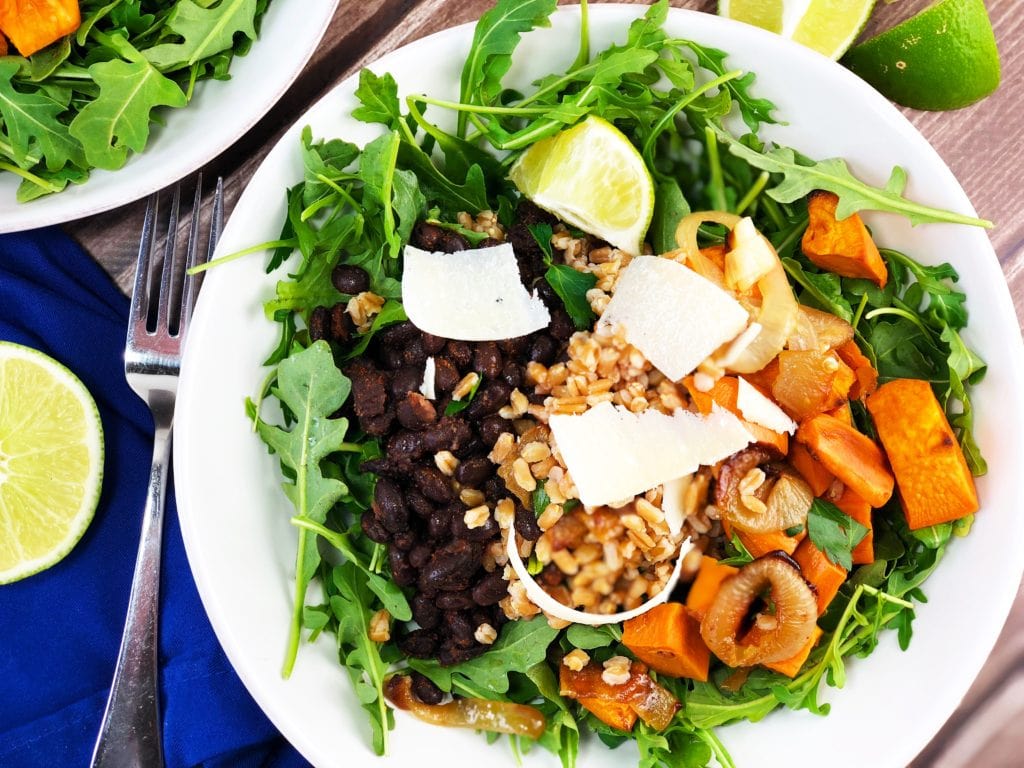 Print
Sweet Potato Farro Salad with Black Beans (Vegan Adaptable)
Sweet Potato and Farro salad is a festival of flavors and textures!  So delicious, so healthy!
To make this dish vegan, just leave off the Parmeggiano Reggiano or substitute a Vegan cheese!
Author:
Prep Time:

10-15 min

Cook Time:

35 min

Total Time:

45 - 50 min

Yield:

4

servings

1

x
Category:

Salads
Ingredients
1

c Farro

4

c Vegetable (or chicken) broth (ok to substitute water and

1

t salt)

1

Medium Onion (any type), sliced into 1/4" slices

1

Large Sweet Potato, peeled and 3/4" cubed

1

15-oz. can black beans, drained and rinsed

1

t Groud Cumin

1

t Smoked Paprika

1

lime

4

–

5

T Olive oil, divided

1

–

5

to 7-oz. bag greens (I used arugula, but you can use any type you like)
Shaved Parmeggiano Reggiano Cheese (Optional)
Instructions
Cook the Farro
Preheat oven to 425F.
While the oven preheats, place the broth (or water + salt) and farro into a saucepan. Bring it to a boil, then reduce heat to simmer.  Cover and simmer 30 minutes.  Drain. Drizzle cooked farro with a tablespoon or two of olive oil, and squeeze half of the lime over.  Stir.
Roast the Vegetables
While the farro simmers, Place the onion slices and sweet potato cubes onto a large sheetpan.  (Depending upon size of your sheetpan, you may need 2) Drizzle with 2-3 T olive oil and stir so that all onion slices and potato cubes are coated.  Sprinkle all with a large pinch of salt.
Place in preheated oven, and roast until potatoes and onions begin to carmellize, about 15-20 minutes. Stir half-way through roasting time.
Prepare the Beans
Pour the rinsed beans in a medium microwave-safe bowl.  Add the cumin and paprika.  Just prior to serving, heat the beans in the microwave about 90 seconds.
Compose the Salad
Prepare individual salads by placing a bed of greens on each plate or bowl.  Add a scoop of cooked farro, 1/4 of warm black beans, and 1/4 of the roasted potatoes and onions.
Squeeze the remaining half lime over the salads. Shave some Parmeggiano-Reggiano over the salad.  Serve.
Recipe Card powered by
Pin for Later ->