Korean Oven Fried Chicken is SO. DANG. GOOD.  Simple crispy oven-fried chicken with an exciting and flavorful oh-so-simple Spicy-Sticky-Sweet sauce you just mix in a bowl.  Consider your chicken world ROCKED!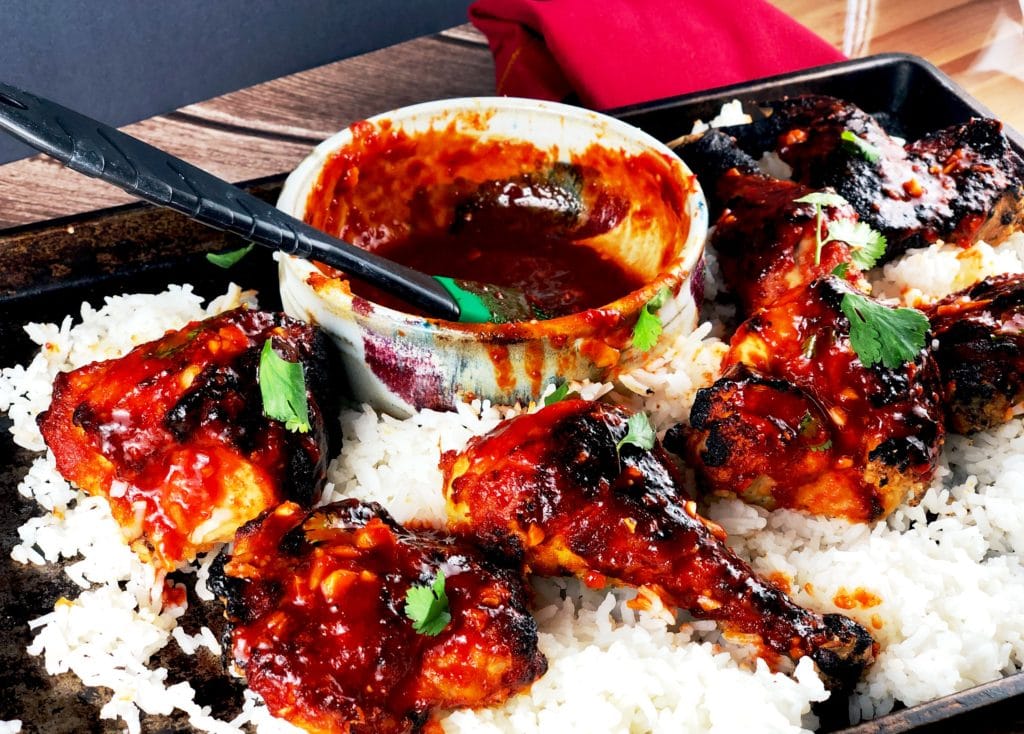 Growing up in a family of 8 necessarily required everyone in the family to pitch in and do their share, from household chores to cooking.  I was the 2nd of 6 of girls all born within a span of just under 8 years. Informally, (at least in my mind) we were kind of divided into the "older set" of 3 and "younger set". Our mom, who was brilliant seamstress, would make many of our clothes, buying a single pattern and making 3 outfits (we chose our color) for the older set, and occasionally, a pattern for the younger set, and do the same – although those 3 were often recipients of well-made and well-worn hand-me-downs.  She also taught the three of us older girls how to cook, beginning with easy things like cookies, to more difficult things like a chicken dinner. Eventually, each of the three of us had a chicken recipe we could cook.  My older sister could make Barbecued chicken (maybe it was 'Shake-n-Bake', because I'm pretty sure we kids didn't grill). My younger sister could make Oven-fried chicken, and I would make skillet-fried chicken.  In those days, we made 2 whole chickens for the 8 of us.  My memory is slipping, but I'm guessing Mom must've cut those chickens, although I'm pretty sure she did show us how to do it.  This is because at that point, I don't remember doing the cutting, but strangely, I know how to cut a chicken.  And we would do the cooking – again, I'm sure with PLENTY of help. Because Mom was very patient.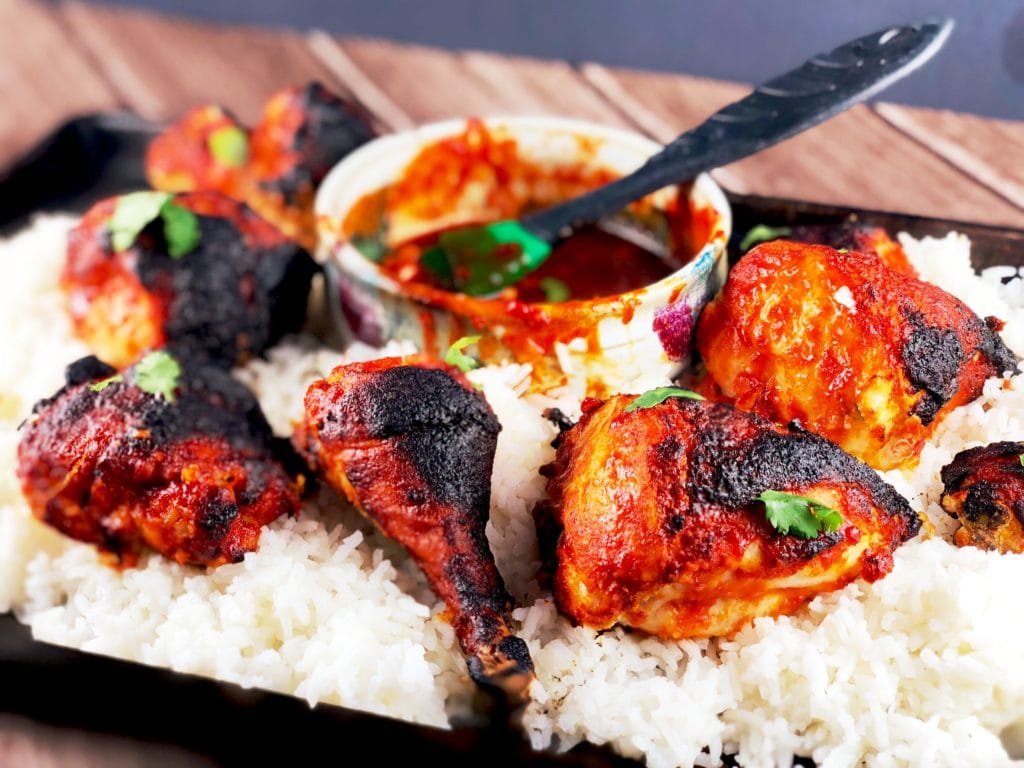 I always loved that skillet-fried chicken.  For me, it was chicken at its best – crispy, salty, tender. You may have had a skillet similar to the one we used, at your house. That Sunbeam brand skillet was the most frequently-used cooking vessel in our entire kitchen.  A square skillet on legs, that plugged into the wall, it was used not only to fry chicken, but for bacon, eggs, sloppy joe, you name it, that skillet was used!  I don't know if my fried chicken was any good at that point in my life, but I do remember making it. And I remember Mom's lesson to brown it on both sides, then cover and let it simmer "until it's done". Not 20 minutes, not 30 minutes, but until it's done.  Because why count the minutes?  There's no hurry. These days, for various reasons, I don't often fry foods in oil.  Since I love a good fried chicken, but don't want to skillet-fry it, I've found different ways to make it nice and crispy.  When I came across this recipe for Spicy-Sticky-Sweet Korean Oven Fried Chicken on Food52 from The Pastaman Blog, I knew I had to try it.  My love of spicy food leads me to all kinds of recipes, and, as evidenced by my Braised Korean Brisket Sliders, you know how much I love Korean-style food.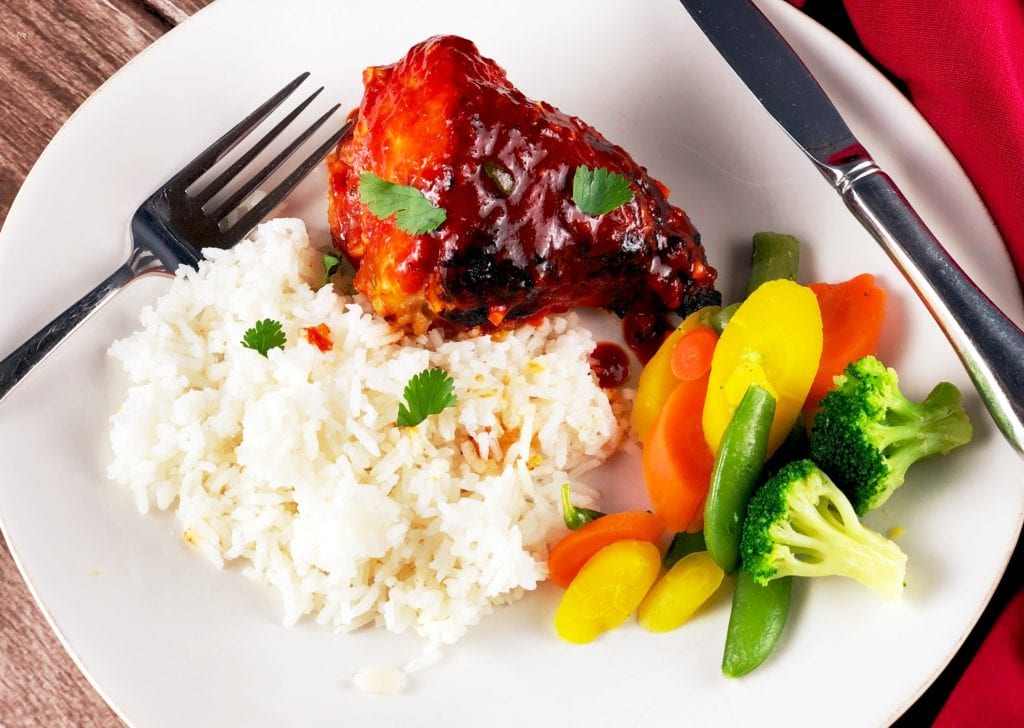 Aside from the outrageous flavor, the best part of this recipe is how (almost embarrassingly) EASY it is. Over the years, I've found simple ways to make oven-fried Chicken nice and crispy, and coating that crispy chicken with the spicy and sweet sauce from Saveur, I made this dang good Korean Oven Fried Chicken. I just can't get enough of that Spicy-Sticky-Sweet sauce! Garlic, ginger, rice vinegar, sesame oil, soy sauce and honey all combine with the Gochujang to make it positively addicting!  I served the chicken with rice and some veggies, but you could serve it in cultural fusion fashion with noodles or pita, or just on its own!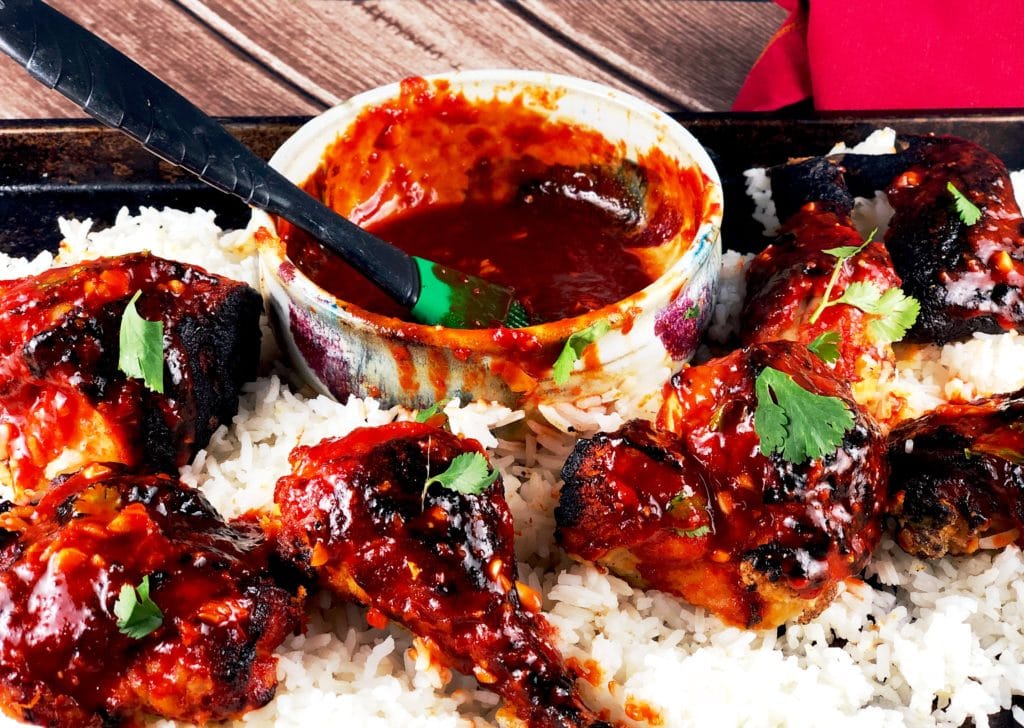 So go find (or order some !) Gochujang! The condiment you didn't know you need! It's so worth it! Enjoy!
Print
Korean Oven-Fried Chicken
Inspired by and adapted from this recipe I found on Food52, which used a Korean BBQ Sauce recipe from Saveur, I made my own oven-fried chicken and topped it with the spicy-sweet sauce.
You can find Gochuang in most Grocery Stores.  It's got plenty of heat. For me, I could go to 4 T for this recipe, but my family would likely have revolted, so I recommend starting with 3 T.
Note the chicken is cooked on a wire rack, skin-side up the entire time.
Since the chicken is not deep-fried, leftovers may not be super-crispy anymore, but rest assured, they are still phenomenal, especially with any leftover sauce!
Author:
Prep Time:

15 min

Cook Time:

50 min

Total Time:

1 hour 5 minutes

Yield:

4

-

6

servings

1

x
Category:

Chicken

Method:

Bake

Cuisine:

Korean
Ingredients
For the Oven-Fry:
1

Whole cut-up chicken, 4 Bone-in Chicken Half-breasts, or

8

Bone-in Chicken thighs

3

T Kosher Salt, divided

1/4

c AP Flour

1/4

c Baking Powder

1

t Black Pepper
For the BBQ Sauce:
5

Cloves Garlic, peeled, minced

1

T Minced Ginger

3

T Soy Sauce

3

T Gochujang

1 1/2

T Rice Vinegar

1

T Sesame Oil

2

T Honey (or Brown Sugar)
Instructions
Prepare the Chicken:
In a large bowl, combine 2 T Kosher Salt and 1 c warm water.  Add the chicken pieces. Cover with cold water and a couple handfuls of ice cubes.  Refrigerate for 2-10 hours, or overnight. If possible, remove the chicken from the refrigerator an hour prior to roasting.
Remove chicken pieces from the water, drain and pat very dry with paper towels.
Line a baking sheet with foil, then place a wire rack over the foil to hold the chicken. Spray or oil the rack generously.
When ready to roast, preheat oven to 400F.  Mix together the flour, baking powder, 1 T salt and pepper, in a gallon sized zipper bag.
Making sure the chicken pieces are dry as possible, place them 2 at a time into the flour mixture, shake, and remove each dredge piece 1 at a time, making sure to shake off any excess. Place each piece skin side up on the rack.
Roast in preheated oven 35-40 minutes.
Sauce the Chicken:
While chicken is roasting, prepare the sauce. Place all of the sauce ingredients into a wide, shallow bowl.  Stir until well-mixed
After the chicken roasts the initial 35 minutes, remove the pieces from the rack, one at a time, and roll in the sauce until covered.  Re-place them on the wire rack.
Return baking pan with chicken to the oven.  Roast 5-10 minutes longer.  Watch carefully, so chicken does not burn. Serve.
Recipe Card powered by
Pin for Later ->