Warmly-spiced, super-moist Pumpkin Bundt Cake, covered with a blanket of easy Salty Penuche Frosting (think salted caramel!). If that isn't Fall on a plate, then what is?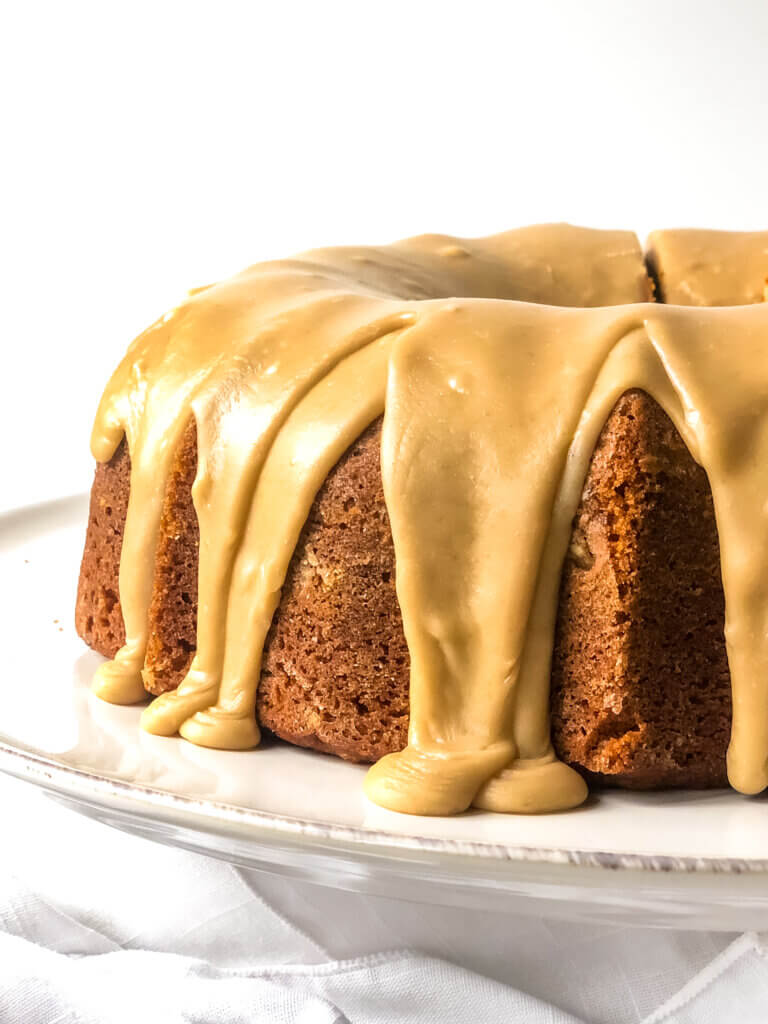 When I was a kid, maybe 8 or 9 years old, I distinctly remember coming home from school one Autumn day to a glorious aroma. "That smells soooooo good! What is it?" I asked my Mom. "It's pumpkin cake with Penuche," she replied. Wait! – There were too many unfamiliar words in that sentence. Pumpkin cake? That doesn't sound good! My 8-year-old brain was thinking: You mean you can eat a pumpkin? Really? One of those orange things we carve at Halloween? (Well, tbh, not really, as canned pumpkin is usually a different type of squash, but we all think of it as they orange pumpkin we know and love😉.)
So why does it smell so amazing? And, by the way, what is this Penuche (pronounced puh-NOO-chee)? But, I'm here to tell you, just in case you didn't know: Pumpkin cake is delicious! Soft, moist cake, warm spices, brown sugar. Oh my goodness, it's scrumptious! This one is the best I've had. It's adapted slightly from a New York Times Cooking recipe. And my Salted Penuche Frosting, just WOW!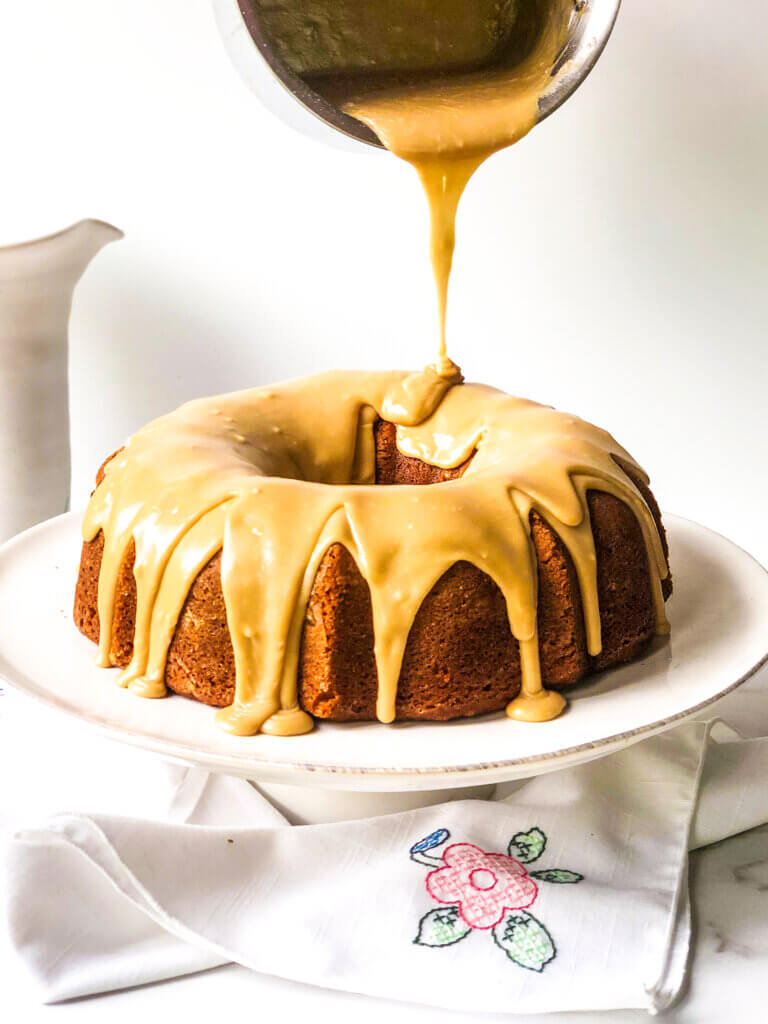 And if you're not familiar with Penuche, you definitely need to be! Deeply caramel/toffee flavored, Penuche is traditionally a fudge-textured candy made with brown sugar and butter (and no cocoa). And you can make a Penuche frosting so easily, it could (and should!) easily become your go-too frosting. Just a total of 5 ingredients and a saucepan, and a few minutes later, you've made one of the best frostings around. I can hardly think of a cake you wouldn't want to spread it on. Well, pour it is more accurate. You pour it on while it is warm, and in no time flat it sets up on your cake. It's like a nice warm blanket over the cake. So cozy!
Traditional penuche does not contain salt. Now, I like my caramel salted, to a point where you can detect the salt as well as the caramel, for the full sweet-and-salty effect. Addicting, I must say. For this recipe I use a full, heaping teaspoon, but if you like yours a little less salty, feel free to add just 1/2 teaspoon! Still Delicious!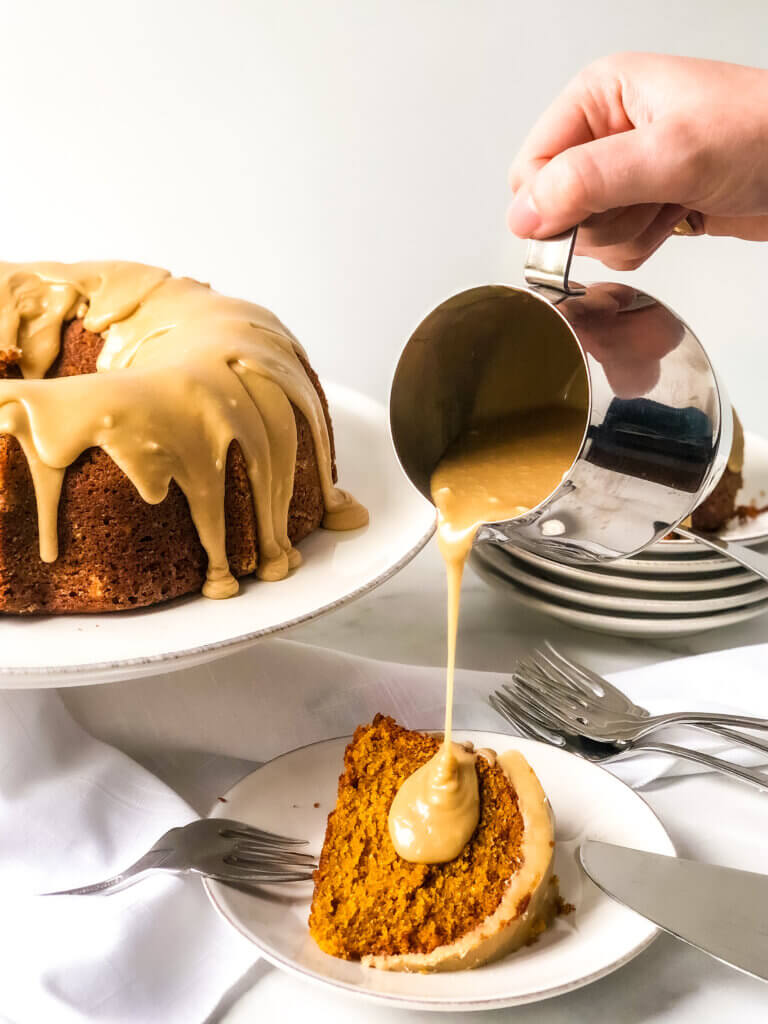 This combination of pumpkin cake and caramel frosting is a classic in my house, for sure! So, were there any foods in your childhood you thought you wouldn't like, but were surprised how awesome they were?
So make a pumpkin cake! And pour some Penuche. Enjoy!
If you're looking for other pumpkin recipes, don't miss these:
Pumpkin White Chocolate Blondie Bars
The Best Pumpkin Chocolate Chip Scones
Pumpkin Penne with Sausage and Spinach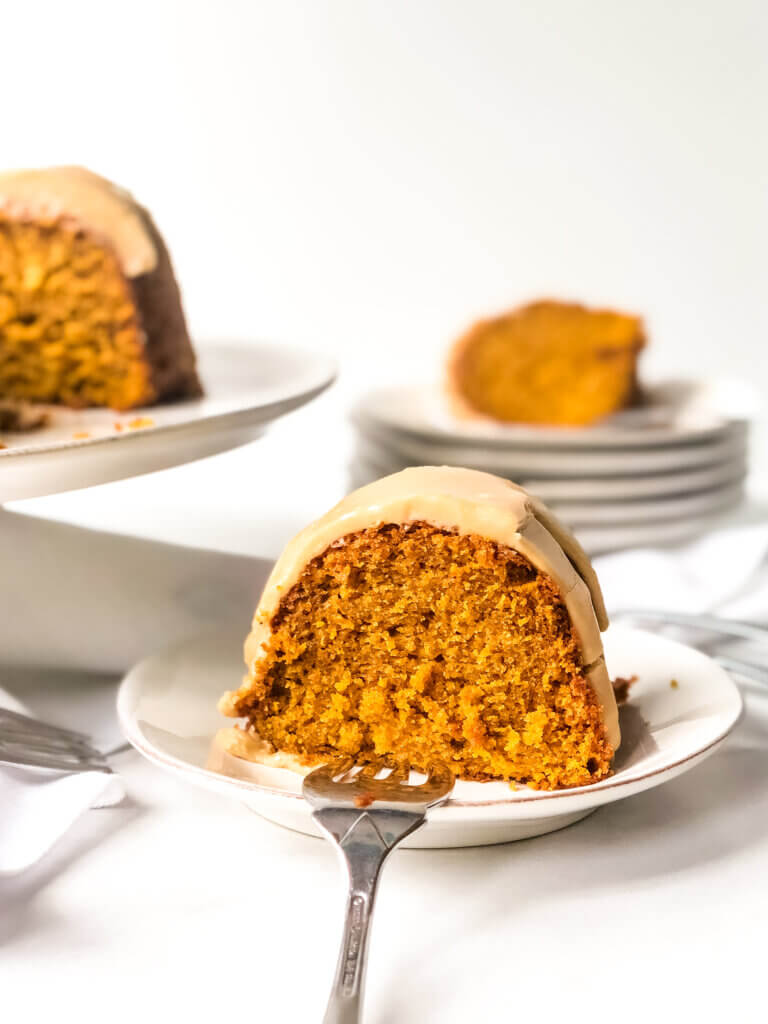 PIN Pumpkin Bundt Penuche Frosting for later ->
Recipe Details ->
This post may contain affiliate links. As an Amazon Affiliate, I may earn a small commission, at no cost to you, for purchases you may make of items linked from this site.
The best thing about this lovely Pumpkin Bundt cake with Penuche Frosting is that it's easy to make. You'll just mix together the dry ingredients, including the spices. Next, unless you have an awesome bicep and lots of time, you'll need a good hand mixer, or stand mixer to combine the wet ingredients. This is because you'll need to incorporate air into the egg mixture, making it nice and fluffy, adding some structure of the cake, keeping it tall. Then, you'll just fold the two together and the batter is done.
Spoon or pour the batter into the prepared bundt pan (This one, from Nordic Ware is the one I use!), and bake until done. So, how do we know when it's done? Keep reading…
Let's talk about oven temperature. There are many different types of oven. The one I have is a Convection oven, meaning it has a fan that blows the heat around so there are fewer "hot spots". This leads to faster baking and roasting, but also the ability to do it all at lower temperature. So I usually reduce a recommended temperature by 15-25 degrees when using my oven. And, whatever is in the oven, is often done more quickly than it would be in a conventional oven.
So, for this cake, I baked it at 335F, and it was done near the low side of baking time, 53 minutes. In a conventional (not "convection") oven, the cake could take up to 65 minutes at 350F.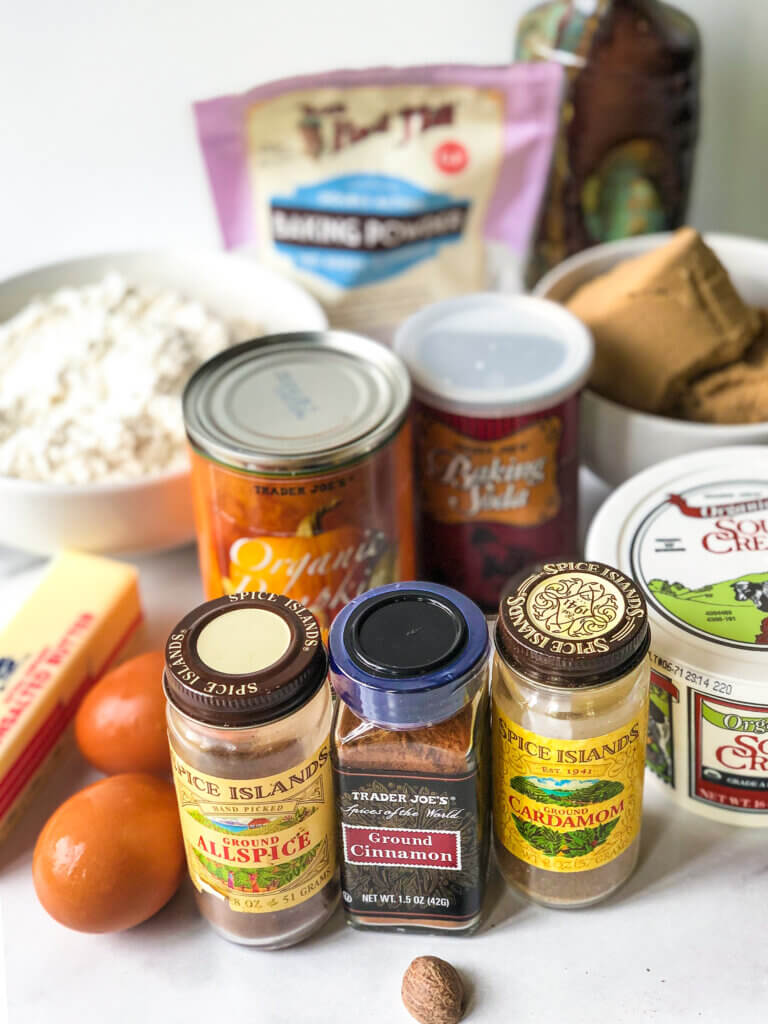 So, how do I tell when it's done? The best way to tell when your cake (or any other baked good) is close to being done, is that you'll smell the aroma – in this case, you'll smell a spicy pumpkin cake. Usually, this aroma happens when the cake is just about done. So, once that aroma is present, and maybe a few seconds of enjoying it, it is the time to do a visual check. Does it look done? Has it begun to pull away from the sides? If your answer to either question is yes, then stick a tester in the middle. Is it clean? If yes, then it's done. Take it out. If no, give it a couple minutes more, check again at 2 minute intervals until your answer is yes. Repeat until you're sure it's done.
Once the cake cools, this will be the time to make the Penuche. It is quick and easy, and involves just 5 ingredients, including the salt. You'll want to make it in a small (2-qt) saucepan.
Pour the hot frosting over the cake, let it set up (just a minute or two), and enjoy! I have to tell you, though, like many cakes, this one is even better, noticeably, the second day! Don't miss the second (or third) day cake!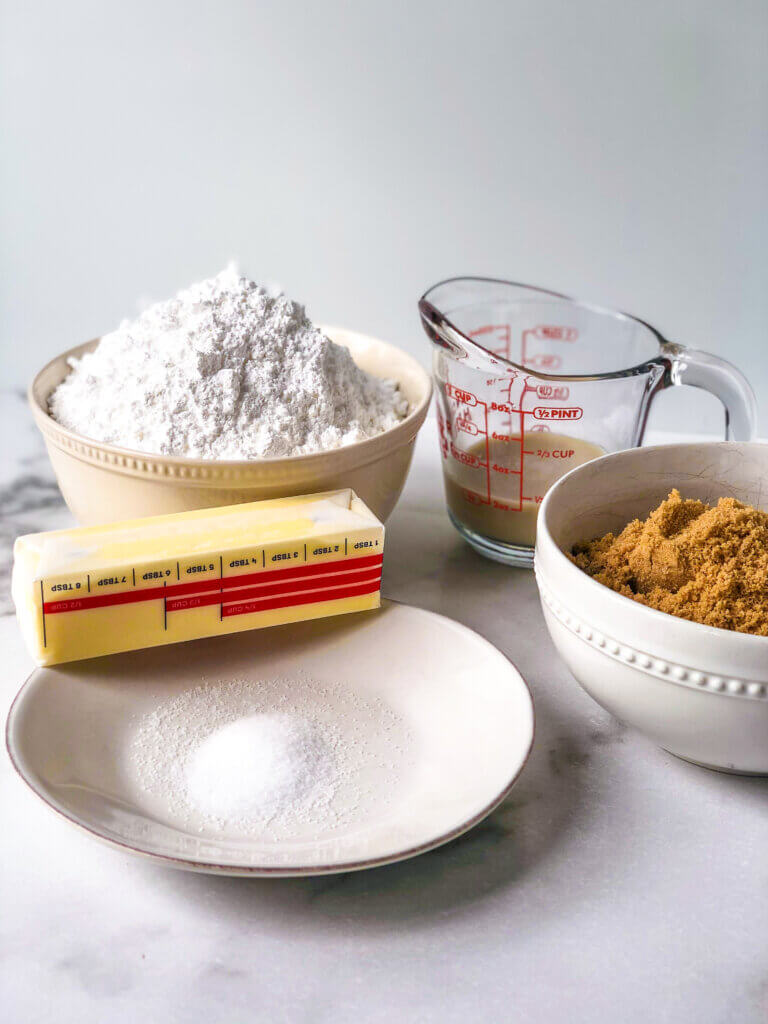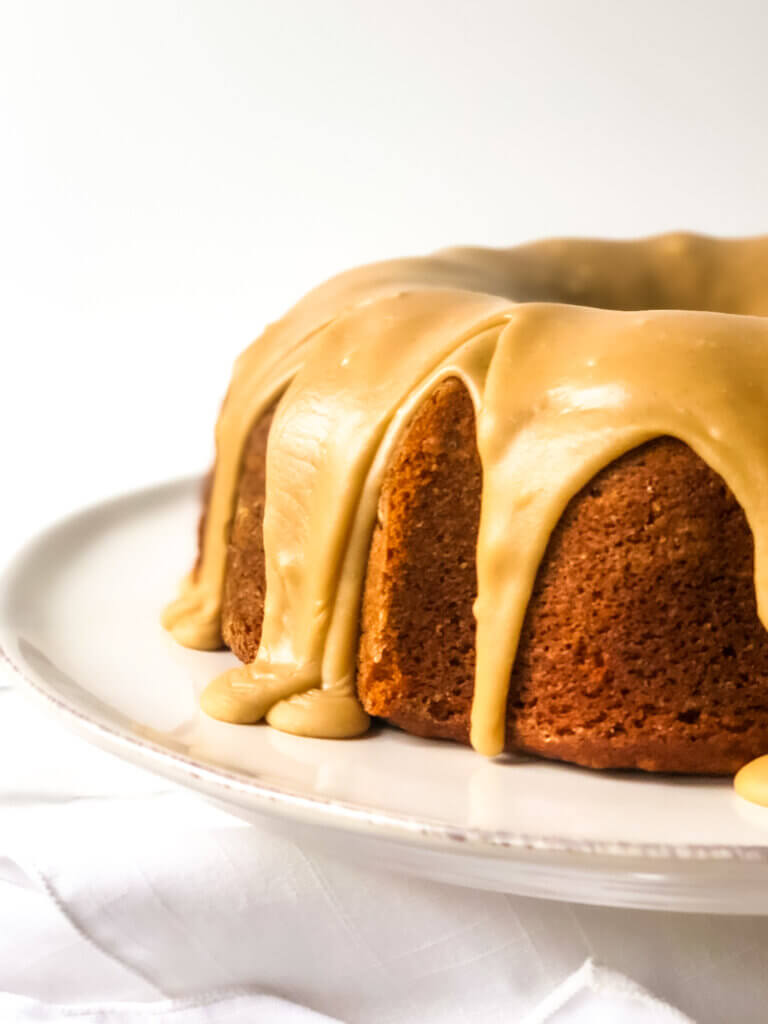 Print
Pumpkin Bundt Cake with Salted Penuche Frosting
This Pumpkin Bundt cake is so soft, moist, pumpkin-y and spicy. Topped with a blanket of warm, caramel-ly Penuche frosting, it's literally Autumn on a plate! For a holiday or a random Tuesday, this cake is perfection! 
Pumpkin Bundt adapted from New York Times Cooking , and Penuche recipe my own. My best tip for this easy cake: Wait until the second day to eat it, if you can. It gets better as the days go by!
Author:
Prep Time:

45 min

Cook Time:

50-65 min

Total Time:

1 hr, 10 min – 1 hr, 20 min

Yield:

1

Bundt Cake, 14 servings

1

x
Category:

Cakes

Method:

Baking

Cuisine:

International
Ingredients
For the Cake:
3

c (360g) All-Purpose Flour

2

t Baking Powder

1

t Baking Soda

1

1 /2 t Kosher Salt

2

t Ground Cinnamon

1/2

t Ground Nutmeg

1 1/2

t Ground Cardamom

1/4

t Ground Allspice

2

c (404g) Light Brown Sugar, packed

1/2

c (114g, 1 stick) Unsalted Butter, softened

1/2

c (120ml) Extra-Virgin Olive Oil

2

Large Eggs

1

15-oz (425g)can Pumpkin puree (not pumpkin pie filling)

1/2

c Sour Cream
For the Frosting:
1/2

c (114g, 1 stick) Unsalted Butter

1

c (202g) Light Brown Sugar, packed

1

t Salt

1/4

c Milk, any type (I used Oat milk)

2

–

2 1/2

c (240-3

00g

) Confectioners Sugar
Instructions
Preheat Oven and Prepare Pan
Preheat Conventional oven to 350F, or 335F for Convection/Fan Oven.
Grease or Butter and flour Bundt pan.
Mix the Dry Ingredients
Into a bowl, add the flour, baking powder, baking soda, salt, cinnamon, nutmeg, cardamom and allspice. Whisk to combine.
Mix the Wet Ingredients and Make the Batter
Using a stand mixer, or a large bowl with a hand mixer, mix the butter, brown sugar, and olive oil at Medium-High Speed until light and fluffy, about 3 minutes.
Add the eggs, one at a time, mixing for 20 seconds after adding each egg. Add the pumpkin puree and the sour cream and mix thoroughly.
Detach the bowl from the stand mixer, if using. Add the flour mixture to the pumpkin mixture, and gently fold in until you can see no flour. Be sure to scrape the edges and bottom of the bowl well. Be sure the batter is evenly mixed.
Pour or spoon the batter into prepared bundt pan. Tap the filled pan on the counter a few times to eliminate any air pockets this thick batter makes. Place into preheated oven, and bake until a tester inserted in the middle of the cake comes out clean, 50-65 minutes. (See Note 1 for doneness tips) Set the baked cake, in its pan, on a rack to cool a bit, about 15 minutes, then turn onto a serving plate and let cool completely before making the frosting and frosting the cake.
Make the frosting:
After the cake is cool, melt the butter in a small (2 qt.) saucepan. Let it bubble a bit, then add the brown sugar. Stir constantly for 2 minutes until the brown sugar is fully melted.
Remove from heat. Add the salt and the milk, stir until smooth.
Vigorously stir in the 2 cups (240g) confectioners sugar. If you want the frosting thicker, add the additional half cup (60g). Stir until smooth. 
Pour over cooled cake. Serve after the frosting cools, or even the next day. 
Store cake, covered, at room temperature.
Notes
1. When cake just begins to pull away from the sides of the pan, it is usually done. Mine took 53 minutes in Convection oven at 335F, so determine doneness by using the tester, once you can smell the aroma of the cake, at about 48-55 minutes, check to see if it has begun pulling away from the pan and use the tester.
Nutrition
Serving Size:

1 slice, 1/16 recipe
Keywords: pumpkin bundt cake, penuche frosting, best pumpkin cake, thanksgiving, Bundt cake, desserts, Salted Penuche frosting, caramel frosting, easy caramel frosting,
Recipe Card powered by