This stunningly delicious Smoky Kale is so healthy, you might just want to make it on repeat! Listen up: A full day's supply of Vitamins A & C, 20% daily protein and a quarter of daily fiber. In a Quick and Easy SIDE DISH!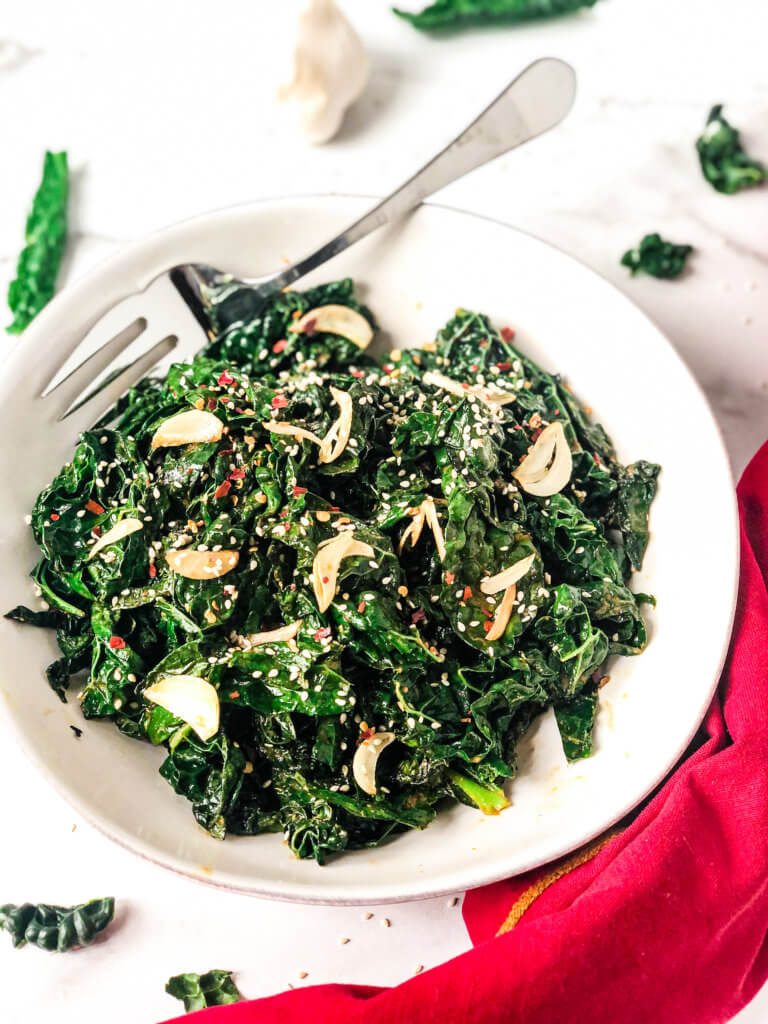 I like to think I choose what I eat for health reasons. But, to be honest, sometimes I eat healthy just so I can have a decadent treat. Is that wrong? I wish I could be more virtuous, but that's just not who I am right now. Ask me again in a few days weeks months another lifetime. But truly, I believe we can eat super-healthy food that is truly delicious, and still have a nice treat as well. I feel like paying attention to the flavor in our foods, like this Easy Smoky Kale dish, is the key. I'm better satisfied and actually don't need want an over-the-top treat. (Notice: I didn't say I don't need any treat.) 
I have to admit that when the "kale craze" began a few years ago, I jumped right in and tried it. I made it the same way I would make a salad, with a simple vinaigrette. Turns out, for me, that was a mistake. I didn't like the flavor, didn't like the toothsome nature of the kale, just didn't like it. So, I swore I'd never make it again. But then I found some tasty ways to make it (I've linked a couple recipes below), and now, I do make it and (most of) my family even likes it. And, that's saying something.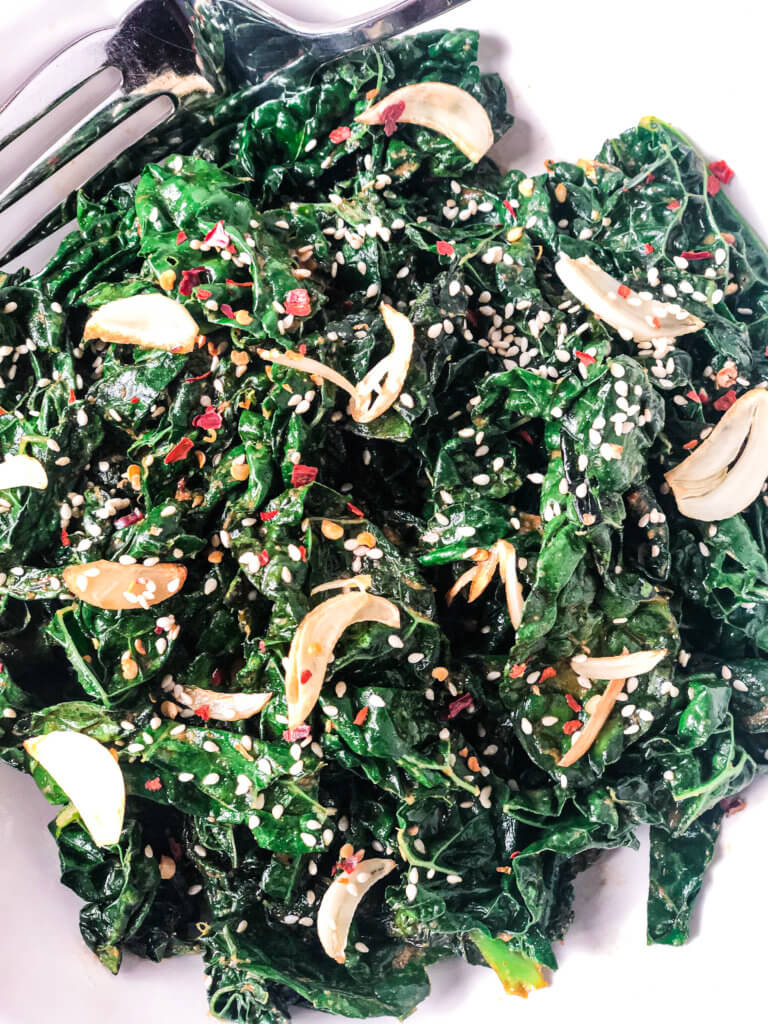 But this particular dish all began with a craving for bacon. After hearing about and seeing articles written on Carrot Bacon, I finally had to investigate. I admit, I was skeptical, but once I made the stuff, I became convinced a bacon-ish flavor and smokiness could be created without actual bacon. Just some geniusly (is that a word?) put-together ingredients. I used that carrot bacon for all its worth, too! I put it in a turkey meatloaf, ate it atop a salad, and served it as a side dish! (There's a link to the recipe I used below)
So I used the marinade from that recipe as the basis for the sauce this kale is dressed with in the last minute or two of cooking. I added a bit of extra smokiness via smoked paprika, and varied a couple of the ingredients. And, I used the oil to saute the kale, rather than to dress it. But, this Kale! If my Healthy Greek Bowl or this spicy Za'atar Sweet Potatoes and Garlicky Kale didn't convince you, I beg you to try my Easy Smoky Kale! It's so flavorful and so delicious, you may find "Kale" on your grocery list more often.
And so healthy! A large serving contains 9g of protein, 7 g Fiber, a full day's Vitamin A, and twice the daily requirement of Vitamin C! After all that, I'm definitely having that treat!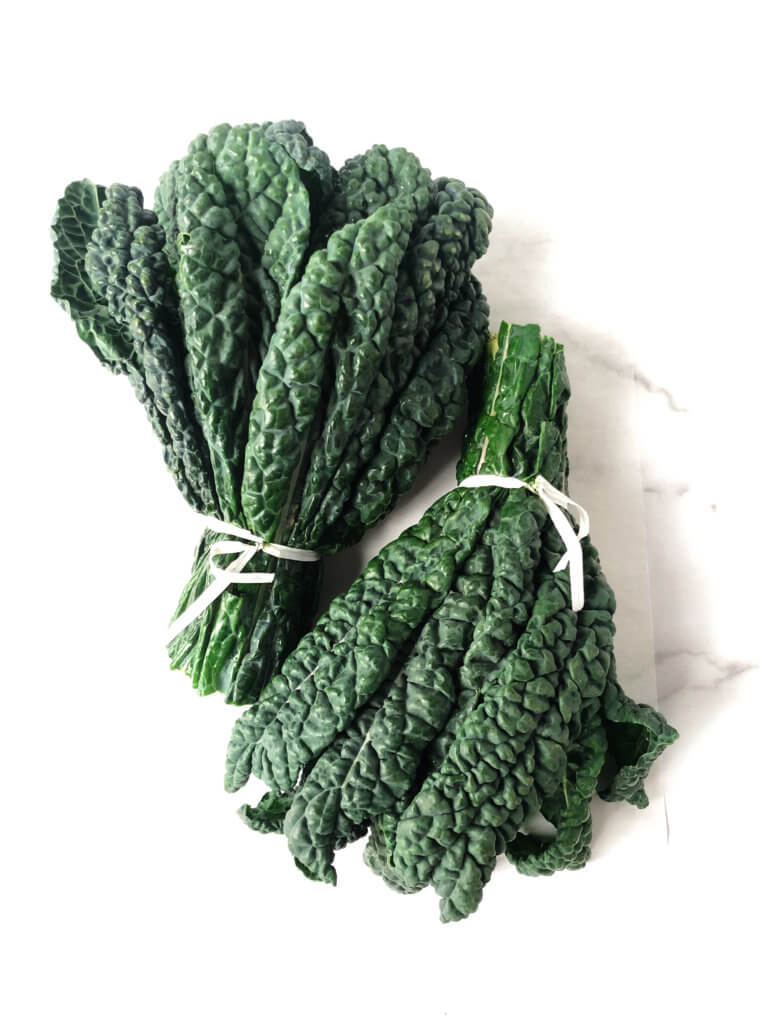 So, tell me, are there any foods where the preparation of the food was enough to convince you to try something you didn't like, or didn't think you would like? 
Enjoy!
Would you like to find a different kale recipe?  How about:
Za'atar Sweet Potatoes with Garlicky Kale
Or a completely different side dish?
Spicy Mexican Street Corn Salad
Green Beans Meditteranean-Style
Sheet Pan Roasted Root Vegetables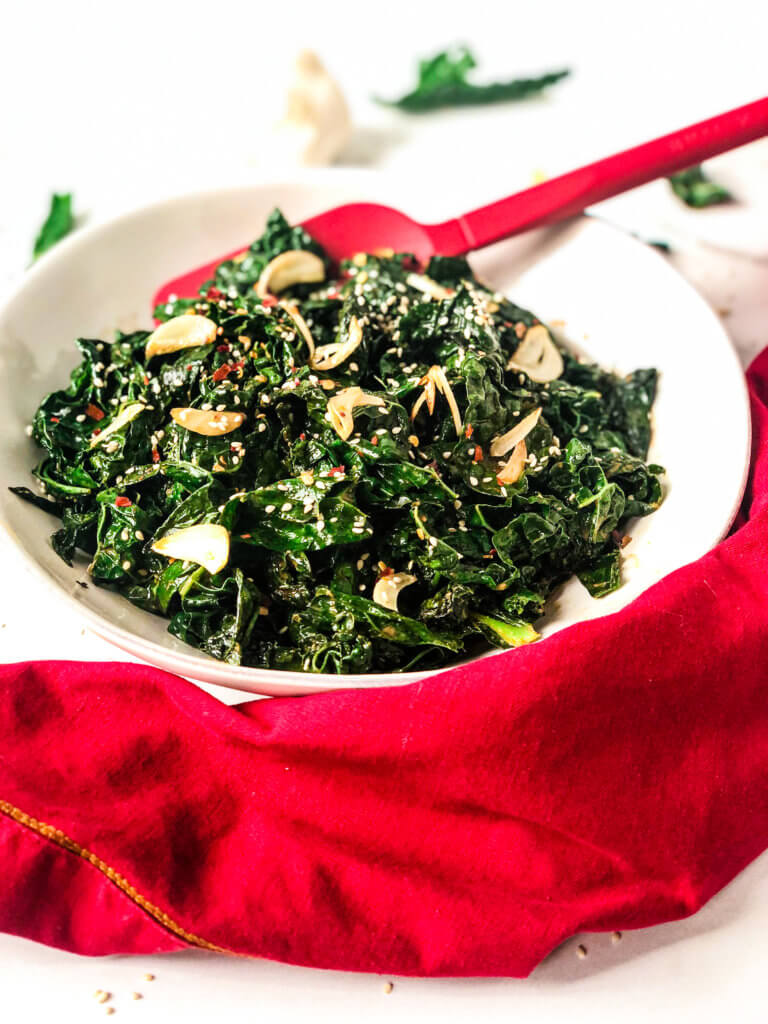 PIN Best Kale Recipe ->
Smoky Kale Recipe Details ->
This post may contain affiliate links. As an Amazon Affiliate, I may earn a small commission, at no cost to you, for purchases you may make of items linked from this site.
I was inspired by and used the ingredients found in the marinade for The Edgy Veg Carrot Bacon, which we found to be very reminiscent of bacon flavor! I used those carrots in a meatloaf for added smokiness. But I wondered what else I could use this flavorful sauce to cook.
The sauce is reminiscent of bacon because it is salty, sweet, and smoky. What makes it smoky, you ask? It contains smoked paprika and
And, best of all, this is so so simple to make! You'll just cut or tear the stems out of your kale leaves (or use about 1 lb (454 g) of bagged, cut-up kale leaves. I've made this with both curly Kale and Locinato (aka "Dinosaur") Kale. Both are delicious. Or really any hearty greens will do. Then, whisk together the sauce ingredients in a bowl, and set aside.
Next, you'll want your largest saute pan, probably 10″ or larger, or you could also use a castiron pan (like this one I have!), as long as it's big enough. Heat 2 tablespoons of the oil in it, then toss in handfuls of the kale pieces, letting them get coated in the oil as you go. It will kind of pop and crackle a bit – this is not a problem, just means it's cooking. If the pan seems to get dry, then go ahead and drop in that other tablespoon of oil to cook the rest. I used 3 tablespoons altogether.
Once all the kale is in the pan – it will all fit in a 10″ saute pan, since it loses some volume as it cooks – then cook for just a couple more minutes. I think, start to finish cooking was about 6-7 minutes. When it's all getting tender, but the texture of the leaves is still visible, go ahead and add the sauce you made. Stir it around, than place into your serving dish. 
I like to garnish my kale with some red pepper flake, some toasted sesame seeds, and some slightly sautéed garlic slices. 
This dish is also easy to substitute some items if you don't have them:
Kale – Don't like kale? No problem, how about Swiss chard, or beautiful Rainbow Chard? Maybe Collard Greens? Spinach? So many choices, but you'll want to choose something a little toothsome, so it can take a bit of saute time.
Maple Syrup – If you don't have maple syrup, you could use brown rice syrup, honey (but it wouldn't be vegan, just FYI) or I might use Sweet Chili Sauce to add some extra spice to the mix.
Olive Oil – Any neutral oil will do. Canola oil, Avocado Oil, Corn oil, any will work!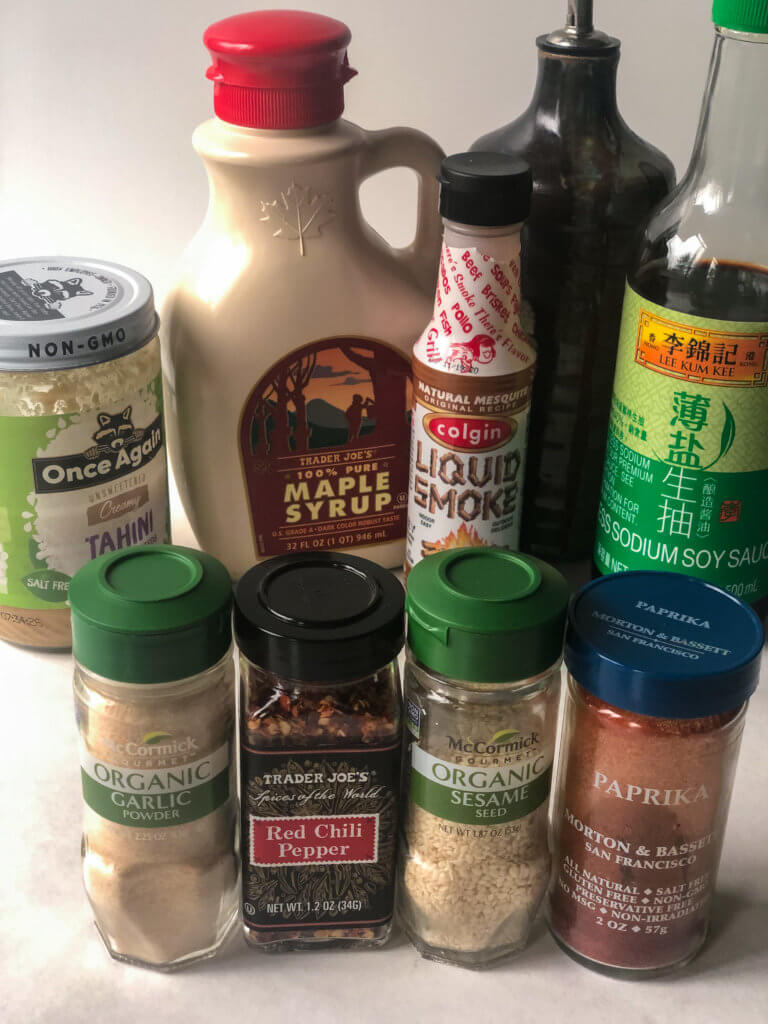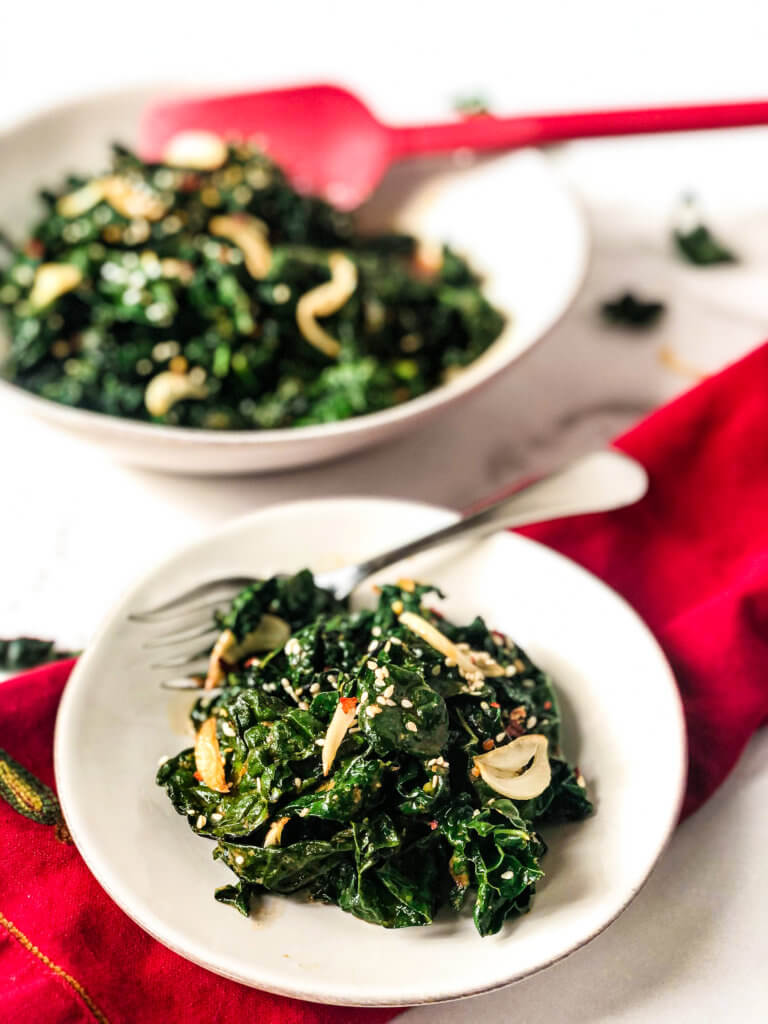 Print
Smoky Kale Recipe
This super-easy Smoky Kale takes just minutes to make! But it delivers a day's worth of Vitamins A & C, 20% of protein, and a quarter of daily fiber. And it's a SIDE DISH! You won't believe how tasty it is!
The sauce for this kale was inspired by and adapted from The Edgy Veg who makes a killer Carrot Bacon!
Author:
Prep Time:

10 mins

Cook Time:

6 mins

Total Time:

16 mins

Yield:

4

–

6

servings

1

x
Category:

Vegan

Method:

Stovetop

Cuisine:

International
Ingredients
About

1.5

lb (

681g

) Kale, any variety (I used 2 bunches Locinato)

3 Tbsp

(45ml) Olive Oil or other neutral oil, divided

3 Tbsp

(

45

ml) Low-Sodium Soy Sauce or Tamari

2

t (20ml) Maple Syrup

1 1/2 Tbsp

(23ml) Tahini

1/4 tsp

Liquid Smoke

1/4

t Smoked Paprika

1/2

t Garlic Powder

1/4

t Ground Black Pepper
(Optional) Garnishes:
Toasted Sesame Seeds
Sautéed Garlic slivers
Crushed Red Pepper Flakes
Instructions
Prepare the Ingredients:
Cut the stems out of the kale leaves. Pat the leaves dry and tear or cut into 2-3-inch segments. There will look like a lot of kale, but trust, it loses volume when heated.
Into a small bowl, whisk together the tahini, maple syrup, soy sauce, liquid smoke, paprika, garlic powder, and pepper. Set aside.
Cook the Kale:
Over medium heat, place a large saute pan or castiron skillet. Once pan is hot, add 2 Tbsp of the oil. Place handfuls of the torn kale into the oil, stir a bit, then place more of the kale, stirring as you go, until all of the kale is in the pan. If the pan gets dry, go ahead and add the additional Tbsp of oil.
Continue cooking for about 3-5 minutes more, stirring regularly, until the kale has lost about half or more of its volume.
Pour the bowl of reserved sauce over the kale and cook, stirring, another minute or so.
Place in a bowl, garnish as desired, and serve.
Keywords: kale, sautéed, best, vegan, vegetarian, tahini,
Recipe Card powered by