Spicy Street Corn in Salad Form! Perfect for a picnic or gathering! Crispy sweet corn, onions, cilantro and lime in a creamy dressing and topped with Cotija Cheese!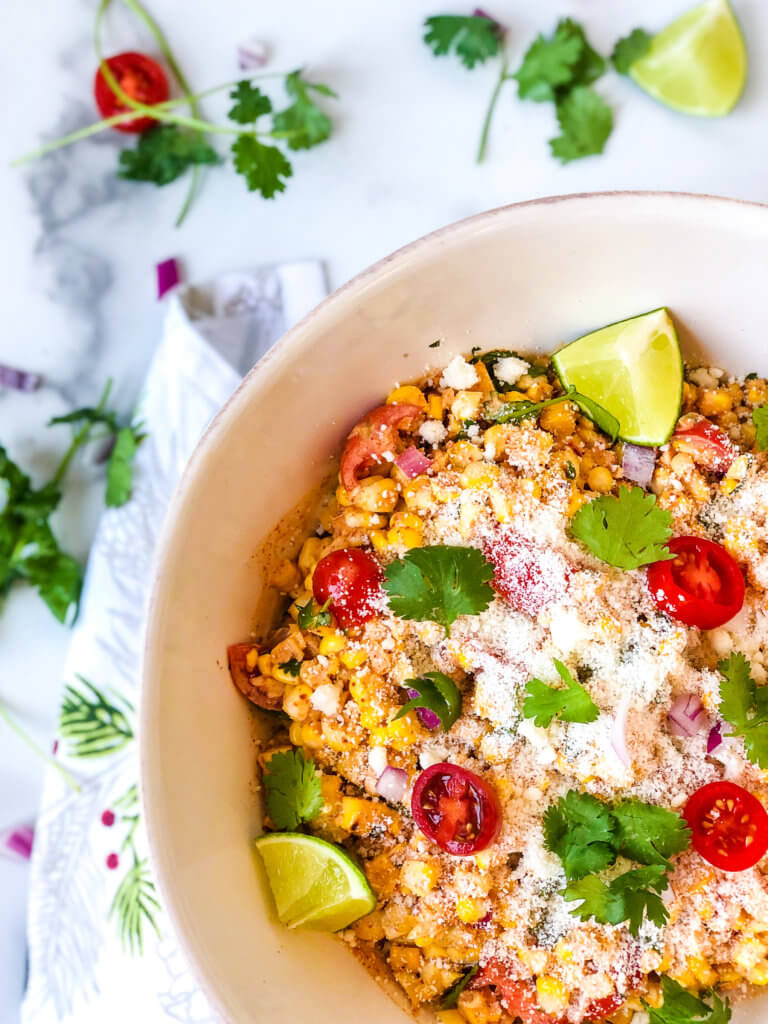 Growing up in the MidWestern part of the US, we learned about corn early on. Every summer, at least a few (hundred?) times, my Dad would say, "Corn should be 'Knee-high by the Fourth of July'", a rule to gauge the year's corn harvest. (I actually think he mostly just appreciated the poetry of the sentiment.) Apparently, the farmers' overall yields should be good if the stalks were knee-high by the 4th. Well, according to the venerable Farmers' Almanac, more recent advancements in agriculture have resulted in that particular saying outgrowing its usefulness. So, these days, farmers expect it to be as "high as an elephant's eye."
Later, when we were teens, a lot of kids, including some in my family, would get on a bus early in the morning to go to corn fields to "de-tassel" the corn. A week or two of long, hot, sweaty days that paid better than minimum wage. (Can't say I ever de-tasseled, as I was busy being a carhop. But, indeed, corn was big business in the MidWest!
Corn also has been vitally important in the culture and diets of Mexico and Latin America. Tortillas, tamales, Street Corn are all Mexican-originating foods that are corn-based. Street Corn has gained quite a following in the US over the past several years. Many festivals have a "Mexican Street Corn" food booth or truck. And, as much as I love a cob of sweet, juicy, kernels dripping with creamy, citrusy dressing and cheese, sometimes I like to recreate those flavors in a salad I can have on my plate. One that doesn't require a napkin always-at-the-ready. Like the times I'm at a get-together and want to walk around and visit, plate in hand.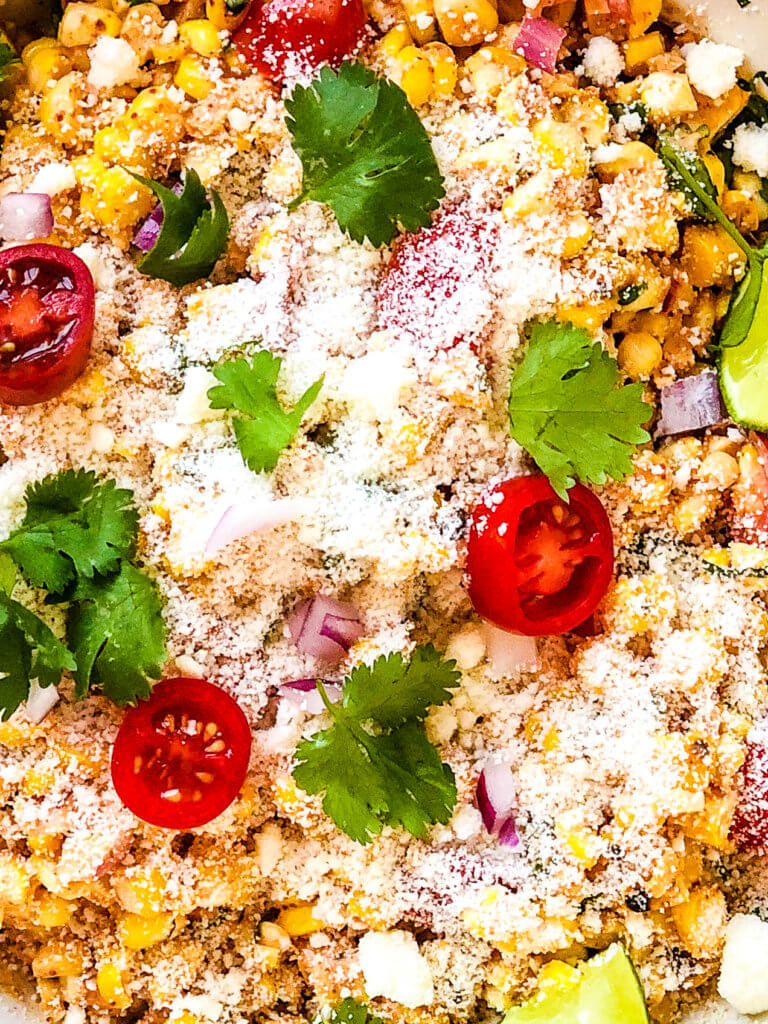 So that's a bit of how this salad came to be. I first made it with Tajin seasoning, which my son brought home one day to put on fruit. (For more about Tajin, scroll down to the "Recipe Details" section) Of course, it was perfect for this salad! It's great to have that perfect set of spicy and citrusy flavors in a shaker! But I also wanted to attempt it with homemade seasoning, in case I don't have that Tajin shaker on hand.
And, I can't say enough about how delicious this salad is! It hits all the flavor and texture notes! The perfectly ripe, firm kernels burst with their juicy, tender sweetness! Bits of sharp red onion supply some contrast to the sweetness and those juicy red tomatoes – they are always welcome in my salad! And the creamy, citrusy, spicy dressing? You might just see a version of that yummy stuff on some green salad or a sandwich in my future.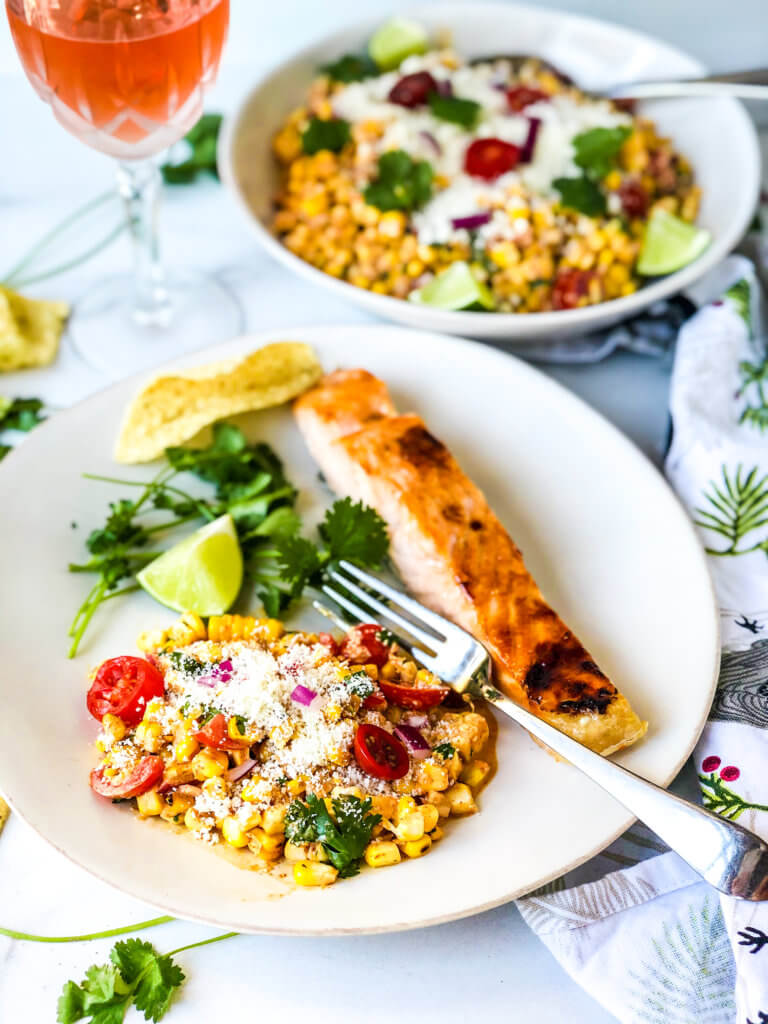 However you like your corn, I hope you get the chance to try this flavorful salad! It is perfectly refreshing on a Summer day, but I'm thrilled that I'll still be able to make it during times I can't get fresh corn on the cob!
And, I'm curious, was corn a staple where you grew up? And, by any chance, did you ever de-tassel?
Enjoy!
Looking for other side dishes? How about:
Green Beans Mediterranean-Style
Sheet Pan Roasted Root Vegetables
Za'atar Sweet Potatoes and Garlicky Kale
Strawberry Gorgonzola Salad with Sweet/Spicy Pecans
Anthony Bourdain's Simple Beet Salad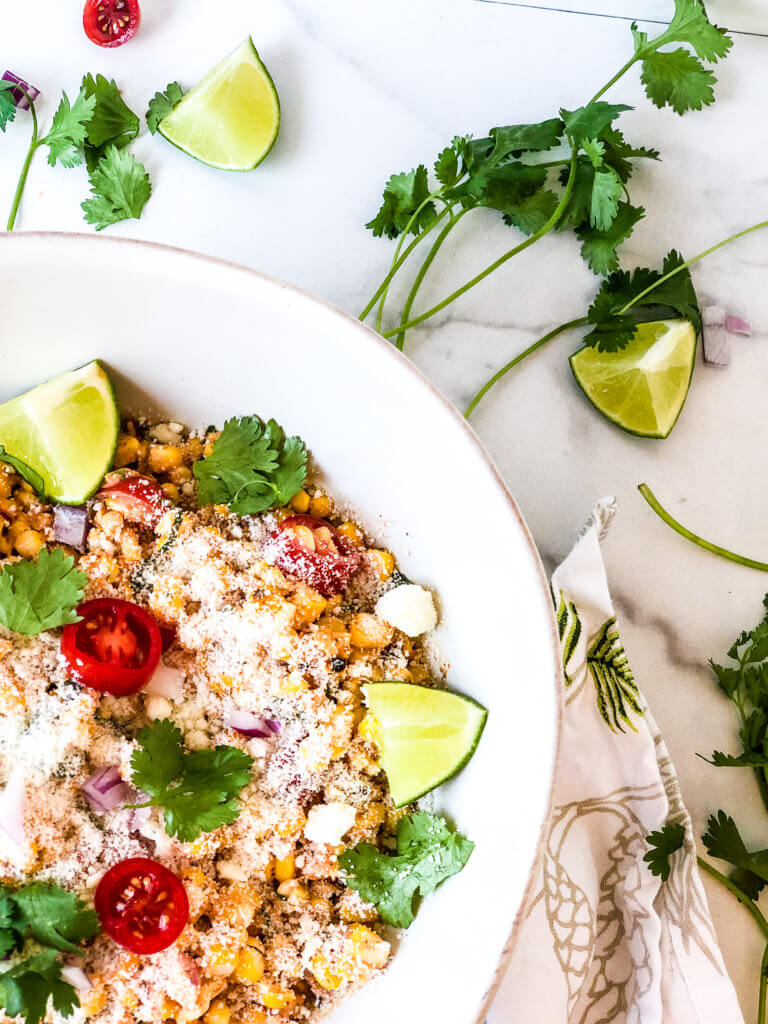 PIN Recipe for Later ->
Recipe Details->
This post may contain affiliate links. As an Amazon Affiliate, I may earn a small commission, at no cost to you, for purchases you may make of items linked from this site.
One of the tastiest and simplest side dishes for summertime! Or, anytime of year really, because you can feel free to use frozen/thawed kernels! The spicy Mexican flavors will wake up your tastebuds! And, it comes in an easy-to-eat-with-a-fork package! Makes it perfect for an outdoor get-together where people will be standing/walking around, plates-in-hand.
Like so many other ingredients the best thing to do is start with the freshest available corn! According to Iowa Agriculture Literacy Foundation, once picked, corn sugars quickly begin to turn into starches, particularly if not refrigerated. You can taste the difference in just a day or two. So, fresher is better. So, how do you tell which corn is freshest?
You can tell freshness in corn by the way a cob looks and feels. According to Taste of Home, you want the husk to be bright green, tightly wrapped around the corn, and feel a bit damp. And, the tassels should be beige or golden, not grey or black. If you gently feel the kernels by squeezing the outside tassel, they should feel firm. 
Unless you'll be cooking them the same day, the corn, in its husk, should be refrigerated to prevent it from becoming starchy.
So, now that you can choose the freshest corn, you'll want to cook it. You could boil it in lightly salted water for a few minutes (5-7), or, for this salad, I like to have some of the kernels charred a bit. It only takes 3-4 minutes on a grill, at Medium flame, (I used my indoor griddle), to create the charred kernels. 
So you'll just combine the corn with chopped tomatoes, onions and cilantro in a bowl. Then mix up the dressing, again, just stir together all the ingredients. Then pour it over your salad, mix, and top with plenty of Cotija Cheese! Add some additional limes to squeeze over the salad.
This dressing is inspired by Mexican Street Corn, which is often flavored with Tajin (Tuh-HEEN) seasoning, a spice blend of Chile and lime, often used on fruit. If you have ready-made Tajin, feel free to use a teaspoon of that instead of the lime, paprika and chile powder. Add additional if you like it more spicy, (like me!) But I made a simple version of Tajin seasoning by combining chipotle Chile powder with sweet paprika, salt, and lemon zest and juice. Tajin also has a little sharp flavor note, too, so I added some white (or Rice) vinegar to my dressing.
Have leftover Street Corn Salad? No problem! This salad makes a great taco – seriously, a nice spoon of this salad in a tortilla, add some beans, shrimp, or sliced chicken or beef, a sprig of cilantro or two, an extra squeeze of lime, and its a simple taco!
That's it! Easy, Flavorful, Fresh!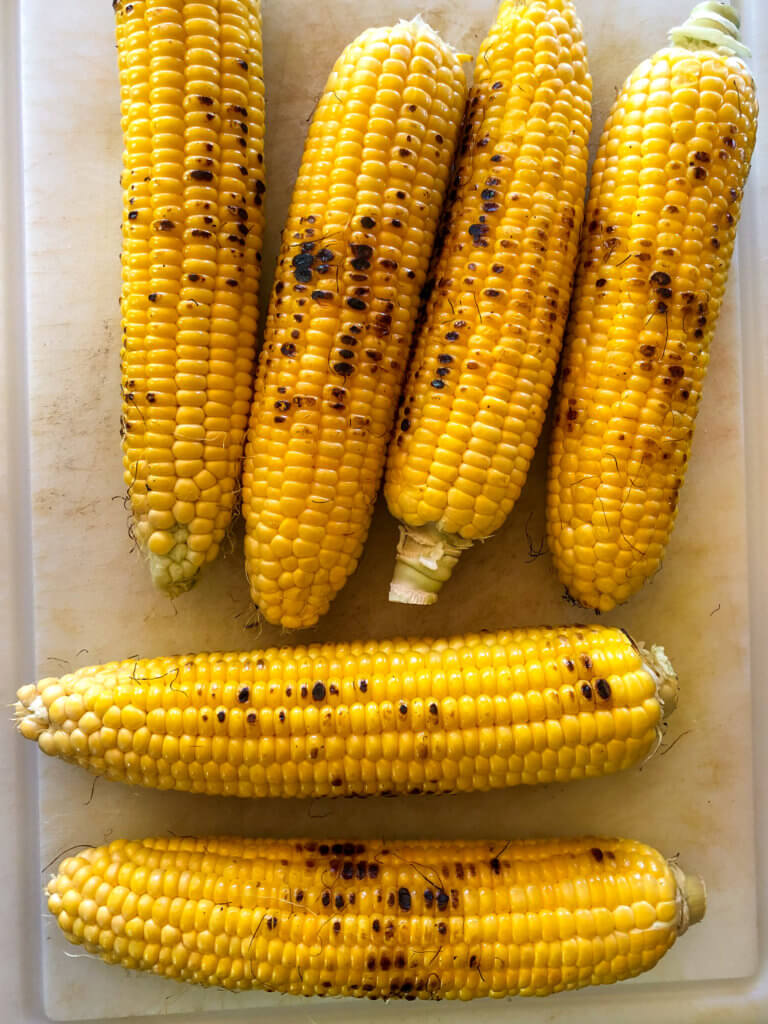 Print
Spicy Street Corn Salad
Super-easy and so FLAVOR-FULL! This recipe makes enough for a crowd! If you love extra-spicy food, add an additional 1/2 tsp each of chili powder and paprika, but best to start with 1 tsp each and taste.
Stays fresh for several days in the fridge, and works so well in tacos, salads and as a side dish!
Author:
Prep Time:

15 min

Cook Time:

10 min

Total Time:

15 min

Yield:

8

–

10

cups

1

x
Category:

Salad

Cuisine:

Mexican/Tex-Mex
Ingredients
For the Salad:
6

ears, or

5

–

6

cups Corn kernels, grilled, boiled, or thawed from frozen

1/4

Large Red Onion, chopped fine

1 cup

Cherry Tomatoes, chopped

1/3

bunch Cilantro, chopped

1/2 cup

(

2 oz

.) Cotija Cheese, plus more for serving
For the Dressing:
1/3 cup

(

80

ml) Mayonnaise

1/4 cup

(60ml) Sour Cream

1

T (12g) Granulated Sugar

1

T (15ml) Rice Vinegar (or white vinegar)
Zest and juice of 1 lime, plus wedges for serving

1 tsp

Chili Powder (I used chipotle, but any will do)

1 tsp

Sweet Paprika

1/4 tsp

Salt

1/4 tsp

Black Pepper
Instructions
Make the salad:
Grill, boil, or defrost the corn. Fresh corn needs just a few minutes on the grill or in boiling water. I grilled mine on my indoor grill until parts of it were charred a bit, let it cool, and then, standing the corn up on its smaller end, I sliced the kernels over a board and swept them into a bowl.
To the corn, add red onion, tomatoes, cilantro, Cotija cheese.
Make the Dressing and Dress the Salad:
In a bowl, mix together all the ingredients until well-combined and creamy. Pour over corn mixture. Salt and pepper to taste.
Chill at least an hour, until ready to serve. Serve with more Cotija cheese and lime wedges to squeeze over salad, at the table.
Keywords: Mexican Street Corn, Salad, Street Corn Salad,
Recipe Card powered by