Cherry Cheesecake Crumble Bars! A combination of all my favorite treats: easy, shortbread-style crust and crumble, tart cherry filling with hint of almond, and a lush cheesecake layer! Quick and Easy!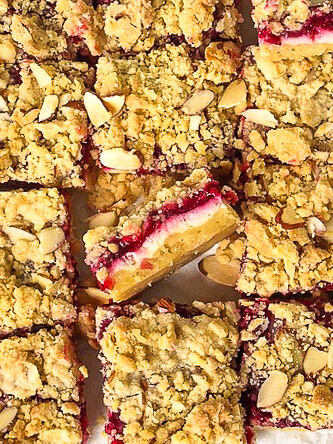 Things that are scarce are always valued more than things that are plentiful. This may be obvious. Because who doesn't want a one-of-a-kind treasure? Or something that so few exist, any collector would want it? That beautiful furniture designed around a social movement, or that postage stamp with an upside-down airplane? Scarcity. It drives value. Whether it makes sense or not.
I think this is partly the basis for my love of cherries. It all started when I was a kid, when our dessert would often be a can of "Fruit Cocktail" divided into 6 bowls, for my 5 sisters and me. We all fought over who would get the single cherry that was always in the can. Ok, sometimes there would be 1 1/2 cherries, not that THAT was helpful…. Anyway, we would have to take turns, or scream "MY TURN" the loudest if that didn't work.
We all really wanted it, but when it came down to it, it was not nearly as good as you imagined it would be. It was good marketing on the part of the fruit cocktail manufacturer. They obviously used the "scarcity" strategy here. Because we all wanted it, in the same way I had to find that rare Gustav Stickley Settle years ago (If you don't know about these things, don't worry. The adult version of the cherry in the fruit cocktail. It truly DOESN'T make sense. I do have the settle, by the way – but I digress.)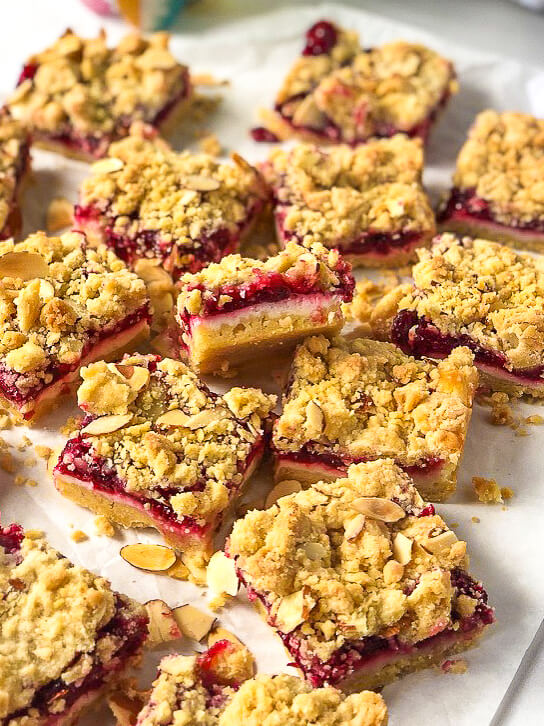 But, fresh cherries – now that's totally different piece of furniture animal! And I always feel like I'm getting the prize when I find them at the grocery or Farmers' Market. When they are fresh, they are among the best foods ever – sweet and juicy Bings, or tart and just waiting burst with flavor in a pie, cheesecake, tart, or some crumb bars!
We don't often see Tart Cherries here in the Pacific Northwest, as they account for only 11% of all cherries grown here, and often are sold commercially, to restaurants and bakeries. We can find them frozen, occasionally, but to find them fresh? Pretty rare! So, when I stumbled upon to these fresh cherries, well, I'd truly gotten the cherry in the Fruit Cocktail. Maybe the "scarcity" made me want them more? But this time, with GOOD reason!
Anyway, what to do with them? Jam? Pie? Cheesecake? Crumble bars? Well, you all know I made a luscious Sour Cherry Pie with a Lattice Crust, but then I had some left and couldn't decide between the cheesecake and the Crumble Bars. So, wouldn't you know? I made Tart Cherry Cheesecake Crumble Bars! They are kind of a variation of the Rhubarb Crumble Cheesecake Bars I made awhile back. An easy, handmade shortbread-like base, which doubles as the top crumble. A beautiful, glossy, tart-and-sweet layer of cherry filling, resting upon a cloud of luscious cheesecake. I mean, WOW! A mouthful of flavor and texture! Hard to resist!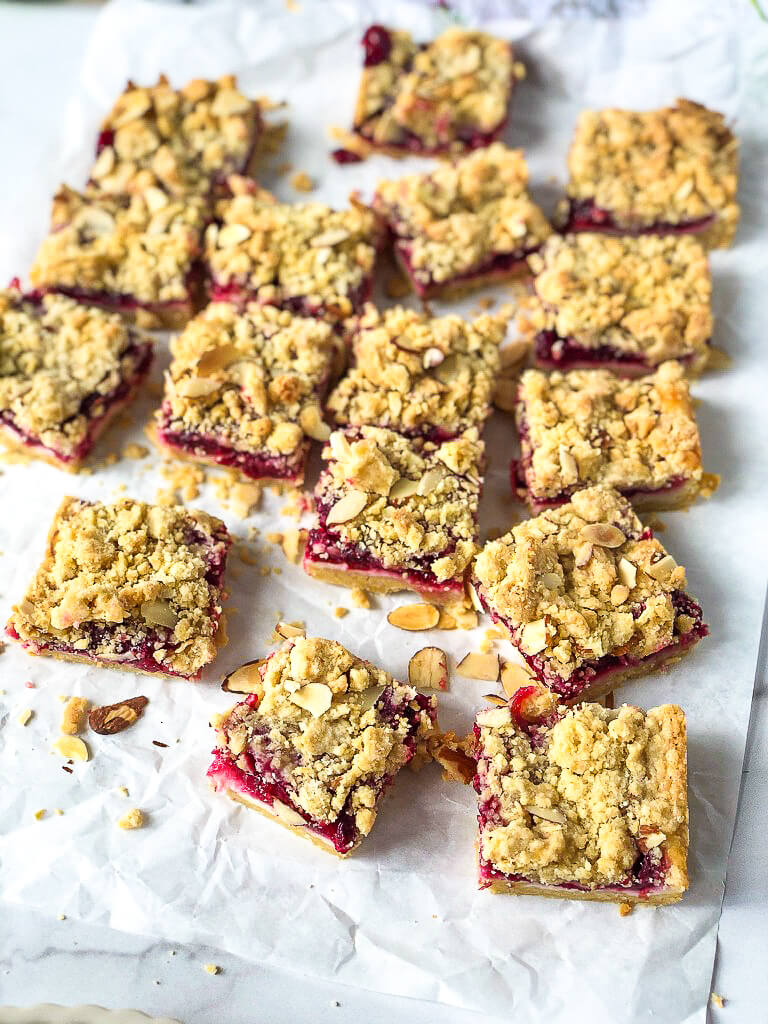 So, what was your prize when you were a kid? Something in a cereal box? Something in fruit cocktail can? All I can say is these Cherry Cheesecake Crumble Bars are a prize fit for the adult and the kid in me! So, try them, won't you?
Enjoy!
Looking for other cherry recipes? Why not try:
Cherry Cheesecake Blondie Bars
Chocolate Bread Rolls with Dried Tart Cherries
No-Knead Bread with Chocolate, Cherries and Pecans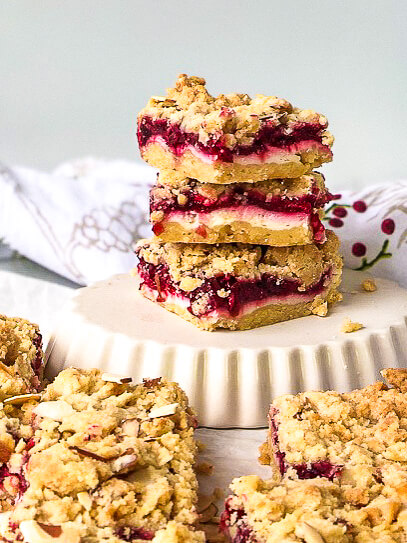 Recipe Details ->
This post may contain affiliate links. As an Amazon Affiliate, I may earn a small commission, at absolutely no cost to you, for purchases you may make of items linked from this site.
This layered Tart Cherry Cheesecake Crumble Bars recipe is really easy as can be for a 4-layered treat! Like a hand-held cherry crumble pie!
What I do first is make the cherry layer, since it needs to cool a bit before layering it into the crumb bar. Making this tart cherry layer is super-easy! You'll just put all the ingredients in a saucepan, heat until thickened, pour into a bowl, and then let it cool. Just a few minutes to create a beautiful, thick, shiny layer of cherries and glaze.
The bottom and top layers come from the same dough. I made my crumble layer with half All-Purpose Flour and half Whole Wheat Pastry Flour, you know because we all should "Make Half our Grains Whole". But feel free to just use all All-Purpose if you prefer, or that's what you have on hand. Perfectly fine here!
This dough is perfect to mix by hand in a mixing bowl, so you get that shortbread-like bottom layer, and an almond-y dough that you'll form into the crumb layer. You'll just press half into the 13×9 baking pan to make the bottom layer. Mix the almonds into the second half, and set aside to use as the top layer once you have the cheesecake and cherry layers on.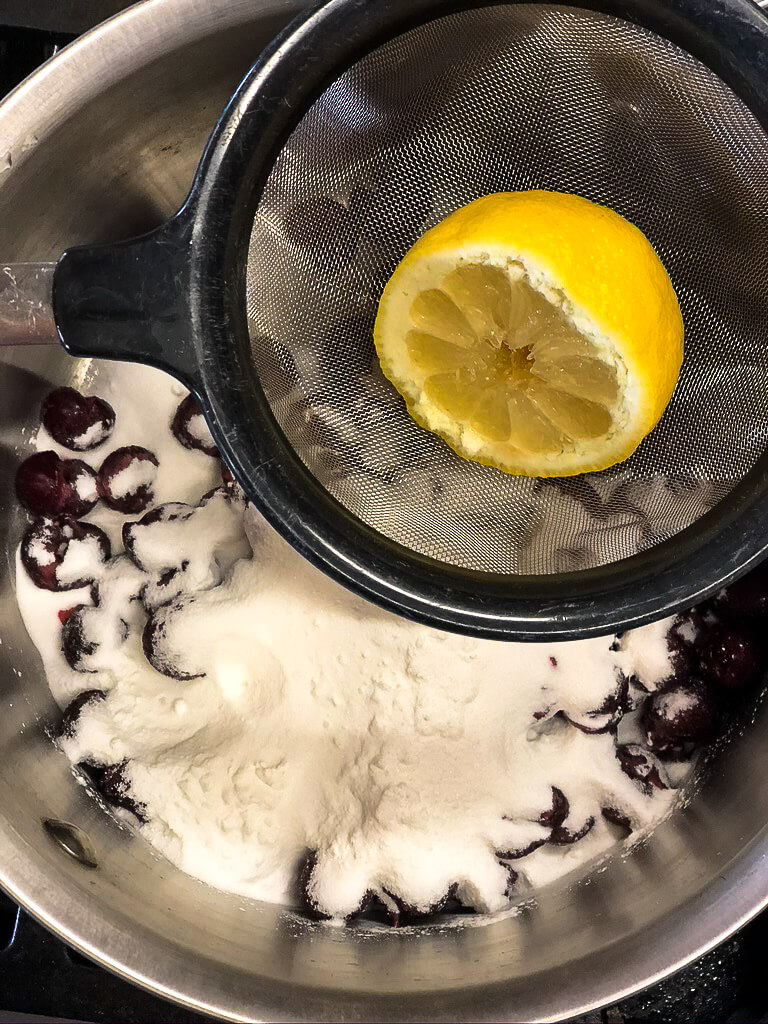 The cheesecake layer is one where you'll just whisk the ingredients until smooth. The most important part here is to be sure your cream cheese is at room temperature. No lumps! Spread across the bottom layer, leaving 1/2″ around the edges. Then, spread the cherry layer, which should be mostly cooled by now, over the cheesecake layer.
Lastly, by hand, you'll place little bits of the remaining dough, with almonds, on top of the cherry layer, until it's completely covered. Pop into the oven and when it's golden brown on top, remove to cool. Mine took 42 minutes, and came out light golden brown, cookie-like on the bottom, and crisp crumb bits on top. Let cool completely before cutting! You can cut into 12 bars, or up to 24, like I did!
They keep nicely at room temperature for a day or two, but after that, cover tightly and keep in the fridge!
PIN this recipe for later ->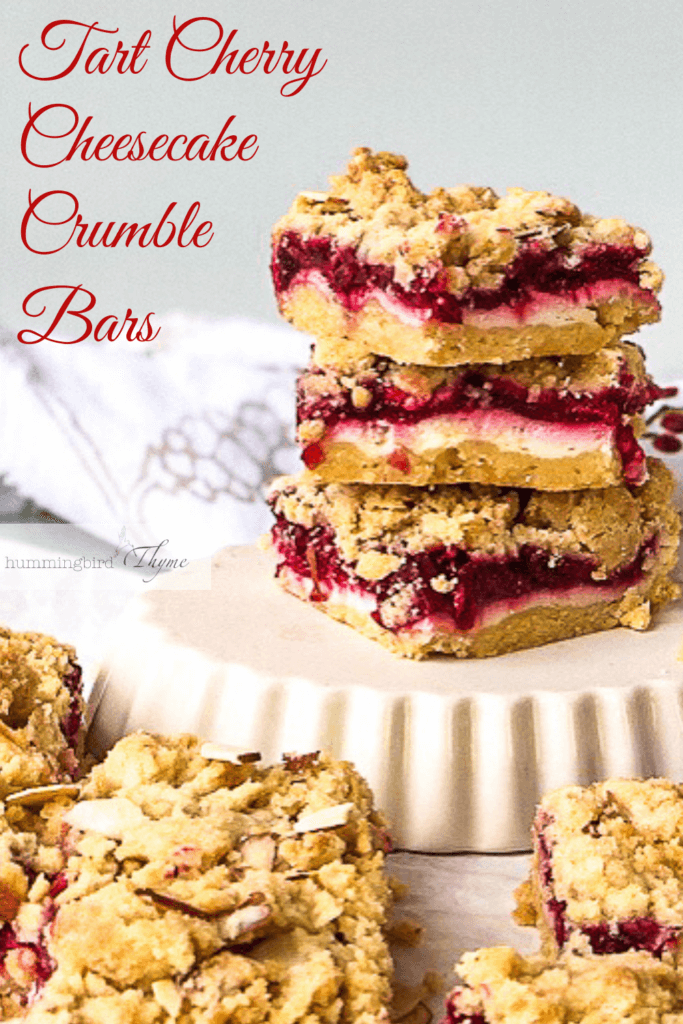 Print
Tart Cherry Cheesecake Crumb Bars
A four-layer delight! Shortbread-like cookie bottom layer, topped with a creamy cheesecake layer, a tart cherry layer, and then a crispy almond-crumb layer! 
This recipe makes a 13×9 pan. I cut mine into 24 bars, but you could cut them larger if you like! These stay fresh covered in an airtight container at room temperature for 2 days, but keep in the fridge if you still have them longer.
Author:
Prep Time:

20 min

Cook Time:

35-45 min

Total Time:

55-65 min plus cooling

Yield:

24

bars

1

x
Category:

Bar Cookies

Method:

Baking

Cuisine:

American
Ingredients
For the Tart Cherry Layer:
4

c

(about 1 1/4 lb, or .6kg) Tart Cherries, pitted, or 20 oz. frozen

3/4

c

(148g) Granulated Sugar

2

t (10ml) Lemon Juice

4

T (32g) Cornstarch or Cornflour

1/4 tsp

(3ml) Almond Extract
Large pinch Kosher salt
For the Cheesecake Layer
12

oz

(339g) Cream Cheese, room temperature

1/2

c

(50g)Confectioners' Sugar

1

Large Egg
For the Base and Crumble Layer:
1.5

c

(180g) All-Purpose Flour

1.5

c

(180g) Whole Wheat Pastry Flour

1

c

(198g) Granulated Sugar

1 tsp

(

4g

) Baking Powder

1/4 tsp

Salt

1

c

(227g) Unsalted Butter, cut into small cubes

1

Large Egg, whisked slightly chilled

1/2

c

(60g) Sliced Almonds
Instructions
Preheat oven to 350F (or 335F for Convection/Fan Oven)
Line a 13×9 Baking Pan with parchment and/or baking spray. Set aside.
Make the Cherry Filling:
In a medium saucepan (3-4 qt), place the cherries. Add in the sugar, lemon juice, cornstarch, almond extract and pinch of salt.
Heat over Medium temperature, stirring regularly, until mixture first boils, and then thickens. On my gas stove, this took just a few (less than 5) minutes. It would take a bit longer over an electric burner. Once thickened and glossy, remove from heat to a bowl to cool a bit while you make the other layers.
Make the Cream Cheese layer:
In a Medium bowl, whisk the room temperature cream cheese, sugar and egg until smooth. Set aside.
Make the base and crumb layer:
Whisk together the flours, sugar, baking powder, salt in a mixing bowl. Using your fingers, work the butter cubes into the dry ingredients until a crumbly dough is formed, much the way the dough of a pie crust before adding the water. The clumps will be relatively firm. Butter pieces should be irregularly sized. 
Add the egg and mix until incorporated. If, by chance, your dough does not clump nicely at this point, feel free to add a bit of cold or ice-water, a Tablespoon at a time, until it clumps when you squeeze it together. Mine did not need any water to clump when squeezed.
Layer the Bars:
Press half of the crumb mixture firmly into the bottom of lined/sprayed baking pan.
Using an offset spatula or a knife, evenly spread the cream cheese mixture over the layer of crumb mixture, leaving about 1/2″ around the edges.
Evenly spread the cooled cherry filling over the cream cheese mixture.
Using your hands, mix the sliced almonds into the remaining half of the crumb mixture. Then scatter small pieces of the crumb mixture over the cherry layer, until all the crumb mixture is used. The cherry layer should be completely covered (or almost completely) with crumb mixture
Bake in preheated oven 35-45 minutes, until top is golden brown. Mine took 42 minutes.
Cool completely before cutting into bars. 
Nutrition
Serving Size:

1/24 recipe
Keywords: Cherry Crumb Bars, Crumb Bars, Cherry Cheesecake Bars, Tart Cherries, bar cookies, cheesecake bar cookies, cherry cheesecake bar cookies
Recipe Card powered by