"You don't have to cook fancy or complicated masterpieces – just good food from fresh ingredients" … Julia Child. So true, Julia! Here's my evidence – these simple and tasty Cherry Clafoutis Bars!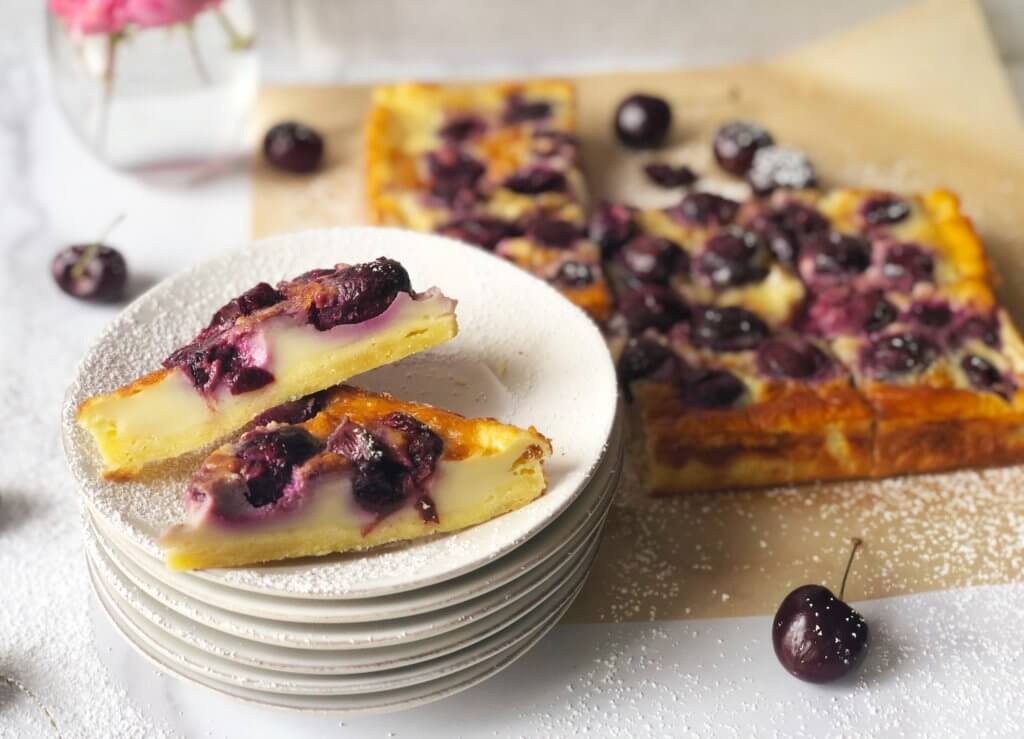 When I was a kid, my Mom would watch Julia Child, followed by "The Galloping Gourmet" – remember him? Anyway, I didn't care much for Julia Child at the time, she seemed a little gruff and maybe a bit overbearing to my 5-year-old sensibilities. I don't know. I preferred Galloping, he was a bit more "lighthearted" I guess. But now, I fully appreciate her, and all she stood for and did for cooking. Her incomparable style. Her "can-do" attitude. And I'm certainly not alone. There are places where people share their favorite Julia quotes. Personally, my favorite Julia quote is "A party without cake is just a meeting." So true Julia, so true. (Although, I would definitely add a cocktail to that cake, though.)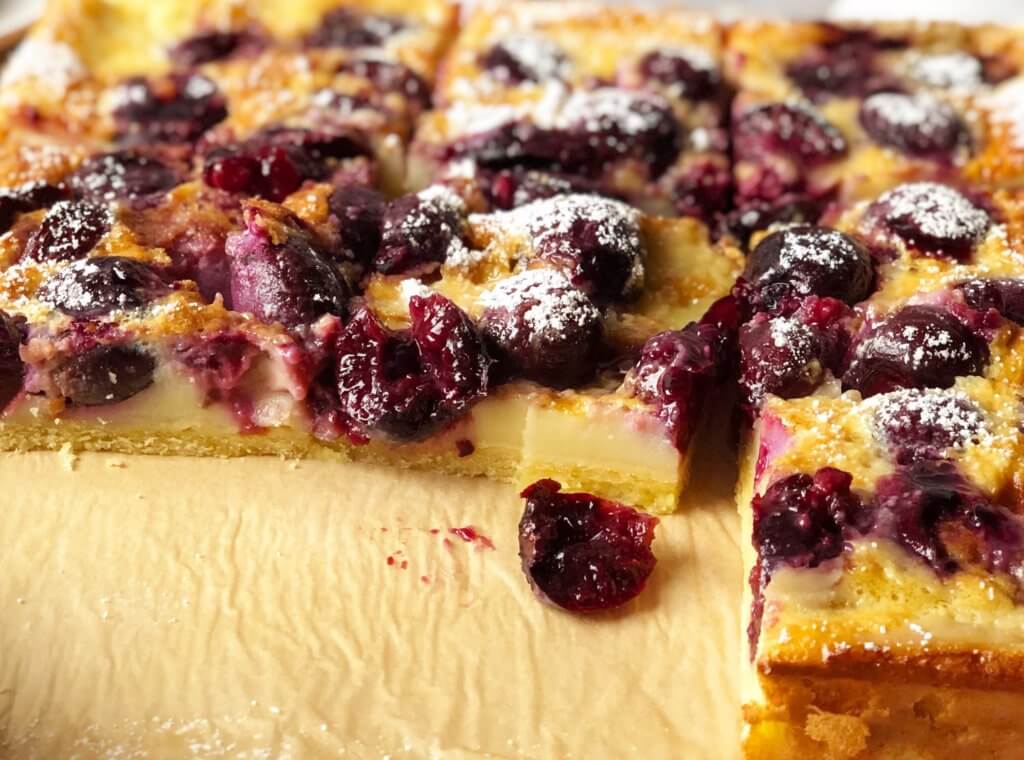 Anyway, like many of her recipes, her clafoutis, is definitely "good food from fresh ingredients", and is a complete Masterpiece. It looks fancy, but that is just an illusion, making you think it's difficult to make. And, really, there's no reason to let anyone know how easy it was to put together. That after preparing a 4-ingredient crust in 10 minutes or less, you just mixed the custard in a blender, then popped it in the oven to set up the custard.
If you've never made Clafoutis (pronounced "Cla-FOO-tee"), it is a thick, lush custard, often with fresh fruit. It has a light and creamy flavor, which really allows the fresh fruit to be the star of the show. But I changed it up a bit, and added a slightly sweet crust, a "Pate Sucre" which is kind of mid-way between a pie crust and a shortbread cookie, I guess. What this crust does, in my mind, is makes Clafoutis easier to slice and plate in a lovely way. Or, let's be real, it means you can eat Clafoutis it with your hands.
I've made her recipe for this Blackberry Clafoutis, which is where my mind went when all the cherries appeared at my local Farmers' Market. So, instead of blackberries, I added some almond flavor to it and my fresh cherries. It was magnificent!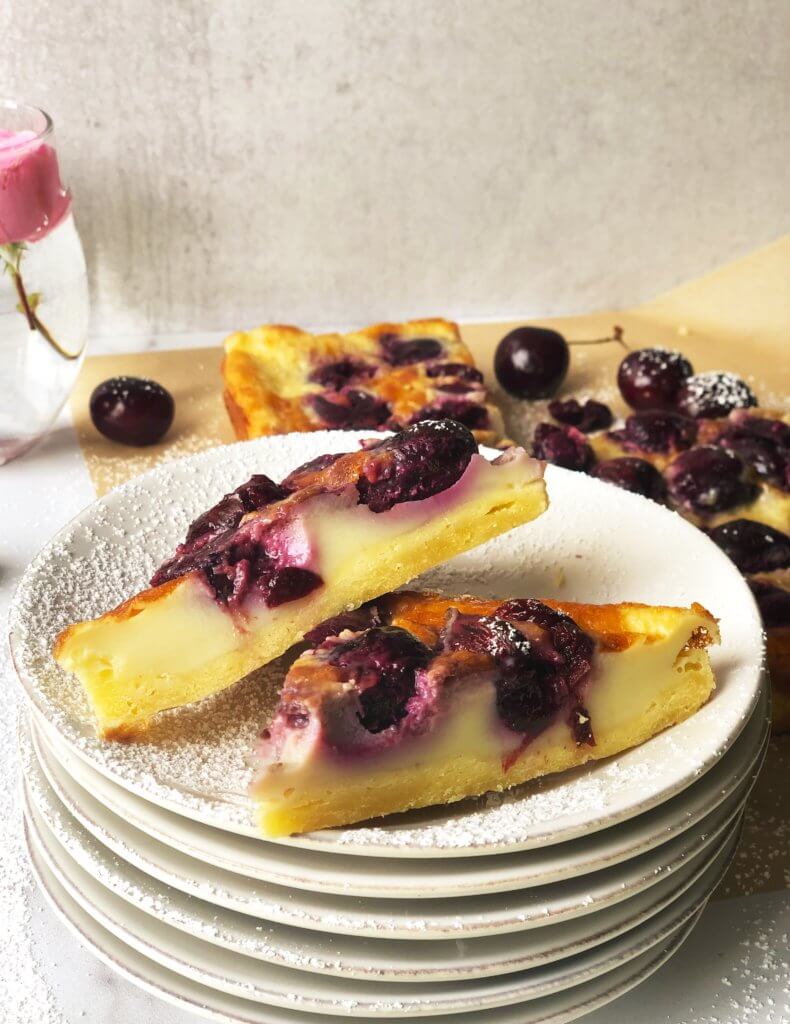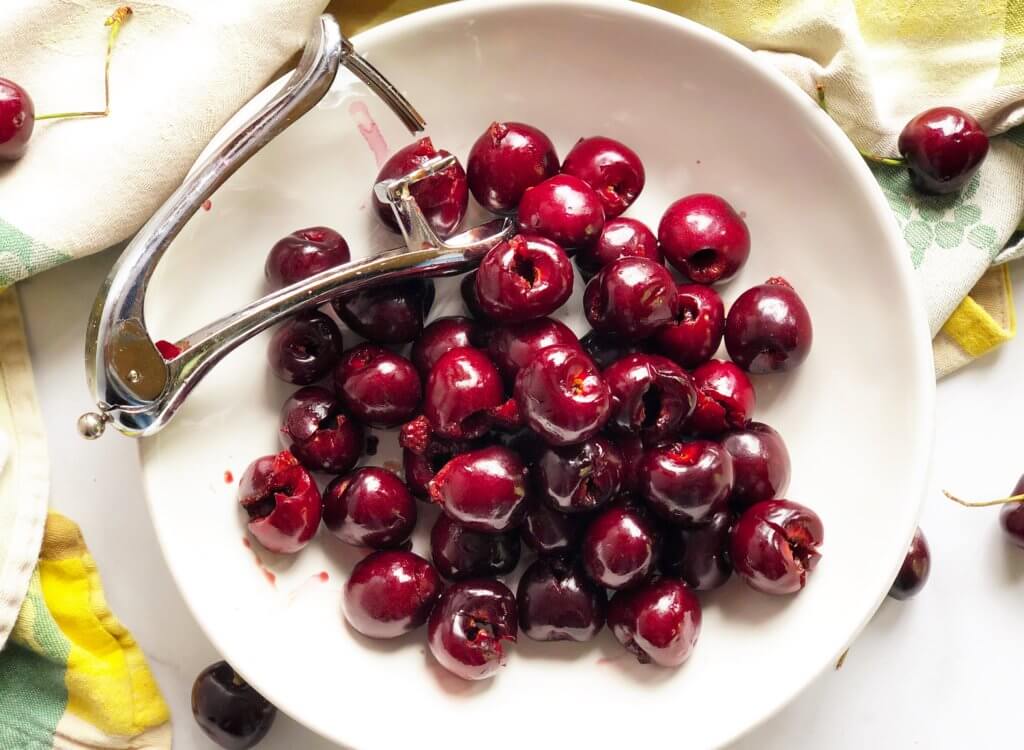 Recipe Details
This super-easy recipe creates delicious bars, adapting a classic Julia Child recipe for Clafoutis. You can use any stone fruit or berry you like, but these Bing cherries were so enticing, I had to use them!
The sweet shortcrust (Pate Sucre) is adapted from BBC Food. Just cream together the softened(!!) butter and sugar. You can use a hand mixer, stand mixer, or some strong bicep action for this. Once it looks creamy, add the egg yolks, one at a time, then the flour. Form the dough into a ball, chill it, then roll/pat it out into a crust in a 9×9 pan.
I like to par-bake this crust for about 10 minutes. This gives me enough time to make the clafoutis in my blender. Just put the ingredients in the blender, and blast on high until they are foamy.
Pour just a bit of the batter over the crust, let it film up, then place the cherries on top. Dust them with sugar, then add the rest of the batter. Bake about 45 minutes, then, resist (if you can!) until they are room temp. Don't worry, they are also wonderful warm! Cut and serve!
So, whether you are going to a party or a meeting, why not take some Cherry Clafoutis Bars, and make sure it's a party, not "just a meeting"? Julia would thank you. I would thank you.
Enjoy!
If you have some fresh fruits, why not also try my Easy Summer Berry Trifle or this Blueberry Crumble with Cornmeal-Pistachio Topping, or the Best Peach Crisp you might ever taste? They are some of my favorites!
Print
Cherry Clafoutis Bars
Author:
Prep Time:

15 min

Cook Time:

50-55 min

Total Time:

65-70 min

Yield:

18

triangles

1

x
Category:

Desserts

Method:

Baking
Ingredients
For the Crust:
7

T (90g) Butter, softened

1/3

c (65g) Granulated or Superfine Sugar

3

Egg Yolks

7 oz

. (

200 g

, scant

1 3/4 cup

) All-Purpose Flour
For the Clafoutis:
1 1/4

c (294 ml) Whole or

2

% Milk

2/3

c (130g) Granulated Sugar, divided

3

Lg eggs

1 1/2

t Almond Extract

1/8

t Salt

1/2

c (64g) All-purpose Flour, sifted

3

c Sweet Cherries, rinsed and pitted

1

–

2

T (

16g

) Confectioners' Sugar for dusting
Instructions
Make the Crust:
Using a hand-mixer, cream together the butter and sugar until nicely combined. One at a time, add the egg yolks until fully incorporated. Mix in the flour. The dough should come together nicely. Form it into a ball.
Place the ball of dough onto a floured surface and knead it a bit until it is smooth. Wrap in plastic and chill in the fridge for 30 minutes. If you leave it chilling longer, set on the counter for 10 minutes before rolling or patting it out.
Prepare the baking pan: spray or line with parchment a 9×9 baking pan.
Preheat oven to 350 (Conventional) or 330F (Convection, fan). On a lightly floured surface, roll out the chilled dough ball slightly into a (roughly) 9×9 square, then move it to your 9×9 baking pan. Pat to the edges of the pan. Place in the oven and par-bake for 10 minutes. While it is in the oven, prepare the Clafoutis.
Make the Clafoutis:
In a blender at high speed, mix the following ingredients for a full minute until frothy: the milk, 1/3 cup (65g) of the sugar, eggs, almond extract, salt and flour.
When you remove the par-baked crust from the oven, pour about 1/4" of the clafoutis over the surface and return it to the oven for 2-3 minutes until the film of batter has set just a bit.
Spread the cherries over the film, then sprinkle the remaining 1/3 c (65g) sugar over the top. Slowly pour in the rest of the batter. Place in the still-preheated oven. Bake 40-50 minutes (mine took 45 mins) until the top is nice and golden, and slightly puffy. It shouldn't jiggle at this point.
Cool and slice into 9 squares, then cut each square diagonally, for a total of 18 triangles.
Sprinkle with confectioners' sugar, as desired.
Notes
Be sure the butter you use is softened, all the way through. This will make a nice cookie-style crust.
You can make the crust dough of time, just let it set out at room temp 10 or 15 minutes so it is easy to roll or pat into the pan.
The best plan is to mix the clafoutis in your blender while the dough par-bakes.
I like to cut my 9×9 pan into 9 squares, then cut each diagonally, making 18 triangles. You could cut any way you want, but I think the triangles are pretty!
Nutrition
Serving Size:

1 triangle, 1/18 recipe
Keywords: Cherry, Clafoutis, Bars
Recipe Card powered by
PIN Cherry Clafoutis Bars ->