There's a reason we don't mess with the Classics!  This Best Peach Crisp highlights the ripe fruit and is topped with the perfect crispy-and-chewy oat topping!  Peach Perfection!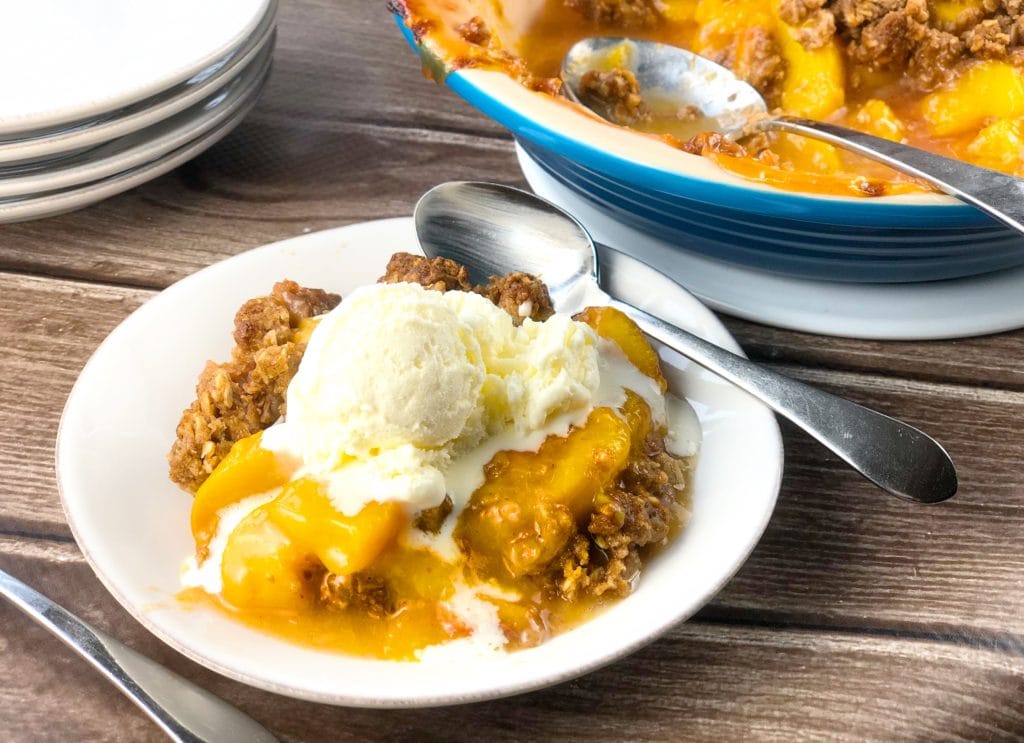 I realize Summer is coming to an end.  It's back-to-school time, and soon we will be keeping our doors and windows shut against the cooler weather.  Don't get me wrong, I love Autumn, too (ok, maybe even a bit more than Summer even) but I know I will miss Summer's slower pace, sunny warmth, and, of course, all of the lovely produce in the stores and farmers' markets.
Especially the stone fruits – you know – plums, nectarines, pluots, apricots, and, of course, peaches.  Their smooth, juicy texture and sweet, tangy flavor just scream summer.  Nothing compares. They are fantastic in both savory dishes and desserts. I've made a couple peach desserts this summer, but this crisp, aside from being the only of those desserts I've deemed "blog-worthy", has to be, I swear to you, the BEST peach crisp recipe I've EVER found.  And believe me, that's no small statement. I feel like I've made them all.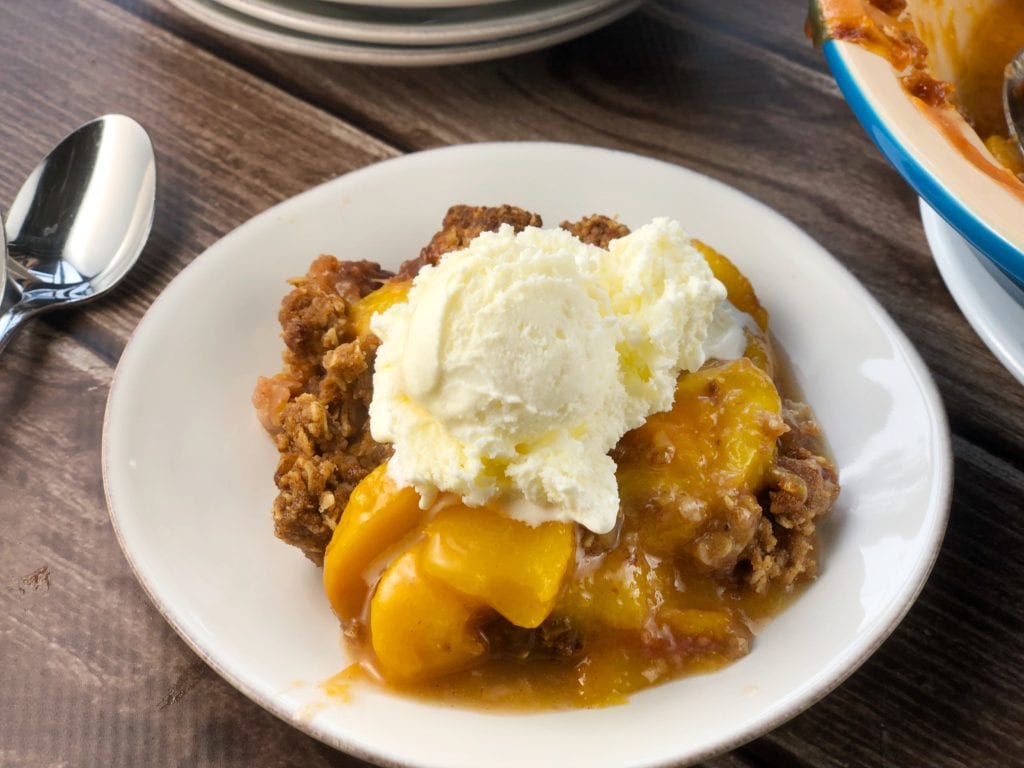 There's something about a crisp that makes me feel like I can make a crisp just by tossing in a bit of this and a bit of that, as if I know the magic formula.  It isn't a fussy dessert. But you know what?  I've learned that for me, that doesn't really work. I've been disappointed. So I usually follow a real recipe the first time, and then make changes in the future to fit my tastes.  But this recipe – no change will be necessary – ever. But what is it that makes it the BEST Peach Crisp?  I wish I could say for sure.
There are no surprise ingredients, it's the same cast of characters usually in a crisp – oats, flour, brown sugar, butter, cinnamon. It uses less sugar than many similar recipes, which is what drew me to it. So what is it that makes this one special?  If I had to guess, I would say that the extra step of mixing the crisp ingredients with an electric mixer is what seals the deal here.  The crisp is simply perfect – it is toasty and crisp, but at the same time chewy like a cookie. And while the crisp is dreamy, it still allows the fruit to be the star of the show.  I found this recipe in the June issue of Bon Apetit. It comes from B's Cracklin' BBQ in Savannah, Georgia.  It was generous of them to share it. I think you'll agree with me once you try it.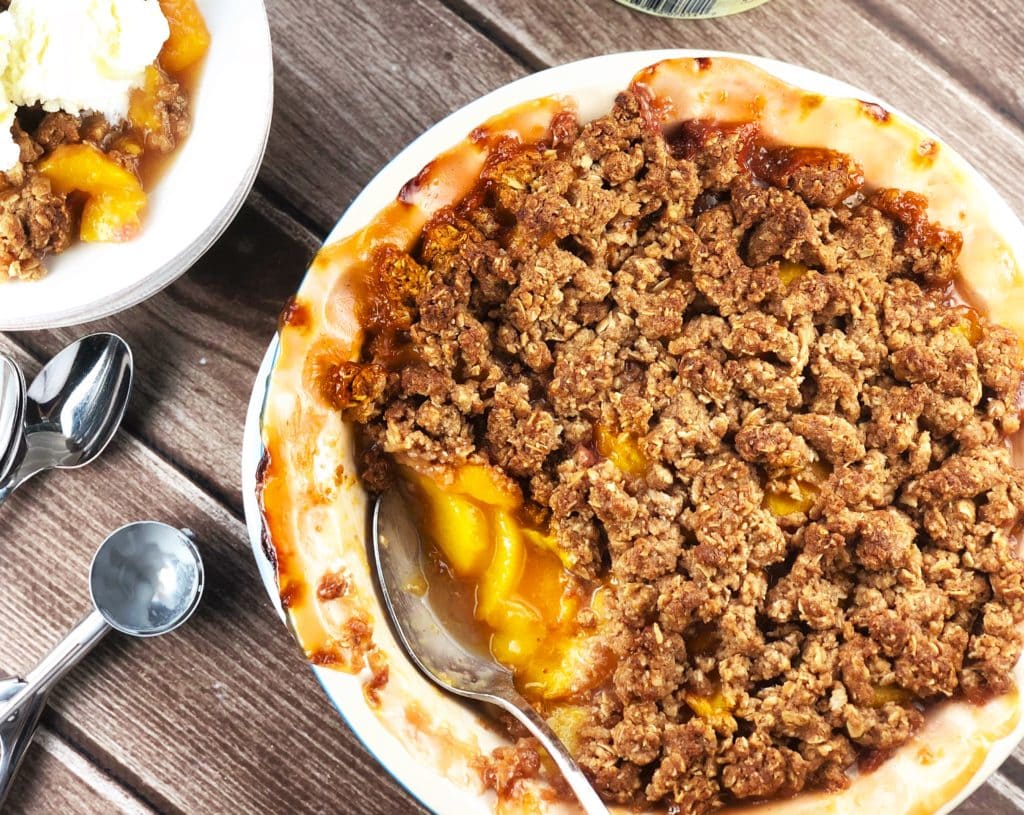 This is one of the few recipes I will not (likely) ever be tempted to change, edit, or alter. It's indeed that good! I'll use it again for apple or pear crisp this fall, and then next spring for rhubarb crisp. And, if you don't know how I feel about rhubarb, just look back at my Roasted Rhubarb Chicken with Asparagus from the early days of blogging. I have strong feelings about certain foods.
So, you know those peaches that are ripening all around us?  Do yourself and your friends or family a solid –  put them in this crisp. And, for the love of crisp, use a recipe – this one, because it is simply the BEST Peach Crisp! Let me know if you agree!  Enjoy!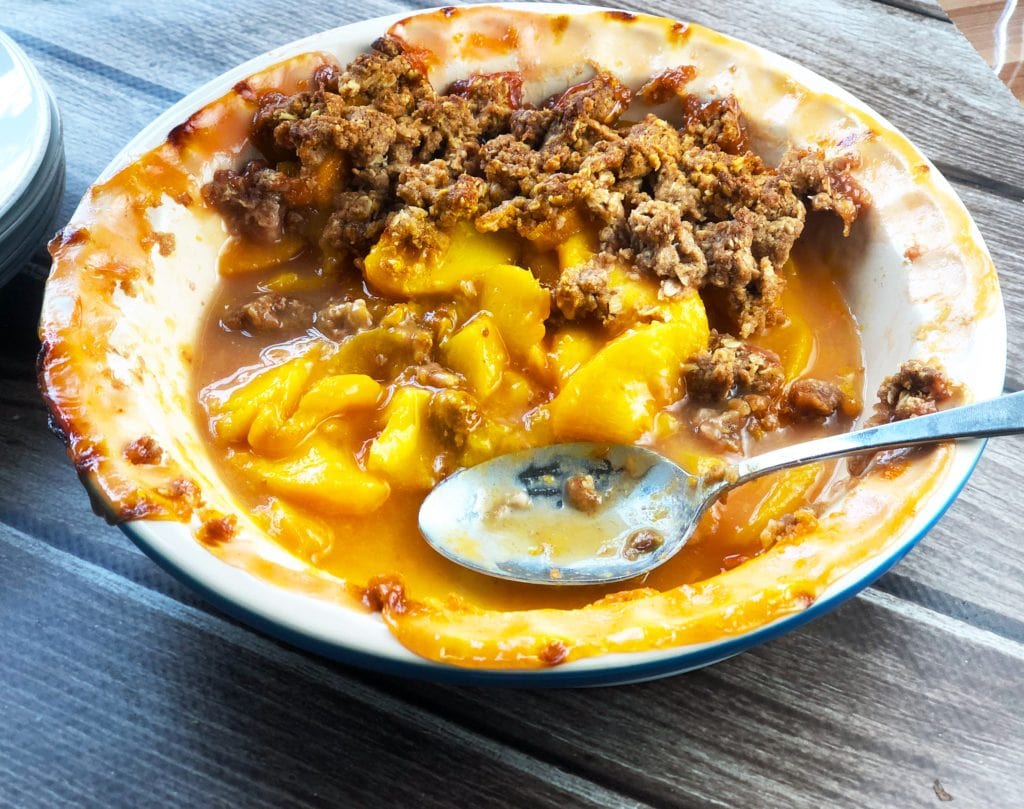 And, if you LOVE peaches and/or  crisps like I do, you may want to click HERE for more ideas!
PIN Best Peach Crisp for Later ->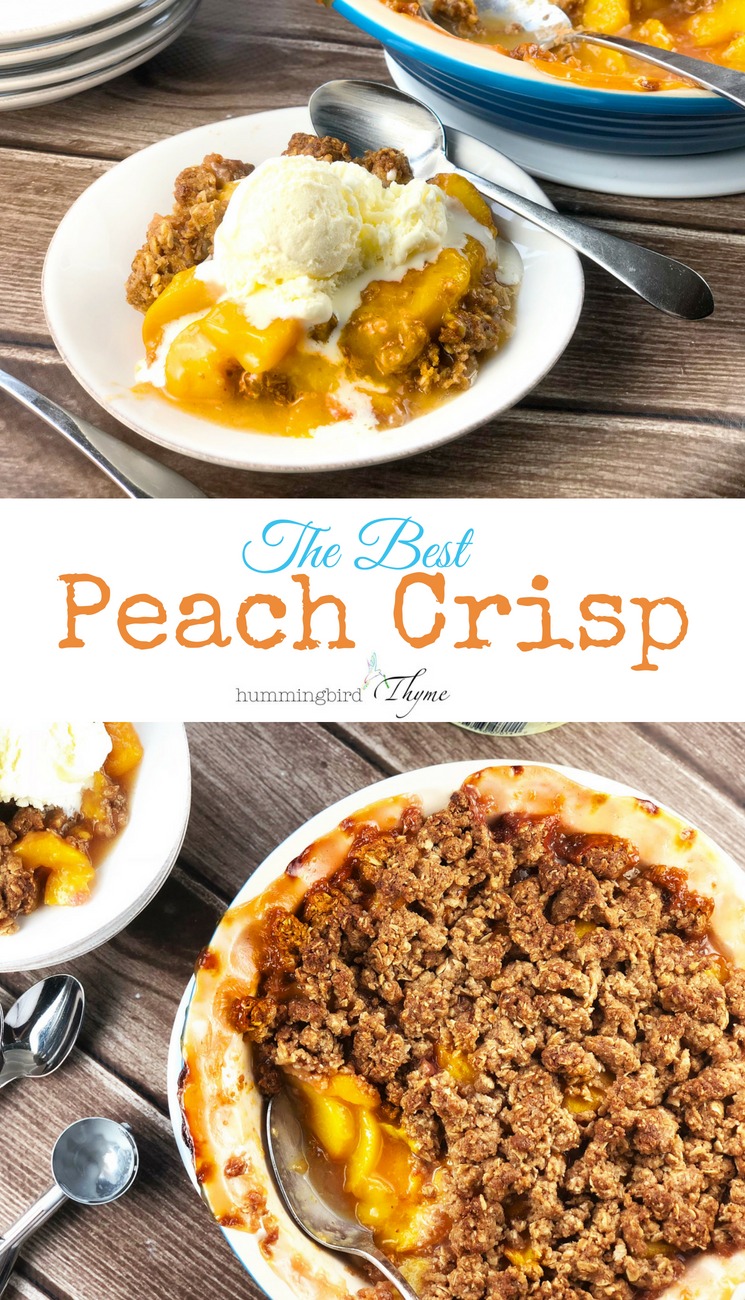 Print
Best Peach Crisp
This recipe, found in the June 2018 Bon Apetit is from B's Cracklin' BBQ.  I halved the recipe to fit in a 9" pie plate, but you could easily fit it into an 8×8 or 9×9 square pan, or double it and bake it in a 9×13 dish.  It is outstanding!  It has less sugar than other similar recipes, but I promise you'll never miss it! Superb with fresh peaches!
The crumble topping is absolutely the best – crispy edges, chewy and buttery.  Everything you want in a crisp!
Author:
Prep Time:

20 min

Cook Time:

50 min

Total Time:

70 min

Yield:

6

-

8

servings

1

x
Category:

Desserts

Method:

Baking
Ingredients
For the Peaches:
2 1/2

lb fresh peaches (about

6

medium-large), peeled and sliced into 1/2" thick segments

1/3

c Granulated Sugar

1

T AP Flour
For the Crumble:
1/2

c AP Flour

1

c Old-Fashioned Oats

1/3

c Packed, light-brown Sugar

1/2

t Kosher Salt

1/2

c (1 stick) Butter, cut into small chunks
(Optional) For Serving
Ice Cream (Vanilla or Salted Caramel)
Whipped Cream
Instructions
Prepare the Peaches
To easily peel peaches, dip each into a pot of boiling water for 20 seconds, then plunge into icy water.  Peel should come of super-easily.  Then pit and slice peaches into 1/2"-thick slices.
In a large bowl, place the peach slices, sugar and 1T AP flour.  Mix to combine, then set aside while your prepare the crumble and preheat the oven, about 30 minutes.  Stir mixture occasionally.
Prepare the Crumble
In a mixing bowl, whisk together the oats, flour, brown sugar, cinnamon, and salt.  Using an electic mixer at low speed, gradually add in the butter pieces.  Once all of the butter is in the bowl, turn the mixer up to Medium speed, and continue mixing until the butter is fully incorporated, meaning there are no dry bits left.  This will take 1-3 minutes, so be sure to watch.
Preheat oven to 350F.
Make the Crisp
Into a 9" pie plate, or 8×8 or 9×9 square baking pan, pour the peaches and any juices that are in the peach bowl.
Using your hands, distribute the crumble mixture evenly over the peaches.
Bake in preheated oven until topping is dark golden brown, and juices are bubbling throughout, about 45-55 minutes.
Let cool 1 hour before serving, with ice cream or whipped cream.
Keywords: Best Peach Crisp
Recipe Card powered by