Do You want ALL the FLAVOR? Quick and easy enough for a weeknight dinner, this flavor BOMB will also please dinner guests! Skillet Chicken with Pancetta, Olives and Caramellized Lemon is a winner!
Growing up in the MidWest, it wasn't until I was a teenager that I tasted foods other than those flavored with salt and pepper, or the occasional catsup.  And I do realize, that salt and a bit of fat (butter, cooking oil) are really all you need to adequately flavor any food. (I mean, salt is one of the things that has started wars, right?) And, I've said it before, the closest we ever came to Italian food was Chef Boy-ar-Dee. Not that there's anything wrong with that. I'm sure there were Italian restaurants in Fort Wayne, Indiana, but with 6 kids, I'm pretty sure the "eating-out money" was saved for Mom and Dad. I loved my canned Ravioli, back then. But let's face it, canned Ravioli is not all that flavor-FULL. However, this Skillet Chicken, with its crispy pancetta, Castelvetrano Olives, and Caramellized Lemon  – I mean – just re-read that list of ingredients and imagine the flavor! Over.The.Top.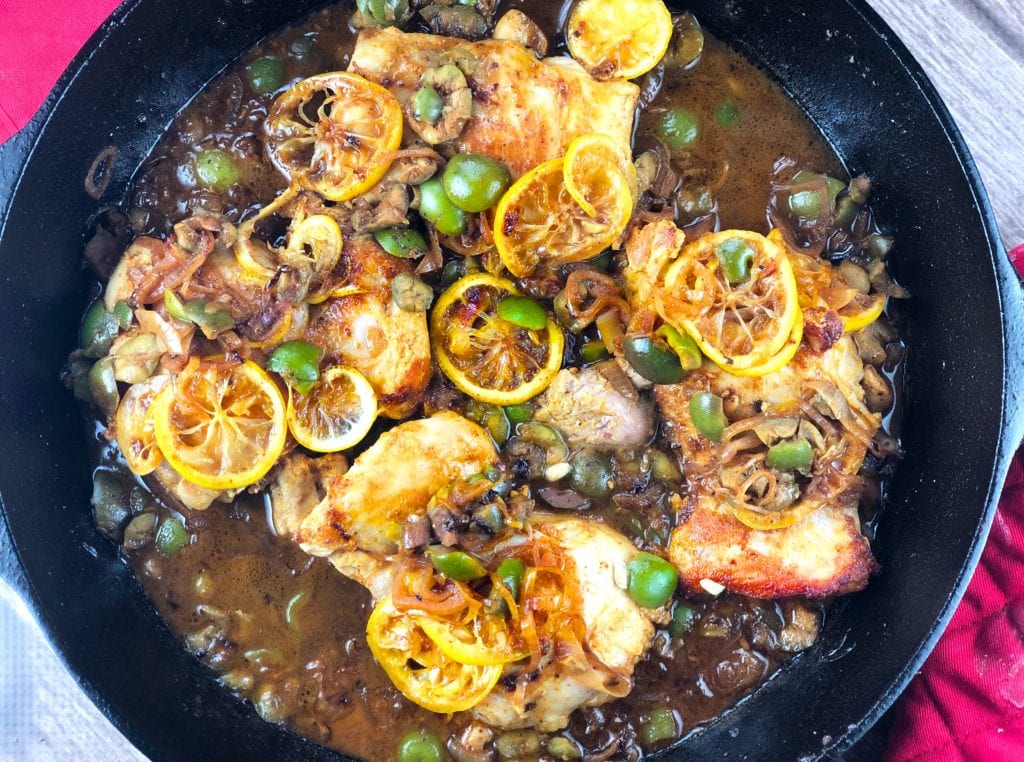 And, if all that flavor isn't enough for you to run out for a container of Castelvetranos and some pancetta, let me just mention, this Skillet Chicken is so darn easy to make. Easy. And Flavor FULL. What else do you need to know? If you haven't used Castelvetrano Olives before, I can tell you, they may become your new favorite olive. They are a bit milder than other varieties, a little buttery, a bit less salty. For this recipe, I advise using the ones with pits, because once pitted and brined they may become overly salty for this dish, given the number of olives you will use. So, please, take the time to tear them or cut them from their pits. These ingredients make the sauce for this Skillet Chicken the STAR of the show. So be sure to serve it with some buttered noodles or a good crusty bread, because, it's all in the sauce.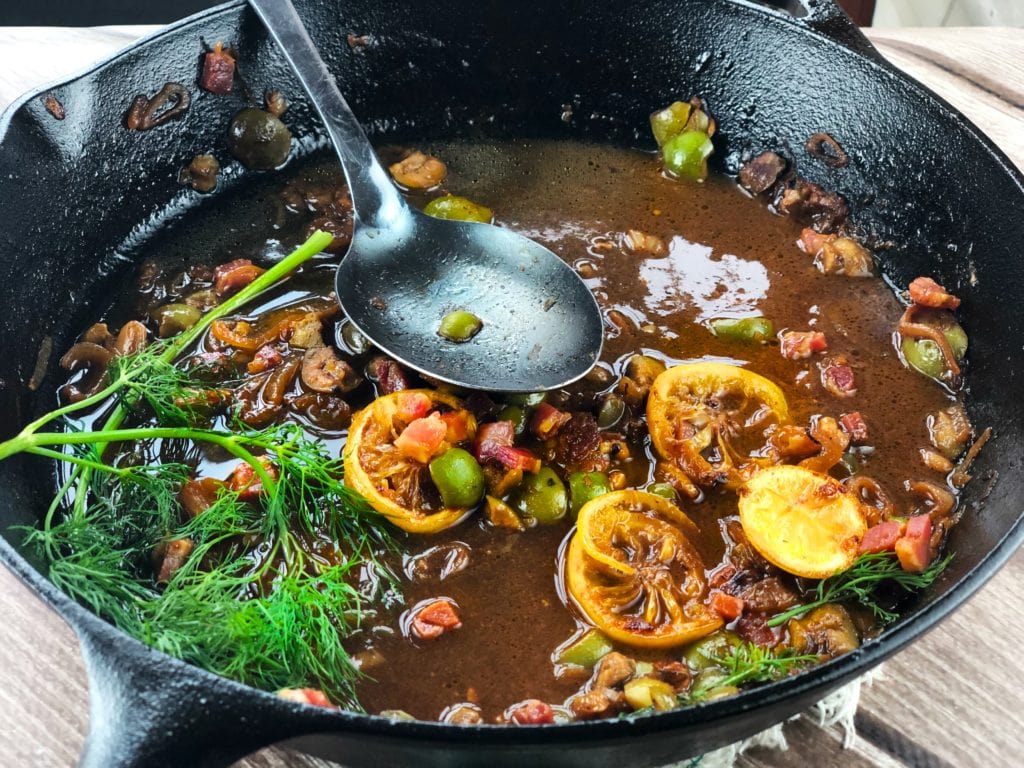 I found this Skillet Chicken recipe on Food52, a great source for all things food, cooking, and some wonderful recipes. So, again, Chef Boy-ar-Dee, I'm sorry, but I no longer enjoy your quasi-Italian-wanna-be taste.  I need FLAVOR! So I'll just get it in my own skillet. I hope you will, too!  Enjoy!



So, if you like this recipe, take a look at some other chicken recipes I've made by clicking HERE.
Or, Check our more Cast Iron Pan recipes HERE.
Pin Skillet Chicken with Pancetta, Olives and Caramellized Lemon for later->

Print
Skillet Chicken with Pancetta, Olives and Caramellized Lemon
I adapted this recipe from Emily C and seen on Food52, ever-so-slightly.  Aleppo pepper is currently difficult to find, so I substituted 1/2 t Smoked paprika + 1/4 t Cayenne pepper for the Aleppo pepper.  Also I used Meyer lemon for the lemon, since it has a lesser "bite" than do regular lemons.
I recommend using Castelvetrano olives in this recipe.  Their flavor is milder and more on the "buttery" side compared to other olives.  They come pitted as well as with pits.  The kind with pits are preferable because they are not quite as salty as when pitted.  In  a salty dish like this, it's best to err on the less salty side, because you can always add salt to a dish if desired.
Once you have all of the ingredients prepped it's a pretty quick process to get this wonderful dish on the table.
Author:
Prep Time:

20 in

Cook Time:

30 min

Total Time:

50 min

Yield:

4

servings

1

x
Category:

Chicken
Ingredients
1

–

1 1/2

lb. Boneless, Skinless Chicken thighs or breasts

1

T plus 3/4 t Dijon mustard, divided

2

T Olive oil, divided

1/2

t Smoked Paprika

1/4

t Cayenne Pepper

4 oz

. Pancetta, coarsely cubed

2

Meyer lemons – one for slicing, one for juicing (regular lemons OK to substitute)

1

T Granulated Sugar

1

Lg Shallot, thinly sliced

1 1/4

c Chicken Stock (salt-free preferred)

1/2

c Castelvetrano olives, pitted, torn into irregular pieces
(optional) Handful of fresh parsley or Dill, coarsely chopped
(optional, but recommended) Egg noodles, rice, and/or crusty bread, for serving
Instructions
Prep the Chicken
Place the chicken portions in a bowl with 1 T mustard, 1 T olive oil, the paprika and cayenne, and 1/2 t salt.  Toss well with your hands, making sure all ingredients are well-distributed.  Set aside.
Cook the Dish
In a large, heavy pan (cast-iron or similar), heat the remaining Tablespoon oil over medium heat. Add the pancetta and cook 5-7 minutes until it begins to brown around the edges and becomes crispy.  Remove with a slotted spoon to a paper-towel-lined plate.  Remove all but 1 T fat from the pan.
Add the chicken pieces to the hot pan, keeping heat at Medium. Brown the first side 5 minutes, turn and cook 3-5 minutes longer.  Chicken thighs take around 8-10 minutes total, breasts 8-9 minutes. If the contents of the pan starts to burn, turn heat down before proceeding. Remove chicken pieces to a serving plate or platter.
Slice one of the lemons in paper-thin slices. Place the sugar on a small plate or on your cutting board.  Dip each side of each slice lightly in the sugar, and place all slices in the pan to caramellized.  This will take about 1 – 1 1/2 minute per side. Remove the caramellized lemon slices to the plate with the chicken pieces.
Add the sliced shallots to the pan, along with a good pinch of salt. Cook 5-7 minutes, stirring occasionally until tender and well-browned, scraping pan with a wooden spoon as needed.  Lower heat if they start to blacken a bit.
When shallots are done, add the chicken stock. Bring to a boil and add the remaining 3/4 t mustard.  Stir until well-combined.  Test the flavor of the sauce (careful:  HOT!), adding any salt as needed. (I found mine plenty salty at this point.)  Add the torn olives, simmer 2 minutes longer.  Then add in chicken pieces and lemon slices, along with any juices on the plate.  Adjust flavor to your liking by adding any additional mustard or lemon juice you might like.  Simmer 2-3 minutes.  Remove chicken pieces to serving platter and pour the sauce over the chicken.   Top with reserved pancetta, and herbs.
(optional) Serve with noodles, rice, and crusty bread to sop up the wonderful sauce!
Keywords: Skillet Chicken, pancetta, olives
Recipe Card powered by