This Red, White and Blue Easy Summer Berry Trifle is not only one of the tastiest treats you can make with fresh berries, it's also one of the easiest! Fresh, juicy berries, stabilized Mascarpone Whipped Cream and layers of shortcake-like biscuits! Perfect for a Summertime Patio Party!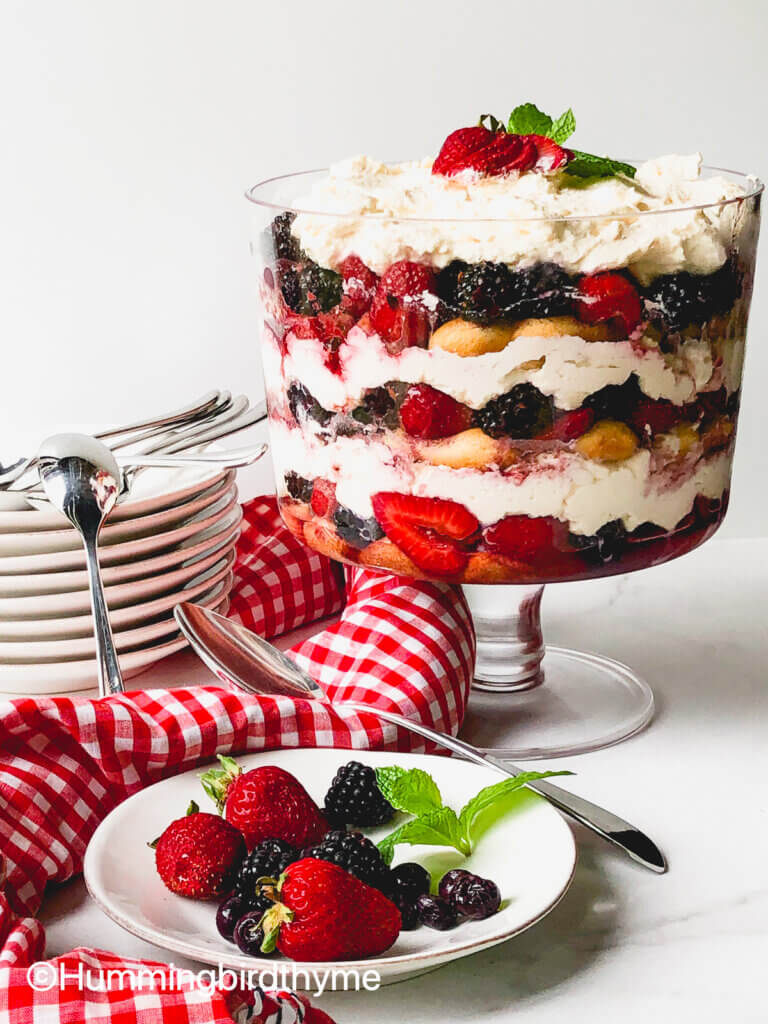 Nothing says summer (or, impending summer – It's been a bit of "June-uary" here) like fresh berries. Who doesn't love strawberries, blueberries, blackberries, raspberries, or really any other berry? Next time you think about making Berry Shortcake, why not make the Easiest Summer Berry Trifle instead? The perfect dessert to take to a summer patio party! Layers of fresh, tangy and juicy berries, creamy whipped topping and layers of shortcake. But to be perfectly honest, it's not shortcake, rather, cookies that become "shortcake" once topped. An easy and impressive NO BAKE dessert!
It is so much easier because all of the work is done ahead of time! Just 30 minutes to prepare the fruit and whipped cream cheese and assemble this lovely layered marvel. Then into the fridge for somewhere between 4 and 24 hours (not that a few more hours would hurt, either!). Then serve to a chorus of "Mmmm. Mmmm. Yum! Maybe just one more scoop!"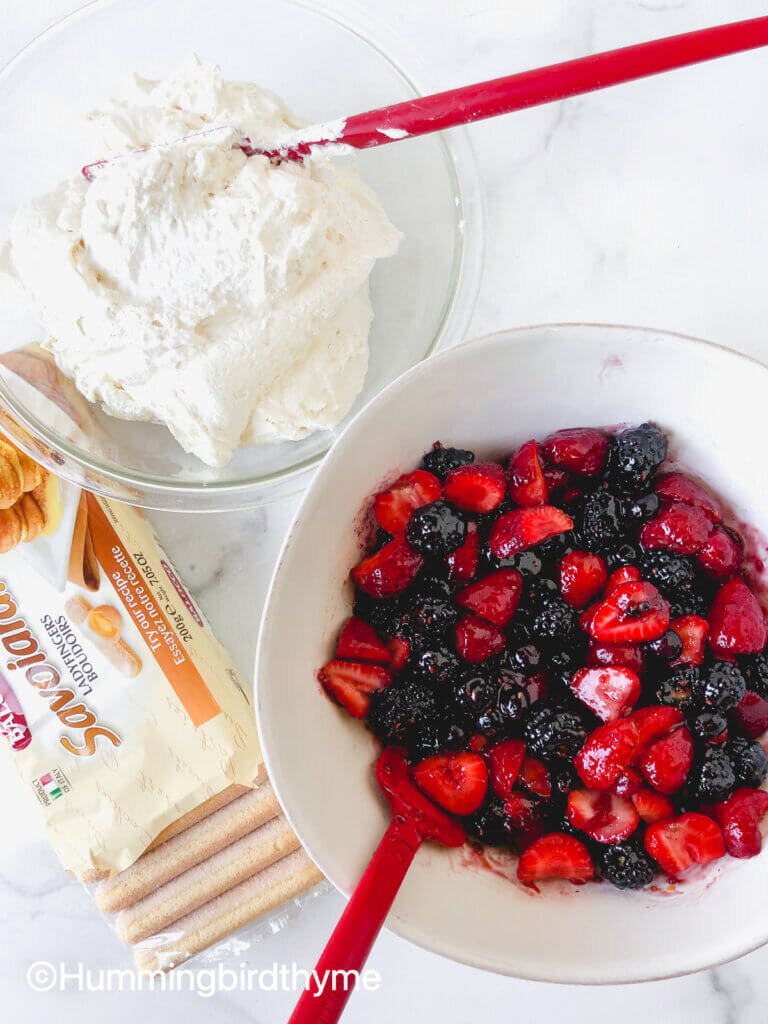 You can tell how much I love trifle – there are several on the blog! It is one of my all-time favorites, because it combines so many yummy things: cake, billowy whipped topping, and whatever other ingredients you like: fresh or dried fruit, nuts, coconut – anything, really! Making a trifle is a rewarding exercise in creativity! And, Trifle has been around awhile, mentioned in texts as far back as 1585. It's existed in many incarnations – but traditionally has sherry-soaked spongecake, custard, fruit and whipped cream.
My version is a bit simpler, and a bit more of a "melting pot" of a recipe. I don't soak the soak the cake layer in anything but the juices from the fruit, and I use ingredients that will flavor and stabilize the cream layer. And, Easy Summer Berry Trifle uses whipped mascarpone cream (YUM!), fresh berries and store-bought Lady Fingers instead of cake. Because, sometimes, simpler is definitely better, am I right?
And, after using Lady Fingers in a trifle, instead of cake, I'm a complete convert! Since they don't require baking, work beautifully, and become wonderfully cake-like with the mixed berries and whipped mascarpone cream topping, I like to keep a package in the pantry for any trifle-making emergency. (It happens, believe me! – you know, if you have a big flat of ripe fruit and no room in the freezer.) And they maintained this texture through the next day. I link to a couple other trifle recipes below if you're looking for other easy fruity desserts! So delish!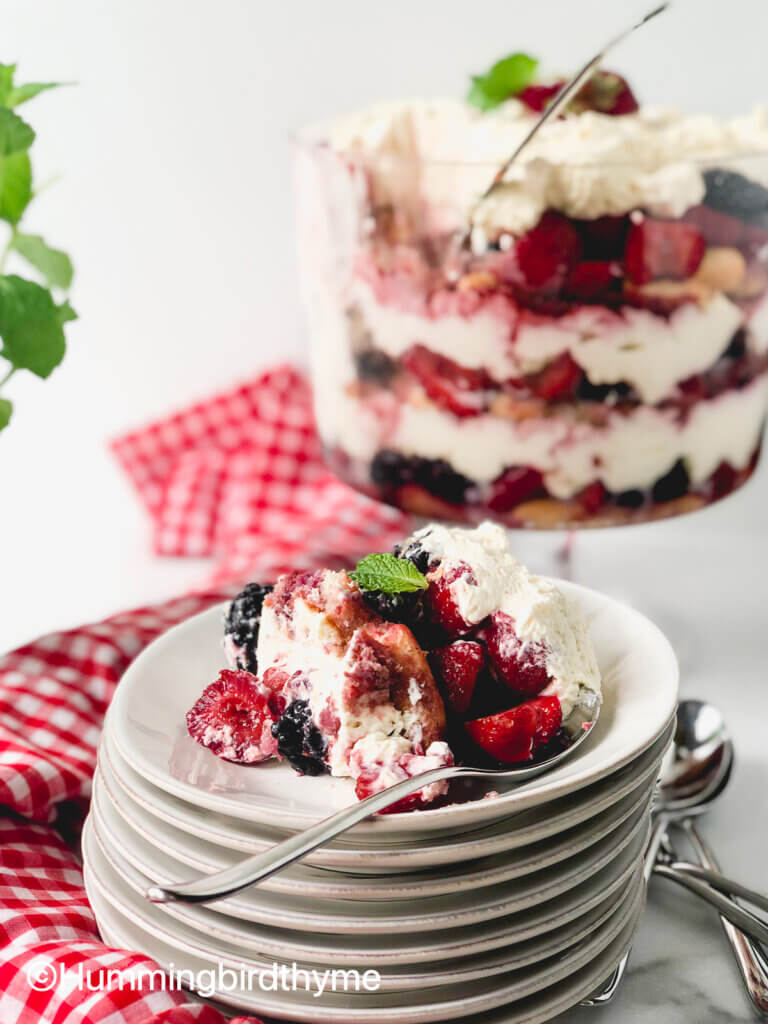 So when you need an impressive (but easy!) dessert to serve a crowd, go buy some lady fingers (in the cookie aisle!) and make this beautiful and Easy Summer Berry Trifle. You won't be sorry! Enjoy!
If you love a trifle like I do, don't miss these lovely and easy-to-make fruity desserts:
Oh-so-YUMMY! Easy Peach Crisp Trifle
Luscious Lemon-Blueberry Trifle
Brown Butter Blackberry Buckle
Strawberry Rhubarb Cherry Crisp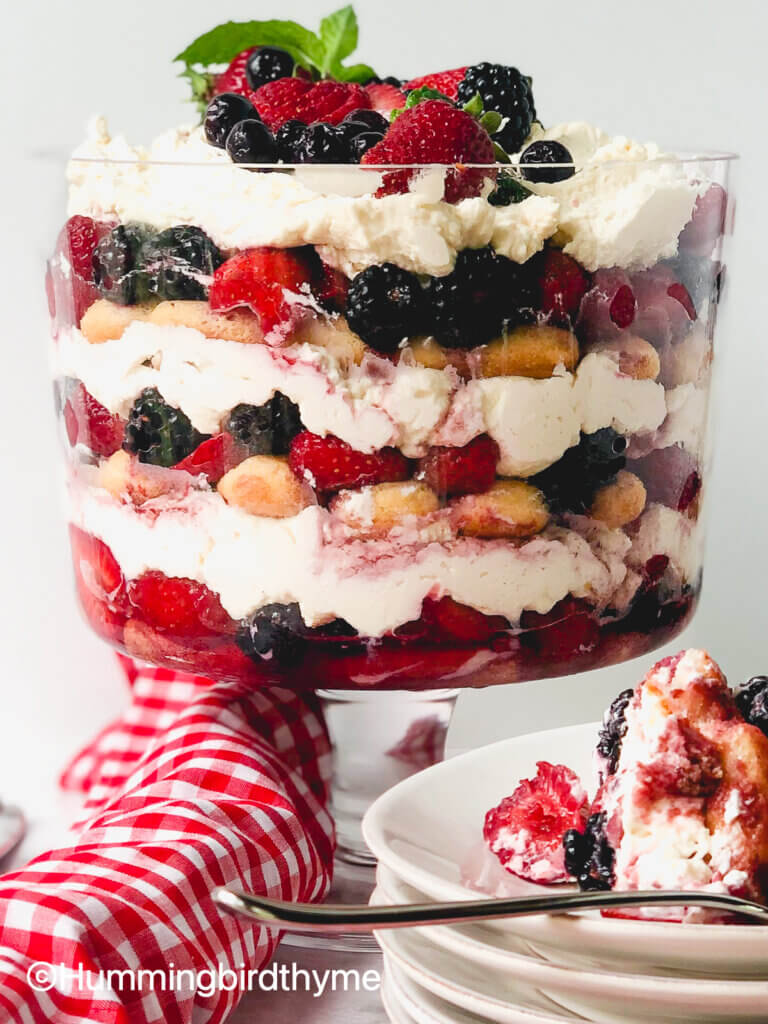 How to make a Trifle:
I am an Amazon Affiliate, so please know any purchases you make through links provided on my page allow me to make a small commission, to maintain this site, but at no additional cost to you.
Some things you may need:
Stand Mixer or Hand Mixer – You can't beat a Kitchen Aid – they last forever!
Silicone Spatula – this is the one I use and love from Williams-Sonoma, (#notanaffiliate)
Prepare the parts of the trifle:
There are really 3 parts of the trifle: The "cake" layer, the fruit layer, and the whipped topping.
The Cake Layer – For the cake layer, you can use pound cake, or really any other cake you have or make. But I love to use Lady Fingers, also known as Savoiardi, which you can find in most grocery stores in the cookie section. One package of these should work.
The Fruit Layer – You'll need 6-7 cups of berries. Since I like the look of a Red, White and Blue Trifle, I used strawberries, blueberries and blackberries. You could use raspberries, pitted cherries or other small fruits or berries if you like. Just pour them into a bowl, and add the lemon zest and juice and the raspberry jam. Stir them up and set aside. And, don't drain the juice, you'll definitely want it in the trifle!
The Whipped Topping Layer – This layer is a stabilized layer of whipped cream. This is important in a dish that might be served outdoors in warm weather, or one that sits in the fridge for a day or two. A bit of sugar and some soft cheese will keep the cream whipped for a few days, without it deflating. I used mascarpone cheese in this recipe, but I've also successfully used cream cheese. You'll want to be sure it's at room temperature so you can easily make it smooth to whip it up a bit before combining it with the cream. You'll whip the soft cheese with the confectioners sugar, then add part of the cold whipped cream, folding in the rest to keep it smooth and fluffy.
Compose the Trifle
I am an Amazon Affiliate, so please know any purchases you make through links provided on my page allow me to make a small commission, to maintain this site, but at no additional cost to you.
Now that you have the 3 parts, you'll want to layer your trifle. A standard trifle dish will hold 3 sets of :
Lady fingers, topped with
Fruit and juice, then
Whipped topping
And, optionally, you can garnish with extra berries or mint leaves, or nothing at all! Refrigerate 4-6 hours or overnight before serving. 
Some Variations and Substitutions for making Trifle:
For the Berries, you can use any type you want, or substitute sliced fruit. Just make sure you have 6-8 cups of fruit total. Raspberries, Peaches, Apricots, all are wonderful!
Instead of Mascarpone, use Cream Cheese! Just make sure you set it out for 15-30 minutes prior to whipping, so it will be smooth when you mix it with the whipped cream.
If you don't have or don't like Lady Fingers, feel free to use slices or "fingers" of sponge cake or pound cake! Vanilla Wafers would also work.
Add some toasted walnuts or pecans to the mix! Place them on top the cream layers and/or as a garnish.
Want to save this recipe for later? Pin it!
Print
Easy Summer Berry Trifle
This Red, White and Blue Easy Summer Berry Trifle is not only one of the tastiest treats you can make with fresh berries, it's also one of the easiest! You can make this in about 30 minutes! Then refrigerate up to a full day. Perfect for a Summertime Patio Party! Comes together quickly, serves a crowd.
Author:
Prep Time:

30 min

Total Time:

30 min

Yield:

10

–

12

Servings

1

x
Category:

Desserts

Method:

No Bake

Cuisine:

British, International
Ingredients
1 qt

(1 1/2 lb,

24 oz

,

680g

) Fresh Strawberries, hulled and halved

1

pint

(2cups, 300g) Fresh Blackberries

1

cup

(150g) Fresh or frozen Blueberries

1 tsp

Lemon Zest

1 Tbsp

(15ml) Lemon Juice

3/4

cup

(178ml, 237g) Raspberry Jam (Seedless if you prefer)

16

oz

. (473g, or about 2 cups) Mascarpone Cheese, set out 15-30 minutes prior

1

cup

(237ml) Confectioners' Sugar

2

cups

(473ml) Heavy Whipping Cream, cold

2 tsp

(

10

ml) Natural Vanilla Extract

1

(7 oz., 198g) package Lady Fingers (also known as Savoiardi Biscuits)
Instructions
Pour all of the berries into a large bowl, leaving several out for garnish.  Add the lemon zest and juice. Heat the jam in a small bowl in the microwave, 15-30 seconds, until pourable.  Pour over the berries and stir.  Set aside while you prepare the other ingredients.
In the bowl of a stand mixer with whisk attachment, beat the cream until just beyond the billowy stage, when it begins to stiffen. Remove to a large bowl. No need to clean out the mixer bowl.
Place the mascarpone and confectioners sugar in the bowl, and using the paddle attachment, mix until smooth. (You could also do this by hand-held whisk or spoon in a separate bowl).  Then, add 1/3 of the whipped cream, and the vanilla, to the mixing bowl, along with the mascarpone mixture. Using the whisk attachment and starting slowly, increase the speed to Medium, to combine the mascarpone mixture with the third of the whipped cream in the bowl. Remove the bowl from the mixer, and then fold the previously removed (2/3 of) whipped cream using a large, flat spatula.
In a trifle dish or a large bowl, build the layers of trifle in the following order:  1/3 of the lady fingers (you may need to break or cut some to fit), 1/3 of the fruit mixture, along with 1/3 of the juice, and then 1/3 of the whipped cream mixture.  Smooth top.  Repeat these layers twice more, and perhaps leave a 1″ border of fruit if you wish at the top to show the fruit at the top of the trifle.  Garnish with the reserved berries.
Refrigerate several hours – the more the better or overnight, before serving.
Notes
If you are using a bowl instead of a trifle dish, you may only need a few lady fingers for the bottom layer.  
Keywords: easy summer berry trifle, strawberry blueberry trifle recipe, trifle recipe with Lady Fingers, red white and blue trifle, 4th of July trifle, 4th of july desserts, desserts for a crowd, patriotic trifle recipe, patriotic dessert recipe, layered dessert recipe, mascarpone cheese, blackberries, what to do with fresh berries, family favorite recipes
Recipe Card powered by