Blackberry Buckle – tender cake with all the juicy blackerries and strawberries of summer! This one is made with nutty brown butter and tangy buttermilk! Perfect end of summer dessert, snack or breakfast!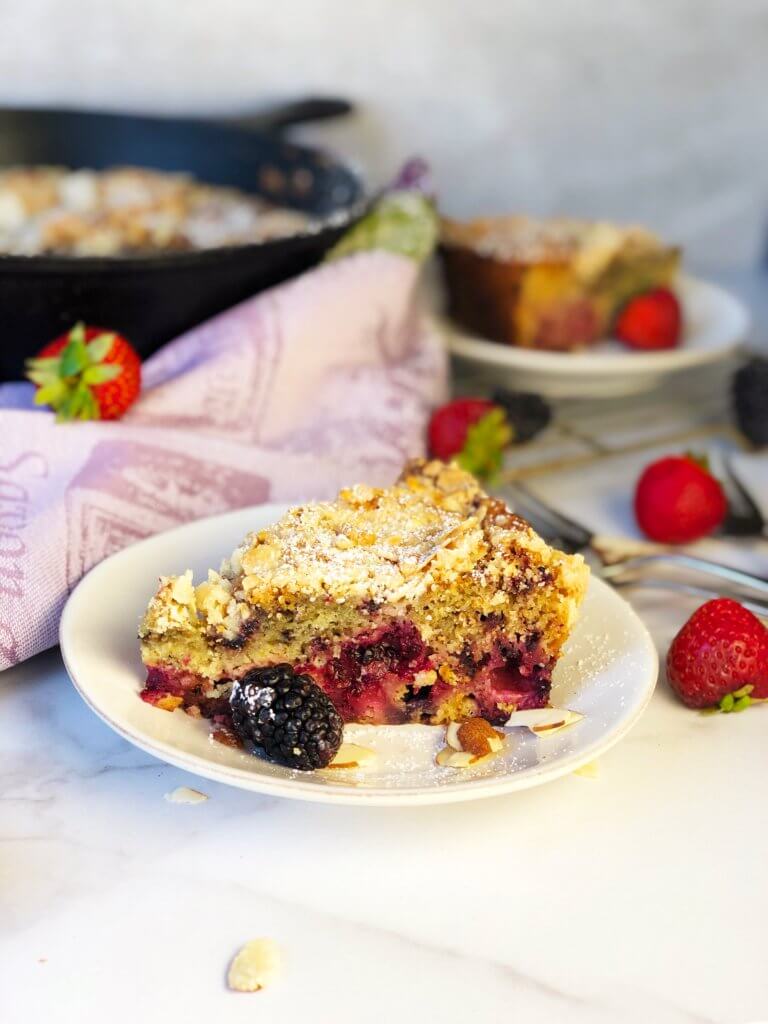 "Nice use of alliteration." This was my teacher's only comment on the first paper I wrote for my high school "College Prep Writing" course, as response to a phrase as well alliterated as the name of this recipe. It was a "Definition Paper", one for which we had to begin with a single word and write a few typed (yes, those were the typewriter days!), double-spaced, error free, creative pages on that single word, its meanings and connotations. Writing that paper was truly one of the joys of my High School experience. From start to finish, I outlined, wrote, edited, re-wrote, agonized, re-edited and completely enjoyed the process. Ms. Mary Ann Jackson, our teacher, was our notoriously tough teacher. Students dreaded her class, due to her high standards.
When I received an A+ on the paper, I almost fainted. I thought it was a mistake. And then, when my super-smart friends complained about the grades they received, I couldn't even tell them about my grade. (You, dear readers, are the only people to whom I've ever even disclosed that, as I was taught never to brag. Ever. Really. Never.) Granted, my subsequent efforts were not so highly rated by Ms. Jackson. Hence, I only saved that first paper. I imagine Ms. Jackson was as disappointed as I was in those other papers.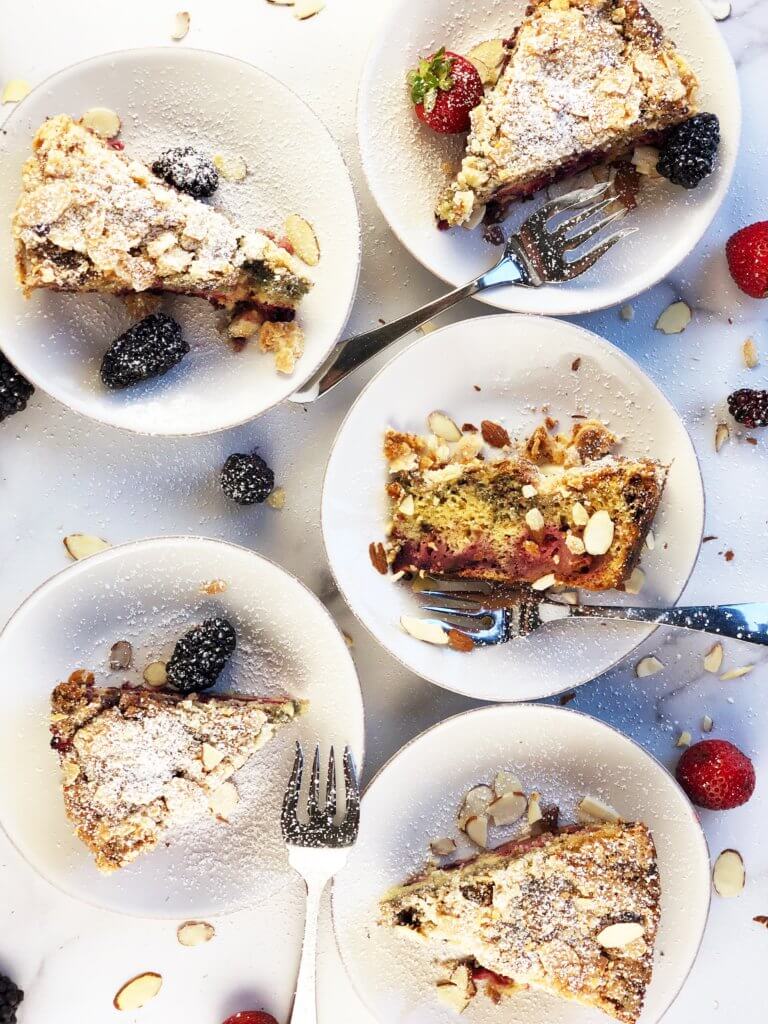 Brown Butter Blackberry Buckle. All those lovely words beginning with the same letter. A well-alliterated phrase. And, a well-loved dessert. Loads of fruit, blackberries and strawberries in this case, all enrobed with a tender, springy cake. So much fruit, in fact, the cake "buckles" when baking. The crispy almond topping just complements that bumpy buckle and those juicy fruits so well.
And, it takes just a few minutes to put together the crisp topping and the cake batter. No mixer required. Just a whisk and/or a spoon, and a couple of bowls. All so easy. Deliciously crisp and gorgeous in a cast-iron pan. (You can bake it in a 9" cake pan or springform if you don't wish to use a cast-iron.) My Blackberry Buckle recipe was inspired by this one from the Awesome Foodess. I used a slightly different cake recipe, and added a crumb topping, but used her idea for baking it in a Cast-iron skillet.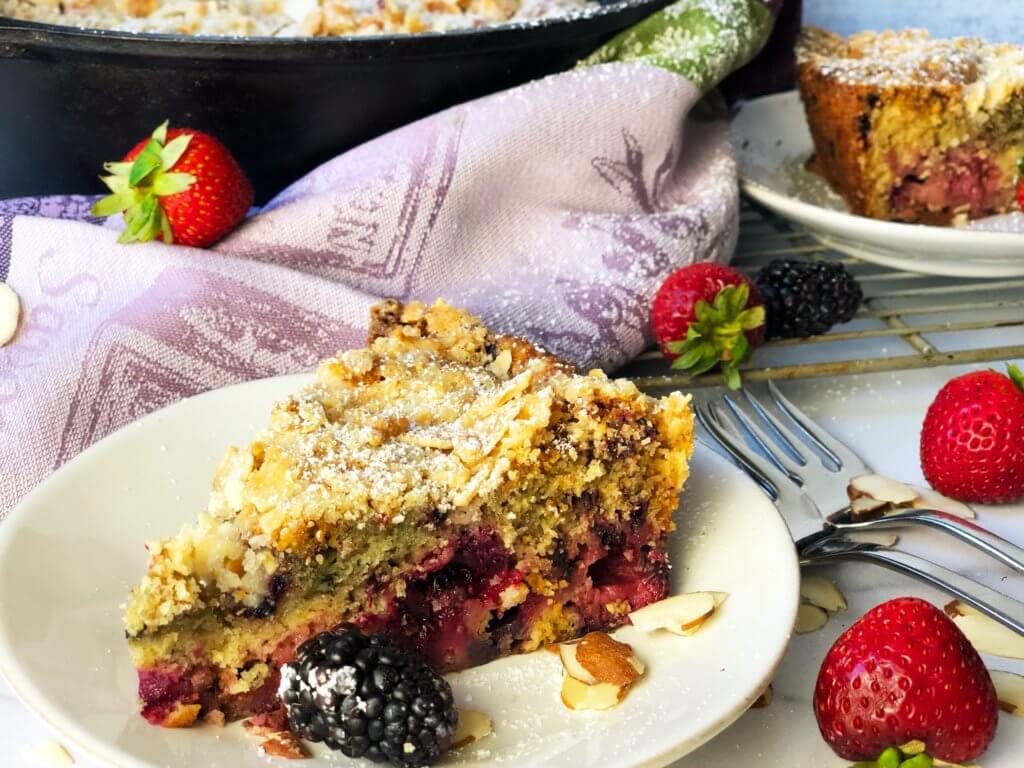 So use some alliteration today. Let your loved ones know you are making them Brown Butter Blackberry Buckle! Or, if you want to one-up my alliteration, you know, because I bragged and all, call it your Buttermilk Brown Butter Blackberry Buckle!
Enjoy!
If you're looking for other summer fruit desserts, try my Strawberry Rhubarb Cherry Crisp, Fresh Peach Cobbler, or this gorgeous Meyer Lemon Blueberry Trifle.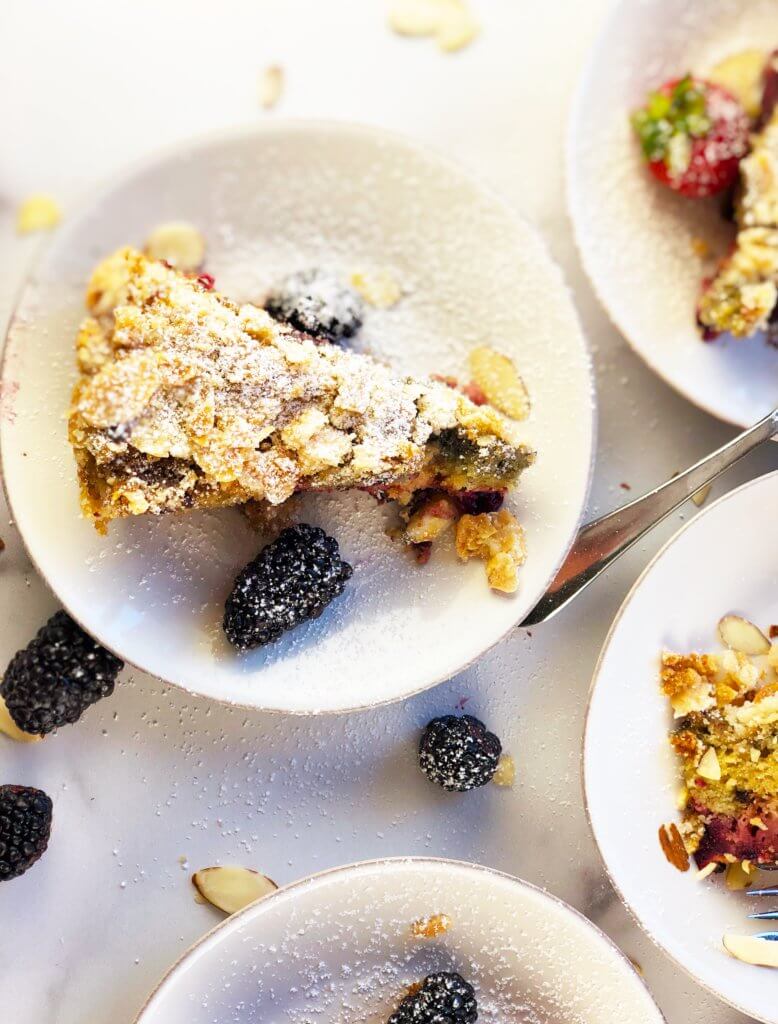 Recipe Details
1. If you don't have or want to use a Cast-Iron pan, you can use a 9" cake pan or Springform pan. Just brown your butter in a small saucepan, and be sure to butter the baking pan with 1 Tablespoon of that brown butter before pouring in the batter.
2. The Crumble topping can be made with your fingers of with a pastry cutter or fork. I like the way the sizes of crumble vary when I use my fingers, which I way I did it this way. If this isn't important, just use a pastry cutter or fork until all of the ingredients are well combined into small bits.
3. If you don't want to brown the butter, simply melt it in the pan, then pour the melted butter into your bowl for the wet ingredients.
4. To prevent overstirring (which can make the cake tough), just mix the batter until you see just a very few bits of unincorporated flour. This way, when you add the berries, the additional stirring you do will ensure all ingredients are incorporated without overdoing it.
5. The buckle keeps well at room temperature, covered, for about 2-3 day. If it lasts longer than this, wrap well in plastic wrap, and refrigerate. You could also plastic-wrap some slices, wrap these in foil or place in a container, then freeze them for future buckle emergencies.
6. You could top the Buckle with Ice Cream or whipped cream, or nothing at all!
7. This recipe is extremely versatile! If you'd like more almond flavor, feel free to substitute almond extract for the vanilla. Or, add a teaspoon or two of lemon zest if you'd like a hint of lemon. Use any berries or stone fruits you like. Just be sure to cut the fruits all about the same size.
This is how the Crumble looks

Rich color of Brown Butter

Buckle Batter ready for Berries

Buckle Batter with Crumble Topping

Fully Baked Buckle
Print
Brown Butter Blackberry Buckle
Quick and easy to prepare, this tender, fruit-filled buckle is perfect for a summer dessert, brunch, or snack! The batter comes together in minutes with nutty browned butter, tangy buttermilk and fresh fruits! A 4-ingredient crumb topping seals the deal! Top with whipped cream, ice cream, or a sprinkling of confectioners' sugar!
Author:
Prep Time:

20 min

Cook Time:

40-50 min

Total Time:

60-70 min

Yield:

1

–

10

" cake, 8-10 servings

1

x
Ingredients
For the Streusel Topping:
2 Tbsp

Cold Butter (I used unsalted), cut into small cubes

1/3

c (66g) Granulated Sugar

2 Tbsp

(

15g

) AP Flour

1/3

c sliced and toasted almonds
For the Cake:
1/2

c (1 stick, 115g) Butter (I used unsalted)

1

c (198g) Granulated Sugar

1 3/4

c (210g) AP Flour

1

t Baking Powder

1/2

t Baking Soda

1/2

t Kosher Salt

1

Lg Egg

2/3

c (160 ml) Buttermilk

1

t Natural Vanilla Extract or

1/2

t Almond Extract

3

c (about .4-.5 kg or enough to fit in 750 ml container) Fresh Berries (I used

2

c Blackberries and

1

c Sliced Strawberries)
Instructions
Make the Streusel Topping:
Preheat oven to 350F (Conventional) or 330F (Convection, fan). 
In a small bowl, combine the cubes of butter, sugar and flour. Using your fingers, rub the dry ingredients into the butter until they butter pieces are various sizes and flattened a bit. Alternatively, cut in butter with a fork or pastry cutter. Stir in the almonds. Set aside.
Mix the Cake Ingredients:
First, combine the dry ingredients in a large bowl. Whisk together the flour, baking powder, baking soda and salt. 
Make the Brown Butter: Into the cast iron pan, place the butter over Medium to Medium High Heat. As it melts, it will begin to spatter, then will bubble and foam. Once the foaming begins to slow, keep an eye on it to prevent it from burning. The milk solids will begin to separate, and you need to remove the butter from the heat before those bits turn black. So watch for them to brown. This is when you should pour the brown butter into a bowl. Since the cast iron is dark, it's difficult to see the bits, so I remove it from the heat when the remaining foam starts to brown. 
Combine the wet ingredients. Pour the butter into a medium bowl. Add the sugar and whisk or mix until combined. Add the egg, stir again until combined. Then add the buttermilk and vanilla and stir until combined.
Pour the wet ingredients into the dry ingredients. Stir rather gently until only tiny bits of flour are still visible. Then add the berries, stirring until they are nicely distributed.
Pour batter into the cast iron skillet. Sprinkle reserved topping over the top of the batter. Place in preheated oven.
Bake until topping is golden brown and a tester inserted into the center comes out clean or with only berry juice on it, 40-50 minutes. In my oven this took 43 minutes.
Notes
If you don't have or want to use a Cast-Iron pan, you can use a 9" springform or 9" cake pan. Just butter the pan, and realize baking time may be on the longer side of the range, closer to 50 min, possibly a bit more even.
The Baked Buckle keeps well at room temperature for 2-3 days, just cover with a tea towel or lightly with plastic to maintain its moisture.
Feel free to substitute any type of stone fruit or berries you like, just be sure to use around 3 cups.
Since all ovens vary, be sure to insert a tester to be sure the cake is done. It should come out clean of crumbs, although may have some berry juice, depending on where it was inserted.
Keywords: Buckle, cake, baking, blackberries, strawberries, berries, brown butter
Recipe Card powered by
PIN Blackberry Buckle ->