Fresh Peach Cobbler! Glorious fresh peach slices, baked with sweet biscuits on top! A secret ingredient makes the topping reminiscent of sugar cookies – so scrumptious! Summertime heaven on a plate!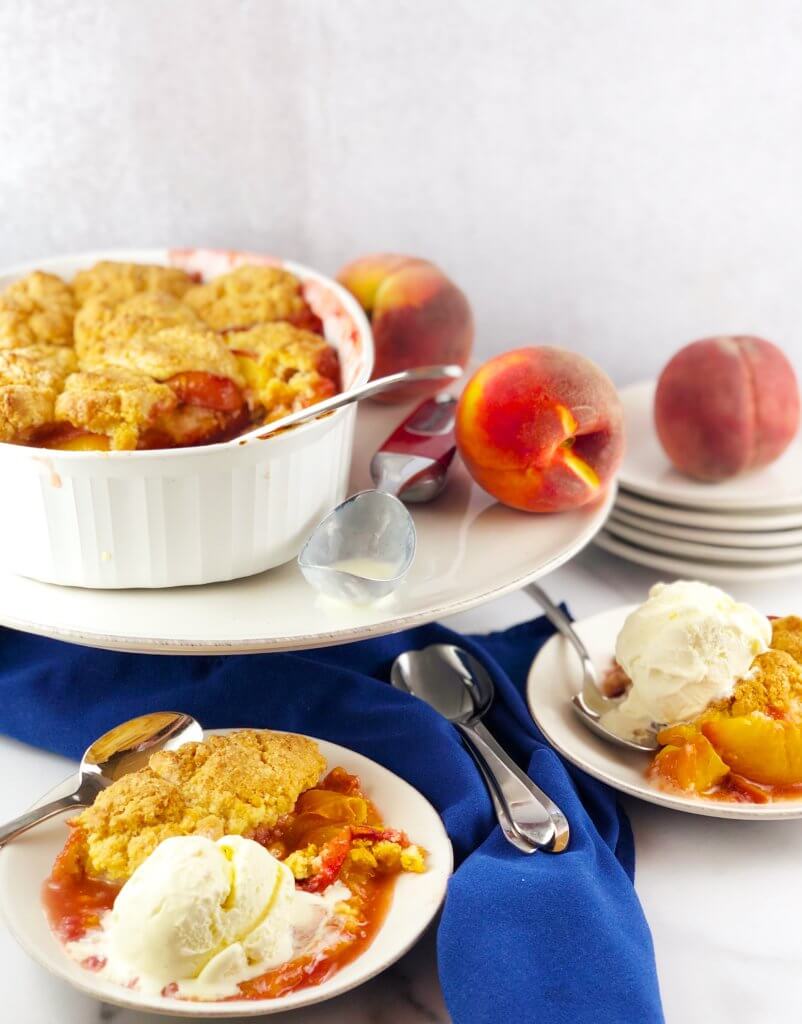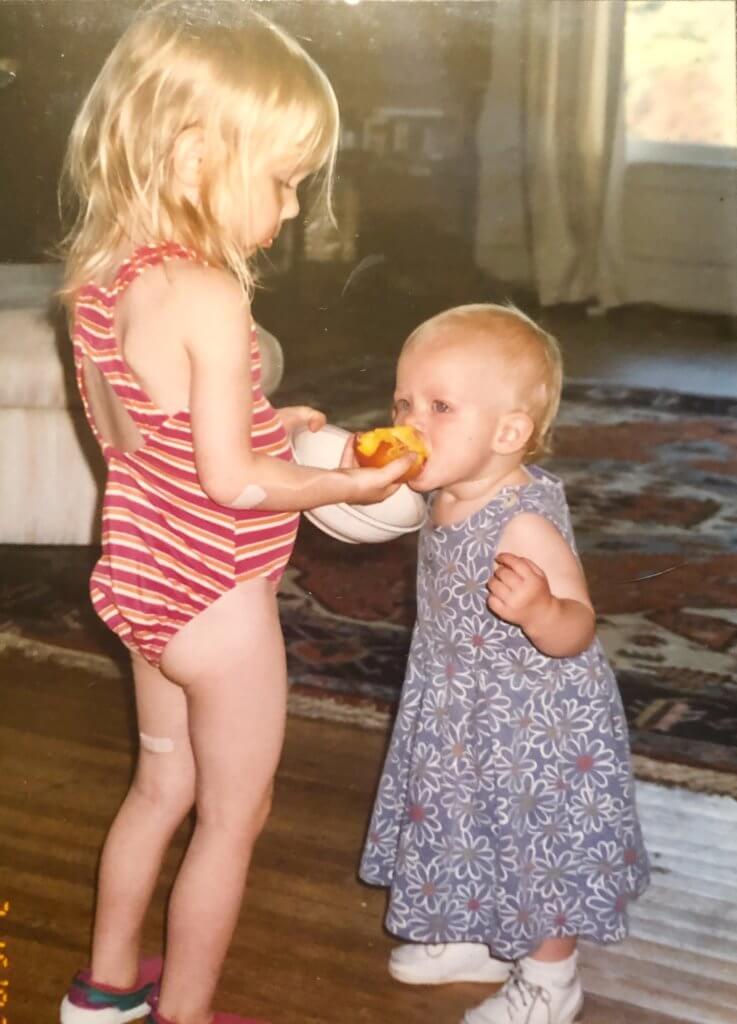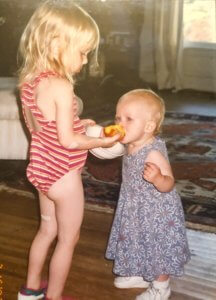 At my house, there's no season like Peach Season. (You might call it August.) I just want everything peach. And, we "start 'em young" here! My two daughters enjoying Peach-O-Rama (photo, left, "several" years ago!) only makes me want to create more peach treats. This year, I made this Fresh Peach Cobbler, after my oldest, striped swimsuit girl, (who is old enough to buy her own cookbooks now) brought home Chrissy Teigen's Cravings: Hungry for More Cookbook. One of the recipes is for "Two-Faced Cobbler", where half gets a Crisp Topping and the other half, a Cobbler topping. And, if you know me, you know I love a good biscuit! So I made the recipe with all-Cobbler topping. 
And, it was Chrissy herself that led me to the adaptation I made here. In the recipe, she mentions the dough for the Cobbler topping should have the texture a soft cookie dough. That made me wonder, why don't I increase the "cookie-ness" of it? So I added some vanilla to the dough, just to cookie up the biscuit a bit. And this totally scrumptious Fresh Peach Cobbler was born. 
If you haven't tried any Chrissy Teigen recipes, they are all generally pretty quick and easy and focused on optimizing flavor. You know I'm all about flavor! Her first book, Cravings, in fact, contains one of my favorite and most popular recipes, her Cacio e Pepe with Lemon, Arugula and Pancetta. OMG Amazing, that dish! Still one of my all-time favorite meals!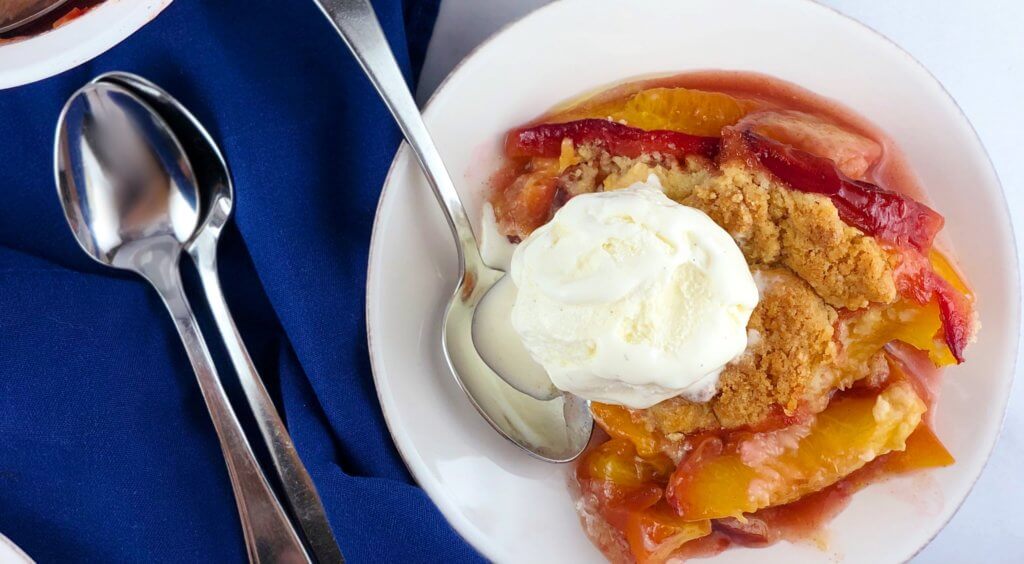 So if you celebrate August peach season the way I do, don't hesitate to make this awesome Fresh Peach Cobbler. It's definitely the thing to do with all those luscious peaches! 
Enjoy!
If you're looking for peach recipes, don't miss the Best Peach Crisp Ever!, or this Deep Dish Peach Crumble.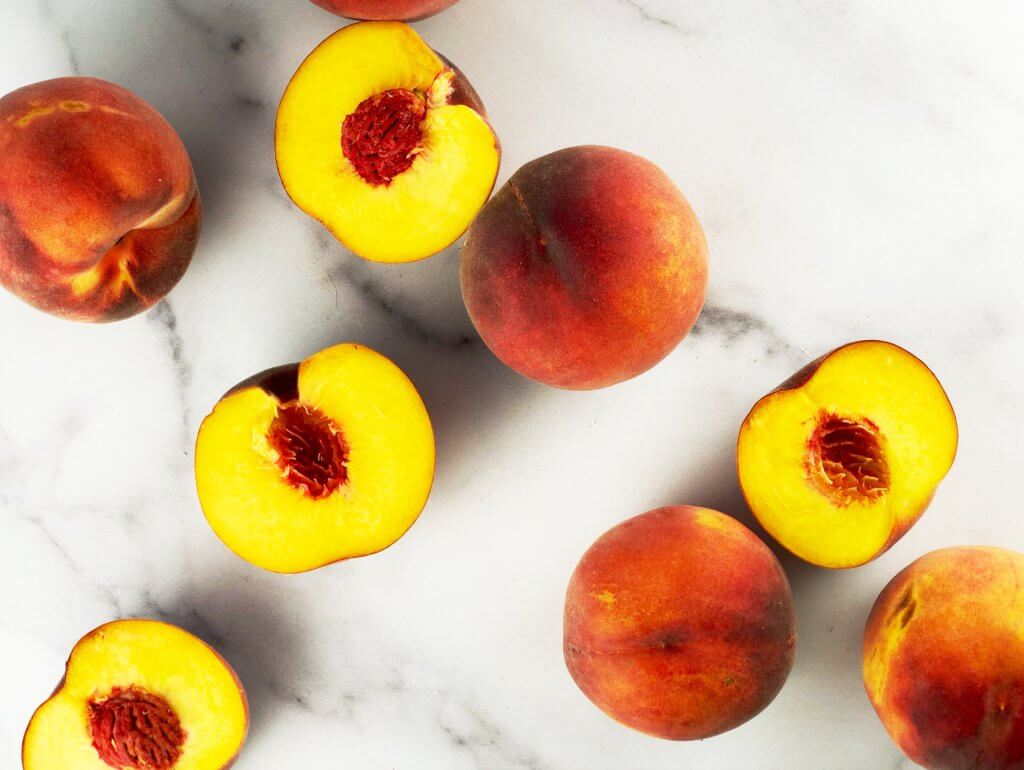 Recipe Details
Like many Crisp or Cobbler recipes, this Fresh Peach Cobbler is undeniably easy to put together. You'll just toss the peaches with some lemon juice, cornstarch, some brown sugar and a bit of cinnamon. Pour those into a buttered dish.
Then, make the cobbler. It's just a one-bowl dough, somewhere between a biscuit and a sugar cookie. Just make sure the butter is nice and soft all the way through. When the dough is done, you'll want to refrigerate it for about 15 minutes, and at the same time bake the sliced peaches to start their cooking process. Then drop clumps or scoops of the dough over the par-cooked fruit. At this point, feel free to sprinkle a bit more sugar atop the cobbler if you like. Bake it about 30 minutes until the cobbler bits have spread out a bit, and are nice and golden brown, and the juices are bubbling. Cool at least 30-45 minutes.
You can serve Fresh Peach Cobbler warm or at room temperature, and top with a nice scoop of ice cream or a big dollop of whipped cream. It's summer in a dish for sure!
Prepare the Peaches

Ingredients for Cobbler

Cobbler dough

Ready for baking!
Print
Fresh Peach Cobbler
Inspired by and adapted from Chrissy Teigen's Hungry for More, this peach cobbler is simply the best! The dough for the cobbler is somewhere between a biscuit and a sugar cookie, making it downright craveable! 
This recipe fits in a 2-liter baking dish, or double and bake in a 13×9.
My only changes to the recipe were to use brown instead of granulated sugar in the fruit, and to add a bit of vanilla to the cookie dough. 
Author:
Prep Time:

30 mins

Cook Time:

45 mins

Total Time:

1 hr, 15 min

Yield:

6

servings

1

x
Category:

Desserts, Cobbler

Method:

Baking

Cuisine:

American
Ingredients
For the Fruit:
6

Medium-Large fresh peaches, sliced into about

12

wedges each

2 Tbsp

. Lemon Juice

1 Tbsp

. Cornstarch

1/4 cup

packed Brown Sugar

1/4 tsp

. Ground Cinnamon
For the Cobbler:
1

c All-Purpose Flour

1/2

c Granulated Sugar, plus a bit more for sprinkling

1 1/2 tsp

. Baking Powder

1/4 tsp

. Kosher Salt

1

Lg Egg, beaten

5 Tbsp

. Butter, nicely softened but not melted (see Note)

1 tsp

. Vanilla Extract
Instructions
Prepare the Fruit:
Preheat oven to 350F (Conventional) or 335F(Convection/Fan). Butter a 2-liter dish.
Into a bowl, place peach slices, lemon juice, cornstarch, brown sugar and cinnamon. Mix well and place in buttered dish.
Prepare the Cobbler Dough:
In a medium bowl, whisk together the flour, sugar, baking powder and salt. Add the egg, soft butter and vanilla. Stir with a spoon until incorporated and the mixture forms a dough. Place in the refrigerator for 15 minutes, and put peaches in the oven for the same 15 minutes.
After taking the peaches out of the oven, drop chilled dough in large clumps (2 Tbsp size) over the fruit filling. The dough won't cover the fruit completely. If desired, sprinkle some extra sugar (Turbinado or regular sugar is fine) over the top of the dough. Place the baking dish atop a cookie sheet or sheetpan to catch any drips.
Bake cobbler 25-35 minutes until golden brown on top, and bubbling around the sides. I took mine out at 30 minutes. Serve warm with ice cream or whipped cream.
Notes
1. Be sure butter is soft all the way through, just not melted. This will keep the dough the best texture. If it's a warm day, just set it out in the morning for at least an hour. If it's not nice and soft, then microwave on 50% power (or defrost) in 15-second increments until it is soft.
Keywords: Peach Cobbler, Peach, Cobbler, crisp, Chrissy teigen
Recipe Card powered by
PIN Fresh Peach Cobbler ->