If you've never had Detroit Style Pizza, now is the time! But, if you have, here's the recipe to satisfy that craving you likely have on the daily!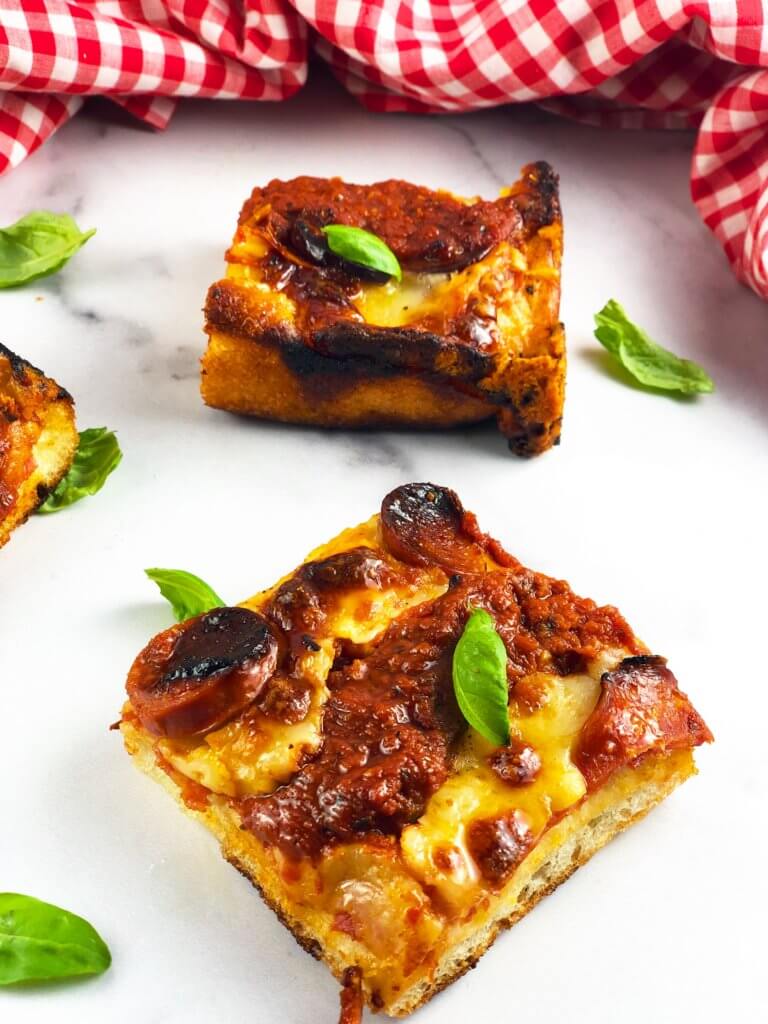 Let me just start out by clearly stating, "I'm not taking sides here! There's room for everyone." (All you Chicagoans and New Yorkers: Don't forget I've made that statement!) And, what I mean by this is that I love all types of pizzas: Italian, New York, Chicago, California, and now the lesser-known, but nonetheless awesomely delicious Detroit Pizza. They are all wonderful! But seriously – where has Detroit Style Pizza been all my life?
Detroit Pizza been getting so much press lately, I couldn't help but notice. Esquire Magazine published an article, as did Eater.com, Even Forbes Magazine featured it this past May. Pizza has so many regional variations, we all could use a good Pizza dictionary so we have it all straight. Maybe clip it out and carry it in your wallet so you'll be in the know about all of the pizzas!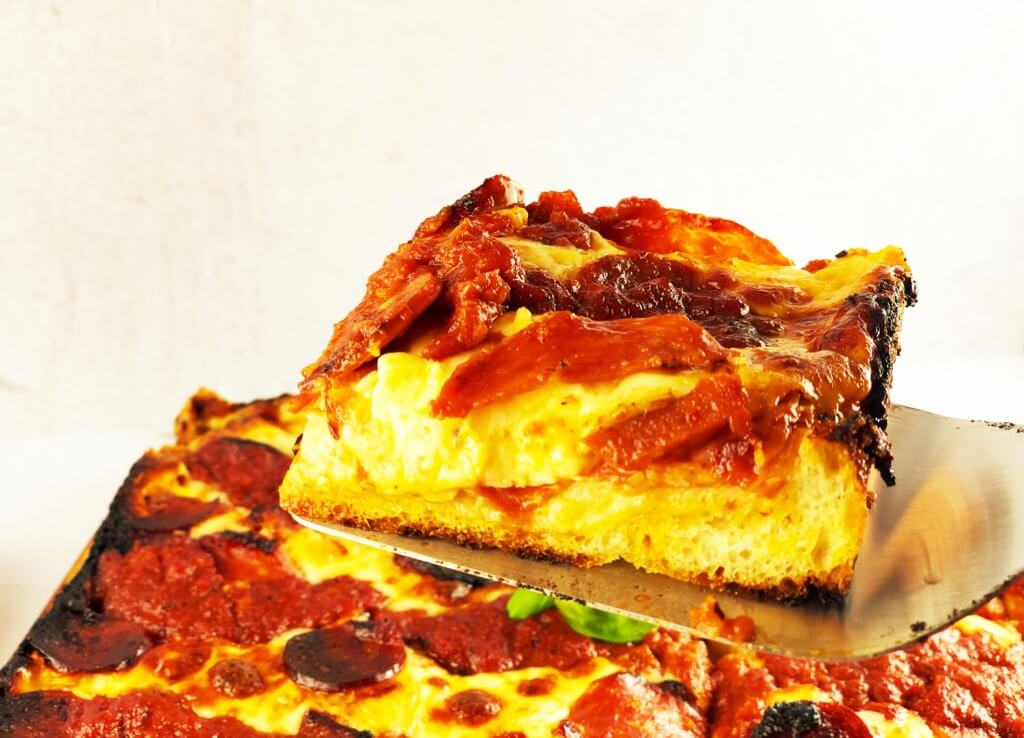 Now, I grew up just a couple of hours drive from Detroit, but only recently tried this (somewhat) deep dish wonder. Crispy CRUNCHY cheese all around the edge. I mean, that alone makes me want to try it. What's not to love there? Completely buttery and crispy edged, Focaccia-like crust, chewy in the middle. Yes, please! Nearly charred pepperoni and a crazy-thick layer of cheese? Of course! Thick, slightly sweet tomato-y sauce? OMG! A veritable party of flavors and textures!
And, after making this Detroit Style Pizza, I realized our local Pizzeria growing up did make a very similar pizza. They called it "Sicilian" style. And, as it turns out, Detroit Style Pizza is a descendant of the pizza you get in Sicily.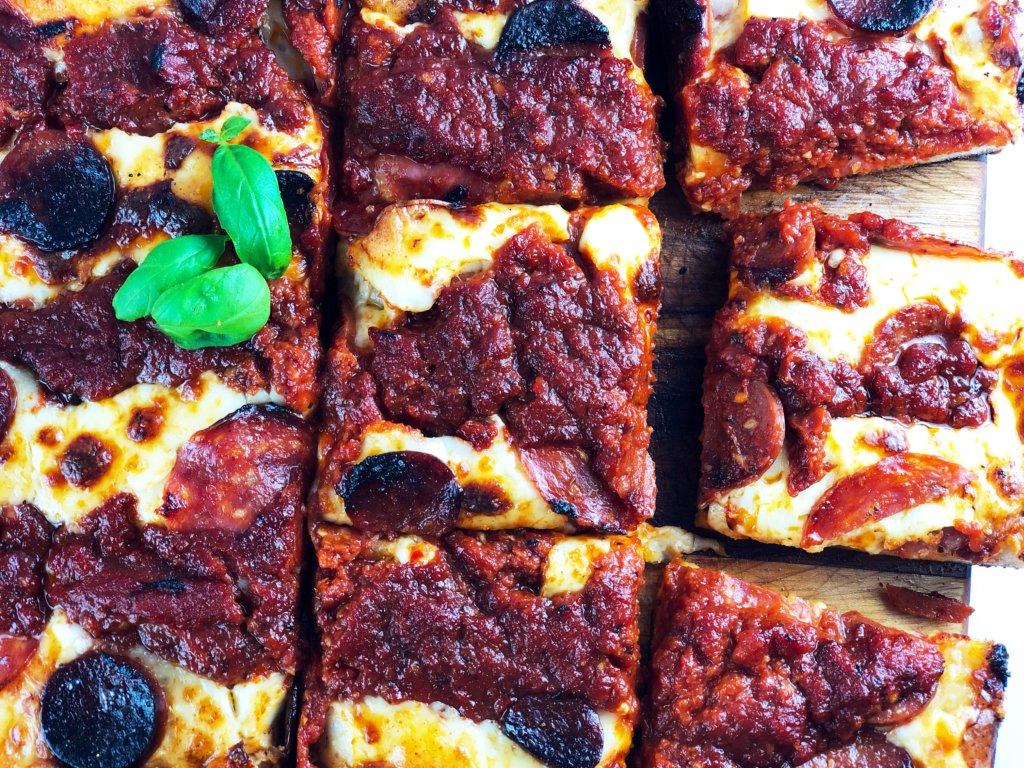 To make my own Detroit Pizza, I used a variation of this recipe from Serious Eats. Making just a couple of adaptations, I then followed the lead of Epicurious, adding shredded Parmeggiano Reggiano along the sides to amp up the crunchy caramelized cheesy edge a bit.
The second change I made was with the cheese. Traditional Detroit Style Pizza uses Brick Cheese, named after the material used to press the moisture out of it. After searching several of my city's groceries and cheese purveyors, I was unable to find any Brick cheese. Turns out, I should've just gone to Amazon, where I could've chosen from several fine Wisconsin Brick Cheeses. The cheesemonger at my grocery and I discussed substitutes, and decided on using Fontina or Monterrey Jack instead of the preferred Brick. So, in the end, I've tried both along with half low-moisture whole milk Mozzarella.
Traditionally, Detroit Style Pizza is baked in a heavy 14×10 Steel pan. If you feel you need one, you can get it here, at Amazon. I used my trusty 13×9, but am considering getting one of these Anodized Steel pans just for Detroit pizza. Yes, it's that good! Tasty enough to deserve its own vessel in my kitchen!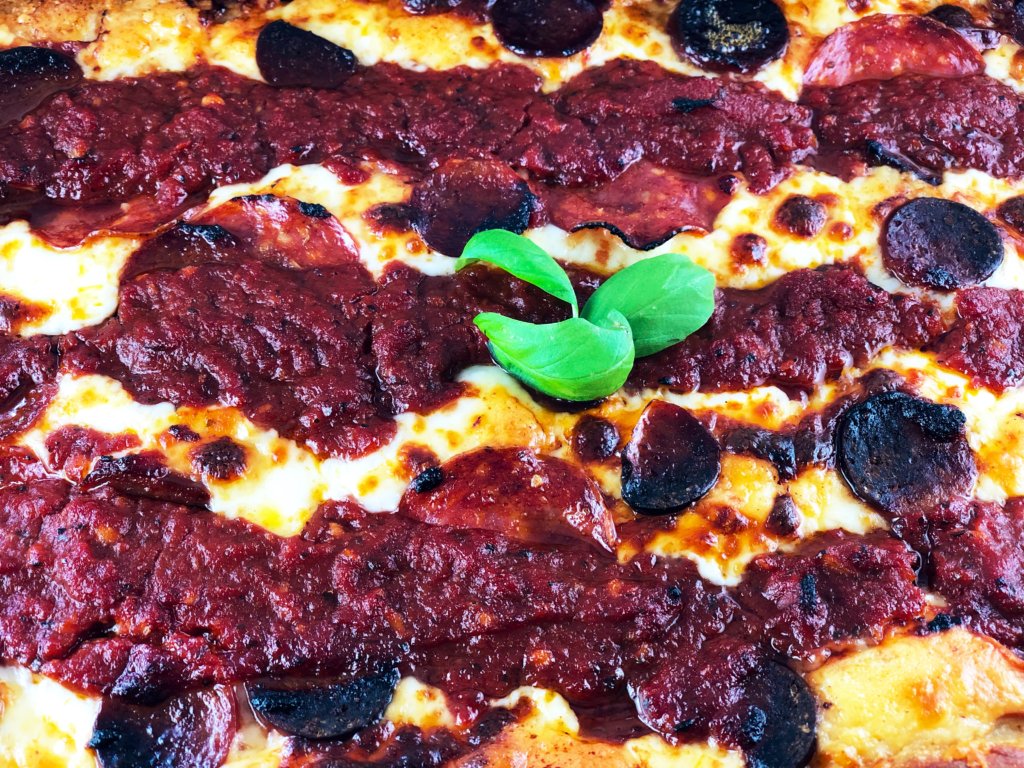 So, have YOU tried Detroit Style Pizza yet? You definitely should! And, after you make this pizza, please let me know what you think!
Enjoy!
If you're looking for Italian recipes, be sure to check out this Lamb Ragu with Peppers from Lidia Bastianich, or this awesome Skillet Chicken with Pancetta, Olives and Caramelized Lemon
And for dessert, how about these Whole Wheat Fudge Brownies, or this gorgeous Key Lime Tart with Fluffy Meringue?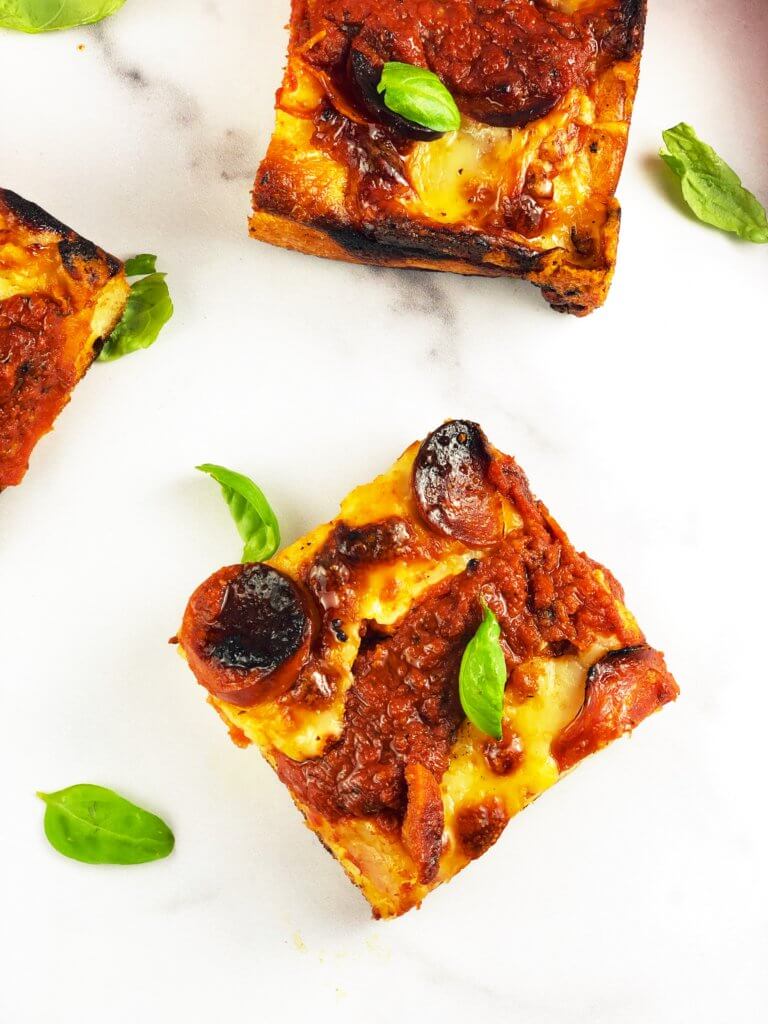 Recipe Details
There's not a lot of active time in this pizza, most of the time is waiting for the dough to rise. Once the dough has risen, you'll spread it into the pan. Since it's unlikely that it will easily reach the edges, just spread it as far as you can, then cover and let the glutens relax a bit. Use this time to make the sauce. But if you're short on energy, or time, go ahead and use a pre-made pizza sauce. It just needs to be a thick sauce, not a pasta-type tomato sauce.
After the dough is spread, add a layer of pepperoni and sprinkle the parmesan around the edges. Then add the cubes of cheese and another layer of pepperoni. Finally 3 stripes of sauce and pop it into the hottest oven you can muster. The first time I made this pizza, I set the oven to 475F. It turned out pretty good, but the cheese didn't brown as I would've liked and it took 19 minutes. The second time, I set it to 525F, and the crust crisped perfectly, a bit blackish and nice and crispy around the edges, and the cheese began browning in 16 minutes. Since all ovens are different, just watch your pizza, checking every couple of minutes once you get beyond 12 minutes.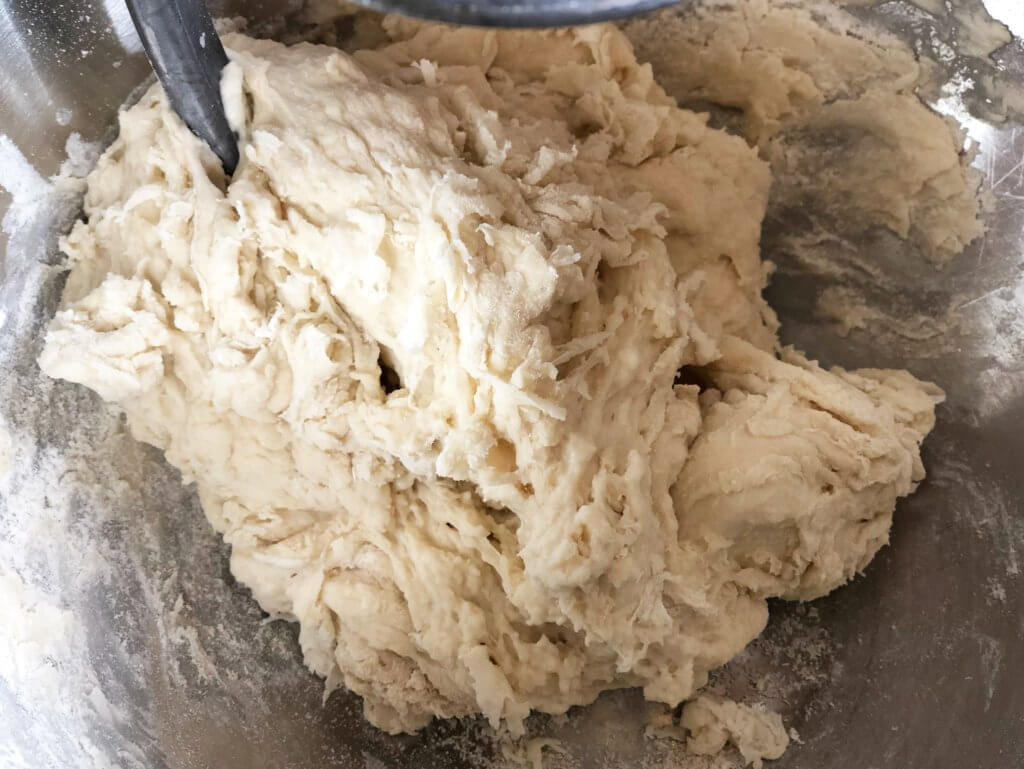 Print
Detroit Style Pizza
Adapted from a recipe on Serious Eats, from J. Kenji Lopez-Alt, this is definitely serious pizza! Thick, focaccia-like crust, lots of cheese and pepperoni, and thick, flavorful sauce! I daresay, one of the best pizzas you've had!
This recipe is not finicky or difficult; however, it does involve some waiting time, when letting the dough rest, rise, then rest again, but you will be rewarded with amazing flavor!
Author:
Prep Time:

45-55 mins.

Cook Time:

15 mins.

Total Time:

About 4 hours, including waiting time

Yield:

1

–

13

x9 Deep Dish Pizza

1

x
Category:

Pizza

Method:

Bake

Cuisine:

American
Ingredients
For the Dough:
2 cups

+ 4 tsp (

300 g

) Bread Flour

1

heaping tsp (

5 g

) Instant Yeast

1

T (9g) Kosher Salt (

1.5 tsp

table salt)
Scant

1 cup

(

220

ml) Water – 1 cup minus 1.5 teaspoons
For the Sauce:
2 Tbsp

(

30

ml) Extra-Virgin Olive Oil

3

Cloves Garlic, minced

2 tsp

(

5g

) Dry Oregano
Dash Red Pepper Flake

28 oz

. (

800g

) can Crushed Tomatoes (see Note 1)

1 tsp

(

6g

) Garlic Powder

1 Tbsp

(

15g

) Sugar
Salt, to taste
To Assemble Pizza:
2 Tbsp

(

30

ml) Extra-Virgin Olive Oil or Butter for pan 

1/4

c (45g) Parmesan or Parmeggiano Reggiano, shredded

12 oz

. (

340 g

) Brick cheese, or combination Low-moisture Mozzarella and Jack or Fontina Cheese (S

12 oz

. Pepperoni sliced in natural casing, 1/8" thick
Instructions
Make the Pizza Dough:
In the bowl of a stand mixer, whisk together the flour, yeast and salt. Add the water, then combine with a dough hook at low speed until the dough forms a ball and looks "shaggy" and rough. Turn off the mixer, and let the dough rest for 10 minutes. Then, return mixer to medium-low (I used setting 4 of a possible 10) to knead the dough 10 minutes. It should be a smooth ball at this point, and the dough should feel sticky. Remove the dough hook, and using floured hands, form the dough into a tight ball, cover tightly with plastic and set in a warm place until it doubles in size. This could take 1 1/2 – 2 hours. (You could make the dough in a food processor by pulsing to combine the dry ingredients, adding the water, then processing for 30 seconds to form a dough ball, then an additional 30 seconds. Transfer to a bowl, cover and set in warm place to double in volume, as above)
Once dough has doubled in volume, pour 2 Tbsp (30ml) Olive oil (or melted Butter!) into the bottom of a 13×9 pan (or, if you have a Detroit Pizza Pan, which is 14×10, use that!). Press dough down with floured hands, attempting to spread it toward the edges. If it doesn't go all the way to the edges (mine did not, either!) just spread as much as you can, then cover tightly with plastic and allow the gluten to relax another 30 minutes. In the meantime, make the sauce and prep the cheese.
After the 30 minute rest, you should be able to stretch the dough to the edges of the pan. Once it covers the pan, replace the plastic if you still need to finish the sauce.
Make the Sauce:
Into a medium saucepan over medium heat, place 2 Tbsp (30 ml) Olive oil. When it shimmers, add the minced garlic, oregano and pepper flakes, and stir until fragrant, about 30 seconds.
Add the tomatoes, garlic powder, onion powder and sugar. If you used whole tomatoes, then blend with an immersion blender until the sauce is nearly smooth. Bring to a simmer, and reduce for 30 minutes, at which point, the sauce will be nice and thick. During this time, preheat the oven to 500-550F, or as hot as your oven will go it it doesn't go to 500-550F.
Make and Bake the Pizza:
Uncover the pizza dough that is stretched to cover the pan. Place a layer (about half) of pepperoni all over the dough. As you go, press down on the dough to release any air bubbles you see or feel in the dough. Then sprinkle the parmesan cheese around the edges of the dough, right along the edge of the pan. 
Top with the cheese cubes, then another layer of pepperoni.
Using 1 1/2 cups, or about half of the sauce you made, spoon the sauce into 3 rows over the pepperoni.
Place pizza in hot oven until the sides are crispy and dark (even black!), and the cheese is beginning to brown. In my oven this took about 19 minutes at 475F, and 16 mins at 525F. But since all ovens are different, be sure to begin checking for doneness at around 12 minutes!
After removing the pizza, run a sharp knife around the edge. If desired for serving, carefully lift pizza out of the pan and onto a cutting board.  Cut into slices and serve.
Notes
I used a 28-oz. can of Peeled, whole tomatoes, and blended them with an immersion blender after adding them to the pan.
The recipe for the sauce makes about 3 cups, which is double what you'll need for this recipe. You can save the remainder and use it for pasta or another Detroit Style Pizza.
Brick Cheese is difficult to find in some areas – but Low Moisture Mozzarella combined with Jack or Fontina work as a reasonable substitute. (I've used 6oz. Jack or Fontina with 6 oz. Low Moisture, Whole Milk Mozzarella)
Keywords: Detroit Style Pizza, Pizza, deep dish, Detroit, Pan Pizza, homemade Detroit style pizza, how to make Detroit style pizza, deep dish pizza recipe, detroit pizza recipe,
Recipe Card powered by
PIN Detroit Style Pizza ->