Apricot Miso Glazed Chicken is quite possibly one of the most flavorful chickens you'll ever have – sweet apricot flavor, just the right amount of tangy, plus the Umami of miso, and a hint of spice!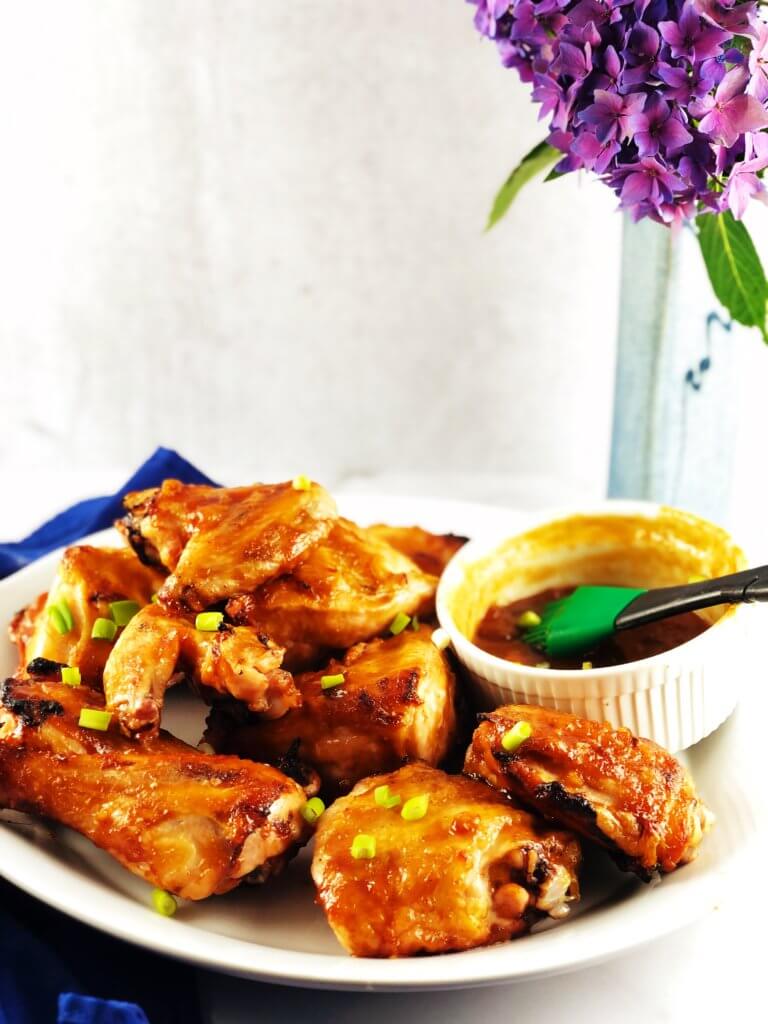 I don't know why, but my barbecued chicken has always been…to be honest…a little…subpar. I seem to always burn it, and not the good "burnt ends" sort of burned, but full on, the chicken was flaming, burned. That's because I've never been able patient enough to wait for the chicken to get done via the Indirect Heating method, where you don't cook the chicken right over the fire, rather, adjacent to the fire. Luckily, I've grown some patience. (It's apparently a virtue, but we'll see how that works for me.) Since then, I've learned what I'd been missing – actually juicy, flavorful, delicious grilled chicken!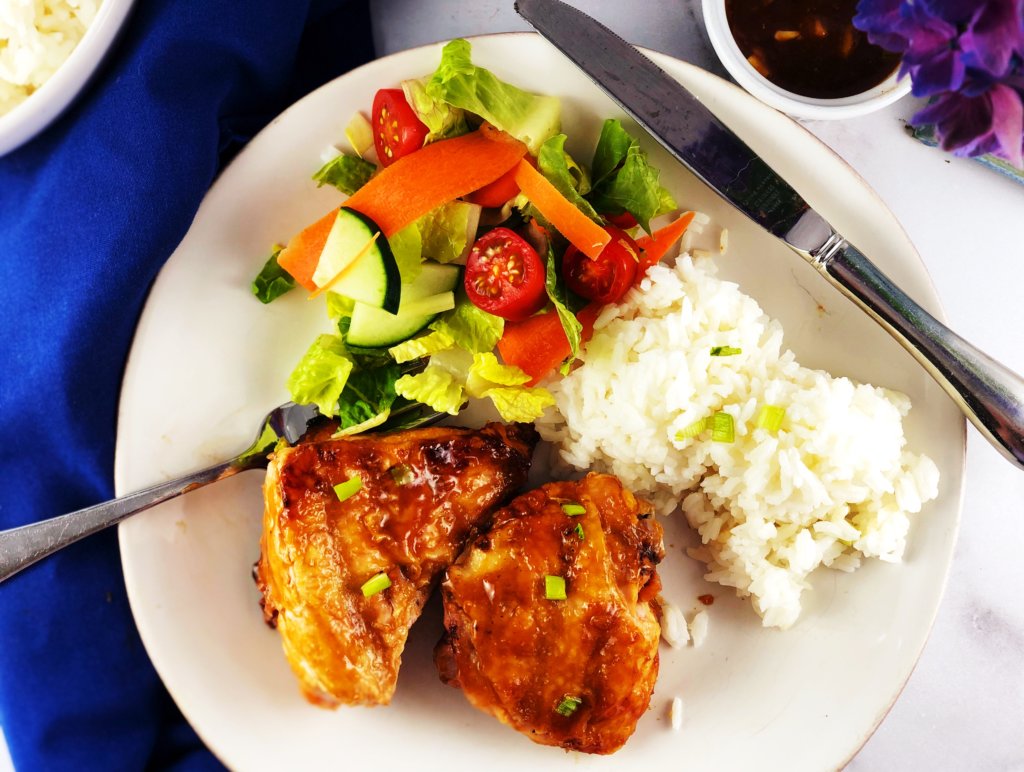 And this Apricot Miso Glazed Chicken is the proof. Slower-cooked, grilled chicken that remains juicy (yay!). A super-tasty, yet simple glaze where you just measure all of the glaze ingredients into a bowl and stir, to be brushed on with enough time to caramelize properly.
And truly, this sauce is BOMB! Sweetness from apricot or peach jam, and since it's peach season, you may have some of this. Tangy from some rice vinegar. And miso adds abundant umami – the 5th flavor to the sweet/sour/bitter/salty equation. If you've never cooked with miso, it's definitely time. Miso, a paste of fermented soy beans and rice, adds some salty, rich, strangely meaty, and a bit funky, flavor. It comes in white (sweet) and red. The white has a milder flavor. I used red, but feel free to use the white here if you want to wade into the miso experience. And that container of miso you buy? It keeps 'indefinitely' which, to me, means, possibly years. But you may want to use it often after seeing how it elevates everything to which you add it.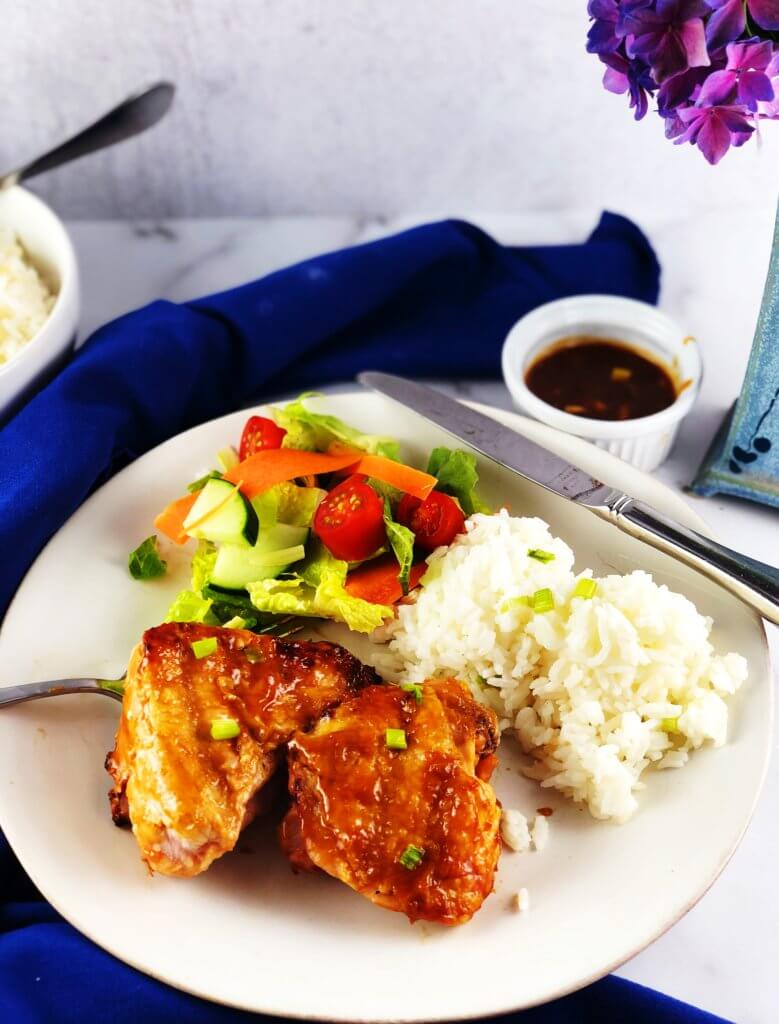 Recipe Details
After cutting your chicken (or use 6 bone-in, skin-on breasts, or about 8 bone-in, skin-on thighs), you'll want to pat it dry and season it with salt  and pepper. Then mix up your sauce with the ingredients shown below. 
Heat your grill for indirect heat – if you're not familiar, Check out this guide for all the details. Just 15 minutes each side to crisp up the skin a bit, then brush each with the delicious sauce and cook until done!  Serve with rice, noodles, and a lovely salad. That's it! 
So, please, let me know – am I the only one who burns the chicken on the grill? Have you ever used the Indirect Cooking method? (Read: am I the last one to this party?) Or are you as impatient as I used to be?
Enjoy!
If you love chicken recipes, don't miss all of these other chicken recipes ! And, if you're grilling, how about some Grilled Spiced Cauliflower? Or this awesome Grilled Napa Cabbage with Buttermilk Dressing?
Print
Apricot Miso Glazed Chicken
I cooked this flavorful chicken over indirect heat, but directions are given for both direct and indirect heat. If you're not familiar with Indirect heat, Epicurious has a great guide that explains the differences between direct and indirect heat, and how to configure your grill for it.
Author:
Prep Time:

10 min

Cook Time:

50-60 min

Total Time:

60-70 min

Yield:

4

–

6

servings

1

x
Category:

Chicken

Method:

Grilling, Barbecue, Oven
Ingredients
1

whole chicken (about

4

lb, or 1.8kg), cut into pieces, OR 8 bone-in, skin-on chicken thighs, or breast-halves

1

clove garlic, minced

2

Tbls. Red Miso

4

Tbls. (1/4 cup) Apricot or Peach jam or preserves

1 1/2

 Tbls. Seasoned Rice Vinegar

1

Tbls. Soy Sauce

1 1/2 tsp

. Sriracha Sauce

2 tsp

. Grated Fresh Ginger (can substitute

1/2 tsp

dry ginger)
Instructions
Preheat Grill to Indirect heat – with high heat on one or both sides of a Heat-free zone. I like to heat the entire grill to high, then turn off just the middle heating elements, leaving 2 sides of Medium-High heat surrounding the food. This way the grate is still hot enough to cook, but no further heat will be under the food. If you are unfamiliar with cooking on indirect heat, or wish not to, set heat to Medium-Low.
Pat Chicken pieces dry. Season on both sides with salt and pepper.
Mix remaining ingredients together in a bowl for the sauce.
(Indirect Heat Instruction) Place Chicken pieces, skin-side down, on grill. Turn after 15 minutes. After 15 more minutes, turn again. They should be skin-side down. Brush the bottoms of each piece with sauce. After 15 minutes, brush the skin-sides of each piece. This will use most of the sauce, but will leave a little bit for those who like to dip at the table. Be sure to test the temperature before removing from the grill – chicken should be 165F.
(Direct Heat Instruction) With grill on Medium, cooking time should be about 30 minutes. After 15 minutes of cooking, skin-side down 7-8 minutes, skin-side up 7-8 minutes, turn the pieces over, coat with sauce, and cook 7-8 minutes. Turn again, brush sauce on the skin-side, then cook remaining 7-8 minutes. Be sure to test temperature when done. Chicken should be 165F at the thickest point.
After 60 minutes of total indirect cooking time, remove coated pieces from the grill and serve. 
Notes
Epicurious has a good Guide for understanding direct vs. indirect heating. I like using indirect heating for chicken, because there's less chance for a flame-up and burning. It does take longer, but the results are worth it!
If you know everyone at your table will want extra sauce, you may want to double the sauce recipe.  I find the sauce so flavorful, I only like a little extra for dipping, so a single recipe is enough. But if my whole family were dippers, I'd double it. Extra Apricot-miso sauce is never a problem.
Nutrition
Serving Size:

1/5 Chicken
Keywords: Miso Glazed Chicken, apricot, miso, barbecue
Recipe Card powered by
PIN Apricot Miso Glazed Chicken ->