I come from a pie-making family.  Both my Mom's and my Dad's sides in fact.  My Grandma Alice apparently was known to make 2 pies a day several times a week for her farm-based family of 8, sometimes sending my Aunt Mary up the Cherry tree to pick ripe cherries for her. My Grandma Clara was known particularly for her Sour Cream Raisin pie, which is an amazing concoction she would make for my Dad every time we would visit her.  As kids, we were a little leery of the name (probably because it wasn't "Apple" or "Cherry" or "Chocolate") but we were completely sold at first bite – it is a wonderful pie, which I promise to make sometime in the Fall or Winter – comfort food at its best!  You won't believe how delicious it is!
But, it is still Summer here, getting to the end of Peach Season, and I'd been planning for months to make my first "Slab Pie", out of locally grown ripe peaches, which are so juicy and luscious you'd feel like it was the first peach you ever tasted. If you're not familiar with a "Slab Pie", it is a pie made on a large 13″x18″ sheet pan, meant to be taken to a Picnic or Potluck for easy cutting and serving to many people. But then I saw this Deep Dish Peach Crumble Pie. And that slab pie went right out the window.  Because Deep Dish means more fruit. And, with a fresh, super-ripe peach, all you want is MORE.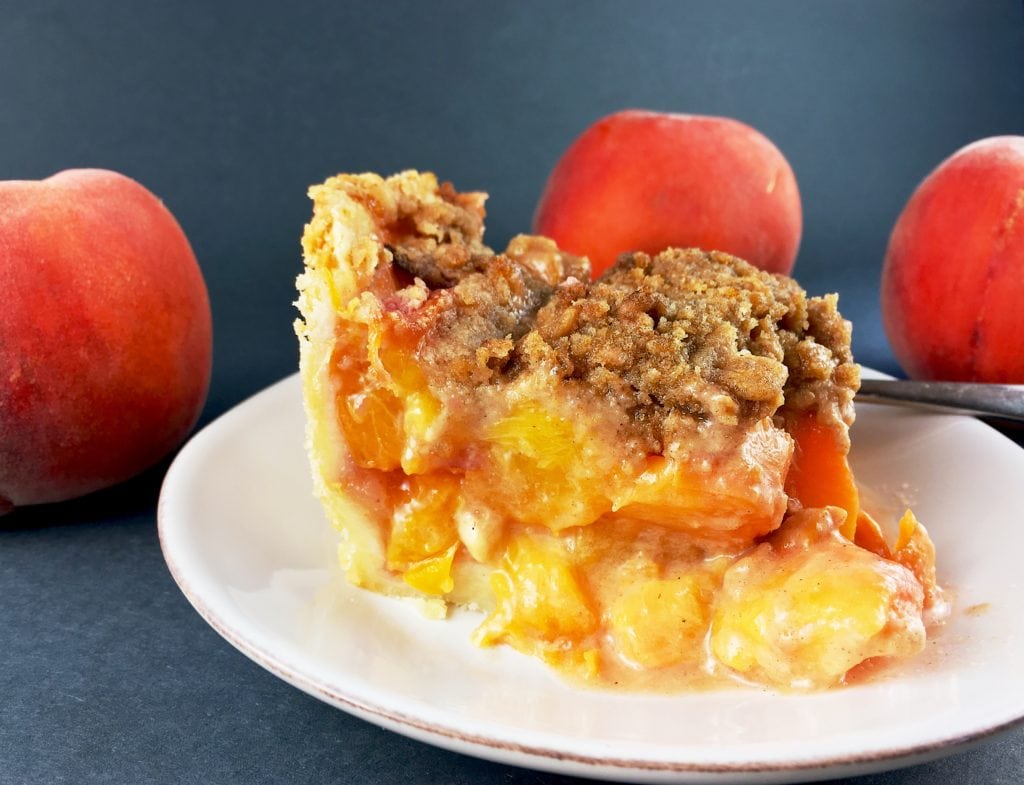 This pie.  Just this pie.  It just might be my new favorite fruit pie.  Possibly because it's made with fresh, ripe, peaches, and lots of them, a full 6 pounds, believe it or not! Possibly because it's a pie with a crumble inside. Possibly because I still have some tucked away in my freezer, because you can feed an extended family with this dessert! And most definitely because it is divine! Fresh, ripe, super sweet, tangy peaches with a brown sugar crumble all held together by a buttery, flaky crust.  Seriously.  I found this recipe online while searching for "Slab Pie" originally from The New York Times but reprinted in The Seattle Times.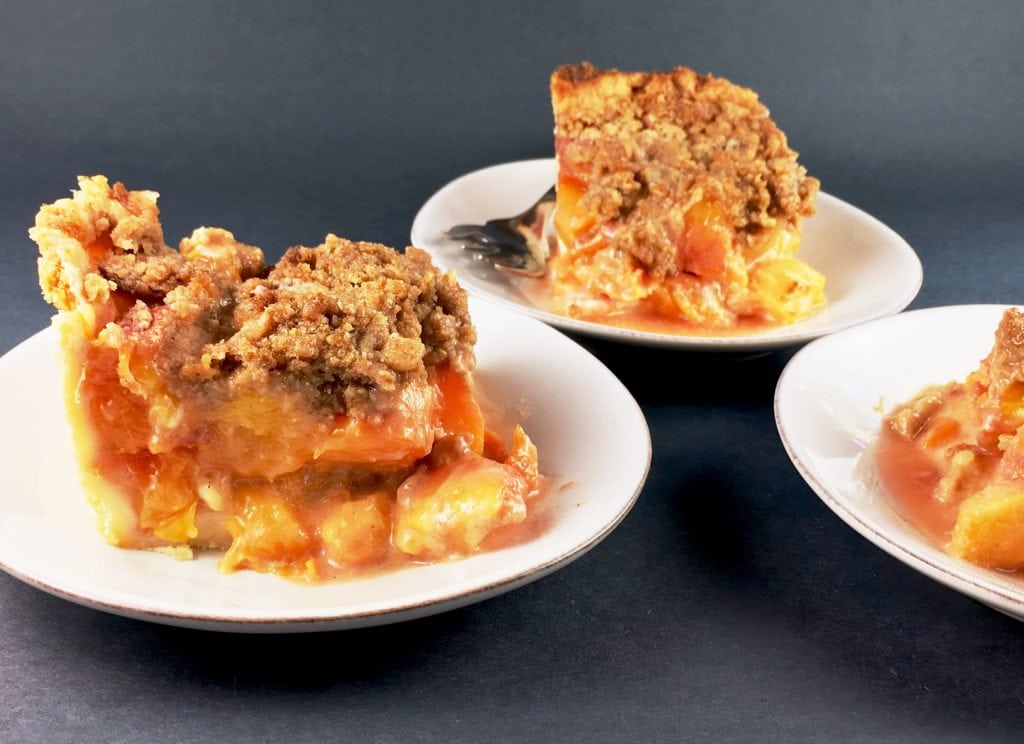 Now, while my pie-making genetics are certainly working here (Thanks, Grandmas!), I'm so looking forward to my own kids baking pies, because believe it or not, their pie-making genetics are even better!  Their Great Grandma Roxie worked as a pie maker at a cafe near the railroad, making a huge number of pies daily.  So, while they say "the rest is history", I'm pretty sure one of these kiddos will be a Piemaker Extraordinaire in the future! And I can't wait!
Enjoy!
Print
Deep Dish Peach Crumble Pie
Deep Dish Peach Crumble Pie is the ultimate taste of summer, loaded with sweet/tangy peaches atop a flaky crust and topped with buttery brown sugar crumble.
If you are not interested in making a homemade crust, feel free to use a store-bought crust made for a 2-crust pie.  It will be enough to cover the bottom and sides of your 9×13 baking dish.
I adapted this recipe slightly from Melissa Clark, by substituting 2/3 c Cornstarch for the 1/3 c Instant Tapioca, and also I reduced the sugar in the filling just a bit since the peaches I used were so sweet.
Author:
Prep Time:

30 minutes

Cook Time:

75 minutes

Total Time:

1 hour 45 minutes

Yield:

15

-

20

servings

1

x
Category:

Desserts

Method:

Baking
Ingredients
For the Crust
2 1/2

c AP Flour

3/4

t salt

2 1/2

sticks cold unsalted butter, cut into

1/2

" pieces

4

–

6

T ice water, as needed (I actually needed

7

T)
For the Filling
10

–

11

good-sized (about

6

lb) peaches, pitted and cut into 1 1/2″ chunks

1

c packed light brown sugar

2/3

c Cornstarch
Zest of

3

lemons

3

T lemon juice

1 1/2

t finely grated nutmeg

1

t Natural vanilla extract

1

t salt
For the Crumble
1 1/2

c AP Flour

1

c Packed dark brown sugar

2

t ground cinnamon

1 1/2

t ground ginger

1/2

t salt

1 1/2

sticks (3/4 c) butter, cubed
Instructions
Prepare the Crust
In a food processor, pulse the flour with the salt.  Add the butter pieces, pulse 6-8 times until the largest butter pieces are the size of peas. Drizzle in the ice water, a tablespoon at a time, just until the dough just begins to come together.  For me this took 7 T.
Empty dough onto a section of plastic wrap.  With your hands, squeeze the dough together into a large disk.  Cover with the wrap, refrigerate at least 1 hour.
Using a floured surface and floured rolling pin, roll out the refrigerated dough into a rectangle 11″x15″ in size.  Wrap it loosely around the rolling pin and transfer it to a 9″x13″ baking pan.  This dough should cover the bottom and sides of the baking pan.  Feel free to keep the dough rustic looking around the edges, no need to trim or crimp it.
Prepare the Filling
Preheat oven to 425F.  In a very large bowl, mix together the peaches, sugar, cornstarch, lemon zest, lemon juice, nutmeg, vanilla, and salt. Taste to see if you would like to add more sugar. Set aside while preparing the crumble.
Especially if you have a convection oven, like I do, you may want to heat a large baking sheet in the oven while it preheats.  This will ensure the thick bottom crust gets crispy when it bakes. Otherwise you will want to bake the pie on the lowest rack at the beginning of bake time and then move it up to the middle rack part way through.
Prepare the Crumble and Assemble Pie
Whisk together the flour, sugar, cinnamon, ginger, and salt.  Using fingertips, mix in the butter until the mixture comes together and looks like it has clumps of crumble.
Pour the fruit filling into the crust.  Spoon the crumble roughly evenly over the top of the fruit.  Place the pie on the preheated baking sheet, in the 425F oven.  Bake 15 minutes.  Lower oven heat to 375F. If you have a standard-bake oven (not convection), at this point you will want to move the pie with the baking sheet up to the center rack of your oven.  If you are using convection, you should be able to bake the whole time on the center rack.  Bake an additional 60 minutes until crumble is dark golden brown and filling is bubbly throughout.
Transfer to a cooling rack and cool pie before slicing.
Recipe Card powered by