Rhubarb Season is the perfect time to make my Easy Rhubarb Custard Pie! This recipe is so easy and so lush and delicious, you'll want to freeze some rhubarb to make it all-year-round!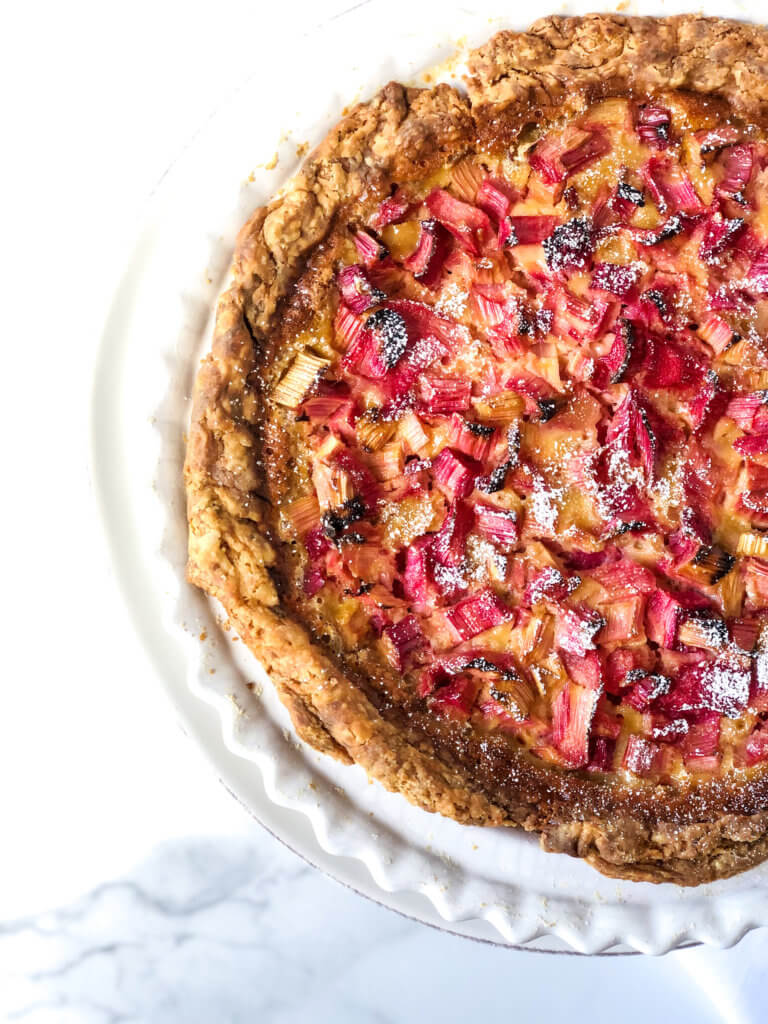 It's just the beginning one of my favorite seasons of the year! Spring, you think? Nope. It's Rhubarb season! (Because my seasons relate to fresh produce, as opposed to the tilt of the earth's axis as it travels around the sun. I've loved rhubarb since I was a kid and it was the only produce we ever grew in our own back yard – ok, we grew tomatoes, too, but I was not a fan at that point in my life, so they didn't really count. Right?
So, while I was grocery shopping last week – I'm trying to go once a week or less these days – going down my produce list, trying to decide which oranges I wanted – I looked over and saw the most beautiful sight! It was the brightest, most brilliantly pink rhubarb I've ever seen. I almost(!) ignored the appropriate social distancing rules to get to it before it was gone. I couldn't wait!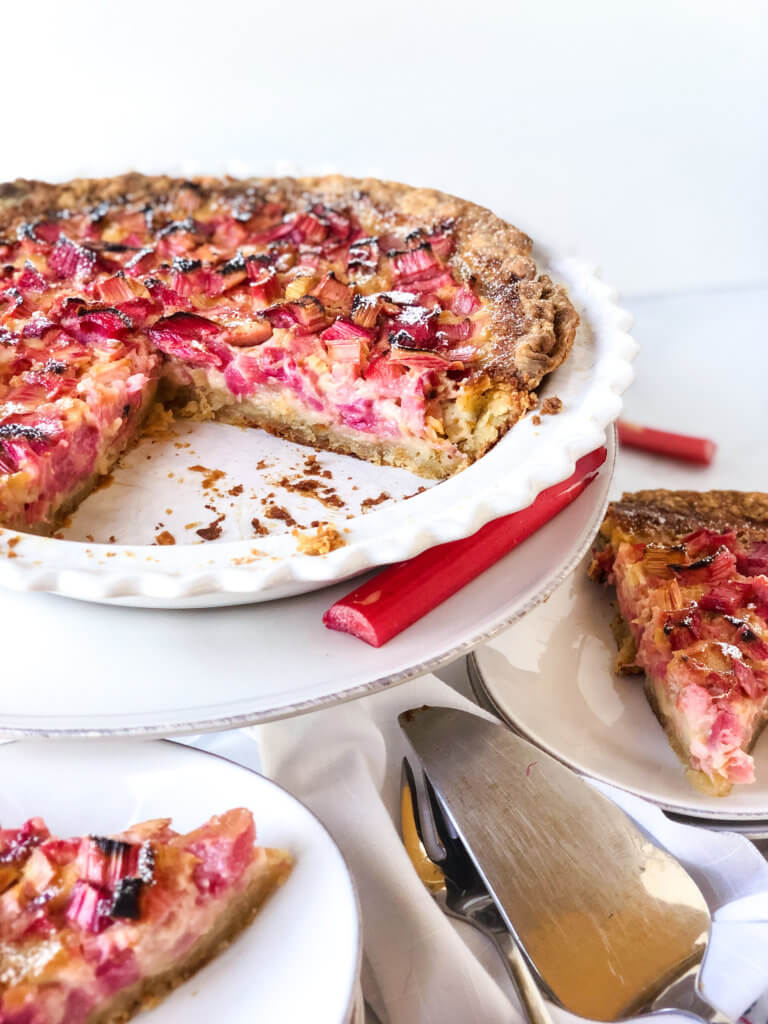 Now, what to make with those vibrant pink stalks? I'd never seen stalks that were positively fuschia, as opposed to crimson red, and not a single green stalk in the bunch. Is it just me, or do you always feel like the pink (or red) stalks are tastier than the green ones? It's not true by the way, it's just that different varieties come in different colors. Now, each variety has its own specific color(s), shape and flavor profile, but different colors of the same variety have the same flavor. Kind of like all Honeycrisp have their own flavor profile but can come in various colors. And all Granny Smith taste similar but not like the Honeycrisp. Some rhubarb varieties are all-red, with red inside, others are green inside regardless of outside color. 
I'd love to grow my own rhubarb, but the plants are quite large, (and my yard is pretty small!) and take several years before they yield enough stalks for a single pie. But if you want to grow your own, according to Oregon State University, you'll need to be in a climate that has at least 500 hours of temperatures between 28F and 40F, each winter. Once the temperature is above 40F, the stalks begin to mature. And you'll want to know that the late-spring stalks have the most flavor.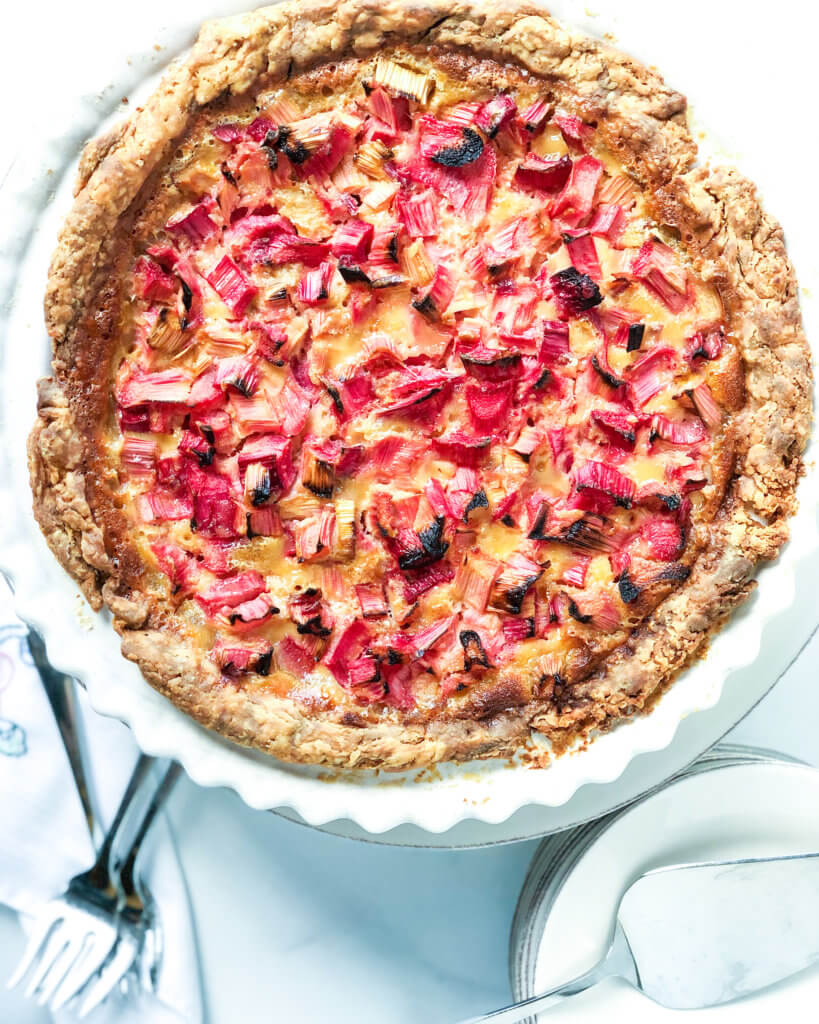 But, back to the pie! I made this pie with a very Vanilla-forward custard, that is not overly sweet. I love this pie at room temperature, or refrigerated. I know others prefer it warm from the oven. But that thick, smooth and creamy vanilla custard contrasts so nicely with the tart rhubarb and the tender pie crust. Oh my goodness! It's the perfect pie! No reason to limit it to Rhubarb Season – I'll be buying extra rhubarb to freeze and use throughout the year! 
Enjoy!
Don't miss my other rhubarb recipes, like these scrumptious Rhubarb Crumble Cheesecake Bars (where you can learn about my first experience with the rhubarb we grew in our own garden), these easy and delicious  Rhubarb Chevre Scones, or Strawberry Rhubarb Cherry Crisp. 
If you've never made a savory dish with Rhubarb, try out one of my favorite Sheet Pan meals, this Sheet Pan Rhubarb Chicken!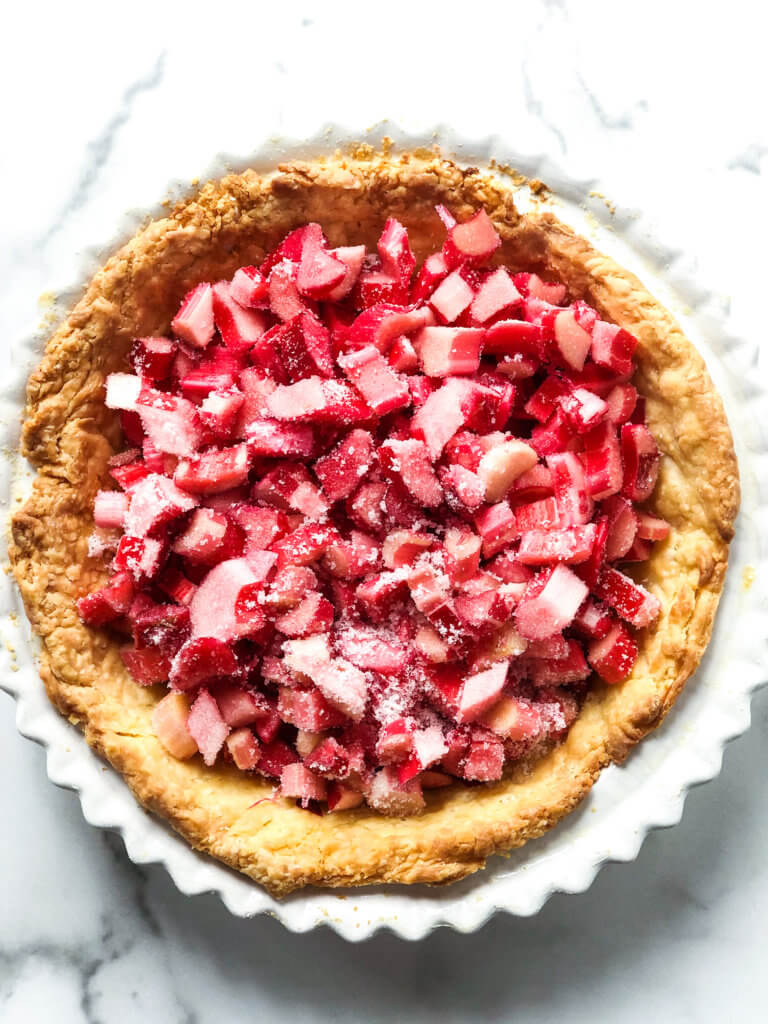 Rhubarb Custard Pie tips ->
(Note: As I am an Amazon affiliate, this post may contain Affiliate links. These are links to items, which, if you were to purchase, I would receive a small commission, at no cost to you.)
What If I can't make a crust? It used to be that making a traditional pie crust was the most stressful part of making a pie. I tried so many seemingly promising recipes, but none were ever as tender or as flaky as I wanted. But then, I found Emma Laperruque's Stand Mixer Pie Crust. For me at least, this pie crust is really the only all-butter crust that has turned out both beautifully flaky and tender. And, it's so quick and (truly) so easy, you really should just plan to make a couple recipes and freeze the dough. And that is all I want from a crust. 
I'm serious about this. Just minutes to make. Minutes. Then an hour in the fridge. But minutes. No cutting the butter. The stand mixer does all the work. But, If you want to use a ready-made crust or another recipe, feel free, but this one, it's the ultimate. 
This Rhubarb Custard Pie needs a blind-baked crust. This will prevent the custard from making it soggy. And no one wants a soggy bottom, am i right?
Blind baking is pretty simple. Once your pastry dough is in the pie plate – any type from Pretty to Practical, you'll need to line that dough with a sheet of (crumbled then re-opened) parchment or some foil. Then pour it full of pie weights (like these) or dry beans, any type. Bake 20-25 minutes, remove the weights, then bake until the crust is golden. Let it cool while you prepare the rhubarb and the custard.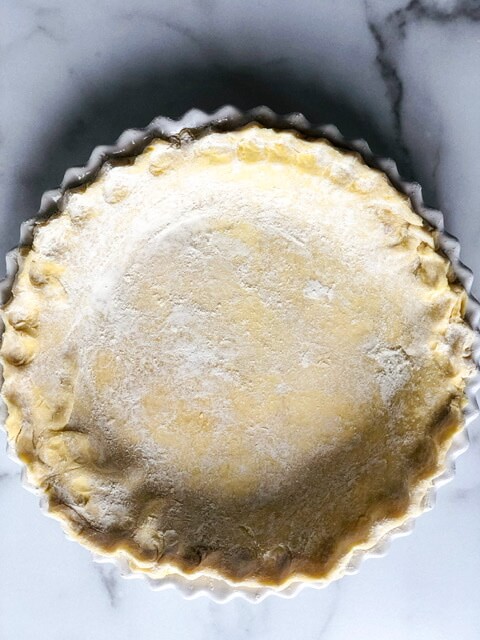 Making the filling is quick, easy and takes just a few minutes. Just cut the rhubarb into 1/2" wide slices. Then pour about 1/4 of the sugar over it and stir to incorporate. In a medium bowl (like This one) or large Pyrex, mix all of the custard ingredients (less the sugar you used on the rhubarb) together until smooth. Pour the custard over the rhubarb.
At this point, since my crust was already pretty golden, I covered the edges with foil. It still browned quite a bit. I should've loosely draped foil over the center of the pie after a time, too, because some of the edges got, well, a little, … well done. So if that bothers you, just know it doesn't change the flavor of the fruit, and you can prevent it by loosely draping some foil over the pie midway through baking.
Once the custard is done, the custard should be a little wobbly in the middle and a little golden around the edges. This should take 50-60 minutes. You can serve it warm. But I like it at room temperature the first day, and refrigerated to keep fresh thereafter.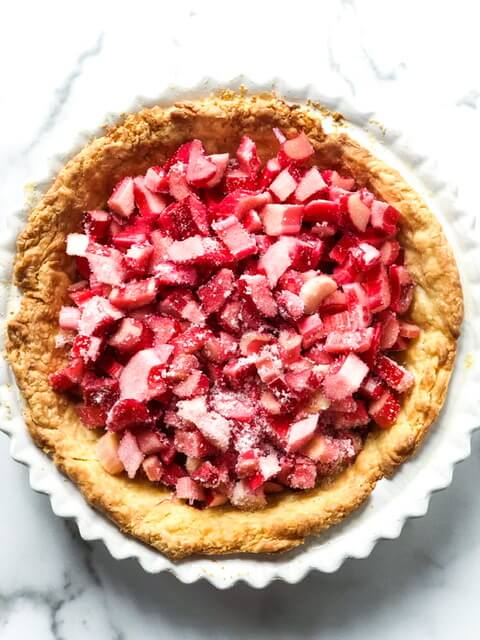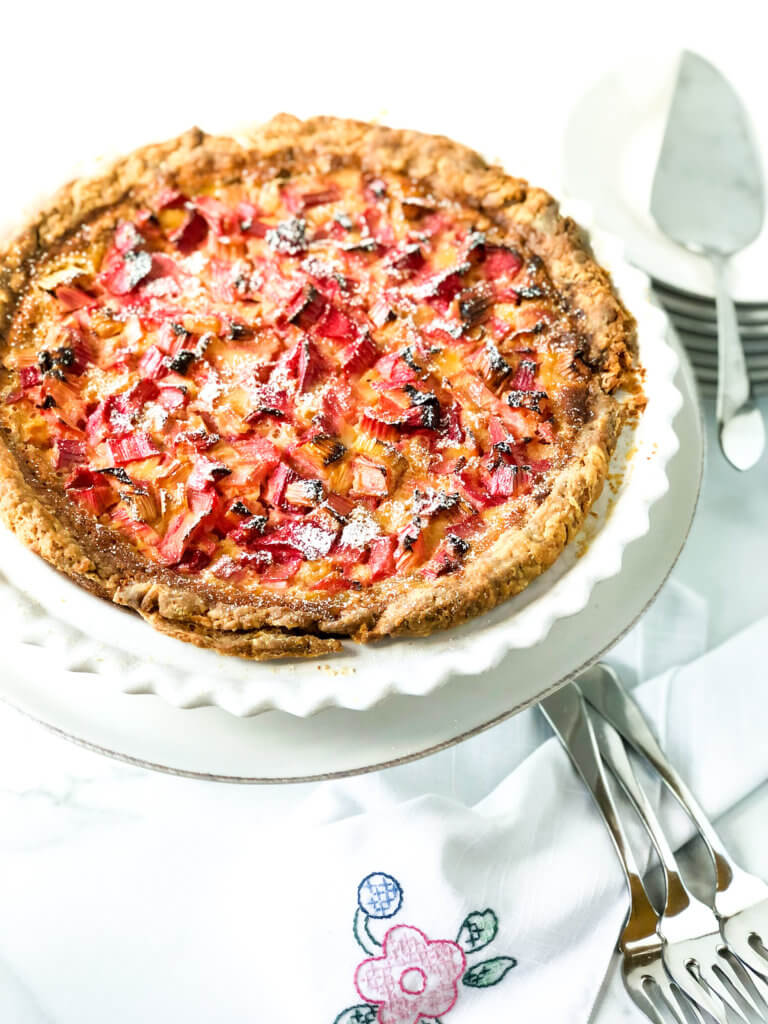 Print
Easy Rhubarb Custard Pie
One of the most delicious heirloom recipe pies there is! Use your favorite pre-made pie crust, or make my favorite, from Food52, which you can find Here. You will just need half of that recipe, so wrap the other half tightly and freeze for future use. You will need to blind bake the crust. Instructions are included.
Author:
Prep Time:

15 min (more if making crust)

Cook Time:

85-100 min

Total Time:

2 hr. + cooling time

Yield:

1

–

9

" pie

1

x
Category:

Pies

Method:

Baking

Cuisine:

American
Ingredients
1

–

9

" Single Pie Crust (I love This one – but you'll only need half, but store-bought is fine, too!)

4 1/2

–

5

c Sliced Rhubarb (about 1/2" thick) from around 1 1/4 lb (

567g

) Rhubarb

1

c (197g) Granulated Sugar

3

Large eggs, lightly beaten

3

T (27g) AP Flour

1/2

t Kosher Salt

1

T Natural Vanilla Extract
Instructions
Blind Bake the Pie Crust:
Roll out pie dough to a circle of about 11 inches in diameter. Without stretching the dough, fit into a pie plate, and flute the edges as desired. Place pie dish with crust into the freezer and chill for 15-20 minutes while you preheat your oven to 375F. 
Line the chilled crust with parchment paper or foil, and fill with dried beans or pie weights. Bake 20-25 minutes. Remove the foil or parchment with the weights at this point. The bottom of the crust should appear dry at this point. Return crust to the oven until it just begins to turn golden, about 7-10 minutes. Cool completely while you prepare the rhubarb and custard.
Prepare the Filling:
Sprinkle about 1/4 of the sugar over the chopped rhubarb and stir until pieces are coated. Spoon into the baked crust.
Whisk together the remaining sugar, eggs, flour, salt and vanilla extract.
Pour custard mixture over the rhubarb in the crust.
Cover the edges of the crust with foil. Place foil-wrapped pie onto a baking sheet and into the oven. Bake until custard is set (or nearly set – it's ok if the custard wobbles a bit in the middle), about 50-60 minutes. If the rhubarb pieces begin to blacken a bit, it's ok to place a section of foil loosely over them as well. (I did not!).
Remove pie from oven and let cool at least an hour before serving. Pie is delicious warm or completely cooled. Refrigerate any leftovers. 
Keywords: Rhubarb Custard Pie, heirloom recipe, custard pie, rhubarb, pies, baking, easy, Old-Fashioned
Recipe Card powered by
PIN Easy Rhubarb Custard Pie ->