No Churn Chocolate S'mores Ice Cream! Chocolatey, creamy, full of crunchy, chocolatey, sticky mix-ins. Is there anything we all need more than this? Anyone?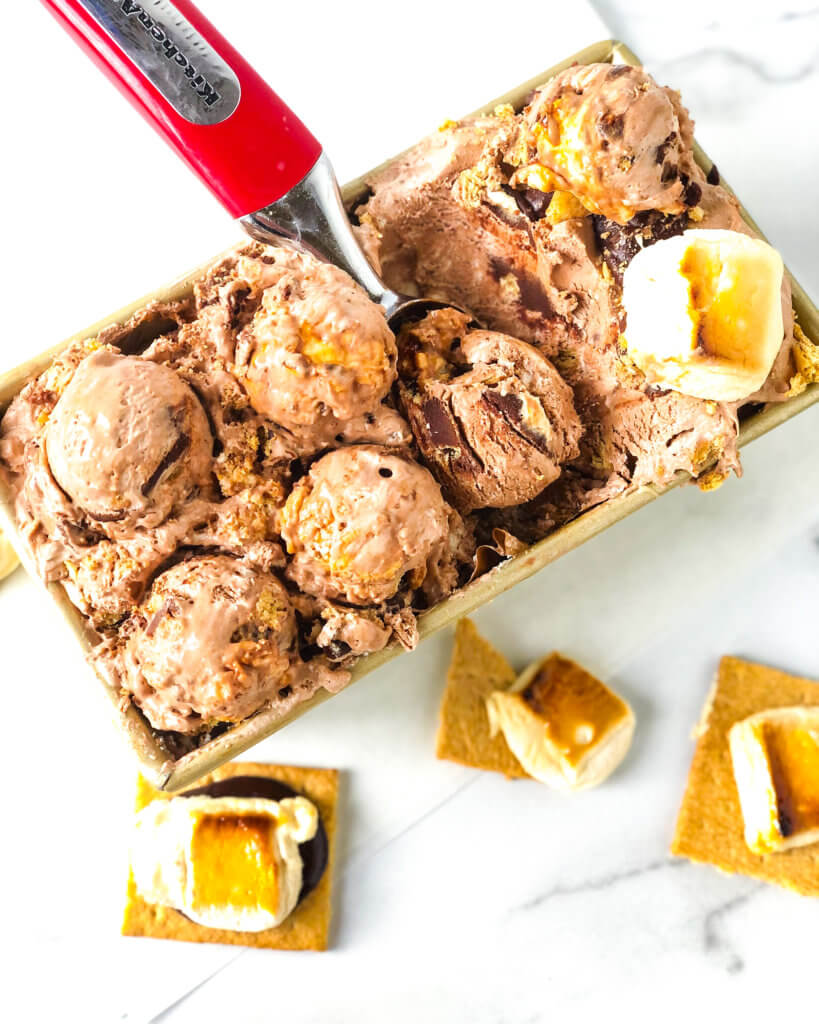 So I'm that person who decides the paint scheme of her kitchen from the colors of a paper napkin. It's true. Our entire family living area – kitchen (notice I started with the kitchen), living room, dining area are all attached. Naturally, it's the place where the family spends most of their time. And I chose the color scheme from a (lovely) paper napkin. And I couldn't be happier with it.
I tell this story because you never know where inspiration is going to come from. It could be anything. The color of the sky. The sound of a beautiful song. A photo you took of a tiny hummingbird. These small moments are where some of the best ideas arise. This is true of cooking, too.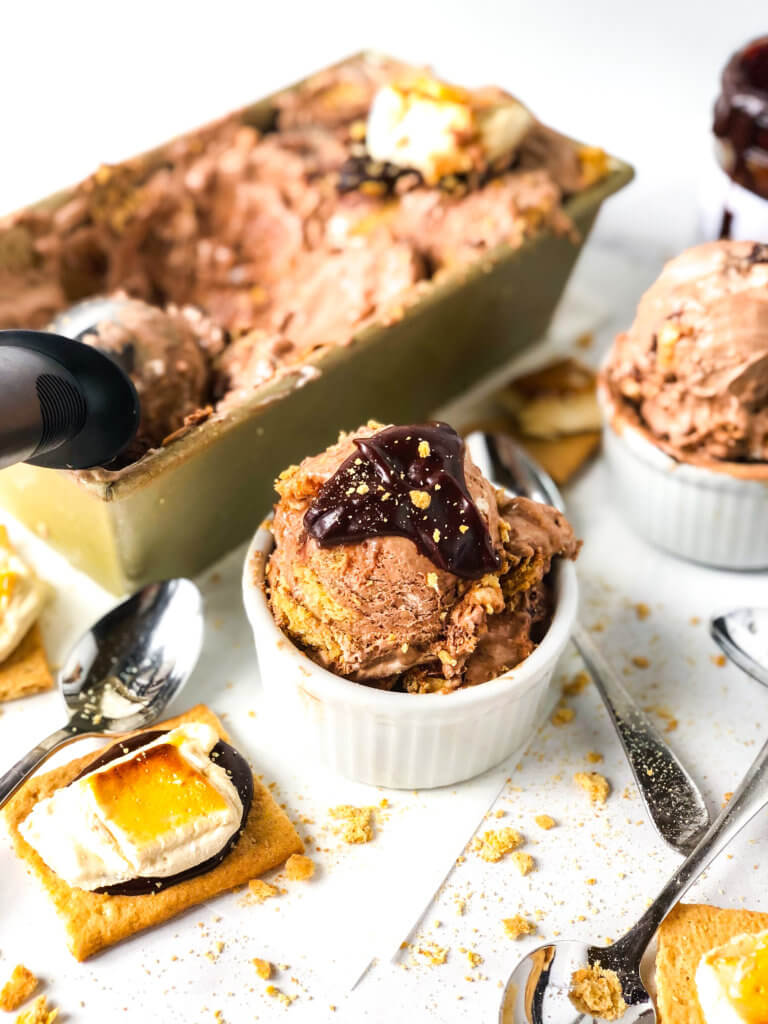 It all began with marshmallows. I'd never made them before. I hadn't even thought of making them. Because, well, aren't the ones you buy in the store perfectly fine? Yes, of course they are…. but, I don't know about you, but these days I'm finding myself with some extra time to do things I hadn't considered previously. So I made This recipe from King Arthur Flour. True to form, I substituted Golden Syrup for the Corn syrup, because a) I like it better, with that caramelly/toffee vibe it gives, and b) it's what I had in my pantry.
To be honest, the recipe made what seemed like 1200 marshmallows, each a big bite of ooey-gooey YUM! Now, what to do with all these little gems? In my mind, the choice was obvious. It had to be something with a S'mores theme. Because, well, …. there needs to be chocolate. And, there needs to be some crunch. And, if you've seen any of my previous S'mores recipes, you might understand my long-standing S'mores anguish obsession.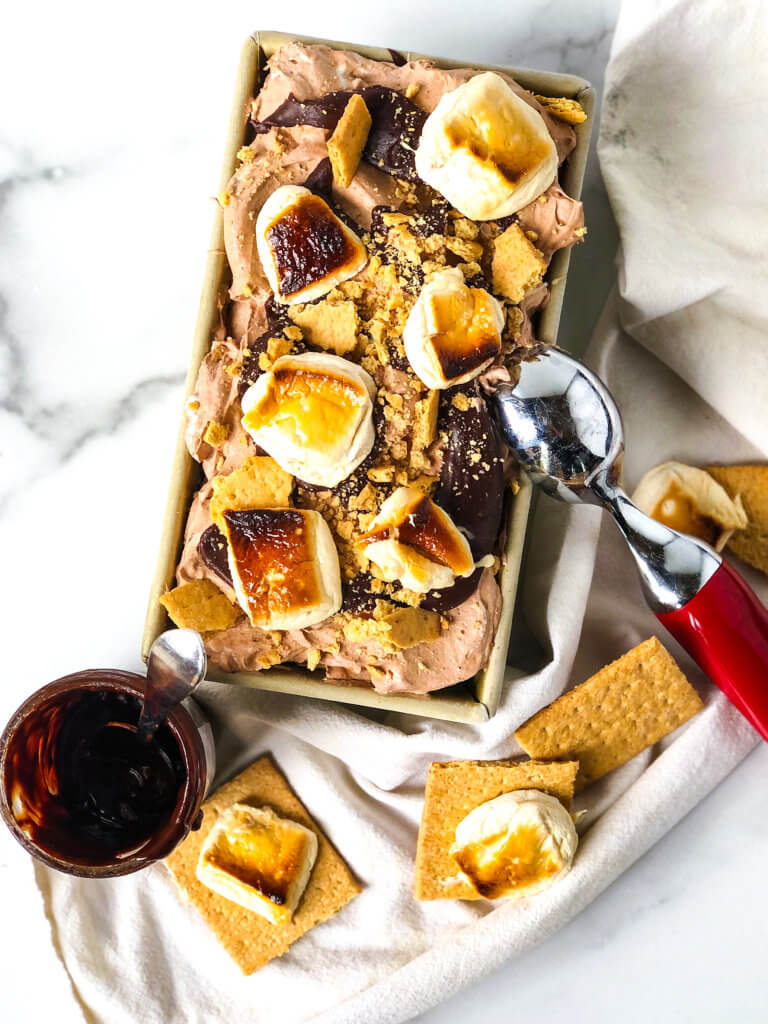 So I made this No Churn Chocolate S'mores Ice Cream. It is ALL THAT (dare I say "and a bag of chips!" (Sorry for the '90s slang – to be clear, there are no chips in this recipe.) Smooth, 4-ingredient, homemade, Chocolate Ice Cream. Oooey-gooey marshmallows (Store-bought or Homemade: no judgment here, both are perfect for this recipe!). Toast them if you like – I like. Swirls of thick Fudge Sauce. Crunchy Graham Cracker bits. All made in your own freezer.
I promise, you won't believe how utterly awesome this Chocolate S'mores Ice Cream tastes!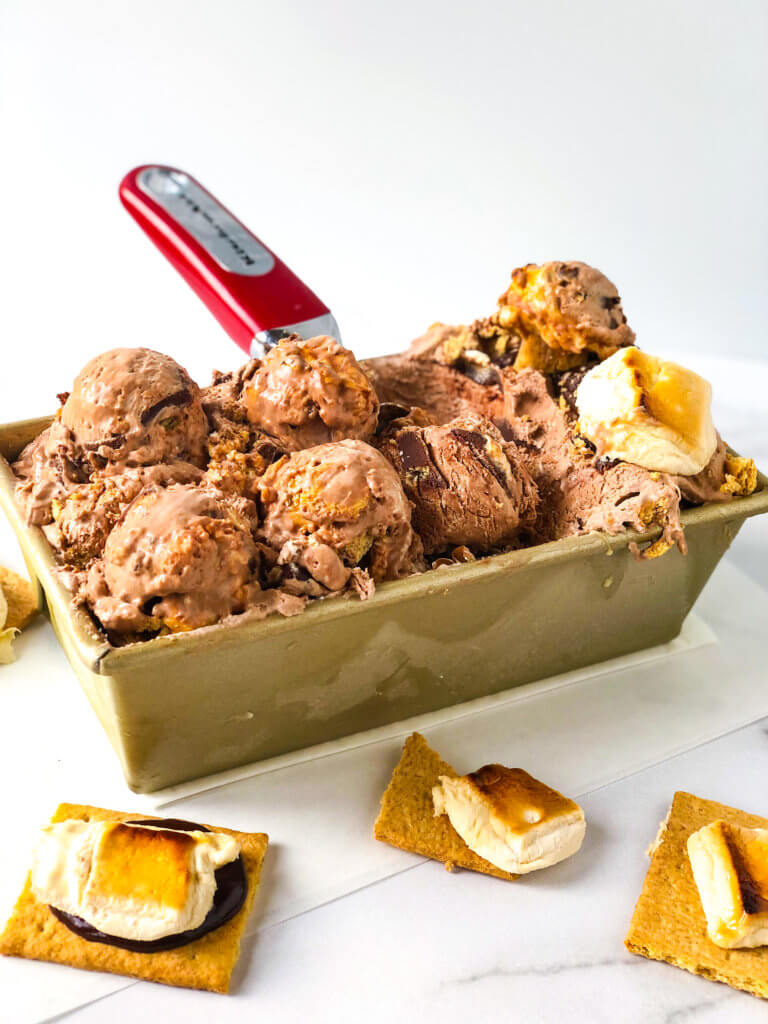 This is all to say, it's the little things, often overlooked, that are important. Simple things – a napkin, a fleeting idea, a simple photograph, a friendship you haven't thought about in years. These things are what you make of them. We all are inspired every day, although it's sometimes challenging to recognize that inspiration. Whether it's a color scheme, a new job, or a recipe, inspiration makes life happen!
Enjoy!
If you're a fan of No-Churn Ice Cream, don't miss my other No-Churn Recipes: (maybe you'll see a bit of a theme here 😉)
No Churn Salty Peanut Butter Ice Cream
No-Churn Salted Caramel Ice Cream
No-Churn Key Lime Cheesecake Ice Cream
No-Churn Chocolate Ice Cream with Peanuts and Pretzels
And, If you are interested in other S'mores treats, be sure to check out these:
No Churn Chocolate S'mores Ice Cream tips ->
(Note: As I am an Amazon affiliate, this post may contain Affiliate links. These are links to items, which, if you were to purchase, I would receive a small commission, at no cost to you.)
No Churn Ice Cream couldn't be simpler. There are really 2 basic ingredients: Whipping cream and Sweetened Condensed Milk. All other ingredients are flavorings you can add yourself. If you just wanted Vanilla Ice Cream for instance, you would just add some vanilla, and maybe a pinch of salt. 
Can I make this Vegan? Yes! You could make it Vegan by whipping Coconut Cream and using Sweetened Condensed Coconut Milk. And then use your favorite vegan add-ins. It may be a bit denser than using dairy cream, but still delicious!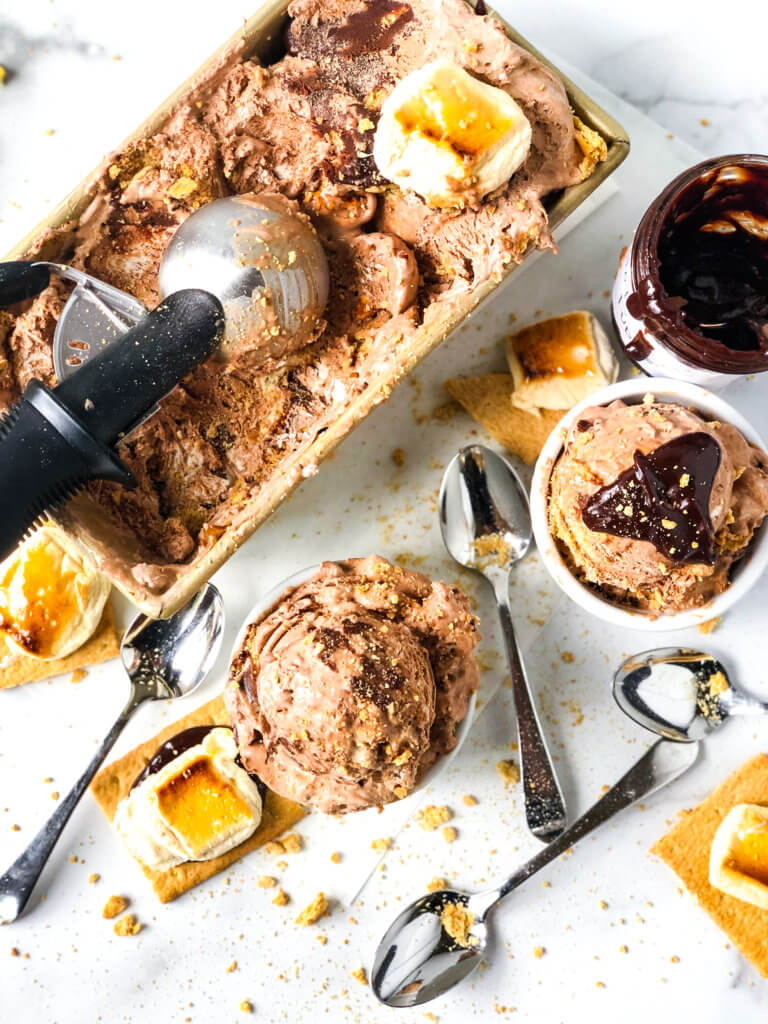 What if I don't have any fudge sauce? You can use ready-made Fudge sauce. But it's pretty simple to make your own. I used This recipe from Smitten Kitchen, just a few minutes to make, but it needs to be at room temperature for assembling the ice cream.
What Marshmallows work best? For marshmallows, you can use mini marshmallows or the bigger ones, but if you use the bigger ones, you might want to cut them into quarters for this recipe. If you have the time, I recommend making your own, and since we are home all the time these days (quarantine times, you know!), I figured I'd give it a whirl. I made King Arthur Flour's Homemade Marshmallows, although I substituted Lyle's Golden Syrup for the Corn syrup. If you've never used Golden Syrup, it provides some caramelly flavor to whatever you're cooking. I've used it instead of corn syrup in many recipes, including this family favorite, the Queen's Chocolate Biscuit Cake. (That cake is stunner! And, it's No Bake and oh-so easy! But, I digress…
Just how easy is this recipe? Just a few easy steps, once you have your ingredients gathered. 
1. Toast your marshmallows, if desired. It's not necessary, but does add some toasty flavor to the mix. Just 1 minute under a low broiler should do the trick.
2. Then stir together condensed milk, cocoa, vanilla, and a pinch of salt (optional – but I like it!). Then whip your cream to somewhere between soft peaks and stiff. 
3. Fold the cream into the cocoa mixture.  Then layer into the container into which you want to freeze your ice cream. I use a loaf pan, like One of these, but you could use an 8×8 pan, or any freezer-safe bowl or container. You can make 2 layers or 3, totally up to you. So put 1/3 to 1/2 of the folded Ice cream mixture into the pan, then top with 1/3 or 1/2 of the graham crackers, marshmallows and Fudge Sauce. Repeat until all the ice cream mix and mix-ins are used up.
4. Pop it into the freezer. Freeze for at least 4 hours. before serving, I recommend leaving it out to defrost 10-15 minutes. This way it will certainly be creamier, and easier to scoop.
I hope you love it the way we did. Didn't take long for it to disappear, I have to say.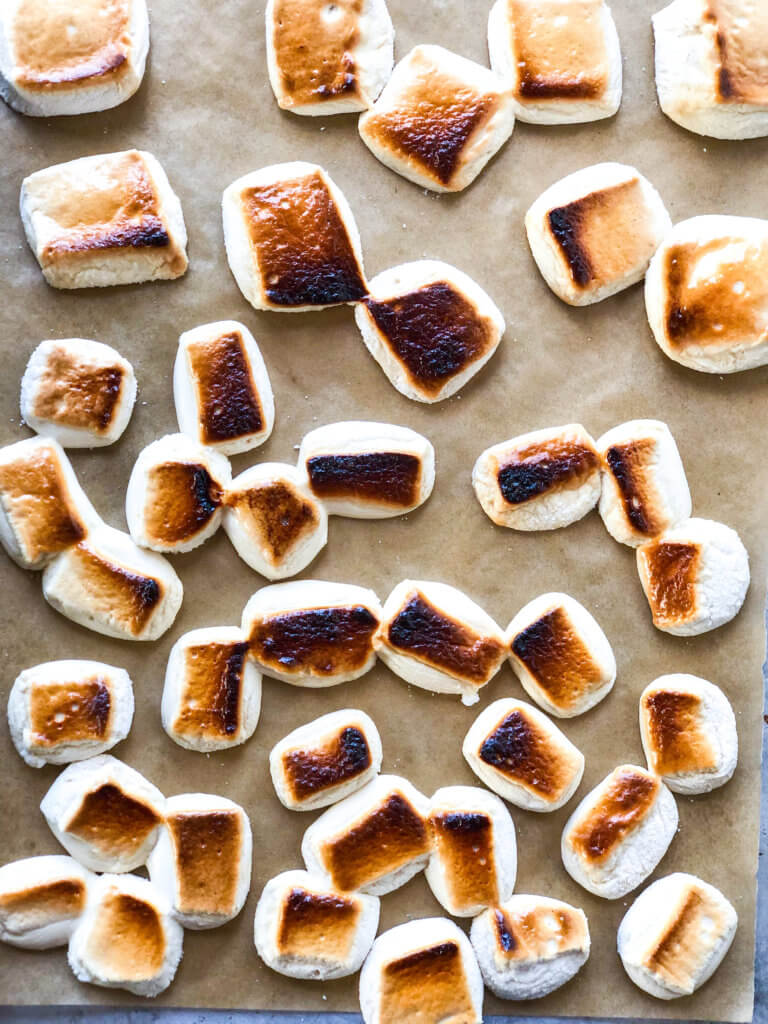 Print
No Churn S'mores Ice Cream
It's super-easy to make no-churn Ice Cream. This chocolate ice cream is packed with S'mores ingredients: pieces of graham crackers, marshmallows, and fudge! So delicious!
You can use store-bought mini-marshmallows or large sized ones, cut into pieces. Or you can make your own. I made mine using This recipe, from King Arthur. 
Equipment needed: hand- or stand mixer, and loaf pan (or 8×8, or a bowl) to freeze the ice cream.
Author:
Prep Time:

15-20 min (with ready-made marshmallows and fudge)

Total Time:

Prep time + 4 hours

Yield:

12

servings

1

x
Category:

Ice Cream

Method:

Freezer

Cuisine:

American
Ingredients
For the Ice Cream:
1

pint

(16 oz, 473 ml) Heavy Whipping Cream

1/2

c

Cocoa, (8 Tablespoons, 40g) sifted

1

can (14 oz, 396g) Sweetened Condensed Milk

1

t Natural Vanilla Extract

1/4

t fine sea salt (any fine salt is ok)
Mix-ins
1

c

(6-7 squares, 24g) Broken Graham Crackers

1

c (50g) Mini Marshmallows, or cut-up large Marshmallows, toasted if desired (See Note 1)

3/4

c

(210g) Hot Fudge Sauce
Instructions
Make the Ice Cream "Base"
Whip the cream until fluffy, somewhere between "soft peak" and "stiff"
In a Large bowl, stir or whisk together the Sweetened Condensed milk, Cocoa, Vanilla Extract and salt.
Fold 1/3 of the Whipped Cream into the Cocoa mixture. Repeat with the next third, and the last third of the whipped cream.
Add the Mix-ins:
Spoon about 1/2 of the Ice cream base into a loaf pan, medium bowl, or 8×8 baking pan. Layer on half of the fudge sauce, marshmallows and graham cracker pieces.
Repeat with the remaining ice cream and toppings. (You can form into 2 layers, or 3, whichever you choose)
Freeze:
Place ice cream in freezer at least 4 hours, preferably more.
Serve in cups or cones. For optimal flavor and scoop-ability – Prior to serving, let stand at room temperature for 10-15 minutes.
Notes
To toast marshmallows, spread across a lightly oiled baking sheet. Place under broiler (set on lowest setting) for about 60 seconds. Be sure to watch, depending on your broiler's strength, it could take as little as 20-30 seconds or as long as 90 seconds to toast the marshmallows. Let cool before adding to ice cream.
Keywords: Chocolate S'mores Ice Cream, no churn, recipe, easy, S'mores, Ice Cream
Recipe Card powered by
PIN No Churn Chocolate S'mores Ice Cream ->