Any time of year is Ice Cream Season if you ask me! And certainly any day of Ice Cream Season you have time to make this super-easy No Churn Salty Peanut Butter Ice Cream!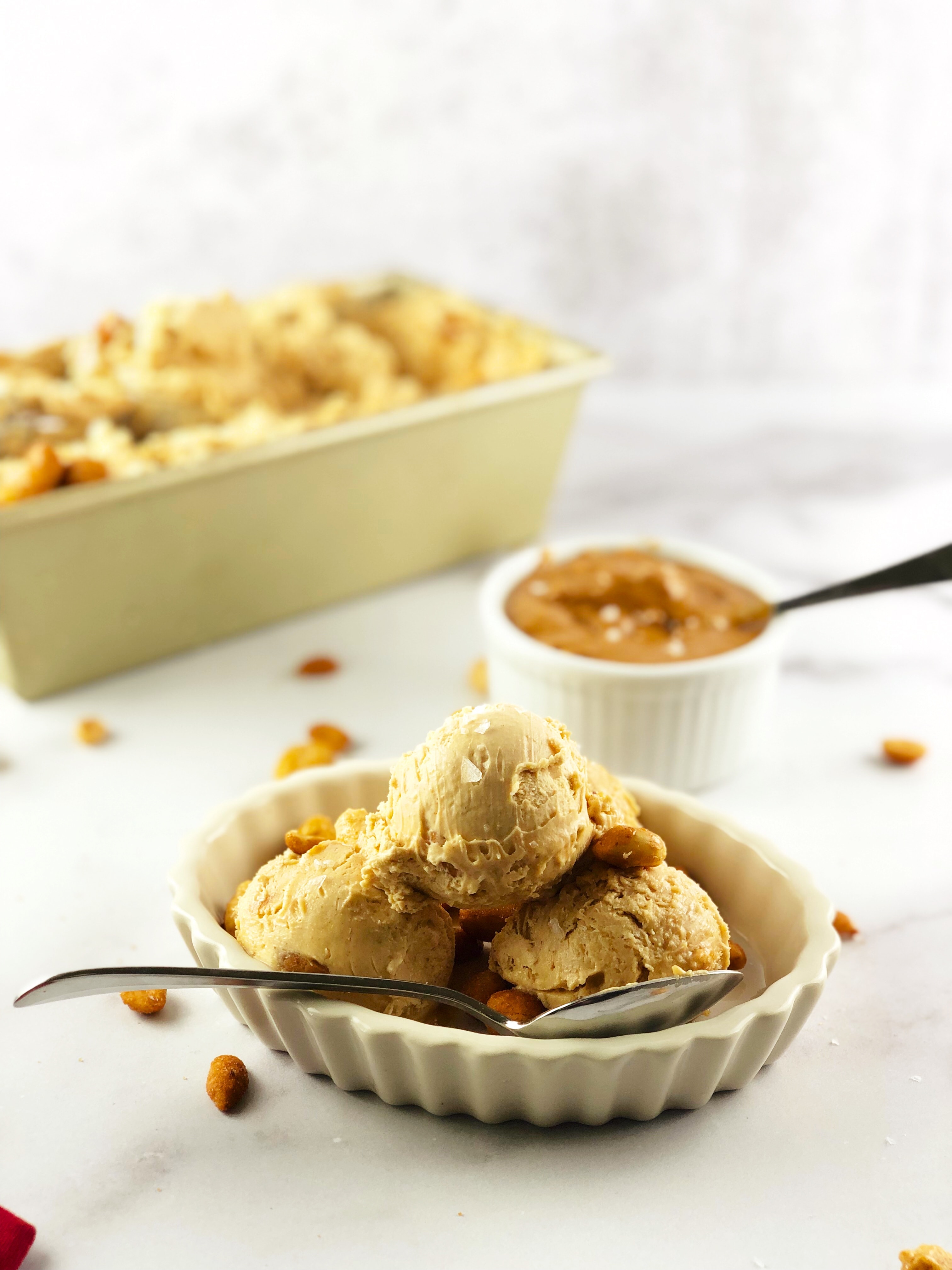 Who wants ice cream? I do! Or, at least I thought I did.
When I was about 6, we had just completed our long haul to visit my Grandpa and Grandma. We hadn't even gotten all of our luggage into the house when Grandma said to us, "Who wants ice cream? You can have all you want!" Well, I didn't have to think twice. Sure! Then, she said, "The deep-freeze (a gigantic chest freezer she kept in her laundry room) just broke and Grandpa is out getting some parts to fix it, so all the ice cream needs to be eaten before it melts!"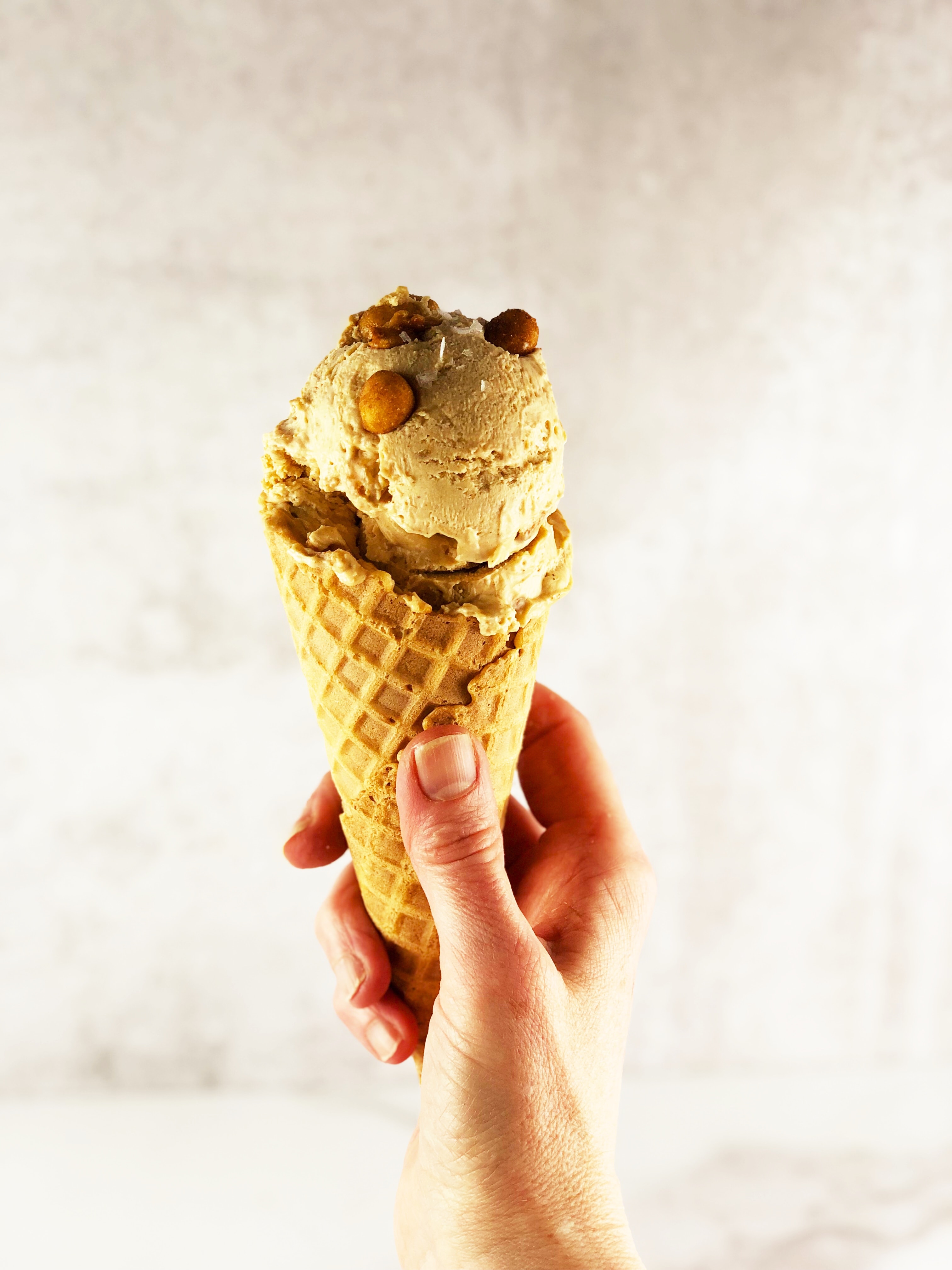 So, we all sit down at the table and she places the FULL CONTAINERS (!) and some spoons in front of us. Why wasn't our Mom objecting? Ice cream just before dinner? Ice cream out of the container? Obviously this was the chance of a lifetime. "It's melting pretty quick, so you're going to have to eat it all!" Ummm, …. ok!
One bite. Hmm. Something isn't right. Second bite. Yeah, this isn't like the ice cream I remember. But it's from Grandma, so it's got to be good. Ok, just another bite. Nope. I'm not eating this. It doesn't taste like ice cream. That stuff was fully melted. I kind of think it was even warm. And guess what? Melted ice cream is not good.
If only Grandma had given us some Salty Peanut Butter Ice Cream. I can promise this – even melted, (because I tried it), it's FAN-TAS-TIC. But truly, as with all ice cream, the real magic happens in the freezer! Lesson learned, Grandma.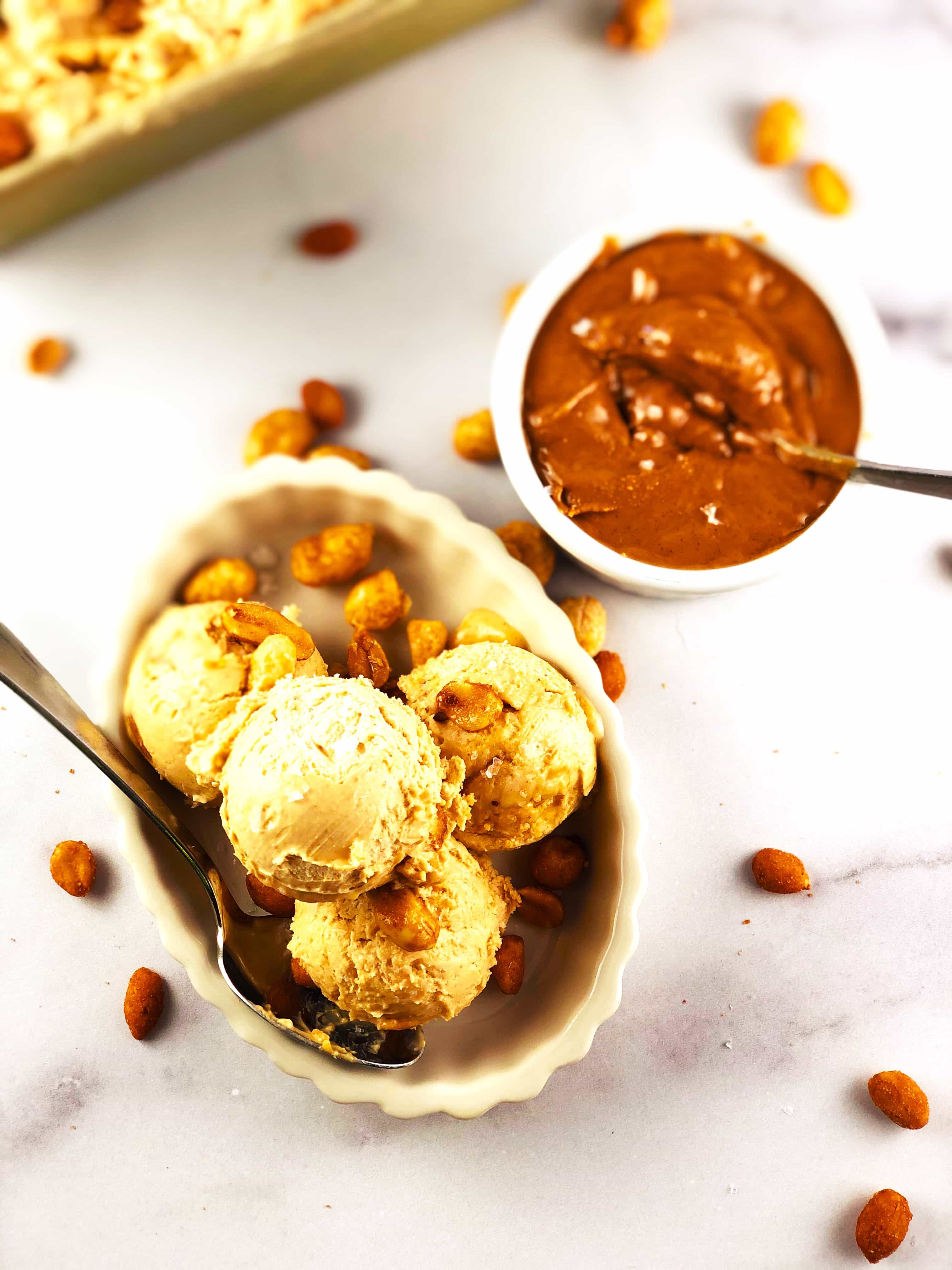 But this ice cream – WOW! I thought I'd made some good ones before. Have you tried my No-Churn Chocolate Ice Cream with Pretzels and Popcorn? Or this No-Churn Salted Caramel Ice Cream? Both celebrate the crowd-pleasing marriage of sweet and salty, and both being no-churn, are super easy to make. But I have to say, this No Churn Salty Peanut Butter Ice Cream might just be my favorite ice cream. EVER. Please make it! Did I mention? Favorite. Ice Cream. Ever!
Recipe Details
This is one of the easiest (and best tasting!) ice creams you can make. You will need 2 bowls. In the first, large bowl, stir together the Peanut butter and the condensed milk. I used all-natural peanut butter – just peanuts and salt in it – because I feel like the peanutty flavor is best, and the sweetened condensed milk adds the sugar to this recipe. But you could use any type you want. Just realize it may be more difficult to stir, since it wil be thicker. Add vanilla and 1/2 teaspoon salt (any will do, I used sea salt). In the second bowl, stiffly whip 2 cups of heavy cream. Stir or fold in 1/3 of the cream to lighten the mixture. Then gently fold the remaining cream. Pour the cream mixture into a loaf pan or a Medium-sized bowl, then pop it all in the freezer.
And the recipe is versatile enough to add some mix-ins of your choice. How about some pretzels? Or chocolate sandwich cookies? Or maybe some chopped bacon? Just fold in your chosen mix-in (if any) after your ice cream freezes for 2 hours, then pop it back in until it's fully frozen, maybe 2-4 hours later.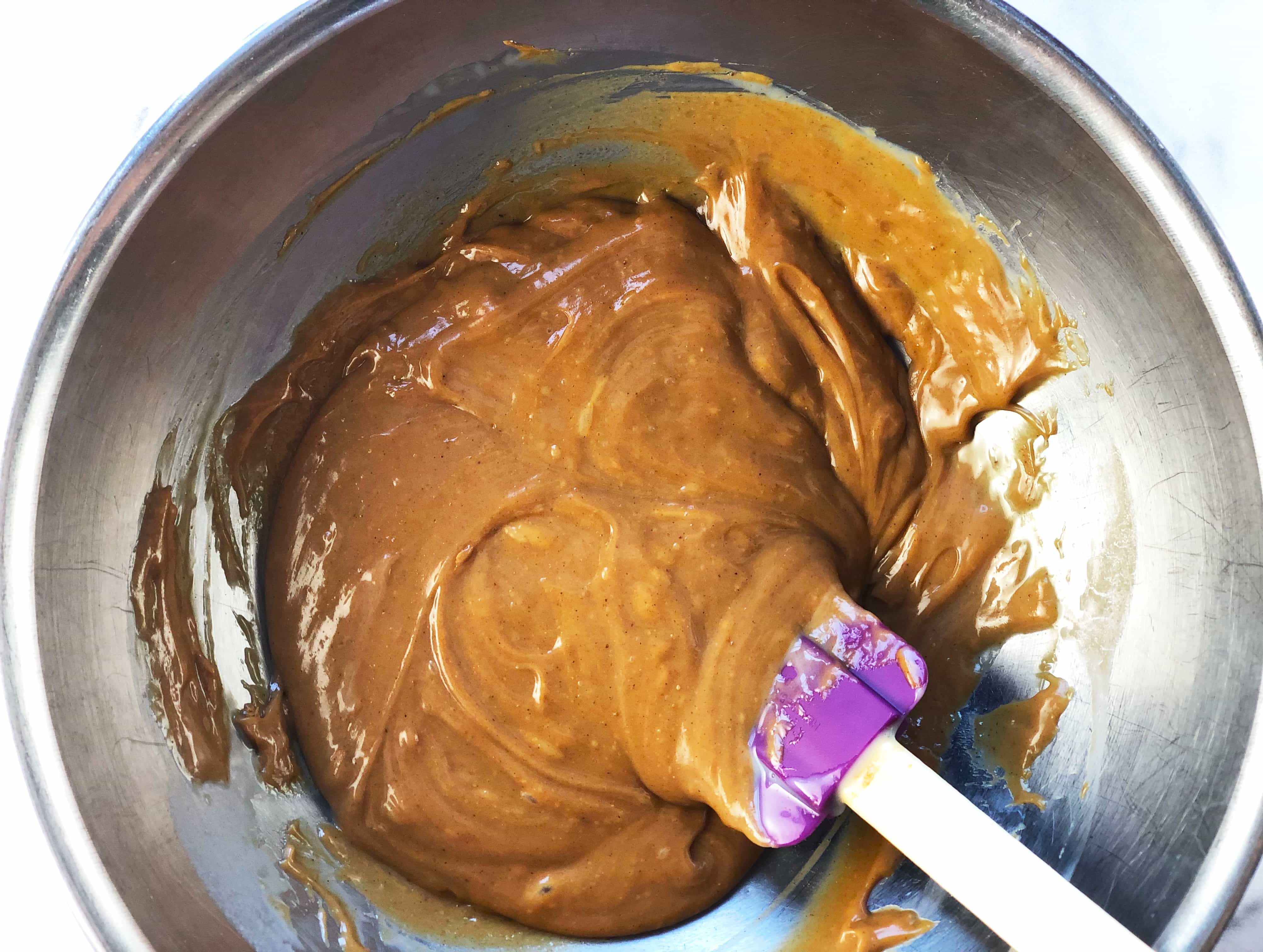 So, do you have a remarkable or even a not-so-great ice cream experience? (Did it involve your Grandma?) Probably not, since it's Ice cream, after all, but I'd love to hear about it!
If you're in an ice cream-making mood, click HERE for more ice cream recipes.
Or, if, like me, you are a peanut butter fanatic, click HERE to scroll through many Peanut Butter recipes!
Enjoy!
PIN No Churn Salty Peanut Butter Ice Cream for later ->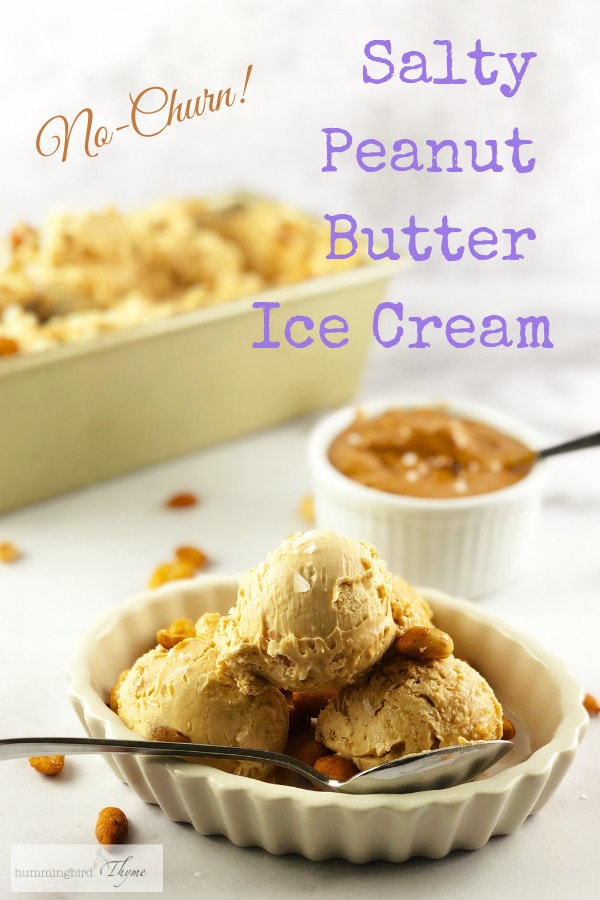 Print
No Churn Salty Peanut Butter Ice Cream
 Who doesn't love ice cream? This NO-CHURN salty peanut butter ice cream just may become your favorite ice cream ever! So smooth and rich, and so easy to make. Just 15 minutes of prep and some freezer time makes this addictive ice cream, no churn necessary. Perfect for those who don't eat eggs!
Feel free to add any mix-ins or sauces you like – you won't be sorry! Or scoop it up into cones or dishes. So so good!
Author:
Prep Time:

15 min

Total Time:

6 hr

Yield:

6 cups

1

x
Category:

Ice Cream

Method:

Freezer

Cuisine:

American
Ingredients
14

-oz. can Sweetened Condensed Milk

1 cup

Peanut Butter (preferably Smooth, all-natural)

1/2

t Salt
(Optional) 1 t Vanilla Extract 

2

c Heavy Whipping Cream
Optional mix-ins: 3/4 cup of one or more: candied peanuts, chopped peanut butter cups, pretzels – chocolate dipped is good, cereal, small candy-coated chocolates, or anything else you can think of!
Instructions
In a large bowl, and using a silicon spatula or a wooden spoon, mix together the Sweetened, Condensed Milk, Peanut Butter, vanilla (if using) and salt. Set aside.
In a separate bowl, using hand or stand mixer, whip the cream until it is stiff.
Gently stir or fold 1/3 of the whipped cream into the peanut butter mixture until it is fully combined. Then, using silicone or rubber spatula, gently fold the rest of the cream into the peanut butter mixture, until nicely combined.
Pour the entire bowl of peanut butter-whipped cream into a loaf pan or large enough bowl. Place in the freezer. 
If adding mix-ins, gently fold them in after cream has been in freezer for 2 hours, then continue to freeze another 2-6 hours or overnight until fully set and frozen.
Keywords: No Churn, Peanut Butter, Ice Cream, Snacks, Desserts
Recipe Card powered by