You won't believe it, but the key to this ice cream is that I made the key ingredient in my Instant Pot.  Seriously.  No Churn Salted Caramel Ice Cream.  Instant Pot. You're welcome.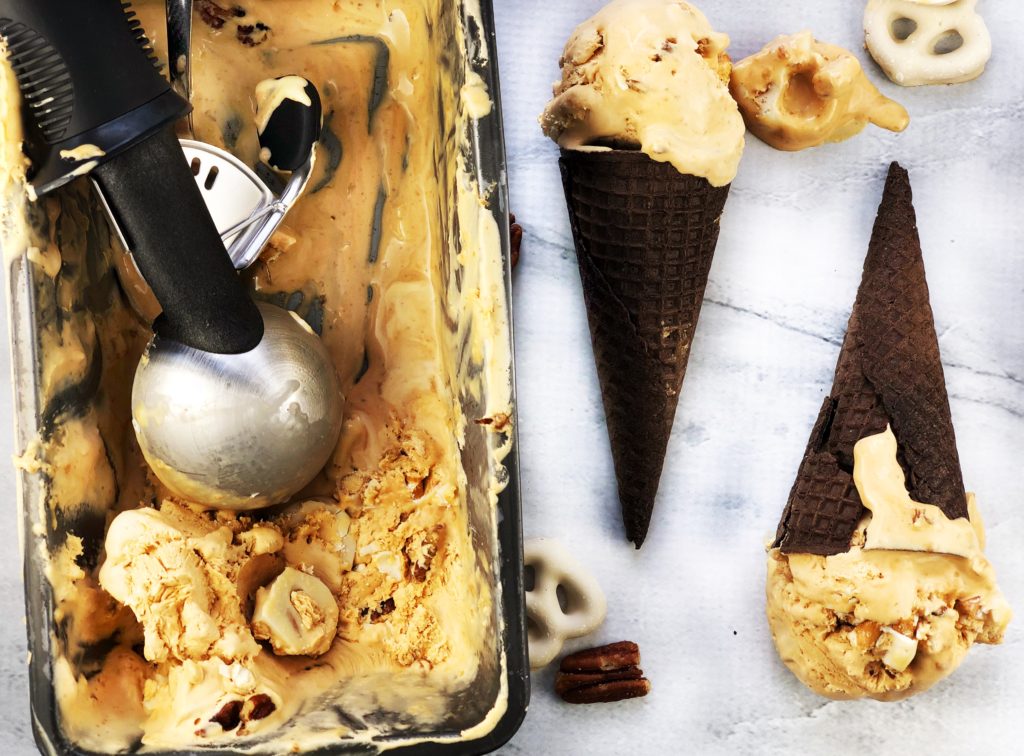 I love things that don't seem to go together but when they join, should never be separated, at least in my mind. For example, who knew prosciutto, goat cheese and fig jam makes a delightful sandwich?  Chocolate-dipped bacon? Or, have you ever dipped French fries into a chocolate shake? – borderline addictive.  It's that mix of sweet and salty. More familiar might be salt and caramel. Often you see "salted caramel" flavored items that are really just caramel. Not much salt in the mix.
One time I ordered the Salted Caramel Ice Cream at Molly Moon Ice Cream in Seattle that is famous for their Salted Caramel and was thrilled to find it is bracingly salty Salted Caramel Ice Cream. It was a revelation! A sweet-salty flavor BOMB! I highly recommend. From then on, I have insisted that if it's called Salted Caramel, one should be able to detect the salt in the mix. Am I right? That ice cream served as my inspiration for this No Churn Salted Caramel Ice Cream. It's not as salty as Molly Moon's but it certainly earns it's name.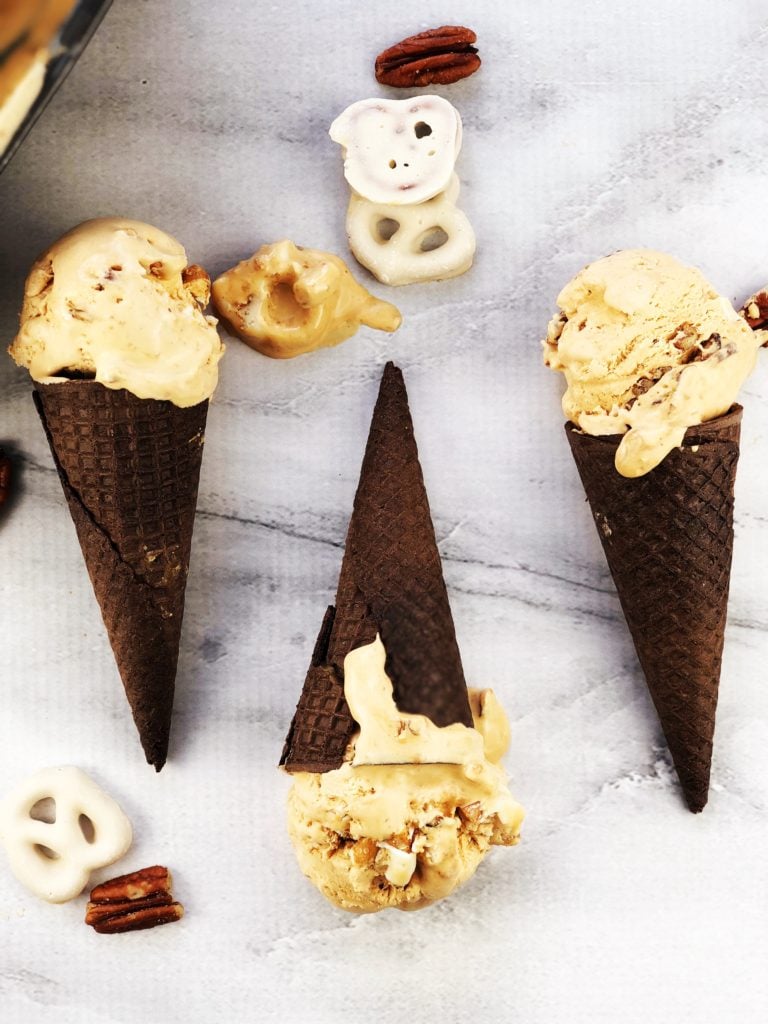 If you've ever made No-churn Ice Cream, such as my No Churn Chocolate Ice Cream with Pretzels and Popcorn, you know how easy it is. You just whip some cream, flavor a can of sweetened condensed milk with whatever you want, and fold them together. Freeze. Add any mix-ins you want. Freeze some more. And eat to your heart's content.  No cooking or churning.
This Salted Caramel Ice Cream, though, I may have mentioned, did require a bit of cooking. This is because you need to turn the sweetened condensed milk into Dulce de Leche (caramel).  I used my Instant Pot. If you don't have an IP, you can use a regular pot with a lid, and do it the way Pioneer Woman  does. This takes some time (2-4 hours) and some attention.  But the IP does the same in a mere 45 minutes, with minimal interaction.  You just need to give it time to cool afterward, so make the caramel the day before.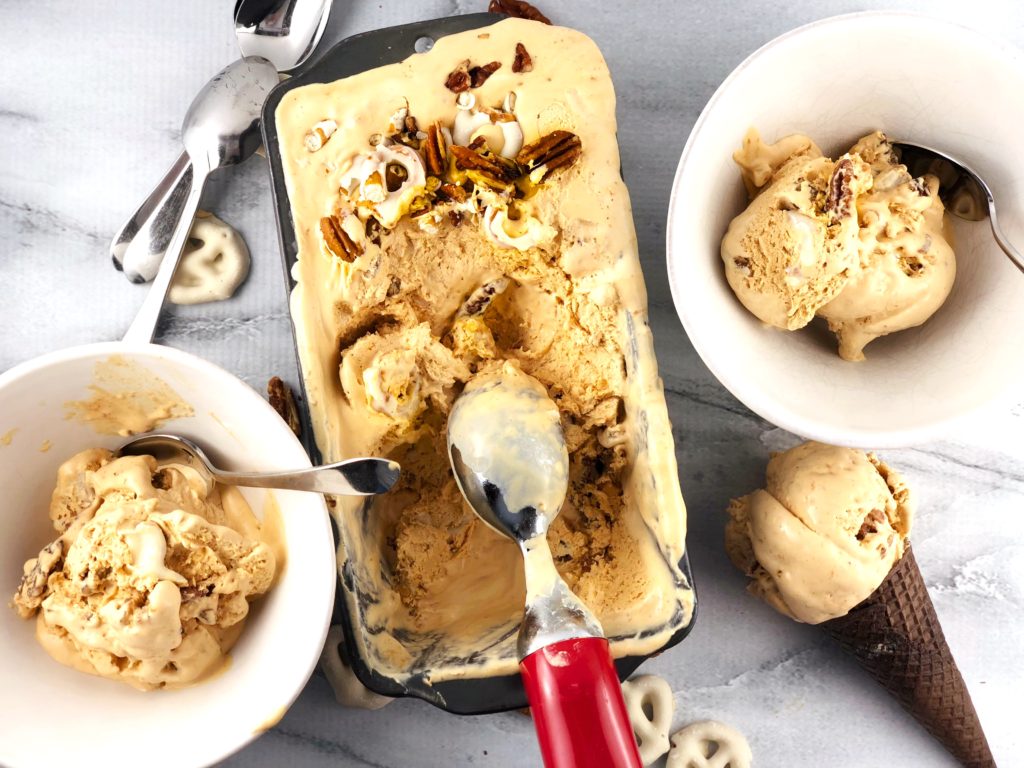 You can use any mix-ins you want.  I added yogurt pretzels and some roasted pecans. Those things added some nice crunch, additional flavor, and texture.  But this No Churn Ice Cream on its own is so smooth and creamy, you might have a tough time interrupting that beauty with any mix-ins.  I know I did.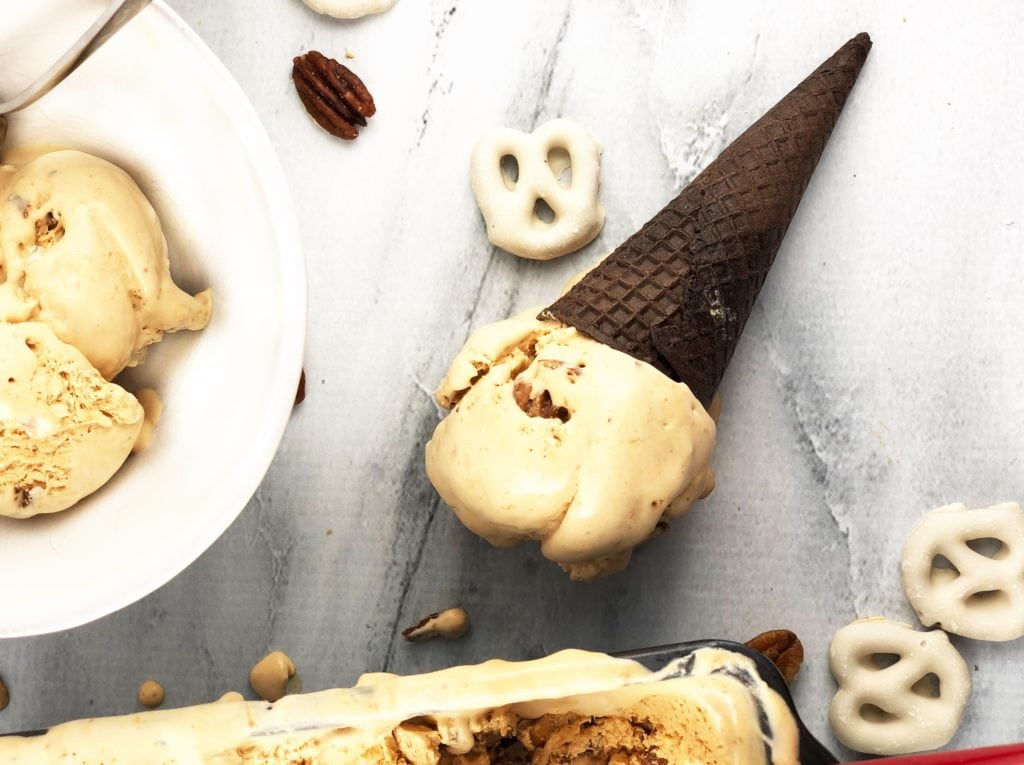 So if your sweet self is feeling a bit salty (or vice versa as the case may be), mix up a bit of No Churn Salted Caramel Ice Cream.  You won't believe how 3 ingredients can turn into such a magnificent treat! Enjoy!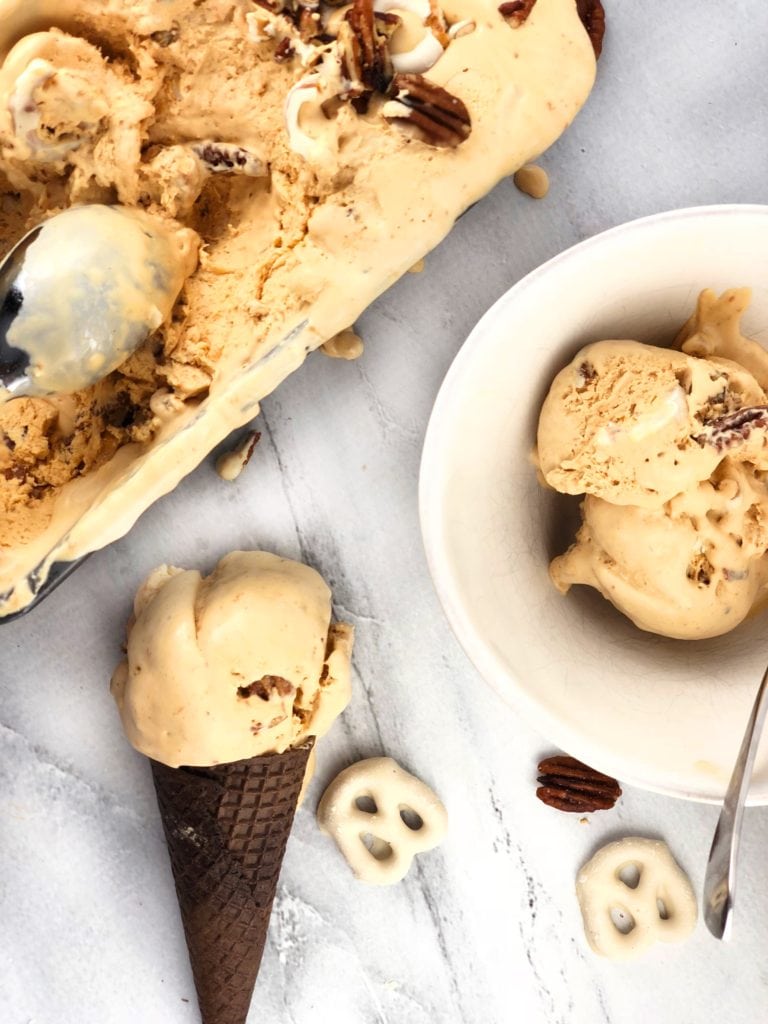 Print
No Churn Salted Caramel Ice Cream
This No-Churn Salted Caramel Ice Cream will show you just how easy it is to make Homemade Ice Cream without a churn.  It is so creamy and smooth, sweet and salty, you might want to double the recipe from the get-go.   You can add mix-ins for texture if you like.
Before making the ice cream, though, you need to turn your Sweetened, Condensed Milk into Dulce de Leche.  It's super easy in the Instant Pot.  It is best to make 2-3 cans at a time, that way you'll have extra on hand to make another batch.  Because you will make another batch. It's that good.
Author:
Prep Time:

5 min

Cook Time:

45 min

Total Time:

50 min + cooling and freezing time

Yield:

1 Qt

.

1

x
Category:

Ice Cream

Method:

Instant Pot, Freezer
Ingredients
For the Dulce de Leche (Caramel)
1

–

14

oz. can Sweetened Condensed Milk
For the Ice Cream
1 pt

. (

16 oz

.) Heavy Whipping Cream

3/4

t Salt

2

t Natural Vanilla Extract (optional)
Mix-ins (Optional)
1 1/2

c nuts, pretzels, candies, coconut, or granola
Instructions
Make the Dulce de Leche
Remove the lid from the can of Sweetened Condensed Milk (SCM). Cover tightly with a small square of aluminum foil. (An alternative here would be to scrape the SCM into canning jar(s) and place finger-tight canning lids over the jars. This may require more water in the IP – fill to just below the lids.)
Place on the trivet of the Instant Pot. Fill Instant pot with warm water to a level just below the foil on the SCM can.
Tighten lid, set to Manual Pressure Cook for 45 minutes.  When done, turn IP off, unplug and let it naturally decompress.  Once decompressed (20-30 mins) remove lid and let cool to a temperature where you can remove the trivet easily.
Stir the salt into the caramel, and refrigerate until ready to use.
Make the Ice Cream
In a large cold bowl, whip the cream and Vanilla until stiff peaks form.
Scrape the salted caramel into a separate (medium) bowl.  Scoop about 1 cup of the cream onto the caramel and fold in.
Pour the caramel – cream mixture into the remaining whipped cream.  Gently fold until well-mixed.
Pour mixture into 9x5x5 pan, or another vessel that will hold at least 1 Qt.
Freeze at least 4-5 hours. If using mix-ins, add them at the 2 hour mark, then continue freezing the ice cream.
Keywords: No Churn, Salted Caramel, Ice Cream
Recipe Card powered by
PIN for later ->