These Vegan-adaptable Nutty White Chocolate Apricot Granola Bars will change the way you think about snacking – it can indeed be healthy, delicious, and satisfying!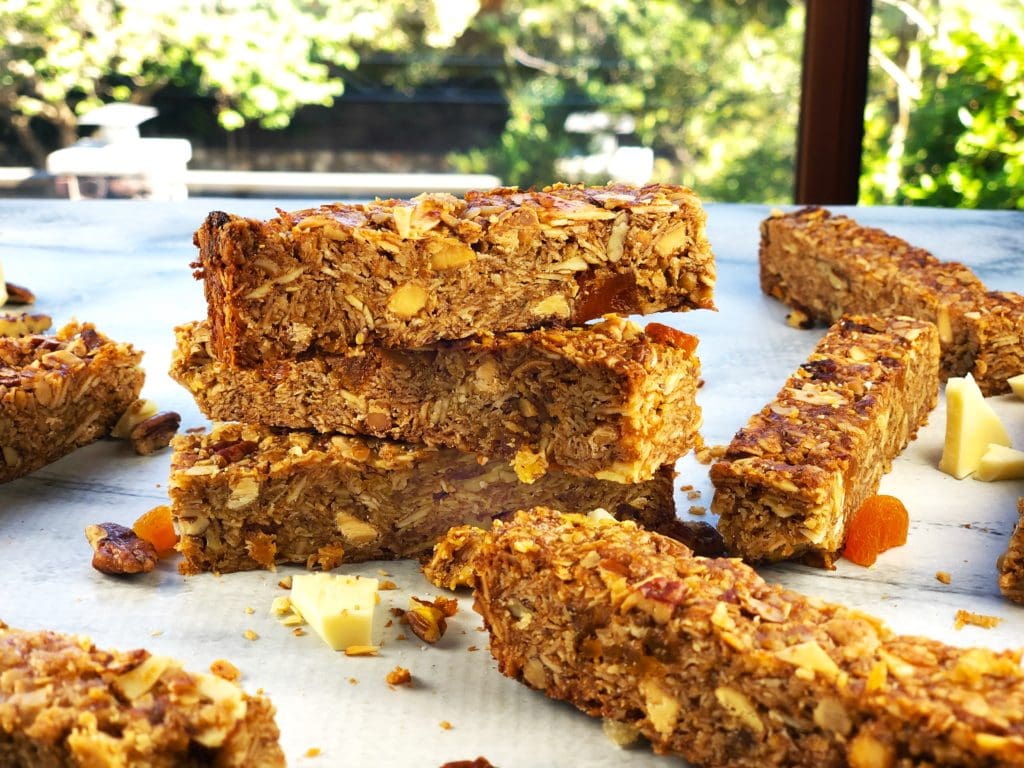 "The only thing constant is change" – Heraclitus of Ephesus, 500 BC.  Now, you could get all philosophical and argue whether or not this is true.  After all, simple "facts" don't change.  Two plus two is always 4 (well, usually, but let's not go there). But that's not really what Heraclitus meant now, is it?  How we view facts changes.  The moon appears to rise every evening, whether we see it or not, whether we like it or not. That is a fact.  Doesn't change. Nor was Heraclitus arguing the rate of change is constant.  Just that change happens and doesn't stop happening. I believe the "constant" he was referring to is the constant series of events that change our lives, in large and small ways.  New relationships, graduations, births, new jobs, new shoes(!).  For better or worse.  Things just change.  Changes we choose and changes we would never choose. Our only real choice is whether and how we can peacefully incorporate the change into our lives. What we know is that our own personal change relies on our will and our effort.  Constantly. And these changes can be as simple as changing a recipe.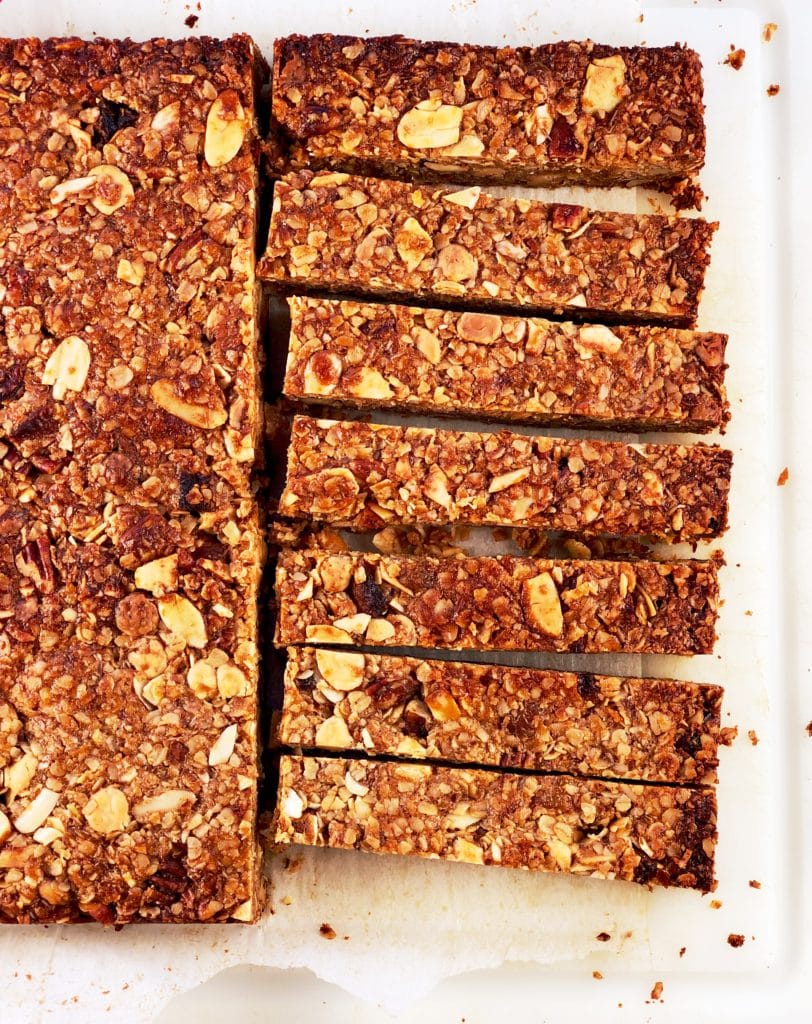 Growing up during the Nature Valley Granola years, where granola was super crunchy, though somewhat flavor-free in its commercial form, I didn't really love it.  It's excessive crunchiness made my teeth hurt. Then came some better recipes, but we (I?) decided we just couldn't stomach the calories attributed to it.  Turns out, you're not supposed to eat a whole big bowl of it – who knew? As an adult, I attended a cooking class, where I tasted some homemade granola.  It was a revelation! Nutty, oat-y, with a touch of sweetness. Mmmmm.  Ever since, I've made my own, which led to these granola bars, from a recipe similar to my homemade granola.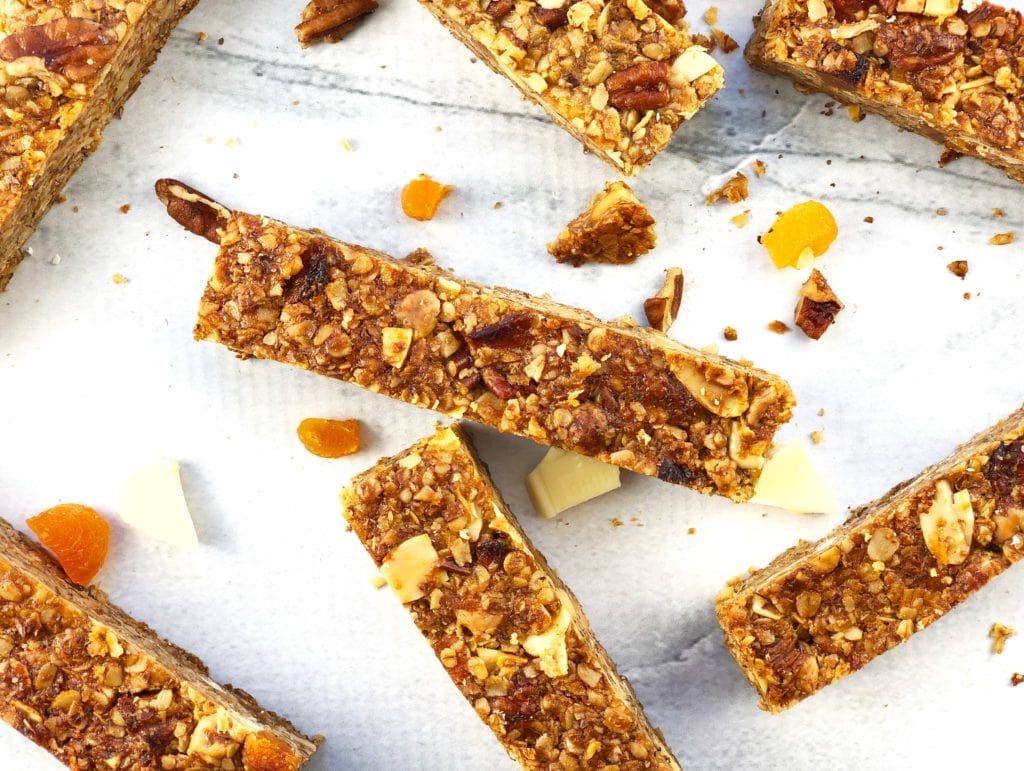 This particular recipe was inspired by granola bars from Molly Wizenberg , adapted from Smitten Kitchen,   which I further adapted in this recipe for homemade Chocolate-Cherry-Pecan Bars. For this new recipe; however, I substituted olive oil for the coconut oil, which if you read my post featuring the yummy Granola I eat every day,  you know that I almost had to go on statins because of that darn "miracle" oil. (Unlike many, I seem to be ultrasensitive to it.) I also used white chocolate and apricots instead of bittersweet chocolate and cherries. You could easily make these bars Vegan by subbing Maple Syrup for the honey.  You see? Changes. They just happen. Constantly. Thanks, Heraclitus from 500BC. I keep these little wonders wrapped in snack-sized zipper bags in my freezer.  And you know what? They are surprisingly amazing straight from the freezer. Seriously. I dare you.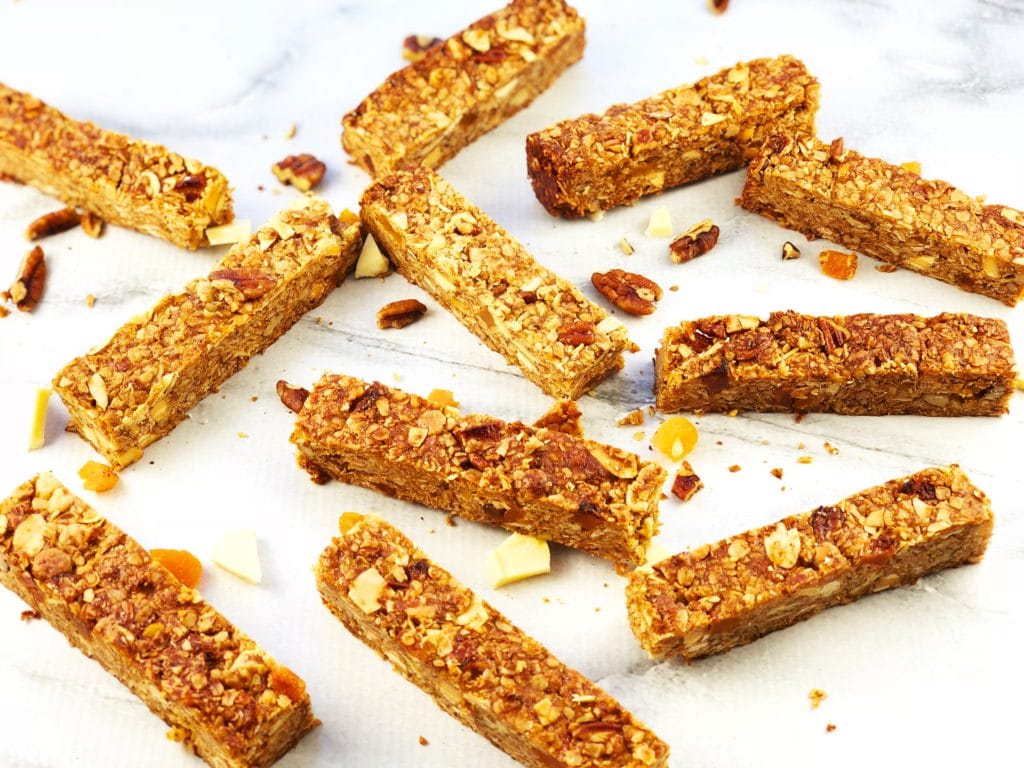 So make a change in your life!  Make these fan-tas-tic Healthy Nutty White Chocolate Apricot Granola Bars.  And, do yourself a favor – try one straight from the freezer. Or let it defrost. Let me know which you like better. You'll see what I mean. (Because sometimes a small change helps us get through the bigger changes.) Enjoy!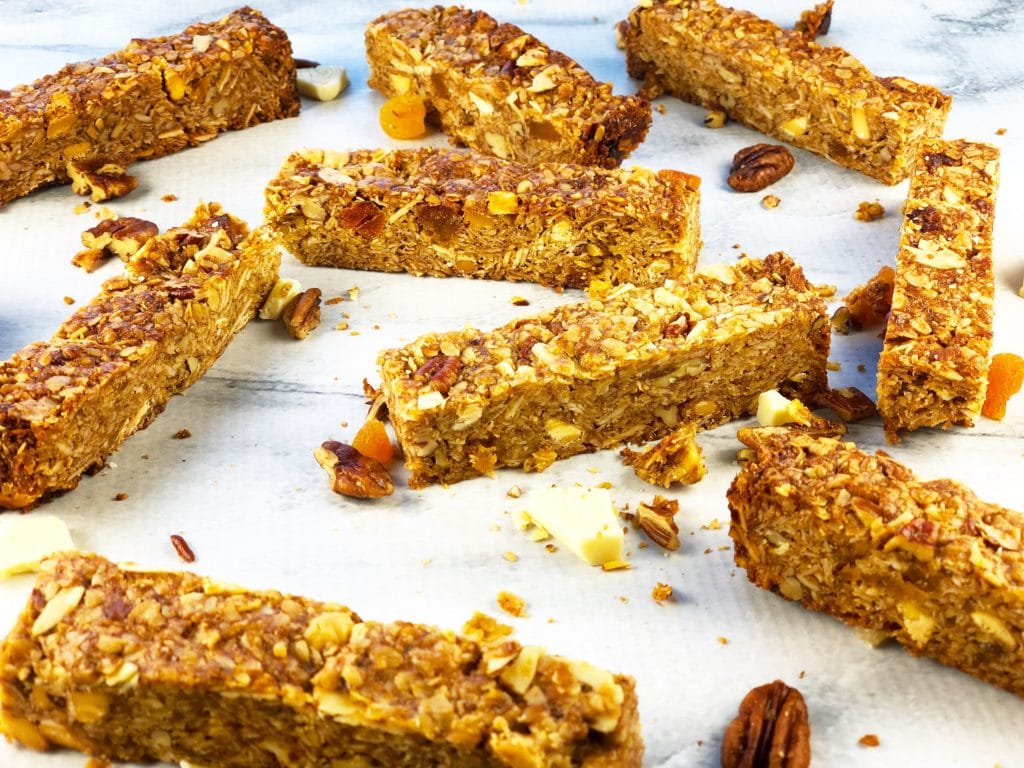 Print
Nutty White Chocolate Apricot Granola Bars
A super-easy and healthy granola bar!  This recipe makes 24-27 bars, which are easy (and delicious) to freeze.
Full of nuts, oats, peanut butter and white chocolate, this is a recipe easy to make vegan – just substitute Maple Syrup for the Honey!
Author:
Prep Time:

15 min

Cook Time:

30-35 min

Total Time:

45-50 min

Yield:

27

bars

1

x
Category:

Brunch

Method:

Bake
Ingredients
4

c Quick-Cooking Oats, divided

2/3

c Brown Sugar (dark preferred)

1

c Toasted Pecans, salted if desired, and chopped

1

c Sliced Almonds

1/2

c Unsweetened, shredded (or chipped) coconut

1/2

c Ground Flaxseed

1

c white chocolate chips, or

4

–

5

oz, chopped

3/4

c Dried Apricots, chopped

3/4

c Smooth Peanut Butter (I use all-natural)

3/4

c Extra-Virgin Olive Oil

3/4

c Honey (sub Maple syrup for Vegan recipe)

2

t Natural Vanilla Extract

1 1/4

t Kosher Salt
Instructions
Preheat oven to 350F (I set my Convection-Bake oven to 340F). Prepare a 13×9 baking pan by spraying or buttering the bottom and sides, then cover with a layer of parchment long enough to hang over 2 sides, creating paper "handles" with which to lift the bars when baked.  Then spray or butter the parchment.
In a small food processor (or coffee bean grinder), process 3/4 c of the oats until they are finely ground.  In a large bowl, mix together: oats, oat flour, brown sugar, pecans, almonds, coconut, flaxseed, chocolate, apricots and salt.
In a medium bowl, whisk peanut butter, vanilla, olive oil and honey.  Pour the liquid mixture over the dry ingredients.  Mix well.
Press granola mixture firmly into the prepared baking pan. It's best to take a sheet of plastic wrap, set it over the granola, the firmly press down to make the layer even across the pan, all the way to the edges.  This will keep your hands clean and will ensure the granola is properly pressed into the pan.  Discard the plastic when finished. 
Bake 30-35 mins until bars are brown at the edges and golden in the center. Remove from the oven, cool.  Once cool, place bars in the refrigerator for at least 2 hours before slicing.  This will prevent them from crumbling. When ready to slice, use the long edges of the parchment as "handles" to gently pull the sheet of bars from the pan. Using a sharp knife, slice into bars or squares or desired size.  I made my bars 1"x4".
Notes
This recipe can be adapted to include any combination of nuts, dried fruits and chips, just be sure to have between 3 1/2 – 4 c of mix-ins total.
Nutrition
Serving Size:

1/27 recipe
Keywords: Granola, breakfast, bars
Recipe Card powered by
PIN FOR LATER ->