Doner Kebab is famous world-wide – it's actually one of the most popular "fast foods" ever! And so much easier to make than you think!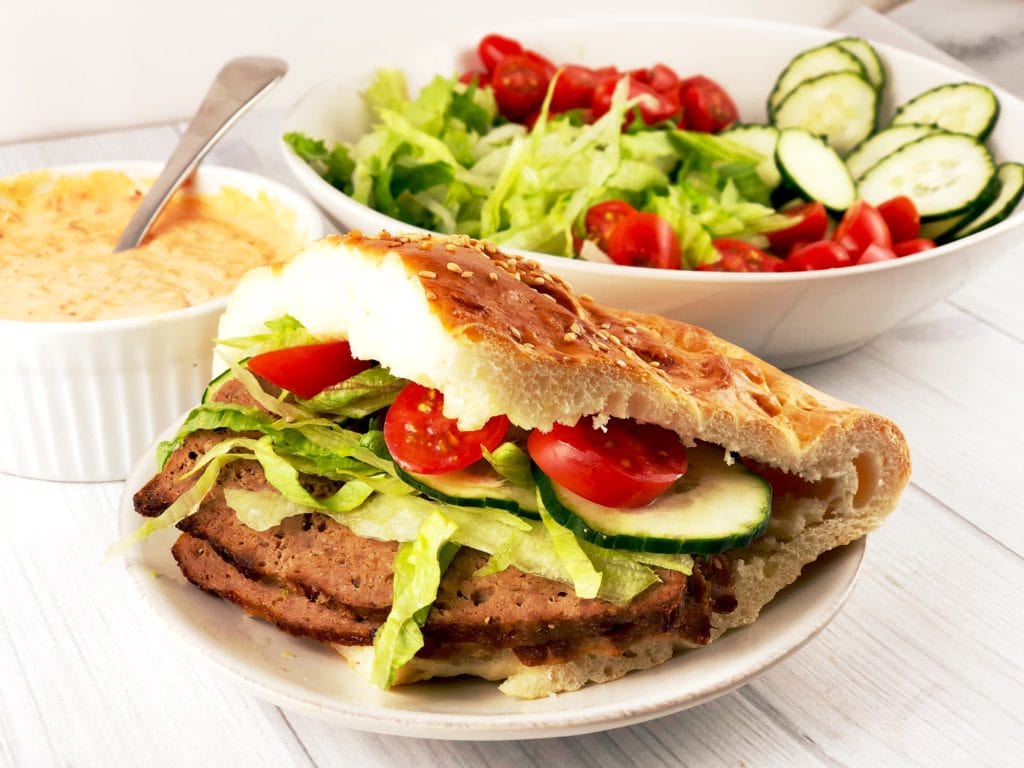 Remember when we were teenagers, and we used to go to the mall?  "Cruising the Mall" was THE thing to do, where to see and be seen?  (You didn't do this? – You must be younger than me!) There was a time when our beloved Glenbrook mall opened a brand new section, which had, of all things, an ice skating rink inside the mall!  (Now, why that ice skating rink was so attractive to me is still a puzzler – I'm a terrible ice skater!  If it had been a roller rink, now, that's another story altogether!) Positioned around the skating rink was a food court! WOW!
And, what set this food court apart from other malls I'd visitied at the time were many foods I'd never even imagined, and couldn't wait to try.  "Tater Junction" – a place where there were huge baked potatoes stuffed with your choice of dozens of different toppings – Mexican Potato anyone? Or Gyros – how do you even say that word? I stared at that word for quite a while before even giving it a try. (Hint:  its "yee'-row", people!  Not "Ji-Row"!) Wonderfully spiced and slathered in Cool Creamy Tzatziki Sauce, it really was a taste sensation!  Like nothing I'd ever tasted – I love that! It is a sandwich I crave.  Often.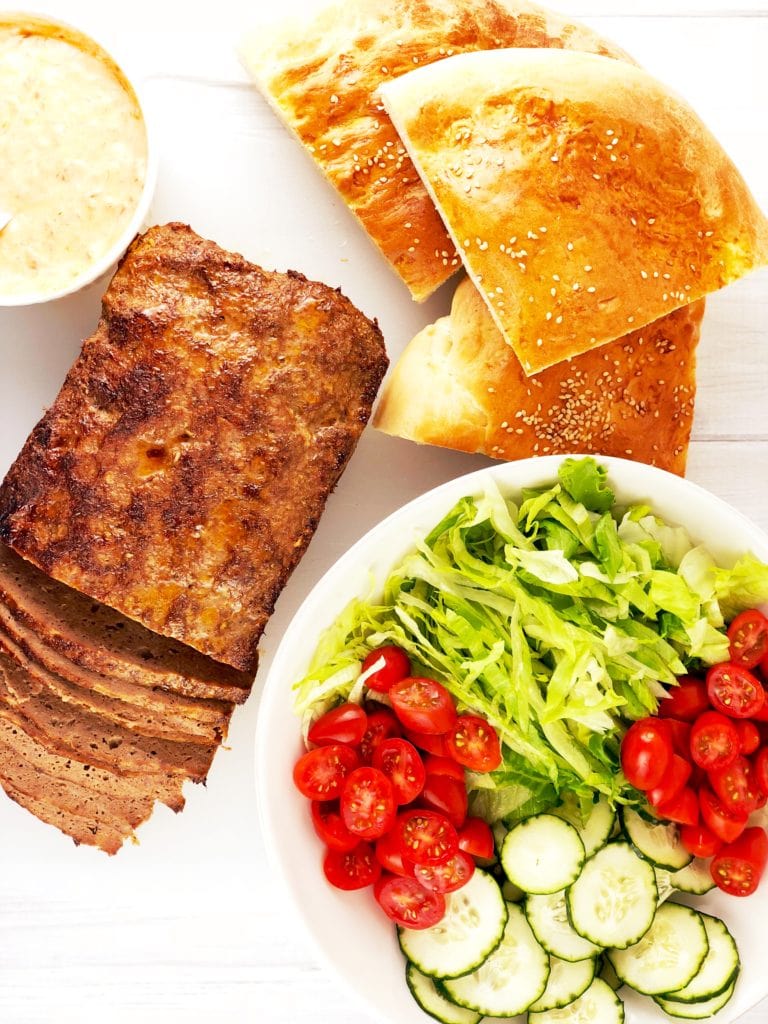 Turns out, the Greek Gyro is a variation of the original Turkish Doner Kebab (read all about the "rotating roast" here.)  There are variations of this dish in just about every country, so it seems I'm not the only one addicted to this classic "fast food." I first heard of the Döner Kebab from my kids, who had spent some time studying abroad in Italy, where they were first introduced to the Döner Kebab. They apparently ate at "the kebab place" quite often. This Doner Kebab made with lamb is my attempt to recreate this for them.
I found recipes and inspiration from a few different websites – Thanks, Google!   It seems there are so many variations, I wasn't sure which to choose.  So I chose one that seemed different from the Gyros sandwich I'm so familiar with.  I used cumin, coriander and paprika to spice the meat, and topped the sandwich with a spicy mayo, which I made with Harissa, but you could substitute any hot sauce or use yogurt instead of mayo.  So delicious!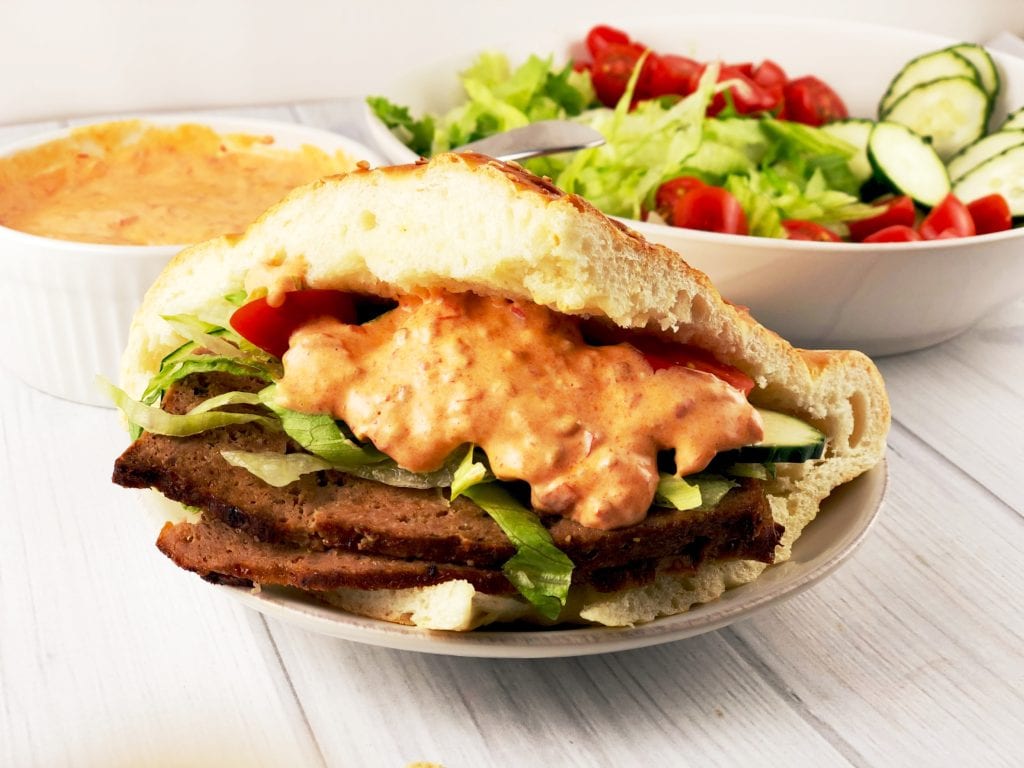 Thanks to Alton Brown I learned the secrets of making this tasty sandwich at home.  It takes a food processor, and, believe it or not – a brick.  You read it correctly, a brick. These items make the texture of the meat firm, yet still juicy, and sliceable, just perfect for a doner kebab! Completely worth the trouble, I promise!  You can see from these previous posts about gyros how much I love a rotating roast!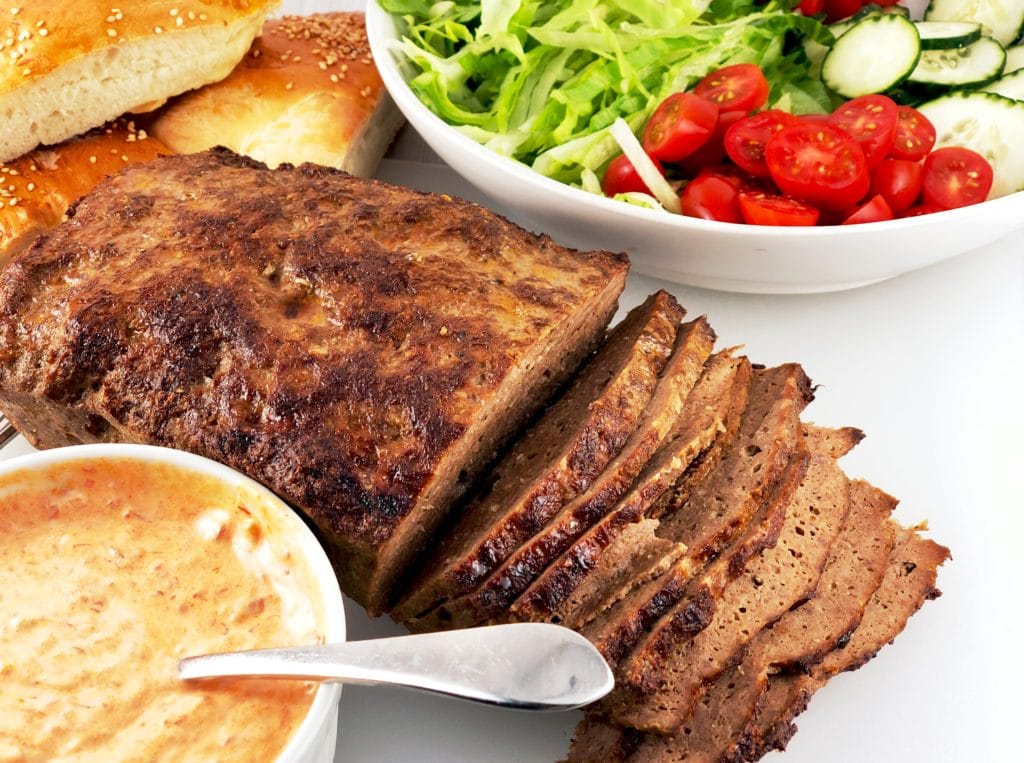 So I can't promise this is authentic Doner Kebab, but I'm hoping it serves as a worthy variation of one of my favorite sandwiches of all time! I know I'll be making more Doner Kebab, and Gyros, no doubt!  I hope you will, too!  And, let me know, what foods have you tried that were so unique and different from anything you'd ever tasted?  I'm curious! Enjoy!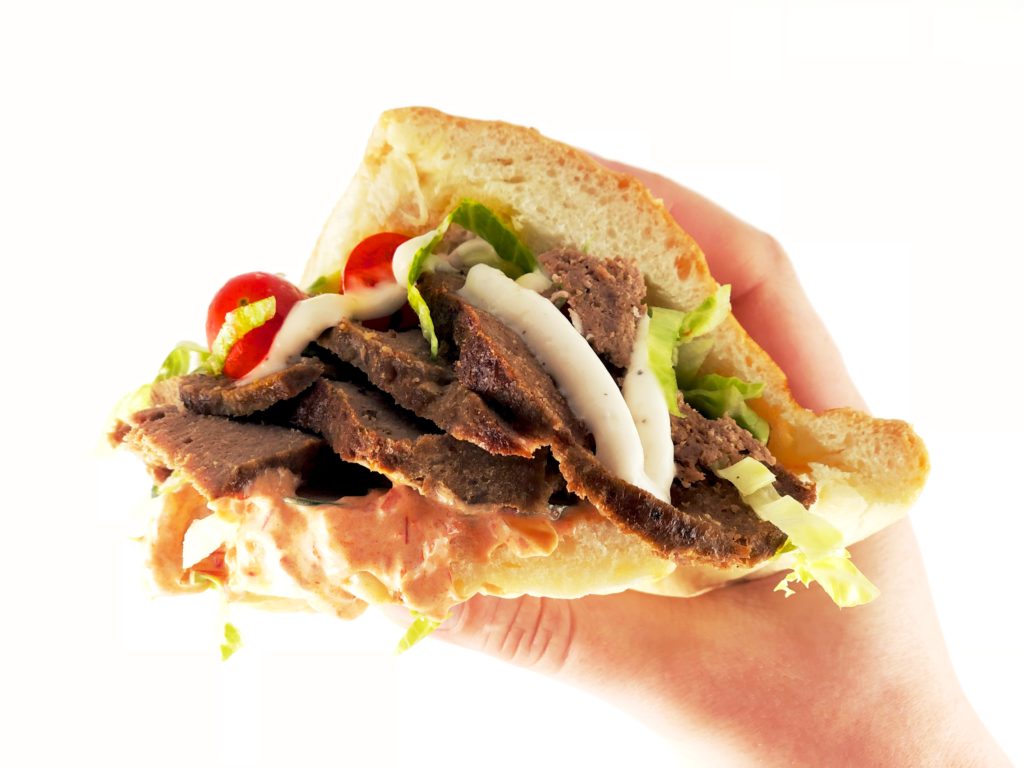 Print
Döner Kebab with Lamb and Pita
The Doner Kebab was the original "rotating roast" sandwich!  This recipe is my version of the classic.  I employ some tricks I learned fromAlton Brown, which aid in preparing and cutting the meat. You could substitute ground beef, turkey, or chicken for part of the recipe if you like.  But processing the meat in a food processor and compressing it a bit after cooking ensure that you will be able to thinly slice the meat when serving.
I made my own Pitas using this recipe. But feel free to use whatever pita or flatbread you like.
Author:
Prep Time:

10 mins

Cook Time:

60-75 mins

Total Time:

70-85 mins

Yield:

8

servings

1

x
Category:

Sandwich

Method:

Oven Roast
Ingredients
For the Meat
2

lb ground lamb

1

Medium onion, cut into large chunks

1

T Ground Cumin

2

t Paprika

1 1/2

t Coriander

1/2

t Cinnamon

2

t Salt

1

t Ground Pepper
For the Spicy Mayo
3

T Hot sauce (I used Harissa)

1/2

c Full-Fat yogurt or Mayo
Instructions
Make the Meat mixture:
Preheat oven to 325F. Into a food processor, place the chunks of onion.  Process about 15 seconds, until the onion is quite minced and pieces of onion are tiny. Pour the mixture out into a tea towel, wrap and squeeze out excess moisture.  Return the bits of onion to the processor.
Add the remaining ingredients of the meat mixture.  Process for approximately 1 minute, until the mixture is a thick paste.
Scrape the mixture into a 9x5x5 Loaf pan.  Place the loaf pan into a 9×13 pan and put the pan into the preheated oven.  Carefully pour (from a kettle or pitcher) extra-hot water into the 9×13 pan until it is about halfway up the side of the loaf pan.
Roast the meat in the water bath for 60-75 minutes.  Meat should be 160-165F when cooked. Drain the meat well.
Wrap a brick or other similar object in aluminum foil. Place atop the meat (still in pan) for 15-20 minutes.
Slice meat thinly with a sharp knife.
Serve in pita or other flatbread or atop rice. Garnish with lettuce, tomato, cucumber and top with sauce.
Make the Spicy Sauce:
Mix together mayo or yogurt and hot sauce.
Serve atop sandwich or meat.
Keywords: Doner kebab, kebab, lamb, pita, turkish
Recipe Card powered by
PIN for later ->