Summertime ease with a penchant for spicy beef tacos just screams for this Authentic and EASY Instant Pot Beef Barbacoa!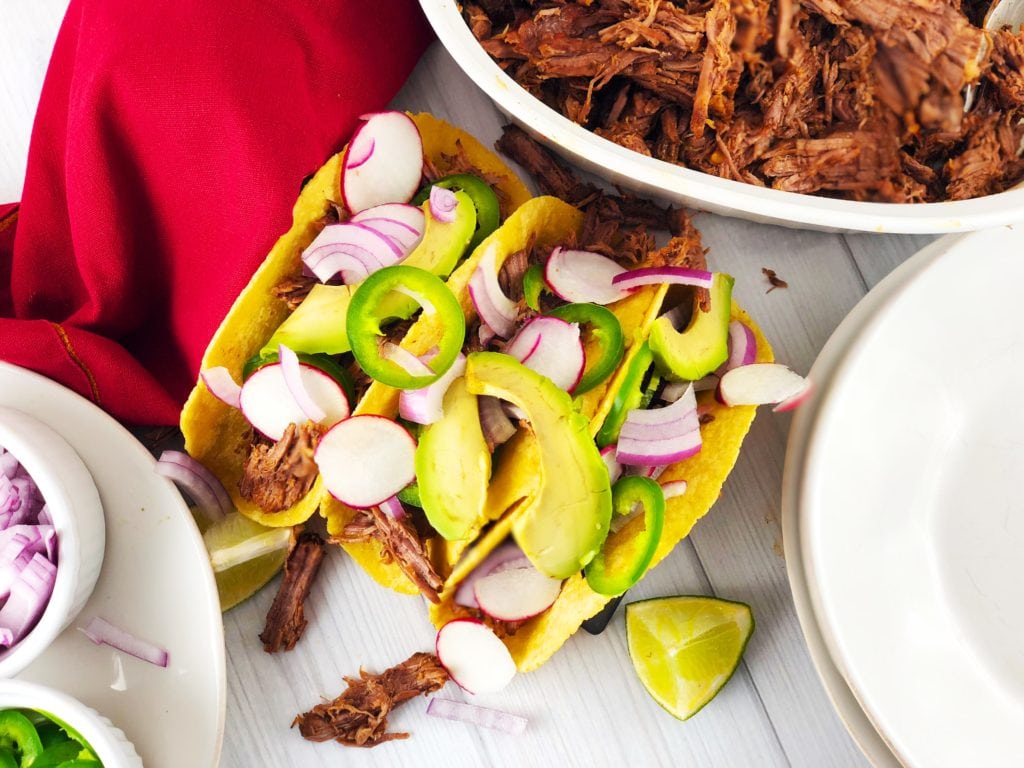 I was wrong.  Freely admitting it right here.  This post is my apology.  So here goes : Upon initial use, I thought my Instant Pot was, well, an over-hyped DUD. Yep.  I was disappointed. But I'm here to say I'm sorry, Instant Pot. Now, I'm still relatively new to the Instant Pot.  And, just so you know, although my first use of it left me a bit skeptical of its claims and its benefits, I thankfully kept them to myself until I had more experience. I definitely had opinions. These opinions came not from a flavor perspective, mind you, but from ease of use, cleanup, and the whole process that just took a bit longer and made more of a mess than I thought it should. After all, it's advertised as a "quick and easy" solution.  But there I was, reading the (simple!) directions over and over, making sure I had the details correct.
Clearly, I'd forgotten the first rule of new experiences – the "learning curve". The learning curve is a graphical representation of how time, cost or accuracy improve with experience.  So with a steep learning curve, your new process or experience gets easier, better, faster sooner rather than later. And, I can say, after just a few uses, I realize the Instant Pot is one of the best additions I've made to my kitchen. I love a steep learning curve here, and I'm so glad I kept at it. My new goal has been to use it once a week, and this week's Instant Pot Beef Barbacoa is a big reason why I'll be using it more!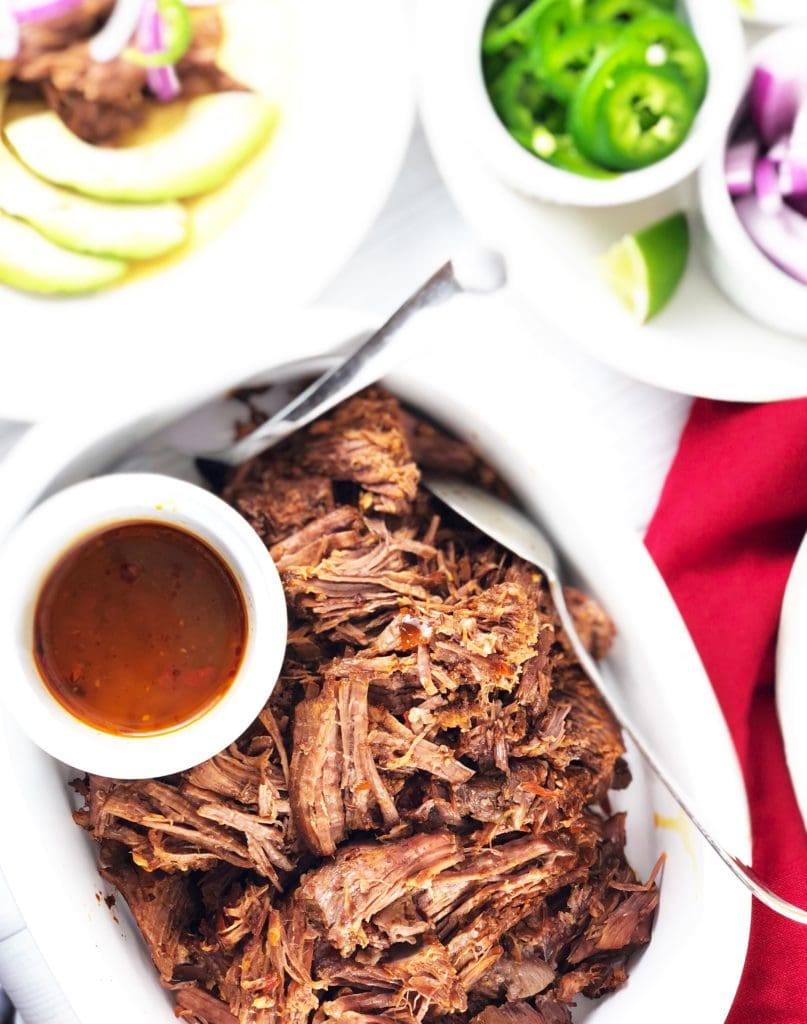 This dish is perfect for summertime. You could also make it with equal ease in a slow-cooker, but my slow-cooker's lid does not seal tightly to the top of the crock, to the additional heat it gives off is decidedly unwelcome during the hot months. So Instant Pot it is! I had kind of packed it into the back of my pantry for the summer, but am totally re-thinking that strategy. (It's way easier to clean than the grill!) For this dish, I pressure-cooked the beef early in the day and kept it at the "Keep Warm" setting, so it was still perfect when I opened the lid at 6pm.  Magic!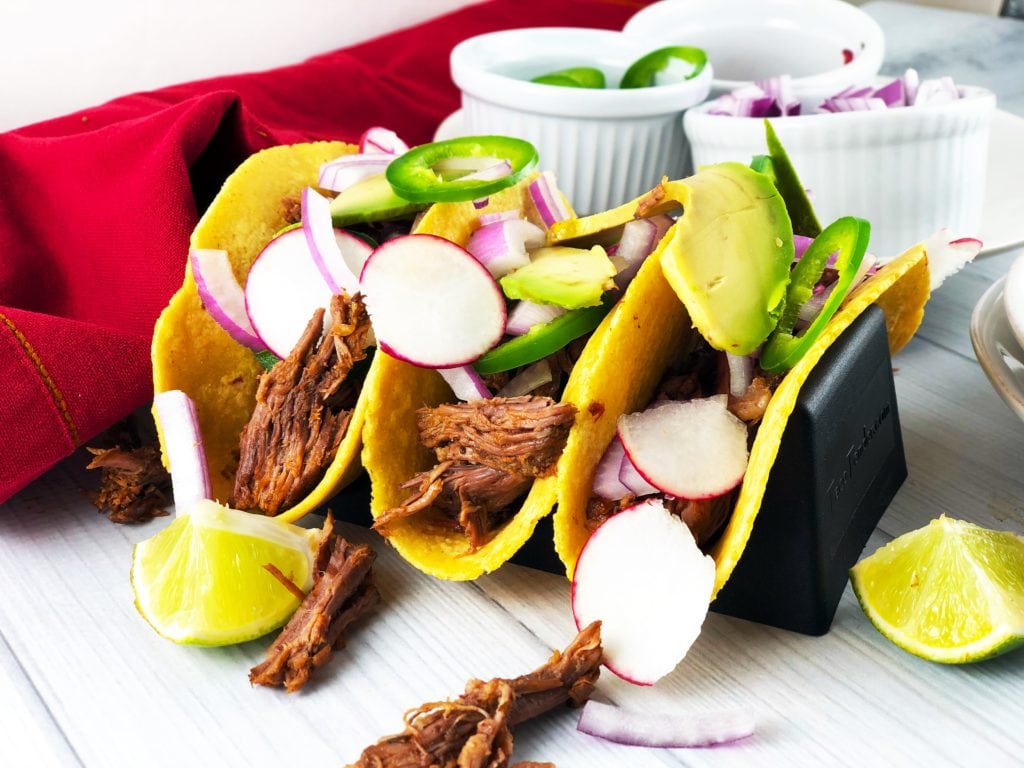 Instant Pot Beef Barbacoa is so tender, flavorful, and juicy, it may become a year-round meal for your family. It's perfect for tacos. The spicy/sweet meat is amazing! Its authentic flavor comes from reconstituting chile peppers and processing them along with some spices into a delicious sauce.  Once poured atop the meat and pressure cooked, it is fall-apart tender and juicy.  I added a ladle-full (or two) of that sauce over the meat after it was cooked and shredded for added flavor as well.
Topped with sliced radishes, jalapeños and onions, these tacos were among the tastiest I've ever had.  That's saying something, because, trust me, I've had my share.  My 3 1/2 lb roast lasted 2 meals, the second being a dish with udon noodles and sesame oil.   (I know that's a bit of a Fusion dish here, but those noodles called to me. Please don't judge, because it really worked – some great leftovers!)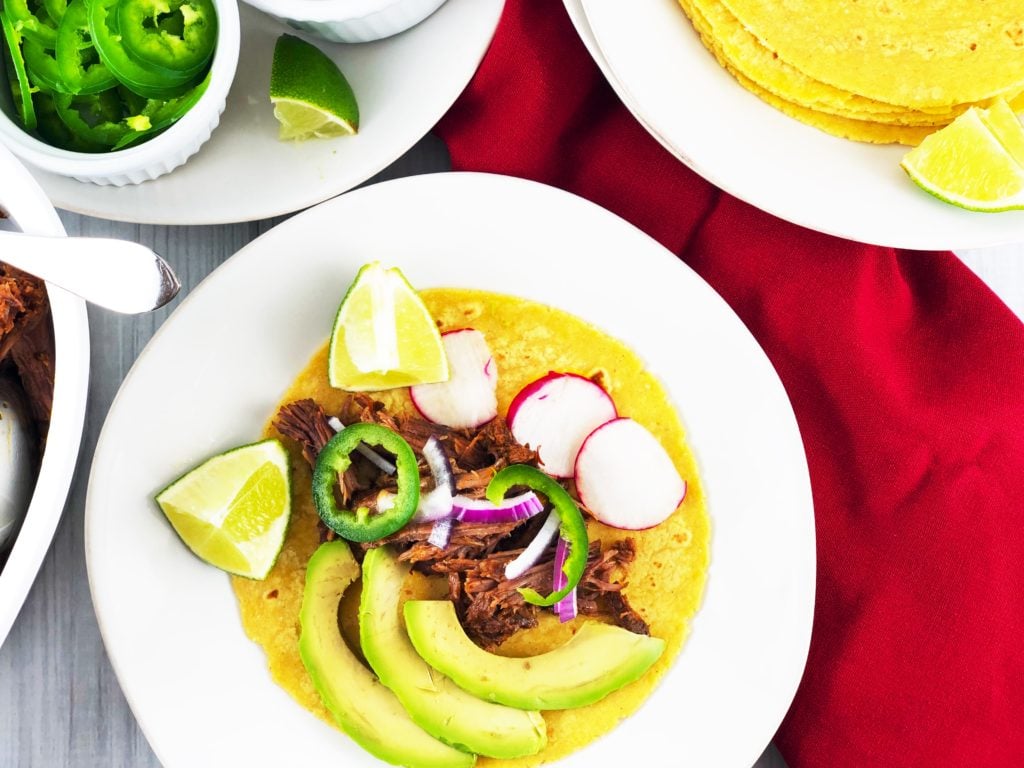 If you are interested in viewing other recipes I've made with Instant Pot, click here.  After all, practice makes proficient! But give this lovely Beef Barbacoa a try, whether you slow-cook or pressure cook, it's not to be missed! (And, again, I'm sorry, Instant Pot!  I mis-judged you.) Enjoy!
This post was not sponsored by Instant Pot or any other sponsor. These are my experiences and opinions alone. I am an Amazon affiliate, and, as such, provide a link through which you could purchase this product.  If you were to purchase it, at no additional cost to you, I would receive a small commission, which offsets some of my costs. 
Print
Instant Pot Beef Barbacoa
I made this sweet/spicy/succulent beef in my Instant Pot.  You could make it in a slow-cooker (over 8-10 hrs) or in the oven (300F for 3-4 hrs) if you like.
It is so tasty, served with corn tortillas, salsa, sliced jalapeño, and/or guacamole.  Whatever toppings you like, or no toppings at all.  Be sure to reserve some of the sauce, however. It's divine and keeps any leftovers tasty and juicy!
This recipe was adapted ever-so-slightly from The Stay at Home Chef
Author:
Prep Time:

10 min

Cook Time:

90 min (inactive)

Total Time:

1 hr, 40 min

Yield:

8

-

10

servings

1

x
Category:

Beef

Method:

Instant Pot

Cuisine:

Mexican
Ingredients
For the Beef:
1

3-to-5 lb Chuck Roast or Brisket
Salt and Pepper

2

T Olive oil

2

Dried New Mexico Chile Peppers

2

Dried Ancho Chile Peppers

1

Chipotle in Adobo plus a little of the Adobo (

1

–

2

tsp)

3

Garlic Cloves, minced

1

T Apple Cider Vinegar

2

T Brown Sugar

1

t Salt

1/2

t Ground Cinnamon

1/4

c Beer (any type), water, or stock, plus extra if necessary to thin sauce
For Serving:
Any of the Following (or none of the following, as you wish):  warm tortillas, chopped lettuce, tomatoes or onions, sliced jalapeño, salsa, guacamole, radishes, chopped cilantro, cheese – whatever you like!
Instructions
Soften Peppers ahead of time:
Place dried peppers in a zippered plastic bag, or a bowl, and cover with water. Let soak until softened, 1-4 hours. Stem and seed the peppers when softened.
Prepare the Beef:
Generously salt and pepper all sides of the Beef Roast. In the Instant Pot, sear all sides of the beef in 2 T olive oil.  (If you don't mind forgoing some crispy bits of beef, you can skip this part – I've made it both ways, and it's delicious either way!) Place the beef in the Instant Pot.
In a blender or food processor, add the re-hydrated, stemmed and seeded peppers, chipotle in adobo, garlic, vinegar, brown sugar, salt, oregano, cinnamon, oil, and beer (or stock or water). Blend until smooth.  You may need a bit of additional liquid for this, I ended up using 1/2 c beer.
Pour the sauce over the beef. Cover the Instant Pot, set to Manual Pressure cook for 60 – 70 minutes. My roast was 3.5 lb, and I set to 60 minutes. It was perfect! For a 5-lb roast, I'd go 70 minutes.  After Pressure Cook is complete, let steam come down naturally.
Shred Cooked beef, with 2 forks. It should virtually fall apart at this point.  Place in a bowl or on a platter and spoon extra cooking sauce over – it should be pretty thinned out at this point.
Serve alone as a main dish or as tacos or burritos, however you like.
Keywords: Beef, barbacoa, Mexican, Instant pot
Recipe Card powered by
PIN for Later ->