Deep, Dense, Dark Chocolate Cookies, topped with ooey-gooey marshmallow-graham topping, S'mores Cookies have all the flavor of a S'more without the sticky mess!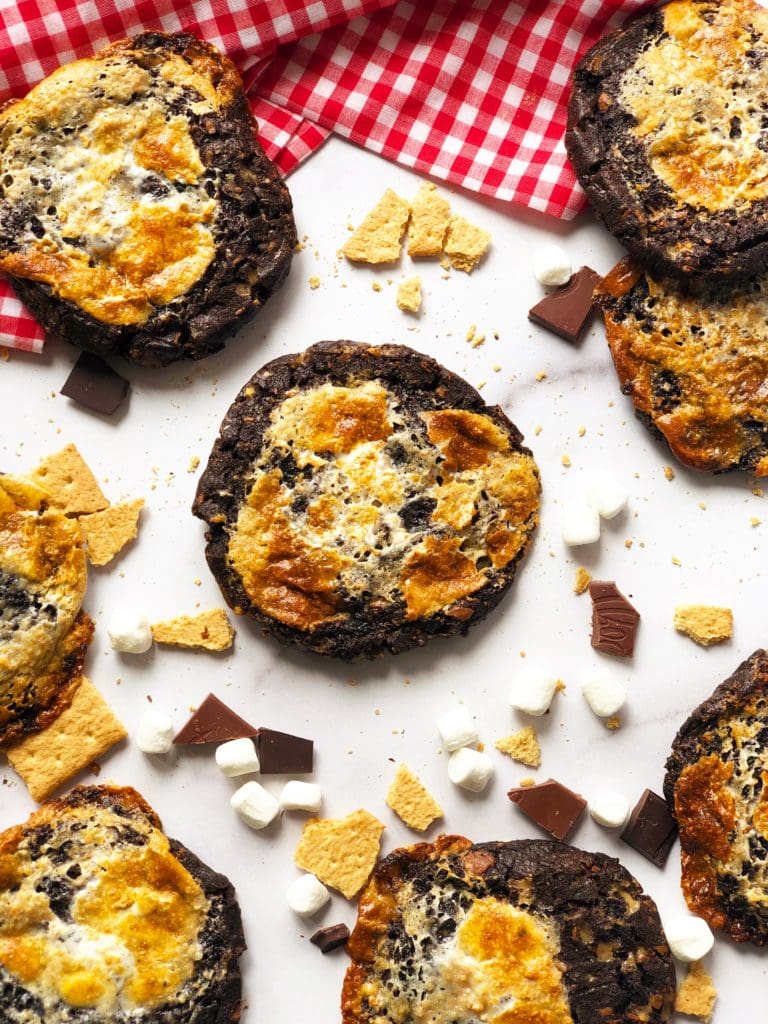 It all starts with the roasting of a Marshmallow, doesn't it? S'mores, that is. But which came first? The Graham cracker? The chocolate? Or the gooey mallow holding them all together? Because to make that truly magical treat, you need all three. Want to learn how it all happened? I asked National Geographic, the source of so much knowledge we all want.
Turns out, Marshmallows came about from some sticky goo in the root, no kidding, of a swamp plant. This goo from the Marsh Mallow plant was found to have medicinal properties. So, during the Middle Ages (well before the graham cracker was invented!) it was candied in chunks and became a sore throat cure. These candied bits were called "suckets". (Does anyone remember "Sucrets" those little discs in an Altoid box to soothe sore throats?) Anyway, the French transformed these little delights into a light and airy treat instead of a medication. As the French so beautifully do.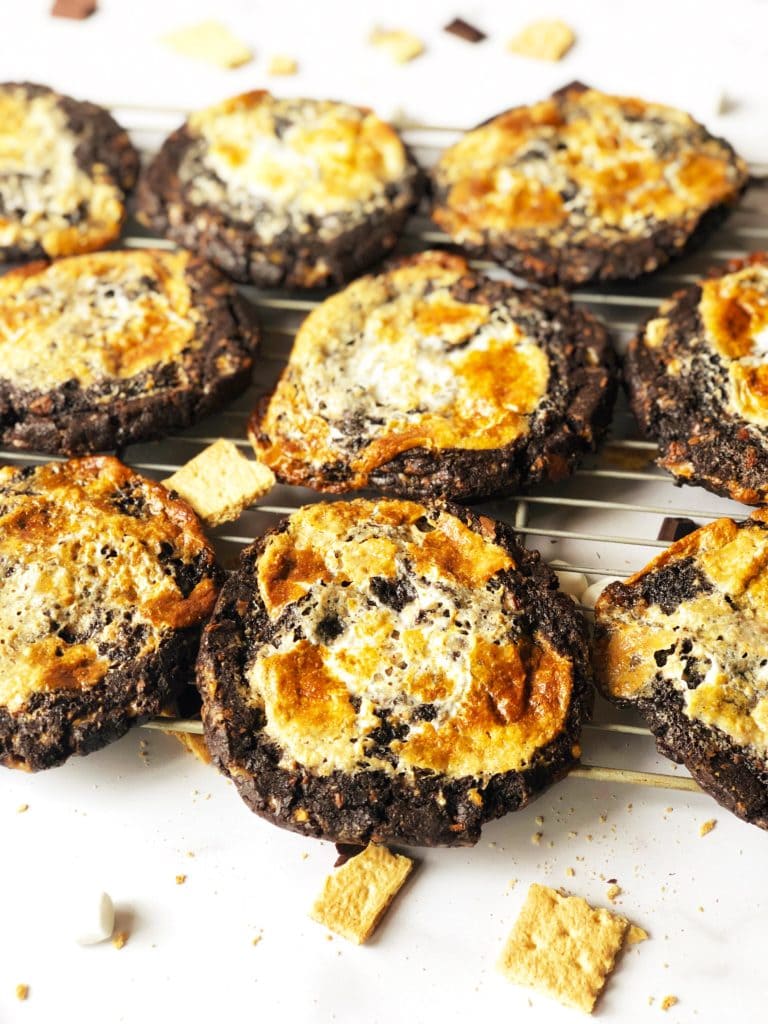 Soon after, Marshmallow roasts became all the rage, and source of many a flirtation, apparently. Then Mallomar and MoonPie covered a cookie with marshmallow and chocolate. But, ultimately, leave it to the creative can-do Girl Scouts to one-up all of them and make the S'more at a campfire, a hand-held treat that will leave you really wanting some more. 
This Chocolate Smores cookie recipe is yet another variation of that Girl Scout treat. From Kathy Casey,  this recipe was published in the Seattle Times recently. I adapted it slightly by substituting a butter plus flax meal  combination for the vegetable shortening. This likely made the cookies a bit more dense, which, for me, was nice. I think they probably were a bit sturdier, too. And this super-chocolatey cookie is topped with graham-sprinkled marshmallow goo, then baked until toasty. Easy to handle, easier to eat, no campfire necessary!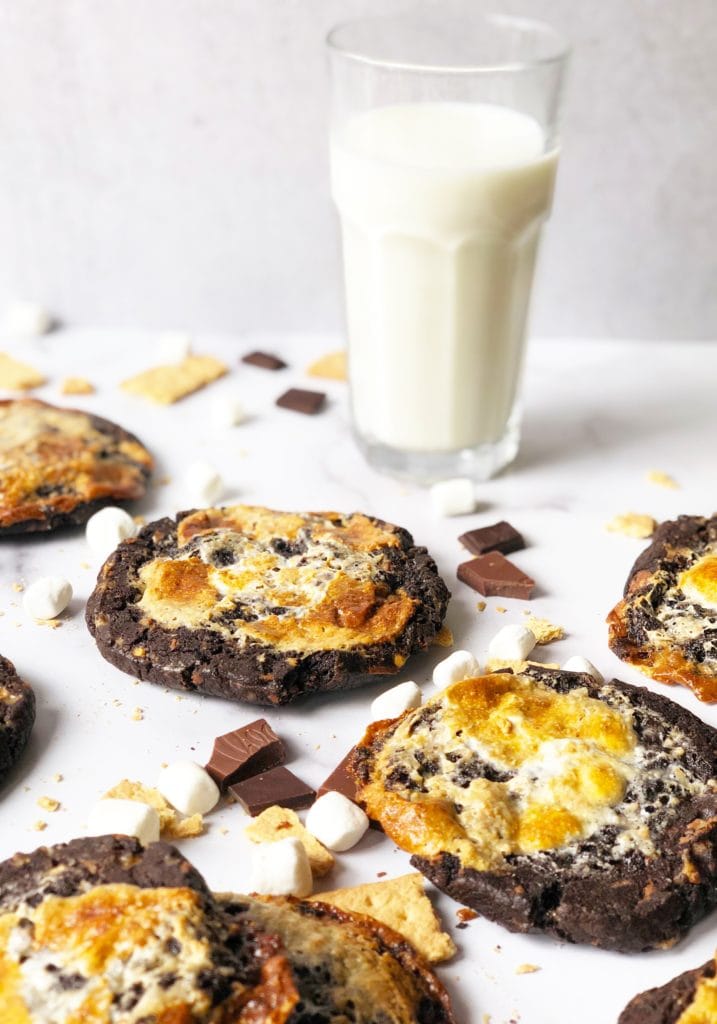 Easy Smores Cookie Recipe Details
This recipe is pretty easy and straightforward. You can mix it all by hand in 1 bowl, and an additional small bowl for the marshmallow mixture. 
Be sure the butter is nicely softened all the way through, but not melted. Creaming the butter and sugars might take a bit of effort, but you should stir vigorously until the mixture begins to feel a bit lighter and creamier. It takes about 3 minutes. Feel free to use a mixer if you're not into or able to stir vigorously. 
Then sift the dry ingredients together. You can sift them right into the butter mixture if you like. I sifted into a separate bowl to show what the sifted ingredients look like. Then mix the dry ingredients into the butter mixture until combined. It will seem like the mixture is quite dry, but if you keep mixing until it is well combined, the dough forms nicely. Then stir/fold in the toffee bits.
Next, wrap plastic wrap loosely around the dough, and form into a cylinder about 3" thick. Then refrigerate the cylinder at least an hour.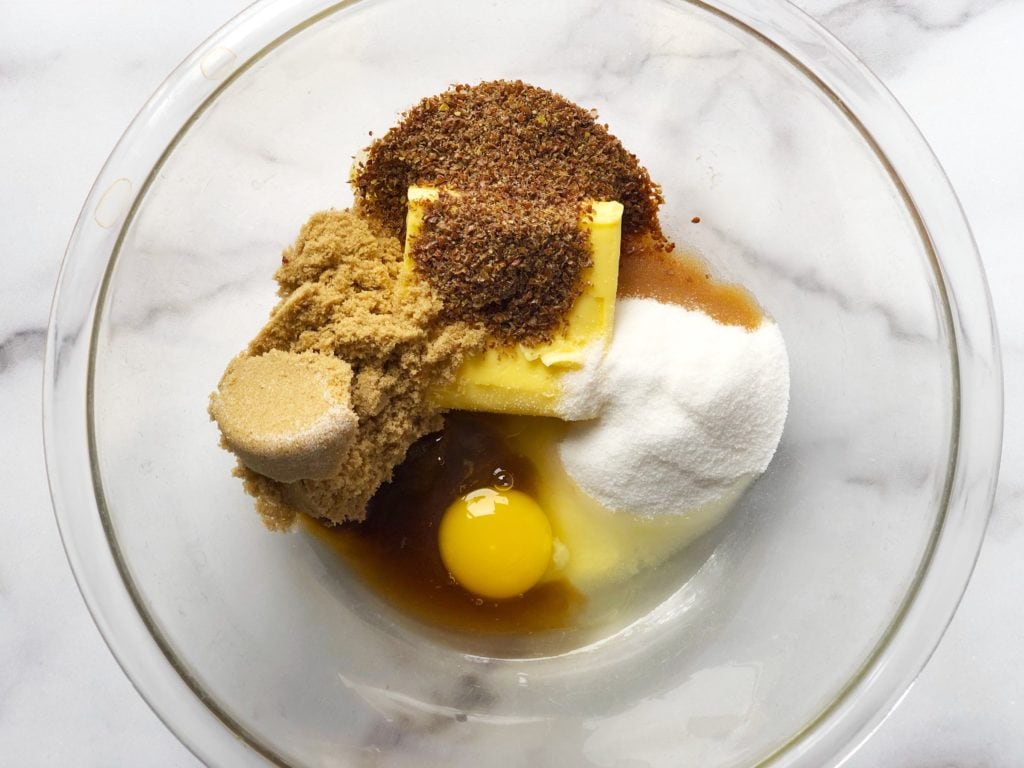 Baking
When you are ready to bake, preheat the oven. Slice the cylinder in half. Slice each of the halves in half, so you have quarters. Then slice each quarter into 3 roughly equal disks. Place them on lined cookie sheet, allowing enough space for them to expand to 4-5" diameter. I probably could've put 4 or 6 on my 12×17 sheets.

In a small bowl, mix together the marshmallows, condensed milk, and graham cracker crumbs. It makes a very sticky mix. Divide the mixture onto the centers of each cookie, a nice heaping Tablespoon apiece. Bake 16-20 minutes until the marshmallow is nicely browned and kind of crackly. Then cool completely on sheets.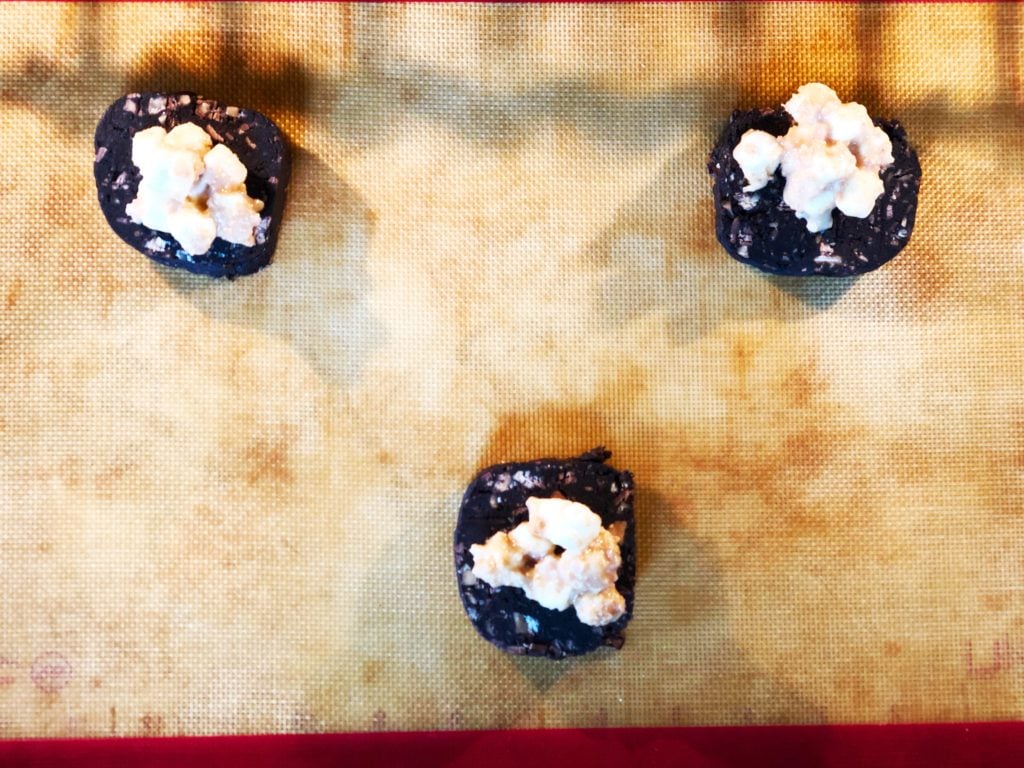 In the end, I don't think it matters much who invented them or why, just that they are a magical treat! Try these S'mores Cookies for a way to enjoy that toasty gooey goodness without a campfire! Enjoy!
If you like cookies, be sure to check out my Perfect Peanut Butter Cookies Or these awesome sweet and salty Compost Cookies . Or, to learn about my first terrible encounter with a S'more, check out my decadent S'mores Bars recipe!
Print
Chocolate S'mores Cookies
Adapted from a Kathy Casey recipe, these S'mores cookies are dense and chewy chocolate with crisped gooey marshmallow topping.
The change I made was because I didn't have shortening. I substituted 2 T butter + 2 T flaxseed meal for the shortening. I also sliced the cylinder of dough into 12 cookies as opposed to 10, so I also increased the total amount of topping a bit.
Author:
Prep Time:

20 mins

Cook Time:

16-20 mins

Total Time:

36-40 mins plus refrigeration time

Yield:

12

large cookies

1

x
Category:

Cookies

Method:

Baking

Cuisine:

American
Ingredients
For the Dough:
10

Tbls. (1 1/4 stick, 5 oz.) Butter, softened

2

Tbls. Ground Flaxseeds

1/2

c

Granulated Sugar

1/2

c

packed Brown Sugar

1

Large egg

1 tsp

Vanilla Extract

1 1/2

c

AP Flour

1/2

c

Unsweetened Cocoa Powder

3/4 tsp

Baking Soda

1/2 tsp

Salt
1

8

–

oz

. pkg toffee baking bits
For the Topping:
1 1/3

c

Mini-Marshmallows

1/3

c

Sweetened Condensed Milk

1/3

c

Graham Cracker Crumbs (about 5 squares' worth)
Instructions
Make the Dough
In a large bowl, cream together the butter, flaxseed meal, sugars, egg, and vanilla, by stirring vigorously until mixture becomes creamy. (Or use a hand mixer and cream about 2 minutes)
Sift together the flour, cocoa, baking soda and salt. Mix it into the butter and sugar mixture until all the dry ingredients are incorporated. Then fold in the toffee bits.
On a large piece of plastic wrap, pour out the dough and shape into a 3-inch diameter cylinder with flat sides. It should be about 9" long. Wrap well and refrigerate at least 1 hour, and up to 3 days.
When ready to bake, preheat oven to 335F (Convection) or 350F (conventional). Line 3 baking sheets with parchment or Silpat. (See note 1)
Remove the cylinder of dough from its wrap. Cut the cylinder in half, then cut each half in half, so you have 4 equal short cylinders. Cut each short cylinder into 3 equal parts, making 12 total disks.
Place 4 disks on each baking sheet, leaving as much space as possible to allow for spreading.
Make the Topping
In a medium bowl, mix together the marshmallows, condensed milk, and graham cracker crumbs. The mixture will be very sticky.
Place a heaping Tablespoon of topping into the center of each disk of cookie dough.
Place sheets in the oven and bake until the topping is fully melted and toasty golden brown. This takes 16-20 minutes. In my oven they were done at 16 minutes. Let fully cool on the baking sheets.
Notes
If you don't have enough baking sheets, then when the first sheet is finished, just carefully slide the parchment with baked cookies on it off of the sheet. Then place a second sheet with cookies and topping on the hot pan and into the oven. 
Once cookies are cool, store at room temperature up to 24 hours, but they will stay fresh several days in an airtight container.
Keywords: S'mores Cookies
Recipe Card powered by
PIN Easy S'mores Cookies ->