Have you ever heard of marinating after cooking? If you're a flavor-seeker, like me, this super easy Soy Sauce Marinated Grilled Flank Steak will convince you that you've been missing out!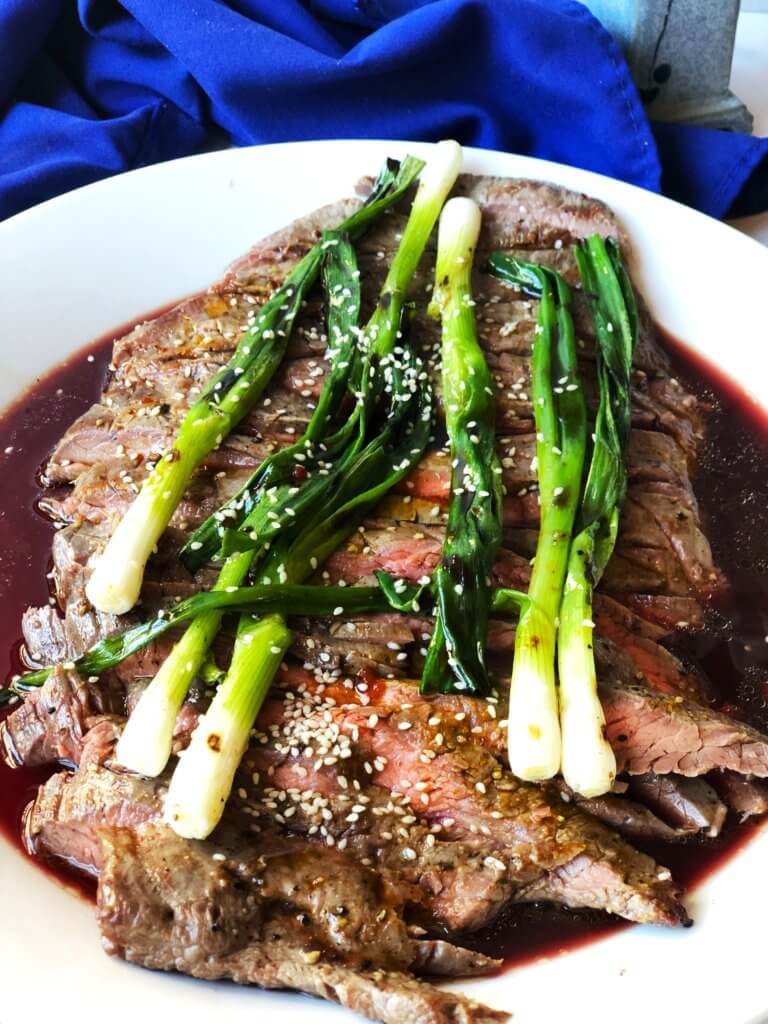 Several years ago, I worked for this guy. Let's call him Genghis. He was a pretty good guy, and, actually a reasonable boss. But he was a typical "Type-A" personality. You know, the one who says "to be successful in this job, you need to possess the following list of abilities: smart, creative, have a world view, and a 'sense of urgency'. Ok, fine. Those things make sense.  Seemingly I met most of those qualifications. But this 'sense of urgency' was the quality he failed to see in me. His reasoning was that a sense of urgency is demonstrated by physical things – loud voice, pounding the table to make a point, criticizing of those who did not share this urgency.
My argument to him was that one (me) can have urgency without yelling and pounding. That's not who I am. I'm generally a pretty calm person. I argued there is more than one way to get where you're needing to go urgently. Diplomacy, for instance. Finding common ground and sharing commons goals. These things didn't fly with him. So I was on his bad list for a minute. And then, Genghis, like most bosses, moved on at some point to another job.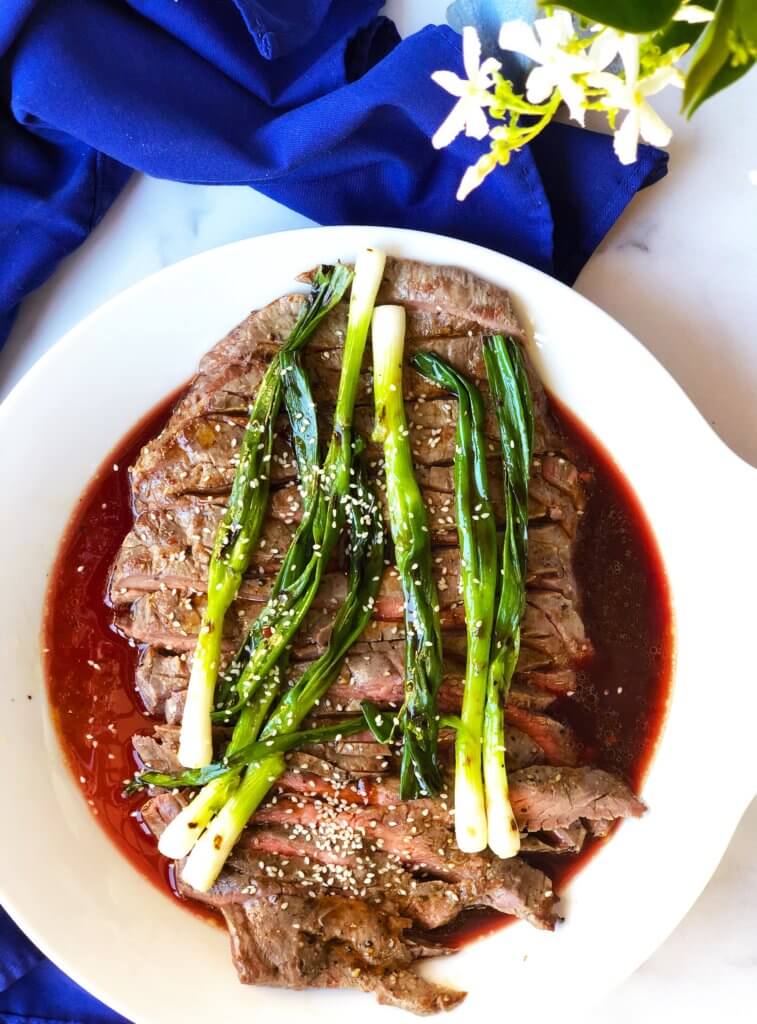 But, and here's my point – I do have a sense of urgency! I often have an urgent need to cook something delicious, relatively healthy, and not have it take up too much of my time. So there! And, I do hate it when I find a recipe I like, and it says 'Marinate 8-10 hours or overnight' when I don't have any hours, really. I don't like shorting the flavor by shortening marination time too much either. 
Well, no more skimping on the marinating time! This Soy Sauce Marinated Grilled Flank Steak gets marinated after it's cooked! What? Thanks to this recipe, adapted from Bon Appetit, we can marinate after cooking! There is some inactive time, but this is time you can use to make the marinade, toss a salad, etc. But this Grilled Flank Steak! All the flavor, and a bit of sauce to boot! If only Genghis had understood there's more than one way to demonstrate "urgency". At least his steaks would've been better.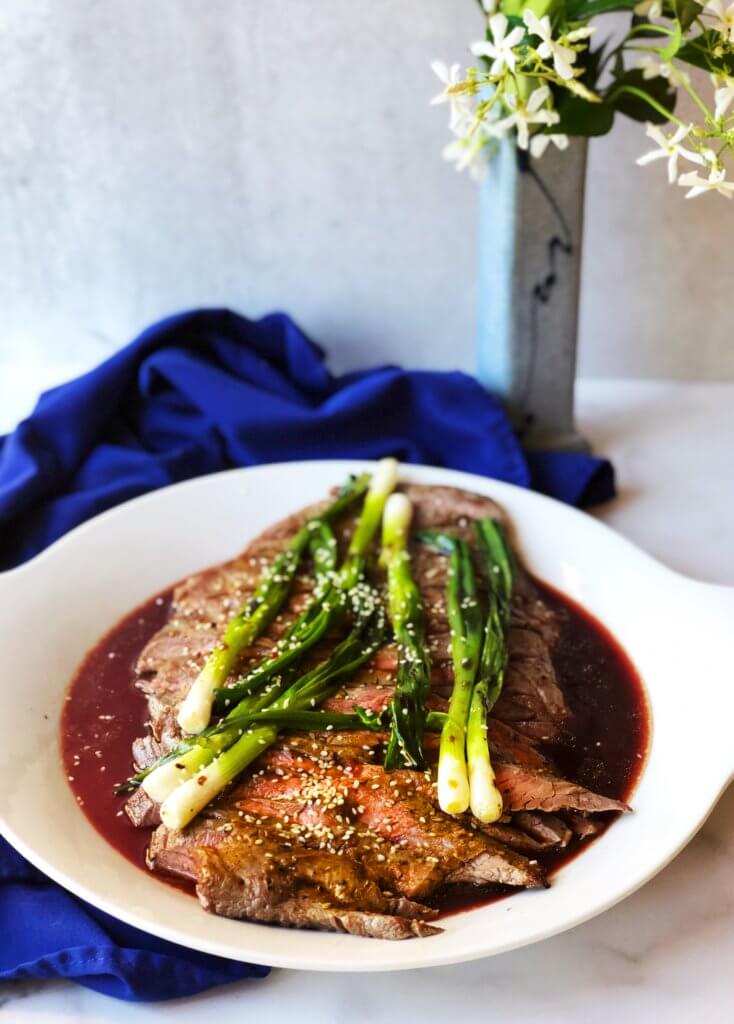 Recipe Details
This recipe is super-simple.  First, score the steak. Scoring the meat before cooking helps it remain flat while on the grill, which makes it easier to cook, and easier to slice. Be sure to score AGAINST the grain, meaning at a 90-degree angle to the grain. These lines scored will also help you remember which way to slice once the steak is cooked – just slice the way of the scored lines, but thinner.
Pat the scored steak dry, then salt and pepper. Give the meat a good 30-60 minutes to absorb these flavor-enhancers, then pat dry again. While you are waiting, mix together the marinade. The only secret here is to whisk until the sugar is dissolved. Preheat the grill, put a bit of oil on the steak, and grill. Just 6-8 minutes total. Then let it rest.
After a bit of a rest, slice it thinly, then pour the lovely and flavorful marinade over the steak, then give it a bit of time to soak in. Serve. So so savory, beefy, and delicious!
So, get your marinade on! Pour it on after you cook your steak! So much flavor! And, a time-saver to boot!
Enjoy!
If you love steak, be sure to check out this magnificent New York Strip Oscar Syle or this tasty Coffee-Rubbed Strip Steak  .  Two of my older, but most popular posts! And perfect for (outdoor or indoor) grilling season!
Print
Soy Sauce Marinated Flank Steak
From the July 2019 Bon Apetit, as seen on Epicurious, this steak is marinated after grilling! This provides MORE FLAVOR! Isn't that what it's all about? So easy, too! There's some inactive time pre-grilling and some post-grilling, too, but all in the name of flavorful, tender steak!
Author:
Prep Time:

10 min

Cook Time:

6-8 min.

Total Time:

20 min active, 75 min inactive

Yield:

4

–

6

servings

1

x
Category:

Steak

Method:

Grilled

Cuisine:

American
Ingredients
For the Steak:
3 Tbsp

Extra Virgin Olive Oil, plus more for the grill

1.5

lb. (24 oz) Flank Steak
Kosher salt, pepper

1

Bunch Scallions (spring onions), trimmed
For the Marinade:
1/4 cup

Mirin (Japanese Rice Wine)

1/4 cup

Soy Sauce

2 Tbsp

Brown Sugar

1 Tbsp

Rice Vinegar

1 Tbsp

Sriracha

2 tsp

Sesame Oil
Ganish (optional):
1 Tbsp

Toasted Sesame Seeds
Instructions
Prepare the Steak:
Place the steak on a cutting board or a sheetpan. Pat it dry on both sides.
Lightly score with a paring knife: be sure to go against the grain, i.e. perpendicular (90-degree angle) to the grain of the steak. You'll be able to use these scored lines to remember which way to slice the steak at the end! The scoring should be quite shallow – no deeper than 1/8" and make the scored lines 1" apart. Scoring will prevent the steak from curling when grilling. (Note 1)
Season generously with Kosher salt and pepper. Let sit at room temperature 30-60 minutes. 
On a smaller rimmed pan, toss the scallions with 2 Tbsp of the olive oil.
Make the Marinade:
In a bowl, whisk together the mirin, soy sauce, brown sugar, rice vinegar, sriracha, and sesame oil. Be sure sugar is dissolved. Set aside.
Preheat the Grill to Medium-High.
Grill:
Pat the steak dry again – the salt will have drawn out some moisture. (Note 2) Rub the steak with the remaining 1 Tbsp olive oil. 
Lightly oil grill grate. Grill the scallions until tender and charred a bit, about 1-2 minutes. Set on serving platter.
Grill the steak, turning every 2 minutes, until Medium-Rare. This will take 6-8 minutes.
Transfer to a cutting board and rest 10 minutes.
Thinly slice steak across the grain (the same direction as you scored it when preparing the steak), and place on a rimmed platter. Drizzle all of the juices from the cutting board over the steak, then pour the reserved marinade over. Let sit at least 15 minutes before serving. Sprinkle with sesame seeds as desired.
Notes
Be sure to score across the grain – the scored marks should criss-cross the grain at a 90-degree angle. And then, when slicing, slice parallel to the score marks.
Patting dry the steak helps it caramellized when cooked on the grill. Be sure to pat dry just before placing over the heat.
Flank steak is very tender when cooked to Medium-Rare. 6-8 minutes total should do the trick, especially as carryover cooking will make it a bit more done as it rests.
Keywords: Flank Steak, grilled, marinade
Recipe Card powered by
PIN Soy Sauce Marinated Grilled Flank Steak ->