Unbelievably quick and easy, this Swordfish with Oregano and Caper Sauce is so tasty with its pepperoncini and fresh herbs! And, you can have it on the table in 20 minutes start-finish!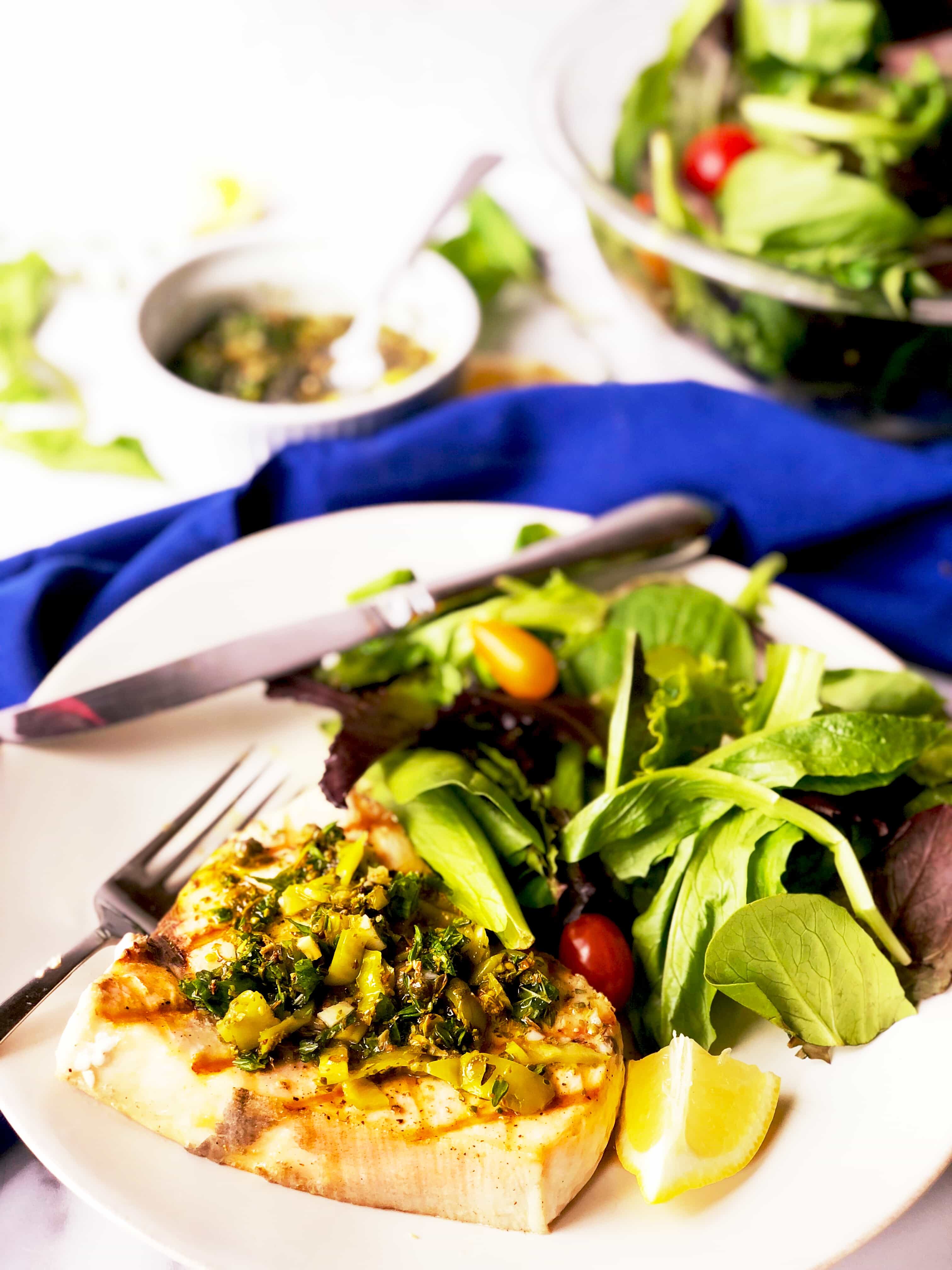 It's fully summer here! Yay! But if you've ever been in the Pacific Northwest, you know that Summer here is somewhat different from other parts of the country. It's a bit cooler, less humid, and often doesn't even begin until sometime in July. But, like others, we still love to grill. And we often do it regardless of weather. There's something about cooking outdoors that draws us all in, isn't there?
Maybe it's just a primal urge from long ago. After all, there is fascinating  evidence that cooking food allowed our species to differentiate its development beyond that of other primates long ago. Turns out that eating cooked food made it easier to get enough calories and nutrients to spend our time doing things other than hunting for food. Like develop our brains and build better shelters, among other things. Who knows, this could all have been the tipping point that allowed us to develop societies, language and best of all – recipes!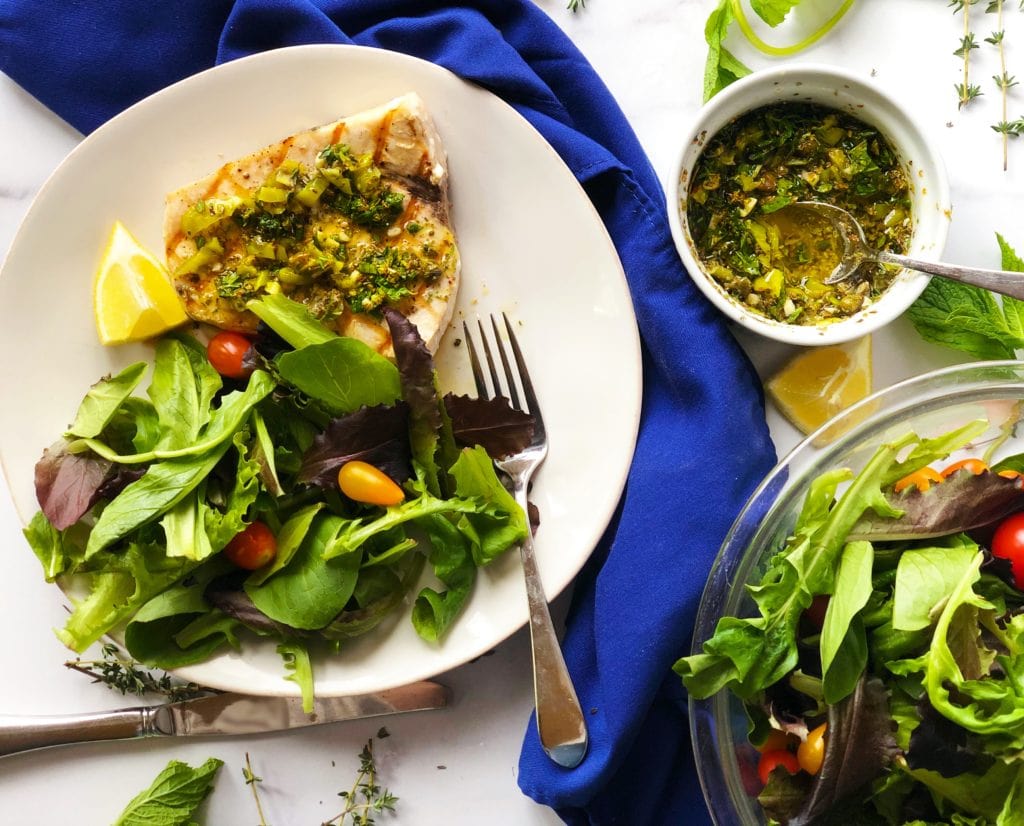 I'm thinking about this because even though my friend Teresa recommended this recipe to me, I admit I wasn't really fully on board until I saw the grill marks. Honestly, I was drawn to it once I saw those beauty marks. Yep, that's what caused me to make this recipe. And so glad I did! It's actually the perfect recipe. Grilled Swordfish, the steak of the seafood world. Flavored with a sauce made from capers, pepperoncini, garlic, oregano, thyme and mint. Wow! So much flavor, you'll actually want to lick the plate.
And, it cooks in 7 minutes. Adapted from Martha Stewart: Grilling Cookbook, it's a recipe so flavorful, quick and easy, you may just make it on repeat. Use a grill pan or outdoor grill, but it truly takes less time than preheating a grill, so, unless you're cooking for a crowd or an entire meal on the grill, the grill pan is a great investment!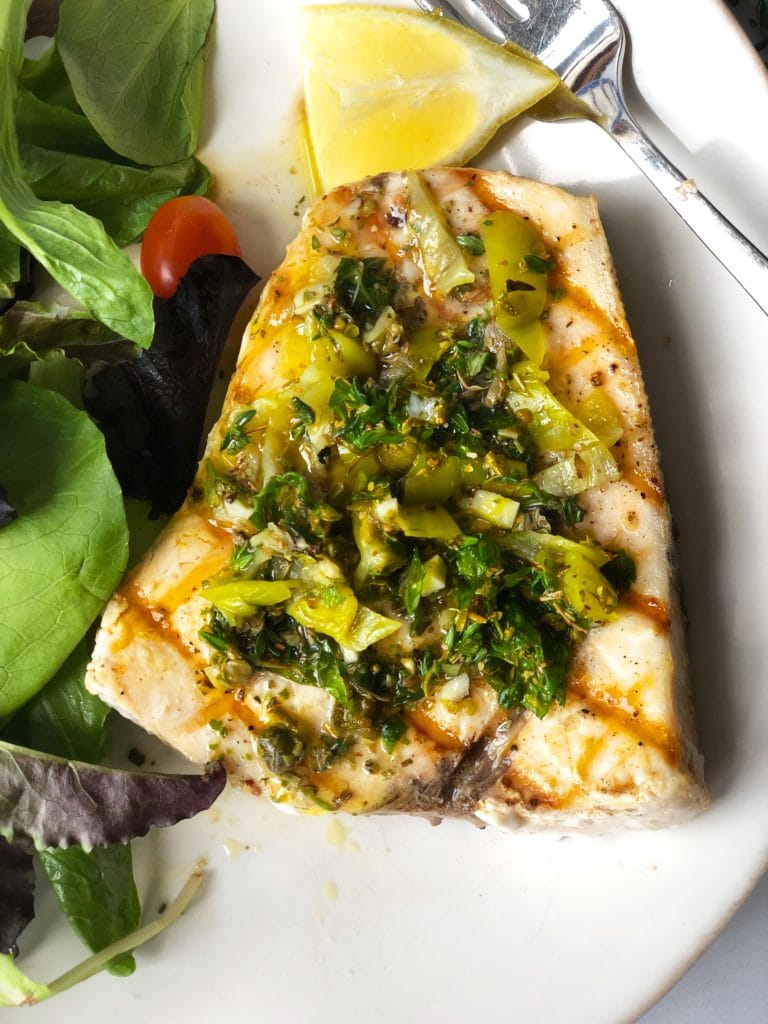 Recipe Details
This Swordfish with Oregano Caper sauce truly is super easy and super-tasty! 
The first thing to do is make the sauce. You can do this a couple minutes in advance of cooking, (for example, while the grill pre-heats!) or a couple hours. You'll want to mix together the garlic, the sliced Pepperoncini, capers, oregano, vinegar, and lemon juice. Set this aside, and just before serving, add in the chopped mint, thyme and olive oil.
Next, salt and pepper the swordfish steaks. You can grill them outdoors if you like, but I used my grill pan on my stove. The grill or stove should be set at Medium heat. Total cooktime for a 1-inch swordfish steak is 6-8 minutes. 
So first, I put the steaks on the lightly-oiled grill, cooking until they were nicely grill-marked. This takes about 3-4 minutes. Then I turned them, and cooked until I could just see a little slightly-translucent flesh. You can see it in the photo below. This took another 3 minutes. Since it is hot, carryover cooking will allow it to just finish cooking prior to serving. This takes about 3 minutes – the time it will take you to finish the sauce and get it on a plate and the table! 
Note that if you cook it until you see white bubbles exuding from the fish, it will be well-done. If you like it that way, great! That's your sign that it's definitely done! If you don't, then cook until you see just a bit of the light pink-ish flesh in the middle, around the 6 1/2 to 7-minute mark total cooking time over medium heat.
At the end, finish the sauce, pour it over the steaks and serve with a big green salad!
Ingredients for Caper Pepperoncini Sauce

Finished Sauce

Grill first side until marked, second side 2-4 mins.

Perfect! Just a little light pink middle.

White bubbles mean well done, maybe a bit over cooked for some.
So, let's all get grilling! 
Enjoy!
For more seafood recipes, check out my Honey Sriracha Salmon or this Shrimp Cobb Salad with Cilantro-Lime Dressing or this tasty North Carolina Fish Stew.
Print
Swordfish with Oregano Caper Sauce
This super-quick and easy Swordfish is adapted only slightly from this recipe from Martha Stewart. I used white wine vinegar instead of red, and also used already-sliced pepperoncinis. 
This dish takes just minutes to prepare – you can make the sauce while your grill preheats, and cooking a 1" swordfish takes about 6-8 minutes. So you can have it on the table in about 20 minutes!
Author:
Prep Time:

5 -10 mins

Cook Time:

7-8 mins

Total Time:

18-20 mins.

Yield:

4

–

6

Servings

1

x
Category:

Seafood

Method:

Grilling
Ingredients
For the Sauce:
1

large clove garlic, minced

2

Tbls Fresh Lemon Juice

1 tsp

. Wine Vinegar – I used White

1

Tbls Capers, rinsed and chopped

1

Tbls Dried Oregano

1 1/2

Tbls. Sliced Pepperoncini, chopped

1

Tbls. Chopped Fresh Thyme leaves

1

Tbls. Chopped Fresh Mint leaves

4

Tbls. Extra-Virgin Olive Oil, plus more for grill
For the Fish:
4

–

5

Swordfish Steaks, thawed if necessary, about

6

–

8

oz. each, 1-inch thick, about

2

lb.
For Serving:
Instructions
Preheat Indoor or Outdoor Grill to Medium Heat. While grill is preheating, prepare the Sauce. (See Note 1).
In a small bowl, mix together the garlic, capers, Pepperoncini, oregano, lemon juice, and wine vinegar. 
Season the Swordfish steaks with Salt and Pepper. Lightly oil the grill or grillpan. Place swordfish on grill, leaving it about 3-3 1/2 minutes, until grill marks are nice and dark golden. (See Note 2)
Turn and cook until desired doneness, another 2 1/2 – 3 1/2 minutes for Medium-Rare, or about 4 minutes for well done.
Remove to serving plate.
Finish the sauce by adding the fresh thyme and mint, and the olive oil. Season sauce with a bit more salt and pepper. Spoon over steaks. Serve.
Notes
You can start the sauce a few hours in advance. But wait until just prior to serving to add the fresh thyme, mint, and the olive oil.
To get the criss-cross grill marks, rotate the steaks 90 degrees after 90 seconds.
When the steaks are Medium Rare, you will still see a bit of translucent flesh in the middle of the steak. Carryover cooking will make it perfectly juicy.
1 serving is a 6.5 oz. steak. Assuming 32 oz. fish, the recipe will serve 5 people with 6 oz steaks, or 4 people with 8 oz. steaks.
Keywords: Grilled Swordfish
Recipe Card powered by
PIN Swordfish with Oregano Caper Sauce ->