We all know healthy eating is all about balance. But so is awesome flavor! And, nothing illustrates that better than a colorful, tasty and healthy Couscous Buddha Bowl or Grain Bowl with tasty Sumac Onions!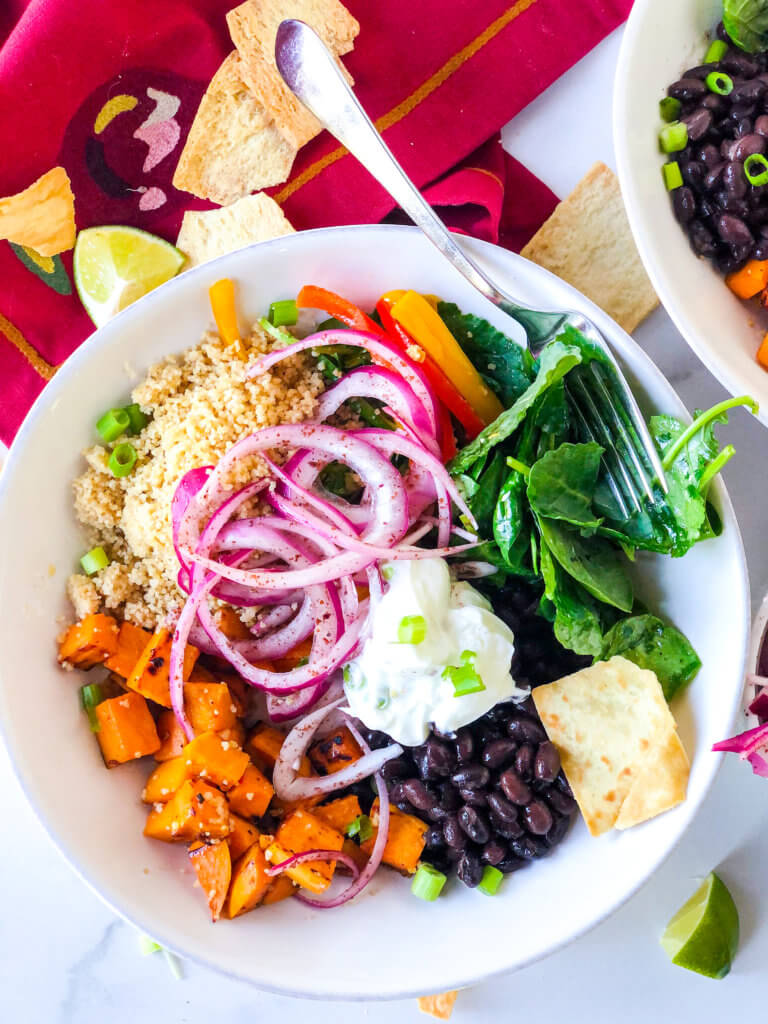 We all have to make tough decisions in our lives. When we were really young, decision making was easier, because choices were fewer: do you want raisins or marshmallows for a snack? Not too difficult, for the most part. But I was the kid that wanted both. Hence, raisins AND marshmallows was a popular treat in our house. As time went by, the decisions became more difficult, choices more complex. But since we all learned to make simple decisions early on, we are supposedly equipped to make more complicated decisions as we get older.
I always think back to when I was a young teenager, shopping with a friend. These were the days of pop-up collars on a polo shirt. (Was that the '80s?) Anyway, we walked into this store and it had, literally, an entire wall, lined, 4 rows high, with polo shirts. Probably 12 different solid colors, with an additional dozen or so striped patterns, and even some decorated with alligators or pineapples or similar preppie-inspired theme. And, to my detriment, I've always been the person who doesn't do well when there are too many choices. Even decisions that should be simple.
My friend browsed for a couple minutes, then zeroed in on just 2 patterns – one a lovely turquoise with purple stripes, the other a solid yellow with a white collar. As for me, I couldn't narrow it down to save my life! After she chose the turquoise/purple combo, I deliberated for what seemed to both of us like an hour, finally (finally!) settling on the multi-color stripe. Because some of each color on my polo is better than just one of many acceptable colors, right?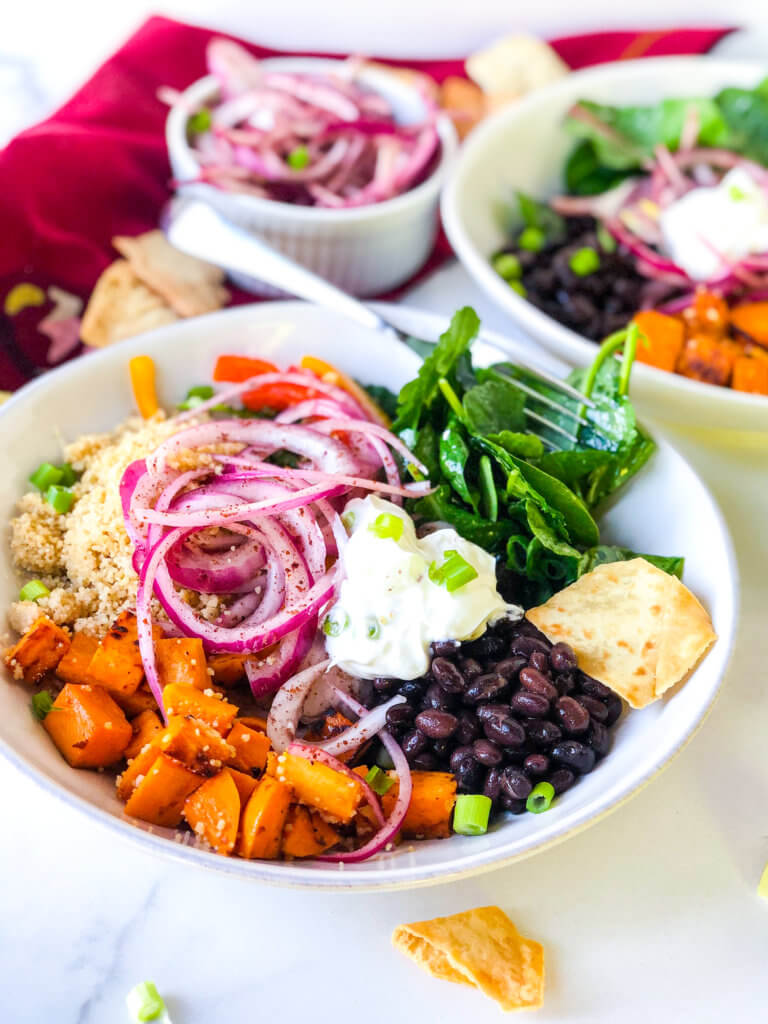 All because of my refusal to make a simple decision, I ended up going with the "some of each" choice. But wait, there's more. Turns out, this is a recurring theme in my life. Baskin Robbins, with its 31 flavors, Cheesecake Factory, or any place you're handed a 14-page menu – not good for me! Once that happens, I need a sampler plate. Gelato places in Italy – now that's my speed – they actually approve of ordering several small scoops on a cone. I like that!
I feel like this is why I love a so-called "Buddha Bowl." This is a popular name for a bowl containing "some of each", meaning a whole grain, a (preferably vegetarian) protein source and fresh vegetables. According to Bon Apetit, the reason for the name Buddha Bowl has nothing to do with religion or with Buddha himself, but rather that teachings of Buddha are often about seeking "balance". In my mind, "balance" is defined as "some of each". Each flavor, each texture, each ingredient.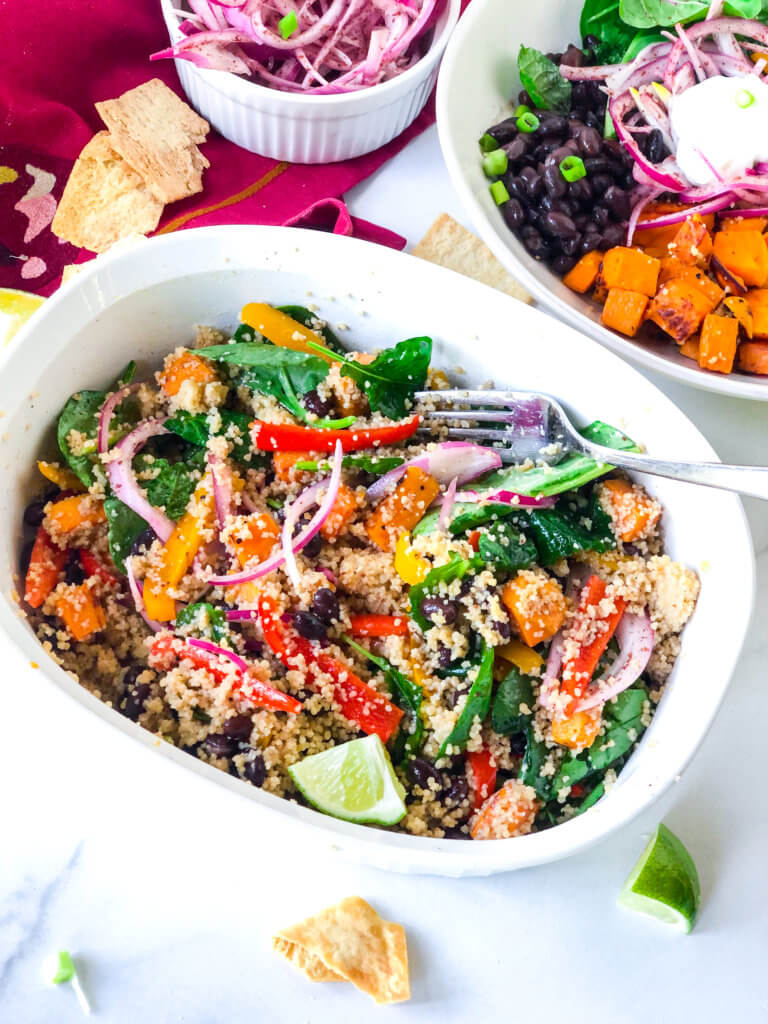 So, when I put this bowl together, I did so because I love the healthy balance of both ingredients and flavors in a Grain Bowl. But I also wanted to incorporate Sumac Onions, those delicious quick-pickled red onions that are often served as a side or garnish to Middle Eastern dishes. I was reluctant to call it a Buddha Bowl, since I didn't really include Asian-influenced ingredients here. In the end, though, the flavors here – delicate yet nutty couscous, savory black beans, sweet potatoes, sweet peppers and hearty greens – are all coated with a tangy lime-flavored dressing, then topped with flavorful tangy, earthy, sweet, Sumac Onions. Such a nice balance of flavors and textures. Some of each.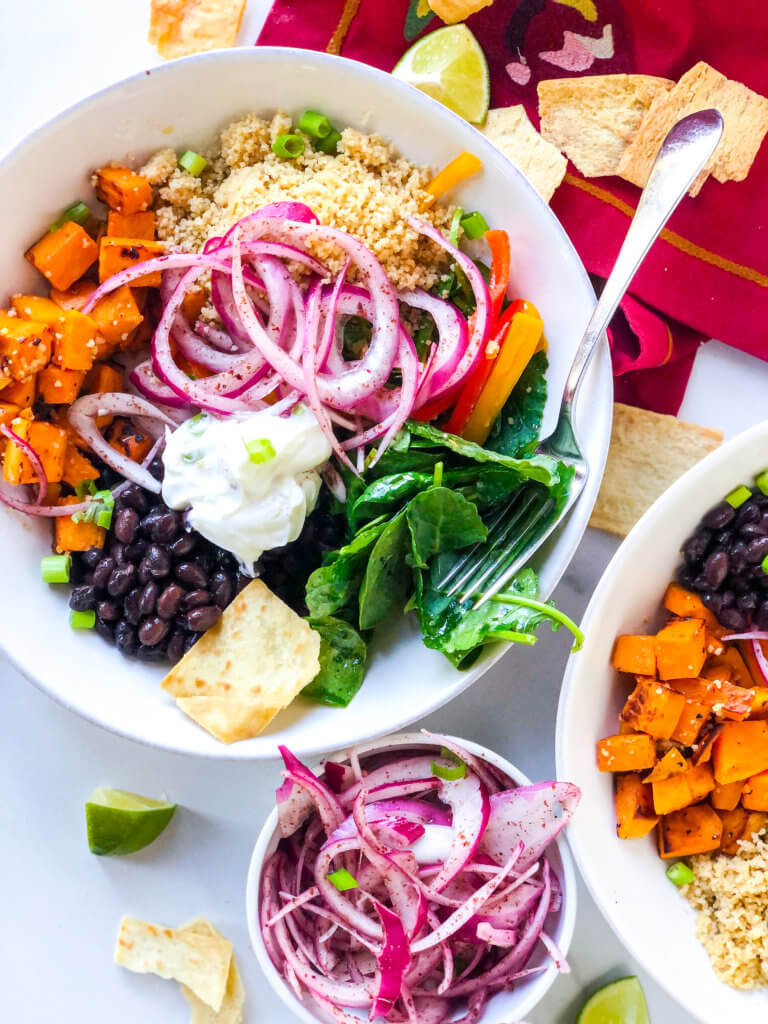 So if you're seeking balance, try this wonderfully flavored Couscous Buddha Bowl with Sumac Onions. It's quick, easy, and balanced beautifully in every way. It contains some of each!
Enjoy!
If you love a Good Bowl of food, don't miss these delicious bowls, each one as healthy and satisfying as my Sumac Onion Couscous Bowl:
Lemony Salmon with Zahatar-Spiced Chickpea Bowl
Buddha Bowl with Honey Balsamic Dressing
Farro Avocado Sweet Potato Bowl with Lime Tahini Dressing
Healthy Couscous Bowl with Sumac Onions Summary:
This Grain Bowl is infinitely adaptable to whatever ingredients you may have on hand! Here are some things about ingredients you might find helpful:
Do I need Red Onions for the Sumac Onions? And, what if I don't have Sumac? Although red onions are traditional for Sumac onions, you can use any onion you have on hand. If you don't like the "bite" of the onion so much, just soak your onion slices in super-hot (almost boiling) water for 10 minutes before adding the other ingredients, then drain. It's also good to know Sumac Onion flavor improves as the days go by, and this recipe will yield more than you need for this healthy bowl. They are delicious on a sandwich, or over any protein or salad!
The biggest key to the onions is a super-thin slice. If you don't have a super-sharp slicing knife, or good knife skills, I recommend using a Mandoline. Sumac Onions super-easy to slice if you have a mandoline. It makes the super-thin slices you'll need. I love mine! I've had it for years, and the blade is still frighteningly sharp, but it has a device that protects your fingers perfectly well. You could find the one I have by clicking here. I highly recommend it!
If you don't have sumac, you can substitute Lemon Pepper, or a mix of Lemon Zest and Black Pepper. Read about other substitutes on Spiceography. Or, you can just purchase some Sumac here.
Can I use dried beans? Or Pinto beans? Absolutely! You can use any cooked beans you have. The ones in a can of course are easier, since they are already cooked, but use what you have on-hand. It's nice to warm them a bit before serving.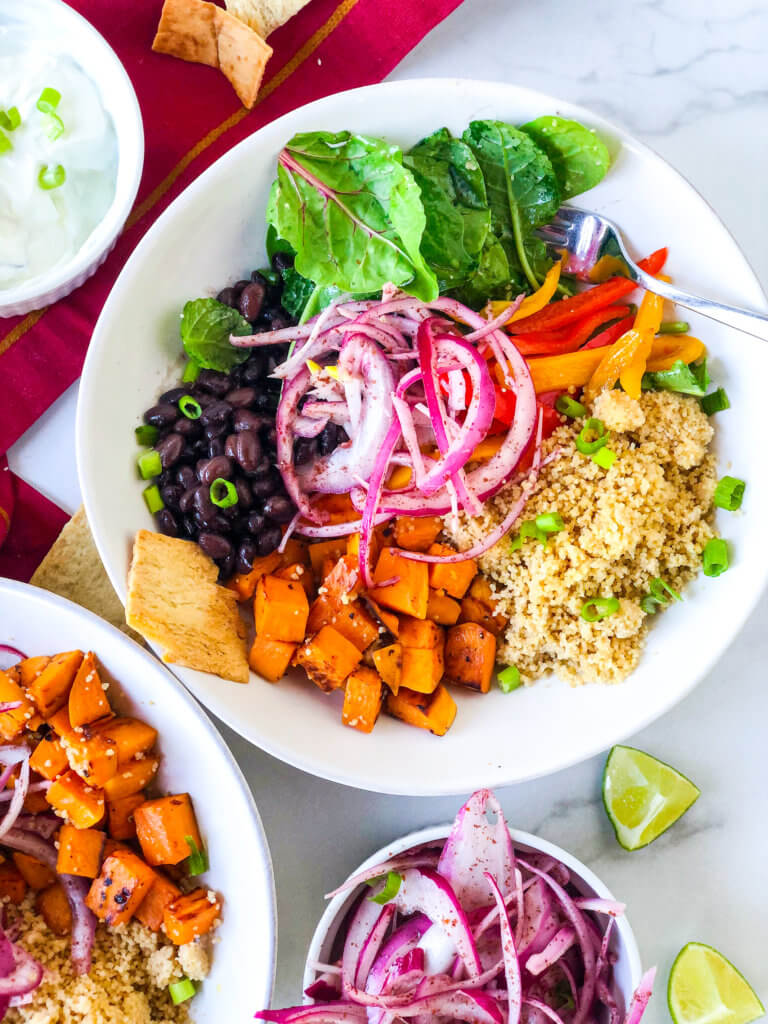 I don't have "Instant" couscous. Can I use other forms? Or other grains? Yes, definitely! Other forms of couscous take a bit longer to cook, up to 20 minutes. There are so many forms of couscous, so just use directions on the package! This Buddha Bowl would also be wonderful with farro, quinoa, or even rice. I like a grain that has both protein and fiber, and farro and couscous are my favorites!
I'm a Meal Prepper. Can I use this recipe for several lunches or dinners? Yes, definitely! I would just keep the dressing(s) on the side until you're ready to enjoy the salad! The hearty greens should last, undressed, for several days in your fridge. But once you dress them, maybe only a day or two. But definitely choose greens that are heartier if you'll be meal prepping. Kale, Spinach, Chard all will last a bit longer than more delicate greens.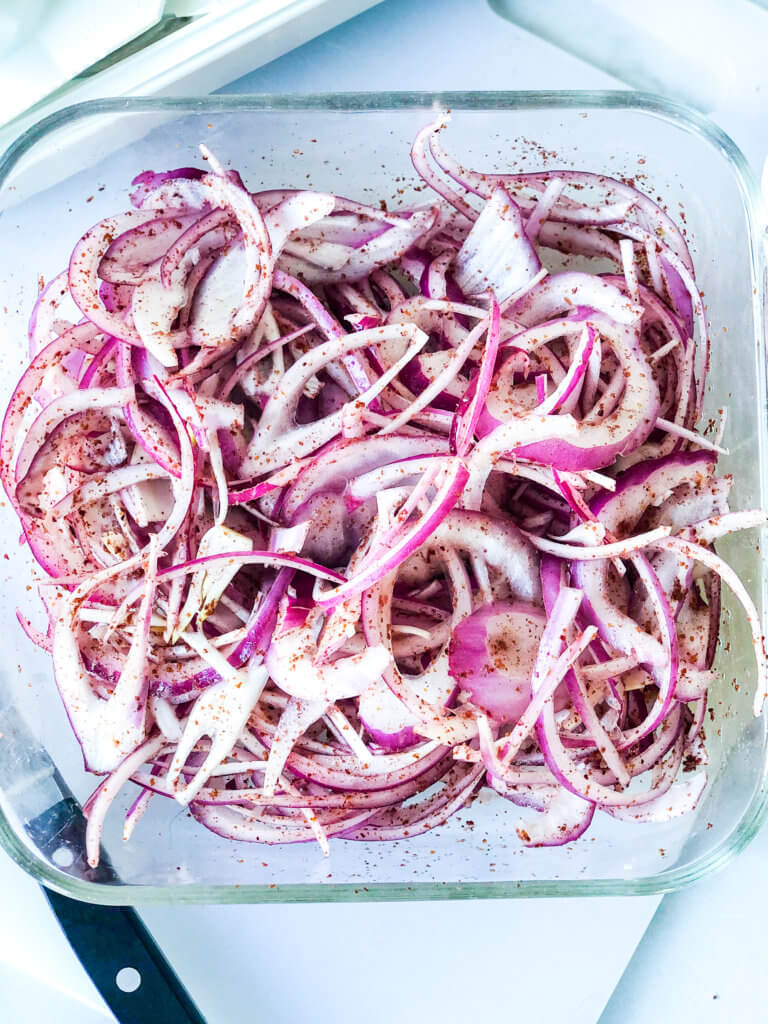 Print
Couscous Buddha Bowl with Sumac Onions
There's nothing more satisfying than a vibrant, healthy grain bowl, also known as a Buddha Bowl. Whole grains, protein, fresh veggies make a nutritious meal loaded with protein, fiber, and vitamins! 
This bowl features my version of the popular Sumac Onions, which are a simple Middle Eastern pickled onion. I go a little rogue here and add a bit of sugar to contrast with the bite of the onion. You likely won't need all the onions for this recipe, but they keep well in the fridge for several days!
Easy lunch, dinner, or meal prep! 
Author:
Prep Time:

20 min

Cook Time:

10 min

Total Time:

30 min

Yield:

6

servings

1

x
Category:

Salad

Method:

Stovetop

Cuisine:

American

Diet:

Vegetarian
Ingredients
For the Sumac Onions:
1

Large Red Onion, halved, super thin-sliced

1 1/2 Tbsp

Sumac (substitute Lemon Pepper or black pepper + lemon zest)

4

T (60 ml) Cider or Wine Vinegar, any color
Pinch of salt

2

t Sugar
For the Salad:
1 cup

(

180g

) dry couscous, (I used instant), prepared per package instructions

1

15.5 oz. (

439g

) can Black Beans, drained

2

T (30 ml) Extra Virgin Olive Oil, divided

1

Medium Sweet Potato, peeled, cubed into

3/4

" cubes

1

Medium Sweet Pepper (red or yellow), sliced thinly

6 cups

hearty greens, like Spinach, Chard, or Kale (any greens will do☺️)
Lime Dressing:
1 tsp

Sugar

1 tsp

Dijon Mustard
Pinch of salt and Pinch of pepper

3

T (45 ml) Lime Juice (fresh squeezed, about

2

small limes)

4

T (60 ml) Extra-Virgin Olive Oil
(optional) Lime Yogurt Dressing:
1/2 cup

Low-fat Plain Greek Yogurt
Juice from

1

lime (about

1.5

T or

25

ml)

1/2

t Salt
Instructions
Make the Sumac Onions:
In a small pan or bowl, place the thinly sliced onions. For thinnest slices, consider using a mandoline. if you don't have one, definitely slice carefully with the sharpest knife you have. Sprinkle onion slices with the sumac, salt and sugar. Using your hands, massage the ingredients into the onions. Then spoon the vinegar over the onions. Set aside for at least 30 minutes. These get better by the next day, so be sure to use them!
Prepare The Salad Ingredients:
Prepare the couscous according to package instructions. Set aside.
In a medium saute pan over Medium Heat, heat 1 T Olive oil until it shimmers. Add the cubed sweet potatoes, sprinkle with Salt & Pepper, and saute until cooked through and nicely browned. Set aside.
Add another tablespoon of oil to the pan. once it shimmers, add the sliced peppers, pinch of salt and pepper, and saute until tender, about 5 minutes.
Warm the drained beans in the microwave or a saucepan, if desired.
Chop greens if necessary.
Make the Dressing of your choice, or both:
For the Lime Dressing, place the sugar, mustard, salt and pepper in a small jar. Add the vinegar and oil, then place a lid on the jar. Shake vigorously.
For the yogurt dressing, mix the ingredients together until smooth and creamy.
Compose the Salad Bowls:
Use half the lime dressing to coat the salad greens.
For individual bowls, divide the following into 4-6 serving bowls: cooked couscous, warmed beans, sautéed potatoes, sautéed peppers, dressed green salad. 
Top  each salad with Sumac Onions. Pass the rest of the lime dressing as well as the yogurt dressing, if using, at the table. 
Notes
Nutrition Information is for 1/6 of recipe. You could feed 4 hungry adults or make 6 lunches out of this recipe, depending on preferences.
Keywords: couscous, black beans, buddha bowl, vegan-adaptable, sweet potatoes
Recipe Card powered by
PIN Couscous Buddha Bowl with Sumac Onions for Later ->