Lemony Salmon, Chickpeas and tender greens with a lovely Za'atar dressing! This Salmon Chickpea bowl is quick and easy enough for a weeknight dinner and delicious enough for guests!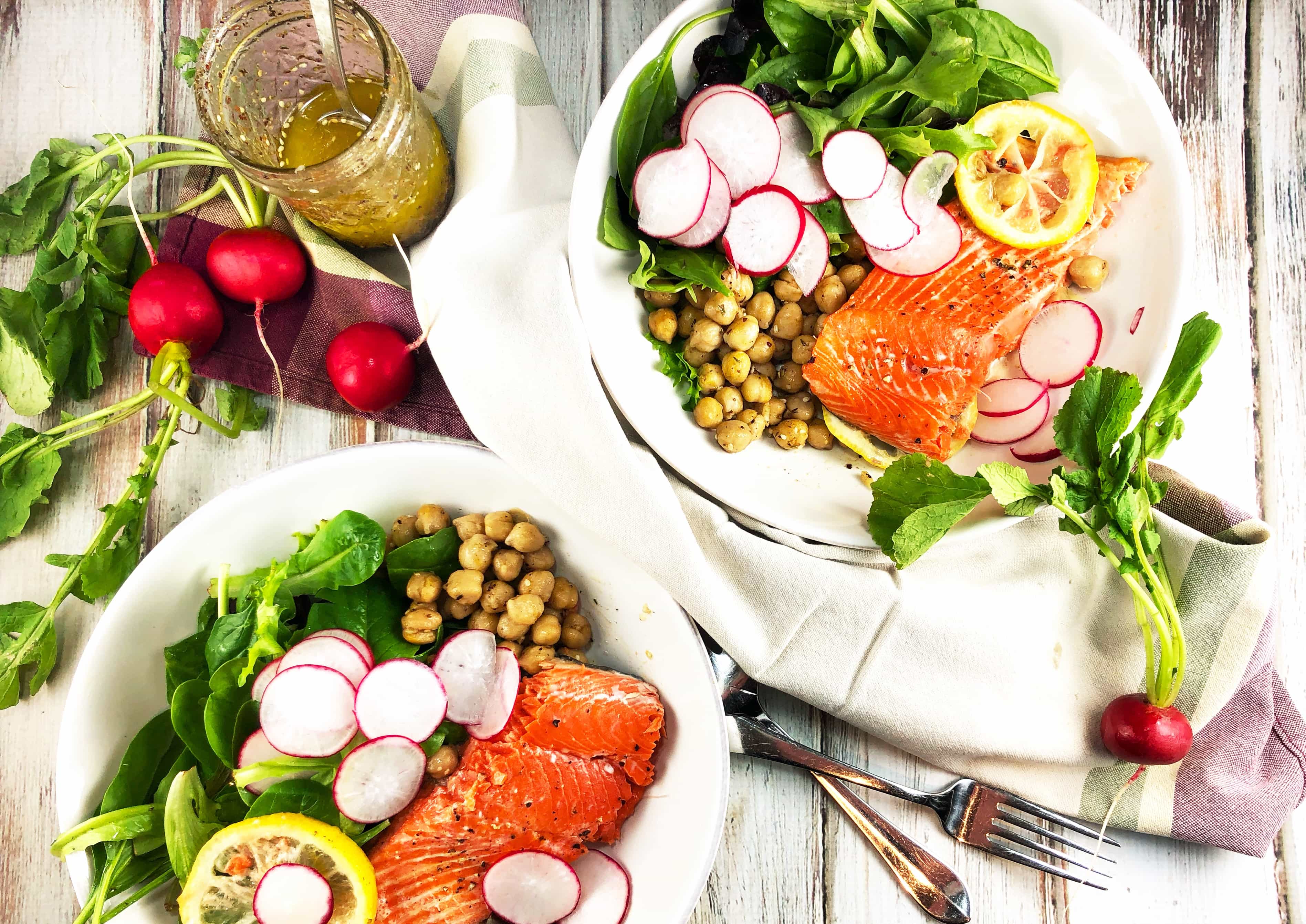 I'm always disappointed in myself when I try to diet. So I don't. Several years ago, when I decided I wanted to lose a few pounds, I decided I would cut out sweets and other calorie-laden foods and eat a lot of salads, lean meats, etc – the usual "diet" suspects. Long boring story short – all that happened was I craved sweets and foods I'd decided were forbidden. In the end, I constantly bargained with myself, deciding that "tomorrow" I would eat healthier, or I would skip that glass of wine later. And guess what?  I didn't lose weight, I gained. In the end this was the diet that changed how I view dieting/healthy eating.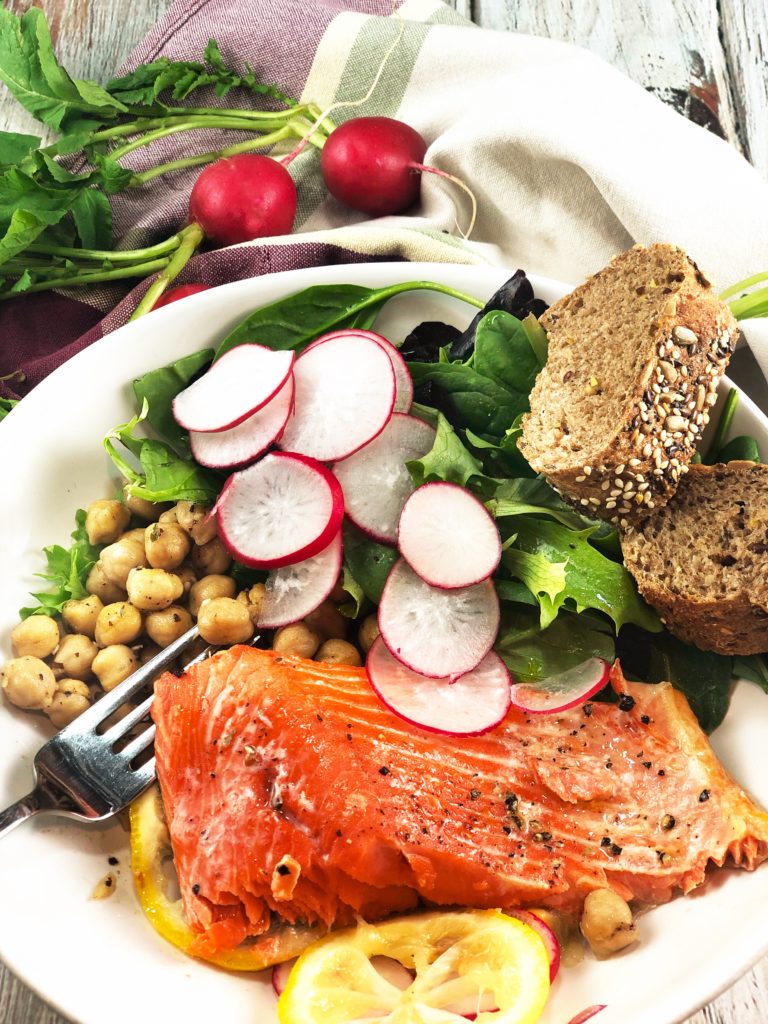 Now, when I want to make a change, to either lose weight, or become healthier in some way (hello, lower cholesterol!), I only implement changes that I can live with my whole life, not just for the next several weeks. Because if I do change my health or my weight, I want it to stick.  This is the kind of change that drew me to the trend of protein/grain bowls, which are lovely, tasty, healthy, and satisfying! And, isn't this what we all really want? (Not just because it justifies that brownie!)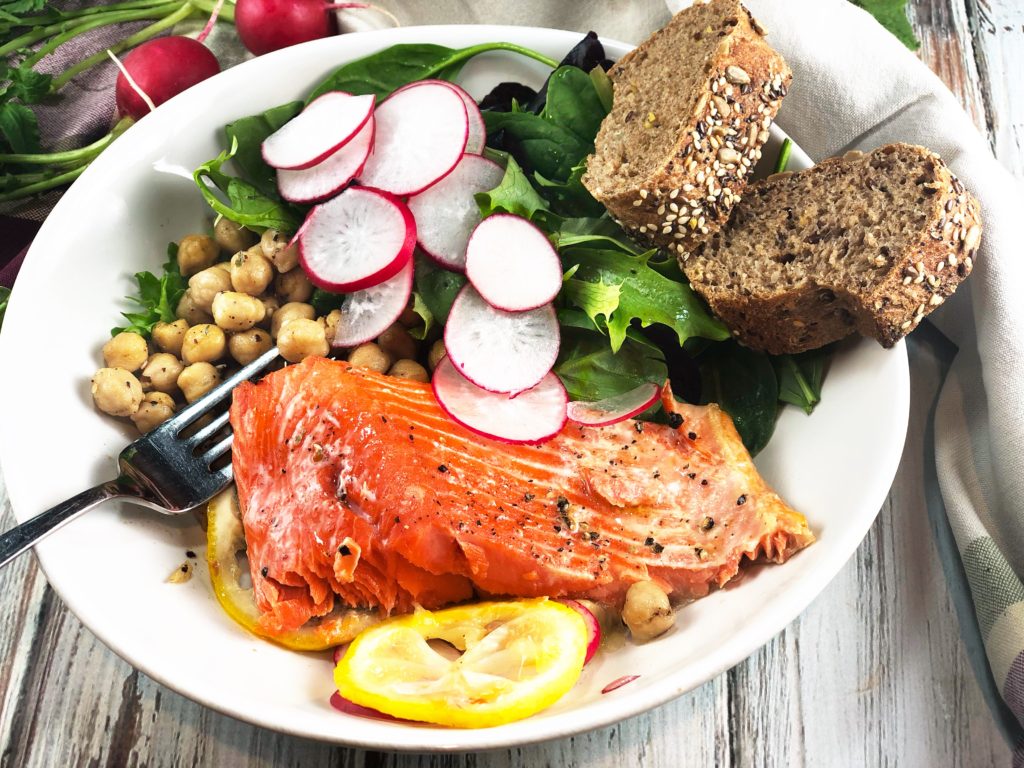 This bowl happens to be grain-free, so if you're not "grain-free" just add some nice slices of whole grain bread. I found it in the Feb issue of Bon Appetit.  It includes Za'atar, my new favorite spice mix! You may be able to find Za'atar in your local grocery, but if not, you could easily make it yourself. I've included a recipe below.  It's just toasted sesame seeds, sumac (the key!) and thyme, cumin or paprika.  So so tasty you'll want to use it on everything from veggies to meats to salads!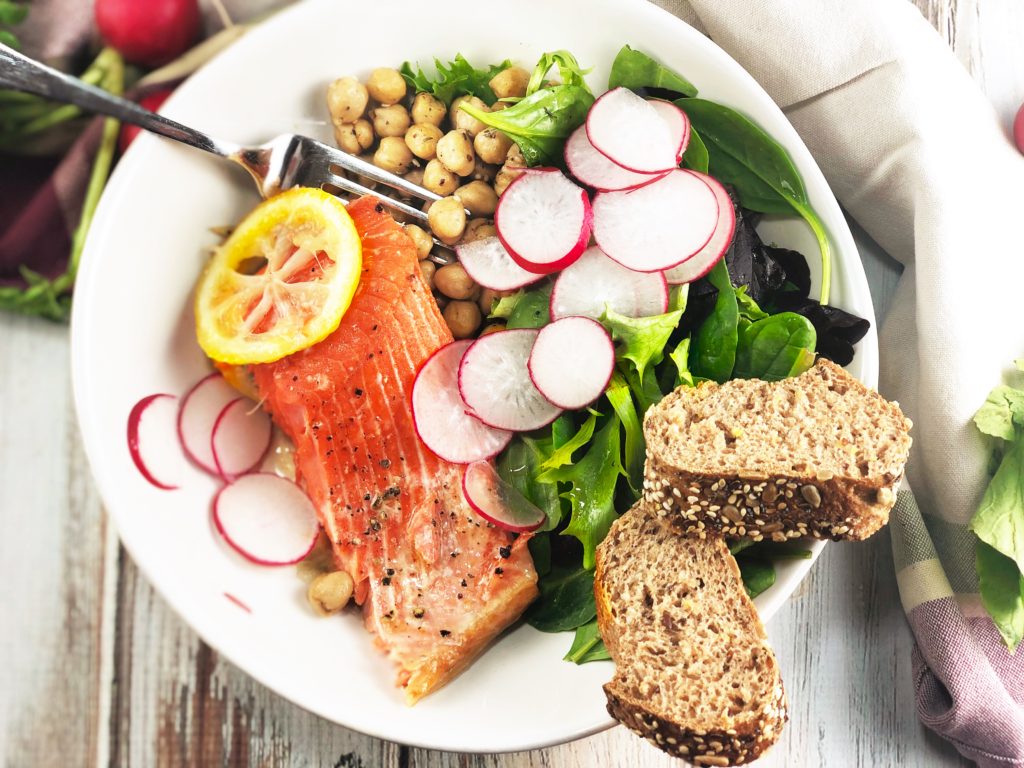 For a tasty bite of healthy that you'll want to incorporate for life, try this Lemony Salmon with Za'atar Spiced Chickpea bowl!
Enjoy!
If you like this bowl, please check out other Buddha Bowls I've made.
Or, if you'd like to see more salmon dishes, click HERE.
PIN Lemony Salmon with Za'atar Spiced Chickpeas ->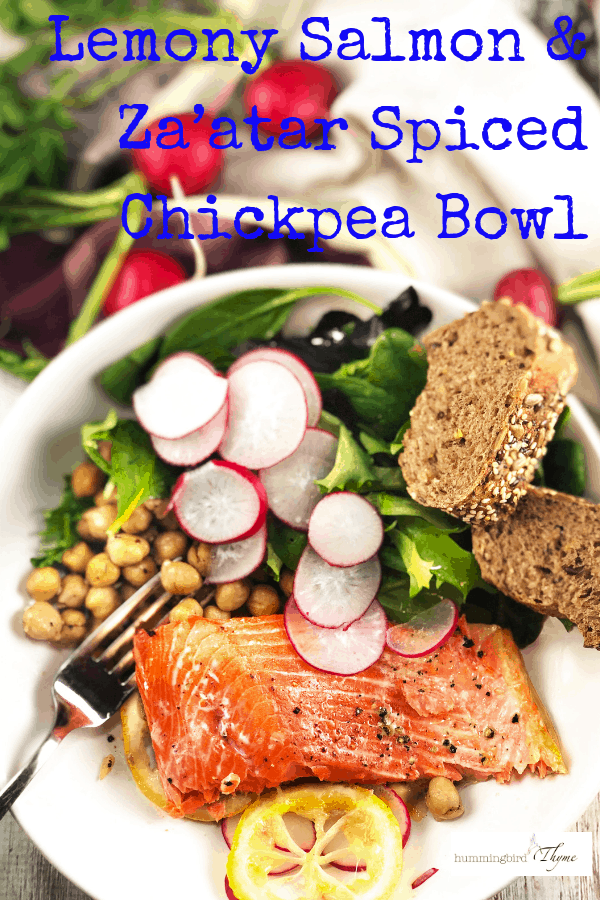 Print
Lemony Salmon with Za'atar Spiced Chickpea Bowl
A Full-Meal Salad bowl, grain-free and super-flavorful.  Seasoned with Za'atar, this bowl has just the right amount of spice to go with the lemony salmon. 
Takes just minutes to put together.  You can make the rest of the salad and the dressing while the salmon bakes!  Quick and easy!
Author:
Cuisine:

American
Ingredients
For the Salad:
1

Lemon, sliced super-thin, seeds removed

1 1/2

lb Salmon fillets (fresh or frozen/thawed ok)

1

14 oz. can Chickpeas, drained

4

c Baby Arugula or Baby Spinach

4

Radishes, sliced super-thin

1

T Olive oil, for drizzling
For the Dressing:
Juice of

1

lemon

1

T Toasted Sesame Seeds

2

t Dried Thyme

1

T Ground Cumin

1

T Sumac

1/4

t Sea Salt (or Kosher Salt)

1

clove Garlic, chopped fine

1/2

c Extra-Virgin Olive Oil
Instructions
Prepare the Salmon:
Preheat oven to 300F. Place the thin slices of lemon into an even layer onto a sheetpan, drizzle with a bit of olive oil, and place the salmon fillet on top of the slices. Salt and pepper generously then drizzle with a bit of olive oil.
Place into oven and cook for 12-17 minutes.  The salmon should be barely opaque in the middle, unless you like it well done. (Caution:  cooking to Well Done increases the chance of dryness, best to cook Medium-Rare to Medium, as it will continue to cook a bit after you remove it from the oven)
Let salmon rest while you prepare the rest of the ingredients. 
Make the Za'atar Spice:
In a small saute pan, toast the sesame seeds if needed, just until they are light-brown. (If they are already toasted, skip this step)
In a small bowl, mix the toasted sesame seeds, Sumac, thyme, cumin and salt. Set aside.
Prepare the Bowl:
While the salmon is cooking, place the following into a small saute pan: the drained/dried chickpeas, 1/2 c olive oil, garlic and 2-3t Za'atar. (I used a full tablespoon of Za'atar for some added spice)
Simmer chickpeas in the oil for 10 minutes, stir in 1/2 t salt, then remove chickpeas from the seasoned oil and place the oil into a separate bowl or jar.
Add 1/2 to all of the lemon juice to the oil, tasting to make sure it is the right amount for you.  I like it lemony, so I used about 4 t of the lemon juice. 
To the greens, add 1-2 t of the dressing. 
Divide the seasoned chickpeas, greens, radishes and salmon among the bowls, and drizzle the dressing over, as desired. Salt and pepper if desired.
Recipe Card powered by