Let's face it: We all need a homebaked cookie, or three, every now and then. And what cookies are easier or more scrumptious than Chocolate Chip Tahini Cookies? Anyone?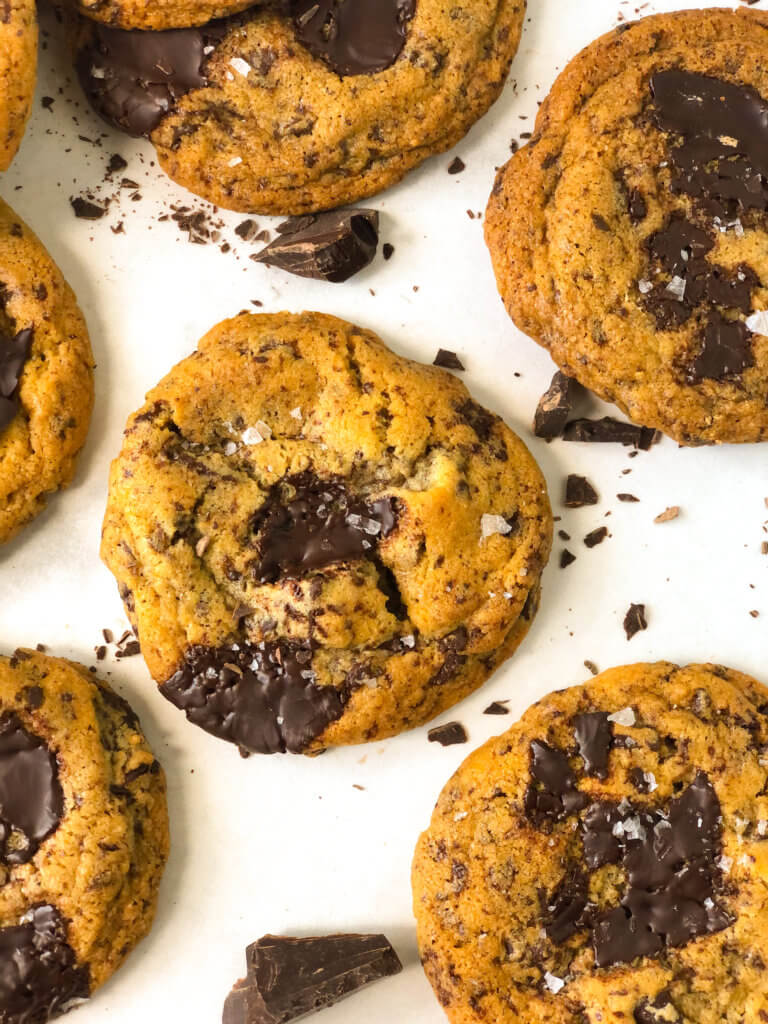 Have you ever cooked with Tahini? A popular Middle-Eastern ingredient that is used in Hummus and Baba Ghanoush, Tahini is a paste made from toasted sesame seeds. A deep savory, earthy note you may not have known you needed! Other nut butters, like Peanut Butter, have a more easily identifiable flavor. But when you taste Tahini, it's all deep, earthy, a bit nutty.  It's that "sump'n sump'n" special in a dish. 
I've used Tahini in Salad Dressings, brownies, and now, chocolate chip cookies. In sweet baked goods, you'll be surprised how it deepens the other flavors of whatever dish you're making. But, once you try it, don't be surprised if you start adding it to other recipes. I feel like tahini provides a "mood" more than a flavor. And here's the mood: A golden, crispy-edged cookie, with a hint of earthiness. A super tender, not-too-sweet middle, filled with gooey dark chocolate pieces. All topped with melty pools of dark chocolate and a sprinkling of Sea Salt Crystals. Sublime. Not a mood you have? Hmmm… I do.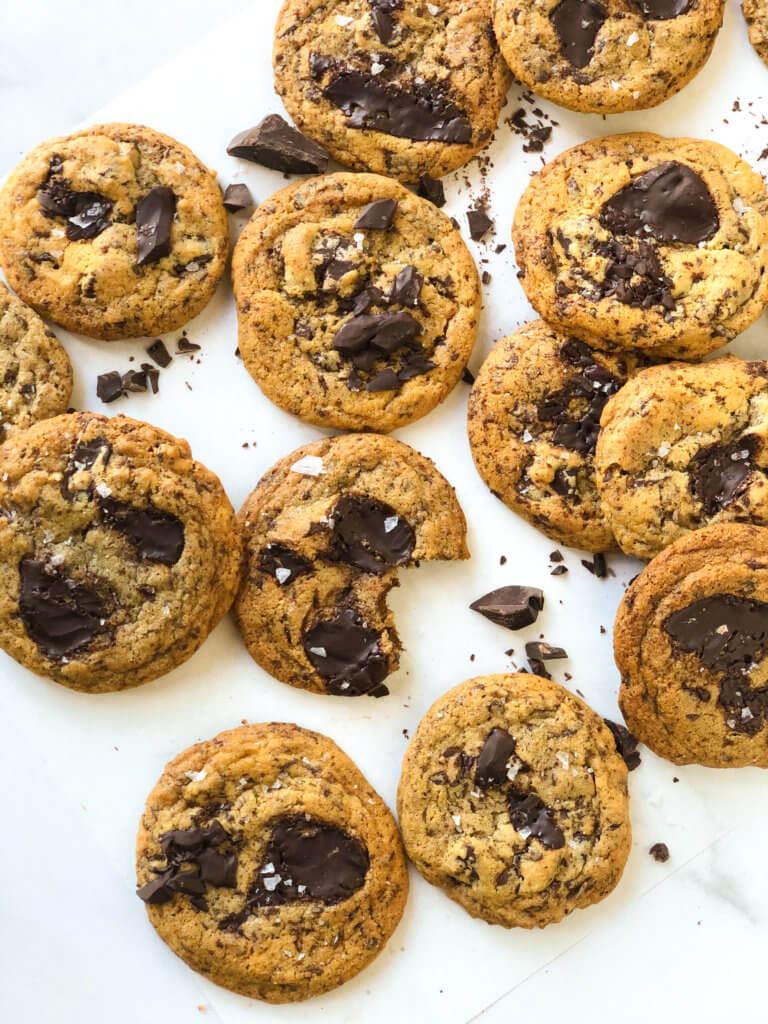 And tahini offers more than just added mood flavor. Not saying these cookies are "healthy" but they do have some added health benefits, thanks to the tahini. A tablespoon of tahini not only gives you a healthy dose of protein, fiber, and healthy fats, it also supplies 27% of your daily copper needs. Copper is needed by our blood and keeps blood pressure lower, and helps form blood clots and to prevent anemia. It also contains natural chemicals (sesamol and phytosterols) that are anti-oxidants, anti-cholesterol, and have anti-aging benefits. And who doesn't want all that? 
So, while Chocolate Chip Tahini Cookies are not considered a health food per se, they do offer benefits that healthy foods have. For me at least, that's enough reason to bake up a batch. Especially when prep-time is only 15 minutes! You really should refrigerate the dough overnight, too. We tried baking with 30 minutes refrigeration and overnight dough aging. The aging yielded deeper, better flavor and texture. So worth the wait. I promise! And, if you really can't wait, just go ahead and bake up a few and save the rest for tomorrow. But be sure and let me know that the tomorrow ones were better!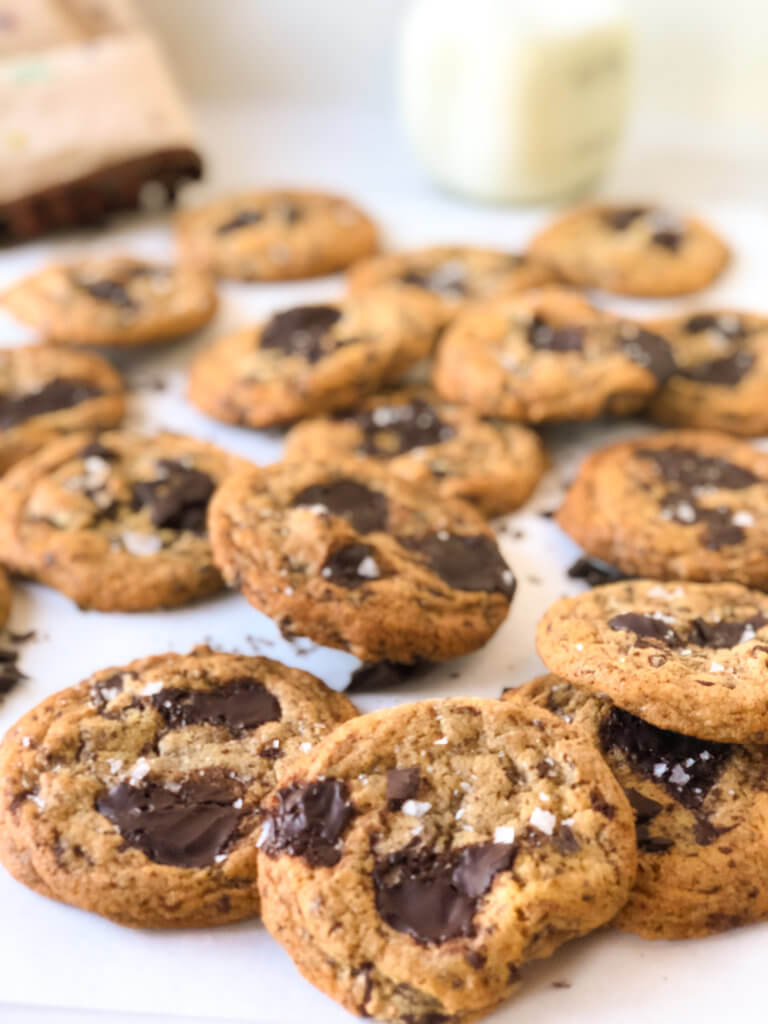 So get on board with Tahini! You'll find it has so much to offer! Why not start out with Tahini Chocolate Chip Cookies? And, then, maybe some brownies! Before you know it, you'll be making salad dressing and scrambled eggs with it!
Enjoy!
If you're looking for cookie recipes, don't miss these:
Chocolate-Dipped Coconut Macaroons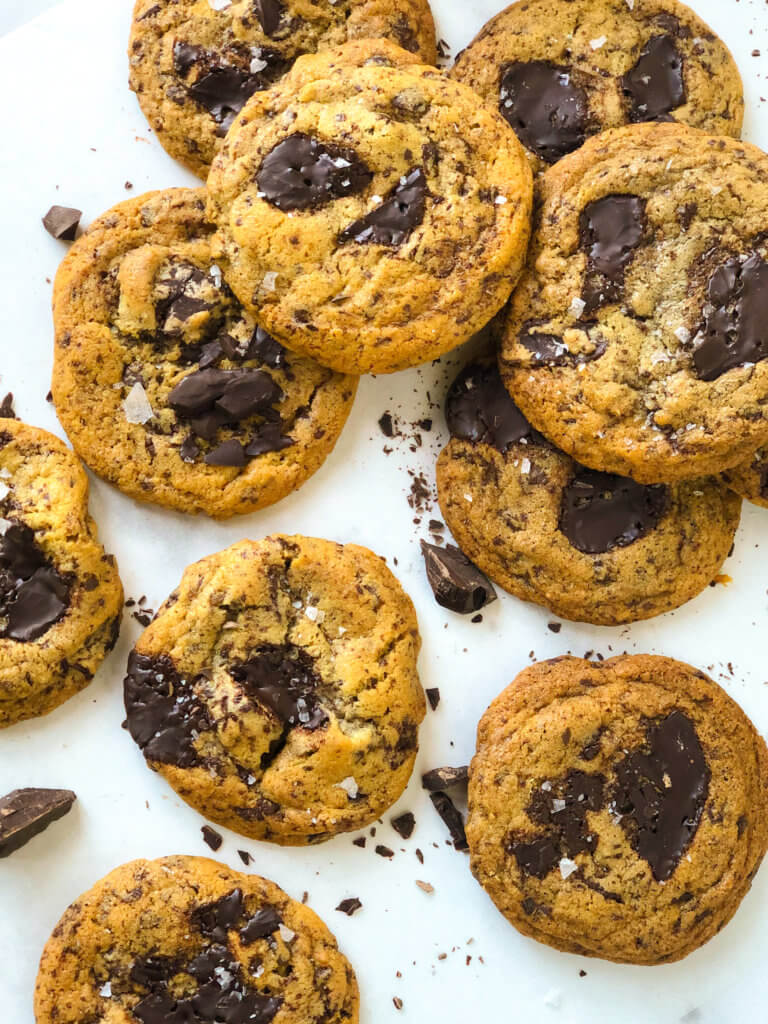 Salty Chocolate Chip Tahini Cookies Tips ->
(Note: As I am an Amazon affiliate, this post may contain Affiliate links. These are links to items, which, if you were to purchase, I would receive a small commission, at no cost to you.)
This super-easy recipe, from Dave Lebovitz, author of some of my favorite cookbooks, who adapted it from Danielle Oron's Modern Israeli Cooking: 100 New Recipes for Traditional Classics. He substituted chopped baking-friendly chocolate chunks for chocolate chips. In his recipe, he excludes the tiny pieces of chocolate. I included everything, chocolate shavings and all. But go ahead and use Chocolate chips if you like. I agree with him, though, that you can use stronger-flavors, like bittersweet chocolate or chips in these cookies.
Do I need an electric mixer? I used my stand mixer, but you could use a hand mixer, or you could mix by hand with a spatula or a wooden spoon here, just make sure your butter, tahini, sugar mix starts to feel fluffy, before adding the egg and vanilla.
How do I make those "pools" of melty chocolate? To make the puddles of chocolate on top of the cookie, you will need to reserve some of the bigger chunks of chocolate before you place them in the dough. First, scoop the dough – I used OXO Medium Scoop , 1.5 Tablespoon size, or roll the dough into ball in your hands. Just take those reserved chunks and embed them into the top of the dough ball. That way, when they bake, those pieces will melt into puddles on top of the cookies. And, don't forget the flaky sea salt on top – I use, and love, Maldon!
Do I need to refrigerate the dough overnight before baking? We tested this by making half the cookies after refrigerating the dough 30 minutes (unaged dough), and the second half after refrigeration overnight (aged dough). I like to scoop my dough onto the baking sheet (I love these sheets!)  before refrigerating, just because it's easier when I want to bake them – already scooped onto the baking sheet!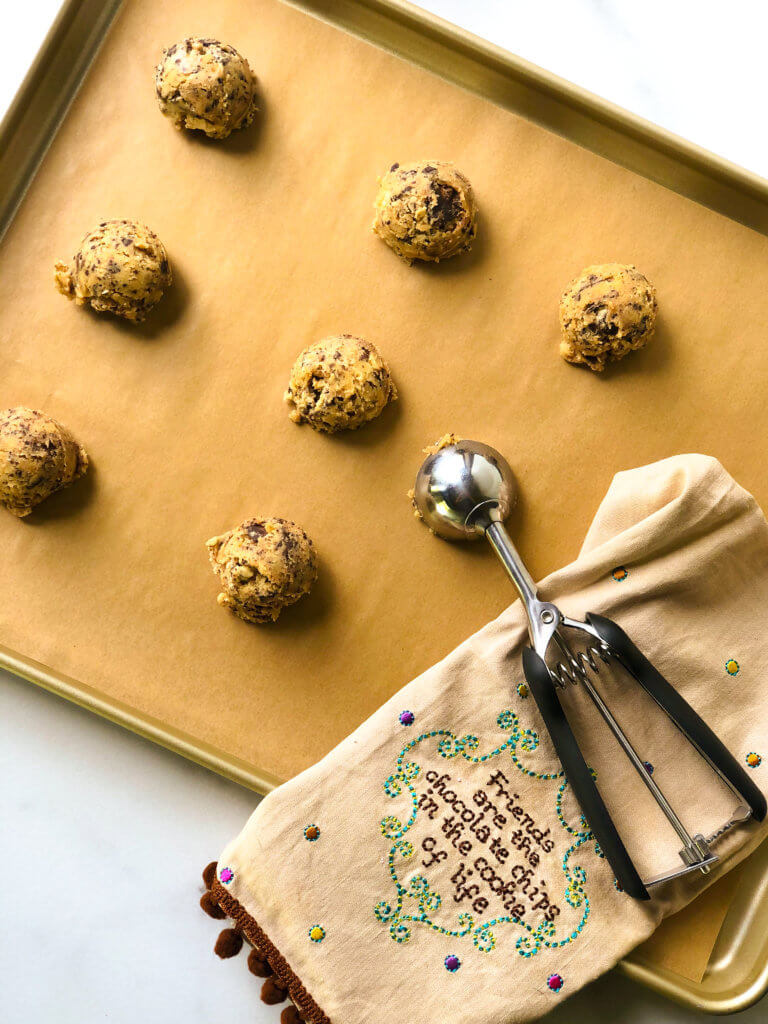 We baked the cookies in each set for the same amount of time – 13 minutes at 325F in our convection oven. The "aged" dough cookies were richer in flavor and actually more golden in color than the "unaged" dough cookies. Hands down, we recommend aging the dough overnight. If you must, bake a few, and put the rest of the dough in the fridge to bake tomorrow.
Can I use Almond Butter or Peanut Butter instead of Tahini? We did not try this. It is possible, but I imagine your cookies would not have the same flavor or texture that is imparted by the tahini, due to different fat content of the nut butters. I would guess that All-natural peanut butter would have the best chance in this recipe, as its consistency is closest to that of tahini. I didn't try this, though, so let me know if you decide to give it a try!
How long do the cookies stay fresh? I usually like my cookies cooled to room temperature, and find they taste even better the second day. For us, we thought they tasted great while still warm, with their puddles of melty chocolate, and equally good at room temperature, and the next day. They stay fresh a few days, when covered, at room temperature. Any longer than that, I would freeze them and defrost as desired.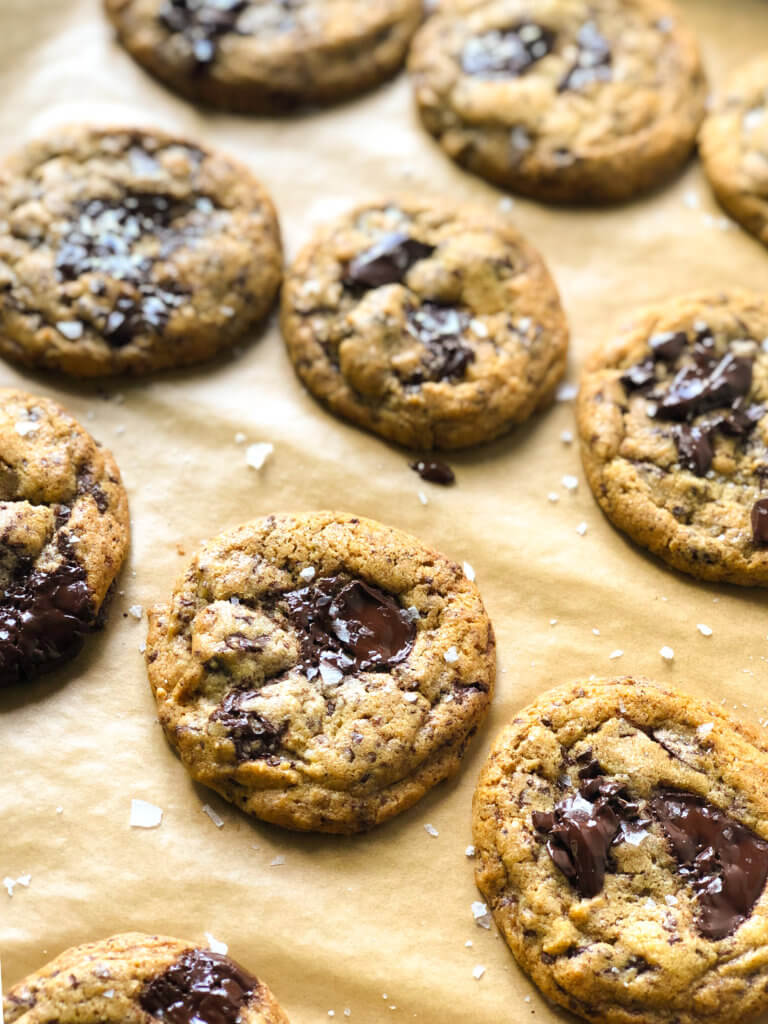 Print
Tahini Chocolate Chip Cookies
Adapted slightly from Dave Lebovitz, these Salted Chocolate Tahini Cookies are outstanding! Crispy-edged, super tender and gooey middles with puddles of Chocolate on top. A sprinkle of flaky sea salt takes them over the top!
You can bake them after making the dough, but you won't believe the improvement after just one night of refrigerating the dough. We baked a batch after 30 minutes refrigeration, then another after a full night, just to see the difference! Overnight added a depth of flavor and even improved the edge color and texture!
Author:
Prep Time:

15 min

Cook Time:

14 min

Total Time:

30 min + Overnight Refrigeration

Yield:

28

cookies

1

x
Category:

Cookies

Method:

Bake
Ingredients
1/2

c (8T, 114g) Unsalted Butter, at room temperature

1/2

c (120ml) Tahini, well-stirred

1/2

c (100g) Granulated Sugar

1/2

c (97g) Light Brown Sugar, packed

1

lg Egg plus 1 Egg Yolk, room temperature

1

t Natural Vanilla Extract

1 1/4

c (150g) AP Flour

1

t Baking Soda

1

t Kosher Salt

10 oz

. (

280g

) Baking Chocolate or Chocolate Chunks, Bittersweet preferred, chopped into small chunks. (ok to substitute Bittersweet or Semi-sweet chocolate chips)
Flaky Sea Salt (I use Maldon)
Instructions
In the bowl of a stand mixer, or using a hand mixer, cream together the butter, tahini and sugars, until mixture appears fluffy.
Add the egg and yolk and vanilla, mix to combine.
In a small bowl, whisk together the flour, soda and salt. Using low mixer speed, add to the wet ingredients until just combined and a dough forms.
Stir in the chocolate pieces. (IMPORTANT! If you want to create those melty pools of chocolate on top of the cookies, before you mix in the chocolate chunks, reserve some of the biggest chunks and embed between 1 and 3 of them, depending on size, into the top of the cookie dough balls! This way, they melt on the top of the cookie!)
Cover dough and refigerate overnight.
When ready to bake, preheat oven to 325F. Remove dough from refrigerator while preheating. Using a Small Scoop (about 5 teaspoon size, or 1 1/2″ diameter), scoop refrigerated dough onto prepared baking sheets.
Bake until edges are just beginning to turn golden and middles look not quite done. This should take 12-14 minutes total. If using a larger scoop, add between 1-4 minutes to bake time, but judge doneness by a slight golden edge and nearly done middles of cookies.
Remove from oven and cool on baking sheets.
Keywords: Cookies, Tahini, Chocolate chip, salted chocolate chip tahini cookies, Best chocolate chip Cookies
Recipe Card powered by
PIN Chocolate Chip Tahini Cookies ->