Whether you celebrate Meatless Monday, or are just curious about meatless meals, this easy and satisfying Crispy Tofu Rice Bowl will show you what all the fuss is about!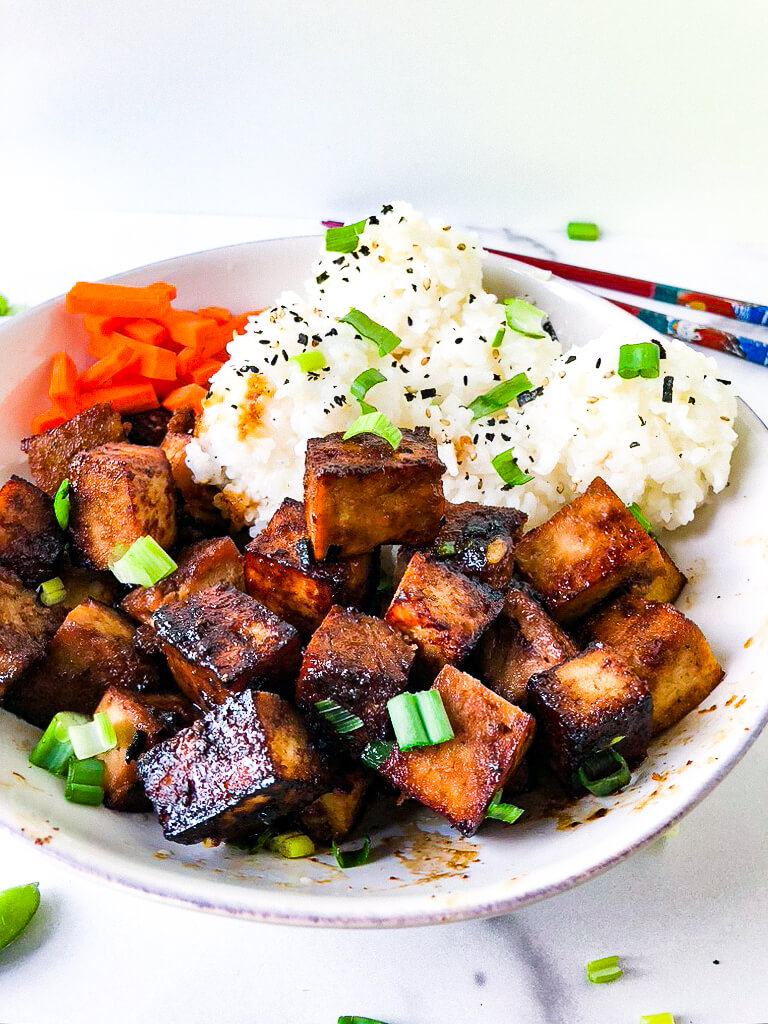 We are not Vegan in our house. Nor are we Vegetarian. But we do eat Vegan and/or Vegetarian dishes. I would call us Omnivores – we eat the universe of foods. But our vegan dishes usually are limited to bean-based soups or hearty stews. That's because tofu once was on our "no-go" list. Although we couldn't deny the health benefits of a high-protein, plant-based product, some of us (me☺️) couldn't get beyond the soy flavor after a few bites. Nor the texture that I found to be like a tender version of rubber it sometimes had. 
Anyway, enough of the things that used to be true about Tofu in my house. This recipe changed all that! Tofu can be crispy. Tofu can be flavorful! And, it cooks up so quickly and easily!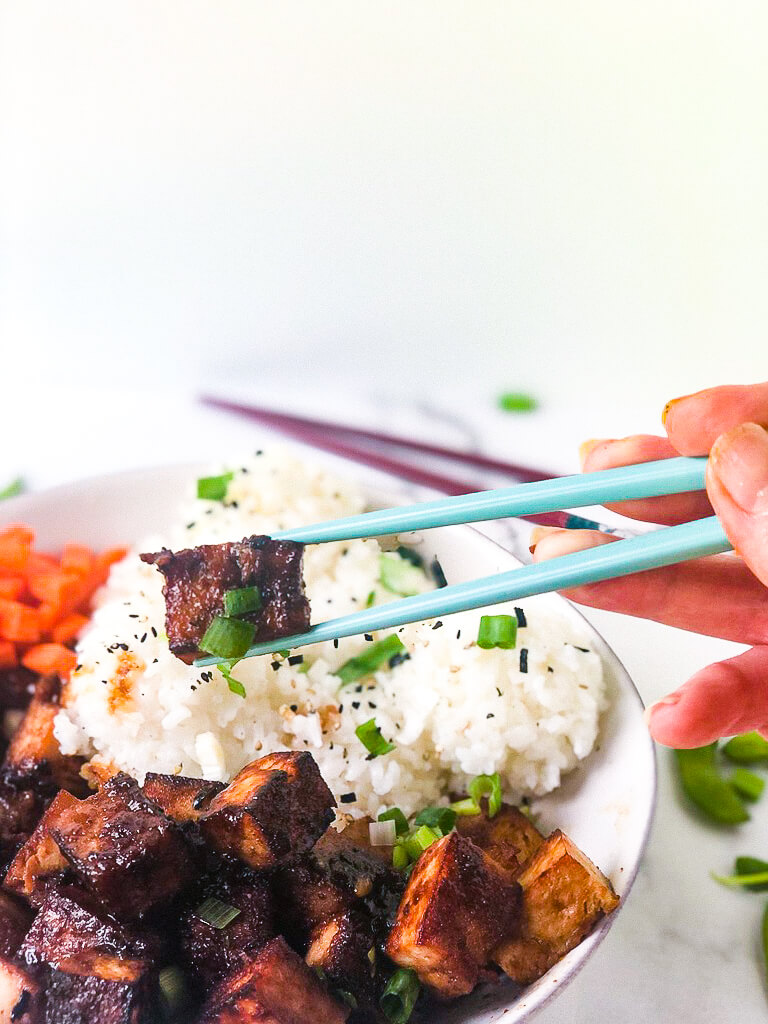 I've had to come to this realization gradually. I have friends who are Vegan and/or Vegetarian. And have eaten some wonderful meals with them. Dining with someone who actually knows how to cook Vegan food or eating at a Vegan restaurant taught me Vegan foods are delicious! I just need to know how to prepare them. Just like Every. Other. Food. You can't make a pie crust without learning how, right? The same goes for Tofu. Once you learn, it's easy! 
So, I'm working to expand my skills and my repertoire. And this Crispy Tofu Rice Bowl is a good example. An Asian-inspired sauce that is Salty, Sweet, and Tangy to flavor the entire dish. Tofu that has a nice texture and absorbs the flavors of the sauce the way a fish fillet might. For me, these qualities make Vegan cooking so much more attractive and approachable.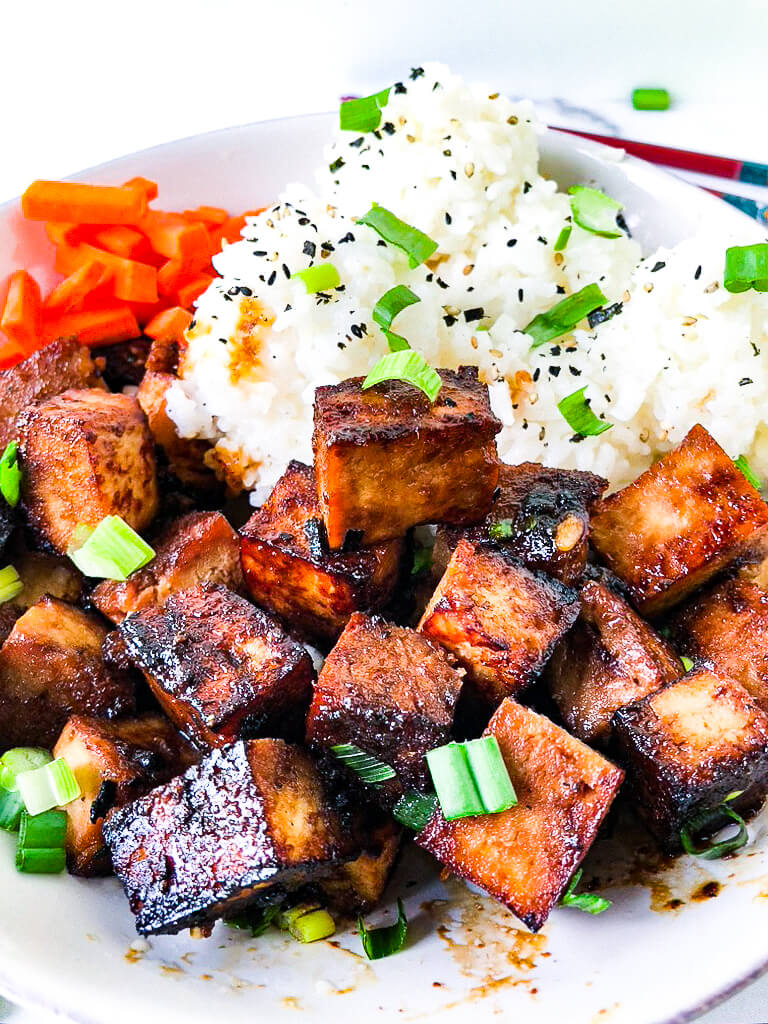 So, if you're like me, and want to "lean in" to Vegetarian/Vegan cooking, I say go right ahead. But start with a dish that will win you over. One full of flavor and texture! Like this Asian Crispy Tofu Bowl!
Enjoy!
If you love good bowls of food, check out my other delicious bowls:
Couscous Buddha Bowl with Sumac Onions
Healthy Greek Bowl with Couscous and Kale Salad
Lemony Salmon with Za'atar Chickpea Bowl
Vegan Buddha Bowl with Lime Tahini Dressing
Farro Mushroom Buddha Bowl with Honey Balsamic Dressing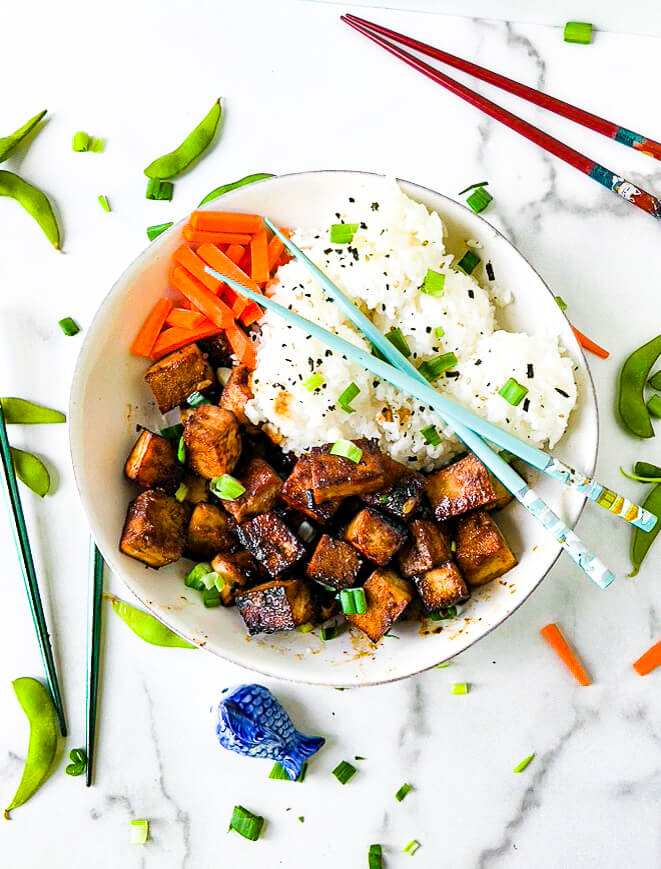 Crispy Tofu Bowl Recipe Details
Some questions you might have about making this dish:
How can I make Tofu more flavorful?
I used to find tofu a bit bland. Ok, a lot bland. But then, Instagram inspired me to make this bowl. One of my favorite bloggers, Jennifer, who IS the Foodess, had an Instagram Story where she froze, then thawed, her tofu so it would absorb sauce better. This is because as the water freezes, it expands a bit. Then when it thaws, it leaves little holes, and creates a more "spongy" or, some might say, "meaty" – type texture. It also absorbs sauces (or marinades) better!
So I did what Foodess does. I just tossed my 14-oz. package of Firm Tofu, liquid and all, into the freezer when I brought it home. The night before cooking it, I put it into the fridge to defrost.
When I was ready to cook, I compressed it to get excess liquid out. Cut the tofu into bite-sized cubes. Then I made my marinade. Soaked the cubes a bit. (The longer the better to be sure – you could do this part in the morning, then when you're ready to cook, they will be so full of flavor!)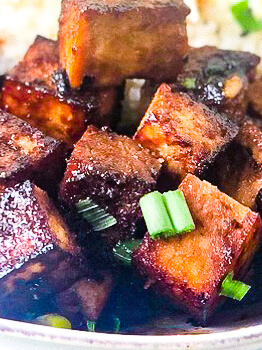 Do I need to do the freeze/thaw step?
No, you don't need the freeze/thaw step. However, it does add quite a bit of flavor to the plain tofu, and I feel like it improves the texture, too. It ends having a bit more texture than plain tofu. But if you want to skip it, that's fine.
What if I have leftovers?
We did have leftovers, and I have to say, the tofu didn't have that nice crispness the next day, after being refrigerated. But, this is not necessarily any different from other foods that were crispy the night before. So, I can't really say this is anything abnormal.
Easy Recipe Steps: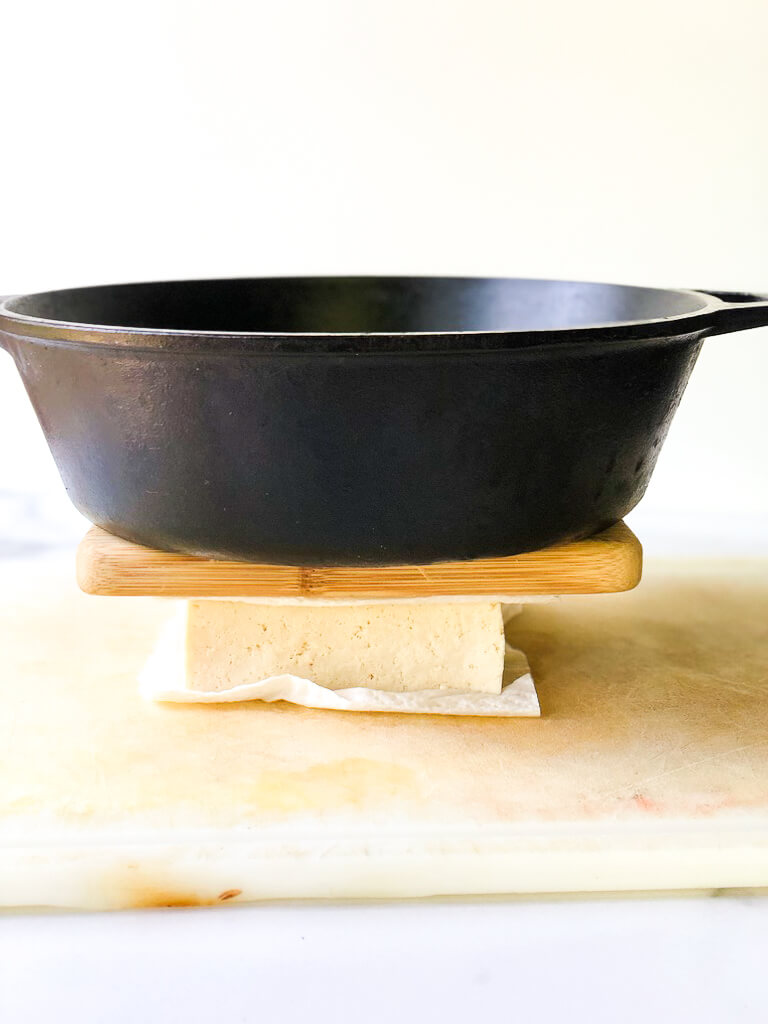 PIN Asian Tofu Bowl ->
Print
Crispy Tofu Bowl
A delicious, healthy Asian-inspired crispy tofu bowl! Includes rice, but feel free to add any fresh vegetables you would like! Zucchini, carrots, or mushrooms all provide flavor and texture!
Although there's a bit of Inactive time in this recipe, all the active steps are quite easy!
It's best to marinate an hour or more, and up to overnight. For best absorption of the marinade, you could freeze your tofu package when you get home from the grocery. Then thaw before using. Once thawed, the texture will be different, and will allow more marinade to be absorbed into the tofu. I realize this takes an extra step, but it is worth it, especially if you're planning ahead.
Author:
Prep Time:

15 min

Cook Time:

25 min

Total Time:

25 min + 60 min inactive time

Yield:

4

servings

1

x
Category:

Vegan

Method:

Saute

Cuisine:

International
Ingredients
14

–

oz

(396g) Package Firm or Extra-Firm Tofu, (ideally thawed from frozen)

6 Tablespoons

(90ml) Low-Sodium Soy Sauce

5 Tablespoons

(75ml) Mirin

3 Tablespoons

Light Brown Sugar (

37g

) – See Note 1

1 1/2 tsp

(

8

ml) Toasted Sesame Oil

1 Tablespoon

(15ml) Minced Ginger

3 Tablespoons

Rice Vinegar (I use "seasoned")
For Frying:
2 Tablespoons

(30ml) Canola Oil, plus more, as needed
For Rice:
1

c

Medium Grain or Jasmine Rice, prepared per package directions
(optional) Garnishes:
Furikake
Chopped Scallions
Instructions
Compress and Cube Tofu:
Before cutting tofu into cubes, compress it between layers of paper towels, then covered with a flat plate or board topped with a heavy pan or bowl, for at least 30 minutes. You may need to change the toweling if it becomes soaked. Be careful your weight is not too heavy, so tofu doesn't crumble. While tofu is being compressed, prepare the marinade (below) and cook rice, as directed on package.
Once tofu is compressed and seems dry, cut into 1/2″-3/4″ cubes. 
Prepare Marinade and Marinate Tofu:
In a flat-bottomed pan (8×8 at least), mix together the soy sauce, mirin, brown sugar, sesame oil, garlic and ginger.
Place the tofu cubes in the marinade. Marinate 30 minutes, and up to overnight, turning once. Longer marinading yields more flavor to the tofu. 
Fry the Tofu:
Remove the tofu cubes from the marinade, and RESERVE THE MARINADE.
Over Medium heat, drizzle in the Canola Oil. Once the oil shimmers, add the tofu cubes. Be sure to watch the heat, you may need to turn it down to Medium-low. I kept mine halfway between Medium-low and Medium. Brown all sides until they are golden and crispy. This takes just a few minutes, and lots of flipping, so keep an eye on it. The sugar in the marinade may result in some caramelization.
Remove the crispy cubes to a paper towel, but keep the heat on for the sauce.
Make the Sauce:
Pour the reserved marinade into the pan. You can remove any bits of tofu left in the pan prior to adding the marinade, if you like. I kept them because I wanted the flavors.
While scraping up any bits, heat the reserved marinade a bit, then add the rice vinegar. Stir into the sauce.
Serve crispy tofu cubes with rice, and pour sauce over, as desired. Garnish with chopped scallions and/or furikake.
Notes
1. If you are Vegan, you can substitute Maple Syrup or corn syrup for the brown sugar.
Keywords: crispy, tofu, bowl, rice, rice bowl, tofu bowl, vegan, vegetarian, easy
Recipe Card powered by