Creamy Skillet Chicken! An easy and famous dish made even tastier by the addition of Mediterranean-style ingredients: pepperoncinis, capers and lemon! YUM!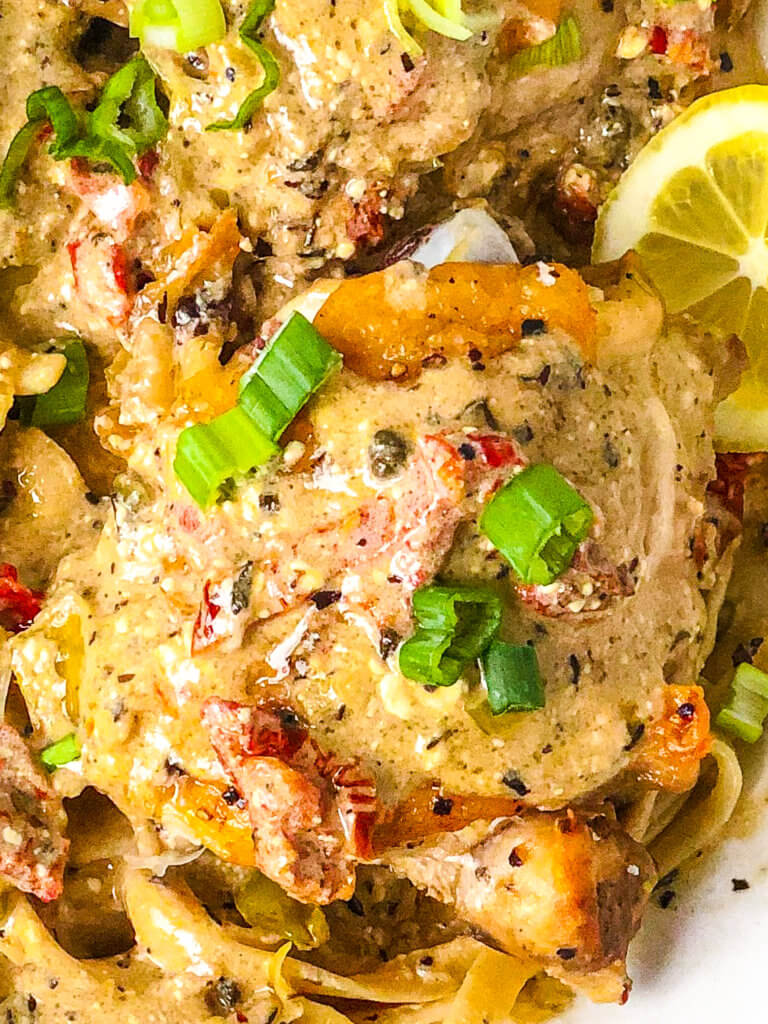 I've been seeing variations of this recipe around the Internet recently. It's been around awhile, although I didn't pay it too much attention. Maybe it was the name. I was already married. Called "Marry Me Chicken" it is easy and so delicious, it reportedly is tasty enough to result in lifelong commitments.
Well, you all know me. I made it, and it is truly easy and delicious. But, then again, you know me. So you know I can't leave well enough alone. (We established that here, among other discussions.) I had to go and add something. Well, more than one thing. Tasty things. And the result is wonderful! And mouth-watering. But still quick and easy! It's this Meditteranean-inspired Creamy Skillet Chicken!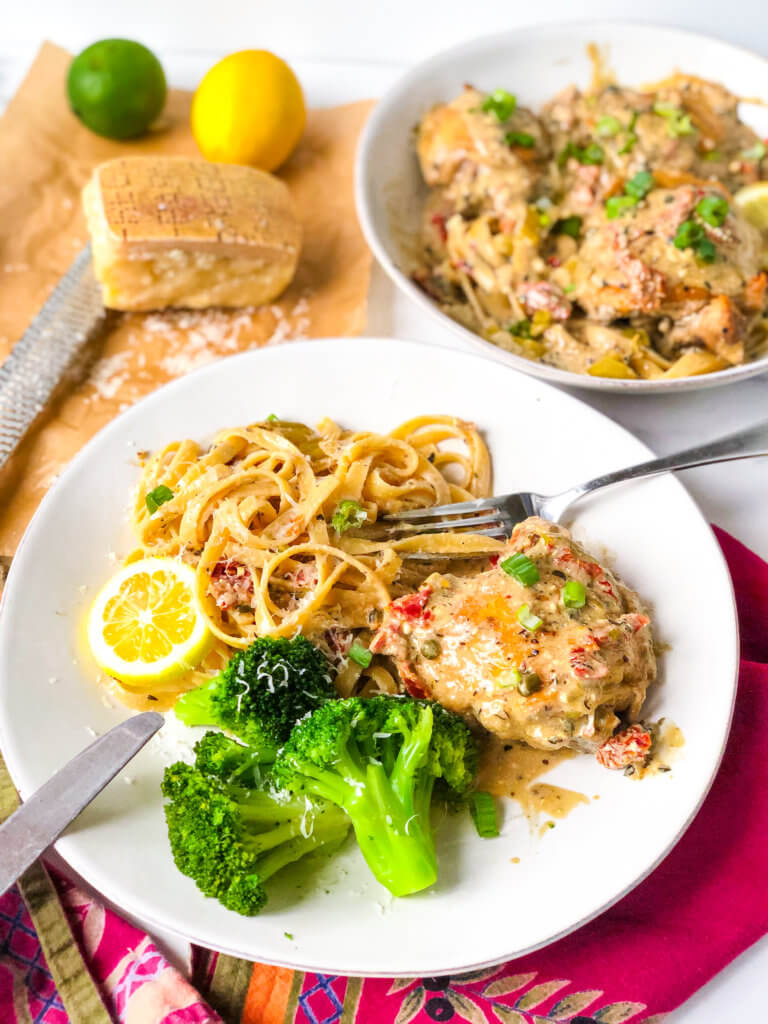 Like I mentioned, this recipe has been around awhile. But these days, there are many versions of the same basic recipe. The recipe method I use is similar to some of the newer variations. Using chicken thighs, I sear the chicken to get a lovely, brown crispy skin. Then make a creamy sauce that includes garlic and sun-dried tomatoes. And continue cooking the chicken in the sauce. But for my version, I've also included some of my flavorful favorites: pepperoncini peppers, capers, and some salty olives. These ingredients add a touch of salty, briny depth. And then a squeeze of lemon to brighten it all up at the end. A nice hit of a Southern-Italian or Mediterranean influence here. 
I also liked what Chris at The Cafe Sucre Farine used to make her sauce. Where the traditional recipe uses heavy cream, she used 4 oz. Cream Cheese instead of heavy cream.  I just feel like that creates a flavor that I would prefer. I don't know why this change sealed the deal for me, but it is the thing that made me commit to making this recipe. So I used her idea for the basis of my sauce.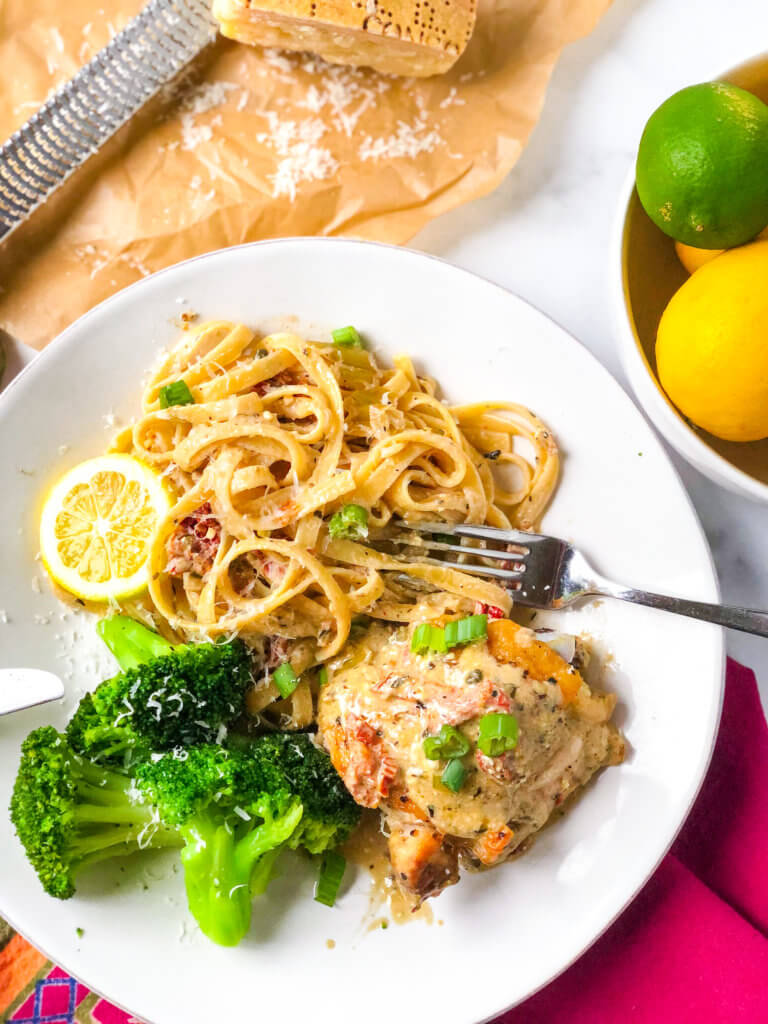 So develop a lifelong commitment to delicious and simple chicken recipes! This Creamy Mediterranean-Style Skillet Chicken will make a believer out of you!
Enjoy!
Are you looking for more easy chicken recipes? Try one of these:
Soy and Honey Glazed Chicken Thighs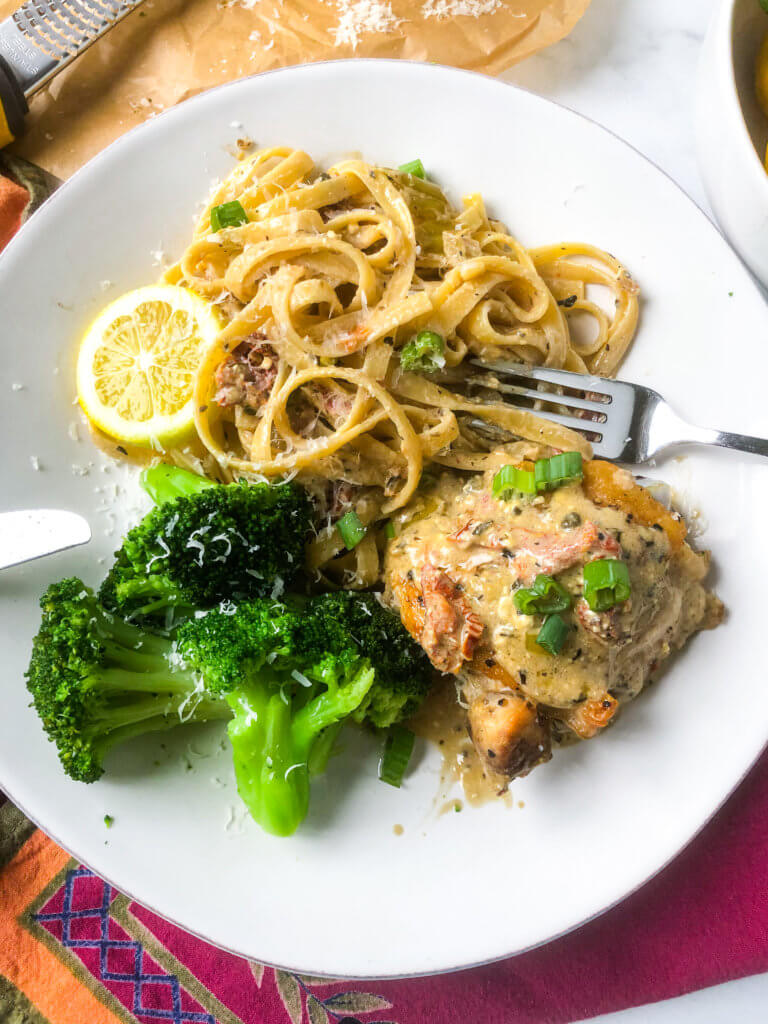 Creamy Skillet Chicken tips ->
I am an Amazon Affiliate, so please know any purchases you make through links provided on my page allow me to make a small comission, to maintain this site, but at no additional cost to you.
The best thing about this easy recipe is that it's versatile. There are many options to change it up. 
I don't have Cream Cheese. What can I use instead? You can substitute 1/2 cup heavy cream for the cream cheese, and then leave out the milk. Or you could likely use 4 oz. Mascarpone cheese instead if you happen to have that. 
Broth or water? I did not have any broth or stock of any kind, so I just used water. Taste to see if you might need a bit more salt, but water works just fine here.
Add wine! To add a bit of extra intrigue here, feel free to substitute a quarter-cup of wine for part of the water or broth! I'd use a nice dry white, like a Sauvignon Blanc or Chardonnay.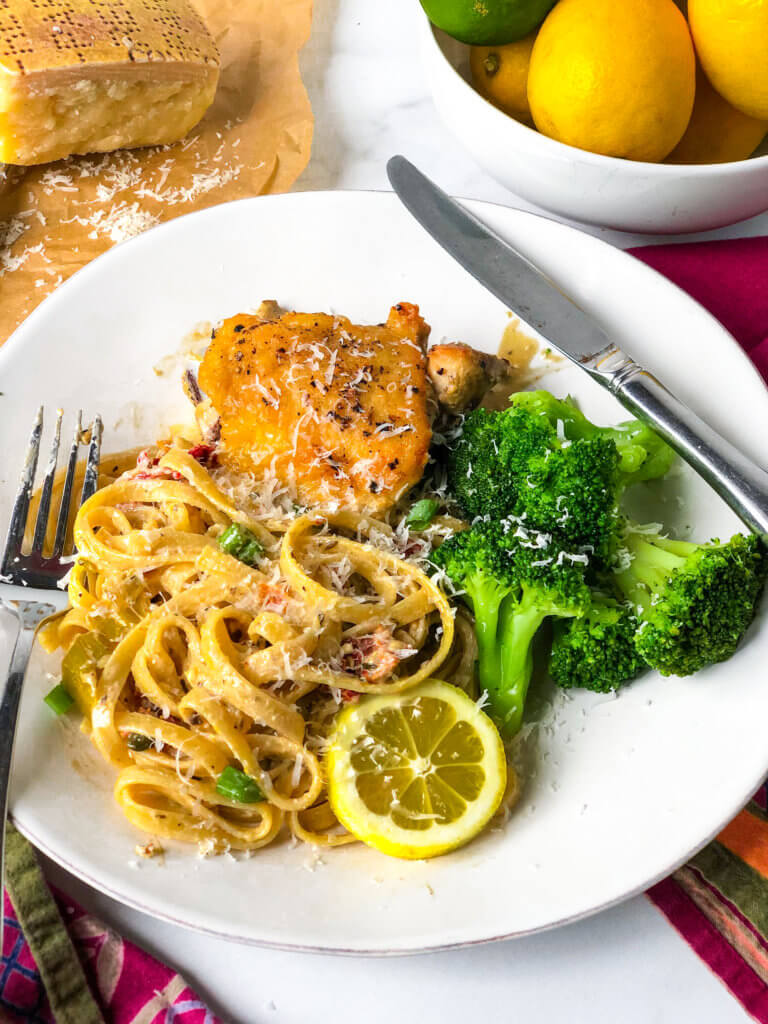 Don't like Olives? Leave them out! Same with the pepperoncini or capers, but hopefully you'll have and use at least two of these 3 wonderful ingredients!
Can I use Boneless, Skinless Chicken Breasts instead of the Chicken Thighs? Yes, you definitely can. However, the cooking time will be drastically reduced. You will want to quickly sear the breasts, about 2 minutes per side. Remove them while preparing the sauce. Then, after you put them back into the sauce, you could either finish cooking them in the sauce stovetop (maybe 10-12 minutes, depending upon thickness) or in the oven for the same time, 10-12 minutes. I do think the thighs add a bit more flavor to the dish, but use what you have or what you like.
And, always check the temperature of your chicken for doneness! Chicken should be cooked to 160-165F. I recently purchased a Thermapen MK4 (not an affiliate link) and I love it! Instantly reads temperature accurately. I'll never use an old-fashioned thermometer again! It's pricey, but they sometimes have sale prices.
Can I make this in any skillet? You can! But I use a cast-iron skillet, because it browns so well, and works beautifully stovetop as well as in the oven. If I'm making 4 chicken thighs, I use this 5-qt skillet, but if I have 6 or am using chicken breasts, I like this larger skillet. I have had both of these skillets for years, and I seem to use them more and more.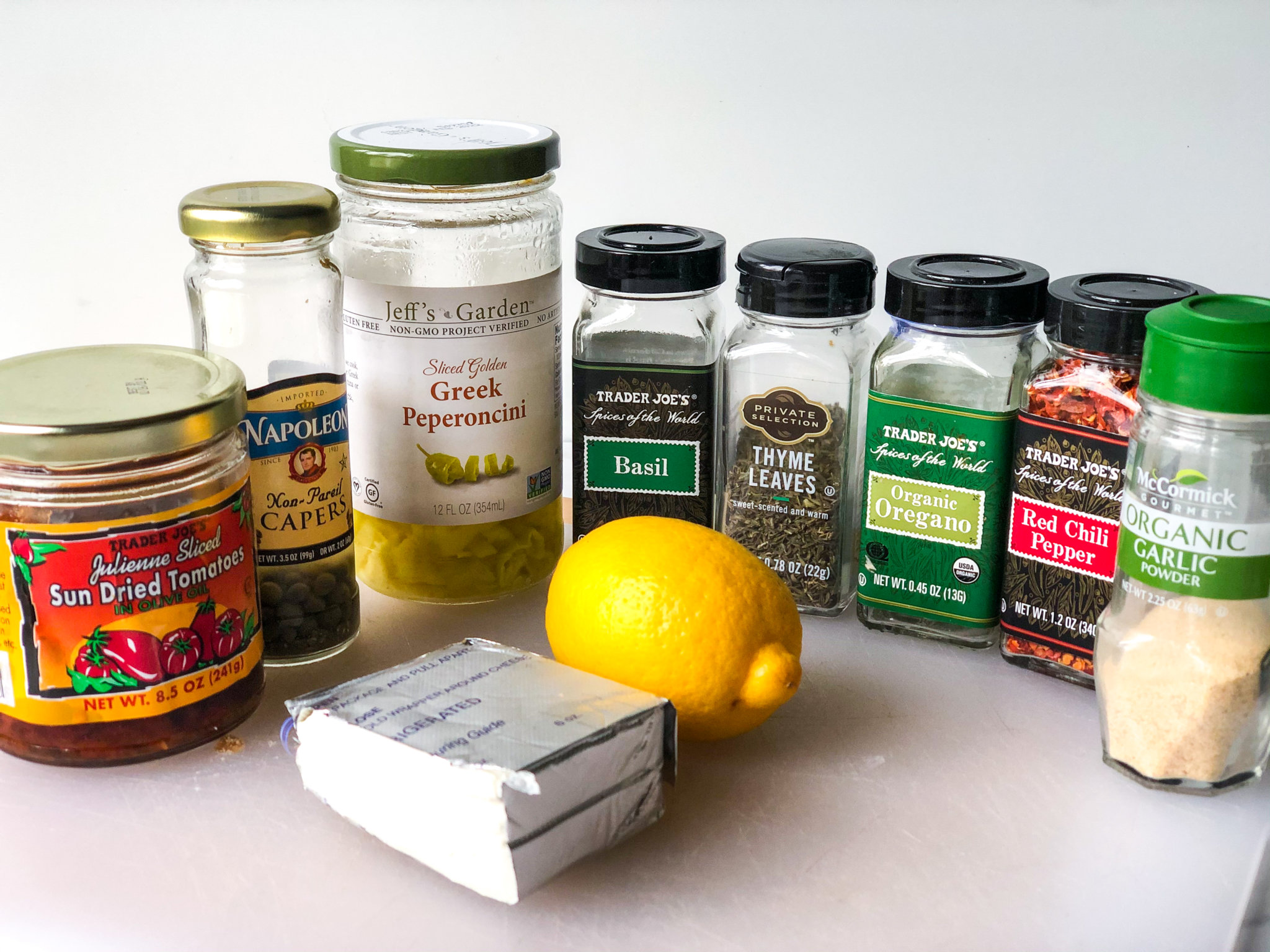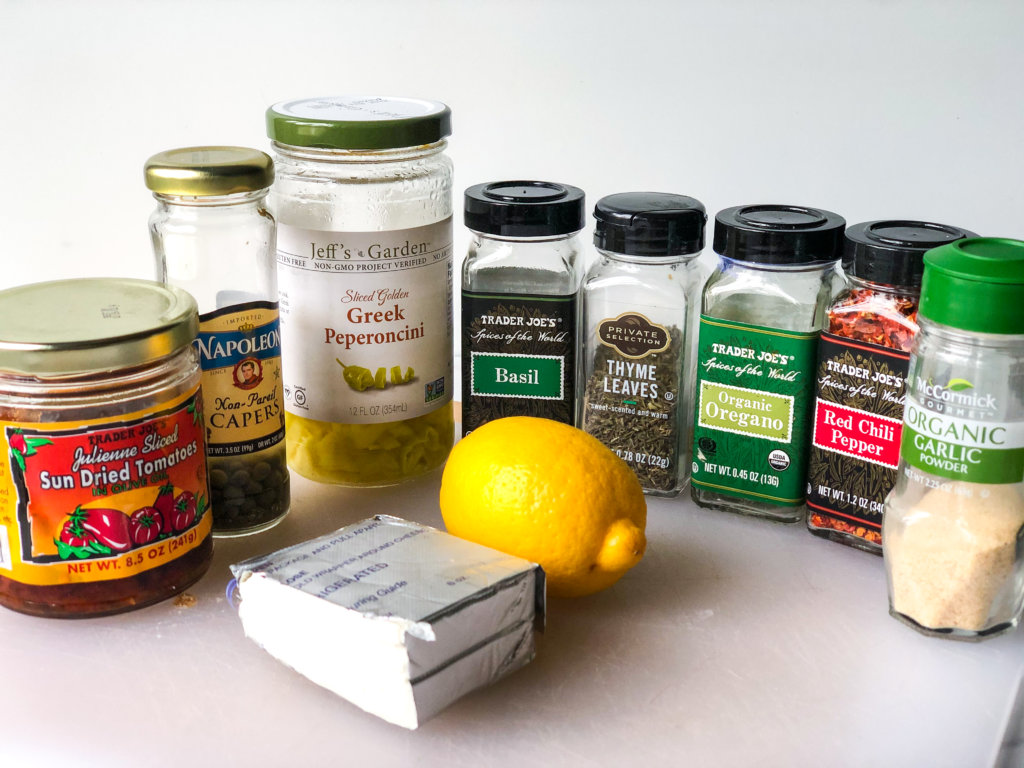 Print
Creamy Skillet Chicken
This is a Meditteranean-flavored version of the famous Creamy Tuscan Chicken, also known as "Marry Me Chicken" for reasons that may be obvious after you try it!
Delicious over pasta – so much flavor! I like it with Penne or Fettucine. And less than 45 minutes from fridge to table make this recipe a winner!
Author:
Prep Time:

10 min

Cook Time:

25-30 min

Total Time:

40 min

Yield:

4

–

6

Chicken Thighs

1

x
Category:

Chicken

Method:

Stove and Oven

Cuisine:

International
Ingredients
2

T (30 ml) Olive Oil

4

–

6

bone-in, skin-on Chicken Thighs (about

2

–

2.5

lb, or 1 kg)

2

cloves garlic, minced, or

1 tsp

Garlic Powder

1 tsp

Dried Basil

1 tsp

Dried Thyme

1/2 tsp

Dried Oregano

1 cup

(240ml) Broth or Water, plus extra, as desired

4 oz

. (

114g

)Cream Cheese
(optional) 1/4 tsp Crushed Red Pepper

1

lemon, zested, and reserving 1-2 Tbsp juice (about

1/2

lemon's worth)

1/2 cup

sun-dried tomatoes, chopped

2 Tbsp

(

30

ml) Sliced Pepperoncini peppers, drained

2 Tbsp

Capers, drained
(optional) 1/3 c pitted olives (Kalamata would be nice!)
Salt & Pepper
Instructions
Preheat oven to 400F (Conventional) or 380F (Convection/Fan)
Sear the Chicken Thighs
Dry the chicken thighs, and generously salt and pepper all sides.
Heat a heavy skillet over Medium-High heat. Add the olive oil. Once it is shimmering, add the chicken thighs, skin-side down. Sear both until golden, about 4-5 minutes. Then turn, to sear other side 4-5 minutes. Remove seared thighs from pan.
Make the Sauce:
Remove half of the fat from the pan. Add the garlic (or powder), basil, thyme, oregano and crushed red pepper, if needed. Once the spices are fragrant, about 30 seconds, add broth (or water), cream cheese, the lemon zest, tomatoes, pepperoncini, capers, and olives. Whisk until the sauce is creamy. Then add the seared chicken thighs to the sauce, keeping the skin side up.
Bake the Chicken
Place the skillet of chicken in sauce into the oven to finish cooking, 15-20 minutes.The sauce will thicken during the baking process.
Prepare pasta to al dente (about 1-2 minutes less than fully cooked), if desired.
Remove chicken from sauce, and add reserved lemon juice and stir. Add the al dente pasta to finish cooking.
Serve chicken with sauce, and pasta if desired.
Keywords: Skillet chicken, Cast-iron skillet, Creamy Sicilian Chicken, Creamy Tuscan Chicken, Easy, Marry Me Chicken,
Recipe Card powered by
PIN this Easy Skillet Chicken for later ->