Sheet Pan Rhubarb Chicken with Broccolini is a mouthful of Springtime! Easy enough for a weeknight, impressive enough for guests!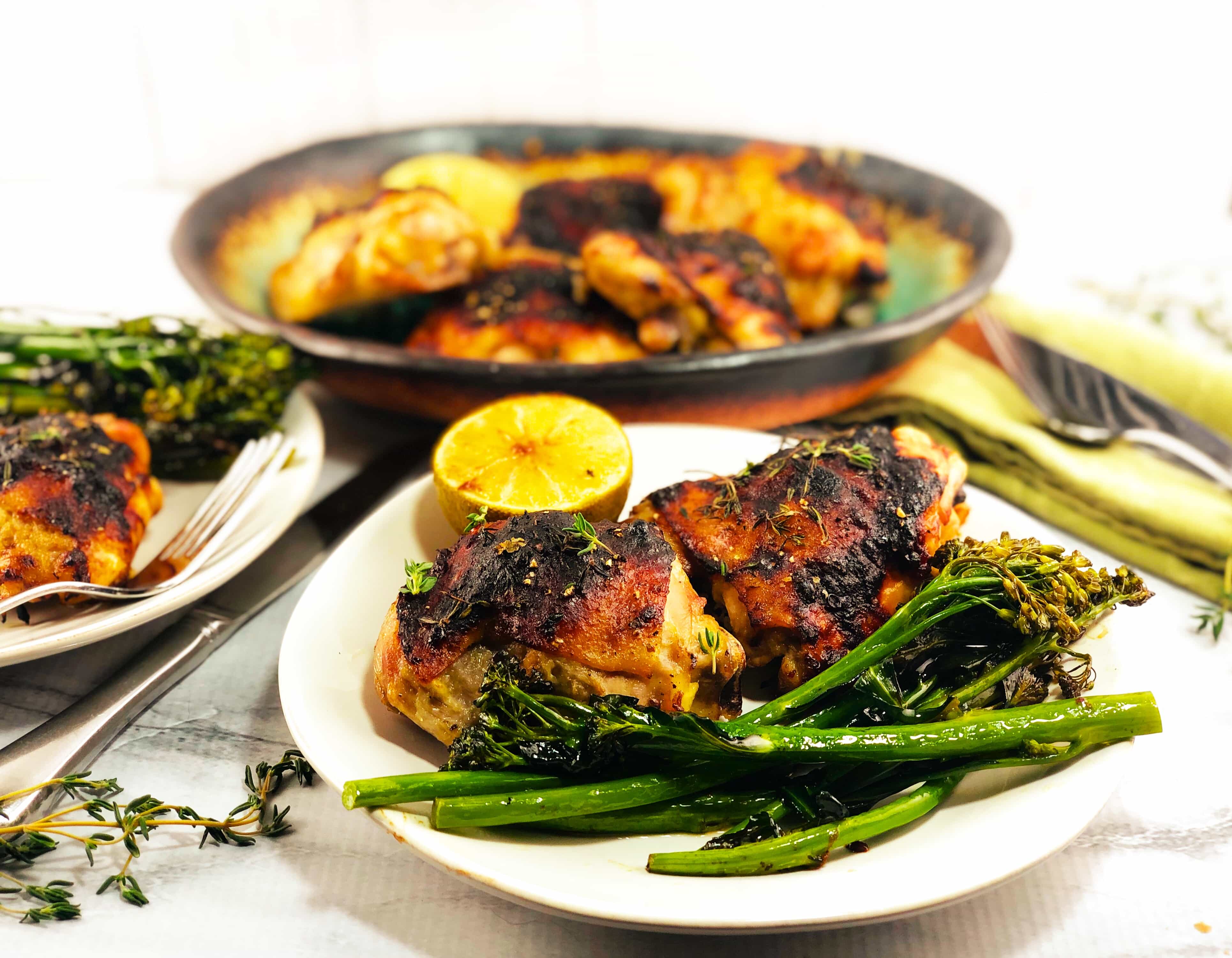 Rhubarb and I go way back. When I first saw it in our home garden in Indiana, I was pretty sure it was some trick to get us to eat more celery, albeit prettier celery. Then, when my Mom put it in a pie, I had to wonder. Should I taste this celery pie? I do like pie. However, this was the same Mom that made a savory pot pie she called "Kidney Pie", which my Dad could not have loved more. But me and my sibs, not so much. So, … there's that.
Of course, as usual, Mom knew what she was doing. All it took was just one mind-blowing bite and I knew this rhubarb was something special. I just love that strong tang, so different from citrus, followed up with sweetness of the lovely red and green stalks. And, thankfully, she never did make that kidney pie again. Although we were always skeptical when Beef Pot Pie appeared on the table. Someone, most often my sister Beth, would ask "You didn't put kidney in that, did you?"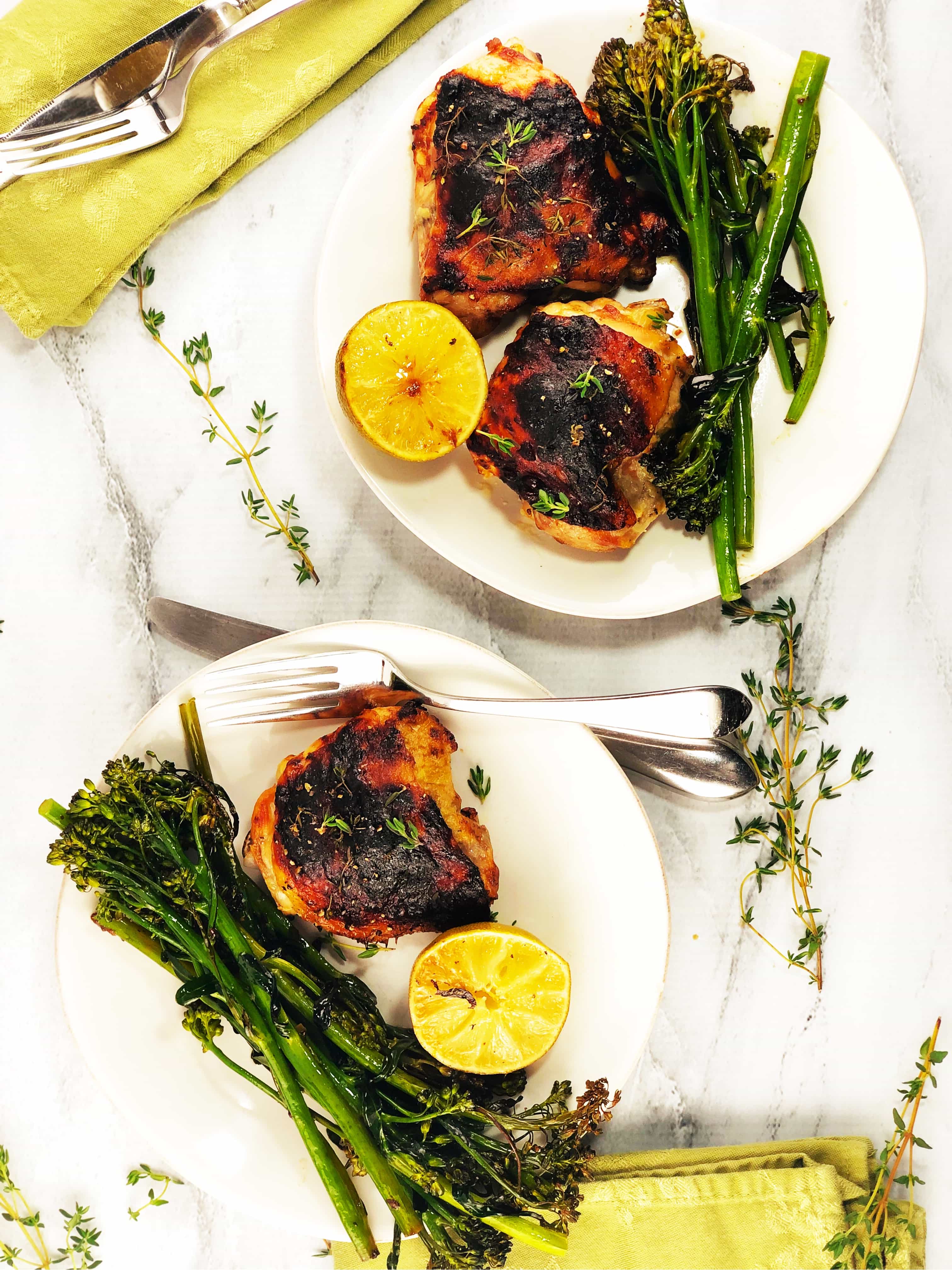 When I moved to the Pacific Northwest, I was thrilled to find rhubarb in the grocery and promptly made a crisp. But the taste was … different. It was (disappointingly) milder. Huh! What's up with that? Turns out, not surprisingly (!), different varieties of rhubarb just taste different. So take a look at the Rhubarb Compendium. Because, thank goodness, there IS a Rhubarb Compendium. You'll see there are many varieties, each with its own size, coloring, and flavor profile.
So, now, I actually give the rhubarb a bit of a "smell test" to see if it has the aroma of the tart, tangy, and fresh flavor that I recall from my childhood. Maybe it's just me, but I also feel like the later-harvested (June-July) varieties have a bit more flavor. But I can guarantee, this Sheet Pan Rhubarb Chicken with Broccolini is not lacking in any flavor at all! Rhubarb gives it a "punch" so pleasant, you'll want it again and again!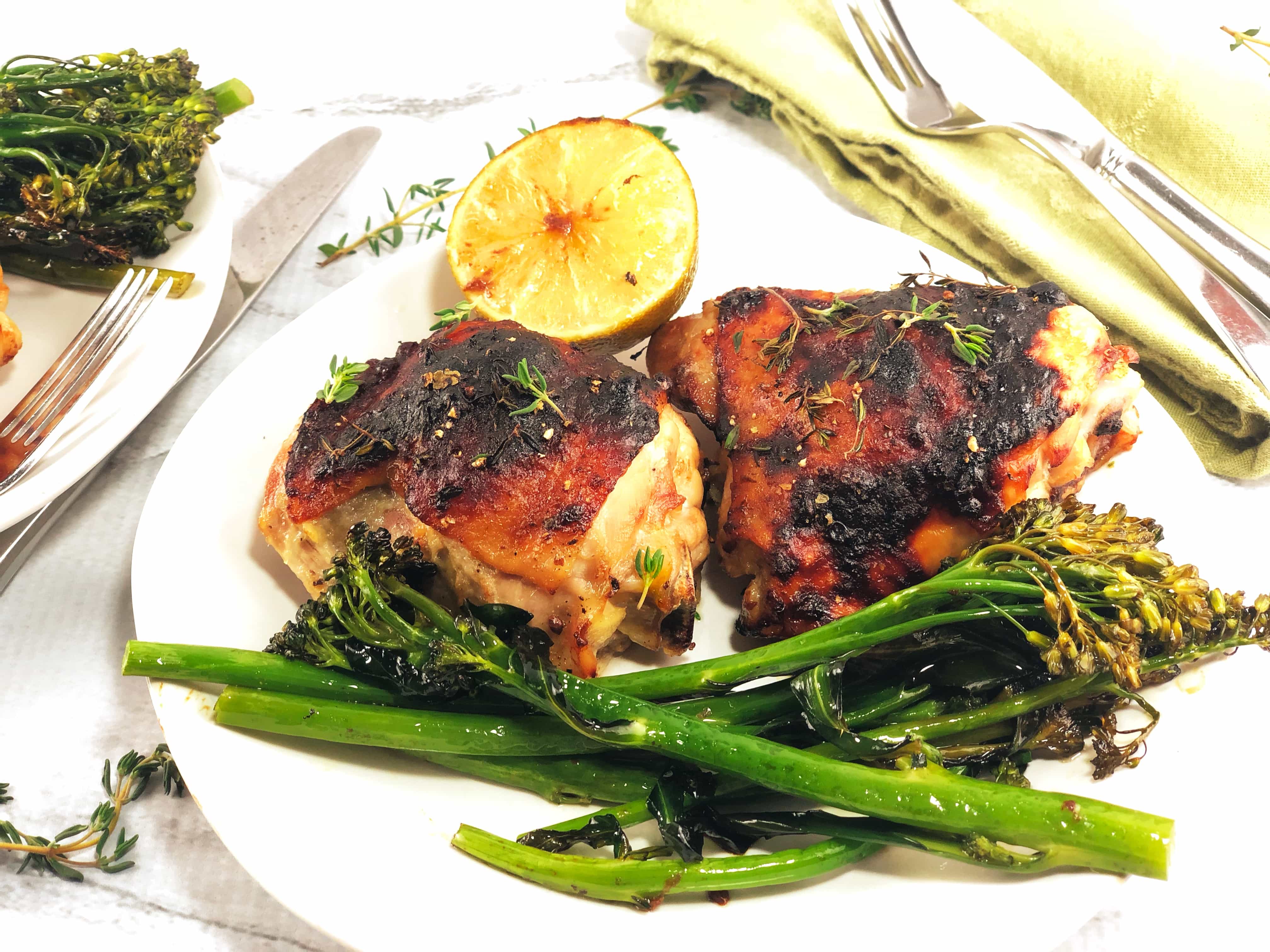 Recipe Details
The recipe, like most Sheet Pan dinners, is pretty easy. First, you'll need to make a "Rhubarb Butter" by simmering together some chopped rhubarb, honey and orange juice. Then, you strain the rhubarb, and mix that with some butter, but save the juice, because that will be used to baste the chicken thighs. Rub the butter between the skin and the flesh of the chicken. Baste them with olive oil and reserved liquid, and pop into the oven for 30 minutes.
Partway through the bake, drop some veggies onto the pan, and 15 minutes later, one of the most flavorful dinners ever is ready!
Lastly, thanks to Ron, who writes a lovely blog on Scandinavian traditions and foods, for reminding me of Rhubarb chicken, which I made several years ago, and realized I'd been missing that flavor!
Enjoy!
So, if you love sheet pan dinners, why not try this Curried Chicken with Cauliflower and Grapes or my Greek Chicken and Vegetables?
If you're looking for other chicken recipes, take a look at this Skillet Chicken with Pancetta, Olives and Caramellized Lemon, or this super-tasty Korean Oven-Fried Chicken
Also, take a look at my other Rhubarb Recipes!
PIN Sheet Pan Rhubarb Chicken ->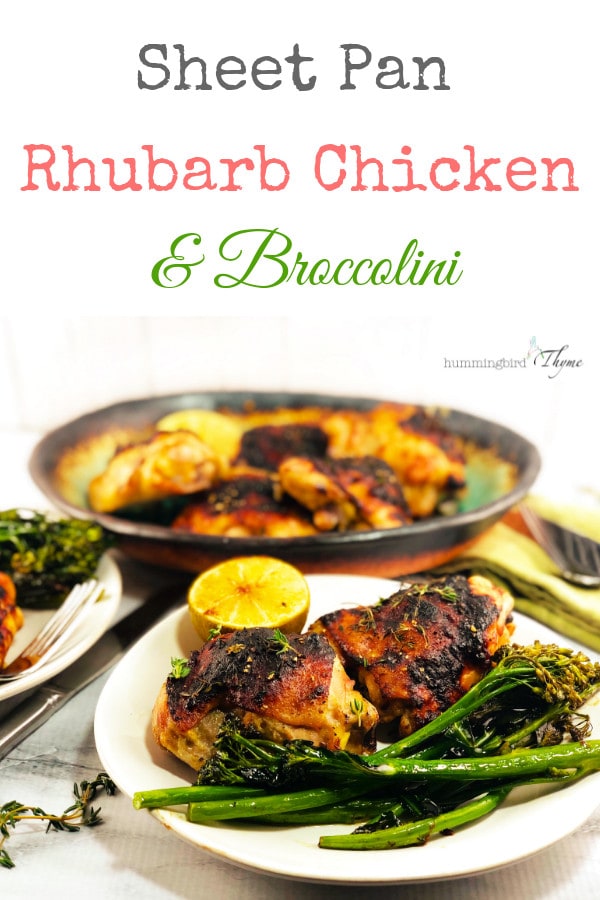 Print
Sheet Pan Rhubarb Chicken
A wonderful Springtime meal! Quick enough for a weeknight, delicious enough for a dinner party! Succulent Chicken Thighs basted with rhubarb butter are roasted along with Broccolini (or thin asparagus) to create a super-flavorful meal.  Serve with bread, or add a few chopped potatoes to the pan to cook along with the chicken and veg!
Author:
Prep Time:

15-20 min.

Cook Time:

45 min

Total Time:

65 min

Yield:

8

Chicken Thighs

1

x
Category:

Chicken

Method:

Roast

Cuisine:

American
Ingredients
2

c Rhubarb, about

1

large stalk, sliced into

1/2

" sections

1/4

c Orange Juice

2

T Honey

1/2

c (1 Stick) Butter, ROOM TEMP.

8

Chicken Thighs (See Note 1)

2

T Olive Oil, divided

1

T Thyme Leaves

1

Bunch Broccolini or Asparagus

2

Limes
Instructions
Prepare the Pan and Oven
Preheat oven to 400F (standard), or 385F (fan/convection).
Spray 12×17 (or similar) sheetpan with cooking spray or brush with oil.
Make the Rhubarb Butter
In a small saucepan (2 qt), heat the rhubarb, orange juice, and honey to a simmer. Simmer until rhubarb is softened, about 6-8 minutes.
Strain the softened rhubarb over a bowl, and reserve the pink liquid. You will use it to baste the chicken. 
Set the rhubarb chunks to cool a bit.
When cooled, using a fork, mix the softened rhubarb with the butter, until all of the butter is smoothly incorporated. Salt (1/4 t) and Pepper (Big pinch) the butter.
Prepare the Chicken Thighs
Gently loosen the skin over each thigh.  Using a teapoon, place a spoonful of the rhubarb butter between the skin and flesh and rub it around a bit.  It's ok to rub a bit on the bottom of each thigh as well.
Pat the tops of the thighs dry with a paper towel. Place each on the sheetpan, covering about 2/3 of the sheetpan.
Salt and pepper each thigh, then brush the tops of the thighs with 1 Tablespoon (total) Olive oil. Then brush with the reserved Rhubarb liquid.
Sprinkle with thyme leaves.
Place in preheated oven. Roast 30 minutes. Remove from oven.
Add the Broccolini (or Asparagus)
Toss Broccolini spears with 1 T olive oil. Salt and Pepper generously. Cut limes in half.
Add to the section of the sheetpan that is still empty. Place limes, flesh side down, onto the pan as well.
Return pan to oven for 15 more minutes.
When done, remove pan from oven, let rest 5 minutes, then remove and serve, squeezing lime juice over everything.
Notes
Feel free to substitute Bone-in, Skin-on Chicken Breasts, if you prefer, for the thighs, just be careful not to over-cook.  You may want to check for doneness at 35-40 minutes total. Internal temp should be 165F.  
Keywords: Sheet Pan, Rhubarb, Chicken, Thighs
Recipe Card powered by