A stunner of a weeknight dinner! This Curried Sheet Pan Chicken with Cauliflower and Grapes is quick, easy and super-FLAVOR-FULL!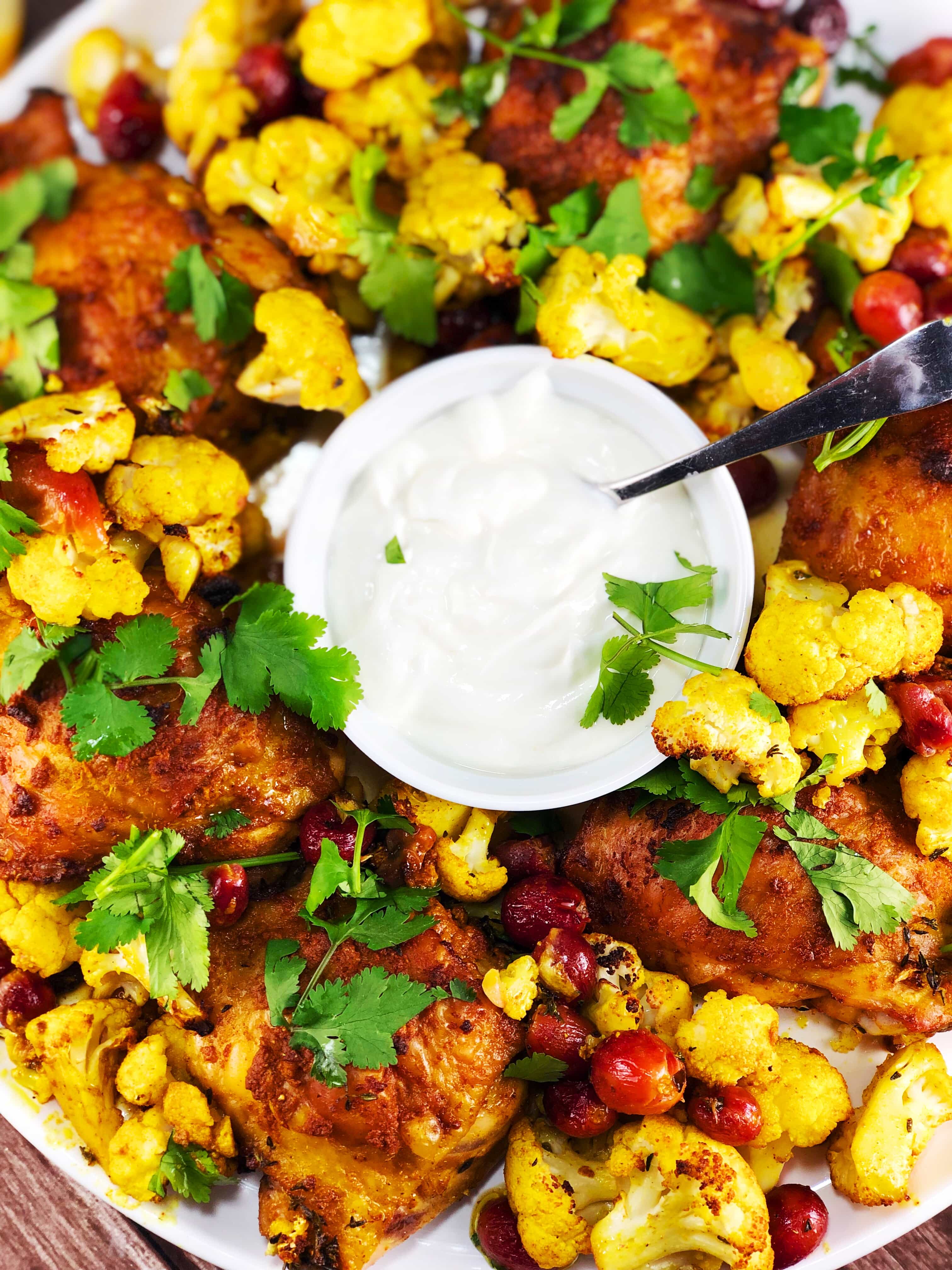 So, at this point, we've had more snow than at any time during the past 70 (that's SEVENTY 7-0!) years. School has been closed for, I don't know, maybe a month (ok, barely a week). This is because when we have snow, we have twice as much ice as snow. With all of the steep hills here, it's a no-go situation. So, we've been working day and night to keep the hummingbird feeder defrosted for this little guy. Now, he looks sweet, but he's pretty territorial about protective of his our feeder. And, with the freezing temps, it does sometimes turn to ice. Then a couple nights ago, the snow turned to freezing rain. Subsequently, the heaviness of it all caused accumulated snow to slide from the roofs, sounding like an avalanche. But it also slid off of the tall fir trees, the place where many birds spend their nights. All this explains why I've been a little nervous that he hadn't returned to his perch in a couple days.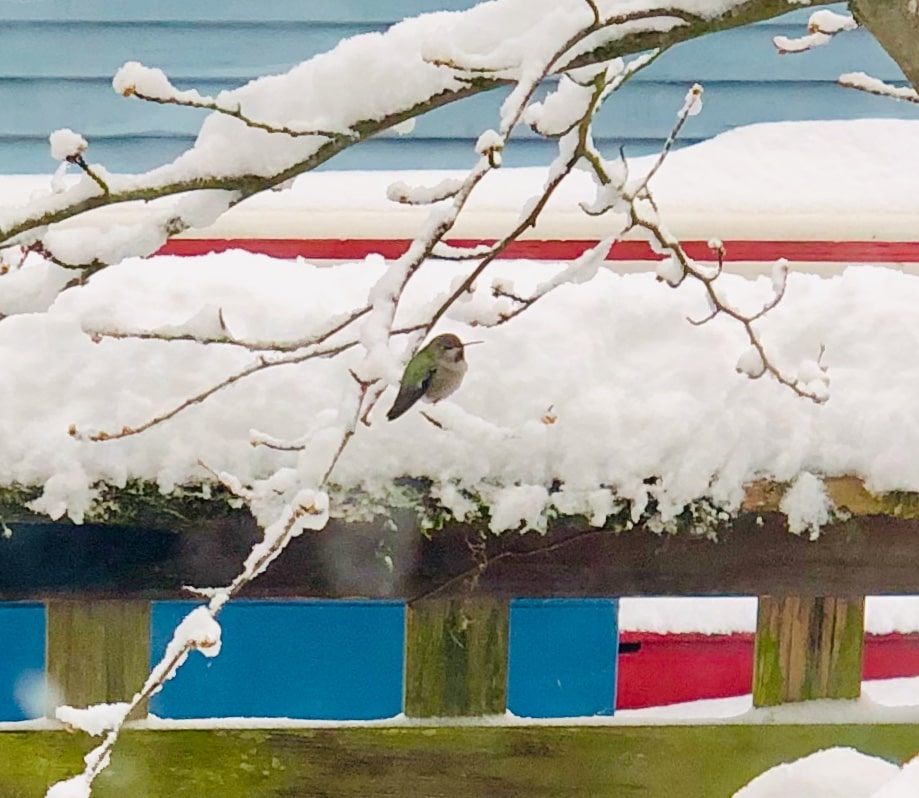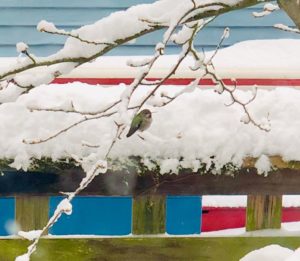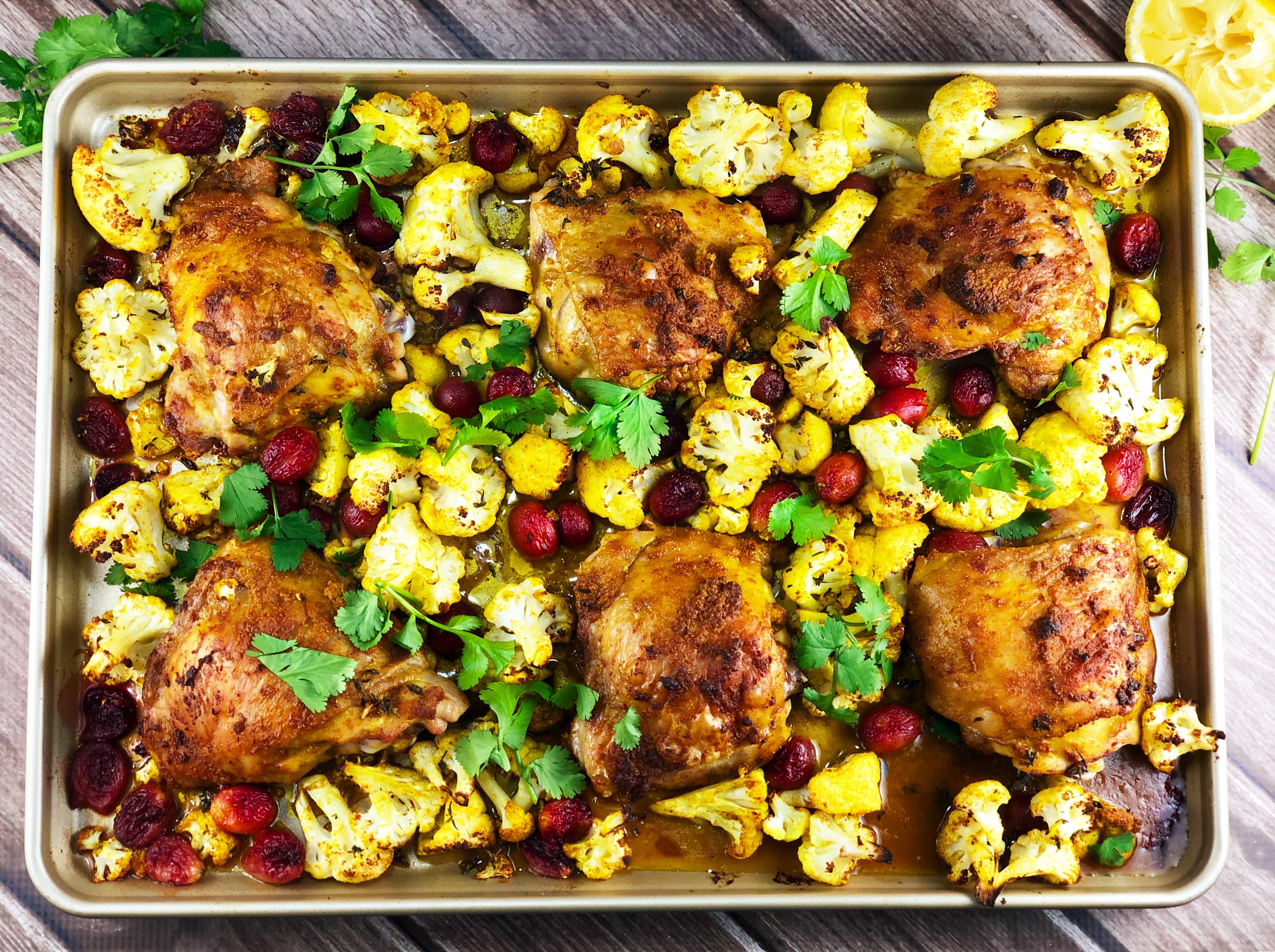 With all of that scanning the trees, bushes and feeder, I barely had the attention span to fix a nice hearty dinner. And, being pretty much homebound, I've got the time…., well, usually. You see, these hummingbirds are kind of like my pets, meaning part of my Family. [Read more about it, and also find a good recipe for Easy Chicken Tortilla Soup HERE. (Or, there's some video on my Facebook Page!)]
I'm just enthralled by their comings and goings and everything they do, ever since I watched one build, maintain and hatch her baby birds right in front of me. Consequently, I keep an especially watchful eye during nesting season. Anyway, we think this little bird is from the nest 2 years ago. My worry over him is actually what led me to this recipe for Curried Sheet Pan Chicken with Cauliflower and Grapes.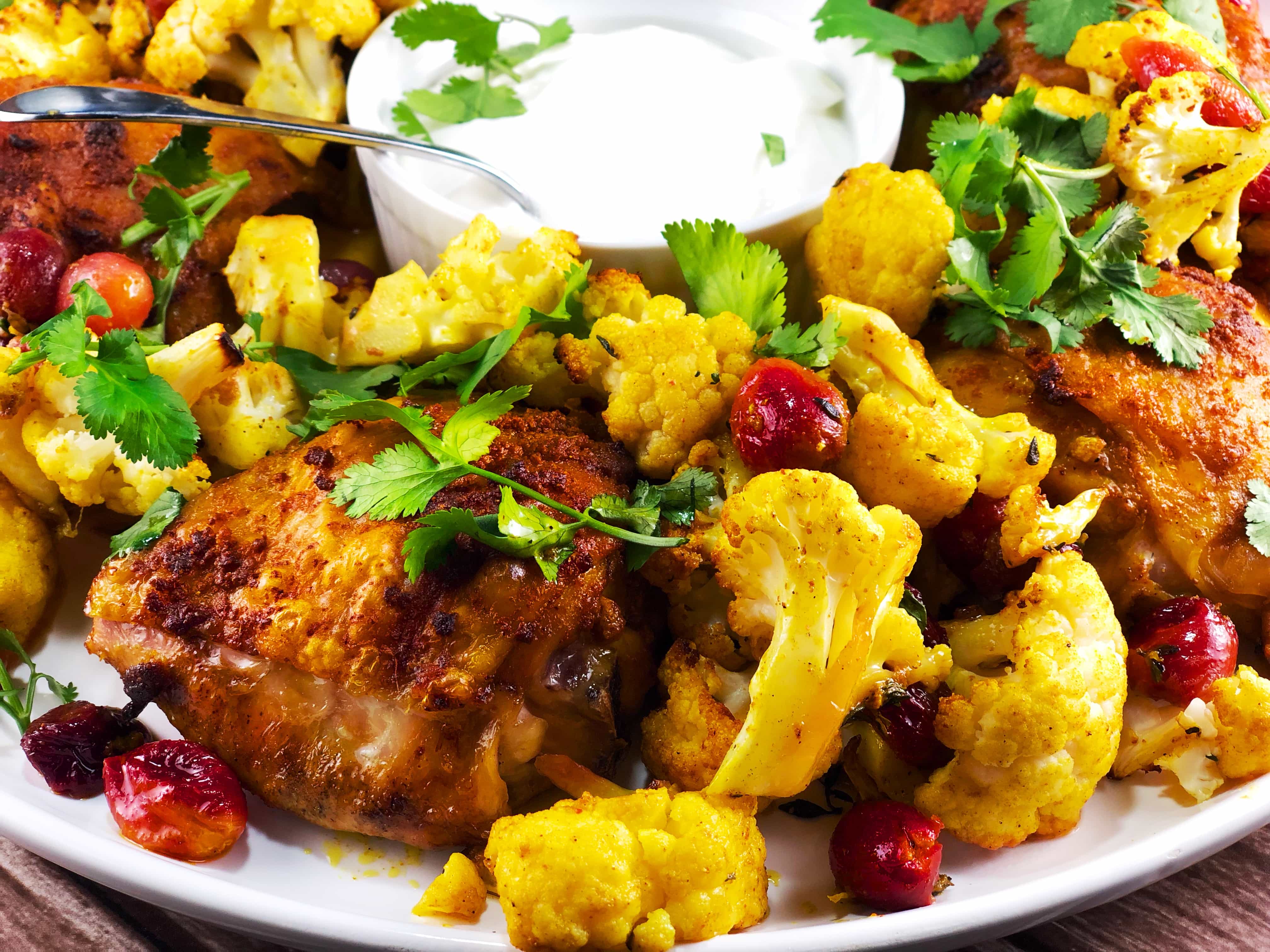 Like many Sheet Pan Dinners, this one is both healthy and tasty. But unlike others, it has a wonderful curry vibe and a super tasty yogurt sauce. And, if you've never roasted Red Grapes – you just have to! As they cook, they soften and burst and ooze their juice, which mingles with the olive oil and curry – earthy, sweet, spicy! Just delectable.
So, if you like, you could make the chicken thigh meat, tender cauliflower and juicy red grapes into tasty sandwiches slathered with the lemony yogurt. Or, you could just scoop the deliciosity (I know it's not a word, but it needs to be, amiright?) straight out of the pan, for a full meal, like we did! Fortunately, since you prep most of it while the oven preheats and the chicken par-cooks, it really does take just 35 minutes once your oven is preheated. It's a total WIN-WIN-WIN! (Flavor – Ease – Time!)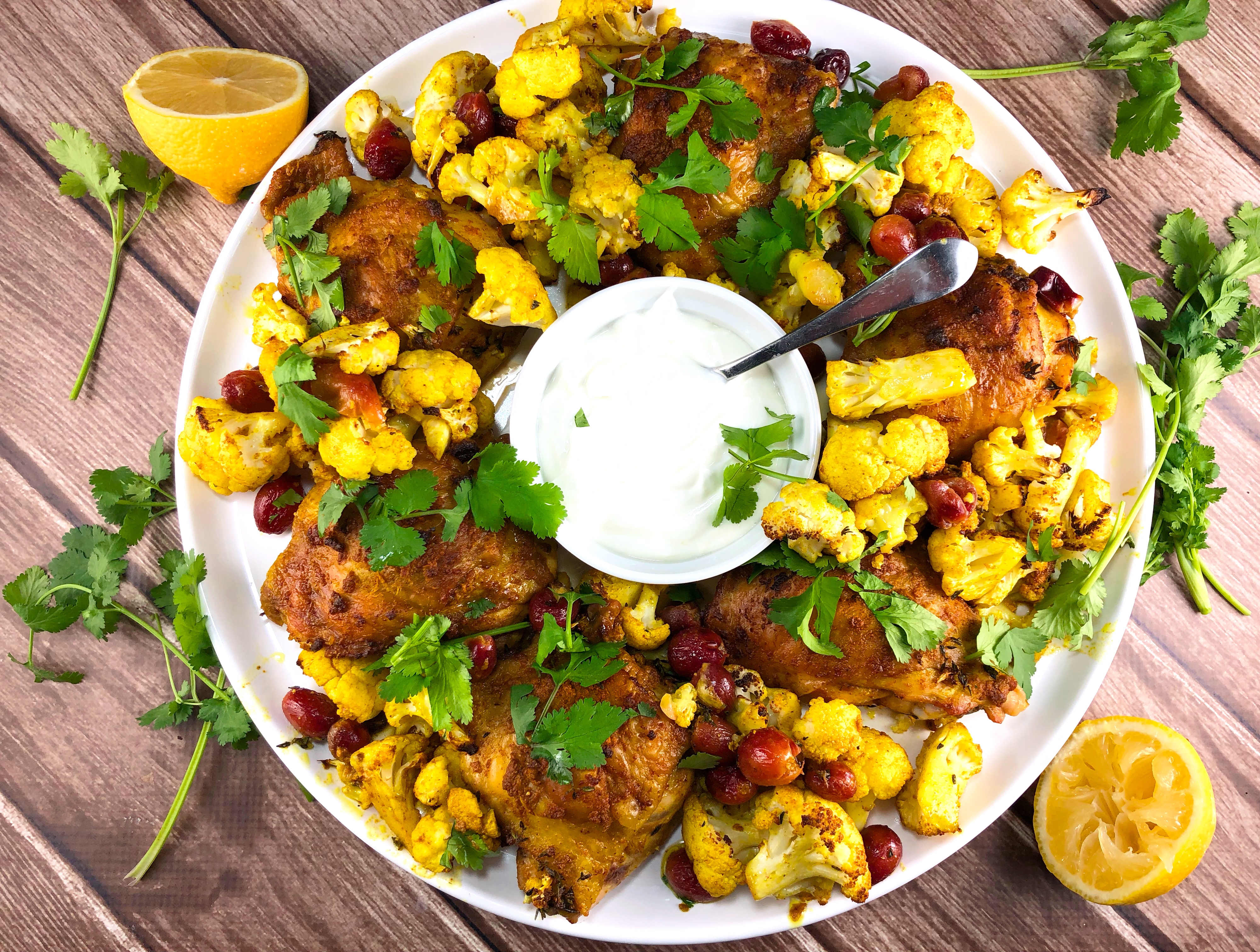 Thankfully, my eagle-eyed daughter spotted the missing bird today. ("Kids these days!" – the birds, I mean, not eagle-eyed daughter) He seems to have moved away from his usual perch, but he is visiting the yard and the feeder. Which is why I'm typing my post rather than staring wistfully out the window. All is right with the world again. And, I think school might be back in session tomorrow. Enjoy!
If you love Sheetpan dinners, don't forget to check out this Roasted Vegetable Medley with Chicken and Feta.
If you want more chicken recipes, click HERE, so many to choose from!
PIN Sheet Pan Chicken with Cauliflower and Grapes ->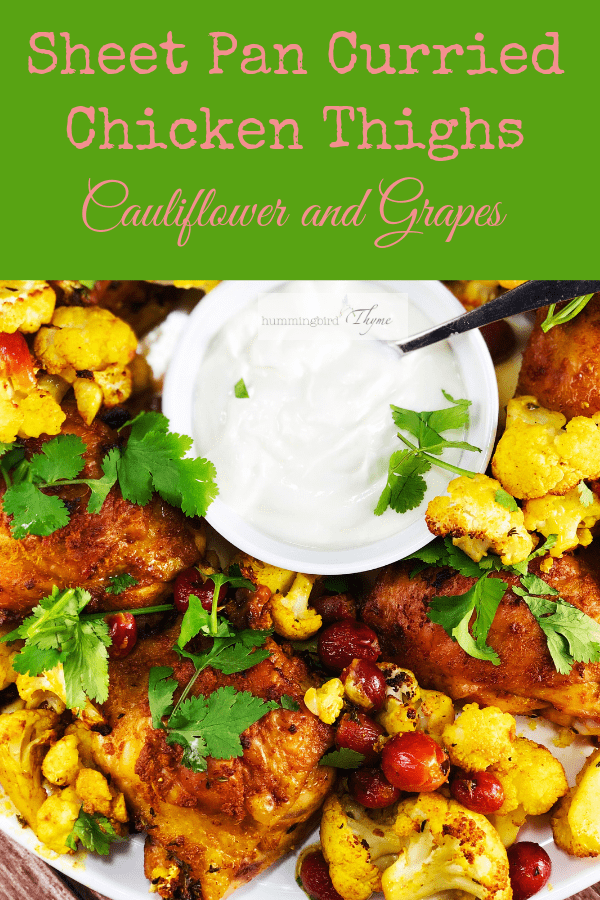 Print
Curried Sheet Pan Chicken with Cauliflower and Grapes
Adapted from one of my faves, Emily C at Food52, this Recipe really amped up my weeknight chicken dinner.  An easily prepared curry-yogurt paste is slathered on the chicken thighs and a simple curry oil made for the cauliflower and (Mmmmm.) red grapes, this tasty dish will be a mainstay on your table and mine!
The only special equipment you need is a sheetpan!
Author:
Cook Time:

35

Total Time:

45

Yield:

6

servings

1

x
Category:

Chicken

Method:

Sheet Pan
Ingredients
For the Chicken:
6

Bone-in, skin-on Chicken Thighs (around

2.5

lb, or

1.2

kg)

2

T Full-fat Plain yogurt (Greek or regular is fine)

2

T Olive Oil

4

t Curry Powder (without salt)

2

t Kosher Salt
For the Cauliflower
1

t Curry Powder

1

T Olive Oil

1

head cauliflower, cut into small florets

1

c Seedless grapes, red or black, halved if large

1

T Fresh thyme, roughly chopped

1/2

t Kosher Salt

1/4

t Fresh-Ground Black Pepper
For the Sauce:
1

c (240 ml) Full-fat Plain Yogurt, Greek or regular

1

–

2

large pinches Kosher Salt

1

T Fresh-squeezed Lemon Juice
Garnish:
Handfuls of roughly chopped cilantro, parsley and/or dill
Instructions
Par-cook the Chicken
Heat oven to 425F. Make a curry rub by mixing the yogurt, olive oil, curry powder, and salt until all ingredients are fully incorporated. If not completely emulsified, don't worry, but you could add a bit more olive oil to make it more uniform.
Rub the curry sauce over the top and bottom of each thigh, and underneath the skin. Place thighs onto sheetpan, with space between them.
Roast chicken for 15 minutes.
Prepare the Caulflower/Grape mixture
While the chicken par-cooks (above), place the following in a large bowl:  1 t curry powder, 1 T olive oil.  Mix well, then add the cauliflower, grapes, thyme, 1/2 t salt, 1/4 t pepper. Toss everything well to evenly coat.
When the 15 minutes of roasting are over, remove the sheetpan with the chicken, and add the cauliflower/grape mixture, placing it evenly as possible around the chicken pieces. Return the pan to the oven, and roast for 20-25 minutes, until chicken is fully cooked through – it should be 165F in the thickest part.
Cauliflower should be tender. If it is not, remove the chicken and place the pan of cauliflower back in the oven for 10 minutes or so until done to your liking.
When everything is done, squeeze juice from half a lemon over the pan.  Taste for salt/pepper to your liking and add any extra lemon juice if you like. Toss in fresh herbs, as desired, and/or drizzle with a bit more olive oil, as desired.
Prepare the Yogurt Sauce:
Mix yogurt, lemon juice and salt.  Stir to incorporate. Serve with chicken/cauliflower/grapes.
Keywords: Sheet Pan Chicken
Recipe Card powered by