Hearty and Healthy, Red Lentil Farro Sweet Potato Soup is savory and satisfying with a hint of smoky spice. You may just want to double the recipe!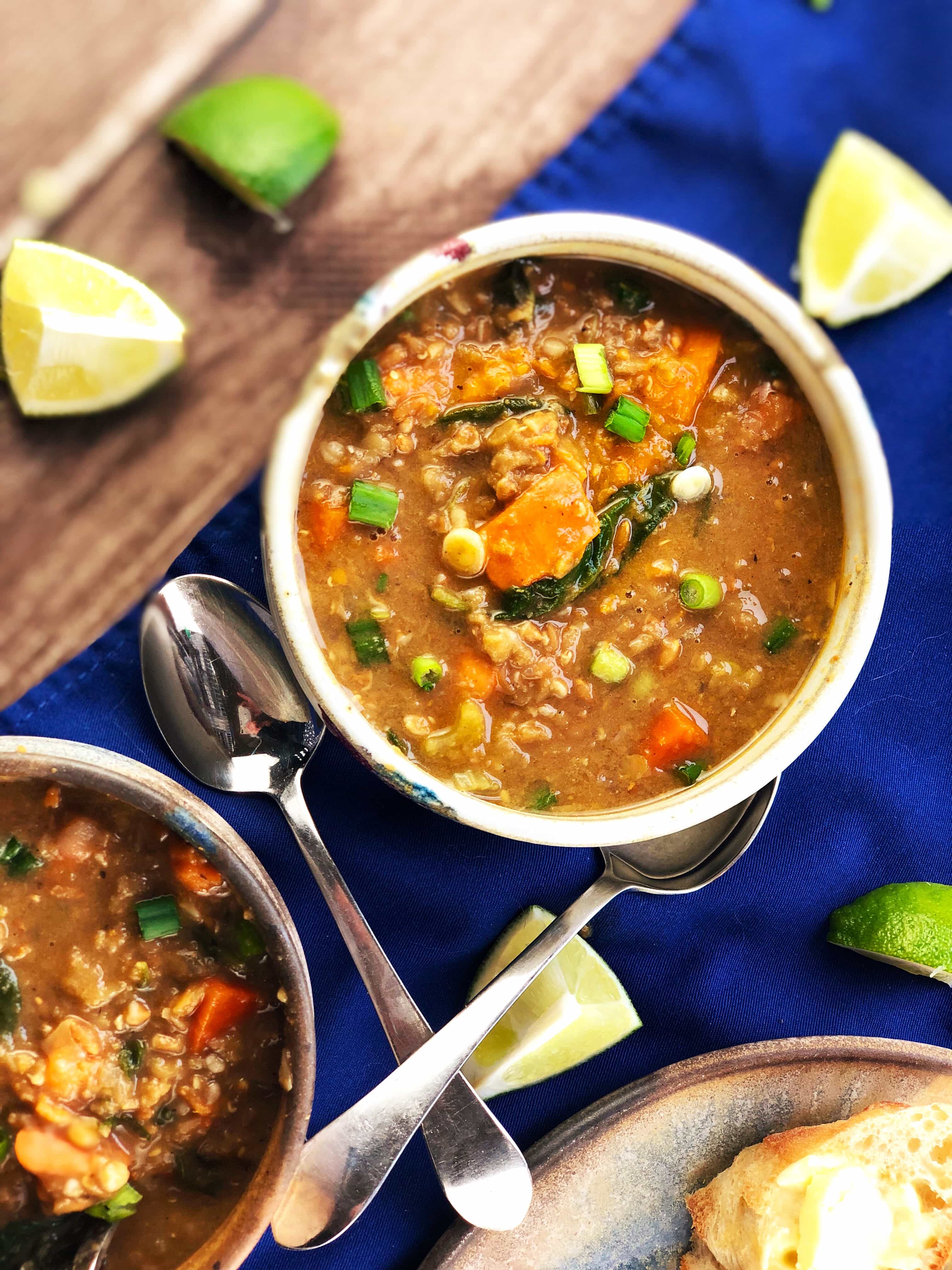 It's funny, isn't it? How we live so differently from previous generations? We think we are so "modern", so lucky, to have all of our new electronics and gadgets that make our lives… – what? Easier? We have things like computers and cellphones, whose very names our parents had never even heard when they were young. But do these things really make our lives easier? Or do they just add to the number of things we need to manage? Granted, they make certain things easier. Like researching information on a favorite topic, or communicating at once with the entire family. But I vote for #2 – it's often just more balls in the air. And then, while we juggle all of the extra balls, the simple things in life – our quality time, our attention – are easier to fall by the wayside. So we need other ways to reclaim the quality of our lives.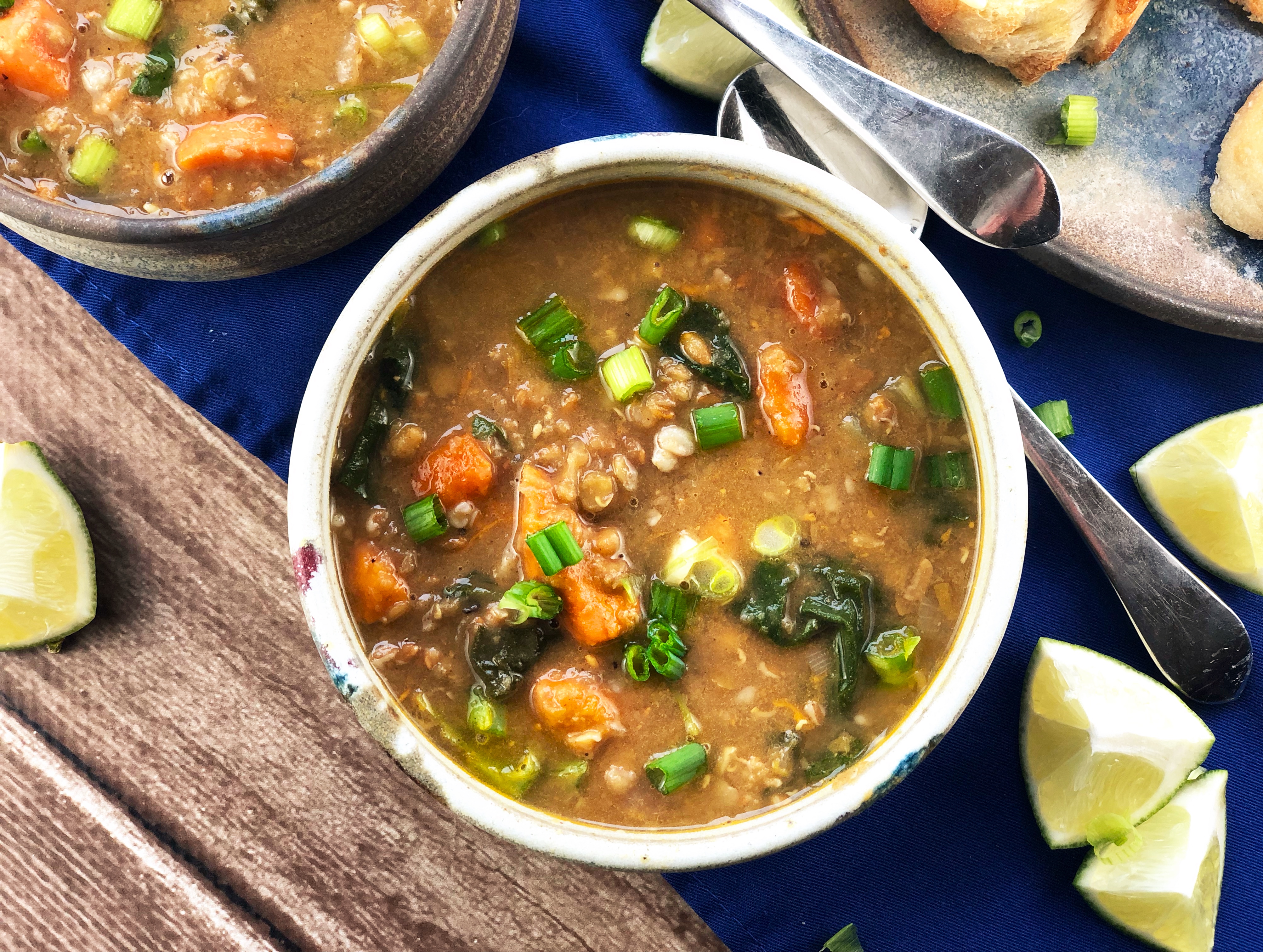 That brings me to this Red Lentil Farro Sweet Potato Soup. Much like those new electronic gadgets, it contains ingredients which, until several years ago, many of us had never heard of. Farro? Red Lentils? Kale? Garam Masala? All things I've discovered over the past decade or so. They do make my life better. I'm hoping they make my life healthier. And this soup is a way to use these newish-to-me ingredients and make life a bit simpler.
And, just one bite of my Red Lentil Farro Sweet Potato Soup will show that these simple ingredients can come together to make something so flavorful, no one will know how super-easy it was to make. Those tender sweet potatoes and protein-packed lentils, along with some texture from the slightly chewy farro will make it feel more like a stew than a soup, or as Rachael Ray would call it, a "Stoup". Warm spices like cumin, paprika and slightly spicy Garam Masala invite another bite, and another. SO good.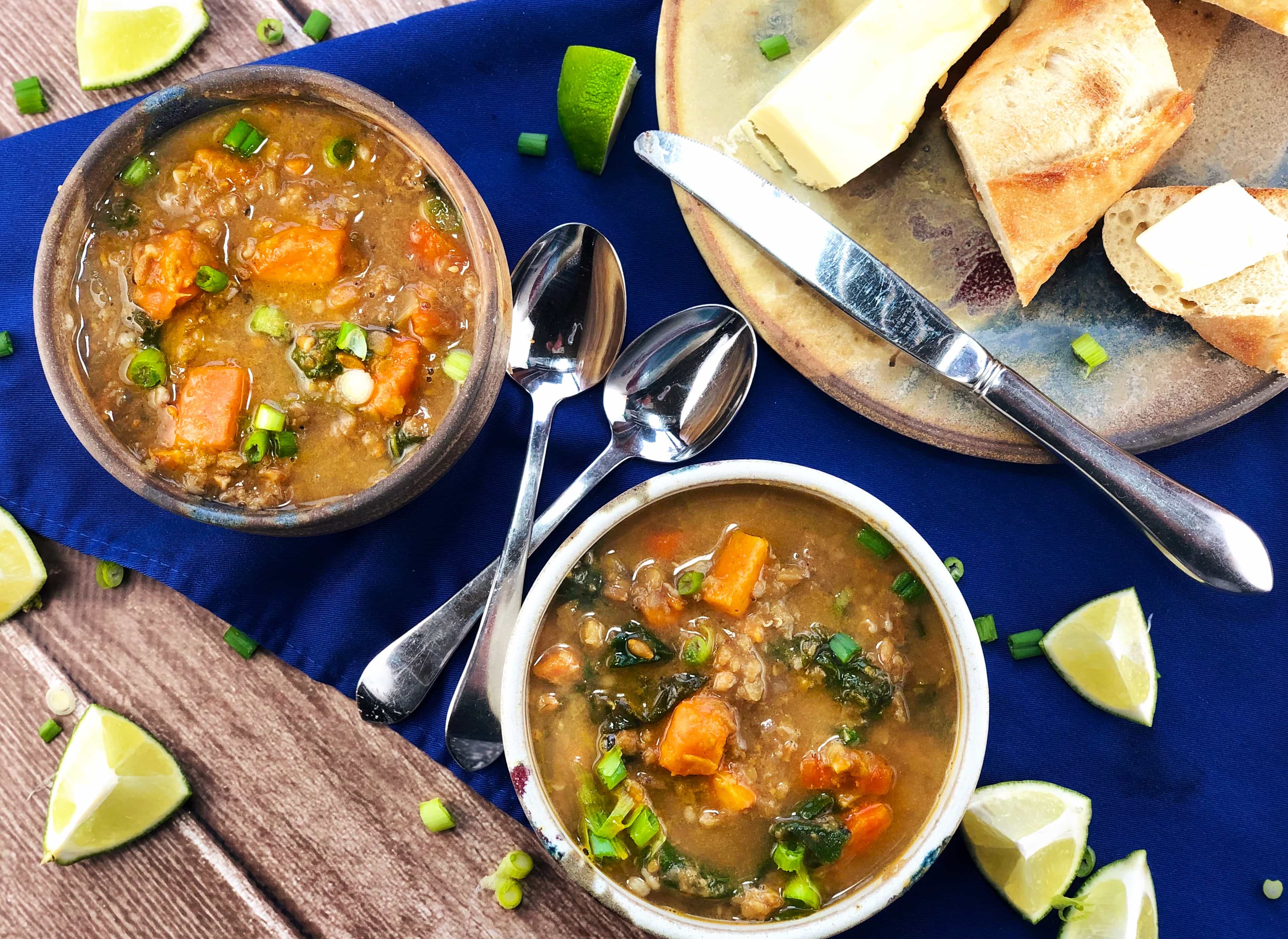 I often hear people wishing for past times they think of as the "good old days". Possibly, that's because people remember a time when we weren't so "lucky" to have all the modern conveniences that can fill up our lives. And, you have to believe, they thought they were the modern ones, too, so lucky to have things like television, washer/dryers, a car in every garage. They likely also wondered why their parents were nostalgic for the simpler times of their own lives. Just like the generation that follows us will likely think we are all so "old-fashioned".
So, with all of this in mind, I'm attempting to be more present in my own life. The way many of us are more present with our gadgets than with other people. I don't need that cellphone in my hand all the time. And I want to enjoy family, friends, food, connections. And a bowl of good soup. Like this Red Lentil Farro Sweet Potato Soup. Enjoy!
So if you love Soup like I do, be sure to check our my Easy Chicken Tortilla Soup with Nachos, or my Smoky Lentil Soup with Sausage and Veggies, or this fantastic Vegan Moroccan Vegetable Soup!
PIN Red Lentil Farro Sweet Potato Soup ->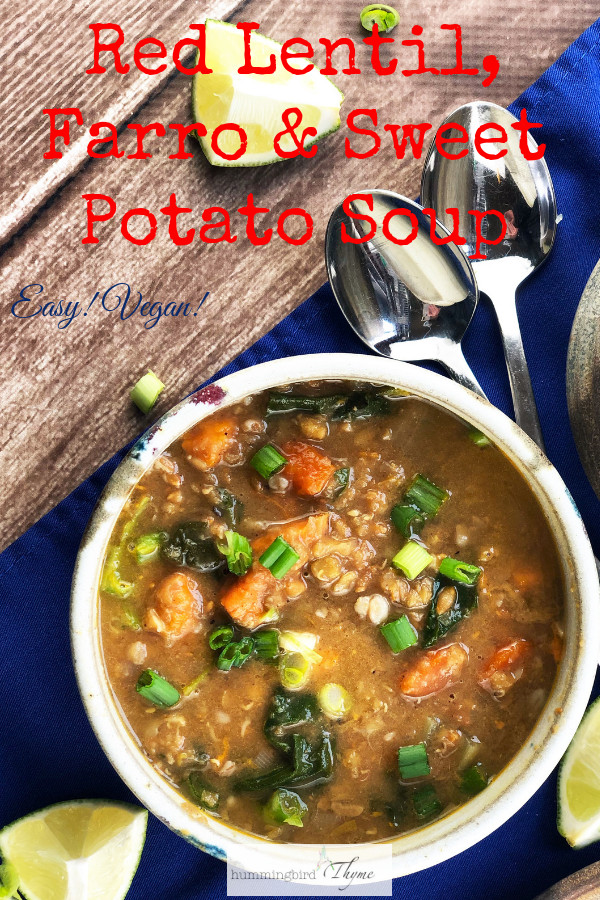 Print
Red Lentil Farro Sweet Potato Soup
Author:
Prep Time:

20 min

Cook Time:

60-120 min

Total Time:

1.5-2.5 hours

Yield:

3 quarts

1

x
Category:

Soups

Method:

Stovetop

Cuisine:

American
Ingredients
1 T Olive Oil (or other oil of your choice)
1 Medium Onion, chopped
1/2 c Chopped Celery (about 1 stalk)
1 Large Carrot, chopped
1 Large Sweet Potato (I use the Red Garnet variety), cut into cubes (2–3 cups)
1 Clove Garlic, minced
2 t Ground Cumin
1 t Garam Masala
1 t Smoked Paprika 
1 Bay leaf
7 cups Stock or water
1/2 c Farro (whole or split)
1 c Red Lentils
3–4 c Baby Spinach or Baby Kale
2 T Lime Juice
Salt and Pepper
Instructions
Saute the Vegetables
In a large heavy pot (5-qt or larger), over Medium heat, heat the olive oil.  When hot, add the onion and celery.  Saute about 3 minutes, then add the carrots, continuing to saute 3-4 more minutes.  Add the garlic and when you smell it's aroma, add the cumin, garam masala, paprika, 2 teaspoons salt and a teaspoon ground black pepper.
Add the cubed sweet potatoes to the mix, stir to combine.
Add 6 cups of the stock or water – the remaining cup to be added later, if needed.  Add the Bay leaf.
Add the farro – if it is split farro, add the lentils at the same time.  If it's whole farro, add the lentils 30 minutes later.
Simmer until farro and lentils are fully cooked, about 30 minutes after the lentils are added.  Add the Baby Kale or spinach, simmering 5-10 minutes until ready to serve. You can simmer longer, no problem at all!
Test the soup to see if you need more salt, pepper, or stock.  Adjust any other seasonings – I usually add in a bit more salt, cumin and/or Garam Masala.
Just prior to serving, squeeze the juice from a lime into the soup. Serve!
Keywords: Red Lentil Farro Sweet Potato Soup
Recipe Card powered by