Sweet – Salty – Scrumptious! Start your day with this super-easy Peanut Butter Granola!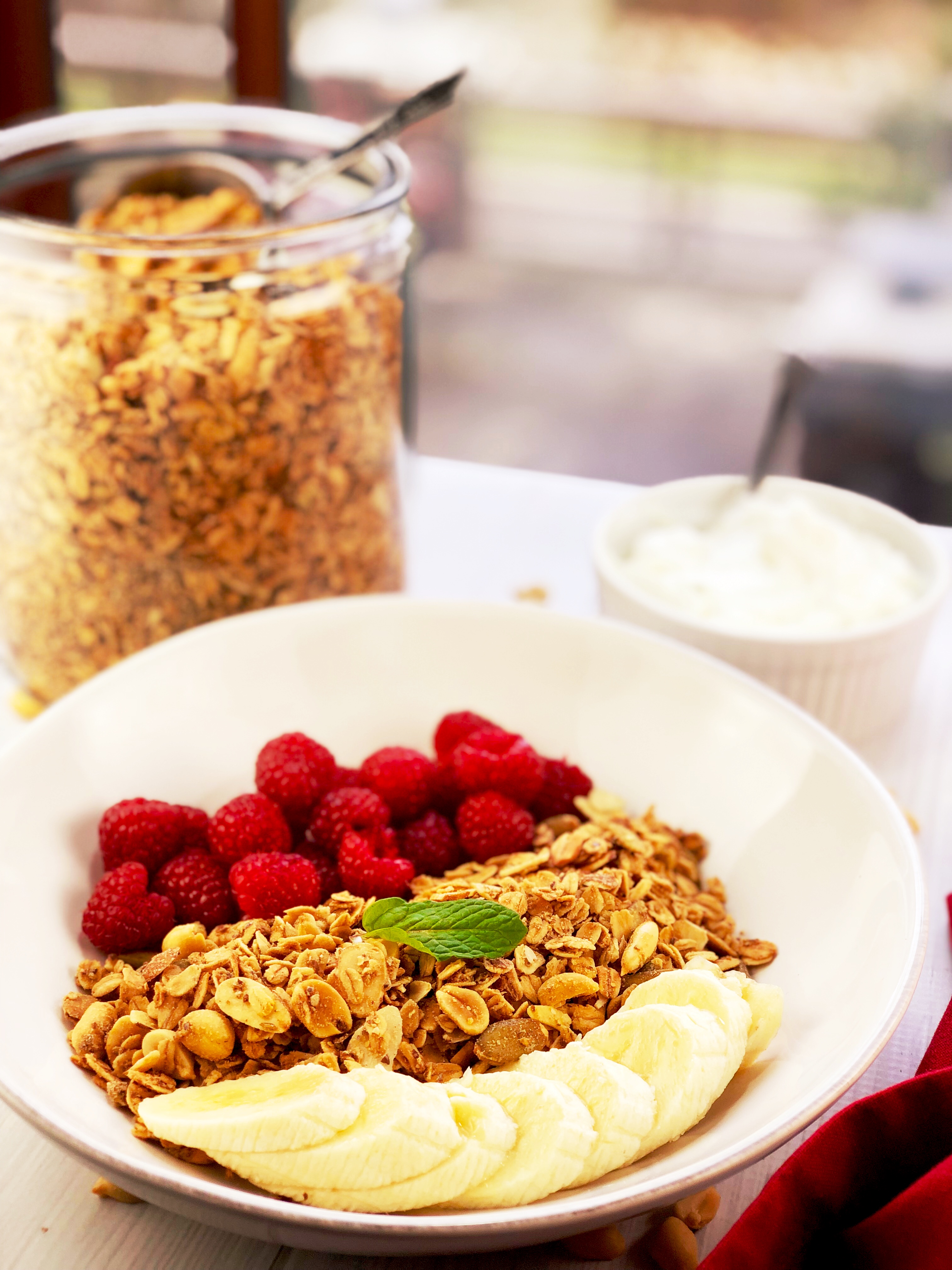 It all started with Peter Pan. And by "it" I mean my love for that thing all kids just can't get enough and have to experience over an over an over again.  Nope, it's not watching Disney's Frozen. Or Snow White (more my era). It's Peanut Butter.  It all started for me in 1st Grade, when I took my lunch to school. Peter Pan Peanut Butter and Jelly – Hallelujah! So, if you remember a few weeks ago, I confessed to you all about my Peanut Butter Tooth in this post.  But here I can give you more detail of my obsession over the years, starting with the days of Peanut Butter and Grape Jelly.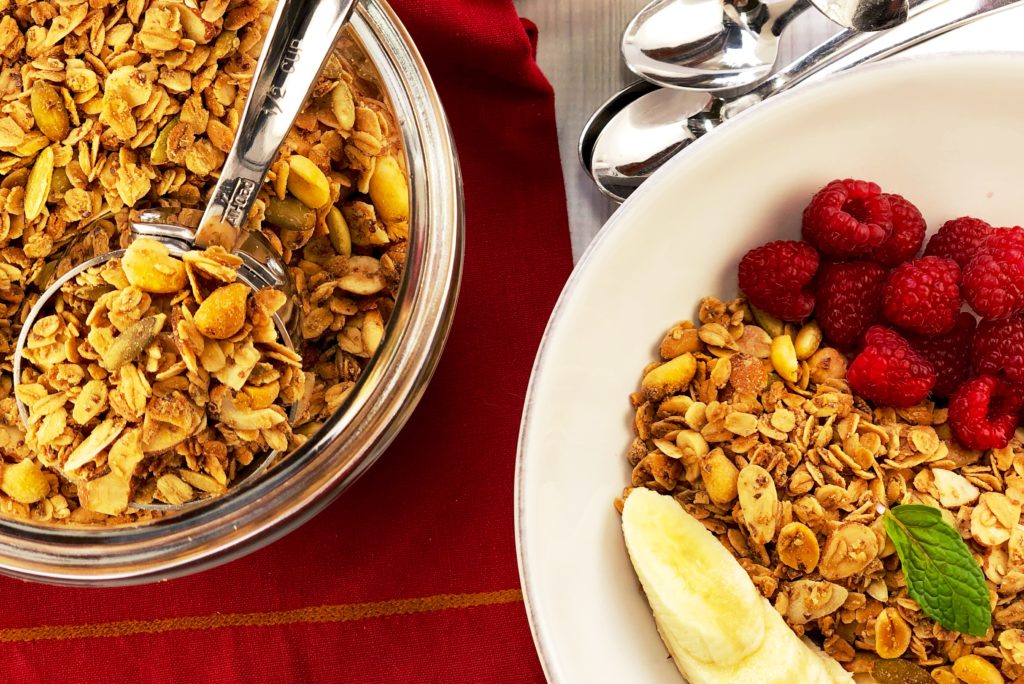 Since there were 6 (!) of us, Mom would pre-make all of the lunch sandwiches, put them in plastic baggies, and freeze them. She would take the frozen sandwiches out in the morning and plop them into our lunchboxes (coincidentally, mine was a "Peanuts" lunchbox – the Charlie Brown variety, not the Peter Pan). From there, we all discovered Strawberry Jam – hello? Where was this all my life? Then, sadly, years later, when I had roommates in college, my Peanut Butter Obsession kind of fell to pieces.
The aforementioned roommates – and let me be perfectly clear – these are people I love dearly, to this day. But they had unacceptable (to me) peanut butter behaviors that I just could not tolerate. And, believe me, I tried them. I gave them a fair shake. I did. Peanut Butter and Cheese? (?) Peanut Butter and Mayonnaise? (Don't even!). I just couldn't. It's not that Peanut butter has to be paired with something sweet – I love love love Panang Curry or anything with Thai Peanut Sauce. Anyway, all this to say, I need more peanut butter in my life. So that's why I made this Peanut Butter Granola. So I can start my day with it. Every day. Don't judge.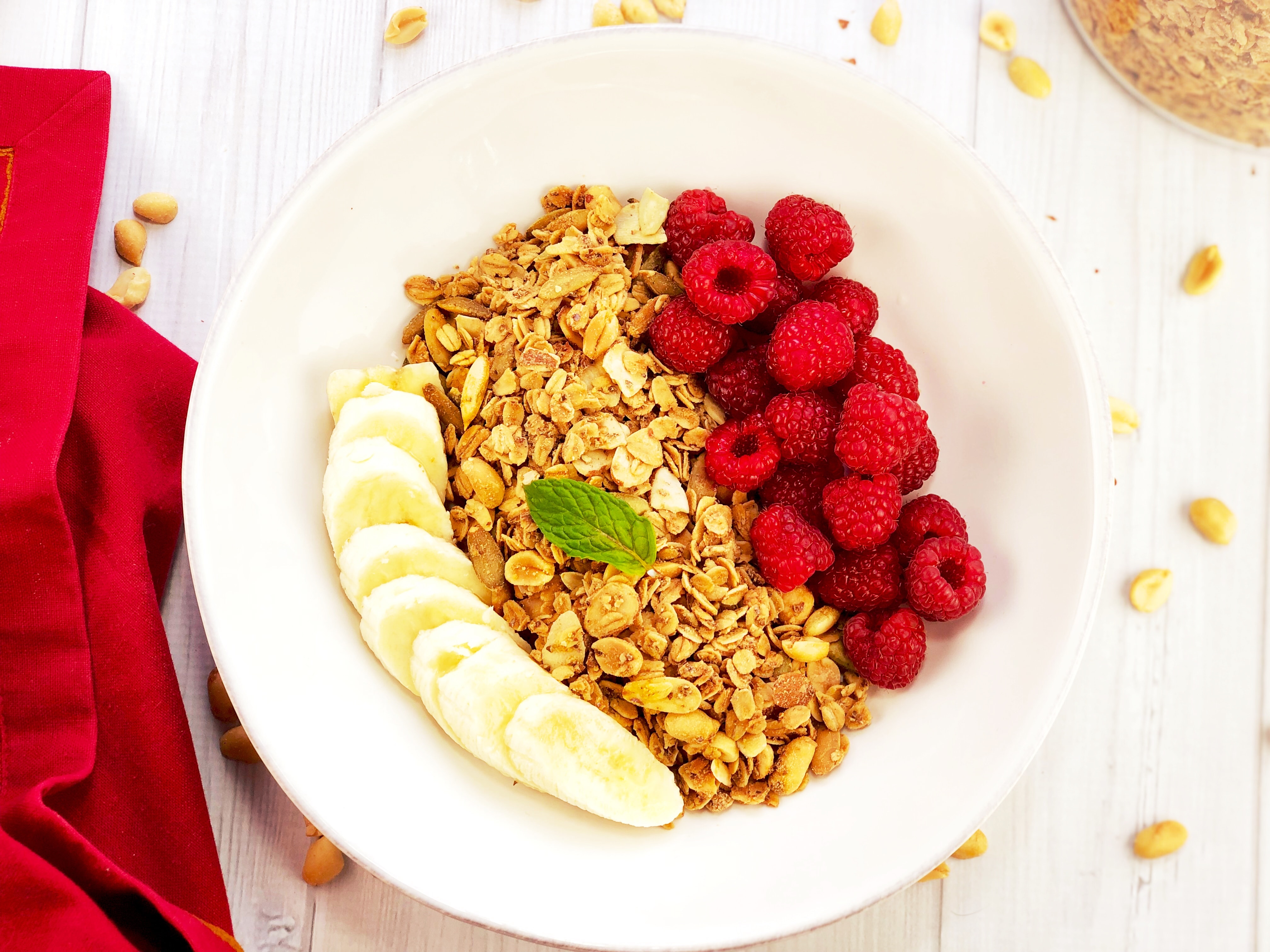 I've made my favorite granola for many years now, and I do eat it practically every day. It has oats, lots of nuts, pure maple syrup, and olive oil. I love it! But since my Peanut Butter Tooth has been acting up lately, I thought, "Wouldn't it be nice to make PEANUT BUTTER GRANOLA?" Yes, Self, yes it would. So I did. These days I use all-natural peanut butter, with just peanuts and salt (more peanutty taste!). So I just incorporated that into my Healthy Nutty Granola recipe. And I may never go back. I'm guessing maybe you won't either.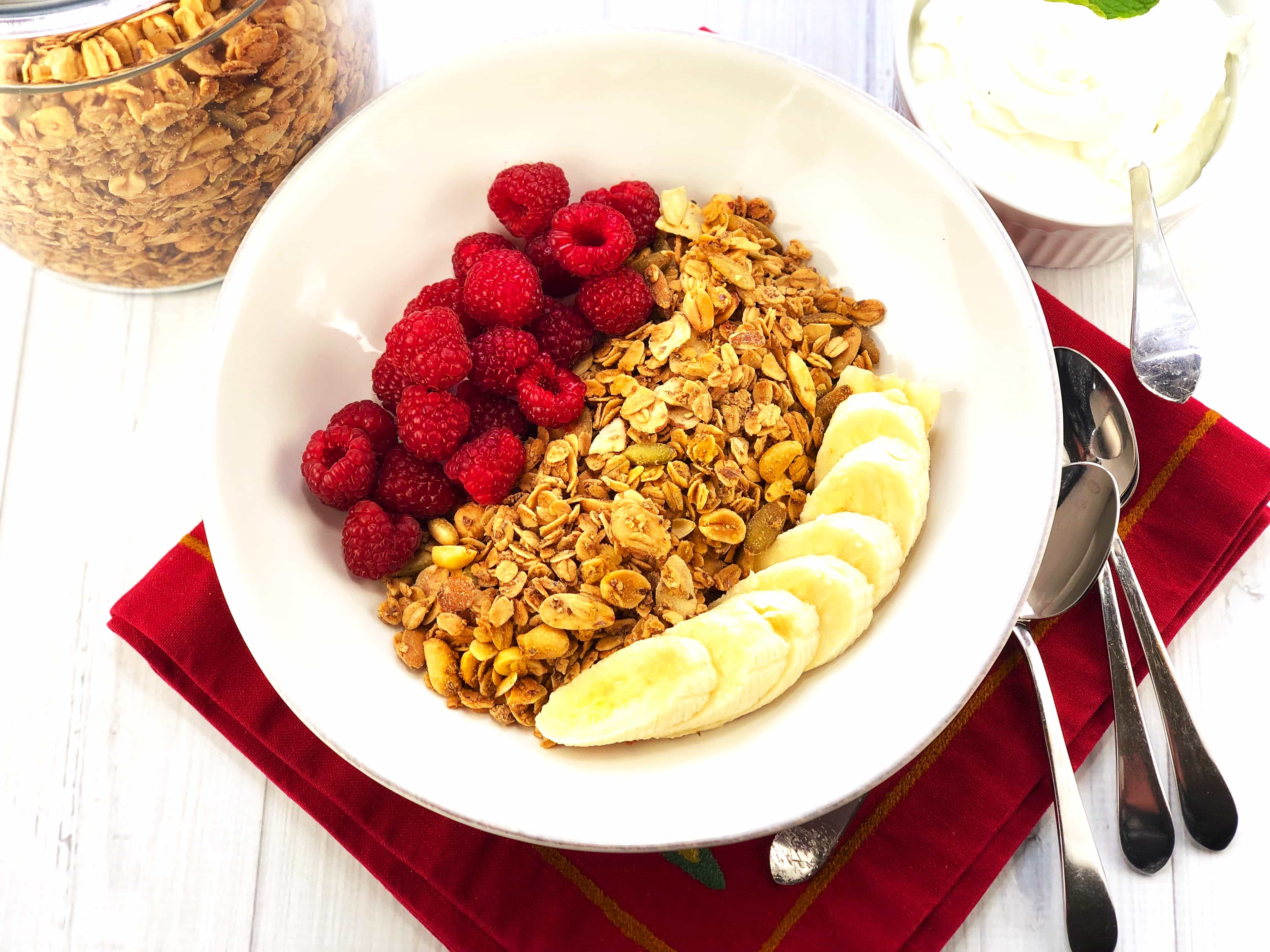 If you're as peanut-butter-obsessed as I am, tell me, what's your brand? And do you eat your peanut butter with jelly? Pickles? Cheese? Or something else? I love Trader Joe's all natural, or Adam's. And I can go smooth or crunchy, depending on the recipe. Crunchy for sandwiches, smooth for other recipes. But, for now, in my Peanut Butter Granola as well!
Enjoy!
If you like brunch recipes check our my other brunch favorites by clicking Here.
If you like granola, I have many recipes, try these addictive yet healthy Granola Bars, or any of these Granola recipes.
PIN Peanut Butter Granola for Later->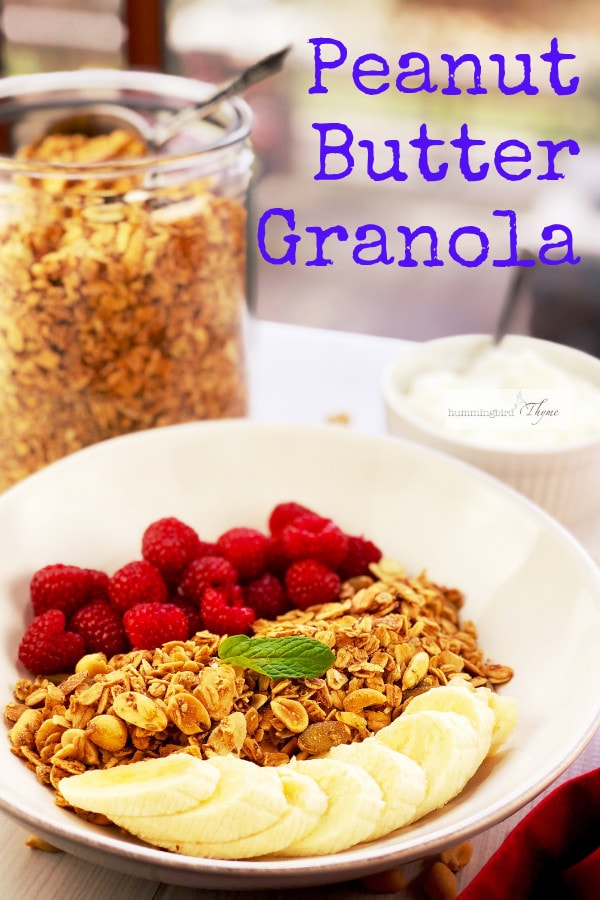 Print
Peanut Butter Granola
Who knew granola was so easy to make?  Just mix some oats and nuts with oil, peanut butter and maple syrup, bake, and you have the best granola you've ever eaten! And healthier than the kind you buy in the grocery!
Feel free to add additional ingredients AFTER you bake and cool the granola.  I like dried cherries with this Peanut Butter Granola, or if you really want a treat, add chocolate chips, peanut butter chips or white chocolate chips!  So good!
Author:
Prep Time:

10 min

Cook Time:

25 min

Total Time:

35-40 min

Yield:

12.5 cups

granola

1

x
Category:

Brunch

Method:

Baking

Cuisine:

American
Ingredients
4 cups

Rolled Oats

1/2

c Ground Flaxseed Meal

3/4

c Peanuts (I used Roasted, Salted Peanuts)

1/2

c Pepitas (Pumpkin Seeds)

1/2

c Sliced or Shaved Almonds

3/4 tsp

Kosher salt

1/2

c Maple Syrup or Honey

1/4

c Natural Peanut Butter (See Note 1)

1/4

c Neutral Oil (I used olive oil, but any vegetable or grape seed oil will do)
Instructions
Preheat oven to 350F (Conventional Oven) or 330F for Convection/Fan. 
In a large bowl, mix together the oats, ground flaxseeds, peanuts, almonds, pepitas and salt.
In a measuring cup or bowl, mix together the peanut butter, maple syrup (or honey) and oil. 
Using a large spatula, mix the liquid ingredients together with the oat mixture.
Pour and spread onto 1 or 2 parchment-lined baking sheets.  The granola should be in a layer about 1/2" thick, otherwise you will need to bake/stir a bit more than the time given.
Bake 25-30 minutes, stirring the granola once midway through, until it is uniformly golden brown. Cool completely on the sheetpan. 
Add dried fruits or chocolate chips, as desired.  Serve and store remainder in an air-tight container.
Notes
You can use regular peanut butter here, too, but you will likely need to heat it just a bit along with the Maple Syrup or Honey to get it to incorporate.
Keywords: Peanut Butter Granola
Recipe Card powered by