Sometimes we all just need a little cake! Why not make it the BEST Old-Fashioned Peanut Butter Cake ever! So easy and delicious with a super-simple Peanut Butter Frosting!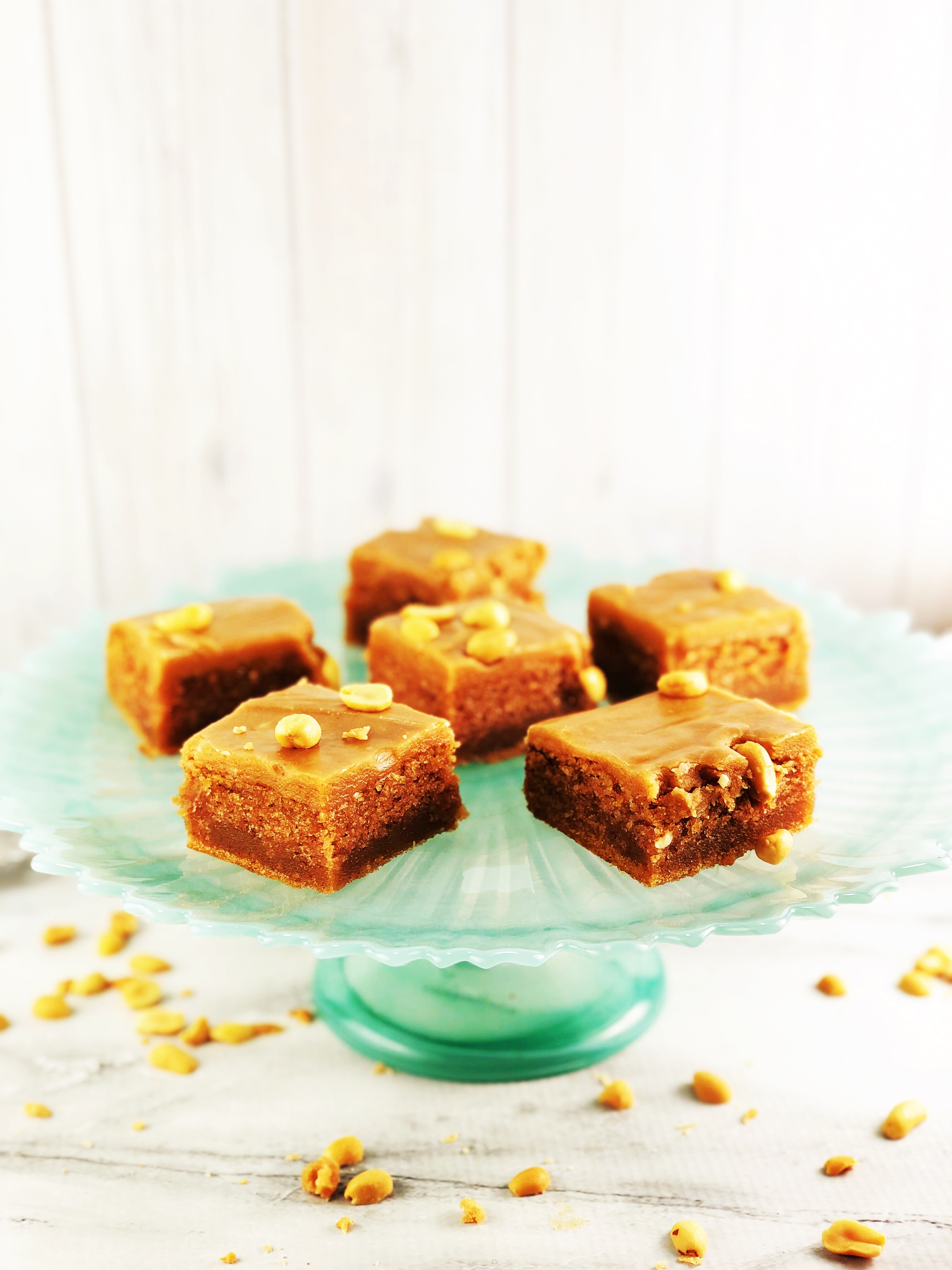 My name is Laura, and I have a problem – a Peanut Butter Tooth.  I admit it. I love ADORE peanut butter. Although I have a Sweet Tooth as well, if given the choice, Peanut Butter just might win. But I (mostly) embrace my peanut butter weakness. Even as I tell myself I'm virtuous by using the "all-natural" varieties, I'm aware it's not really virtue. To me, they just taste better – pure roasted and salted peanut flavor.
 Just to digress a bit from this cake – I can't tell you how glad I am that those days where we were afraid to consume fats (like peanut butter!) are over. If you don't remember, I think it was the mid-'90s.  Those were the days that everyone in the office counted the number of grams of fat they had consumed daily, and spent their late afternoon munching copious amounts of Red Vines and Gummy Bears (!?) because they were fat-free. I had a friend who bragged she hadn't had more than 2g fat per day in over a month.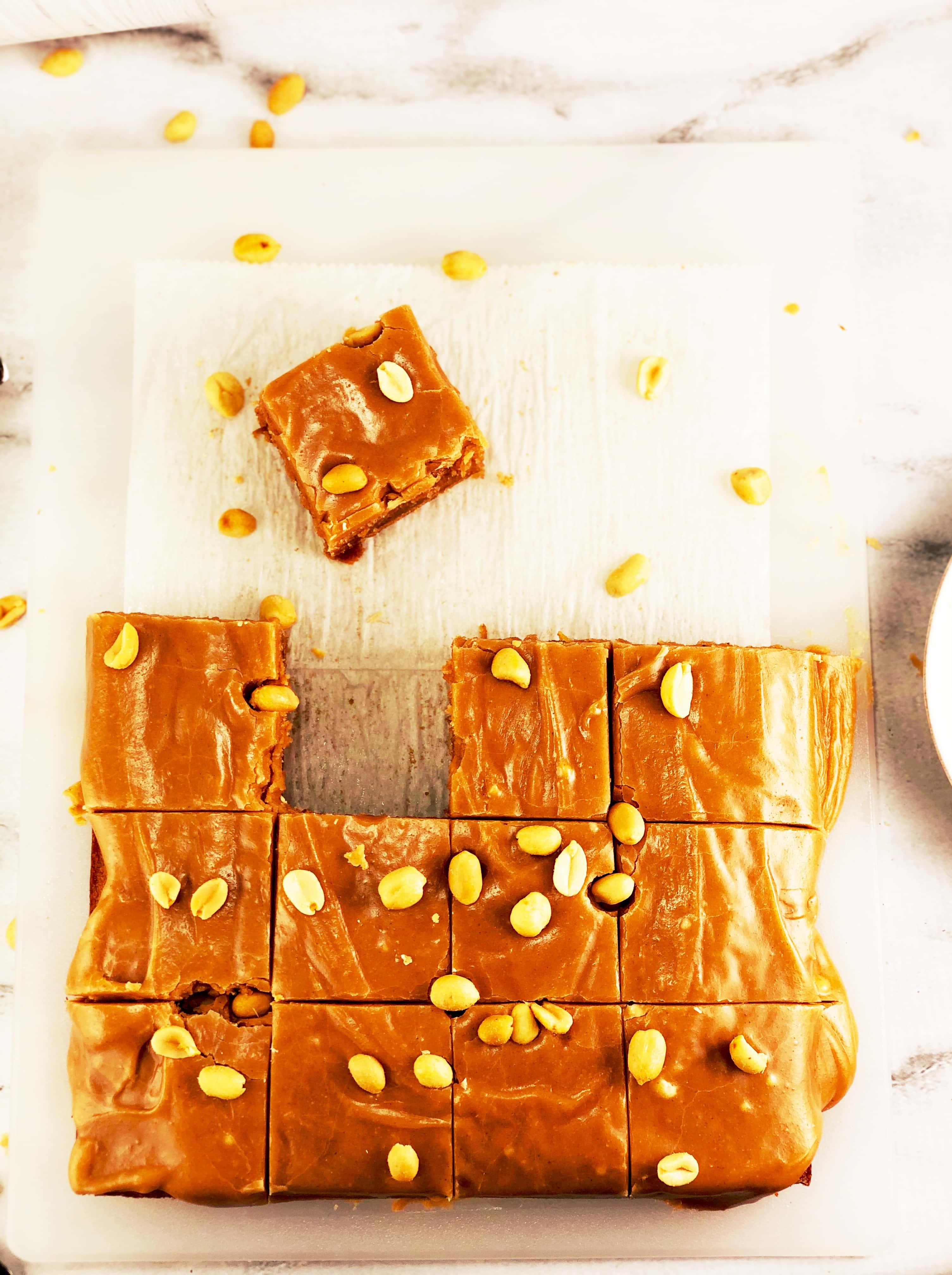 I've made (and posted) many Peanut Butter recipes, so my love for the stuff is pretty obvious.  I love this awesome Peanut Butter Pie, and this crazy-addictive Peanut Butter Fudge.   But this recipe, from The View From Great Island, might just give those two a run for their money.  A magnificently moist, soft and tender, and nicely peanut-buttery cake, topped with a super-easy, made in a saucepan WARM! Peanut butter frosting and some roasted peanuts, is AMAZING! Not too sweet, just the way I like!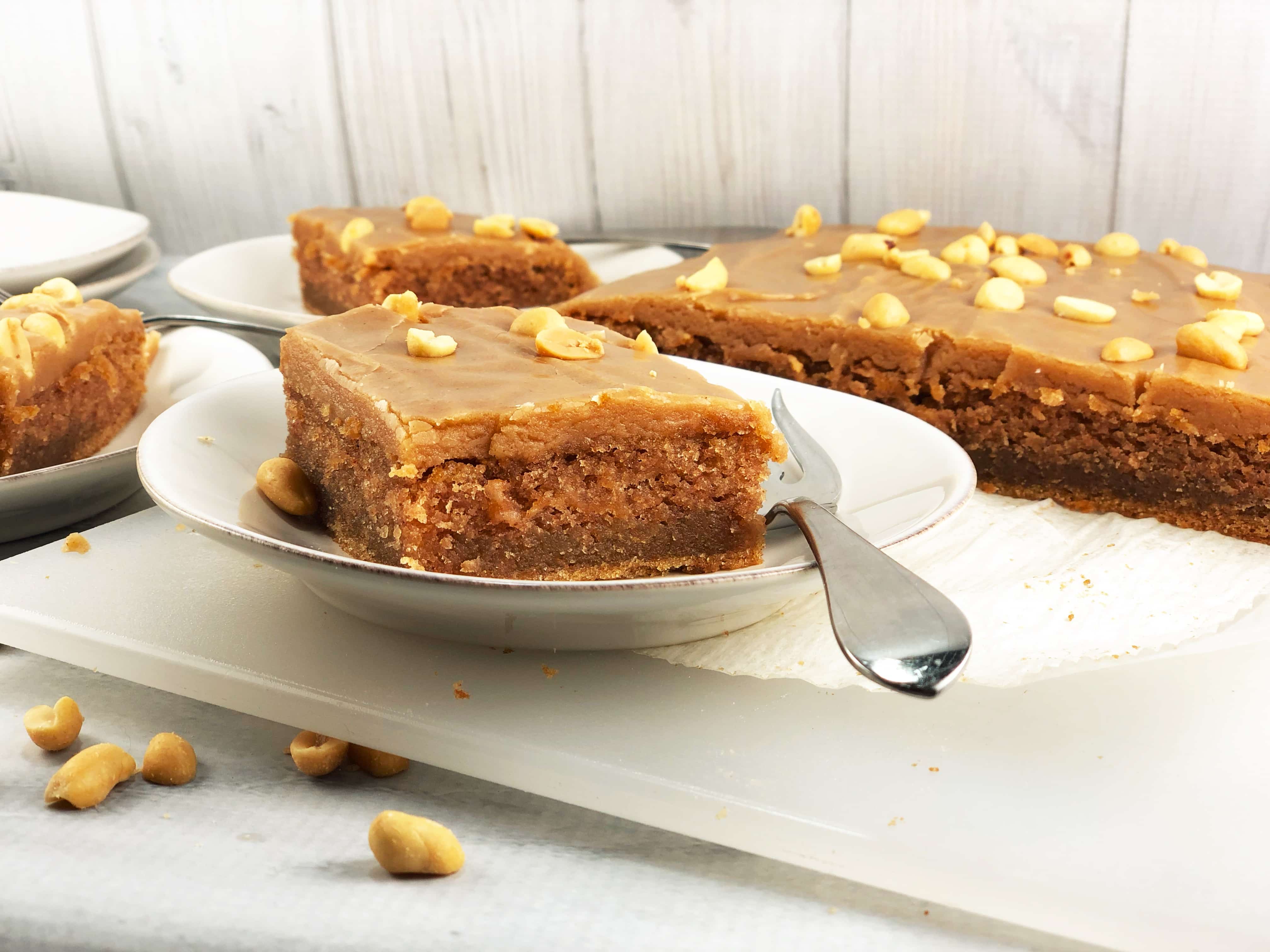 But let me get back to that FROSTING! Much like my favorite frosting ever, the caramelly classic Penuche Frosting, (just like my Mom used to make!) this Peanut Butter Frosting is made in a saucepan, and while it's warm, poured over the cake.  I mean, does it get any better? I think not.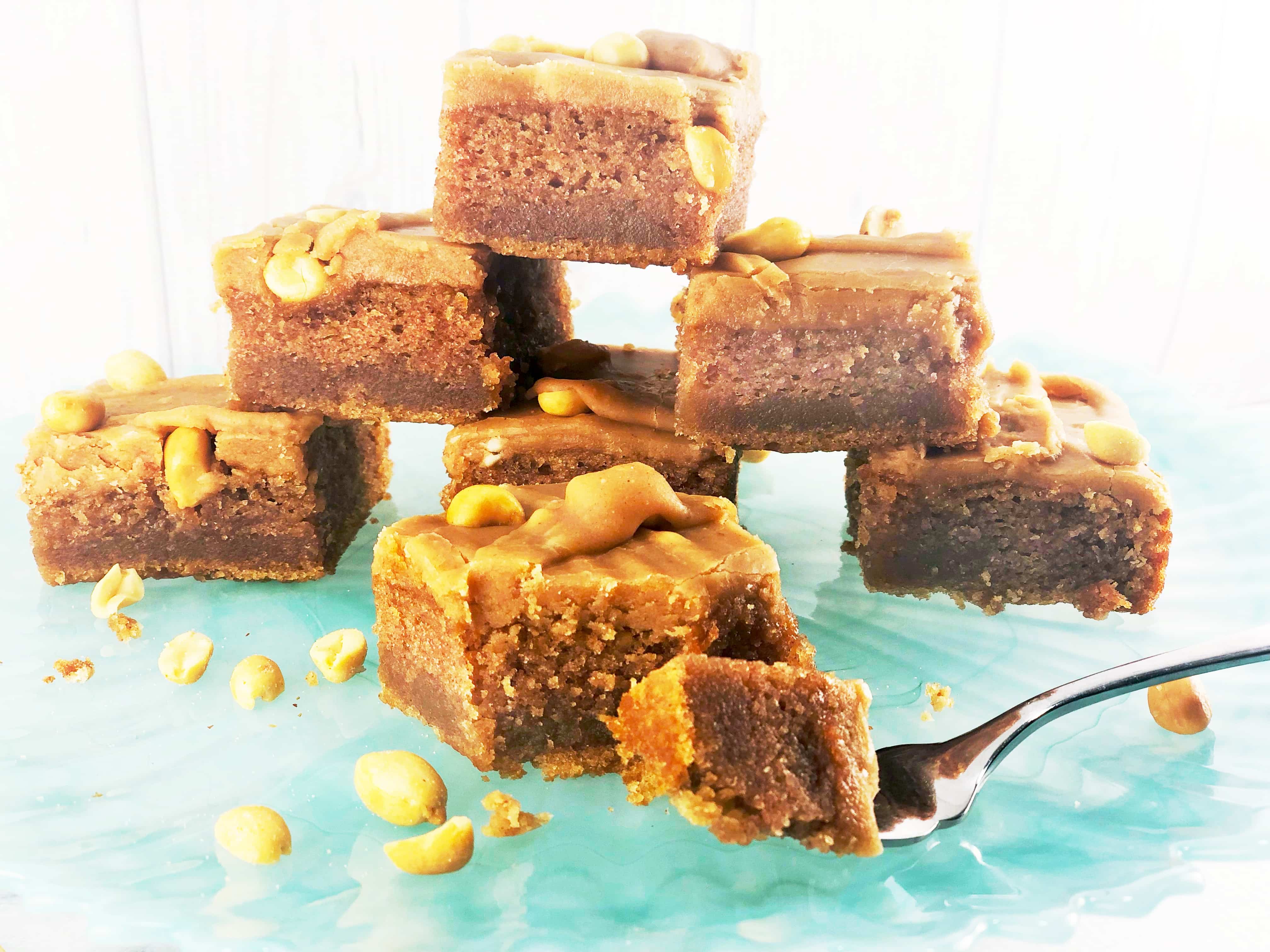 So when your Peanut Butter tooth strikes, this Peanut Butter Cake is the solution! I promise. 
Enjoy!
PIN Best Peanut Butter Cake for Later ->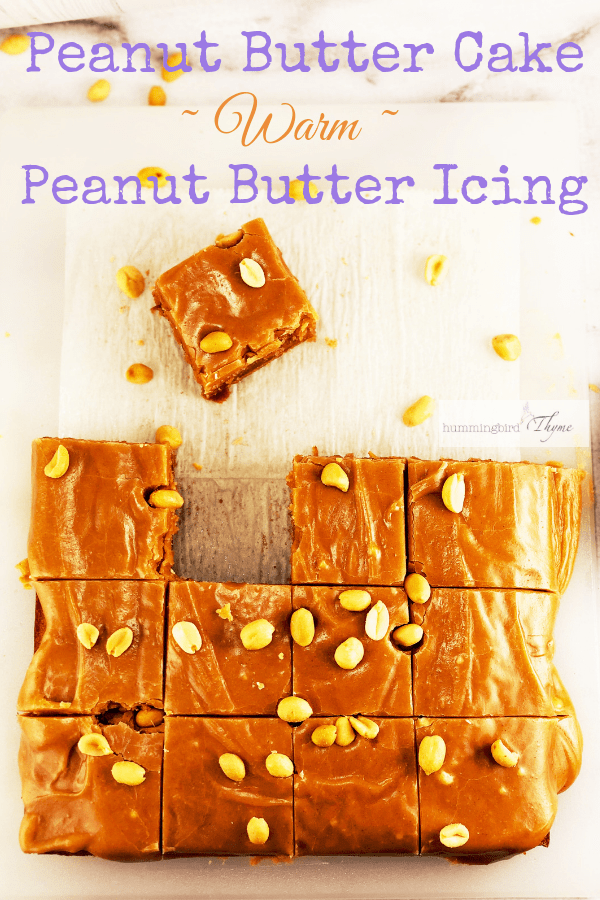 Print
Old-Fashioned Peanut Butter Cake
This cake is a Peanut Butter Lover's Heaven!  Moist and tender Peanut Butter Cake, smothered in warm peanut butter frosting and topped with roasted peanuts!  So.Dang.Delish!
From The View From Great Island, this cake is bound to become a favorite in your house – so easy to make, no need to get out even a hand-mixer, just stir and bake! Not to mention the intense Peanutty Flavor! The peanut butter cake of your dreams!
I adapted the recipe by using all-natural peanut butter, just peanuts and salt.  If you decide to use all-natural, just be sure it is stirred together as well as you can so it doesn't separate during the bake.
Just bake it in a 13×9, cook the frosting and pour that magical stuff over the cake!  Serve warm, at room temperature, or cold – all super yummy! If there are any leftovers, they keep nicely in the fridge (well-wrapped) for several days, at least.
Ingredients
For the Cake:
2

c (240g) AP Flour

2

c (400g) Granulated Sugar

1 tsp

Baking Soda

1 tsp

Salt

1

Stick (113 g or 1/2 c) Unsalted Butter (or reduce salt to

3/4 tsp

.)

1

c Water

1/2

c (125 g) Smooth Peanut Butter, any type

1/2

c (112 g) Vegetable Oil

2

Lg eggs, room temp

1/2

c Buttermilk, room temp

1 tsp

Vanilla Extract
For the Frosting:
1

Stick (113 g or

1/2

c) Butter

1/2

c (125 g) Smooth Peanut Butter (any type)

6

T Buttermilk, plus a bit extra,  if needed

1 tsp

Vanilla Extract

3

c (340 g) Confectioner's Sugar, sifted
Garnish:
1/4

–

1/2

c Roasted Peanuts
Instructions
Make the Cake
Preheat oven to 350F (or 325 F for Convection).  Spray a 9×13 pan. 
In a Large bowl, whisk together the flour, sugar, baking soda and salt. Set aside.
In a small saucepan, heat the butter and water.  When it comes to a boil, take it off the heat and whisk in the peanut butter and oil until smooth.  It should be pretty thin. Let the pan cool several minutes and whisk in the eggs, buttermilk and vanilla until well-blended.
Pour the wet ingredients into the dry ingredients, and whisk until just combined.
Pour the batter into the prepared 9×13 and bake 40-45 mins (mine took 40 mins), until a toothpick inserted into the center comes out clean. Set the cake over a cooling rack while you prepare the frosting.
Make the Frosting
In a saucepan, heat the butter, peanut butter and buttermilk and bring to a full boil. Remove the pan from the heat. Beat in the vanilla and confectioner's sugar (a cup at a time). Beat until smooth following each cup of sugar. It's nice to reheat the whole batch a bit before pouring over the cake, because the frosting sets up on the cake pretty quickly. Add extra buttermilk a Tablespoon at a time if it becomes too stiff to pour.
Pour the hot frosting over the warm cake and spread evenly. 
Garnish with roasted peanuts.
Recipe Card powered by