Completely Outrageous Apple Cinnamon Rolls with Salted Maple Glaze! A perfect Autumn breakfast or brunch, and awesome for the Holidays!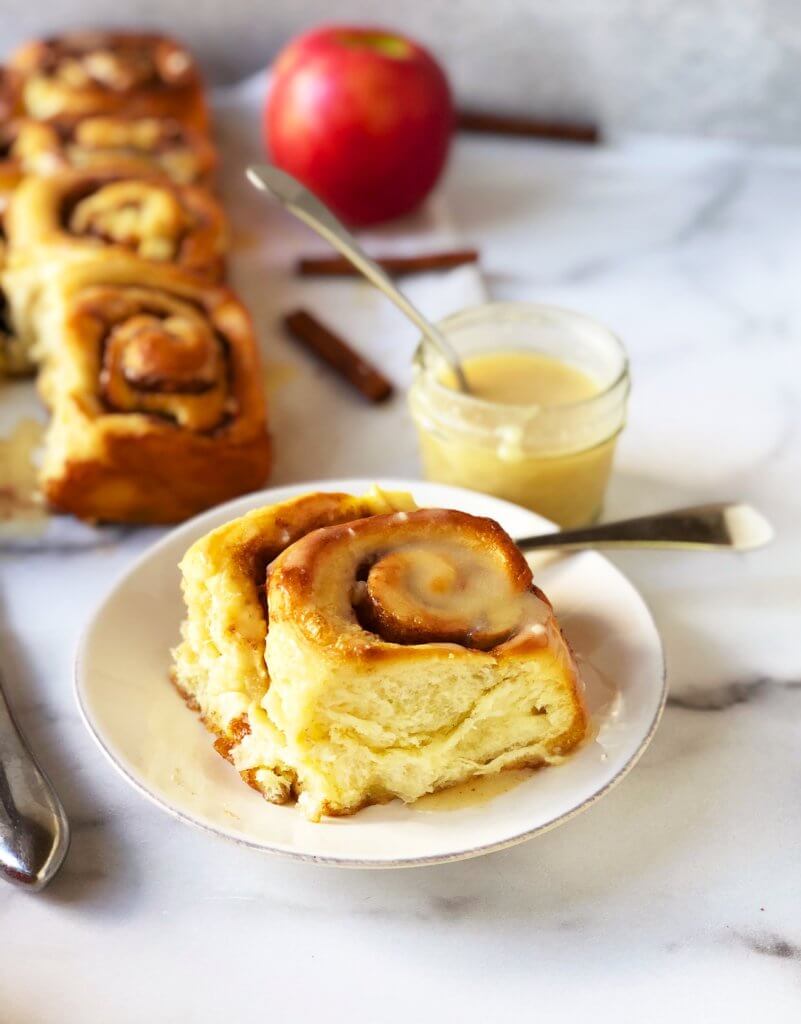 I've never been one to leave "well enough" alone. I heard it repeatedly as a child, like when I felt the need to "smooth things over" after a disagreement with my sister right at the point when feelings were at their peak of hurt. Naturally, these incidents would often incite another argument.  Mom: "Can't you JUST leave well enough alone?" Apparently, I couldn't. I didn't fully realize that we all have our own idea of what is best, that my position wasn't the only and obvious correct one.  
But, as usual, Mom was right. I couldn't leave well enough alone. I was the kid who always needed to do just one better, get one more cookie, have a grade better than the others, win the contest. In the words of the incomparable Freddie Mercury, "I want it all, and I want it NOW!" And then sulk when it didn't happen my way. And, it wasn't because I was competitive with others so much as I knew there was better I could do. At least that's what I tell myself. 
But here's the thing: No one knew. (Well, TBH, they probably did, I just like to think they didn't) I was the shy kid, the one who rarely even spoke in public. It was all an internal struggle.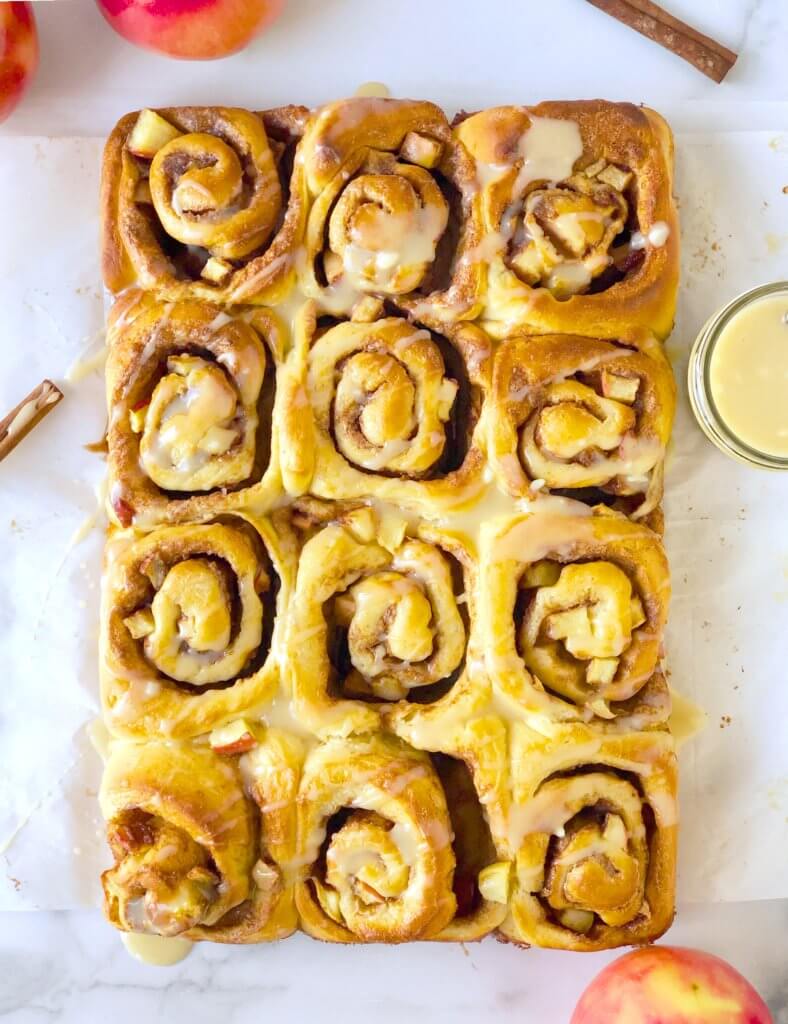 That's kind of what happened with these Apple Cinnamon Rolls with Salted Maple Glaze. Some time back I posted these glorious Cinnamon Rolls with Cream Cheese Frosting. And they are definitely awesome. A tribute to my Mom's crazy-good freezer full of Cinnamon Rolls. A lovely soft roll, filled with gooey cinnamon filling and topped with smooth, but not-too-sweet fluffy cream cheese frosting. But, this year, I really felt the need to one-up those rolls. I wanted to add some apple flavor, and change up the frosting to a glaze, so the flavors of the apple would shine. And true to my inner child, my internal struggle took awhile to solve this conundrum.
So, I came up with this glaze. This Salted Maple Glaze. So good, you might be tempted to drink it. And I'm not kidding. There will likely be a little extra, you know….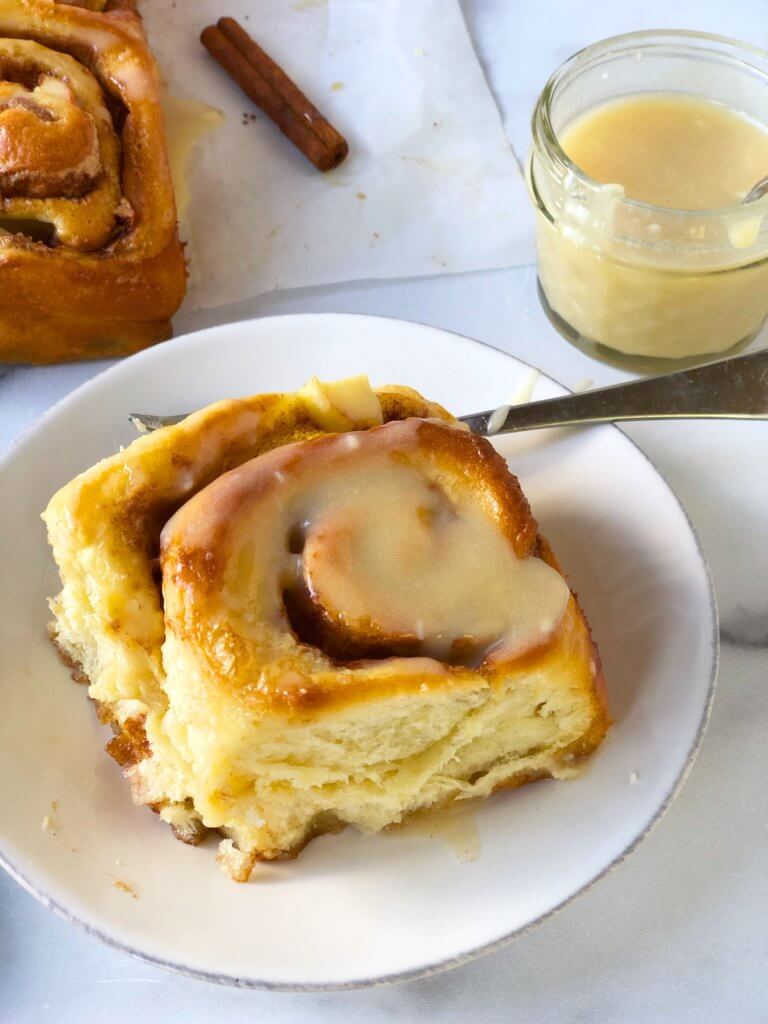 Inspired and adapted from the glaze on Sally's Baking Addiction, I punched up the maple flavor a bit, adding some extra maple syrup and some salt and then I used buttermilk to mix it all together. Also I love the Buttermilk-based Apple-Cinnamon rolls from the brilliant Jennifer at Foodess so I adapted that to the dough used in my Cinnamon rolls.
I'm so glad I didn't leave well enough alone! But really, can anyone leave "well enough" alone, when there is more just around the corner? And with a little salted maple glaze? And you will be glad, too, once you try these outrageous Apple Cinnamon Rolls with Salted Maple Glaze!
Enjoy!
If you're looking for other brunch dishes, please try these fantastic Cinnamon Rolls with Cream Cheese Frosting,   White Chocolate Cranberry Cake, or these scrumptious Rhubarb Chevre Scones, or these super Easy Cheddar Onion Scones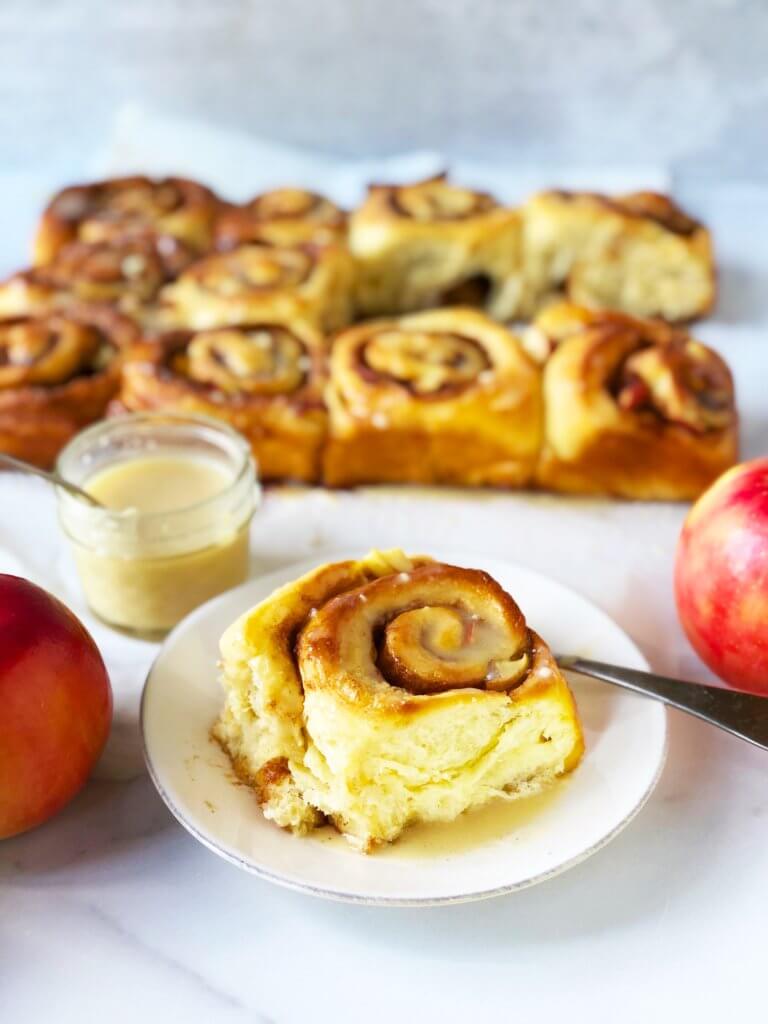 Recipe Details
These Apple Cinnamon Rolls are easy as any other to make. Don't be afraid of yeast-bread baking. Just think of the yeast as another ingredient. One that is "active", so at the beginning it needs to prove it's still ready to go.
The trickiest part of this recipe is rolling up the filled dough into a tight cylinder. With those apples inserted, it's a bit more difficult than with a flat, soft cinnamon filling. You can see mine are not as tight as one might like, but the flavor doesn't care! They're still phenomenal!
When cutting the rolls, it's easier to get 16 even-thickness rolls than it is to get 15, which is how many most recipes make. So just go with how you feel, 15 or 16. All good.
The important things are to be sure your yeast is active, the dough gets kneaded and every roll gets a nice gooey filling.
Active yeast bubbles

Knead until the sides of the bowl are clean and dough still sticks to bowl bottom.

Roll out, butter, sprinkle.

Almost rolled. Just egg was that top edge!

12 rolls in 9×13.
Print
Apple Cinnamon Rolls with Salted Maple Glaze
These Apple Cinnamon Rolls are the BOMB! And when topped with the salty maple glaze, you may as well jut put 2 on your plate to begin with. 
I adapted the glaze from Sally's Baking Addiction, and followed Foodess' lead on the buttermilk rolls. 
If you don't have a stand mixer, it's ok to use a hand mixer or mix by hand. You'll just need to allow 10-15 minutes to hand-knead the dough until it is smooth and elastic.
Author:
Prep Time:

60min + 150min inactive

Cook Time:

25 min

Total Time:

1 hr active, 3 hr inactive

Yield:

15

–

16

rolls

1

x
Category:

Brunch

Method:

Baking

Cuisine:

American
Ingredients
For the Dough:
1 1/4 cup

Buttermilk

1 1/2 Tbsp

Instant Yeast (

2

–

0.25

oz. packages)

1/3 cup

Butter, very soft

1/3 cup

Granulated Sugar

1/2 tsp

Salt

2

Large eggs, room temp

1 tsp

Vanilla Extract

4

–

4 1/2

cups (

540g

) AP flour, plus a bit more for rolling out (See Note 1)

1/2 tsp

Cardmom
For the Filling:
1/2 cup

Butter, softened enough to easily spread

1/2 cup

(

100g

) Brown Sugar

1/2 cup

(

100g

) Granulated Sugar

2 1/2 Tbsp

Ground Cinnamon

2

T Cornstarch

2

Medium-large Honeycrisp, Granny Smith or Braeburn apples (or your favorite!)

1/3 cup

Whipping or heavy cream
Egg Wash:
1

egg, whisked with 1 Tbsp water
For the Glaze:
1 1/3 cup

Confectioners' Sugar

3 Tbsp

. Maple Syrup

3 Tbsp

Heavy Cream or Buttermilk

1/4 tsp

Salt

4 oz

. Cream Cheese, softened, or defrosted 2 mins in microwave
Instructions
Make the Dough:
Place the buttermilk and softened butter, and 1 Tbsp of the sugar into a microwave-safe bowl, and, using 20-second intervals, heat to the temperature it advises on your yeast packet. You can test this with a thermometer, or insert your finger, and since this is close to body temperature, 105F should feel ever-so-slightly warm, and 120 should feel definitely warm. Place the warm buttermilk mixture into the bowl of a stand mixer and whisk in the yeast. Cover and let sit for 5-10 minutes. After this time, there should be some bubbling and foaming. That lets you know you can proceed to the next steps.
Using the paddle attachment, at Medium-Low speed, add in the rest of the sugar, the salt, eggs, vanilla, flour, and cardamom. Mix until the flour is incorporated, then remove the paddle attachment, replacing it with the dough hook. (See Note 2) Knead 7-9 minutes, or until the dough is smooth, elastic, and a bit sticky. It should be pulled away from the bowl, leaving the sides of the bowl pretty clean, and should also stick to the bottom of the bowl. It should feel "tacky" but not stick to your finger so that it doesn't come off cleanly when pulled. If it is too sticky, add a bit more flour – maybe 1/4-1/2 cup, and knead another minute or two.
Place a teaspoon or two of neutral oil in a large bowl, form the bowl into a ball, and place it in the bowl. Cover with a damp towel and place in a warm spot to rise. If your oven has a low setting (150F or lower), you could preheat it to that temperature, then turn the oven off and place the covered dough inside. Leave the dough in the warm spot until it doubles in size, 1-2 hours. While the dough rises, make the filling.
Make the Filling:
In a Medium bowl, whisk together the sugars, cinnamon, and cornstarch.
Cut the apples (peel if you like – I didn't) into very small, thin sections. No more than 1/4" thick, and 1/2"x1/2". This will enable them to fully cook during the short bake time.
On a large, flour-covered surface, roll the dough into a large rectangle, about 18-20 inches wide and 14-15 inches deep. Spread the softened butter over the entire surface.
Sprinkle the cinnamon mixture over the butter.
Scatter the apple pieces over the cinnamon mixture.
Starting at the long side of the rectangle, roll the dough as tightly as you can, into a log, being careful not to stretch the dough. Take your time, this can be difficult but is worth the patience! Brush a little egg wash (1 egg + 1 Tbsp water) over the far edge to seal the cylinder of dough. 
Using a sharp knife, mark the halfway point of the dough with a small, shallow slice. Then divide each half, using similar shallow slices, into halves, then halves again, then one more time, so you have 16 roughly equal slices. Then complete the slices so you have 16 discs of even thickness.
Place 12 of the round slices into a parchment lined, or buttered 9×13 pan, and 4 into an 8×8 pan. Alternatively, you could use 2-9×9 pans or 2 round pie or cake pans. Cover the pans with a damp cloth and place them in a warm spot for 20-40 minutes, until they have doubled in size. During this time, preheat the oven to 350F (or 330F for Convection). Brush tops of rolls with the 1/3 cup cream. Place risen rolls into the oven and bake until golden brown. If you don't want them too brown, cover lightly with foil after 12-15 minutes. Bake 20-25 minutes. Mine took 20 minutes to be done to my liking. Remove from oven to cool.
Make the Maple topping:
Mix all of the topping ingredients together until smooth.
Spread over rolls that are cooled completely, or, if you are serving immediately, wait at least 15 minutes to glaze and serve.
Notes
Different flours have different weights per cup. I use King Arthur Flour for this recipe, which weighs 120g/cup. I used a total of 540g or 4 1/2 cups. If your flour weighs a bit more, as it might, you might want to use a bit less than 4 1/2 cups. You can always add a bit more when kneading, if necessary.
If you don't have a dough hook, you can knead by hand, on a heavily floured surface, for 10-15 minutes, until dough is smooth and elastic.
Rolls keep at room temperature for 2-3 days, when covered with a tea towel or plastic wrap, or wrap tightly and freeze up to 2 months, defrosting in the refrigerator.
Keywords: Apples, Apple Cinnamon Rolls, Apple Cinnamon Rolls with Maple Glaze, cinnamon roll frosting
Recipe Card powered by
PIN Apple Cinnamon Rolls ->