Soy and Honey Glazed Chicken Thighs! So simple! Make the quick sauce while you preheat the oven, then just 25 minutes to cook! Dinner is served! Spectacular and so so tasty!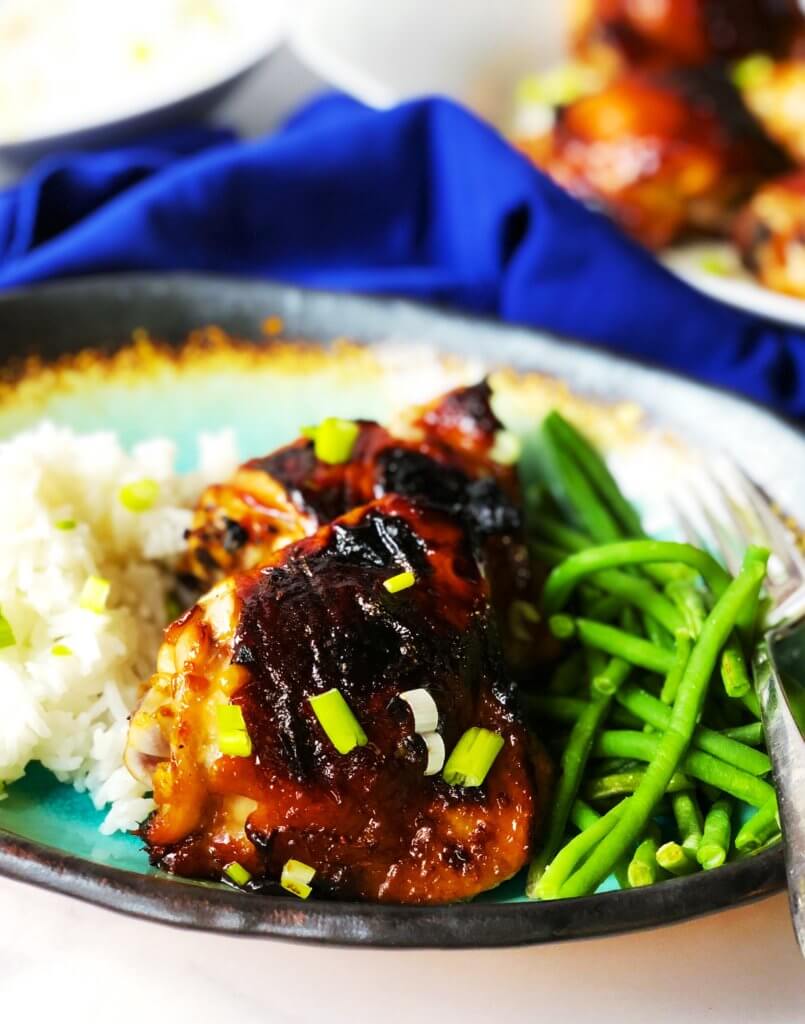 Some life skills seem to belong to a long-gone era. For instance, can you darn a sock? Me neither. Can you change the oil in your car yourself? Sadly, (and embarrassingly),  I can't. Do you know how to cut up a whole chicken? Now, there's one I CAN do!
When I was a kid, I didn't even know if you COULD buy a cut-up chicken, because we never bought one. And, since our family was so big – 8 of us altogether – we would routinely cook 2 chickens for dinner. One of the benefits of this is that I learned, at age 12, how to cut a chicken into 10 pieces. 10! Plus the neck, because my Dad always claimed the (super-bony!) neck was the best part! He also ate the back piece that, these days, some of us routinely use to make stock (or discard 😱). Because of stock-making, I've realized, those pieces really have very little meat on them. When I was a kid, I always thought those were the pieces Dad liked best, but now, I imagine, he was just leaving more meaty pieces for his ravenous daughters.
But, whether you CAN cut up a chicken or not, (and kudos if you can!), you won't need that skill for this recipe ☺️. These Soy Sauce-Honey-Glaze Chicken Thighs have all of the most important qualities we all need these days – super-quick, super-easy, and way-the-heck-tasty! I've made this recipe probably 4 times in the past 6 weeks, making just a couple of changes to the original recipe along the way. 
This chicken, though, is so juicy, and so incredibly flavorful, with a sauce that doubles as a quick marinade, that is sweet and salty, flavored with garlic and ginger. I mean, my mouth is watering, just thinking about it. And, there's extra sauce to drizzle over the chicken and the rice after cooking. (Yay!) What could be more perfect?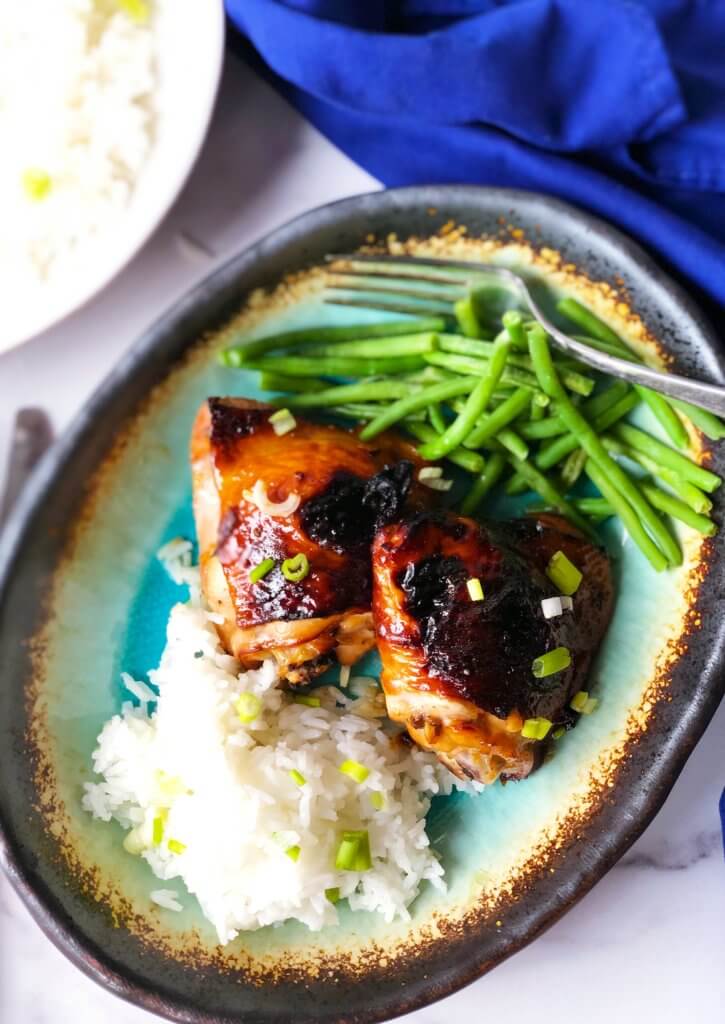 So you don't need all those life skills from way-back-when to make this awesome Soy Honey Glazed Chicken, you just need about 40 minutes and an appetite.
But, I'm curious, do YOU know how to cut up a chicken? And, if you do, is this a skill you'll pass on to someone else? I swore I would teach my kids, but, so far, I haven't. Like me and sock darning, they may never feel like they need to know how.  
Enjoy!
If you're looking for chicken recipes, don't miss my Apricot-Miso Glazed Chicken, or this super flavorful Citrus Chicken Tagine, or this Yummy Instant Pot Chicken Adobo!
If sheetpan dinners is what you're after, check out my Curried Sheet Pan Chicken with Cauliflower and Grapes, or this perfect Sheet Pan Rhubarb Chicken, or these simple Sheet Pan Chicken Fajitas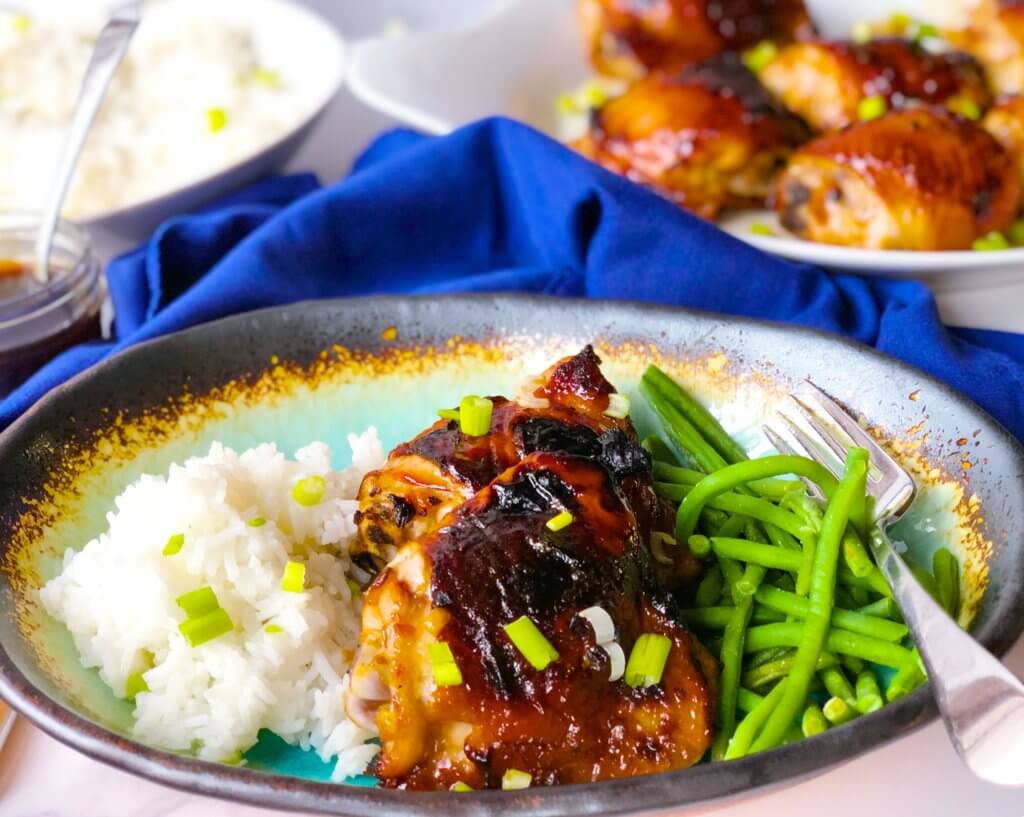 Recipe Details
This Soy Honey Glazed Chicken is so simple and so quick, and is crazy-flavorful! Garlic, ginger, soy sauce and honey mix together to make a completely crave-able marinade and sauce!
I first saw the recipe in NYT Cooking. And, always a sucker for a sweet + salty combo, I knew I had to try it. I've followed the recipe with just one exception, and having tried it the other way, I HIGHLY recommend pouring the marinade over the thighs in a bowl. You could just pour it over while the raw thighs are on the sheet pan, but in my experience, it wastes some of that awesome flavor! And who wants that? Not me!
The marinade/sauce comes together in just a few minutes, then you'll need to simmer it 10 minutes to reduce/thicken it. In making the sauce, I've minced the ginger and garlic with a knife, and also using a Microplane zester/grater. (Like This one.) I highly recommend the grater, it gives the recipe the most flavor!
Pour half of the sauce over the thighs, mix them around a bit, and place on a FOIL-LINED (!) sheet pan. Roast 15 mins, then brush with another 2 Tbsp of the sauce. During the roasting, make some rice or noodles to sop up the delicious sauce that you'll have left. Roast 10 more minutes, then serve over rice, with a bit of the leftover sauce. So so good!
Oil, garlic, ginger, soy, honey

Reduced 10 minutes, add butter

Chicken, oil, glaze in bowl

Ready to Roast

Roasted Glazed Chicken Thighs
Print
Soy and Honey Glazed Chicken Thighs
The simple soy sauce and honey glaze caramelizes on the chicken to a sticky glaze. Only 25 minutes in the oven gives you just enough time to make some rice and toss a salad for a complete and super-tasty meal!
This recipe, by Kay Chun, appeared in NYT Cooking. 
Author:
Prep Time:

15 min

Cook Time:

25 min

Total Time:

40 min

Yield:

4

–

6

servings

1

x
Category:

Main Dish

Method:

Oven bake

Cuisine:

Asian
Ingredients
2 Tbsp

Neutral oil, such as Canola

1 Tbsp

Minced Garlic (See Note 1)

1 Tbsp

Minced Ginger

6 Tbsp

(

3 oz

., 90 ml) Low-sodium Soy Sauce (See Note 2)

5 Tbsp

Honey

3 Tbsp

Unsalted Butter
Kosher Salt and Pepper

8

Bone-in, Skin-on Chicken Thighs (about

3

lb) See Note 3
Instructions
Preheat the oven
Preheat Convection oven to 400F, or standard oven to 425F. Cover a sheet pan with a layer of aluminum foil.
Make the Marinade/Sauce:
In a saucepan, heat 1 Tbsp of the neutral oil. Add the garlic and ginger and cook until soft and fragrant. If you grated on a rasp grater, this should take about a minute, while fine-cut garlic and ginger may take up to 3 minutes.
Add the soy sauce and honey, stir. Lower heat to simmer. Stirring occasionally, reduce and slightly thicken the sauce for about 10 minutes. Turn off the heat, whisk in butter. Season with salt and pepper.
Season and Roast Chicken:
Place chicken thighs in a bowl. Pour half the sauce and the remaining Tbsp oil over the thighs and stir a bit with a rubber spatula until all are coated. Place thighs skin-side-up on aluminum foil-lined sheet pan. Roast 15 minutes.
Brush the thighs with 2 Tbsp of the remaining sauce and return to oven until fully cooked, about 10 minutes, reserving the rest of the sauce to pass at the table. The chicken should be dark golden and shiny.
Serve with rice or noodles to sop up the delicious sauce
Notes
1. I've minced the garlic and ginger on a rasp grater, and have also chopped it fine. The rasp creates more flavor, so I would recommend that over fine-chopping. It's also a bit easier.
2. I've used regular and low-sodium. Both are delicious. Choose your poison based on your own salt tolerance, because it's a pretty big dose.
3. Try to stick with around 3 lb for 8 chicken thighs. If you have closer to 4 lb, you might want to add on cooking time, but you risk burning the thighs. So you may want to lower the temperature for an additional 5-10 minutes to finish cooking larger thighs. Or cover with foil if they are getting too dark for your taste.
Keywords: Honey glazed chicken thighs, soy sauce, Asian, honey, sheet pan dinner, easy meals, quick meals
Recipe Card powered by
PIN Soy and Honey Glazed Chicken Thighs->