These Chocolate Cherry Bread Rolls will make you wonder why you ever settled for plain rolls! Perfect for the Holidays, breakfast, brunch or a delicious snack! Watch them disappear!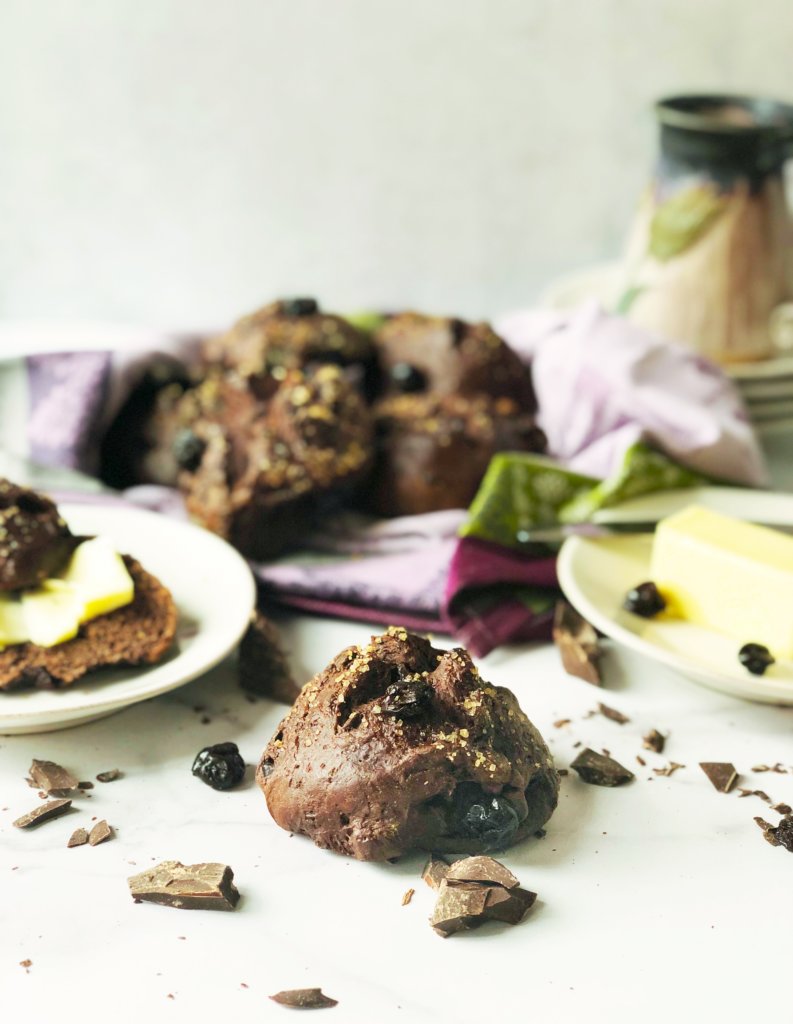 If you've been reading my blog for more than a week or two, you likely know that I'm a total chocolate fiend! I love it more than just about anything. And, the darker the better! I'll eat it in savory as well as sweet dishes. And why shouldn't I? It's a health food, isn't it? Jam-packed with antioxidants, dark chocolate is apparently good for our brains, blood pressure and our cholesterol levels. At least, theoretically.
Theoretically, meaning, as much as we want to believe these things are true, the data aren't really in (yet!), but you know me, I'm hoping to get in on the benefits early. Because some of the minerals and flavanols that ARE in dark chocolate ARE associated with those benefits. You know, so when they are proven, I can say, "Well, I've been eating my daily chocolate forever!" … Like the rest of you don't. 😉Ha! – I know you're all on the same page as me, right?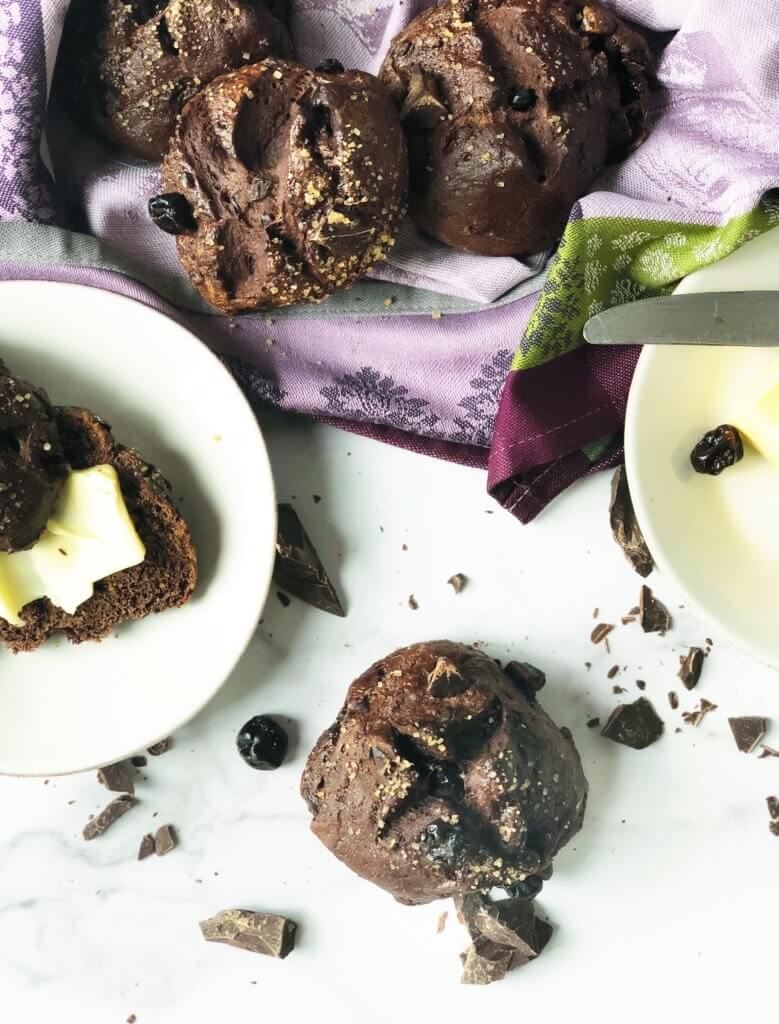 So, to help myself us all on our health quest, I've made these delectable Chocolate Cherry Bread Rolls. Because why shouldn't we all eat chocolate in our bread, too, just in case it is the miraculous health food we all want it to be? This dark, somewhat dense but tender bread is kind of magical. Imagine, biting into this lovely crusted roll, lightly sweet chocolate-y bread, and enjoy a bite of melted chocolate, followed by a tart chewy cherry. Oh my, DE-LIGHT-FUL!
I'm going to guess, that after trying these Chocolate Cherry Bread Rolls, you'll agree with me. They are definitely good for us. And, just for health purposes, I'm actually thinking of making this recipe into a bigger loaf, slathering slices with peanut butter, and grilling up a PB sandwich with it. Oh yes! It's THAT GOOD!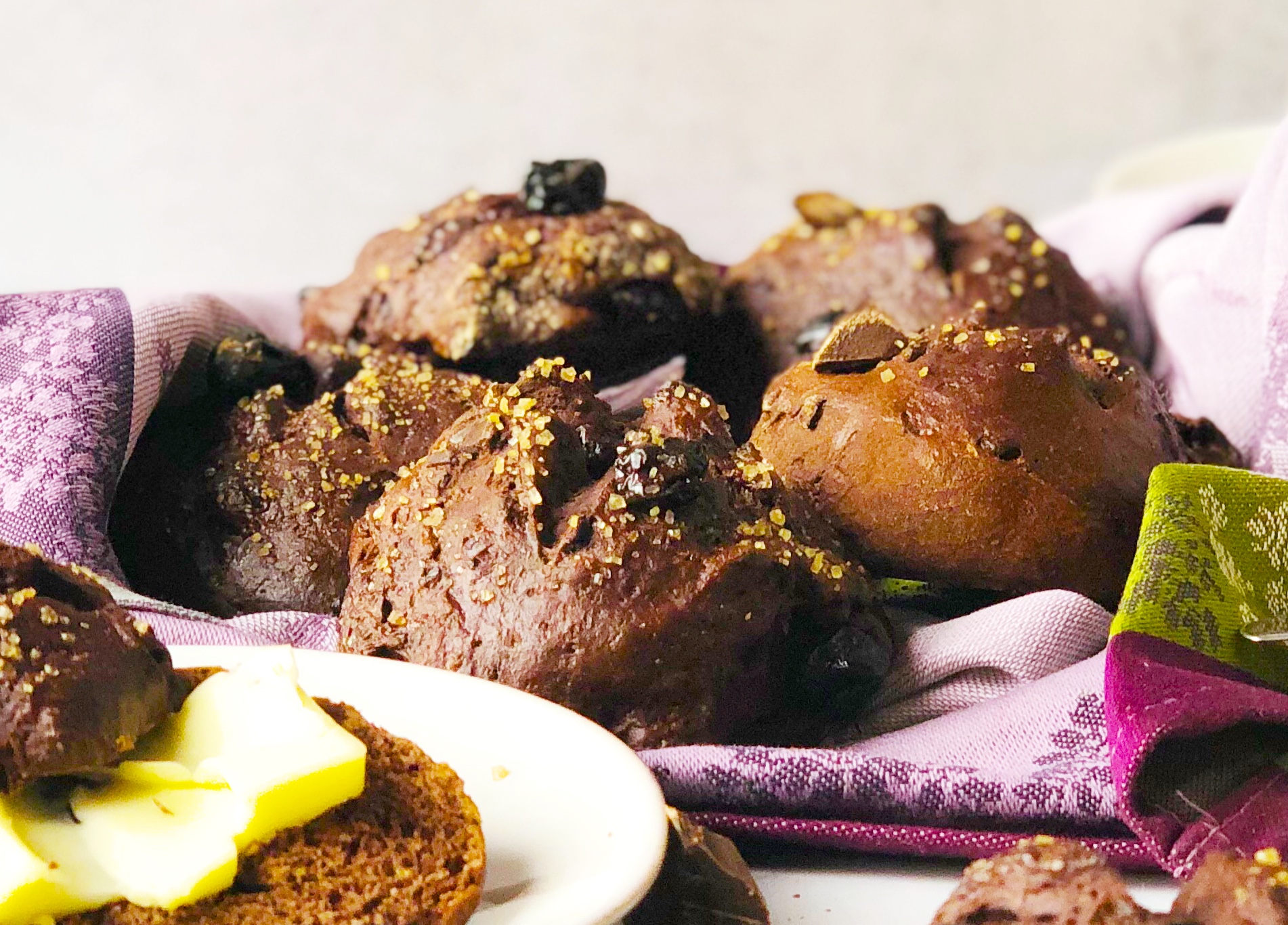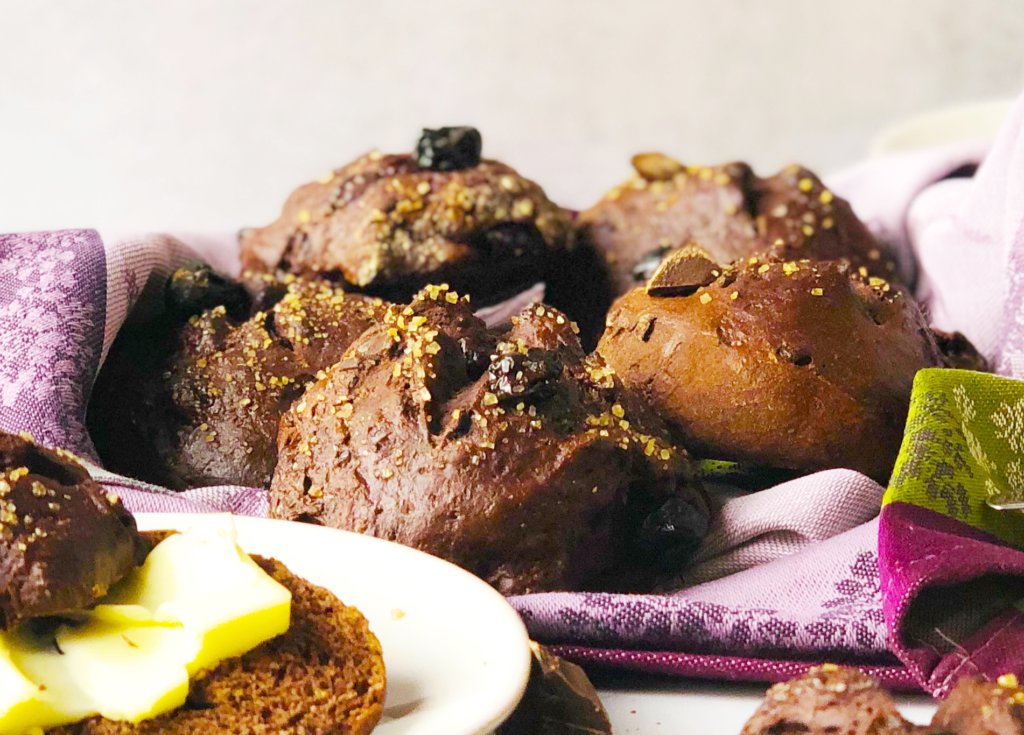 Adapted from Dagoba Organic Chocolate, this recipe is pretty straightforward. I changed just a few things to adapt to my ingredients. But, trust me, Chocolate Bread – it's totally a thing! Once chocolate becomes our medicine, we can all say, "WE knew it all along!"
Enjoy!
If you're looking for bread recipes, don't miss my Rhubarb Chevre Scones or these awesome Apple Cinnamon Rolls with Salted Maple Glaze.
If you, too, are a chocolate lover, you won't be able to resist this Chocolate Oblivion Torte or this super-easy Chocolate Biscuit Cake or these scrumptious Chocolatey S'mores Cookies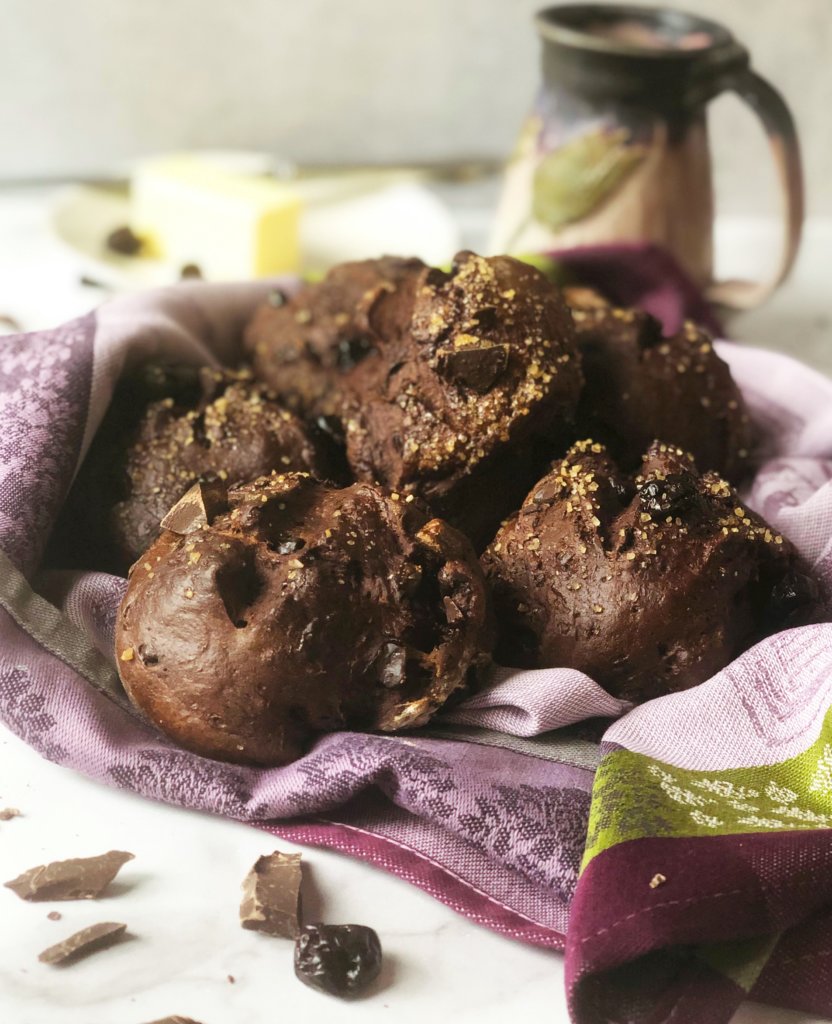 Chocolate Cherry Bread Rolls Recipe Details->
I used Instant yeast for this recipe, since it cut out the initial proof step. Just mix the Instant yeast with your dry ingredients. Once you add the very warm coffee, it will begin to activate. If you're using "active" yeast, be sure to read the directions for the initial proof stage before adding it to the recipe.
But it's a pretty straightforward yeast roll recipe. Just combine the wet and dry ingredients into a soft dough, knead either by hand or with a stand mixer, using a dough hook. Let that kneaded dough rise, punch it down and form rolls. Let the rolls rise, then bake.
I noticed at about 15 minutes, my rolls were beginning to get super-dark on the edges, so I covered the pan loosely with a sheet of foil for the rest of the bake time.
You can store these at room temperature, in an airtight container for several days, or freeze in a similar container for up to several weeks if you aren't going to use them right away.
Some other ideas for these rolls:
Add about 1/3 cup chopped roasted almonds and 1/2 tsp almond extract, for a Chocolate Cherry Almond Roll!
Top rolls with whipped cream cheese instead of butter! How decadent would that taste? Yum!
Use any leftover (as if!) rolls to make a super delicious bread Pudding!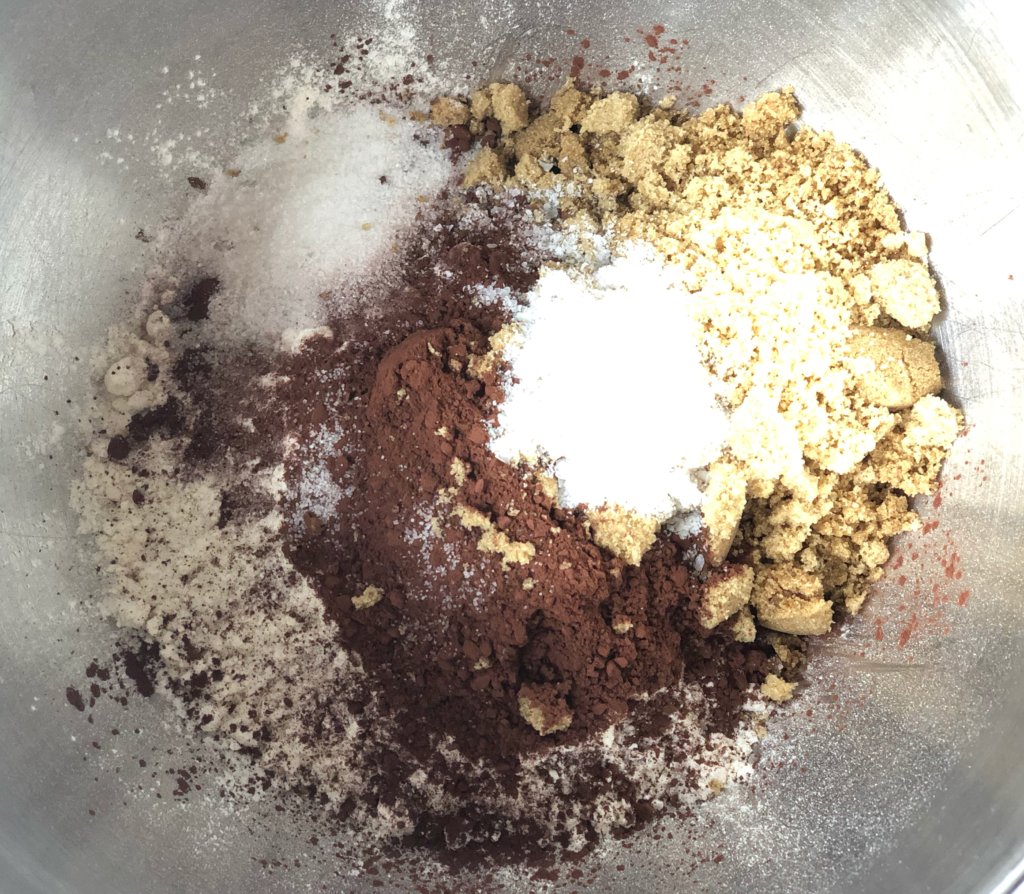 Print
Chocolate Cherry Bread Rolls
Chocolate Bread with Dried Sour Cherries – what could be better? Dark chocolate bread, studded with chocolate pieces and dried cherries! A great breakfast, brunch or snack! Perfect for the holidays, too! Using the smaller-granules Instant yeast instead of Active yeast allows you to combine that yeast directly with the dry ingredients.
Note: I used Red Star Instant Quick-Rise Yeast, but check your own yeast packet for specific instructions.
Adapted from a Dagoba Chocolate recipe
Author:
Prep Time:

30 min + 3 hours rise time

Cook Time:

16-20 mins

Total Time:

45-50 mins + 3 hours rising

Yield:

12

rolls

1

x
Category:

Breads

Method:

Baking

Cuisine:

American
Ingredients
2

–

0.25

oz. (

5 tsp

. Total) INSTANT yeast

3 1/2 cups

(

420 g

) AP Flour

1/2 cup

Cocoa Powder (regular or Dutch-process)

1/2 cup

(

99g

) Dark Brown Sugar

1 1/2 tsp

Kosher Salt

1 1/4 cup

(10 oz, 300 ml) Strong Black Coffee, cooled a bit (to about

120

–

130

F – should feel very warm, but use a thermometer!)

4 Tbsp

Unsalted Butter, room temp

1

Lg Egg, separated

1/3 cup

Bittersweet or Semisweet Chocolate Chips, or chopped chocolate

3/4 cup

Dried Sour Cherries, chopped
(optional) 2 tsp Turbinado sugar for sprinkling
Instructions
Mix Dry Ingredients
In the bowl of a stand mixer (or a large bowl if you will be kneading by hand), place the flour, brown sugar, yeast, cocoa powder, and salt. Whisk together.
In a small bowl, whisk together the coffee, butter and the egg yolk.
Pour the wet ingredients into the dry ingredients, stir until combined. It should form a loose dough. 
If kneading with a dough hook, fit the dough hook to your mixer, and knead for 7-8 minutes until smooth and elastic, working in the remaining 1/2 cup flour, as necessary. Then add the chocolate chips and cherries and knead an additional minute.
If kneading by hand, sprinkle the additional 1/2 cup flour, plus a little more, across a board or countertop. Place the un-kneaded dough on the flour, and knead about 10 minutes, until the dough is smooth and elastic. Knead in the chocolate chips and cherries.
Shape the dough into a ball and place into an oiled bowl, turning the ball over so the top of the ball is oiled. Cover and place in a warm spot (85-90 degrees if possible) until dough is doubled in size – about 90 minutes – 2 hours.
Punch the dough down and turn out onto a lightly floured surface. Divide dough into 2 evenly sized balls, then flatten to disks. Cut each disk in half, then each half disk into 3 equal parts, for a total of 12 portions. Form each portion into a tight ball, by pressing each portion into a round, then folding edges under and and/or rolling in your hands to form a tight ball. Place the 12 balls over 2 parchment-lined ungreased baking sheets, leaving about 3 inches between each ball. Cover and let rise in a warm spot, until balls are doubled in size, or about 1 hour.
Preheat oven to 375 for Convection, or 400 for Conventional oven. Beat the reserved egg white with 1 Tbsp water, and brush egg wash over each ball. Using a serrated knife, cut a shallow  "X" over the top of each, then sprinkle with turbinado sugar, if desired. 
Bake 16-20 minutes, until the rolls are crusty. At around 15 minutes, look at the rolls to determine if they are beginning to burn around the edges. If so, loosely cover with foil until the end of baking time. In my oven, the rolls took about 19 minutes. Cool rolls on a wire rack. Serve with butter, if desired.
Keywords: Chocolate Cherry Bread Rolls, chocolate, cherry, bread, rolls
Recipe Card powered by
PIN Chocolate Cherry Bread Rolls->