Chewy, Fudgy-textured Pumpkin White Chocolate Blondie Bars are the perfect Autumn treat! This one-bowl wonder is easy to make and even easier to devour!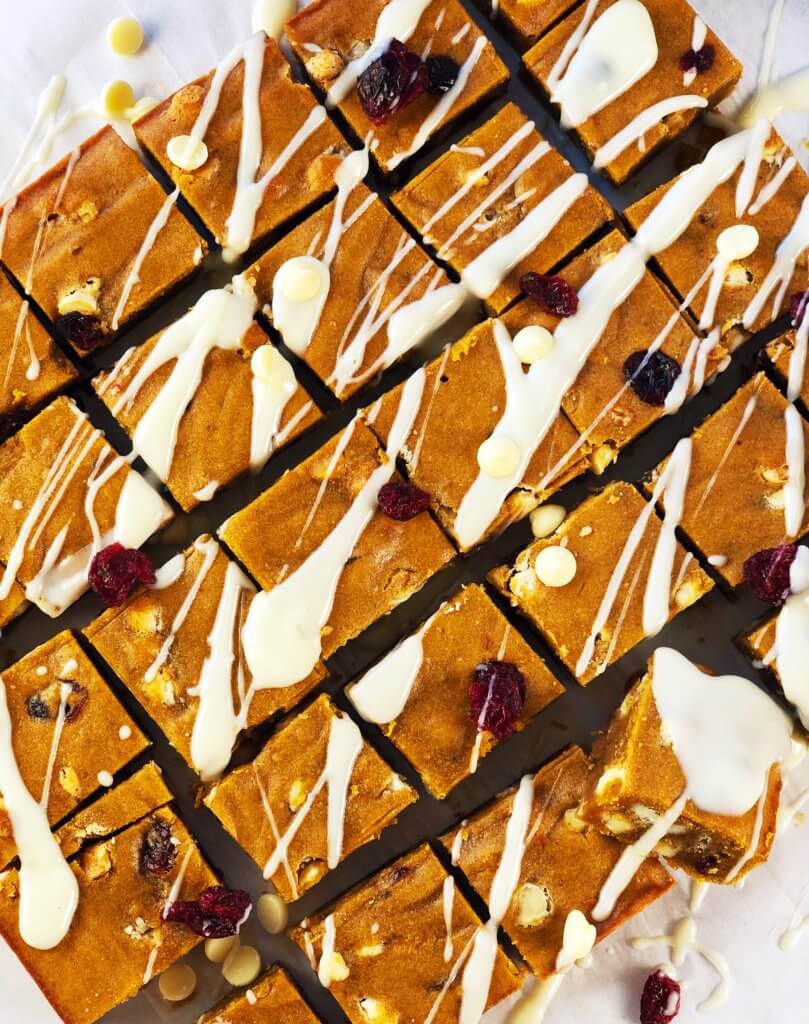 Have you ever changed your mind completely about something? Wearing "high-rise" jeans? Taking the new tunnel through the city (2 miles long with no exits and 40 ft. Underground)? Brussels Sprouts? For me, each of these is something I've overcome my fear of changed my mind about, for one reason or another. Another in the list of things I refused: The Blondie, believe it or not. The first time I saw a "Blondie" sitting in a bakery case, many years ago, I was stubbornly resistant. Not that it didn't look delicious, but, to me, it looked like a chocolate chip cookie bar without the best part. To me, this meant BO-RING!! No one had explained to me the difference between a Blondie and a regular cookie. But you live, and you learn, right?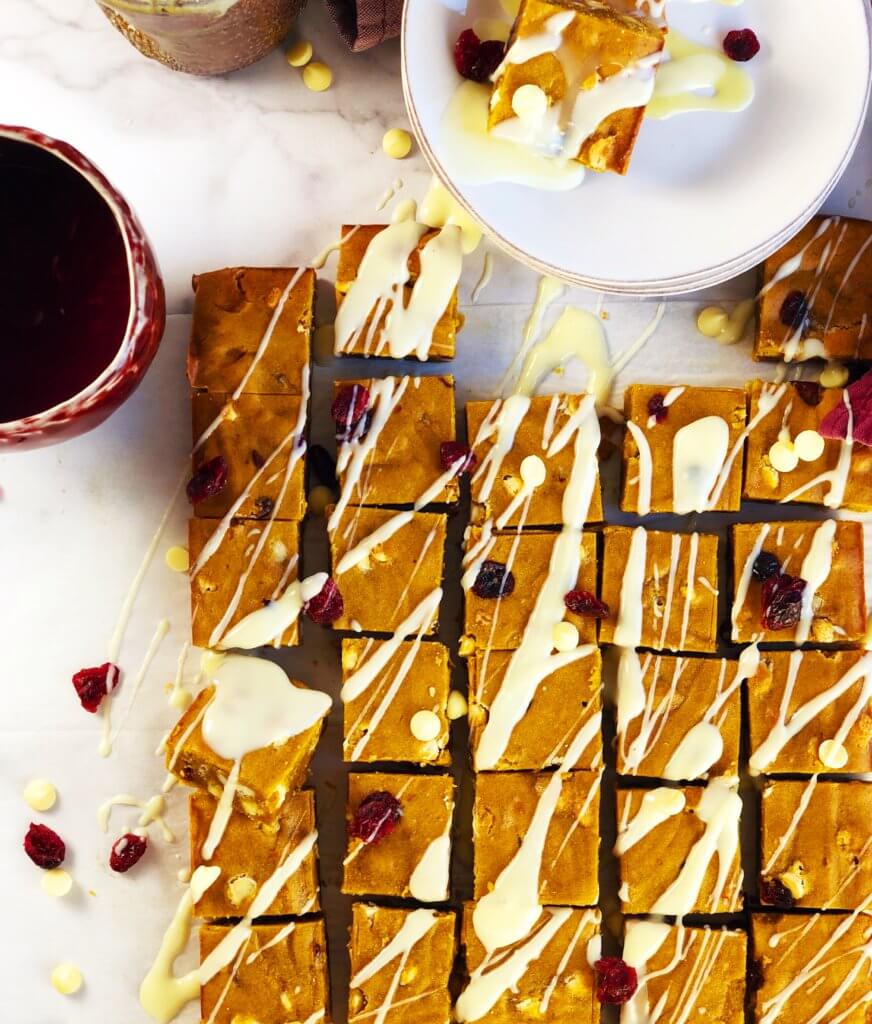 I'm not even sure you could compare a Blondie to it's cousin, the Brownie, unless it's the right type of brownie. You see, a Blondie is often even denser than a more cake-like brownie. And it is a buttery, caramelly flavored bar, tender as well as chewy. But, like a brownie, it can include so many different flavors: chocolate chips or dried fruit for instance. Really, there's nothing there to fear!
I made a similar Blondie recipe for my Rhubarb White Chocolate Blondies, but this time I added Pumpkin, which, at this point in the year, I just can't get enough. A couple handfuls of white chocolate chips were tossed in. I also threw in some chopped dried cranberries, as a tangy counterpoint to the creamy white chocolate and caramel/toffee Blondie.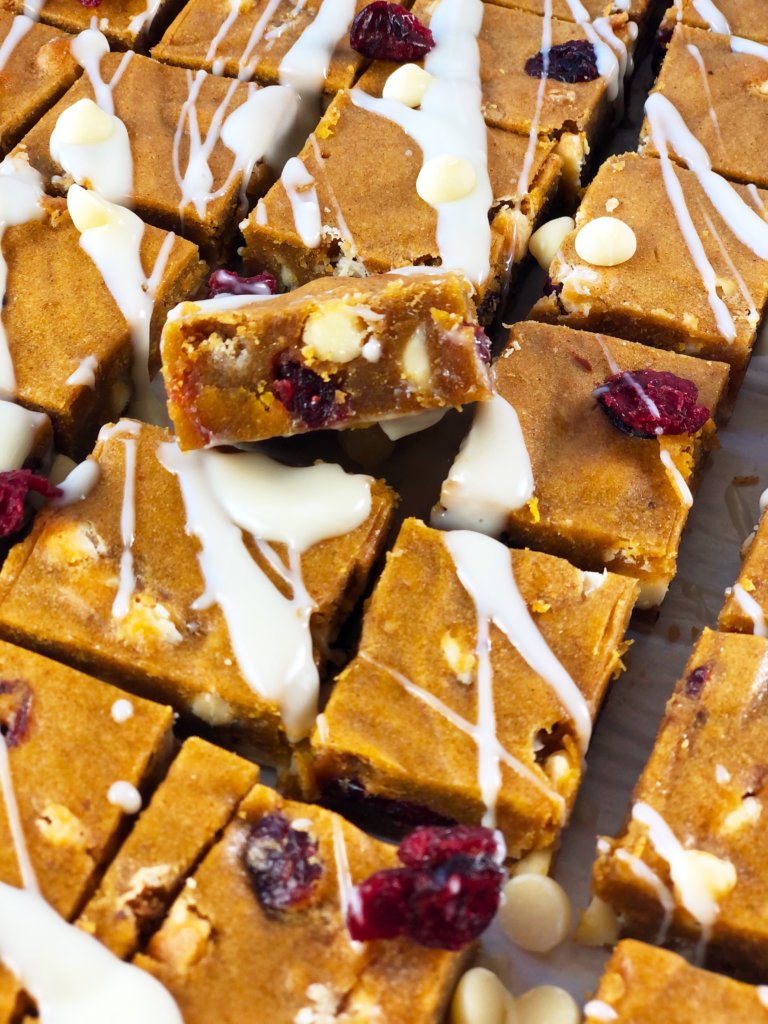 This recipe was inspired by, and adapted from several recipes, including Smitten Kitchen's Blondies, and Hummingbird High's Rhubarb and White Chocolate Blondies. I changed bits of both of these recipes to create these Pumpkin Blondie Bars. I have to say, though, Smitten's Blondies are a revelation – the browned butter makes them positively divine! They are called "infinitely adaptable" for good reason!
So, if you've avoided the oh-so easy Blondie for awhile, take a walk away from the Dark Side! Enjoy some Blondies ASAP! Find out what you're missing!
Enjoy!
Other Brownie/Blondie Recipes? If you're Gluten free, don't miss these phenomenal Dark Chocolate Tahini Brownies, and these Peanut Butter Swirled Brownies are crazy good. A "healthy" brownie? Try these Whole Wheat Fudge Brownies!
Other Pumpkin treats? This simple Maple Pumpkin Pudding Cake deliciously uses the rest of that can of pumpkin puree, and my healthy and scrumptious Pumpkin Spice Granola is a great way to start your day. Pumpkin Sausage Lasagna is a great savory pumpkin dish as is this tasty Pumpkin Penne with Spinach and Sausage.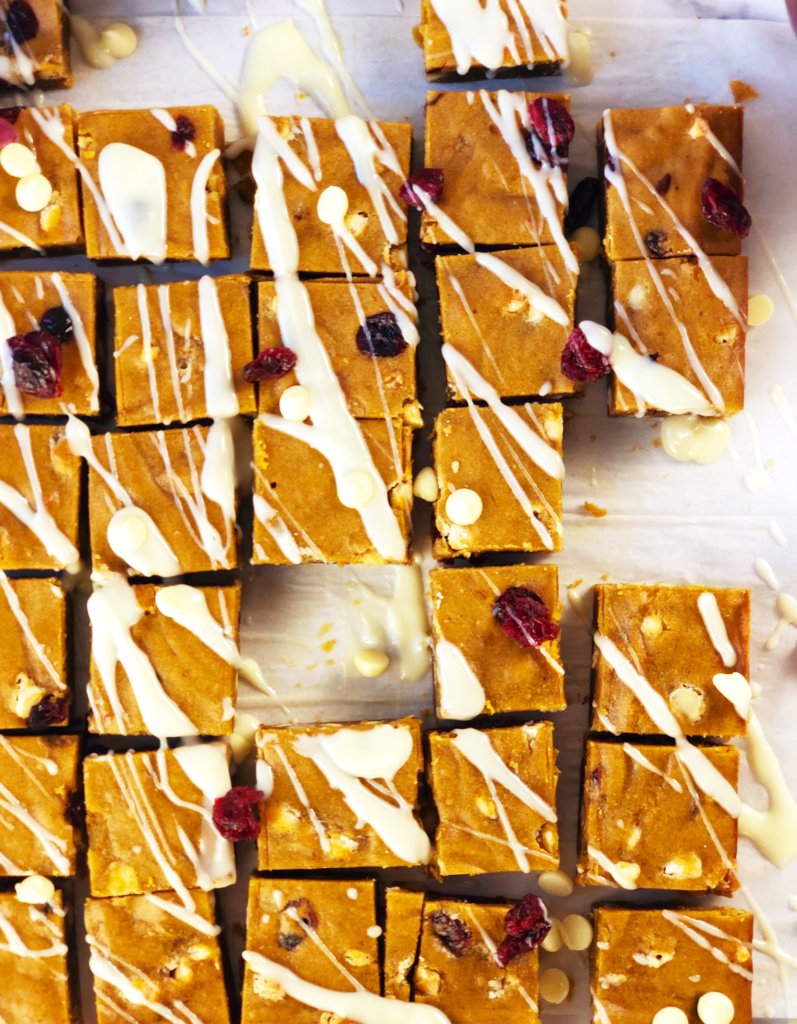 Print
Pumpkin White Chocolate Blondie Bars
Fudgey-textured Pumpkin Blondies with bits of White Chocolate and Cranberries are so delicious and festive! Browning the butter, if you desire, gives them a bit deeper toffee flavor, too!
These may become your go-to Autumn treat! This recipe makes a 9×13 pan. Feel free to cut in half and make an 8×8 pan, but be sure to pay attention to them in the oven so you don't overcook. They will be a bit thicker than those in a 9×13, but should be done in 24-25 minutes, and look underdone in the middle but with a golden brown edge.
Author:
Prep Time:

15-20 min

Cook Time:

28 min

Total Time:

43-48 min

Yield:

9

x13 pan, 35 blondies

1

x
Category:

Blondies, Brownies, Bar Cookies

Method:

Baking

Cuisine:

America
Ingredients
1

cup

Unsalted Butter, browned, if desired; otherwise, melted

1 1/2

cups

(297 g) Light Brown Sugar, packed

2

Large Eggs

2

t Vanilla Extract

1

cup

Pumpkin Puree (NOT Pie Filling)

2 1/2

c

(300g) AP Flour

1

T Pumpkin Pie Spice

1

t Kosher Salt

1 1/2

c

White Chocolate Chips

1/2

c

Dried Cranberries
Instructions
Mix the Wet Ingredients:
Prepare a 13×9 pan. Spray, butter or parchment-line the pan. If using parchment, give it a quick spray as well. Preheat oven to 350F (or 335F for Convection).
Brown the Butter. (Or melt if not browning) Over medium heat, cut butter into several pieces. Once butter is melted, turn heat to Medium-Low. After a few minutes, it will begin to bubble and spatter, and eventually become foamy. Be sure to swirl the pan a bit every couple minutes. Once the foam begins, watch closely as the foam begins to subside a bit and turn brown around the edges. When this happens be ready to take the pan off the heat as the butter will be nicely browned at this point. You can brown as dark as you want, but be careful it doesn't burn. Pour it into a large bowl, and cool a bit.
Whisk in the brown sugar until fully incorporated, then whisk in eggs and vanilla, then add the pumpkin puree. Stir. 
Add the Dry Ingredients:
To the bowl, add the flour, pumpkin pie spice, and salt. Stir until a fully incorporated to a thick batter.
Fold in white chocolate chips and cranberries.
Pour into prepared pan, and bake in preheated oven 26-30 minutes (mine took 28 mins). The blondies should be golden brown around the edges, but look undone in the middle. An inserted tester should have an crumb or two, but no batter on it.
Let cool fully when done.
Notes
You can make half the recipe if you like, in an 8×8 pan. The blondies will be a bit thicker, so watch them closely so they don't overbake. They should take around 25 minutes to bake.
Feel free to add 1/2 cup nuts if you like, but you may want to reduce the white chocolate chips by 1/2 cup. This recipe works best with about 2 cups of add-ins.
Keywords: Pumpkin Blondies, White Chocolate Blondies, Blondies, Brownies, Blondies Recipe, Blondie Bars, recipe for Blondies
Recipe Card powered by
Recipe Details ->
These Pumpkin White Chocolate Bars are a one-bowl wonder!
I browned my butter just to amp up the depth of caramel/toffee flavor, but you can just melt your butter and use it that way, too – still knock-you=over delicious!
You'll just mix together all of your wet ingredients, then add the dry ingredients right into the liquid ones, and stir into a batter. Fold in 2 cups of add-ins (I used 1 1/2 cup White Chocolate Chips and 1/2 cup chopped dried cranberries). Then pour the batter into a prepared 9×13 pan, and bake.
The biggest key to a great Blondie is removing it from the oven when the edges are golden brown, but the center of the pan, while it doesn't "jiggle", appears undone. You can tell by my photo below, it doesn't look quite done, but a tester inserted into the center comes away with just a crumb or two, and no unbaked batter. Let them cool completely before cutting!
Some options here:
Add nuts! 1/2 cup chopped roasted (and salted!) pecans would be lovely. Just keep the add-ins right around 2 cups, so maybe decrease the chocolate chips to 1 cup, or omit the cranberries if you add the nuts.
Use dark chocolate chips, butterscotch chips or toffee pieces instead of white chocolate.
Substitute dried cherries or pieces of dried apricot for the cranberries.
So many choices!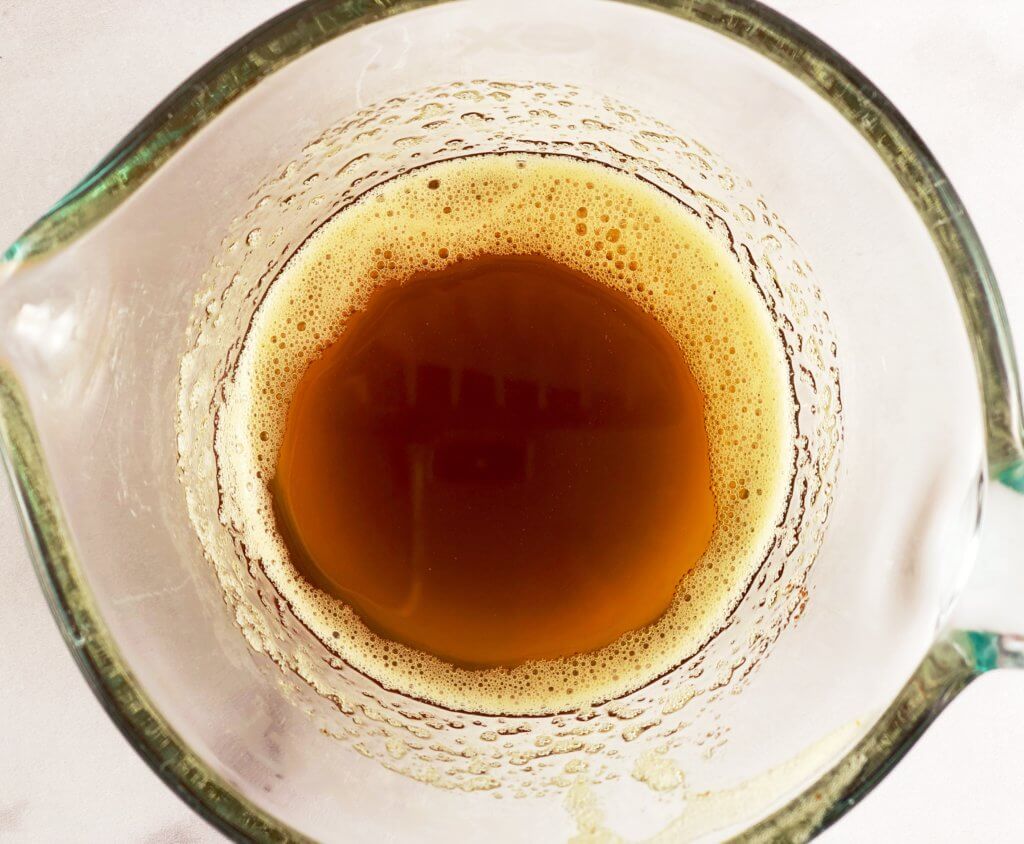 PIN Pumpkin Blondie Bars ->