Who wants Brownies? These exceptionally fudgy Dark Chocolate Tahini Brownies are bakery-quality treats you can make at home!
This recipe was updated from one published in 2018. The recipe is the same but the text and photos have changed.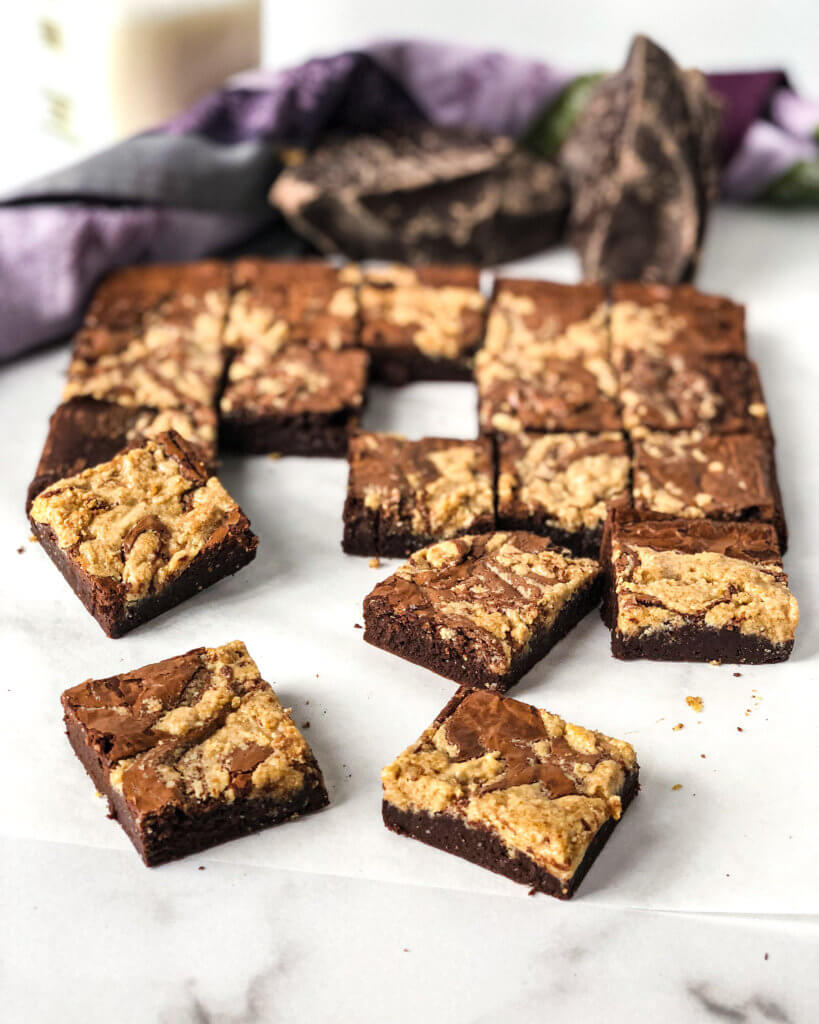 Just look at these brownies – dark, fudgy, rich, gooey, indulgent, delicious, oh-so satisfying.  Everything a good brownie should be. But, for all of you who are gluten-free, there's not a bit of wheat flour in them.  What? How can that be? Now, I am not Gluten-Free, nor is anyone in my family. But that doesn't stop me from enjoying a Gluten Free dessert, especially one that is as good as (or dare I say better than!) one that contains gluten. I mean, who doesn't love a flourless chocolate cake, after all? And, these Gluten Free Dark Chocolate Tahini Brownies – a long name, I know – are a mouthful…both literally and figuratively.  They should be renamed, "WOW! I'll have another!".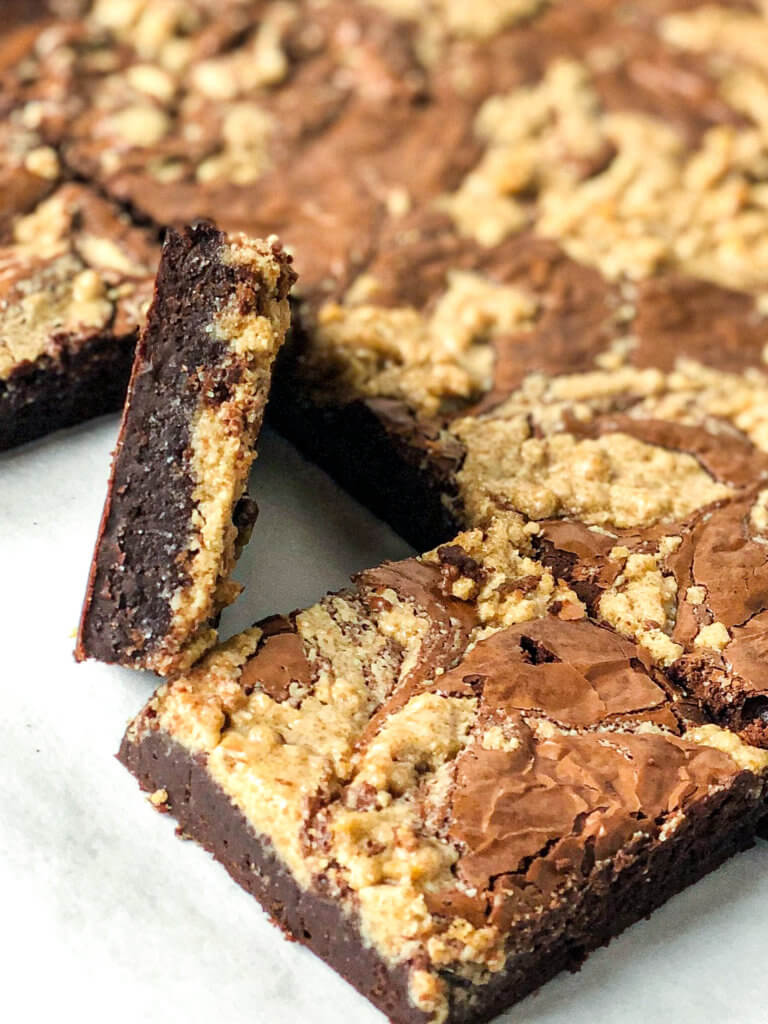 This recipe is adapted from one by Dave Lebovitz, so you know it's going to be good.  Bon Apetit took it to the next level by adding the swirl of tahini, akin to what many do by adding peanut butter.  I made a couple of changes based on what was in my pantry (i.e. brown sugar for agave nectar), doubled the recipe, because, well…, they're BROWNIES! And, I know that brownies, like many baked goods, are even better the 2nd day.  
Also, being fully somewhat self-aware, I knew that I wouldn't be waiting until the 2nd day to taste one of these beauties, so for the sake of appropriate planning, I needed to make enough for both days, right?  So don't anyone tell me I'm not a good planner 😉.  And the taste test proved it – we all agreed – Awesome day 1, Even Better than Awesome day 2. Be sure to let me know if you agree!
Tahini, which is really just ground sesame seeds, the way peanut butter is ground peanuts, adds a deeper, "earthy" flavor compared to peanut butter, but it complements this deep chocolate brownie beautifully. And the Sesame seeds, from which tahini is made, are filled Plant protein, B-vitamins and Antioxidants. What's not to love?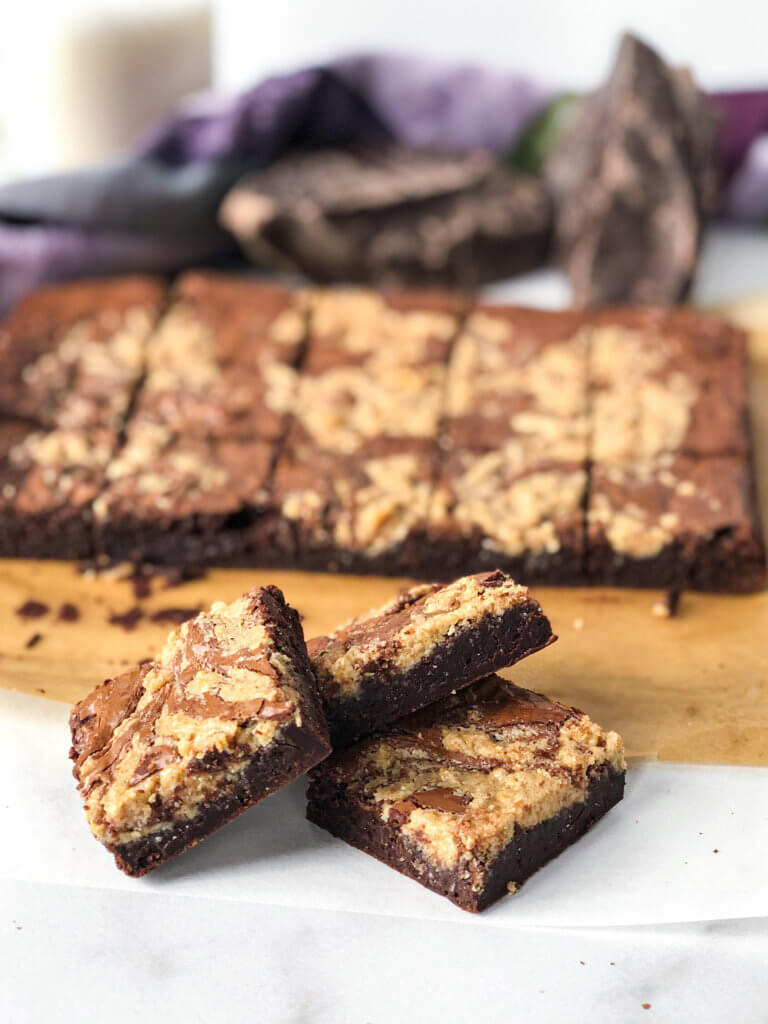 So, if you are Gluten Free – these Dark Chocolate Tahini Brownies are for you! If you love peanut butter with your chocolate, you will likely love Tahini with your chocolate.  If you don't fit into either of these categories, these are still one of the best brownies you will ever taste! So dive into some tahini! You can find it in most grocery stores, sometimes in the Middle Eastern section. You won't regret these brownies! 
Enjoy!
If you're looking for awesome brownies, don't miss these awesome (and possibly secretly) Whole Wheat Fudge Brownies or these outrageous Peanut Butter Swirled Brownies or these completely over-the-top Ina's Outrageous Brownies, an oldie-but goodie!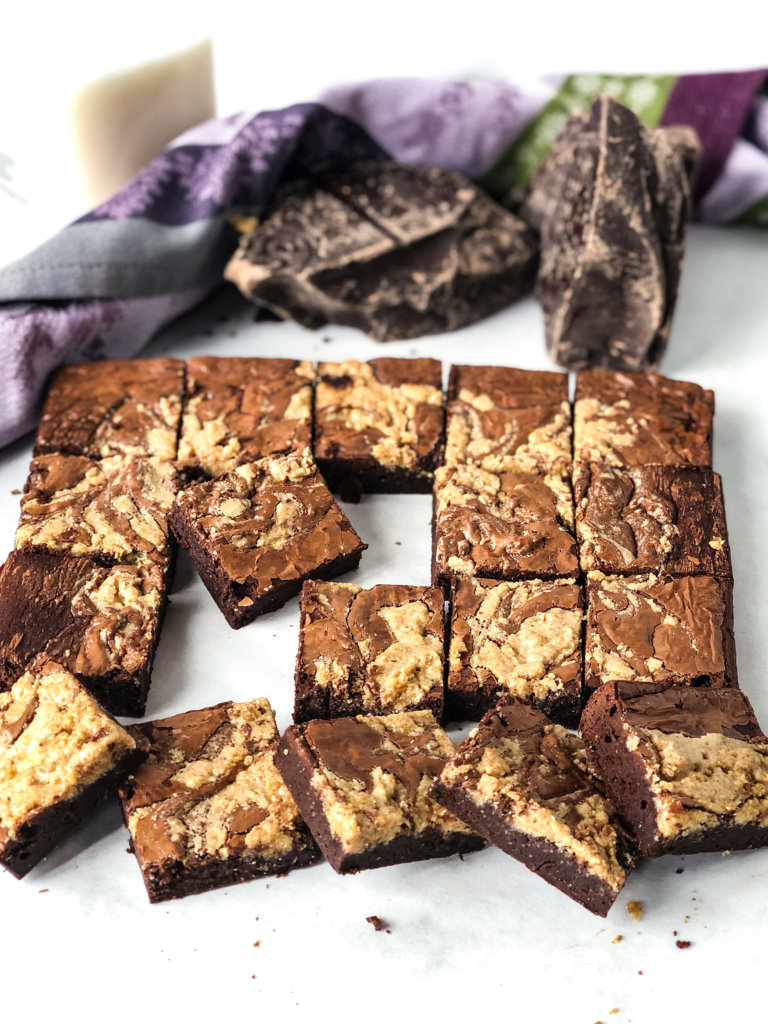 Chocolate Tahini Brownie Recipe Details ->
This post may contain affiliate links. As an Amazon Affiliate, I may earn a small commission, at no cost to you, for purchases you may make of items linked from this site.
Although this batter is not as simple as a box mix, the flavor and texture beats that box mix by a few miles! There are 4 simple steps. But first, you'll need to preheat your oven to 350F, or 335F if you have a convection (fan) oven. And then prepare a 13×9 pan by either buttering or spraying, or lining with parchment paper.
1. Mix the cocoa and cornstarch: Easy enough – just whisk them in a bowl, and set aside. You can use any cocoa. I find "Dutch Process" varieties are especially good in recipes like brownies. But truly, any type will do. 
2. Melt together the chopped chocolate, or chocolate chips, butter and 2 Tablespoons of Tahini.  You can do this in a bowl set over simmering water, or in a microwave-safe bowl at 30-second increments, stirring in between. I like the method of the bowl over simmering water, because I can watch it occasionally while I am doing the other steps of the recipe. And, when it's melted, it's not too hot.
I like to buy Bittersweet Baking Chocolate  in the bulk section when it's on sale at the grocery, because baking chocolate does work best here, but I've also had good results using chocolate chips in this recipe. I prefer the Bittersweet varieties, but use semisweet if you like that better.
3. Beat the wet ingredients until double in volume. Using a hand mixer, or a stand mixer, combine the eggs, sugars, salt and vanilla extract. Beat until roughly doubled in volume. This takes maybe 4-6 minutes. The mixture may be a bit bubbly, like mine was, but will clearly be a greater volume.
4. Combine all of the ingredients. Mix in the bowl of melted chocolate, butter and tahini until incorporated. Then reduce mixer speed to low, and add in the cocoa-cornstarch mix. Once just incorporated, turn the speed up to High and mix for 1 minute. This should produce a fairly thick batter. Scrape that batter into the prepared 9×13 pan.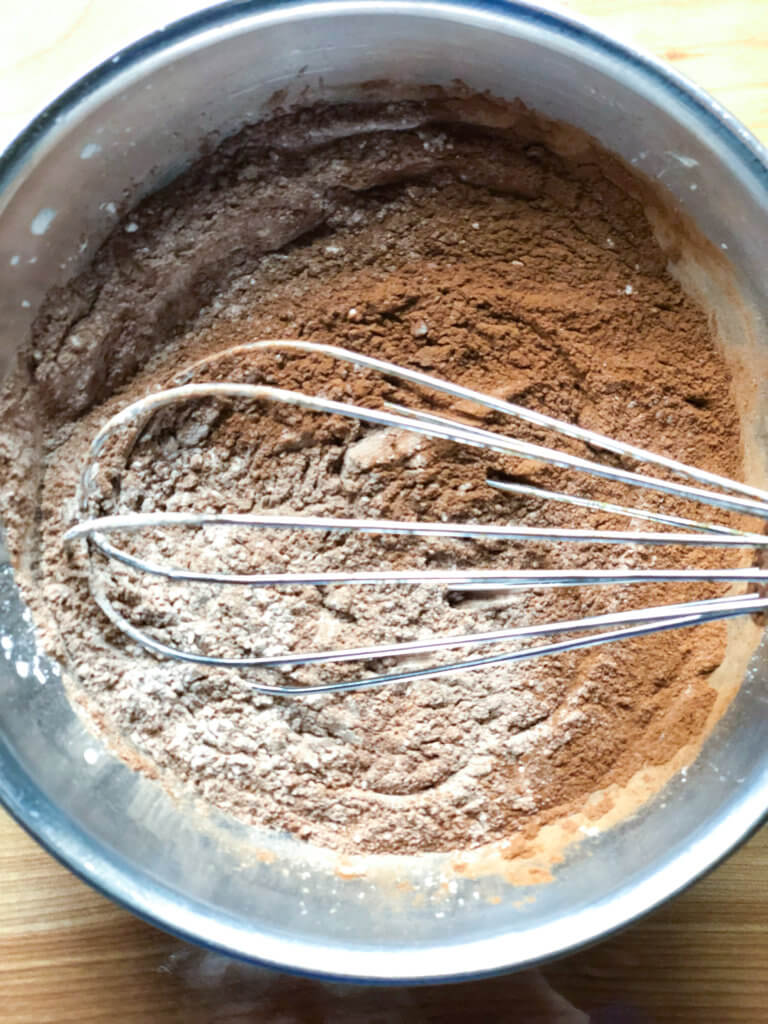 Once that batter is in the prepared pan, use a spoon or fork to mix together the 6 Tablespoons of Tahini. Then plop heaping tablespoons of the tahini mixture onto the batter. Use a chopstick or toothpick to swirl it around until it looks something like the photo, below, on the left. Then pop it into the oven.
Once the brownies have been baking around 20 minutes, watch every minute or so. You don't want to overbake, because brownies are best when they are fudgy, aka, slightly under baked. I took mine out at 23 minutes when the top of the brownie was starting to crackle just a bit, but the center still appeared a bit underdone.
There you have it – possibly your new favorite Brownie Recipe!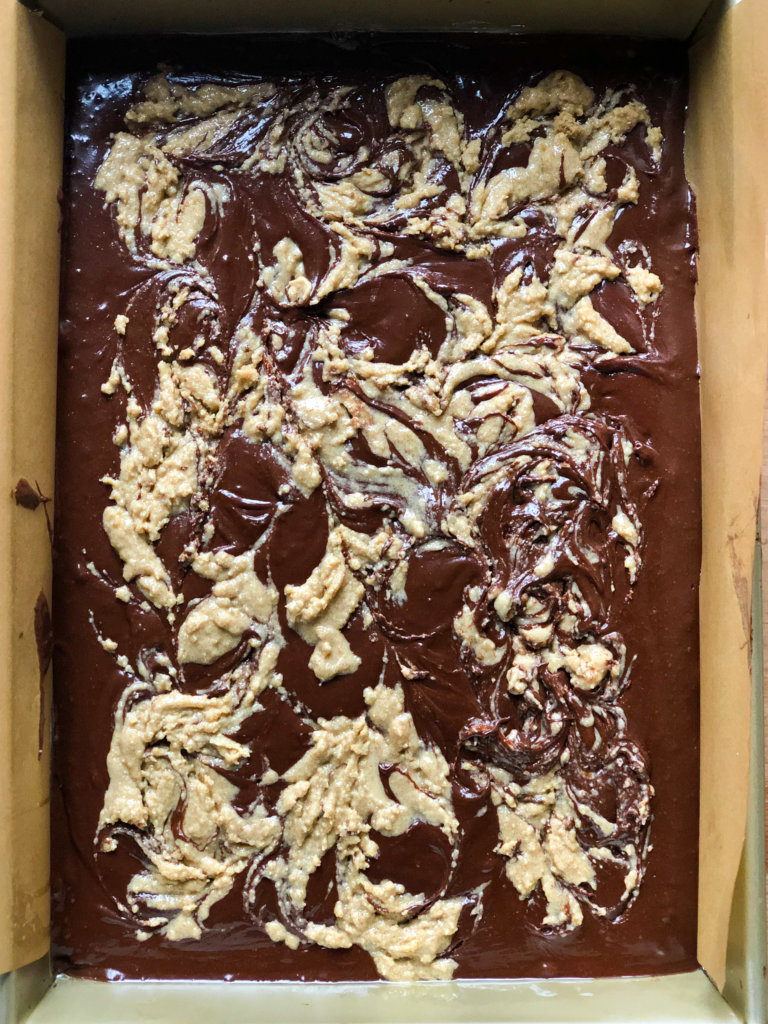 Print
Gluten Free Dark Chocolate Tahini Brownies
These brownies are dark, fudgy, and addictive!  The recipe is based on a brownie recipe from David Lebovitz.  It was further adapted by Bon Apetit, and then I doubled it, because, why not? It's brownies. And, indeed like most baked goods, they are better the 2nd day, so doubling makes sense in a house full of brownie-lovers.
A note on brownies – given the choice of under-baking or over-baking, always choose under-baking.  So if your brownies look done at 22 mins, and they pass the moist crumb on the skewer test, remove them from the oven, rather than over-bake them.  You won't regret it!
Equipment needed: Stand mixer, or hand mixer, or a nice bicep and a whisk; 13×9 baking pan.
Author:
Prep Time:

20 min

Cook Time:

25 min

Total Time:

45-50 min

Yield:

24

-

35

servings

1

x
Category:

Desserts

Method:

Baking
Ingredients
Dry Ingredients
6

T Cornstarch

1/4

c Unsweetened Cocoa Powder
Chocolate Mixture
12 oz

. Bittersweet or Semisweet Chocolate (chopped) or Chocolate chips

6

T Unsalted Butter, room temp. (See Note 1)

2

T Tahini
Wet Ingredients
4

Lg eggs, room temp.

2/3

c Granulated Sugar

1/2

c packed Brown Sugar

2

t Kosher Salt 

2

t Natural Vanilla Extract
Tahini Mixture
6

T Tahini

3

T Brown Sugar or Honey

1/2

t Salt
Instructions
Preheat oven to 335F. Line a 13×9 pan with parchment paper, leaving ends overhanging, if desired, to help remove brownies, when baked.
Mix Dry Ingredients
In a small bowl, whisk together the cornstarch and cocoa powder.  Set aside.
Melt Chocolate Mixture
In a small saucepan over low heat, melt the chopped chocolate, butter, 2 T of the tahini while stirring until smooth.  This should take just a minute or two. Remove from heat.
Mix Wet Ingredients
With a hand mixer or a in a stand mixer, beat eggs with the granulated and brown sugars, at medium-high speed, for about 4 minutes.  The mixture should be smooth, and doubled in volume.
Reduce speed to medium, add the 2 teaspoons salt and vanilla and incorporate.  Mix in the liquid chocolate from the saucepan, until incorporated.  Then, using low speed, incorporate the cornstarch mixture.  Increase speed back to medium-high and beat mixture for 1 minute.  The resulting batter should be quite thick.  Scrape batter into the parchment-lined pan.
Make Tahini Mixture and Swirl into batter
Stir together the remaining tahini, the 1/2 t salt and the brown sugar. Dollop over the brownie batter and use a toothpick or skewer to swirl it around the surface of the batter.
Bake 22-28 minutes, or until the edges are puffed (mine took 25 mins), but wet crumbs still stick to a skewer inserted into the middle.  There may be a few cracks around the edges of the brownie. Mine were done at 23 minutes. Let cool.  Lift edges of parchment to remove brownie from pan. Cut.  Serve.
Notes
1. You can substitute Salted butter in this recipe, but in Step 5, reduce the amount of salt to 1 1/2 teaspoons, if desired. ( I used the full 2 tsp and it was delicious)
Nutrition
Serving Size:

1/24 recipe
Keywords: Chocolate Tahini Brownies, Recipe, Tahini Fudge Brownies, Bon Apetit, tahini, brownies, easy
Recipe Card powered by
PIN Dark Chocolate Tahini Brownie Recipe ->