Dark Chocolate Buttermilk Cake with Dark Chocolate Buttermilk Frosting! It is truly EVERYTHING Chocolate Cake should be: super-moist, fluffy, easy to make, and most importantly: A mouthful of Chocolatey Flavor! You won't believe how awesome this is!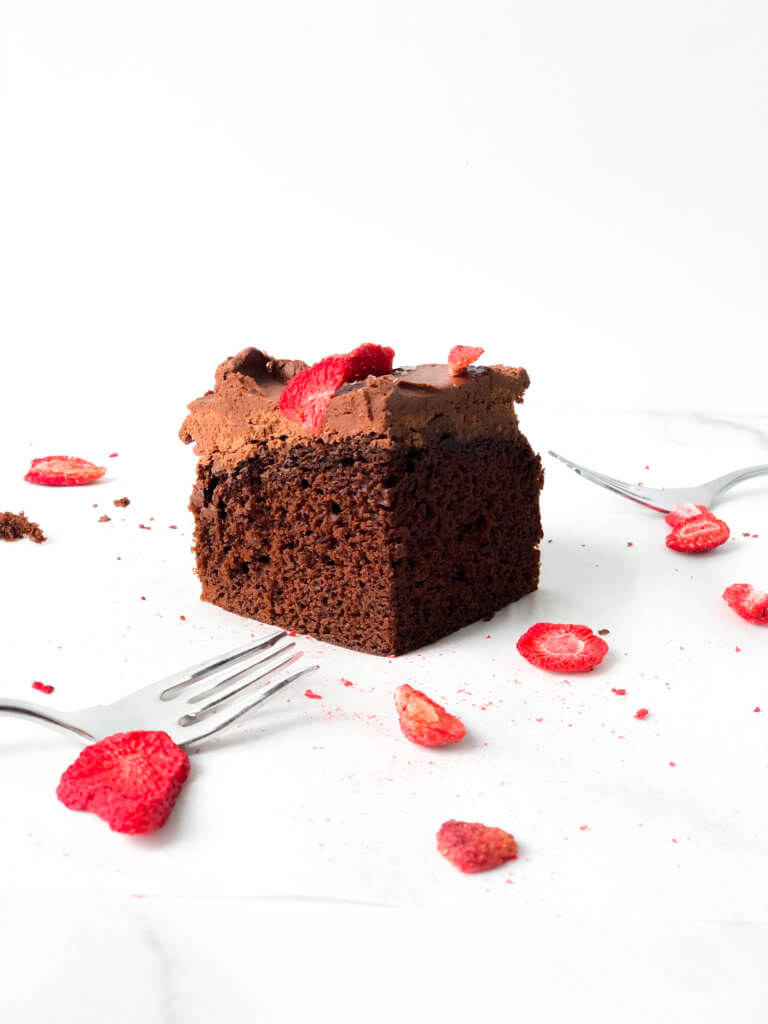 I've been baking a lot these days! Really, most days of late, I'm either baking, or trying to decide what to bake next. Takes my mind off all the other things for a time. Because baking is distracting in the best way(!). The whole process of baking focuses me in a zen sort of way – my own meditation – a defined process of measuring, mixing, waiting, and ultimately, enjoying the fruits (or cakes!) of your own labor. It's a skill that, if you can follow the directions, you can improve your skill level. So if you happen to have the time….
And, really, there's nothing like watching a pile of seemingly ordinary ingredients come together to make something special. Anyway, lately, chocolate baked goods have won the bake-off that swirls in my brain. But such is my life. Chocolate always wins.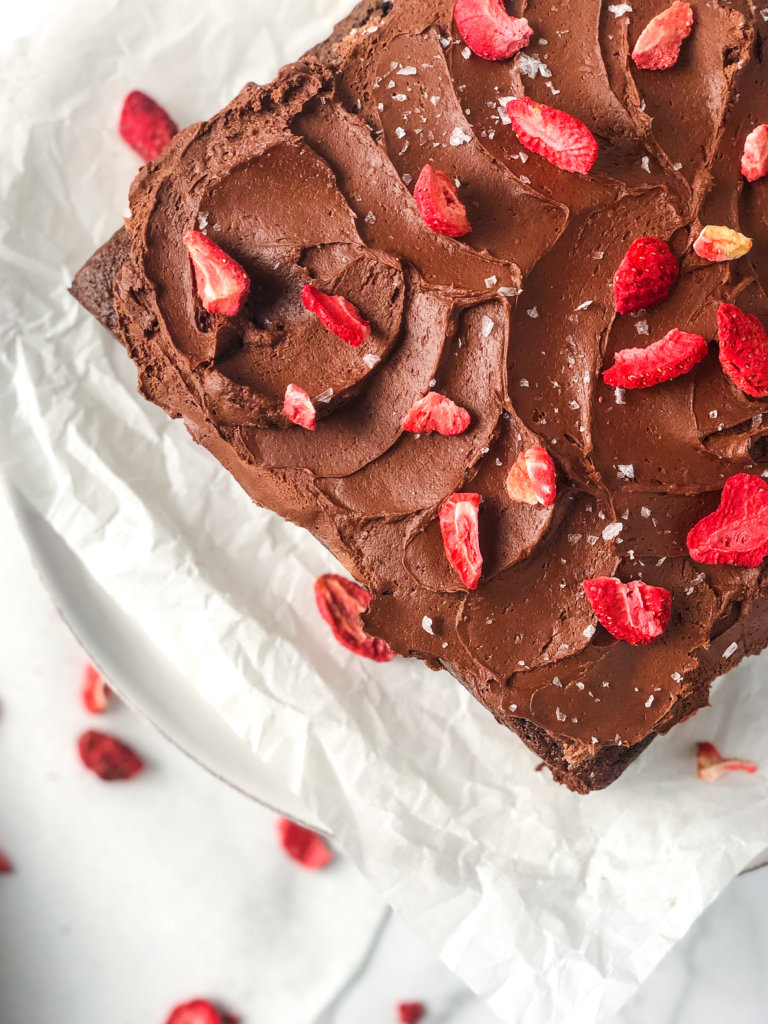 When I was a kid, there was absolutely NOTHING better than coming home from school to the aromas that told me that baking had been happening that day. I feel like my Mom must have felt that same zen of baking and that satisfying sense of accomplishment we all get from creating something. Or, maybe she just needed a MOMENT after sending 6 kids off to school!
But we knew immediately whether she had made Chocolate Chip, Peanut Butter, Oatmeal, or Snickerdoodle Cookies. Or we knew if it was Brownies, or a Cake! She would always package them to put in our lunches AND fill the cookie jar! Not surprisingly, my favorites were always the ones that were chocolate.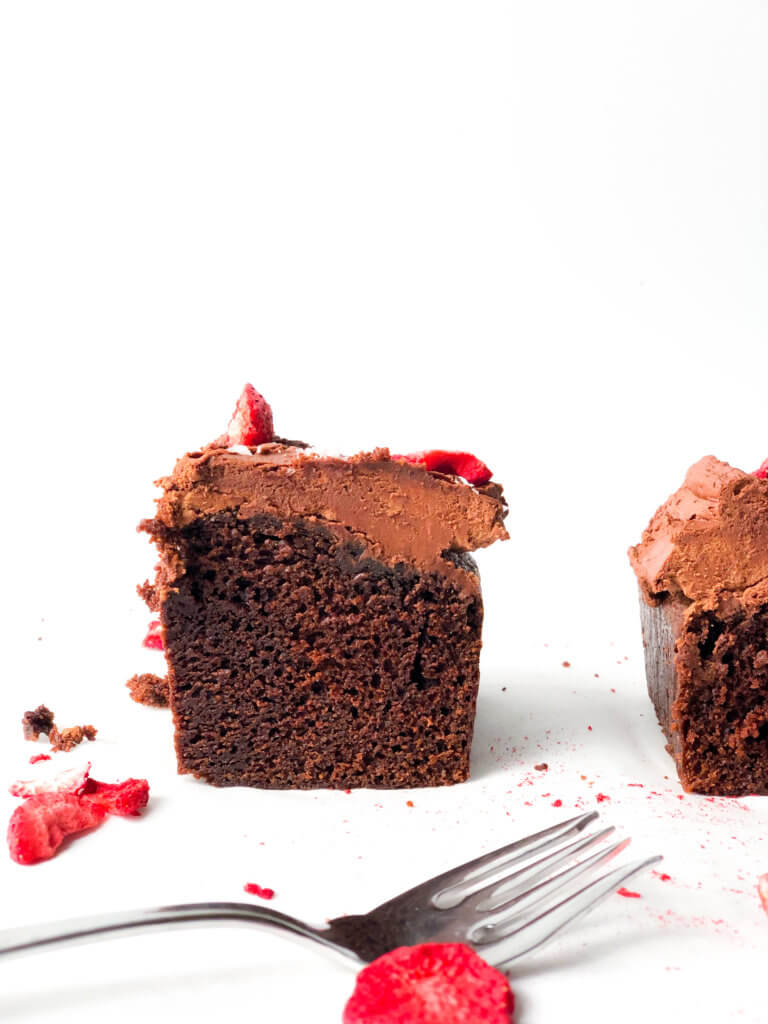 And, in my constant search for the best chocolate treats, this Dark Chocolate Buttermilk Cake with Dark Chocolate Buttermilk Frosting is right up there with my favorites. The cake batter is made in a saucepan by melting a few basic ingredients then mixing in a few others. Just a few minutes is all it takes. And the buttermilk in the cake makes it both moist and tender, so fluffy, so chocolatey without being too sweet.
The frosting is also made with buttermilk, which complements the rich dark chocolate with and cuts the sweetness while keeping it smooth as silk. Just 4 ingredients. Knock your socks off delicious!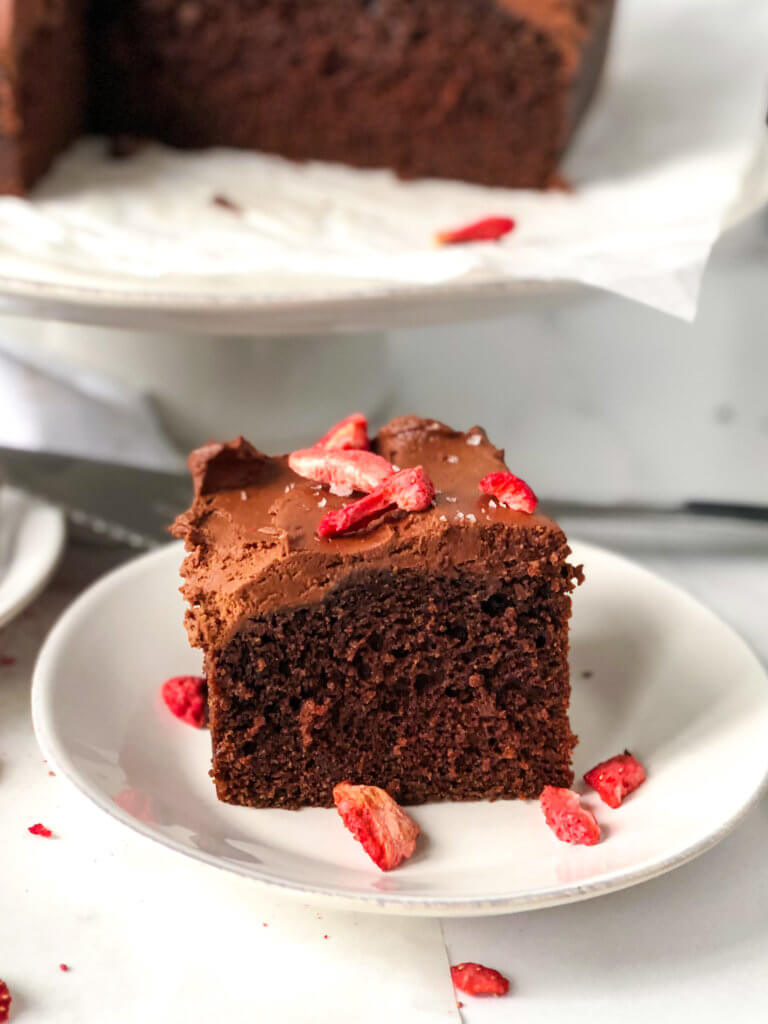 So, if you, like me, have been searching for a chocolate cake that is as decadently fudgy and chocolatey as can be, this one is for you!
And, let me know, I'm curious – are you baking as much as I am? And are you baking chocolate goods, too? Just asking…for a friend.
Take care, everyone!
Enjoy!
Want to find some other chocolate treats? I have so many on my site, you might want to just type "chocolate" into the search bar to the right or check out my "RECIPES" page. But some of my faves are this No Churn Chocolate Ice Cream with Pretzels and Popcorn, or this 3 -ingredient Chocolate Oblivion Truffle Torte or these awesome Chocolate Cherry Bread Rolls.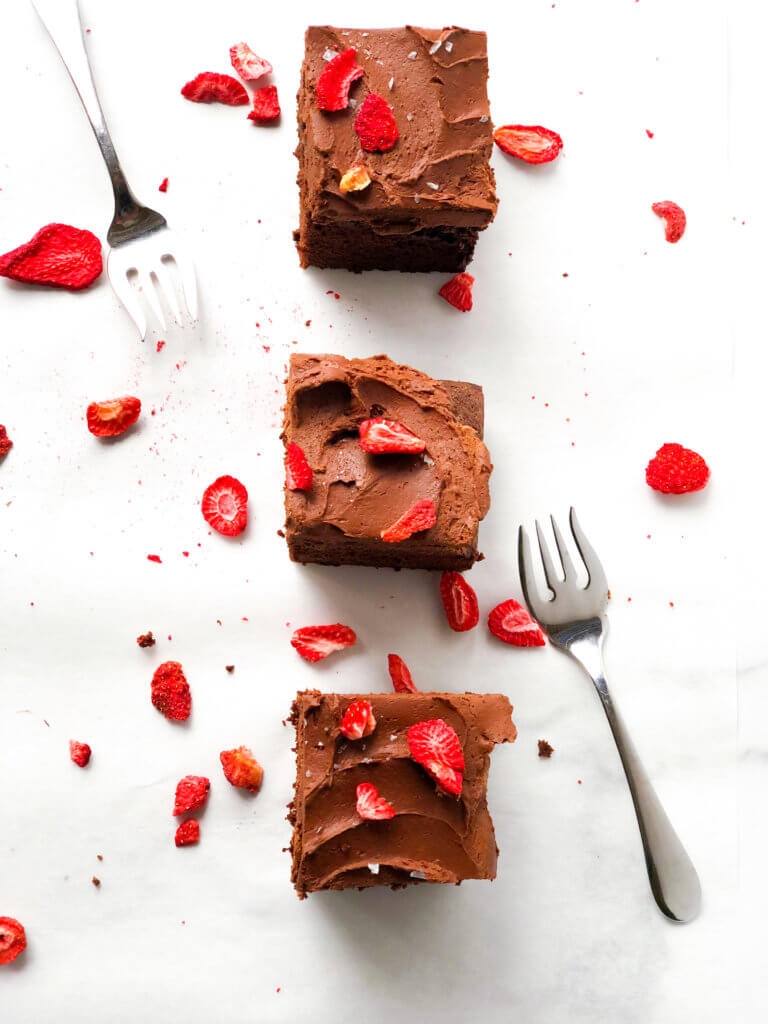 How to make Chocolate Buttermilk Cake ->
(Note: As I am an Amazon affiliate, this post may contain Affiliate links. These are links to items, which, if you were to purchase, I would receive a small commission, at no cost to you.)
Ok, I know I mentioned this before, but this cake is astoundingly delicious – so moist and truly chocolatey without being overly dense. And that frosting – my new favorite chocolate frosting!
I always begin a baking recipe by preheating my oven and preparing my baking pans. So preheat a convection oven to 300F, or a conventional oven to 320F. And butter (and parchment-line if you want to remove the cake from the pan for serving) an 8×8 or 9×9 pan.
So, to make this cake batter, you'll want a medium-sized saucepan, 3-4 quart size. This is because you make the entire cake batter in that saucepan. First you'll want to add the sugar, water, chopped chocolate and butter to the saucepan and melt over low heat. Once it all melts it, since you have it on low heat, it should be just above your own body temperature. This is because chocolate and butter both melt in the 98-100 degree range. So at this point, remove the pan from the heat, to finish the batter.
Then, sift in the flour, cocoa, espresso powder, baking soda, and salt. I've found the best way to measure dry ingredients is by weight. If you have a scale, then you don't need measuring cups or spoons. It's so easy! You just put the bowl on your scale, set the scale to "grams", and spoon the ingredients in until they measure the number of grams you need. Then, hit the "tare" button, which re-sets the weight to "0", so you can spoon in your next ingredient. I usually give both the number of grams, and cups or spoons in a recipe, so you can use traditional measuring or measure-by-weight. This is the scale I use.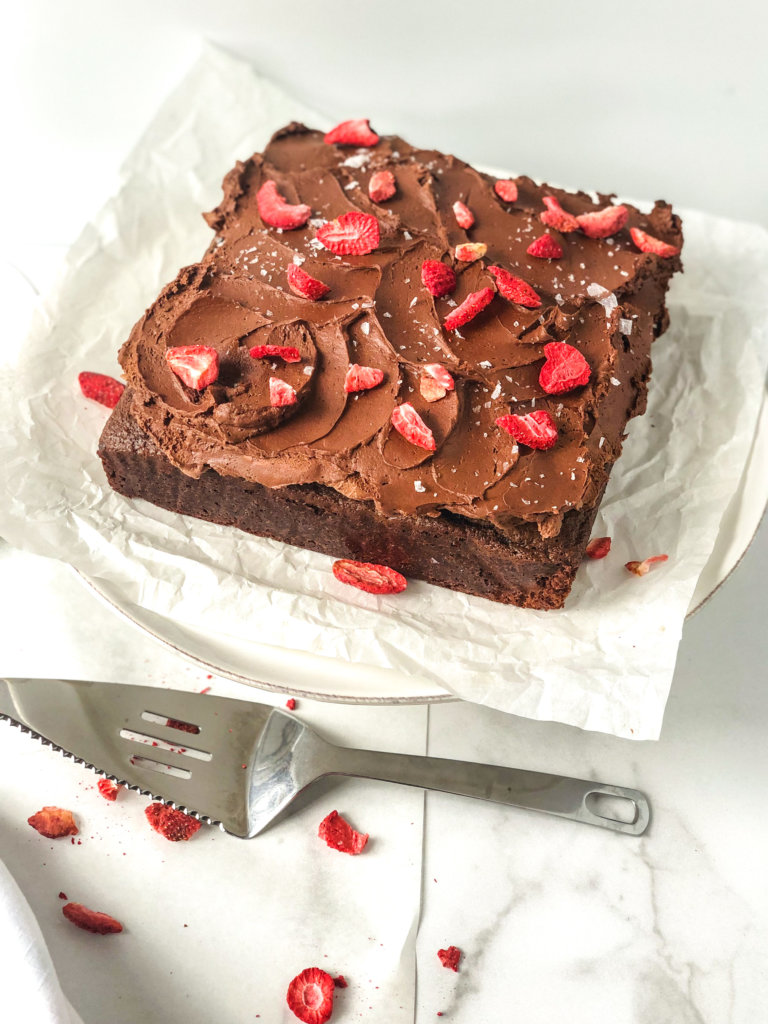 Anyway, after sifting in the dry ingredients, you'll then add the eggs and buttermilk. Stir until everything is incoporated, pour in your pan, and bake! I noticed, in my oven, that the top of the cake is a little crispy, so carefully note when it is done, it will spring back a bit when touched, or if you insert a toothpick or skewer, it should come out cleanly. I like to note when the cake just begins to pull away from the sides of the pan is when it is definitely done, as well. And, please, be sure to let the cake cool completely before frosting!
Here are some questions you might have about the recipe –
I noticed you used Bittersweet Chocolate. I prefer Semi-Sweet Chocolate. You can use either Bittersweet, Semi-sweet, or "dark" chocolate. But please use Baking bars as opposed to chocolate chips. Chocolate chips contain stabilizers that don't melt at lower temperatures. That is why the chocolate chips in cookies maintain their shape. And, for a cake, you want the chocolate to fully melt and stay melty. Bon Apetit Gives a good explanation for this. Or, if you're interested in substituting different forms of chocolate, this chart details how and when to use various chocolate substitutes. Trader Joe's has some nice large baking bars at good prices – I like the Bittersweet one the best!
Why did you include espresso powder? This is a trick I learned long ago. When making a chocolate recipe, a teaspoon or two of Instant Espresso Powder totally amps up the chocolate flavor! It's optional, of course if you don't have any espresso powder or just want to omit it. But it's a good trick to have. To be sure, this cake is fully chocolatey without it, but a simple ingredient to amp it up? I'm all in!
I don't have buttermilk. Can I use regular milk? The best way to use "regular" milk as a substitute, is to measure out 1 cup of milk (2% or whole milk is best), and add 1 Tablespoon of lemon juice or vinegar to it. Then wait 5-10 minutes for it to get "curdly". Then, stir it up and measure as you would the buttermilk.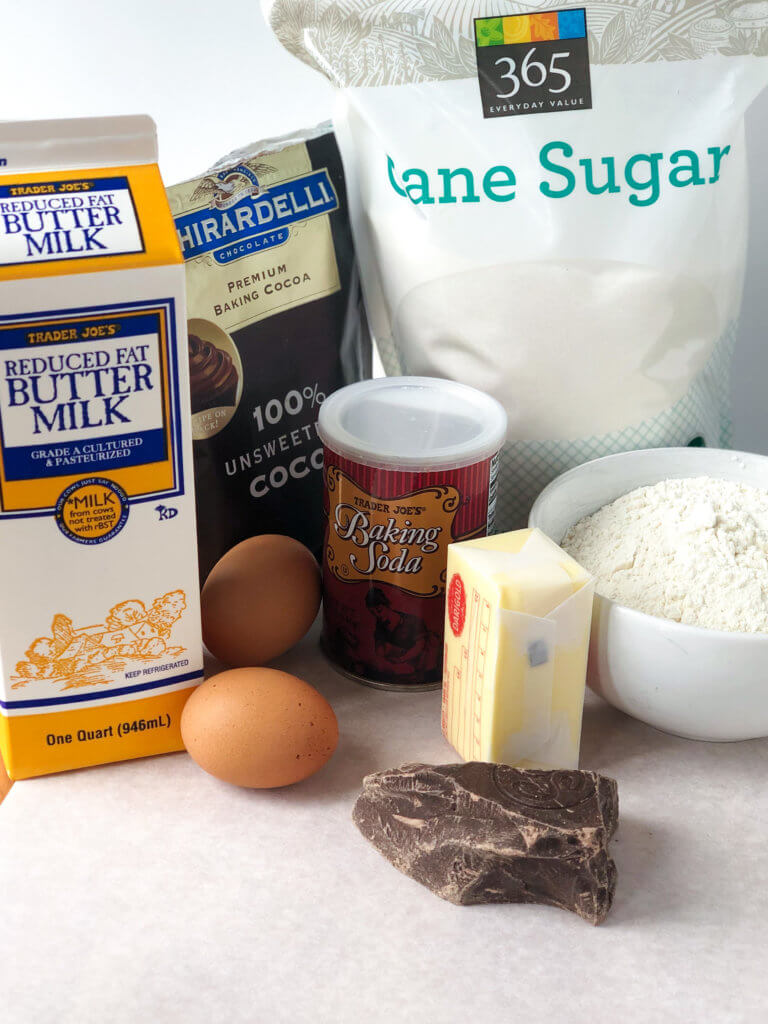 While the cake cools, make the frosting. This is the part you will need an electric mixer, either a stand mixer (I'm a little crazy for this Candy Apple Red one!)  or a Hand Mixer. You'll want to first chop the chocolate into small pieces. Then place in a heatproof bowl over a pan of simmering water. Once they are melted, they shouldn't be hot, just barely above body temperature. Let it cool a bit – 5-10 minutes would be good.
Scrape the melted chocolate into the bowl of a stand mixer, or the bowl in which you'll use with your hand mixer. Add the soft butter and then mix on high speed for 6-10 minutes until it looks fluffy. It may look like it's not going to get fluffy, but trust, it will. Time. Mine took 10 minutes. 
Then add in the sugar, buttermilk and a pinch of salt. Continue mixing until perfectly smooth. Then spread across your completely cooled cake. I sprinkled mine with some sea salt flakes (I use Maldon sea salt, it may be a little more than you pay for regular sea salt, but a tiny pinch of these makes anything taste awesome! Pinky swear!) and freeze dried strawberries.
I couldn't wait to cut into it – omg so so good!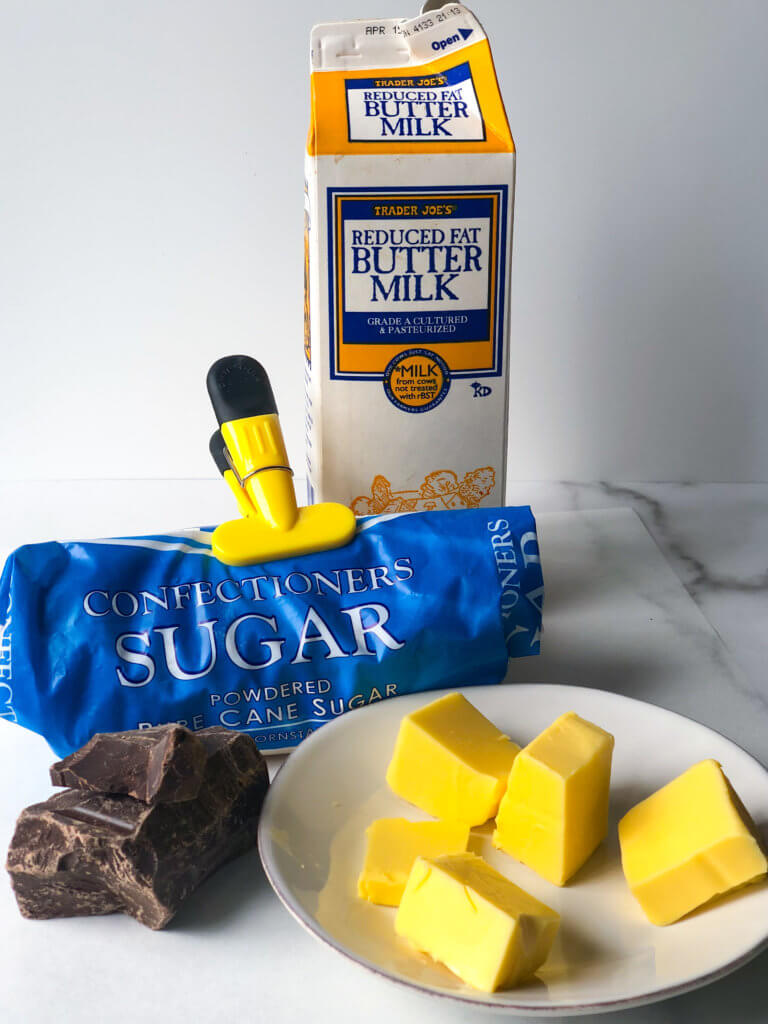 Print
Dark Chocolate Buttermilk Cake
One of the absolute best chocolate cakes I've ever made! This cake recipe, adapted slightly from Gourmet Traveller, is super-moist, super flavorful. Not too sweet, and super-chocolatey cake is covered with a pillow of the best chocolate frosting ever – a bit of tang from the Buttermilk is positively magical!
It keeps several days, theoretically. It'd be tough to keep it that long. It's THAT GOOD!
Equipment needed: Stand mixer or Hand mixer, and either 8×8 or 9×9 baking pan
Author:
Prep Time:

25 min

Cook Time:

50 min

Total Time:

1 hour 15 minutes

Yield:

1

–

8

x8 or

9

x9 Cake

1

x
Category:

Cakes

Method:

Baking

Cuisine:

American
Ingredients
For the Cake:
1 1/3

c + 1 Tbsp (

280 g

) Granulated or Baking Sugar

4 oz

. 120 g Bittersweet (70% Cocoa solids) or Semi-sweet (58-63% Cocoa Solids) Baking Chocolate

6 oz

. water

6

T (90g) Butter, diced

1 3/4

c (225g) All-purpose Flour

2

T Cocoa Powder (Dutch process preferred, but not necessary)

2

t Instant Espresso Powder

3/4

t Baking Soda

1/2 tsp

Kosher Salt

1/2

c (120 ml) Buttermilk

1

Lg Egg

1

Egg Yolk
For the Chocolate Buttermilk Frosting:
5 oz

(

150g

) Bitttersweet or Semi-Sweet Baking Chocolate

7

T (100g) Softened Butter

1

c (120g) Confectioners Sugar

6 Tbsp

(

70

ml) Buttermilk
Pinch Kosher Salt
Optional Garnishes:
Flaky Sea Salt
Freeze Dried Strawberries or Raspberries
Edible Flower Petals
Instructions
Make the Cake:
Preheat oven to 320F (Conventional) or 300F (Convection/Fan). Butter an 8×8 pan (9×9 is ok, too!). Line with parchment if you want to remove it from the pan to serve. Chop the chocolate.
Combine the sugar, chopped chocolate, butter and water in a large saucepan. Stir occasionally over low heat until just melted and smooth. It should not be hot to the touch, rather just warm. Remove from heat, cool slightly. 
Sift the flour, cocoa, espresso powder, baking powder and salt into the saucepan with the butter and chocolate mixture.
Whisk in buttermilk, egg and yolk until smooth. Pour into baking pan and bake until you can touch the center and it springs back, and it has just begun to pull away from the sides of the pan. This will take 45-50 minutes in an 8×8 pan, or 42-48 mins in a 9×9 pan. Cool the cake in the pan. 
Make the Frosting
Chop the chocolate. In a heatproof bowl over a saucepan of simmering water, melt the chocolate. Stir occasionally until just melted and smooth. It should not be hot to the touch. Remove from the heat and set aside for 5 minutes or so until it has cooled slightly.
Scrape into the bowl of a stand mixer, or a bowl you can use with a hand-mixer. Add the butter and beat until fluffy. This may take awhile, but after 6-10 minutes at high speed, it should become fluffy. See my photo.
Beat in the confectioners sugar and buttermilk until smooth and spread across the cooled cake. Top with flaky sea salt, rose petals or dried strawberries or raspberries if desired.
Notes
Cake will be fresh at room temperature when covered loosely for at least 2 days. If you want to keep it longer than 2 days, I recommend covering with plastic or in a dish with a plastic top, and refrigerating. Bring to room temperature, if desired, prior to serving.
Nutrition
Serving Size:

1/12 recipe
Keywords: Chocolate Buttermilk Cake, Dark chocolate Cake, chocolate buttermilk frosting, recipe, Snack cake, dark chocolate
Recipe Card powered by
Pin Chocolate Buttermilk Cake Recipe->