Or, how to make your friends Swoon.
There is this grocery store near us that recently introduced something in their fine bakery called "The Cookie", a freshly baked chocolate chip cookie, served warm.  Now, when something is called The anything, the connotation is that it is the only one you should ever have. The only one you will ever want.  We recently brought home "The Cookie" and tried it.  It was amazing.  But is it the only one I will ever have?  Let's just say….. no. Don't get me wrong.  It is excellent, possibly even "Top-10" worthy.  But "the", uh-uh. This brownie, on the other hand…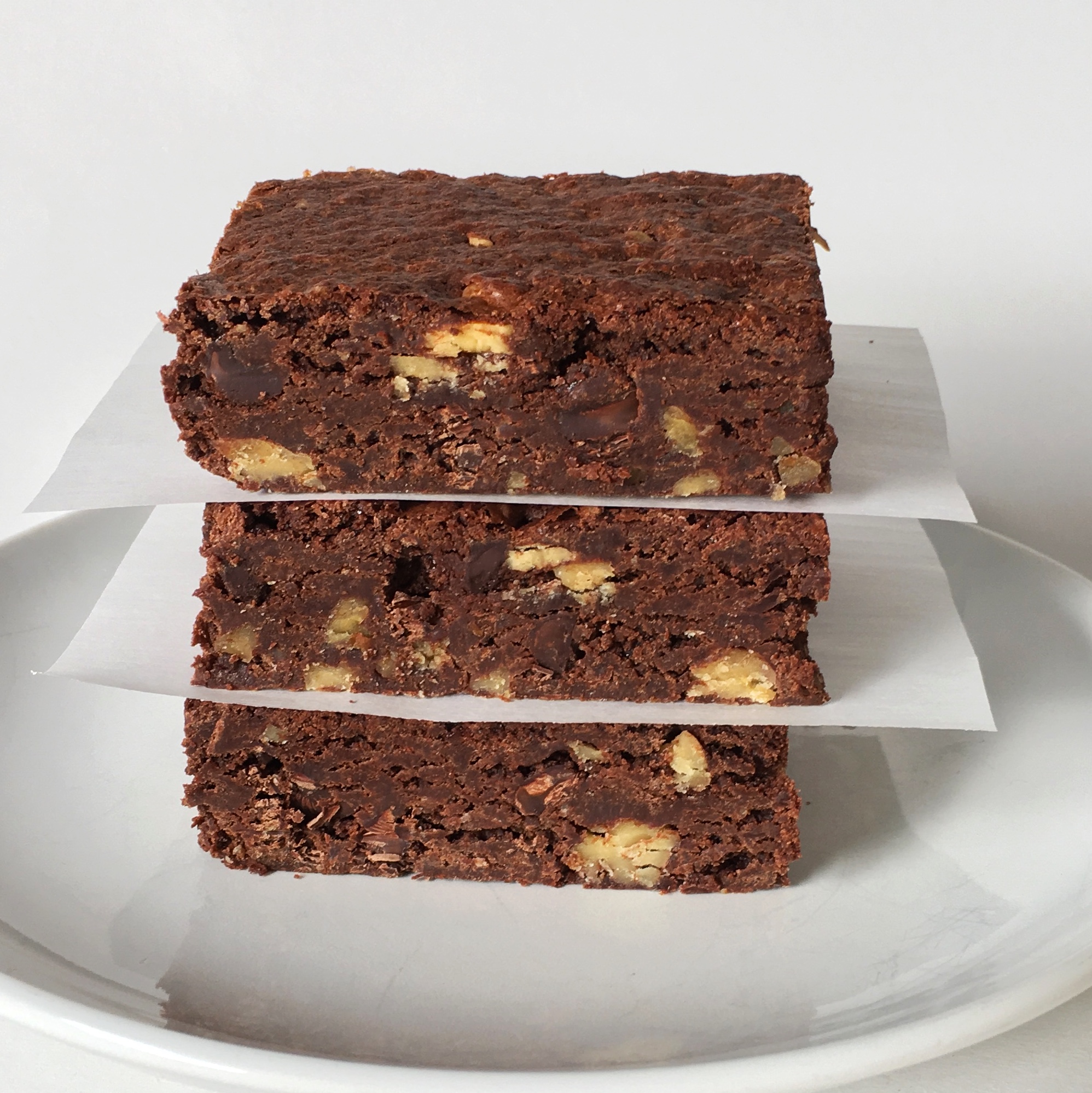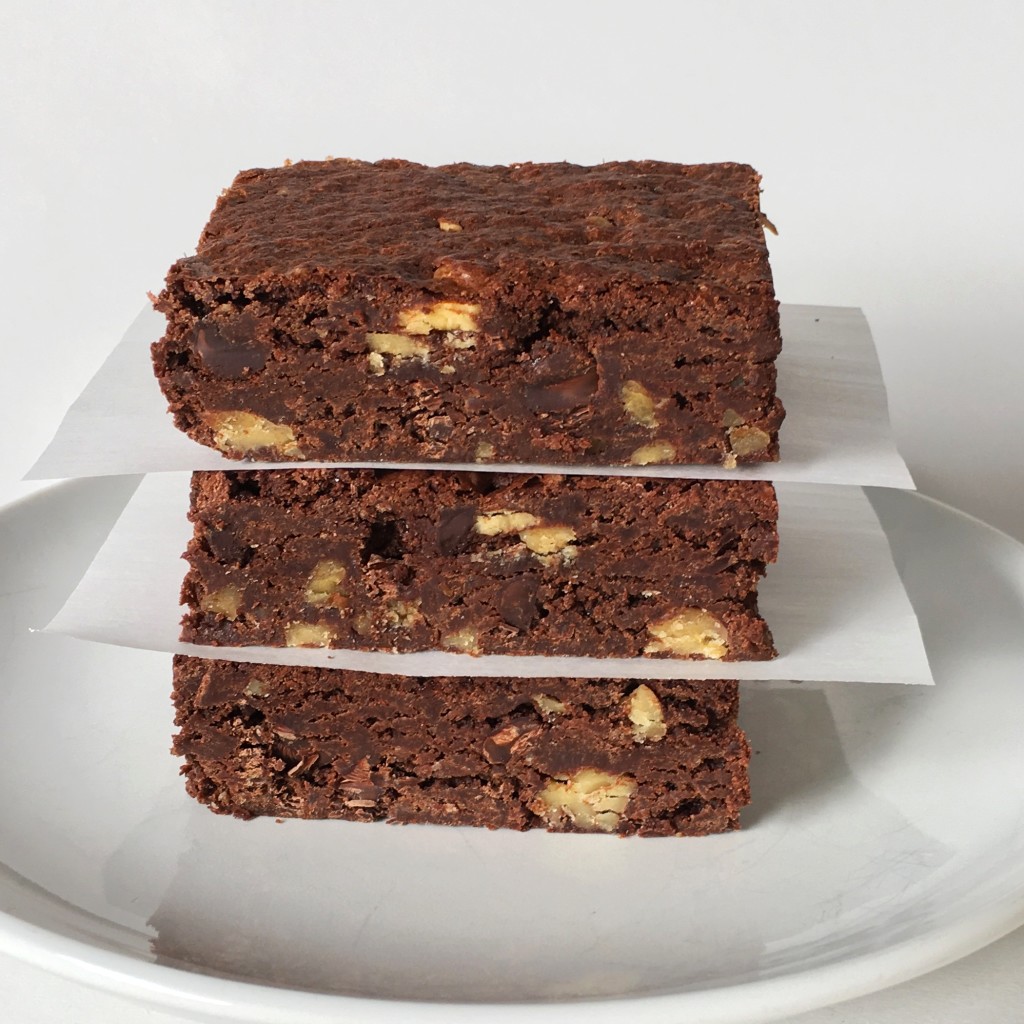 This brownie is so darn good, I would not dare bake another (chocolate) brownie. Ever. Seriously.  Swoon-worthy. Soon chocolate-y but not overly sweet.  Studded with crunchy pecans and bittersweet chocolate chips.  What could be better?  It is from Ina Garten, who doesn't produce anything less than magnificent, but this one is a total "Must-bake".
I've baked it several times for holiday parties, picnics, cocktail parties, dinner parties, you name it.  There is never a single crumb left over.  People put them in their pockets to take home.  Crazy good.
Before you read the recipe, I will warn you – it reads like a book of sins.  But remember, this makes a 13×18 pan. Compare this to your average box mix or recipe which makes and 8×8 or 9×9 pan.  This makes three times that!  So maybe not so scary, right?  Let's go with that.  If you feel better about it, divide everything by 3 and make 9×9 pan.  But you will want the big pan, trust me.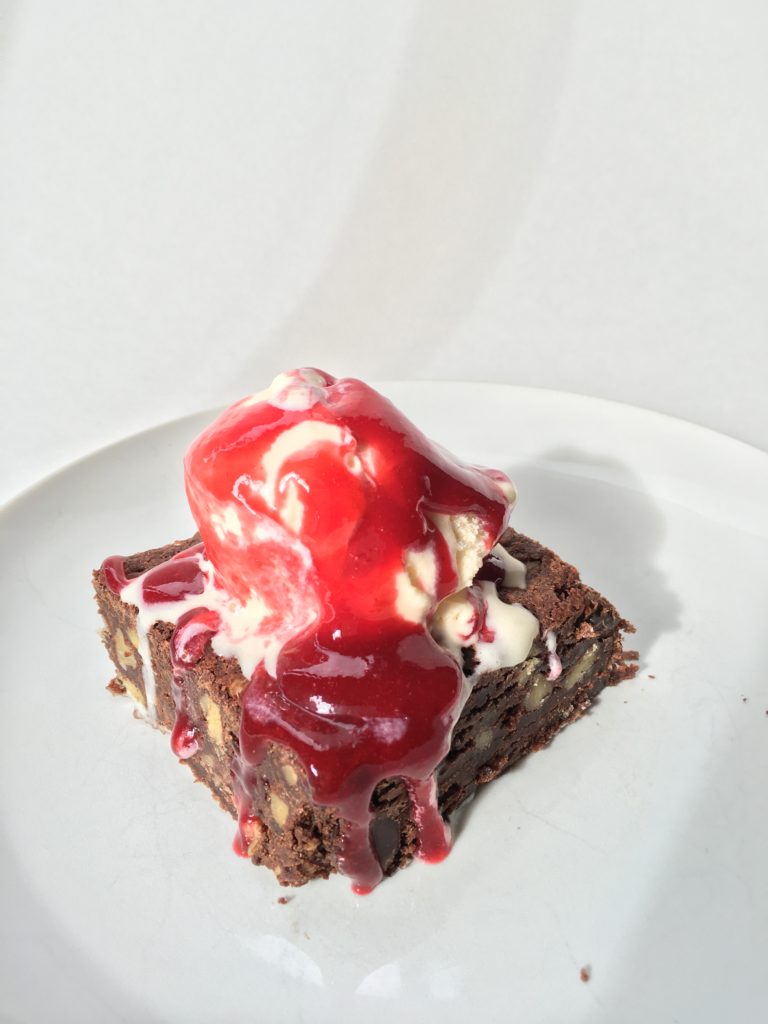 The recipe is infinitely adaptable, too.  I've changed Ina's original a bit, using bittersweet chocolate instead of semisweet, and cutting the nuts to 2 cups instead of 3.  I've at times baked half a recipe in a 13×9 pan.  You could probably substitute coconut oil for some of the butter.  But thus far, I haven't really messed with perfection.  Because these are…the only brownie worthy of "THE".  Once you try them, you will know, they are the only ones you will ever make.
Now, there are a couple of rules you must remember for this recipe:  1. Be careful not to overbake them.  They are infinitely better slightly under baked than over baked.  In my oven, this means 28 minutes. They look slightly underdone, and a toothpick inserted into the center comes out not quite clean. 2. Always refrigerate.  These need the refrigeration to firm up and become fudgy.  I keep them in the fridge until I am ready to serve them.  You won't be disappointed.
I've included my raspberry sauce recipe as well. These brownies are so rich, they remind me a bit of flourless chocolate cake which is often accompanied by a sweet-tart raspberry sauce.  It was lovely.  And the ice cream.  Mmmm, kind of gilding the lily, but why not?  This is THE Brownie!  Enjoy!